Binoculars are one of the hunting equipment used by hunters for years. It is the simplest tool that has been used earlier and now it is being implemented as a specialized high-tech tool to serve many successive purposes. And that new production is the thermal binoculars. These are developed with advanced features to achieve the mission swiftly and successfully.
Especially in scouting and locating the target, thermal binoculars perform better than the monoculars. As well it has also become one of the essential tools for the rescue team to find out the missing people even more quickly.
As we browse the internet in search of thermal optics, we come across a number of thermal binoculars. Among them ATN always stands out first with its upgraded features. And our review here is about ATN BinoX 4T Thermal Binocular.
ATN BinoX 4T Thermal Binoculars
The ATN BinoX 4T is an ultramodern binoculars with the best thermal sensors in the market trends. Binoculars are great for all kinds of outdoor enthusiasts, hunters, and mountaineers. So you will definitely be happy and proud for having purchased this.
Like all the thermal binoculars, ATN's BinoX 4T also detects the heat signatures of the objects in the surrounding and displays the thermal images. The biggest advantage here is it can be used in any tough climatic conditions and produces better visual experience without the help of any light source. Most of the hunters love this binocular for its advanced features, compact size, and budget-friendly pricing. 
Before diving into the complete review of this thermal binocular, let's have a look at the new versions that have been launched recently. BinoX 4T itself is a new version of the leading thermal imaging binocular producer ATN.
It has been upgraded with advanced technology and introduced two models in BinoX 4T series – ATN BinoX 4T 384 and ATN BinoX 4T 640 thermal binoculars. Both are very popular among professionals and have become a favorite one.
Different Versions of ATN BinoX 4T Thermal Binocular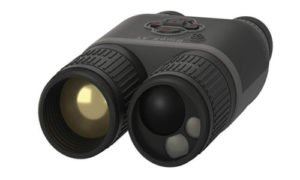 ATN was the first to launch BinoX thermal imaging binoculars in the year 2015. The ability of ATN's BinoX binoculars to switch between day and night modes effortlessly were influenced by all the hunters on those days.
Later in 2019, January, ATN has unveiled another new series at the Shot Show held at the Las Vegas Sand Expo and that new launch is the 4T series, under the family of BinoX binoculars. The name given to them was ATN BinoX 4T Thermal Binoculars. This version has two models; 384 and 640. Both the models have three products that differ in their magnification.
This entire series comes with a combination of excellent quality and high-tech features that makes it unique in functionality. The 4T series products are equipped with latest technology features that are essential for spotting.
Common Specs in 4T Thermal Binocular Series: 
Display Resolution: 1280 x 720

Detection Range: 1,000 yards

Focus Range: 10 ft and more

Precision to: +/- 1 y/m

Operating Temperature: -20 °F to +120 °F or -28 °C to 48 °Celsius
When looking into the design, both the 4T series, overall have a similar design, structure, and feel. The outer body of the binocular has given black matte and gray finishing that makes it stylish. 
The 4T series thermal binoculars come with a carry case, USB cable, lens cover, neck strap, and cleaning cloth along with the package. This is a bonus point to this binocular series. 
ATN BixoX 4T 384 Vs. ATN BinoX 4T 640

4T 384 series
The 4T 384 series of thermal binoculars from ATN is built with three different magnification ranges; 1.25-5X, 2-8X, and 4.5-18X respectively. All three versions offer crisp, clear images with a thermal resolution of 384×288 pixels. 
ATN BinoX 4T 384 1.25-5X –

205 Yards Identification Range (IR), 335 yards Recognition Range (RR), 750 yards Detection Range (DR).

ATN BinoX 4T 384 2-8X – 300 y

ards IR, 480 yards RR, 960 yards DR.

ATN BinoX 4T 384 4.5-18X – 430 y

ards IR, 720 yards RR, 1800 yards DR.
4T 640 Series
Similar to the 4T 384 series, the 4T 640 line also comes up with three sets of magnification ranges namely; 1-10Xd, 1.5-15X, and 2.5-25X. All three versions of the 640 model possess 640×480 thermal resolution but vary in the Detection range, identification range and recognition range. 
ATN BinoX 4T 640 1-10X –

225 Yards Identification Range (IR), 350 yards Recognition Range (RR), 830 yards Detection Range (DR).

ATN BinoX 4T 640 1.5-15X

 

– 330 y

ards IR, 530 yards RR, 1050 yards DR.

ATN BinoX 4T 640 2.5-25X – 470 y

ards IR, 475 yards RR, 1950 yards DR.
General Features of ATN BinoX 4T Thermal Binoculars
Gen IV Thermal Sensor
ATN BinoX 4T Thermal Binocular has brilliantly incorporated with advanced Gen 4 technology thermal sensors. This is also one of the major differences between both the models of ATN 4T BinoX Thermal binocular. The 384 model is made with a 384×288 thermal sensor whereas the BinoX 4T 640 model boasts a 640×480 thermal sensor. Both the Gen 4 thermal sensors are more effective and deliver crystal clear images.
Laser Rangefinder
The inbuilt laser rangefinder in the ATN BinoX 4T thermal binocular is used to determine the accurate distance of the target so that you can improve ranging precisely. Using this laser rangefinder in BinoX 4T binocular you can focus your target easily during both day and nighttime.
Hence the ATN BinoX 4T thermal binocular is the epitome for night hunting and extreme weather conditions.
Built-in IR Illuminator
Thermal Binoculars beat the night vision goggles/binoculars with many key sectors, and one among them is this IR-illuminators. This feature is absent in night vision devices. 
ATN BinoX 4T thermal binocular is equipped with IR-illuminator for better vision. If the members of your hunting team use NV devices then you can help them with these thermal binoculars for a better visual experience.
Ballistic Information
Nowadays hunters are preferring Smart devices with the latest technology for a better experience in the woods. To satisfy the needs of the customers ATN has developed Smart HD technology in their devices.
Here in thermal binocular, Ballistic Information Exchange (BIX) feature is the updated technology used for communication or sharing information between devices. This is very simple and easy to use.
Another plus point here is, it does not require any additional equipment to work with. It is independent and does not rely on any apps.
If you're not willing to upgrade to ATN's Smart HD devices, then you can use the Laser Ballistics app to make use of BIX.
Dual Streaming 
The specialty of ATN's newly launched product is dual streaming technology. The Obsidian IV Dual-Core processor is designed to perform recording and streaming options simultaneously.
You'll be able to capture photos, record videos, and stream them live to your family, friends, and relatives. It also includes a micro SD card to save your recorded files. You can also share your recordings in social media through Wi-Fi connectivity.
Apart from this, the core gives you wonder with HD quality images and videos with a resolution of 1280×960 pixels. So you'll get vivid, crystal clear images all the time.
The Highlighting features of ATN BinoX 4T Thermal Binocular include; E-compass, 3D magnetometer, Smart Rangefinder,  , 3D Accelerometer, 3D Gyroscope, Laser Rangefinder, Bluetooth capabilities, and microphone.
Battery
ATN BinoX 4T Thermal Binocular is provided with Lithium-Ion batteries, which can supply power continuously for up to 16 hours on a single charge. So it'll be perfect when you go on long hunting trips.  
The battery takes 6 hours to attain fully charged and charging is done through the USB-C cable which is included along with the package. The charging port of this device is located on the right side, below the rubber cap. 
Before you go for a hunt charge the device and then enjoy 16 hours of operation.
Menu Options
ATN BinoX 4T Thermal Binocular is made to be simple for operating. It has furnished with various control buttons for easy access. It includes a power button, directional buttons (right, left, up, down), Ok button, and a small ring-like option for diopter adjustment. 
The home screen appears with different modes and they are listed below;
Photo mode

: Indicates when activated

Video mode:

Shows the duration of the video on the screen

Roll scale, Pitch scale:

Both are based on the readings of the 3D Gyroscope.

Detailed roll value, pitch value:

Both displays the digital value of roll scale and pitch scale on the screen. 

Zoom:

Currently using zoom level is displayed.

Distance:

Shows the distance of your target in yards

E-compass:

Displays the angle/ data from the E-Magnetometer

Status bar:

Displays the percentage of battery, Bluetooth & Wi-Fi connection, SD card insertion
In addition, there are also some more options that can be done manually on your own. They are brightness level and color mode. Those options are located on the top of the menu system. The BinoX 4T Thermal Binocular is provided with 5 different brightness levels of the screen and you can choose any of them based on your scenario. It also allows you to activate the color mode, whether Black Hot or White Hot or Color option.  
Thanks to ATN for providing a customization unit in BinoX 4T Thermal Binocular to make our hunting session according to our preference.
Wi-fi Connectivity
BinoX 4T binoculars come with Wi-fi connectivity for you to record and stream HD quality videos. Using the Laser Ballistics app you can perform any modifications or change the settings of the device.
Though this ATN BinoX 4T thermal binocular is equipped with highly technical features, it does not utilize any power while at work. This is another plus point of this binocular. 
Interpupillary Adjustment
A hunter always expects that his tactical device should be comfortable for him to use. Keeping this suggestion in mind ATN has made these BinoX 4T binoculars with special care to provide comfort for the users.
It has given 60 to 70 mm interpupillary adjustment with an eye relief of 10 to 30 mm. Having long eye relief reduces eye fatigue and gives you comfort while you hunt. 
Weather-Proof
ATN BinoX 4T Binoculars are built with rugged, military grade materials that never rust and can bear up any extreme weather conditions. This thermal imaging binocular is given an official weather-proof IP rating, so you can use it in fog, snow, and rain without any worries.
Thanks to ATN for weather protection. So your hunting will not end due to weather changes. 
Weight
ATN BinoX 4T Thermal Binocular is constructed with the dimensions of 9.4X5X2.6 inches with top quality materials. These are compact and weigh 2.5 lbs which are lightweight compared to traditional binoculars. It does not need too much space to fit into your carry bag. Though it is light, the high-grade materials make it sturdy and strong to withstand any climatic conditions.
Final Thoughts
Whether you're a beginner or professional doesn't matter, ATN BinoX 4T thermal binocular rocks in the field. Its innovative design, advanced technology features, smart connectivity solution, and user-friendly control buttons take your hunting to the next level. 
No product is cheap with high quality and performance. ATN is really a well worthy product and will not disappoint you. 
I personally like ATN products for their modern technology features and bangs for the money.