Are you a shooter? Then you'll know optics is the major thing that you should get after buying a new rifle. When looking for it you may be tempted to get a high power scope, but the fact is a high magnification scope cannot help at all times, it may be more of a hindrance than a help.
But 1-6x scopes are all-around optics that can do anything. It is the best option for tactical applications, gun competition, and most hunting scenarios. 
Shooters of all lines have also agreed that a moderate powered (1-6x scope) rifle scope is more beneficial for shooters in most circumstances. These low-to-no power optics will help a shooter quickly engage targets within close range.
While heading out for competitive shooting or hunting, 1-6x scopes are the must-have tool to make your shot precisely. But before buying, ensure the quality of glass and its advanced features.  Here we have listed the "Best 1-6x scopes" for your convenience.
Every hunter knows the importance of scopes and how they can bring success in hunting. But if you're a beginner, do thorough research on rifle scopes before buying, or just go through our article and grab the one that suits your needs.
11 Best 1-6X Scopes in 2022 - Reviewed
Looking for the best optic to hit the target accurately, 1-6x scopes would be a great option to provide high-quality images both day and night. It's an excellent tool for avid hunters to track the target at longer distances and it delivers satisfying results. Have a look at these highly functional low-to-no power optics.
1. Vortex Optics Strike Eagle Second Focal Plane Riflescope
There are many different scopes in the market but one of our favorite 1-6x scopes is the Vortex Strike Eagle 1-6x 24 optics. Vortex delivers high-quality scopes at every price point and for all kinds of shooters. 
If you're looking for a mid-range optic at a decent price, then the Strike Eagle is the right option to go for. It is well-known for its high-quality glass, speed, and versatility. 
Dimensions: 10.5 x 1.77 x 1.77 inches
Objective Lens Diameter: 24mm
Sport Type: Hunting
Style: BDC3
Color: Black
Weight: 1.2 pounds
Lightweight
The Vortex Strike Eagle 1-6x 24 riflescope is a lightweight sighting tool that provides quick target acquisition and excellent performance in all fields. It is ideal for shooters who need a compact, trim package with optimal performance. 
Build Quality
The Vortex Strike Eagle is made of aircraft-grade aluminum with an extra-low dispersion glass to provide crispy, crystal clear images, even in low light. It also works even without an illuminated reticle and offers less distortion at 1x and acceptable clarity at 6x. 
Besides, it is built with a fully coated lens surface, which is nitrogen-purged to resist fog, water, and snow. Thus, it works well in 3 gun competitions, hunting, and even for law enforcement.
Reticle
Though it is a budget-friendly scope, it performs much more like an expensive scope. The illuminated BDC reticle is positioned on the second focal plane for quick adjustments at known target ranges. So you can confidently rely on it for medium to extended ranges. Therefore, it would be a perfect partner for ar-15. 
Further, the strike eagle has eleven brightness settings and a fast focus dial for easy adjustments in any lighting conditions. 
Mounting
In addition, this innovative tool comes with a Weaver-style claw mount and rings that can adapt to different situations. It won't be a hassle for you to mount and use your rifle. The windage and elevation components were developed to a high level of precision.
Overall, this Vortex optics is really worthy for your buck.
2. Primary Arms 1-6X24 ACSS Gen III Riflescope
The runner-up product on our list is the Primary Arms SLx riflescope. It is an awesome riflescope that stands toe-to-toe with our award winner, Vortex Strike Eagle riflescope for their lower price tag. Also, it is safe to use and works well in any situation.
The Primary Arms has made several improvements over the 1-6x Gen II model. This LPVO is specifically designed for military use for close ranges under 300 yards.
Objective Lens Diameter: 24mm
Tube Diameter: 30 mm 
Eye Relief: 3.3 – 3.5 inches
Color: Black
Weight: 17.4 oz
Sport Type: Hunting
Style: ACSS
Reticle
The innovative ACSS reticle makes longer shots quite easier. But it might be tricky for some shooters who don't like the design of the ACSS reticle, so learn how to use it and then go for it. It is fairly easy to use and helpful.
No matter if you're a new or seasoned hunter, the Primary Arms will provide excellent performance even for moving targets. It is more accurate for ranges between 300 and 800 yards. It also provides a second focal plane for better target acquisition, no matter the level of magnification. 
Brightness & Zooming Facility
The key point of the reticle is illuminated to provide a lot of functionality in low-light scenarios. It also has 11 brightness settings to support the reticle. 
We've found no issues with the zooming option. It provides impressive performance with a flexible zoom range and the image brightness really strikes out when you zoom in to 6x, it is better than expected.
Build Quality
The SLx 1-6x scope is made of a strong 6063 aluminum that offers durability. And hence, it is tough enough to bear the recoil of small to medium bore rifles. Also, the entire scope has a hard coating to resist shock, fog, and water. 
Other features
The MOA adjustment clicks for windage and elevation are smooth and work exactly what you need.  The eye relief is pretty standard between 3 to 3.5 inches. 
It comes only with a lens cloth and user manual in the box. So you have to purchase all the mounting hardware separately. 
Overall, it's a fantastic scope for hunting, 3-gun competitions, and defense. It is trusted by most shooters and hunters all over the world. 
3. Vortex Viper PST Gen II Second Focal Plane Riflescope
The Vortex Viper PST II comes third on our best LPVO scopes list. It stands out for its excellent tactical features and functions. It is built with a second focal plane making it ideal for quick target acquisition. 
If you want to spend a little more for better glass, then the Vortex Viper PST II  is the best option to go for. It is budget-friendly and is one of the favorite scopes for most hunters and shooters.
Dimensions: 14 x 4 x 5 inches
Objective Lens Diameter: 24mm
Color: Black
Style: VMR – 2 (MOA)
Weight: 3 Pounds
Sporting Type: Hunting
Lens
The highlighting feature which makes it stand out is the lens coatings. It uses an anti-reflective coating that covers the glass completely with multiple layers. It reduces reflection and increases light transmission, thus producing crystal clear images that will take your breath away.
The lenses also have an ArmorTek Ultra-hard, scratch-resistant coating that provides an additional layer of protection against scratches, fingerprints, oil, and dirt. 
Image Quality
The Viper PST Gen II scope is well known for its low dispersion glass, high resolution, and increased color fidelity. It delivers detailed and accurate hold points for clear viewing. You can also set the brightness levels according to the environment you're hunting. The 10 different intensity settings also help get stunning images. 
However, the scope may not be suited for extended ranges. There may be aberrations at a higher magnification level.
Turret control
It is worth noting that the Vortex Viper boasts laser-etched turrets which sounds great for those who use to dial the turrets for bullet drop and wind compensation. Also, it has a fiber optic rotation indicator which helps to monitor the position of the turret. 
Reticle
It is equipped with an illuminated SFP glass-etched reticle, CRS zero stop, for fast and quick target acquisition. It is best suited for short and medium-range distances. 
4. Trijicon Accupoint 1-6x24 Riflescope
Trijicon has become the most popular brand in the world for its ACOG optics, which has been in use by the U.S. military. It provides the same level of performance and durability in all its products including the AccuPoint LPVO. 
The Trijicon Accupoint is a reliable, multi-purpose rifle scope that can be used by any shooter, whether a newbie or professional. The multi-coated lenses, impressive lighting capabilities, and superior precision make it stand out in a huge crowd of LPVO scopes. It is designed to withstand adverse weather conditions and heavy recoils.
Dimensions:

16 x 4 x 4 inches

Objective Lens Diameter: 24 mm
Style:

BAC Red Triangle Post Reticle

Color: Black
Eye relief: 3.90″
Weight: 0.35 oz
Reticle Options
The Acupoint has three reticle patterns; a triangle post, a simple duplex, and a Germain crosshair. Unlike others, it gives better precision with a tiny lightened dot in the center.
Another interesting feature is that the Trijicon Accupoint riflescope lets you aim your target accurately even by keeping your eyes open.
Superior Quality Lenses
The Trijicon Accupoint 1-6×24 rifle scope is one of the best tactical scopes in the world right now. The lenses are multi-coated, which ensures that the shooter can see the target more clearly and accurately. It can gather more light and provide sharp images even in low light conditions.
Battery-Free Illumination
The unique and most important feature in this Accupoint riflescope is the battery-free illumination. It is made with fiber optics that automatically sets the brightness of the scope once the level of light begins to drop. 
Fiber optics works only when the contrast of the reticle aiming point is set. It enhances the scope's ability to focus, thus making your images out of this world. Further, this feature also saves you the stress of thinking about when to charge your batteries.
Sturdy Housing
The Trijicon Accupoint 1-6x rifle scope is engineered with aircraft-grade aluminum housing which functions in any weather condition. The aluminum housing acts as a shield to protect your scope from wear and tear that occurs while using it. 
No matter how bad the weather is, the scope is resistant to rust, corrosion, or scratches. It is crucial for those looking to have a scope for all weather conditions. As a whole, the Trijicon Accupoint riflescope is the best bang-for-the-buck.
5. Swarovski 1-6x24 Z6i Riflescope
The Swarovski Z6i 1-6x Scope is a rifle scope for enthusiastic shooters who dare to venture into the optics world with large amounts of money. The 2nd generation Z6 series rifle scopes have hit the market only over the last couple of years. 
The Z6i range has a lot of differences from the Z6 series riflescopes. It has proved to be a heavy hitter with target shooters or long-range hunters.
Dimensions:

15 x 11 x 7 inches

Objective Lens Diameter: 24mm
Color: Matte Black
Eye relief: 95 mm
Weight: 1.75 pounds
Sporting Type: Outdoor activity
Compatible with: Rifle
Reticle
This best Swarovski scope is built with an illuminated reticle for greater accuracy in low light conditions. You'll be able to see intricate details with this excellent optic in the field. A solid and sturdy tube body is made around the eyepiece for easy magnification adjustments.
Auto shut off
The Z6i features an automatic day and night control sensor that prevents accidental On/Off during critical moments. This feature extends the battery life by automatically turning the rifle off or on as it moves from its shooting position.
Waterproof
Swarovski's Z series is provided with a 13 feet waterproof submersion standard and that's excellent. It is really unbeatable by other brands. 
So you don't want to worry if you have caught up in the harshest, rainiest conditions.
Swarovski is well-known for its high quality and the Z6i rifle scopes are crafted with incredible workmanship to provide a smooth experience for the hunters and shooters.
SwaroClean Coating
Coming to HD optics, Swarovski offers superior image performance that is never seen before. The lenses have SwaroClean coatings that create a breeze to clean dust and dirt and also provide scratch-resistant properties.
Overall, the Z6i series is expensive but is worth every penny. It would be your best partner in the hunt.
6. Sig Sauer SOT61231 Tango6T Riflescope
Sig Sauer is one of the most renowned brands in the U.S. Army. The Sig Sauer Tango 6T First Focal Plane riflescope was accepted by the armed forces of the US for its illuminated reticle.
The optics is paired with high-transmittance glass (HT) and Extra-low dispersion glass (ED) to deliver the brightest pictures for your shooting needs.
Objective Lens Diameter: 24mm
Tube diameter: 30mm
Eye relief: 4.1 inches
Sporting Type: Outdoor
Color: Black, Flat dark earth
Weight: 22.1 oz
Compatible With: Handgun, Rifle
Reticle 
Sig Sauer specially designed the DWLR6 (Dual Wind holds Long Range 6X magnification) reticle for the US army. It has a floating center dot with an inverted horseshoe around it. These two components of the reticle are responsible for illumination and they act as a red dot when the scope is set at a low power such as 1X or 2X. With higher magnification, the center dot allows for accurate shot placement.
Durable
Besides, the SIG Sauer Tango 6T scope is extremely durable and weather-­resistant. We have also tested its waterproofing feature by throwing it in a water tank. The lens housing groups were made perfectly to prevent lens movement. It ensures that it has a robust construction up to the U.S. military standards and can withstand tough weather conditions. 
Additional settings
The scope has illumination settings and a locking illumination turret that works with both night vision goggles and clip-­on night vision devices.  
The windage and elevation knobs are user-friendly and easily adjustable. The protective caps are made of very thick rings that keep the caps of the knobs secure and also prevent moisture from entering.  
Overall, this Sig Sauer Tango 6T riflescope is ideal for hog hunting, law enforcement, and competitive shooting. The NV illuminated settings make you feel great while using it.
7. Leupold VX-6HD 1-6x24mm Riflescope
Leupold is one of the biggest brands in the optics world. It offers excellent value and its quality is hard to beat. All other products have to stand behind it in terms of quality. Leupold also offers a full lifetime warranty for all their products.
This LPVO is completely made waterproof and fog proof to perform in extreme temperatures from -40ºF to 160ºF. Leopold puts all their optics through vigorous impact testing to ensure that the scope can handle anything.
Objective Lens Diameter: 24 mm
Tube Diameter: 30 mm 
Style: FireDot Duplex
Eye relief: 3.7 – 3.8 inches
Color: Black
Weight: 13.4 oz
Image Quality
In addition to durability, the Leupold VX-6HD delivers crisp, crystal clear images with true-to-life color and outstanding brightness. It has a unique feature, Leupold's Twilight HD Light Management System that improves image clarity even in low light conditions. 
This feature is particularly appreciated by many hunters as it adds an extra 15 minutes of shooting visibility at the beginning and end of each day. That is, the Leupold delivers outstanding performance at dawn and dusk with the Twilight Max Light Management system and HD lenses. 
Throw Lever
The Leupold VX-6HD Riflescope features a CDS-ZL2 dial that locks in place to prevent accidental zeroing. The ultra-bright FireDot reticle improves your shooting experience. 
The scope also provides an included throw lever to assist with quick zoom adjustments. It is a welcome addition to the aluminum scope caps.
Added Features
It is a feature-rich scope on our list. It is boasted with an illuminated reticle, parallax adjustment, adjustable turrets, and 7 different reticles making it one of the best scopes for SCAR 17. 
If you're looking for high-quality optics with plenty of features, then this is the right to go for. 
8. Trijicon VCOG 1-6x24 Riflescope
Trijicon is rapidly becoming a well-known brand in the rifle scope sphere. The Trijicon VCOG 1-6×24 Riflescope is an example of its significance, as it includes many staple features that you'd expect from a high-quality tactical scope. The huge selection of reticles and 1-6x magnification makes it a perfect choice for close-quarters engagements or hunts.
Objective Lens Diameter: 24mm
Eye Relief: 4 inches 
Sporting Type: Long-range hunting
Battery Life: 700 hours 
Color: Black
Weight: 23.2 oz
Reticles & Brightness settings
VCOG scope's reticle is somewhat tricky to judge because Trijicon offers 16 different reticles and you can select any of them depending on your preference or your target environment. These reticles are on the first focal plane for quick target acquisition. One among them is the horseshoe reticle option, which is the best choice for shooters to operate in tactical environments. 
These reticles are illuminated too. No matter which reticle you choose, you can take advantage of the illumination feature, which brightens your chosen reticle across six different settings. So you can use it in any low light conditions. The embedded parallax turret also allows you to adjust the brightness settings.
Lenses
The VCOG's lens system and magnification were quite impressive. The lenses are made of superior glass and have special coatings to improve light transmission and reduce distortion. The 1-6x magnification is very well suited for hunting scenarios below 1000 yards. 
Turret Control
The adjustment turrets move smoothly and the click on each increment moves them left or forward or backward. The parallax turret also includes illuminated reticle control, which is a great option for ultimate performance.
Build Quality
The Trijicon VCOG rifle scope is engineered with aircraft-grade aluminum alloy, which provides exceptional durability. It can withstand military-style action with ease. Even the reticle is durable, which is unexpected for an illuminated optic.
It also has weatherproof functionality, which helps you to work in any harsh environment. So feel free to take this scope into foggy or wet conditions and it will work properly.
Mounting Options
The Trijicon VCOG scope comes with an attachment for a rail system so you have to go with a rail for mounting. It's powered by a lithium battery that can work for 700 hours continuously before needing to be replaced.
Overall, this high-end VCOG riflescope is ideal for tactical engagements or all-purpose hunting excursions.
9. Vortex Optics Razor HD Gen II Riflescope
As mentioned earlier, Vortex is one of the best brands in the optics industry. And Vortex optics razor HD is the third product on our list from them. If you are surfing the web for the best 1-6X scope that shines in long-range shooting, then try out the Vortex Razor HD Gen II riflescope.
Tube diameter: 30 mm 
Objective Lens Diameter: 24mm 
Eye relief: 4 inches 
Color: Stealth Shadow Black
Weight: 21.5 oz
Battery life: 150 hours
Dimensions: 9 x 9.1 x 9.1 inches
Build Quality
The Vortex Optics Razor HD Gen II riflescope is built with aircraft-grade aluminum that adds durability. While on the field, you will find different situations that can damage the scope and lose its function. But, the Razor HD scope has a tightly sealed and argon-filled coating to resist extreme water and fog and can also withstand extreme weather conditions.
Reticle
It is featured with a BDC duplex reticle that is simple and easy to use. This red dot reticle is illuminated and can be adjusted easily through 11 different illumination settings that lock securely into place.
Lenses
The lenses provide crisp and clear images in any lighting scenario. It also contrasts objects very well in low-light environments. It provides the highest levels of color accuracy, clarity, and resolution.
Further, it features a true 1X setting, with which you can make a shot with both eyes open. This amazing feature is used in tactical situations.  The generous eye-relief prevents unexpected accidents on your eye. 
Adjustable knobs
The turret system is another benefit to this Razor HD scope. You can adjust the windage and elevation turrets with secure clicks even while moving. Both the turrets have a 50 MOA range of adjustments, so you make use of it in a variety of shooting situations. 
Besides these settings, it also features a zero resettable for re-adjusting. So you can readjust quickly when needed.
10. Barska 1-6x24 IR AR6 Tactical Riflescope
The Barska sighting system is a top-performing scope that delivers what you need in hunting adventures and tactical operations. It is the best mil-dot scope for those who need better precision for close quarters and extended ranges. 
No matter whether day or night, this best barska scope can give you adjustable brightness and you can see well. It would be a great help if you use it to hunt at dawn or dusk.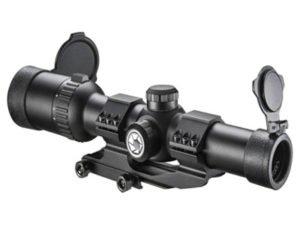 Tube diameter: 30 mm
Objective Lens Diameter: 24 mm 
Style: AR6 Tactical
Eye Relief: 3.7 inches
Color: Black
Weight: 17.6 oz
Magnification
The optics is fully multi-coated for increased light transmission and provide top-quality images. So that you can aim at your target faster and quicker. The 1-6X magnification of this Barska scope makes it versatile for a wide range of applications. It is a perfect choice for short and mid-range shooting.
Reticles
The Barska scope is specially designed to improve your shooting skills. It is the only scope on our list that has both red and green illuminated reticles. Both are integrated to give you better visibility even in dark or low lighting conditions.
Mounting
The installation of Barska's scope might be tricky for new ventures. However, it can be learned quickly with practice. It also comes with flip-up caps and a cantilever mount for installation.
11. Monstrum G3 1-6x24 First Focal Plane FFP Riflescope
The Monstrum is a top-performing scope that is best suited for short and mid-range shooting. It offers six magnification settings to provide accurate and precise images for at least 300 yards away.
Objective Lens Diameter:

24mm

Tube Diameter:

30 mm

Eye Relief:

4-4.5 inches

Color:

Black

Weight:

1 pound
Build Quality
It is made of durable aircraft-grade aluminum that is rugged to deal with hunting or tactical shooting conditions. So you don't want to worry about any climatic changes in the field. 
Reticle
It is specially designed with a first focal plane reticle that is easy to read and remains constant at all magnifications. It also offers quick range holdover and estimation.
The reticle has a dial-controlled illumination for different intensities. It provides great visibility and works well even in low-lighting environments. 
Overall, the 1-6x optic system is best suited for those who hunt at close and middle range targets.
Factors to Consider when Buying a 1-6x Scope
Today, shooters mostly go beyond high magnification scopes for guns, but such power is not required for all. When it comes to firearms, the LPVO scopes or 1-6x scopes are sufficient and work well with all types. 
The variable magnification in 1-6x scopes makes them versatile and flexible. And so, it can be used in hunting, competitive shooting, and tactical applications. It provides clean and accurate shots at close-range and also supplies higher magnification up to 6x to shoot faraway targets. This makes it ideal for both veteran and avid hunters. 
Above all, these 1-6x scopes are very popular in the shooting world. And it has a huge selection of brands and models, which makes it difficult for you to grab the right one. Reading the reviews and comparing different products can help you get one. 
However, you have to consider some factors that are very much essential in a 1-6x scope. Just have a look at it before you make a purchase.
Material
The first and the most important factor that you should look for while purchasing, not only 1-6x scopes but also for all scopes is the material. As these scopes will be mounted on different types of weapons, the material must be strong enough to handle such heavy rifles. 
Also, don't forget to check whether the optics is O-ring sealed or gas filled. This resists water, fog, and shock from entering your scope. So, It should be sturdy and durable enough to withstand different scenarios.
The rugged material that is commonly used in scope is aircraft-grade aluminum with multi-coatings. This material is our recommendation. It is not only sturdy but also lightweight.
Moreover, a good 1-6x scope should have a durable mounting system to keep its zero accurate and intact.
Eye Relief
The eye box is very essential to prevent your eyes from injuries. It is always good to pick scopes with larger eye relief as these scopes can also be used on high-caliber guns and rifles. So that you can be free from eye injuries.
A larger eye box is also helpful in providing a wide field of view. So you can find and hit moving targets quickly and easily. 
Lens
Scopes are more powerful for getting accurate shots. A good quality scope can give clear and crisp images. So it is better to look for a scope with multi coated lenses. These lenses provide maximum light transmission and reduce aberration. Moreover, these multicoated lenses are highly durable and scratch-resistant.
Reticle
The LPVO scopes also come with reticles and there are numerous reticles available for 1-6x scopes. It may be with BDC, mil-dot, illuminated, etc. So, choosing one from them is your personal choice. But you should know their strengths and weaknesses before making your choice.
Scopes with crosshair reticles

are ideal for those who prefer simplicity or small-caliber guns. This can improve your range and accuracy, which is good for varmint hunting. However, they are not effective for defense and tactical situations.

Mil-dot and MOA reticles

are also the perfect choices for small-caliber guns like .22 and .45-70. It provides a reasonable bullet drop that is ideal for hunting. However, scopes with these reticles are not suitable for high-powered guns.

Illuminated reticles

are beneficial for both hunting and defense scenarios. It is versatile and can be used in dim and low-light conditions. The downside is that scopes with this type of reticle are found only in a few numbers.
All these factors are important characteristics that you should look for in a 1-6x scope.
Final words
There are a myriad of riflescopes in the market, and finding the best 1-6x scope among them is definitely a big challenge. So to choose the right scope for your needs, skill level, and budget, you have to do your own research by reading reviews and comparing products. You can also get advice from other hunters. 
Based on their strengths and weaknesses you can make your choice for your purpose.