ArmaLite AR 15 was designed between 1959 and 1964 in the US and opted for military use. AR 15 rifles are lightweight, gas-operated, air-cooled, and the most versatile fire rifle type available right now. 
This fire rifle type has served law and order since then. However, even gun enthusiasts and military professionals need assistance in using these AR 15 rifles in low light or extremely dark conditions. What else can they trust more than a tactical AR 15 flashlight that is intended to mount on those serious weapons to navigate the users in dark conditions?
An AR 15 tactical flashlight offers great illumination over the target or your prey animal and helps attain accuracy even in very bad lighting conditions. The AR 15 rifle is adaptable to most flashlights that can be equipped using a AR 15 flashlight mount. 
Also, AR 15 flashlights are available from a minimum of $30 to a maximum of $500 with various shapes and sizes. With that being said, if you are looking for a budget option or upgrading your basic AR 15 flashlight to the premium one, you have plenty of options available which may sometimes confuse you to choose the best AR 15 tactical flashlight to mount on your weapon.
That's why this article is for, here we have given the list of Best AR 15 Flashlights of 2022 from which you can pick one based on your budget, end-use, rifle positions, and the mounting methods. 
You should also consider the type of AR 15 scopes or sights you will mount on the rifle to make sure there is enough room for your AR flashlight.
Best AR 15 Tactical Flashlight of 2022 For Low Light Conditions
Here we have listed the Best AR 15 Lights for better illumination at low light conditions that improve the chance of getting the target with accuracy.
1. Streamlight TLR-1 - The Durable and Compact Build
Streamlight TLR-1 flashlight is our overall best choice for the AR 15 light. The flashlight is light, compact, and durable with a bright light that will fit in your daypack to carry on.
To be straight, Streamlight TLR-1 is mainly designed for handgun users. But seeing their adaptability, performance, and accuracy with AR 15 rifles, it made its way to most of the hunter's list of Best AR 15 lights.
Lumens: 300

Battery: 2x CR123A

Battery Life: 2.5 hrs

Weight: 4.2 oz
TLR-1 tactical AR 15 flashlight is made of aircraft-grade aluminum of 6000 series and has an anodized finish. The flashlight uses a BOROFLOAT glass lens which has a resistance of high temperature and scratches with water and recoil proof. 
The waterproof feature of the light is tested for up to 30 minutes at one meter in the water. Along with the resistance and proofing features, the glass lens is gasket sealed for unbreakable usage.
The operating temperature range of this tactical AR 15 light is between -40 and 120 F that keeps the level over time and continuous operation.
Streamlight TLR offers two options in the lighting such as Streamlight TLR-1 Standard with 300 lumens and Streamlight TLR-1 HL with 800 lumens. You choose either of these based on your requirements. But, to say, the Standard TLR-1 provides battery life up to 2.5 hours where the TLR-1 High Lumen option can only make it to 1.5 hours.
There is C4 LED light in the flashlight with 50000 hours of lifespan which is almost not possible with other low-level AR lights. With a long lifespan, you will get maximum lumen of brightness the entire time.
The bright light beam of the light convinces that it can be used indoor and outdoor like woods. The focused beam light makes you see everything narrow and peripheral.
The light used two lithium batteries that came with a box. The tar optic has a latch and tethered cap for easy battery access and secure placement even under rigid conditions. It offers a decent level of battery life for a job but if you are going to use it for a whole night then bring extras with you.
Although the power on and off switches are easily accessible, remember that the light is originally designed for handguns, so you have to look through the optic to know how you can use the controls for AR 15.
You have three options for light namely constant, momentary, and strobe. To enable strobe light, bump the momentary paddle rapidly two times. It helps when you need to distract or divert your targets in different directions.
The AR 15 flashlight mount used on this light is a Rail clamp. You can add or remove the light on the side of your fire rifle within a few seconds without using any tool. To avoid shadows from top mounting and best output, mount the light at 3, 6, or 9 clock positions.
2. SureFire M600 Scout - The Warm and Bright Beam
If you are someone who wants to explore more at your rifle job, you should consider SureFire. This M600 Surefire Flashlight would be the ideal choice for AR 15 lights that anyone recommends. So were we.
This M600 Scout light has a rugged body and strong build that you can feel while carrying it. Their regular packages have just a rear push-button cap. 
If you are going to use the flashlight and leave it on then it should not be a problem. Most of the users follow this, they just turn on the light and forget about it till their job is done.
Lumens: 600

Battery: 2x CR123A

Battery Life: 1.5 hrs

Weight: 5.6 oz
This scout flashlight for AR comes in Full Power on and off. It keeps the operation simple so that you need not jump between different modes in the urge.
The AR light sits on your rifle and illuminates the light of brightness up to 600 lumens which is great for indoor and outdoor.
The Center beam of the flashlight is so bright that it clearly shows everything even at the distance of 25 yards which shows you can get on your target effortlessly.
Not only is the center beam bright, but you are also supposed to see things at the edges. You get a slight yellow which is warmer than other models.
The AR 15 flashlight mount possible with this light is Picatinny rail mount which may be a bit out of style right now still they are one of the best in their field. The only issue with Picatinny is their weight.
3. Inforce WML (Gen 2) - The Most Lightweight
The Inforce WML Gen 2 is the perfect example for the best lightweight AR 15 light. Hunting or shooting is fun and enjoyable but thinking of expenses teaches, you should have a plan before you step into the woods. 
You should prepare and equip yourself to not only perform well but to keep yourself alive in dangerous situations. With that being said, in addition to the essential things like a weapon, ammunition, hunting scopes, and an emergency kit, having a bright flashlight is also crucial in night hunting.
Lumens: 400

Battery: 1x CR123A

Battery Life: 1.5 hrs

Weight: 3.2 oz
You can't compromise any of these because of the budget as you may regret it in the future when you badly want these to stay safe.
That's why WML comes up with budget-friendly options so everyone will get the chance to equip themself despite the money.
The Inforce WML Gen 2 flashlight is made of polymer and has reinforced glass, resistant to sudden impacts and water. The optic is tested 66 feet deep into the water for its durability and it did well.
You may think about how the polymer body can withstand the heat produced from the light, don't worry the WML included heat-dissipating vents to deal with this.
It uses one lithium battery that promises 1.5 hours of usage. It is perfect for short hunting sessions, if you want it for more time, carry extras.
The WML has an integrated clamp that is compatible with Standard Picatinny 1913 rails which is the most often used AR 15 light mount. The cap lock bolt in the clamp prevents accidental release. To open and close the clamp, you just have to loosen or tighten the thumbwheel. It is very easy to add and remove and can maintain a low profile even at a 12 clock position.
An LED light in the WML offers you 400 lumens of brightness. It might be low compared to previous models still you will get an intense, focused, and a bright beam of light. The light beam is perfect for illuminating targets at medium-range distances.
The controls and switches are kept in natural placements with ribbed and non-slip textures on the side of the tail cap. 
You have two ways to lock the light to protect against accidental clicks:
If you want to lock the light for a short time, there is a manual bar swinging over the switch which blocks the pressing.
For a long period lock, just unscrew the head to one turn.
As usual, it also has momentary, constant, and strobe lights.
To turn on the momentary setting, hold the on button for half a second and leave it to turn off.
To turn on the strobe light, press the on button twice rapidly.
To turn on the standard constant light, do a quick press on the button. Press again to turn it off.
To turn on the infrared, throw the lever on the side to activate.
Note that you can't use a strobe mode in IR.
Size, which is the most special factor of this light. This Generation 2 WML is compact and streamlined. With a 3.2 ounce of weight, it is very light and compact enough to carry around all the time.
4. Inforce WMLx - The One With Great IR
Inforce WMLx is a successor of WML with betterments in a few areas and added features than WML. The WMLx comes with an Infrared which is a dual light that can help to illuminate the target or area if you are using night vision goggles or thermal imaging goggles.
Anyhow, you get a bright white light that offers you 800 lumens. On the other hand, the IR version provides white light up to 700 lumens and IR up to 400mw.
Lumens: 800 or 700 with 400mw IR

Battery: 2x CR123A

Battery Life: 2 hours or 4 hours (IR)

Weight: 4.0 oz
All the other features, controls, and switches are mostly the same but with a bigger version. WMLx has two batteries for better performance. It has a switch to choose between infrared and white light.
The 700 lumens of white light is slightly cooler than SureFire with a focused beam. The white light switch is at the bottom.
The 800 lumens of light would be even more catching. It is cool to have night vision. NVGs indeed struggle a bit if there is no ambient light but it won't be a problem for you as you have an illuminator with you.
As in the previous model, WMLx is also made of durable glass-reinforced polymer with a vent for LED thermal management. It uses two lithium batteries that offer 2 hours and 4 hours of run time for white light and IR respectively.
It also has the same three light modes as constant, momentary, and strobe with the same locking and unlocking switches of WML Gen 2. The waterproof ability of this light is the same as Gen 2 up to 66 feet.
The AR 15 flashlight mount for this light is also standard 1913 Picatinny rail. The contoured and ergonomic power on and off switch makes it easy for anyone to use this light.
5. Surefire M300C - The Most Ultra-Compact
The SureFire M300C is one of the ultra-small and compact AR 15 lights on the list. It offers great performance. The recoil-proof LED light in the optic offers 500 lumens of the bright light beam. 
It uses a single lithium battery that offers a maximum of 1 hour run time. The tactical level light offered by the flashlight is helpful in dark conditions.
The Total Internal Reflection (TIR) lens in the light produces a focused and versatile beam which is good enough for medium range hunting. It also offers peripheral vision around the area.
Lumens: 500

Battery: 1x CR123A

Battery Life: 1 hour

Weight: 4.8 oz
The AR 15 flashlight comes with a gasket seal and coated O-ring. It used military-grade special aerospace aluminum for construction and has an anodized finish.
It has a tail cap click switch and three light modes. As with others, partial press for momentary, one-click for constant settings to activate. To prevent accidental activation it has a lockout feature.
This AR 15 flashlight uses a Picatinny rail mounting system. The thumbscrew clamp makes the installation easier. Without using any tools you can add or remove the light.
The 500 lumens light is perfect for both indoor and outdoor shooting sessions. The flashlight is stable and recoil proof so you can attach it to any automatic or semiautomatic weapon.
As far as we tested, the tactical flashlight is suitable for medium-range illumination with that you are aware of your environment decently.
6. Streamlight 69265 TLR-2 - The Best Laser and LED Combo
When you ask a night hunter or shooter about their favorite brand for gun lights, he'll surely mention Streamlight. They make the best gun lights for small to long-range shooting.
You can see people saying Streamlight is one of the best AR 15 flashlights and laser combo that anyone can buy.
Your first flip of the switch on light lets you see everything around you and know that TLR-2 is one of the powerful gun lights for AR 15.
Lumens: 800

Battery: 2x CR123A

Battery Life: 1.5 hours

Weight: 4.8 oz
It has a green laser of class 3R at the direct drive that works on a wide operating temperature that ranges from 40 to 120 degrees. It is easy to access and provides accuracy.
It has a bidirectional and fully accessible on /off strobe to steady switch to illuminate the visibility of the target even in very dark situations.
You get three different modes available with the light. Only Laser, Only LED illumination and both of them. When you use both LED and laser, you get almost 1.5 hours of run time with a one-time charge on Lithium batteries. 
Meanwhile, if you used only the laser then 17 hours of run time is possible. The optic uses C4 LED technology to acquire the target easily even at very wild places. 
There is an in-built amplifier in the flashlight that amplifies the light to provide focused, intensive, and clear visibility at night. The LED beam light reaches up to 283 meters which are great for night hunting at any range.
The size matters when you are out on the field with already a heavy weapon and high end rifle scopes. And the TLR is compact and moderately weighted.
It weighs only 4.8 ounces with batteries, remember that this is not the only small or large option from Streamlight. With too small or too large switches and controls, it would be hard for you to access and operate with gloves. But with TLR-2 the size fits the best.
This is a tactical flashlight designed to manage all the accidental actions possible outdoors like shocks, scratch, and impacts.
Streamlight mentions the batteries included with this light will handle almost 50,000 hours of an impressive lifetime.
The AR 15 tactical light has a Picatinny rail mounting system. The package comes with the rail locating keys for Picatinny, Glock rails, and S & W 99/TSW for non-standard rails. As far as we reviewed, this is the most expensive AR 15 tactical flashlight on the list. But, the visibility, run time, and illumination it offers are worth the money.
7. Streamlight ProTac Rail Mount 2 - The Best Budget AR Flashlight
The Streamlight ProTac Rail Mount 2 is the best option for budget buyers. If you are not looking for an AR flashlight for more than 150$ then this PROTAC is one you should go with.
Streamlight ProTac AR 15 light is lightweight, affordable, durable, and we'll build gun light you can buy for your rifle.
Lumens: 625

Battery: 2x CR123A

Battery Life: 1.5 hours

Weight: 5 oz
Well about its build, this ProTac rifle light is made of machine aircraft aluminum and has an anodized finish. The optic is tested for fire and IPX7 waterproof for 30 minutes up to 1 meter, and IPX4 water-resistant. IPX7 with a standard button switch and IPX4 with remote pressure switch respectively.
It comes with a BOROFLOAT glass lens which is impact-resistant, o-ring sealed, mounted for shock and operates in the temperature range of -40 to 120 degrees F.
It uses C4 LED technology that offers a maximum of 625 lumens. The LED technology provides sturdy light with a lifetime of 50,000 hours which is great for this price.
Another great thing about the light is that it is Ten-tap programmable with that you can use the light on high, high/low, or high/strobe modes.
Here the high mode produces 625 lumens and 297 meters of beam distance, the low mode produces 60 lumens and 89 meters of beam. It lasts up to 50 hours of battery life.
The strobe mode is great for distracting the target to another direction and for signaling the location. The pure white light of the optic allows you to see up to 100 feet in front.
The flashlight is compatible with MIL-STD 1913 Picatinny rail, also the optics are designed with a rail clamp to make the attachment and detach quick and easy.
It comes as a snap-on design that you can attach with one hand while you do not have a touch on the muzzle. You just need to slot it down and tightly twist it.
Though it is designed for Picatinny rails, this PROTAC 2 will also fit other rifles and shotguns.
In ProTac 2 you have two options to use between such as remote switch and push-button tail switch. Both the switches offer momentary and constant lighting settings.
Added with the batteries the flashlight weighs 5 ounces that may not be lesser in the list but it is surely a lightweight option comparing other models in the market.
With an excellent price, durable lightweight design, bright light, this Streamlight ProTac 2 is an undeniable option.
8. Aimkon HiLight P10S Strobe Flashlight - The Best Strobe Flashlight
The Aimkon HiLight P10S Strobe Flashlight is one of the lightweight gun lights on the list. It is not only lightweight but also has extended illumination and great visibility.
The Cree XM-L2 LED technology used in this flashlight offers 500 lumens of the light beam. It is more than enough for targeting a target, following a root and being aware of the environment. This LED technology offers a light beam of 10,000 hours lifetime.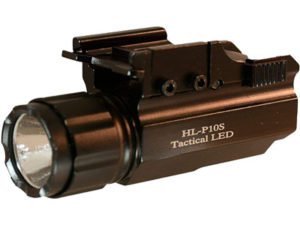 Lumens: 500

Battery: 1x CR123A

Battery Life: 55 minutes

Weight: 2.8 oz
The light offers two different modes such as Steady on (regular high beam) and Strobe mode both at 500 lumens. It is two times brighter than other models of the same class.
To acquire the light and strobe mode faster and quicker while triggering, it uses a quick mount and demount system plus a quick switch design.
This flashlight not only fits AR 15 but also regular and compact size pistols. About the body, the flashlight is made of lightweight aluminum alloy which also has a weatherproof shield. 
It has a multi-purpose design and quick-to-mount system which is easy to carry for shooting and other recreational activities.
There is a Quick sliding switch on both sides to engage the light on one press and strobe mode on two presses in a rapid session.
It has a 22mm wide rail groove for all the regular pistols and similar weapons that supports the Picatinny rail mounting system.
With a weight of just 2.8 ounces, Aimkon is the lightest AR flashlight on the list. It uses a CR123 lithium battery that offers a maximum of 55 minutes run time. 
It may seem low but considering the visibility, lumens, lightweight construction, and most importantly price, Aimkon HiLight P10S Strobe Flashlight is enough for the short time hunting that doesn't need the light to be on continuously.
9. Streamlight TLR-3 - The Best Basic AR Light
Another tactical mountable flashlight for AR 15 from Streamlight is TLR-3. It has all the great features and functions of its predecessors. TLR-3 is the best choice for handgun light but they are also powerful enough to work with a rifle.
TLR-3 is rail-mounted light that is made of polymer that impacts resistance and comes with an anodized aluminum face cap. As we already discussed, the light is primarily designed for compact and similar handguns, but it also goes well with full-size handguns using a rail.
Lumens: 125

Battery: 1x CR123A

Battery Life: 1.5 hours

Weight: 2.3 oz
The BOROFLOAT high-temperature resistant glass lens ensures visibility. The operating temperature of the light is from -40°F to 120°F. The design is tested for IPX7 waterproof up to 1 meter in deep water for 30 minutes.
Considering the battery, the total weight of the light is just around 2 ounces that makes it an ideal choice for lightweight carriable mounting light for rigid conditions.
This lightweight tactical TLR-3 light features a C4 LED technology of 125 lumens bright light. With a single lithium battery, it offers 1.5 hours of run time. The LED technology lives up to 50,000 hours of lifetime.
The flashlight is available in three different models such as basic model (69220), USP Compact Clamp (69221), and USP Full Clamp (69222).
The Streamlight reflector in the light produced an intense and focused light beam for continuous-time. Not only that but it also offers peripheral illumination so you will know anything around the place.
For the money you spent, you get a very durable, lightweight, and intensive beam light that is most suitable for a short range of sessions.
How to Choose a AR 15 Tactical Flashlight 
Speaking about AR 15 rifles, they are the most versatile, customizable, and powerful rifles on the market. They are very well adaptable to various specific attachments like AR slings, scopes, weapon sights, and hearing protection devices that save you from going deaf. The possibilities to explore with AR rifles are endless.
AR flashlights are one of those powerful additions that you could make for yourself to be safe and successful at night hunting.
Whether it is for hunting, self-defense, or tactical applications, the flashlight took your game to a high level.
Keep reading to know what you should look for while purchasing an AR 15 flashlight.
Purpose – For what
As we discussed, it is crucial to think about your preferences before choosing a light. The specific features you should check on your choices are based on the purpose you are buying a light and how you use your rifle for.
It may be for hunting, home defense, or tactical purposes.
Once you are clear about the purpose, just move to the features.
Design – Light and Compact
This is not only for a light but also suitable for most rifle attachments and accessories. No one wants to carry a bulky scope or sight or a light on their already weighted rifle. It will slow down their speed and make them tired after a short time.
That's why while choosing the light, you have to look for a one that is lightweight and compact at the same time durable to handle rigid conditions.
There is a high-quality AR 15 flashlight weighing from 2 oz. We have listed the three best lightweight and compact AR lights in our above list.
Access – Easy User Controls
The best flashlight should not be hard for the users to handle. It should be simple, accessible, and easy to control.
AR 15 rifles are serious weapons for crucial purposes. You can't make it even harder by having a more complicated flashlight that pressures you to find switches when you're near the target.
The flashlight with easy-to-use and easy-to-find controls allows you to access comfortably even with gloves on and in dark conditions.
You can look for the flashlight with ambidextrous controls so you can access the light with any hand which is comfortable to you at the moment.
Mounting System – With Minimal Effort
The flashlights for powerful rifles like AR should come with easy to install and uninstall abilities. The AR lights are available with a clamp-on system to mount or use tools. If you want to save time then go with a clamp-on rail mounting system. With this type, it is relatively quick and easy to mount and demount the light from the rifle as necessary.
It eliminates the need for carrying a bag of tools with you wherever you want a light.
Build – Durable and Strong
The most important thing to check on hunting equipment is its durability and strength. You can say these by looking at their building materials and proof-tested certifications.
You have to make sure the flashlight you chose for your rifle is resistant to water, shock, scratch, impacts, and any other accidental actions. It promises a long-running life of light.
Most of the flashlight comes with Polymer build, but buying one with Aluminum construction promises more durability, strength, and waterproof. Also, remember the weight it adds up.
If you want a lighter one, pick a light made of Polymer. Though it can't match the durability of the metal construction, Polymer made lights can also be weatherproof and provide long working life.
Also, check for IPX7 and IPX4 tested lights which work great against watery conditions.
Battery – Long Run Time
Whether you prefer medium or long-range hunting at day or night, a flashlight with good battery life is important.
Always stick to the lights with a minimum of one hour run time continuously. You can still find tactical AR lights with extended battery life.
Go with the rechargeable battery types rather than disposable. If you are a hunter who always likes to have long-time shooting sessions, choose a flashlight with a rechargeable battery and a minimum 1-hour run time. So you need not bring extra battery cases with you all the time.
Brightness – Adjustable and Adequate
Here considering the purpose of your rifle is needed, you should think of a need before choosing the right brightness levels for your gun light.
As a serious hunter, you need bright light. For night hunting in the woods with pitch dark conditions, you will need a flashlight with at least 500 lumens of brightness. It helps you find out and track the target while improving the accuracy.
As a self-defense light, you can settle on 125 to 300 lumens of brightness which is well enough too.
How to Mount a Flashlight on an AR-15 
You can mount a flashlight on an AR 15 in different ways. Most of the AR 15 rifles come with a Standard Picatinny Type Rail mounting system and almost every gun light is designed to be compatible with Picatinny rail.
Either you have to use tools to attach a flashlight to an AR 15 or you can do without them using the clamp-style mounting system.
You have to choose your best mounting system based on your specific choices on the field. If you ask me, I would say clamp-style is the most convenient and quickest way to mount a flashlight on an AR 15 without needing the extra tools.
Where to Mount Flashlight on AR 15?
It is crucial to find out the right angle you should mount your flashlight on the rifle. It eases the operation and benefits in getting the bright light with no or minimal shadow.
Technically, the light should be mounted close to the front and top sides of the rail. Meanwhile, you have to consider the barrel and rail lengths before mounting.
With a long barrel and rail, it is easy for you to mount the flashlight on an AR 15 with no shadows.
In the cases of short rail and long barrel, you might have difficulties in mounting the light. But you can try to mount it in the 12 o'clock position if possible.
If you are attaching the light on the sides, it will create shadows on the opposite side that affects your field of view.
If you have other optics mounted on your AR 15, it might be hard to mount a flashlight as close to the 12 o'clock position however try to get it as close as possible even at 11 o'clock or 1 o'clock positions so you can access the flashlight using one hand.
How to Mount AR 15 Tactical Flashlight with Pressure Switch
Most of the gun lights including AR 15 lights have either a push button switch at the back or the flat pressure switch by a wire for mounting. These switches hang from the flashlight and those can be attached to the gun easily.
You can follow our instructions to mount the light close to the muzzle of the gun. If the flashlight comes with the mounting system to attach the pressure switch, use it that way.
To attach the pressure switch to the rifle, you simply stick a double-sided tape on the flat pressure switch and press it towards the barrel or rail as much as you want. Or else you can also use glue to paste the magnet to the switch and then attach it to the rail.
If you find it difficult, you can buy barrel rail cover and forward grips separately. It is also the best solution because those will come with pockets and sleeves to afford the rifle pressure switches. 
Most of these attachments are compatible with AR 15 rifles. These are more practical and effective than pasting magnets and tapes but also be aware that those may put the switch to the place which affects your grip on the rifle.
Why You Need a Rifle Light 
The two main reasons why you need a rifle light or gun light are to see things through the dark and to never miss a target despite the lighting conditions. In short, Visibility and Target acquisition are the two crucial things that you must have at the shooting.
Having a bright gun light on your AR 15 will make you see through the dark and help you get the same performance at day and night hunting. It improves visibility, accuracy and blinds your prey or target in self-defense conditions.
For a hunting gun light, you need one with IR and green light options. These lighting modes lighten up your area and disorient the target.
It is also great to have a white light with adjustable brightness and a focused beam that is highly helpful in home defense.
In addition to the lumens, battery life, and run time, also consider the different light modes available out like strobe and momentary. The Strobe lights are great for disorienting the target while the Momentary lights help you reveal your location or call help.
Indeed, the best of everything always relies on what you actually need, so choosing the best flashlight for your AR 15 depends on your preferences and uses.
Wrapping Up!
We promise that we listed the most powerful and Best AR 15 Tactical Flashlights in the market that help you see through the dark and navigate you in any hard situation. We have included models from basic to professional grades by considering all budget ranges. The guides we have given about how to mount a flashlight on an AR 15 and where to mount a flashlight on an AR rifle are hopefully helpful for you to start your hunting journey despite the lighting conditions. 
If we have missed any of the good AR lights or you wanted even more details of using an AR light on weapons, feel free to share it with us.