Whether you're a hunter or target shooter doesn't matter, bore sighting is a very important step to prepare your firearm for use. There are many special instruments to get the job done within minutes. 
Some are costly and difficult to use, but bore sighters are the only inexpensive way and zero your firearm much faster with improved shooting accuracy. So you won't have to waste your time and ammo for the re-calibration and zeroing process. 
Initially, people used traditional bore sightings which were inaccurate, so they left their hands out of it. But now with advanced technology laser bore sights have been developed to overcome this issue. It is widely popular in the firearm industry for sighting a firearm. You can achieve both accuracy and precision using a laser bore sighter. 
The tedious process of sighting in firearms has become easy with laser bore sights. Simply attach the boresight onto your firearm and calibrate your rifle to a target at a set distance. So, you can adjust your firearm accordingly to make a single shot. 
But how will you find the best laser bore sight for your firearm? Because technologies are far ahead and plenty of models have been developed day-by-day. But you don't want to have stress about it.
We have tested and jotted down the 7 best laser bore sights that are of high quality, affordable, compact, and easy to use. Just go through it and grab the one that suits your needs.
7 Best Bore Sights in 2022 - Reviewed
1. SiteLite Ultra Mag Professional Laser Bore Sight
If you can spend a few more bucks for an efficient bore sighter, then the SiteLite Ultra Mag Laser Professional Bore Sighter is for you. It is built with superior quality and advanced laser technology to provide great accuracy. So you can't go wrong with this boresight.
This ultra mag boresight is compatible with all kinds of rifles, guns, shotguns, handguns with the capacity .22 to 50 calibers. It can also handle 12 and 20 gauge shotguns and muzzleloaders. It is provided with adapters and O-rings to fit those weapons.
Compatible with:

.22 to 50 caliber handguns, rifles, 20 and 12 gauge shotguns and muzzleloaders

Battery life: 40 hours
Power output: Less than 5 mW
Dimensions:

9 x 2 x 6.5 inches

Weight: 1 Pound
Construction
The SiteLite Ultra Mag bore sight comes with a professional quality red laser and strong magnets in the arbor to keep the laser at the center (within the muzzle) for constant accuracy. It is powered by a lithium battery that works continuously for up to 40 hours. It is ideal for avid hunters or shooters who need increased battery life and laser power.
How does it work?
First, level the scope with a Reticle leveler and Leveling Target. Then input the data of your rifle and ammo to the Ballistic targeting system. So that you can create your own laser boresighting target system. 
Once all the setting is done, mark the laser spot on your target, then line up your scope with the crosshairs to make an accurate shot. You can bore sight for up to 300 yards. This makes it on the top line among other holographic sights and reflex sights.
By knowing the value of SiteLite Ultra Mag bore sight, it is used in helicopters, satellites, and in the American Navy for high accuracy. 
The next grade level of this boresight is made with a green laser instead of red. Both are similar in all their features and performance. The only change in them is the color of the laser. So you can also go for SiteLite Ultra Mag Professional Green laser bore sighter if needed.  
2. SiteLite Mag Laser Bore Sight
When it comes to laser bore sight, SiteLite always stands first with its unique laser technology. SiteLite has secured the first and second positions on my list pushing others down. Similar to the ultra laser bore sight, this Class IIIA Red Laser sight is also built with professional quality and is in use by the US Navy.
Sitelite Mag Laser is made of sturdy, durable materials that are thick enough to handle most of the firearms. The US Navy and USMC have selected this bore sight for its great accuracy. It is crafted perfectly to fit the Aviation weapons from 5.56mm to the 20mm canon on Helicopters.
Compatible with:

 .22 to .50 cal. plus 20 & 12 ga. Shotguns

Battery life: 2 hours
Power output: Less than 5.0 mW
Dimensions:

10 x 6.5 x 2 inches

Weight: 14.4 ounces
Installation
You can get the same aim point when you insert it into the bore. The unique adapter system in this Laser mag boresight can handle .22 to 50 caliber rifles, handguns, 12 and 20 gauge shotguns. It works well and provides trouble-free installation all the time. The inbuilt battery consumes very low power and can hold a charge for up to 2 hours.
Laser Technology
The laser part is located in the middle and is very bright, visible even outside. One important thing you should know while aligning the scope crosshairs is, you need to slide it over the end to get a straight line laser on your target. 
Ballistic program
It also includes a software with ballistic target system to calculate the elevation for your distant target and adjust it at close range. You can download that software on your laptop or an app specifically made for iPad and iPhones. You can use it when you are in the fields.
3. Wheeler Professional Laser Bore Sighter
The Wheeler is the most popular brand when it comes to laser bore sight. It provides high-quality bore sighting tools for all types of firearms. If you're looking for an advanced laser bore sight without considering the money, then you can stick to this Wheeler Professional green laser bore sight. It provides exceptional accuracy with a clear, visible mark, even if viewed from a distance.
Compatible with: Rifle, Handgun
Style: Arbor style 
Power output: <5mW
Beam Color: Green 
Dimensions:

5.9 x 4.6 x 1.8

 

Weight: 15.2 ounces
Laser Technology
It is built with an advanced class IIIR system that allows a faster zeroing process. It uses a high-power visible green laser to mark the target for an accurate shot. The high-strength magnets keep the laser straightforward and deliver fast and accurate bore sighting. 
Mounting
The Wheeler bore sight is easy to mount and recalibrate on the muzzle end. The magnetic connection also helps in quick attachment and the sighter can be placed onto the muzzle in a few seconds. The grip is solid and fits perfectly on different caliber rifles and handguns. 
High precision
The Wheeler bore sight is hand-tuned for precision calibration and accuracy. The calibration mechanism allows maximum precision that ensures a perfect alignment. Once precision calibration is created the laser module is secured in place assuring reliable performance. Misalignment is not seen with this laser module.
Build Quality
The Wheeler professional bore sight is made of superior quality aluminum material that ensures durability. Its design looks stylish and more premium with the surface color and rubber mold housing. The rubber molding around the laser unit is scratch-resistant and can last for years with reliable performance. In addition, it comes with a case to store the sighter when not in use.
4. Aimshot KTmaster green Laser Bore Sight
If you're ready to spend some extra dollars for a bore sight, then the Aimshot KTmaster will definitely help you increase the focus/aimpoint of your gun. It is an affordable bore sight kit for your weapon. It is simple, easy to mount and use.
Compatible with: Caliber rifles
Beam color: Green 
Capacity: 16 caliber rifle arbors 
Battery Life: 10-20 hours
Build Quality
The Aimshot boresight is made in accordance with military standards. It is well built with tough brass to prevent scratches. The latest cutting-edge technology makes it stand out and looks very premium. The .223 green laser boresight has a modular design and the amazing craftsmanship make it survive over years.
Boresight set
The Aimshot bore sight kit includes a new 223 green laser bore and 16 rifle caliber arbors. So you can bore sight many standard calibers from WSM to Weatherby with this kit. By using the Laser Bore Sights along with its corresponding arbor, you can sight in through any weapon. This laser bore sight set has two zippered pouches to hold all the 16 arbors, bore sight, and removal tools.
Battery 
The green laser is powered by two regular AAA batteries and can operate continuously for hours. Also, this battery pack is replaceable and so you can have some extra packs for long day hunting. 
5. LaserLyte Universal Laser Bore Sight
The market is getting crowded day by day with new arrivals. And Laserlyte tries to stand out from the line with their premium boresight. This is made possible with their Universal Laser boresight. Considering its performance, we can definitely say it is a good budget candidate in the range. It also has a target system to help you shoot precisely.
When speaking of the Laserlyte bore sight, the first thing that comes to our mind is its durability. It is made of sturdy aluminum and is anodized for longevity. Therefore, it is more durable than other plastic models. 
Compatible with: .22 to .50 caliber pistols and rifles
Beam color: Red 
Power Consumption: Less than 5mW
Power output:

630 nm to 670 nm

Weight: 2.4 ounces
Compatibility
As the universal bore laser system has a smaller frame, it fits perfectly only with barrels that are as short as three inches. So choose a set of adapters to match the inner diameter of your barrel and slide the bore laser into the muzzle to create a snug fit. Therefore, this system is a perfect fit with all .22 to .50 caliber firearms. 
How to use it? 
This versatile 223 device contains separate adapters for different firearms. Use the caliber adapter to fit into the barrel of the unloaded rifle or firearms. Then 'On' the boresight, line up the scope and laser sight with the beam coming from the boresight. You can also use the red dot to adjust the crosshairs.
Daylight laser target helps in better zeroing and within 2 to 3 shots you will get adjusted to the laser. It works accurately toward 25 yards to 100 yards.
Power Consumption
The Laserlyte bore sight is also classified under class IIIA laser as it has a very low power consumption of less than 5 mW. The 630nm to 670 nm power output makes it one of the brightest lasers for your firearms. But the red laser color won't appear bright in daylight conditions unless you use a reflective target. The all-in-one design provides a user-friendly interface to use even by the newcomers.
Further, it also includes some extra accessories for more precision. But the basic kit is large enough to establish a true zero at the range. 
6. Aimshot KTmaster Rifle Bore Sight
The Aimshot Rifle bore sight is an affordable choice that balances between the price and quality. This laser bore fits easily to most firearms and is easy to use. 
The Aimshot rifle boresight is made to the highest military standards to stand out unique in the market. It is constructed very well with tough brass so that you'll have less chance of scratches and tolerances. This adds reliability and durability to the sight. 
Compatible with: Caliber rifles
Beam color: Green 
Capacity: 16 caliber rifle arbors 
Battery life: 10-20 hours
Multiple Arbors
The Aimshot has introduced 16 rifle caliber arbors along with a 223 laser bore for more caliber boresighting. The two .223 laser bores have a modular design and great craftsmanship on the cartridge arbors.
The most commonly used arbors for boresighting are AR243, AR264, AR3006, AR3030, AR762, and ar12ga.  Further, this set has two zippered pouches to hold the .223 laser bore sight, battery pack, and 16 rifle arbors.
Red laser
The bore uses a bright red laser that provides a good precision dot every time. It runs on two AAA batteries that can last for several hours. The maximum sighting range of the bore laser is 100 yards and it does the work much faster than expected.  
Overall, it is very convenient to use in the field. 
7. Sightmark Triple Duty Universal Bore sight
The triple-duty universal bore sight is a top-of-the-line product from Sightmark. It was tested by the National Tactical Officers Association and North America Hunting Clubs for its durability and performance. The compact design, durability, protection system, faster zeroing, and high accuracy maintain the boresight at a high peak till today.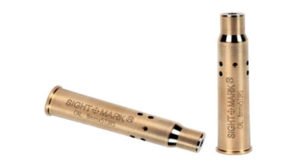 Compatible with:

Handgun, Shotgun, Rifle

Dimensions:

8.5 x 5.2 x 0.8 inches

Color: Black 
Beam color: Red laser
Sport type:

Hunting, Airsoft
Design
The Sightmark Universal boresight has a simple yet compact design with a flat edge at one side and a nozzle at the other. The laser is mounted tightly inside the chamber to offer better accuracy. 
The triple-duty magnetic bore sighter is very convenient for sighting. Though it is lightweight and compact, it will not affect its performance. It fits all types of pistols and rifles ranging from 0.17 to 0.50 caliber. 
How to mount it?
Just mount the bore sighter onto the gun and the magnets will keep them attached. Also, test whether it is aligned perfectly. Protection is also given inside the chamber to prevent damage. So, you can attach the bore easily without damaging the barrel of the firearm. 
Gun Center Zeroing
It features a faster gun center zeroing option that helps you with quick zeroing. The laser dot will appear exactly where the gun is aiming so that you can make an accurate shot. Besides, it has a self-centering bore that will help from wasting the rounds. It won't take you to frustration while sighting in any gun.
Additional Features
It runs on AG3 batteries that provide long hours of usage. It also includes a carry case to make it easy for traveling. 
Overall, the Sightmark Triple Duty Universal Boresight is worth the dollars you invest in it. It is a perfect choice for competitive shooters, hunters, and even law enforcement.
8. Bushnell 743333 Boresighter
Bushnell is quite an interesting option that works differently from all other bore sighters on the list. It has introduced a compact and portable sighter for guns which actually does not have a laser.
Mounting is very simple with the Bushnell Boresighter. It can be placed directly into the barrel without creating any damage. This sighter is small and is compatible with all kinds from .17 to .45 caliber guns. It comes with three different expandable arbors to fit perfectly with those calibers. 
Compatible with: .22 to .45 gauges
Dimensions:

6 x 4 x 3 inches

Weight: 1 pound
Color: Black
How does it work?
It aligns approximately with your scope, thinking that you have a "standard" height scope. It has a target adjustment system, and a graduated grid sighting reticle. So you just have to align your scope's reticle on the grid. The graduation scale is measured at 4.0 inches for every 100 yards.
If you have known when to align the scope reticle on the center of the grid, then it would be much easier for you to end up with a right and accurate shot. So next time when you use it to zero, you just have to align the reticle a little higher and towards the right of the center. This saves even more time.
Benefits
The Bushnell bore sighter does not have a laser and so there are no visibility issues in daylight. Battery swapping is not necessary. Also, it does not require any reflective targets. Just a simple grid delivers excellent performance.
Build Quality
The materials are decent enough to last for a few years. The outer layer is soft and smooth. As it is compact, it can be mounted much faster on all kinds of devices for sure.
Note: If you have mounted long-range scopes on your AK 47, AR 15, or M4 style rifles, then Bushnell is not apt for you, it may not have good visibility.
9. Sightmark Luger Laser Bore Sight
Like Bushnell, the Sightmark Luger Bore sighter is also a different one. This is an in-chamber laser bore sighter, which means it fits like a cartridge directly into the chamber. The design is cheaper and is more affordable than the universal bore sighters. It is the best bore sight for 6.5 creedmoor.
Type: Chamber
Compatible with: Handgun
Operating Temperature:

15 – 122 F/C

Power output:

Less than 5 mW

Dimensions:

0.75 x 0.39 x 0.39 inches

Weight: 0.05 pound
Design 
The Sightmark Luger bore sighter is designed to be the shape of a cartridge that fits easily into the chamber. The boresight is small, lightweight, and is highly portable. It looks good and attractive with brass color. 
Accuracy
The sight aligns fairly much faster and so you can zero-in at the target without making a single shot. As it is small in size, you can use them on different kinds of rifles with ease. The laser is more accurate and you can view easily for up to 100 yards. 
Unique facts
Another impressive fact is that you can bore sight to older pistol versions (.380) with this Sightmark Luger laser bore sighter. Also, with this bore sighter, you don't want to worry about whether it will work with a flash hider, muzzle brake, or any others. It does not need anything to be mounted at the end of your barrel.
Battery
Further, it is provided with an on and off ends cap that helps to change the laser setting. It runs with replaceable batteries either AG3 X3 or AG5 X 2. But the only issue here is the battery life. It gives only 1 hour of battery life. 
Overall, the Sightmark Luger Boresighter is one of the highest quality, accurate laser sighters that you can find in the market. 
What is Boresighting? 
Boresighting is a method used to line up the firearm barrel and sight by adjusting the optical firearm's sight. It makes zeroing in much faster. So a bore sighter is very much necessary to complete the action. 
It makes the tedious process of sighting in firearms easy with laser bore sights. Simply attach the boresight onto your firearm and calibrate your rifle to a target at a set distance. So, you can adjust your firearm accordingly to make a single shot. 
It has an optical head and a bore-diameter arbor that is placed into the muzzle of the rifle. The optical head is attached to the end of the rod, while the grid pattern of it helps to line up the sight with the barrel. 
Different Methods of Bore sighting:
Bore sighting provides you with a reference point from which you have to start sighting in your gun. This saves your ammo, time, and also protects your shoulder from unwanted recoils. Bore sightings are of four types based on technological developments. They are;
1. Traditional bore sighting:
It is the oldest method where the bolt is removed on a rifle to sight down the bore of a gun at a specific point of the target beyond 50 yards. Here, the windage and elevation turret of the scope or iron sight is adjusted to aim the center of the distant target once the rifle is held in place. This method is mostly done in handguns. 
2. Collimator and Arbor Sighting:
This is another oldest but efficient method of boresighting. Here, the collimator and arbor are used for sighting. The collimator is a device with a paper-like grid in it and you can see it through your scope. It is secured in place by the arbors present inside your barrel from the muzzle end. A spring holds them in place and they are sized according to your caliber. Then you have to adjust the windage and elevation turrets by looking through the scope. Size the arbors precisely to make a single shot. Most of the collimating boresights feature many arbors.
3. Magnetic Boresighting:
This is the most convenient method of boresighting. You just have to attach the bore sighter to your muzzle with strong magnets. You don't need other parts. It fits all calibers and gauges. Sight in your gun and notice where the crosshairs end up on the grid. Note down the placement to check zero. Magnetic bore sighters are also needed to check zero after moving your guns or dropping them.
4. Modern bore sighting
It is not done by visual inspection, it uses a laser bore sighter to aim the distant target. That is, it projects the laser beam from the arbor placed into the muzzle. Also, in this method, you don't want to remove the bolt that allows more movement in the gun. Some laser bore sighters are sized for a specific cartridge case and you just have to insert them into the chamber of your gun for the action. 
When using a laser bore sighter you need a reflective target to reflect the laser beam. And this target should be placed at a certain distance and hold your gun steady to center the crosshairs of the scope at the point of the laser.
Why should you use a bore sighter?
Boresights will save you both time and money. It is mainly used to increase the zeroing speed. By aligning the sight of optical firearms with the barrel's position, you can zero in much faster. 
Therefore, it reduces the number of rounds that you need to fire for zeroing the sights or optic properly. So you can aim and hit the target accurately without wasting even single ammo. This takes very little time to adjust and is used in shooting practice. 
Also, you can use the bore sights to practice trigger control while dry-firing. You can put your shots on paper from home before you go hunting. 
Types of Bore sighters
Bore sights either use a physical reticle or a laser to show approximately where the round would hit. They are designed either to chamber like a real cartridge or to fit inside the muzzle. Both types have a flat trajectory and should be used at a particular distance to achieve good results. Let's have a look at those types;
Muzzle-mounted laser bore sighter
Most of the laser bore sights are designed to fit directly at the muzzle end of your weapon. To install the boresight, a short probe is inserted into the barrel and an adapter to secure it in place. 
So each laser bore sight kit comes with more adapters to fit different sized barrels. At the muzzle, the widened body creates a snug fit. As a result, the boresight projects a straight laser beam out from the barrel. 
The main advantage of muzzle-mounted laser bore sights are, it is compatible with most firearm calibers. 
Chambered laser bore sighter
Chambered bore sights are shaped like an actual cartridge that sits perfectly into the barrel. So that it is easy for you to direct the laser beam to your target. It is powered by small replaceable batteries that are commonly used in small devices. 
This style is compact, affordable, and is preferred by most shooters. These are generally colored bright with brass to differentiate them from real rounds.
The downside is, this type of bore sighter cannot be used in firearms of different calibers. If you have small guns or only one firearm, then it is worth it for you. 
Muzzle-mounted optical bore sights 
Optical bore sights are different from the above two laser bore sights. This system does not use a laser and batteries to function. They are mounted to the muzzle but use a lens with a reticle to indicate the position of your optic. 
This type of optical boresight kit comes with a lens (with a crosshair reticle) to line up the reticle on your optic. The boresight set includes adapters to fit with an array of barrel diameters and calibers. They basically do not require batteries but are costlier than the laser boresighter.
Factors to consider before investing in Boresights
Boresights are important to make an accurate shot without wasting your ammo. There are a vast number of models available in the market but to make the right choice you've to consider some key aspects like material, usage, laser type, etc. So, it is better to read the following guide before you invest your money.
Material
A boresight is a modular gadget added to the firearm. So it is obvious to check the durability and build quality. Aluminum alloy is the core material used in most boresights. It is lightweight but ensures high durability. Brass and bronze are also good choices that provide high durability and better balance to the firearms. 
Type
Bore sighters are of two different types; a Muzzle type and a cartridge system. It is explained in the above section, just check it out. From both types, decide which is needed for you and go for it. Our recommendation is cartridge type which is more accurate and easier than the other one. 
Laser specs
If you want a high-precision laser beam for better sight, then you should choose a Class IIIA sensor. The best class will deliver the best output. You should also check the distance feature based on your preference. Also, choosing an active beam laser can help you with better sighting during the day.
Performance
Laser bore sighters will be accurate when used properly. It provides excellent performance for targets at 100 yards distance or more. Look for a bore sighter that is easy to mount, easy to use, and provides better flexibility for different calibers. It should also last for longer periods. 
Universal sights are the best go-to options. But, some premium laser bore sighting devices can help improve your shooting experience with fewer parallax issues.
Versatility (Multiple calibers vs Single caliber)
The bore sighter you choose should handle both single and multi-caliber weapons. As the speed of firing varies, the adjustment or zeroing will also vary. As a result, the target locking must be perfect. Since it is not possible to purchase separate models for each gun, your choice must be compatible with all types of guns.
Compatibility (Fit)
Fitting is an important aspect with bore sighters, as different types of scopes are involved in sighting. A lightweight and easily mounted bore sighter will allow you to control zeroing perfectly.
Nowadays, there are so many options available in the market. So you can find a perfect fit bore sighter for your gun. A better fitting will increase your aiming output. Besides, the DIY laser bore sights can also be used to fit the firearm properly. 
Price
If you want to get the best laser bore sighter, then you have to spend a few dollars additionally. Higher the price, higher is the quality. Usually, the price tag of bore sighters ranges from 13 to 260 USD. So, set your budget first and then go for the selection.
Boresighting Tips
Don't force the boresight while inserting it into the chamber. Place it slowly.

Lubricate it seldom if needed

Adjust the sighter position with one or two hairs above the centerline based on your accuracy. 

Use a bright laser beam that is powered by batteries

Mount the scope properly for a perfect setting

Once the setup is checked for gun balance and scope alignment.

Use a software program to check and customize the settings.

Don't let the Laser beam hit the human eye as it can damage the eye. Wear glasses if needed.
Final Words
Most people think that laser bore sights are only for rifles, but that's not true. No matter what type of gun you have, whether a single caliber, pistol, handgun, or a new rifle, boresights will provide excellent performance. 
Hope, our article helped you understand bore sighters and to grab the right one for your rifle. You can choose any laser either red or green to make an accurate single shot.