Smartphones are a great boon to this digital world. No one can sit idle for at least a few minutes without a smartphone. And in this COVID situation smartphones, computers, and TVs play a major role in our life. Even school children find it difficult to stay without these daily gadgets.

With these techs, you will be updated every day and will be aware of what's happening around you. But if the storm knocks at your door, then how will you get the daily news or other information that is needed for you? Because during such crucial situations, there will be a power cut, network issues, etc, and you may not be able to gather information around you.
Will you believe if I say that emergency radios will help you in those critical issues? But it's true.
An emergency radio can run even if other electronic devices don't work. It can deal with any extreme weather and will keep you connected with the outside environment. These emergency radios are a very important emergency kit, especially for those who go outdoors often, like the campers, hikers, hunters, survivalists, trekkers, etc.

Because they could overcome different extreme weather conditions in the woods, they definitely need a device to provide weather updates or other valuable information.
The Federal Government recommended having an emergency radio while you're out anywhere in the woods. This is because they help you to be in touch with the happenings around you. So here, I have given the top-rated emergency radios that are appreciated by many explorers.
As an adventurer, I have tested many emergency radios and have jotted down only the best emergency radios that I have used during my outdoor excursion. Just go through it.
10 Best Emergency Radios in 2022 - Reviewed
1. Midland - ER210, Emergency Compact Crank Weather AM/FM Radio
The award-winning product on my list is the Midland ER210 Emergency Radio. Midland is an American company well-known for manufacturing radios and other emergency accessories.
The Midland ER210 is the best weather alert radio recommended by the Department of Homeland Security for Emergency Preparedness. It helps you to be prepared for tornadoes, hurricanes, floods, earthquakes, and fires. So that you'll be aware of it at all times.
Dimensions: 9 x 2.75 x 6.5 inches

Weight: 0.93 lbs

Color: Red

Supported radio bands: AM/FM

Power source: Solar powered

Battery Life: 32 hours
Power Source
The Midland ER210 is a compact, lightweight emergency radio used for multiple purposes. It is powered by a 2,000 mAh battery that offers continuous usage of up to 32 hours. It is also provided with a solar panel, which helps you charge the battery via direct sunlight or a hand crank.
Weather Channels
The Midland ER210 comes with both AM/FM and NOAA (National Oceanic and Atmospheric Association) weather alert channels that help you keep connected no matter where you are. Also, it is provided with a handy auto-scan that finds the best weather channel signal for your current location. Set it to alert severe weather risks in your location.
Different alert options
This emergency radio is equipped with a large backlit LCD display that will show the time, radio station, and weather channels nearby. It also provides an option to select your choice of alert from voice alert, siren alarm, or flash LED light. The built-in 130 lumens LED flashlight has an SOS strobe to call for help in case of an emergency.
Unique feature
One of my favorite features of the Midland ER210 emergency radio is the multi-language configuration. It stands out for being configured in English, Spanish, and French. In addition, it also features 25 programmable locations with which you can check out the conditions of other parts of the country.
Further, the loop present at the end of the radio helps you to fix it to your backpack. And leave the solar panel to soak up in the hot sun during your hike. So that you will not miss out on any weather alerts from this emergency radio.
2. RunningSnail Emergency Weather Radio
The second top-rated product on my list is the Running Snail. Its weather radio helps you to stay connected in both emergency and non-emergency environments. 
It is budget-friendly and provides a big bang for your buck. Most of the survivors were impressed by its innovative features.
Dimensions: 6.2 x 2.1 x 2.9 inches

Weight: 0.68 lbs

Color: Green

Supported radio bands: AM/FM, NOAA

Frequency: 108 MHz

Power source: Corded-Electric, Li-ion Battery, Solar, Hand Crank, AAA Batteries
Weather Channels
The Runningsnail emergency radio tunes all local AM/FM radio and NOAA weather stations. You can also set it to alert if severe weather conditions like hurricanes and tornadoes are ahead in your area. So you will always be aware of an emergency natural disaster that hits your location.
If the weather is ready to hit, an SOS alarm with a red flashing light in the radio informs others that you're in need of help.
Unique Feature
The worth noting feature in this Runningsnail emergency radio is the charging options. It provides four ways of charging. Initially, it was built with a 2,000 mAh battery unit. If the battery becomes dead, it can be replaced with three regular AAA batteries. It can also be powered up manually with a hand-crank or with a flip-up solar panel.
Table Lamp
Another interesting feature of this radio is the table lamp feature. It functions as an LED reading light and provides vision in dark areas when the power goes off. Therefore, it provides more comfort during an emergency. It also has a USB port that allows you to charge your smartphones or other electrical devices.
Motion-Sensing Light
This hand-crank emergency radio also features a motion-sensing night light that illuminates automatically when there is a movement nearby. It seems like welcoming other campers at night.
Thanks to its audible emergency alerts. The RunningSnail emergency radio offers crystal clear sound, which will be easy for you to hear and understand the broadcasts.
3. Crane CC Solar Observer Wind Up Solar Emergency Crank Radio
There are many self-powered emergency radios available in the market, but the one that I admire is the CC Solar Observer Emergency Radio. It is one of the top picks best suited for hiking. As it weighs just a pound you can carry it long miles.
Dimensions: 7.25 x 2 x 5.5 inches

Weight: 1 lbs

Color: Black

Supported radio bands: AM/FM

Power source: Kinetic

Battery Life: 60 Hours
Power source
Though it is lightweight, its performance is very tough when it comes to power. It offers solar, hand crank, AC/DC charging, and a built-in rechargeable battery pack as well. Also, the CC observer rocks when the power goes off. 90 seconds of cranking will give you 30 minutes of listening time.
Also, it provides 4-6 hours of continuous use when the battery is kept in the sun for eight hours. However, you'll not need this option, as the radio itself can run for up to 60 hours with built-in batteries. That is, with a 12-pack of batteries, you can keep going continuously for up to 10 days in emergencies.
Weather Bands
This CC Solar Observer can tune into AM/FM stations and weather bands by using a backlit analog tuner. Stay updated with the latest reports of weather with the superior reception of AM, FM, and 7 NOAA weather channels. The audio is designed to provide much clarity while hearing news, sports, talk shows, or entertainment.
Portability
It is built sturdy with a low profile carry handle that allows portability. The LED flashlight lights up the dark spaces. Further, it also includes a USB adapter to charge your smartphones or other electronic devices.
4. Kaito KA500 5-way Powered Solar Power
When it comes to emergency radios, our top 10 list will not be complete without Kaito. Kaito is the most popular American company in the radio industry. It has developed millions of radios and lanterns and proudly supplied them to the United States Army, American Red Cross, the State Department, The United Nations, and other government agencies.
And from Kaito, I have used KA500 Voyager which is the best for emergency applications as well as for daily use.
Dimensions: 8.82 x 5.79 x 2.83 inches

Weight: 1.48 lbs

Color: Yellow

Material: Plastic

Supported radio bands: 2-band

Frequency: 108 MHz

Power source: Hand-crank, Solar, Battery pack
Power Source
The Voyager really shines with different methods of charging. It includes an AC/DC adapter, hand crank, a patented flip-up solar panel, and a USB power source. The radio has an inbuilt rechargeable battery that can be powered up using an AC/DC adapter or USB chargers for daily use.
If the radio runs on batteries, then you can run it using solar power on sunny days, when the power goes off. And in dark cloudy conditions, you can use the hand crank to power up the battery.
Band Reception
The KA500 has various band reception namely AM, FM, NOAA weather station, and shortwave bands. Also, it has 7 programmed weather channels that are numbered from 1-7, so that you can easily tune into the stations by just turning the programmed knob. In addition, this radio has a 14.5-inch antenna that increases reception.
LED Indicator
The Kaito emergency radio comes with an LED signal strength indicator that allows you to dial in your tuning. It also offers an "Alert" mode which gets activated automatically when it receives emergency alerts from NOAA weather stations. Its versatile function makes it an ideal choice for daily use.
Additional features
It also comes with a flashlight, reading lamp, and red blinking emergency light as an added plus to this radio. It will not disappoint you with any of its features.
Overall, the Kaito KA500 Voyager is an excellent emergency preparedness tool widely used for backpacking, camping, and other outdoor activities.
The CC Skywave Radio is the second product from the C. Crane brand in my list of Best emergency radios. The CC Skywave impressed me with plenty of valid features like the 70 hours of runtime, ultralight, 400 memory presets, and even more. It is ideal for traveling and provides fantastic performance in case of an emergency.
Unique feature
The Skywave is featured to tune into the aviation band that makes it stand out. Have you ever listened to the Aviation band? The Skywave Aviation Band allows you to listen to nearby aviation personnel like the air traffic controllers, flight attendants, pilots, and ground crew, as they perform their high-pressure tasks.
Dimensions: 4.75 x 1.1 x 3 inches

Weight: 5.5 ounces

Color: Black

Supported radio bands: 2-bands

Frequency: 26.1 MHz

Power source: AC & battery

Battery Life: 60-70 hours
Weather Alerts
In addition to the aviation band, the Skywave also provides access to weather alerts, AM/FM stations, and shortwave radio stations. The presets and the digital LCD display let you set your preferred stations quickly and accurately. And the auto-scan feature detects the clearest stations for you.
Construction
The CC Skywave has an intuitive design that is easy to use. It is made small, compact for portability. Though it is light, it offers excellent performance when it comes to reception. It has the ability to reduce signal interference. Further, it has a small speaker for clear audio.
Besides weather alerts, the Skywave doesn't offer any other emergency features like flashlights or beacon lights, but it offers excellent NOAA weather radio reception. In short, it is said to be an all-around radio with great weather alert performance.
6. Eton, American Red Cross FRX3+ Emergency NOAA Weather Radio
The next product on my list of Best Emergency radio is from Eton. Eton combined with the American Red Cross and designed a new Eton's FRX3 Emergency Radio. It comes in handy during emergencies. The 2,600mAh battery in this radio makes it the best suited for camping trips.
Dimensions: 6.9 x 5.8 x 2.6 inches

Weight: 14.9 Ounces

Color: Red

Supported radio bands: 7-band

Power source: Battery/Solar
Construction
Eton FRX3 is quite bulky compared to other radios on my list. The robust construction and a perfect grip carry handle make it one of my favorites.
It is reinforced by hand-turbine and solar charging for multiple uses. The inbuilt speaker delivers clear sound even if you listen to music or weather alerts.
Weather Reception
The radio provides access to AM/FM stations as well as seven NOAA weather bands. And the alert function informs you if severe weather is ready to hit your way. Also, it comes with an LED flashlight that lights up the darker spaces if your headlamp goes out. The red flashing LED beacon light makes you visible to find by the search-and-rescue teams.
Power Source
It provides multiple power options including hand crank, rechargeable batteries, solar panel, or AC adapter to give you vital news virtually in any situation. The Red Cross FRX3 radio includes a USB port to charge electronic devices like smartphones, tablets, etc.
Additional Features
In addition, it also comes with a digital clock, headphone jack for private listening, and a glow-in-the-dark locator that saves your life when you wander around in the dark looking for your radio during an emergency. It is versatile and durable enough for use in remote locations or barbecuing in the backyard.
7. FosPower Emergency Weather Radio
FosPower Emergency Radio is similar to the size of a smartphone making portability easier. It is packed with impressive features to make it loved by everyone. It defeats all other branded emergency radios when it comes to durability, as it has a weatherproof construction.
Dimensions: 6.2 x 2.9 x 2.1 inches

Weight: 14.8 ounces

Supported radio bands: 7-bands

Frequency: 108 MHz

Power source: Solar, Battery pack, Hand-crank

Voltage: 3.7 Volts 
Power source
FosPower emergency radio is equipped with a 2,000 mAh battery that provides a full charge to smartphones. When the battery goes dead, the radio gets charged via solar power, hand crank, or standard AAA batteries. The zoomable flashlight and the four-LED reading light keep the darkness away from you in an emergency.
Weather Reception
It provides access to the standard AM / FM radio stations and NOAA weather stations. You will also receive emergency alerts from NOAA and AM/FM stations when severe weather approaches. The ergonomic design offers an easy and comfortable grip when turning the crank or while using it as a flashlight.
Unique Feature
The FosPower Emergency Weather Radio stands out in the market with its unique water-resistant feature. It has been tested and got an IPX3 waterproof rating, which I love very much. It has the ability to resist rain or water splashes, making it ideal for flood and storm emergencies. Thanks to FosPower.
8. Sangean MMR-88 AM/FM/Weather+Alert Emergency Radio
Sangean MMR-88 is the next top-rated product on my list. Sangean Electronics has been manufacturing world band radios and other radio equipment for over 40 years. It has a good reputation in the electronic industry for high quality and performance in its products.
In that line, the Sangean MMR-88 is loaded with more innovative features to beat all other branded emergency radios. The durable construction with IPX3 waterproof rating makes it stand out in the competitive line.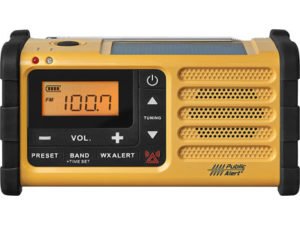 Dimensions: 5.98 x 2.71 x 3.3 inches

Weight: 0.86 lbs

Supported radio bands: 7-band

Frequency: 108 MHz

Power source: Hand-crank, Solar, Battery

Voltage: 3.7 Volts
Construction
Sangean MMR emergency radio is built like a tank with shock-resistant materials. It is covered with black rubber bumpers on the 4 corners to protect the radio from bumps and water droplets. It comes in handy and the IPX3 rating resists water splashes entering the radio.
Weather stations
Sangean MMR has the ability to receive seven NOAA weather stations, along with a digital AM/FM station. It also comes with 19 preset stations to help you locate the stations quickly. Further, This Sangean MMR radio has got a Public-Alert certification ensuring that it has performed great in emergencies.
Power Source
The Sangean MMR is equipped with a dynamo hand crank generator and a solar panel to power up the battery in the sun. One minute crank generates five minutes of listening time. So you don't want to rely on a charger. It is also provided with an auto-off feature that turns off the radio after 90 minutes of play to extend the battery life.
Further, it has also offered the last line of defense with a micro USB cable to charge up your device in a dreadful situation.
Emergency features
It is built with a triple LED light to provide brightness in dark scenarios. It comes with four patterns namely high, low, SOS, and Blinking. So you can make use of it in whatever situation you are in. In addition, it is also boasted with an emergency buzzer and a loudspeaker to reveal your location to the rescue teams.
One minor thing about this battery is that it does not use standard disposable batteries. But you can exchange the rechargeable battery with other lithium-ion batteries to extend the life of the radio.
9. Eton American Red Cross FRX2
Eton has been one of the most popular companies in the world for over 35 years. It has got such a big reputation for its weather alert radios and solar-powered sound systems. And Eton American Red Cross FRX2 is another well-known product from Eton on my list of best emergency radios.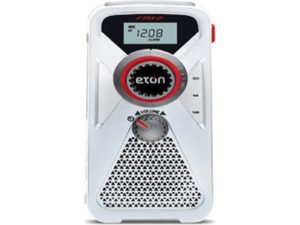 Dimensions: 5.7 x 4.7 x 2.8 inches

Weight: 0.7 lbs

Color: White and Red

Supported radio bands: AM/FM, NOAA

Power source: Solar & battery powered

Voltage: 5 Volts
Construction
Eton FRX2 radio is the lightest emergency radio on my list. It weighs less than 1 pound, making it easy to carry or slip into a duffle bag or backpack. Its design seems to be as small as a mobile phone with attractive white and red colors. It is an ideal choice for 10-day camping or backpacking trips outdoors.
Weather Stations
Even though it is small and compact, the Eton radio is loaded with plenty of features that provide excellent performance at times of emergency. It has the ability to receive AM/FM, NOAA weather broadcasts that will keep you updated with important information about the upcoming weather or other emergencies.
Power source
The Eton FRX2 radio is built-in with a lithium-ion battery and can be charged by several means like the USB charger, hand turbine power generator, and an integrated solar panel. One minute of cranking can produce enough power for about 15-20 minutes of news, weather reports, and music. These features will never make your radio shut off and will keep you connected to the external environment.
Unique Features
This radio is also equipped with a bright LED flashlight and a glow-in-the-dark indicator that helps find out the radio easily in the dark during power outages.
In addition, it also comes with a headphone jack for individual listening and a cell phone charger that lets you charge your mobile phones or other electronic devices.
10. ROCAM Emergency Radio
The final product in my list of best emergency radios is the ROCAM emergency radio. This reliable emergency radio is best suited for outdoor activities like camping, hiking, backpacking, traveling, and also for daily use.
Dimensions: 6.8 x 2.9 x 3.7 inches

Weight: 1.15 lbs

Color: Green

Supported radio bands: AM/FM/Weather/SW

Frequency: 108 MHz

Power source: Solar, Hand-crank, Battery
Weather Stations
This ROCAM has a wide range of band reception with the extended telescopic antenna. It can access AM/FM, NOAA weather stations, and shortwave radio signals. It is also pre-programmed to 7 weather channels which can easily tune into local stations. Also, it will give a loud alarm sound from NOAA stations if there is any severe weather hazard like a hurricane, storm, etc in your area.
Power sources
This portable weather radio is provided with five power sources such as the DC adapter, AAA batteries, solar panel, hand-crank, and power bank to keep it powered always. If the built-in lithium-ion battery goes off you can use the crank lever or the solar panel to keep your radio powered and connected. If you can't regenerate power through a solar panel, then install AAA batteries or simply connect the radio with a DC adapter.
It also boasts a 5000mAh rechargeable power bank that can charge your tablets, mobile phones, and other devices.
Emergency features
The ROCAM radio comes with a flashlight and a 6 LED reading lamp to brighten up the dark spaces. The compass fitted on the carry strap guides you in the right directions if you've lost somewhere in the outdoors.
In addition, it also comes with a loud SOS alarm system and a headphone jack to seek help from others when you are in danger. The alarm sounds extremely loud along with a flashing red light to attract the attention of others to help you.
All these features have a user-friendly design that allows you to set them easily in an emergency.
Construction
It is small in size and weighs just 1.2 lbs to carry anywhere with ease. The entire emergency kit is made of strong ABS material with an IPX3 rating to resist water. Overall, the ROCAM emergency radio is an ideal gift for adventurers.
Types of Emergency Radios
Emergency radios are electronic devices that are built sturdily to handle harsh weather conditions. So most of them are equipped with strong water and dust resistance. They are also engineered in two different forms. They are,
Battery-powered: These types of devices are built with a long-lasting power cell to withstand critical situations. They can run out for the whole day, but you should keep it charged.
Hand-cranked: These radios do not require external electricity to run. They have a built-in battery onboard, you just need to turn the crank to charge. This allows the device to work even when the power is out.
What to Look for When Choosing the Best Emergency Radio
If you're planning to buy an emergency radio, then you've to consider some factors that are very much essential for an emergency radio. Here I have explained some factors including the types of alerts, charging options, waterproof features, etc. Just have a look at it before you invest in emergency radios.
Reception & Ability to Receive NOAA alerts
The primary function of an emergency radio is to provide valid information. It is vital to ensure whether your radio picks up an AM/FM radio station or NOAA weather station or both.
NOAA Weather Radio: The radio broadcast alerts from NOAA (National Oceanic and Atmospheric Administration). It notifies the presence of bad weather such as a hurricane, tornado, or impending winter storm.
AM/FM Radio: These emergency radios have the ability to pick Amplitude Modulation (AM) and Frequency modulation (FM) from local radio stations or faraway stations. It delivers information up to the minute.
Most of the radios perform either of these functions, but you should find out the one that provides solid reception.
Or you can go for the emergency radio that is built with a telescoping antenna. It picks up radio waves even better.
Charging Options
We can't say that the power will stay on in an emergency. So before purchasing, ensure that the radio you've chosen has multiple charging options. Because in case of an emergency, we can't find any way to charge the battery.
It is better to have additional fully charged batteries. So you just want to replace the battery if the radio shuts off in an emergency. There are also radios that provide an option to use disposable batteries.
Solar charging option is also available but it works only if the sun is out. This solar option can be a problem in case of severe weather or cloudy climate. The next and the best charging option is hand-crank, which works even when the power is out.
Battery Life
When it comes to battery life, longer batteries will always last for some extra periods. So you have to crank away to keep it going. The bigger-end batteries for emergency radios are around 2,000-2,600 mAh. This will give you a full day of usage when charged fully.
Smaller radios are provided with 850-1,000 mAh. This will be enough for camping trips when used sparingly.
Durability & Waterproof Feature
Getting a durable product is very important. Because most of them don't love to spend on the same product often. So carefully look for a durable product. Coming to emergency radios, these are very much important and helpful in an emergency, especially when you're out in the wilderness.
Usually emergency situations are a little confusing and there is a chance to drop your radio down or in water or it might get wet in bad weather. So make sure that your emergency radio is built with sturdy materials like rubber skin or bumpers that can strongly withstand water jets.
Also, ensure whether the chosen emergency radio has got IPX rating (rates the waterproof quality of a device by testing). In the market, the majority of the emergency radios are found with either IPX3 or IPX4 rating (ability to withstand light rain or water splashes from any direction). So choose wisely, the best emergency radio.
Extra Features
Today's emergency radios have a wide range of features to serve multiple purposes. The key features include;
Flashlight: Helpful during a power outage
Flashing light: Helps to draw attention when you need assistance. For example, during a car breakdown.
Cell phone charger: Includes a supporting port for charging a cell phone or tablet.
Speaker options: Nowadays most emergency radios are built with external speakers that permit anyone in the neighborhood to listen.
Listener language options: Allows to listen to emergency broadcasts in different languages.
Digital clock: Tracks time
Waterproof case: Protects the radio in rainy conditions.
Having more features can shorten battery life. So carefully use those features.
How to prepare yourself in an emergency?
Having the right supplies is just not enough for an emergency. It should be stored in an easily accessible location. It is better to have a duffel bag always ready with all emergency supplies. Have a clear idea of how to use the emergency radio. Also, keep a set of spare batteries with you.
Tips for Using an Emergency Radio
Buying an emergency radio is a step towards protecting yourself in the event of an emergency. Having an emergency radio alone will not help you, you should have a thorough knowledge of using it.
If you hope that an emergency radio is not needed, then have an alternate plan to go ahead. Here are a few tips that will help ensure that the radio is ready in any situation.
Keep the emergency radio in a waterproof, airtight case along with ample battery supply.
Check whether it is working correctly before you move on for a camping or hiking trip.
Prepare yourself with all the functions of the radio, so that it won't take much time to access during an emergency.
The Advantages of an Emergency Radio
The main advantage of an emergency radio is that it keeps you aware of any dangerous situations ahead.
It picks up NOAA broadcasts and keeps you informed of the changing weather conditions.
Most emergency radios come with a lighting system to brighten up the dark rooms.
It gives an audible tone to alert you about the possibilities of danger.
Today's emergency radios have many additional features like the ability to charge electronic devices, a flashlight, etc, to help you in an emergency.
FAQ
1. What is a hand-crank radio?
A hand-crank radio will have an internal generator to produce power. The radio gets connected by cranking the handle manually. When you crank the metal coils around the magnet moves to create current. This then charges the internal battery.
It is very useful for an emergency radio when there are no other charging options from outside. Unlike solar chargers, hand cranks will work at any time when the power goes off. The crank functions as long as you have the handle in the radio.
2. What kind of radio is used for emergencies?
The key function of an emergency radio is to receive NOAA alerts and broadcasts. Another important function is the ability to operate the emergency radio without using electrical power. That is, it must have another alternate source to power up the radio and that may be a hand-crank, battery, or a solar panel.
By knowing the use of an emergency radio, the Federal government itself has recommended including a hand-crank emergency radio with NOAA weather stations to alert you in case of an emergency.
So it is better to go with a radio that has NOAA weather alerts along with some emergency features like a flashlight, USB charging port, etc.
3. How long do emergency radios last?
An emergency radio can last for more than 10 years, if it is kept clean, dry, and never dropped. The period of life can reduce if not maintained properly.
4. When would you need an emergency radio?
As an emergency radio provides vital information at all times, it is very helpful in all areas especially outdoors. When you go camping, hiking, or any other adventure, don't forget to take the emergency radio with you. It will help you be aware of local weather conditions such as hurricanes, storms, and tornadoes. It is also useful to protect you from fires or chemical spills. You can also use it at home if the power goes off.
As it does not need any external power, you can carry it wherever you go. Some emergency radios boast emergency buzzers or blinking light beacons that help you to indicate your location to rescue teams. Never go without emergency radios especially for long-range outdoor activities.
Final Thoughts
If you're a survivalist and lost cell phone reception or power during the storm of your adventure, then you'll be in a little frustration in that scenario of being not able to get current news. If you've gone with emergency radios, then you'll be free from worries. Because this device will eliminate those situations by alerting you to human-made disasters or extreme weather changes. So you can remain safe outdoors.
Add an emergency radio to your backpack while getting ready for your next adventure? Have a safe journey!!