The .17 Winchester Super Magnum or 17 WSM is a rimfire cartridge which is developed in 2012 by Winchester. It has a 20-grain bullet beginning load that moves at a speed of 3,000 feet per second. Rifles usually made for short-range, long-range target shooting, plinking, and hunting are built with the 17 WSM. Coyote hunters usually prefer 17 WSM for fast aiming.
The .17 WSM cartridge is considered to be versatile and hardly any rounds are as versatile. It has an excellent and lightweight layout that can move as fast as 3000 ft/s making it the best option as a rimfire round. It is proven to be effective in closed and medium areas in bringing your targets down.
It would be amazing if your .17 WSM weapon is paired with a great scope. Finding the best scope for 17 WSM that fits your weapon and hunting needs can prove to be hard if you don't have time to research extensively. 
As you are already here, don't mind about it, sit back and go through our list of Best scopes for 17 WSM. The list is put together with product reviews and a guide to choose the best 17 WSM scope.
The Best .17 WSM Scopes in 2022 - Reviewed
1. Vortex Optics Crossfire II 4-12×44 SFP Riflescope
Vortex has produced a lot of high-quality rifle scopes that are perfect for 17 WSM. Vortex Optics Crossfire II is one of the highly mentioned scopes for all applications like for hunting, or for long-range shooting.
It accompanies most of the rifle models present in the market so this is a versatile riflescope for 17 WSM that performs in many hunting disciplines. It is built with aircraft-quality aluminum inside its tube, making it more concise, dependable, and the best scope for 300 yards shooting.
Specifications:
Objective Lens: 44mm
Magnification: 4-12x
Reticle: V-Plex
Eye Relief: NA
Weight: 17 oz
Illumination: No
Adjustment: MOA
Click Value: 0.25 MOA
Waterproof: Yes
Shockproof: Yes
Fogproof: Yes
Reticle: The mentioned riflescope is available with two different reticle types such as V-Plex and Dead-Hold BDC. The rapid focus eyepiece built with this scope allows the users to focus the reticle in an easier way.
Another great thing would be the reticle focal plane, yes this all-in-one beast scope for 17 WSM has Second Focal Plane that become a necessity today. 
Why BDC and SFP are the best?
Bullet drop compensation or BDC are extraordinary changes to any long-distance rifle scopes. Because the rear end of this reticle lets you recoup for effect on your bullet caused by gravity, which means achieving further shots is possible. Distance hunters will surely like it.
Lenses in this reticle minimize the scattering of light while improving the color fidelity because of its unique XR coatings. Meanwhile, the Amortek coating minimizes the possibility of damage and scratches caused by debris or dirt.
There wouldn't be changes in sizes while switching because its reticle has various 2nd focal planes. BDC holdover points can still be used for bullet drop to be minimized at some point. Also, the reticle wouldn't compromise your targets, even in high magnification settings.
Lens: Glares are minimized because of the multi-coated optical system with advanced anti-reflective coatings. Due to these high equipped features, you can be sure to receive peerless illumination anywhere.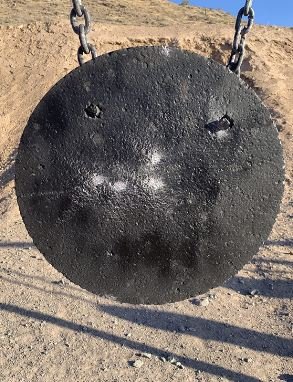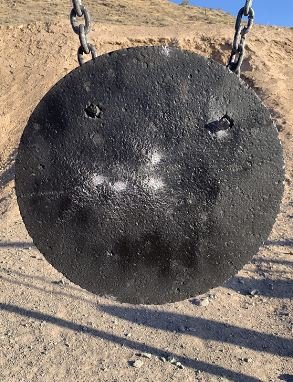 The wide 44mm lens allows the maximum light transmission to the scope that in turn makes sure the user gets clear and contrasting images of their targets despite the lighting conditions.
The variable 4-12x magnification range with the above-mentioned optical system makes you score in all attempts.
It is also equipped with marks that are tailor-made that assist with corrections. This holds zero well, which is a vital part, especially with an intense recoiling rifle.
2. UTG 3-12×44 Compact Scope
This scope is compact and is built with 3x to 12x magnification settings, therefore giving you good ranges for your 17 WSM. It is extra durable and has improved light transmission better than what you anticipated. Another addition to this is the flip-open lens caps to protect your lenses.
Specifications:
Objective Lens: 44mm
Magnification: 3-12x
Reticle: Mil-Dot
Eye Relief: 3-3.4 in
Weight: 23 oz
Illumination: LED
Adjustment: MOA
Click Value: 0.25 MOA
Waterproof: Yes
Shockproof: Yes
Fogproof: Yes
Adjustments: It is also equipped with elite zero locking and its target turrets are built to reset, including a parallax knob. It is equipped with three types of turrets, which are built to adjust depending on the tactile responses and precision allowing you not to remove your sight from your target.
Reticle: The illuminated reticle of this scope is known to be phenomenal. The brightness of the UTG 3-12×44 Compact Scope has many brightness options that can be adjusted to suit your liking.
With a total of 36 brightness options, you can try which option will be perfect for you. You may have a hard time mastering it but it is definitely worth the hassle. Special circuits are also embedded in its reticle to halt the fading even if there is heavy recoil.
This scope is perfect when paired with 17WSM cartridges. It is elite equipment considering its adaptability and durability. Perfect to be used during dusk or dawn, especially when hunting pests.
Read Also: UTG 3-12×44 Compact Scope Review
3. Vortex Optics Viper PA 6.5-20×50 Riflescope
There are a lot of 17 WSM scopes to choose from, which makes your decision making rather hard. Here we have the Vortex Optics Viper PA 6.5-20×50 which is the best scope under $500 for 17 WSM with a long-lasting single-piece main tube and its elite light transmission; this is definitely worth it.
Specifications:
Objective Lens: 50mm
Magnification: 6.5-20x
Reticle: Dead-Hold BDC
Eye Relief: 3.1-3.3 in
Weight: 1.35 pounds
Illumination: No
Adjustment: MOA
Click Value: 0.25 MOA
Waterproof: Yes
Shockproof: Yes
Fogproof: Yes
Lens: It is also enhanced with a 50mm objective lens that makes it possible to have crystal clear visuals. This scope has a rapid focus eyepiece, which might be what you're looking for.
Overall, its superb lens coatings provided not only durability but also an amazing light transmission. Changing from various zoom levels is also made easy because of its precision glide magnification ring built. It has a fantastic turret function because of its spring-based turret system.
Reticle: A BDC reticle combination modified in a 2nd focal plane provides you flawless performance in every level of magnification and has paramount benefits. It is a Dead-hold reticle built with a usual MOA-style that uses hash marks that are usual for most rifle users.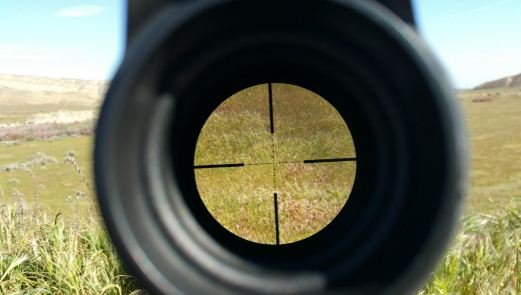 Magnification range: This scope's magnification settings range from 6.5x to 20x, which is considered magnificent, allowing hunters to toggle between old-school hunting and closer range engagements, even long-range sniping. Its magnification setting can be modified using a MAG-bar integrated that rotates, which is found after its ocular lenses.
Another amazing addition is its system called the precision-guided erector, which means there are exceptional parts in its zoom lens apparatus that make zoom levels changes easier when you need to. Unlike other scopes, the Viper will not be stuck or jammed.
4. Simmons Truplex .22 Mag Riflescope
If you're looking for a budget-friendly scope, then you have to go with the Simmons Truplex. It is one of the best scopes for 17 WSM, considering its price.
Aside from its inexpensive price tag, its functions and features are exceptional. It is made from high-quality raw materials, and unlike the others, it isn't girthy. It is scratch-resistant as well. Adjustment is also made easier because of its user-friendly interface.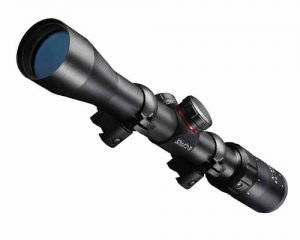 Specifications:
Objective Lens: 32mm
Magnification: 3-9x
Reticle: Truplex
Eye Relief: 3.75 in
Weight: 10 oz
Illumination: No
Adjustment: MOA
Click Value: 0.25 MOA
Waterproof: Yes
Shockproof: Yes
Fogproof: Yes
Performance: Another thing, it is built with extraordinary elevation dials, TrueZero Flex Erector System, and True Zero Windage that ultimately gives clear and concise visuals under any weather condition. Even though it is priced less, the quality is still extraordinary.
It remains as America's most well-known rimfire scope. Its adjustment system called the TrueZero is patented, it is also equipped with an eyepiece called the QTA or quick target acquisition. This scope's performance is rather exquisite. 
Construction: The patented system ultimately changes the old-school biasing spring design using a flex erector mechanism to build the rifle scope's body, which makes the whole thing stable. A spring detent system and its creative ball bearing give audible and solid clicks because of the True Zero dial design, which will surely make you comfortable and confident to make any adjustments.
Like any other scope, the downsides with this one are found in its windage and elevation controls, which seem to be made with low-class raw materials. Also, it doesn't hold zero that well. Nonetheless, this scope remains to be a good scope for 17 WSM to purchase.
Read Also: Simmons Truplex .22 Mag Riflescope Review
5. Athlon Optics Argos BTR Gen II 6-24x50mm
If you are just started using PRS or planned to use one, you might really like this Athlon Optics Argos BTR Gen II 6-24x50mm MOA Riflescopes from the Argos BTR GEN II Scope family. These scopes are popular because of the rare features it has which are only possible in high-end scopes.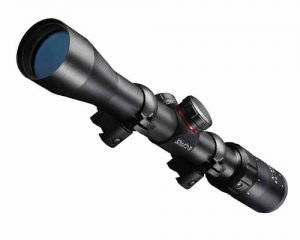 Specifications:
Objective Lens: 50mm
Magnification: 6-24x
Reticle: APLR2 FFP IR MOA
Eye Relief: 3.3 in
Weight: 30 oz
Illumination: LED
Adjustment: MOA
Click Value: 0.25 MOA
Waterproof: Yes
Shockproof: Yes
Fogproof: Yes
The 4x magnification of the scope shows the versatility of the scope in multiple shooting applications. The scope also offers Precision true Zero Stop and fully multi-coated optics to ensure contrast, clear, and bright images. So, the clarity of the image is not compromised due to lighting conditions.
Construction: The aircraft-grade aluminum tube with a 30 mm diameter safeguard the optics despite the obstacles it goes through. The BTR GEN II comes with an exclusive XPL coating that protects the lens from water, dirt, and grease.
The 6061-T6 aluminum used in the construction ensures solid performance. The total weight of the scope with battery is 30 oz. It is not a lightweight scope but definitely a game-changer. The Matte finish with black color provides a classy look to the scope.
Optics System: The scope is equipped with a fully multi-coated lens with a 50 mm diameter. The variable magnification range offered by the optic is from 6 to 24x.
The crosshair reticle you get from the scope is APLR2 FFP IR MOA. The lens tube diameter is about 30 mm so a wide view of the targets is promised.
At 100 yards distance, you get 16.7 to 4.5 feet field of view. So, the scope is suitable for close and mid-range shooting. The 3.3 inches of eye relief with this wide field of view helps you get closer to your target. It has illumination, the LED illumination in the reticle lets you shoot down the prey within a few shots.
The scope is fully waterproof, fog-proof, and shockproof which shows how durable it will be. Overall a heavy-duty riflescope with standard features.
6. BARSKA 6.5-20x50mm AO Varmint Rifle Scope
Considering the BARSKA Varmint Riflescope's price, it is indeed robust. It is equipped with a crosshair that seems to be as thin as hair. Its zoom feature is formidable, not to mention its glass, which is crystal clear. This scope has an adjustable objective, which is a great feature. This is one of the best BARSKA scopes for 17 WSM.
Specifications:
Objective Lens: 50mm
Magnification: 6.5-20x
Reticle: Target Dot
Eye Relief: 3.6 in
Weight: 22 oz
Illumination: No
Adjustment: MOA
Click Value: 0.125 MOA
Waterproof: Yes
Shockproof: Yes
Fogproof: Yes
Optical System: This riflescope is specifically developed for long distances and small targets. The 6.5-20x magnification is featured in its optical system, which will help you spot and hit targets easier. It is perfect for dim light conditions because it has a 50mm objective aperture that will give you clear visuals even at peak magnifications. 
It has a Target Dot Reticle in the 2nd focal plane. The lenses are also multi-coated and built to be anti-reflection. The scope's optic has elevation adjustments and windage with ⅛ MOA click values to aid with winds and drops in ballistics.
Construction: Like other scopes, it is also made with elite quality raw materials. You can say that the construction is almost perfect. It also holds zero well even at maximal load. It is actually the top-voted 17 WSM rifle scopes available in the market.
The only drawback in this scope is the tightness of adjustment knobs and the fragility of the windage adjustment.
7. Primary Arms 4-16 x 44 mm Riflescope
Are you looking for a 17 WSM rifle scope for competition shooting where you will need of adjusting the optic fast and quickly? Primary Arms 4-16 x 44 mm Riflescope is the one for you.
The Primary Arms scopes are always designed with finger adjustable and exposed elevation and windage turrets. These features of the scope provide positive audible and tactile clicks. And also, you can lock the scope in zero so it is easy to find.
Specifications:
Objective Lens: 30mm
Magnification: 4-16x
Reticle: Mil-Dot
Eye Relief: NA
Weight: NA
Illumination: LED
Adjustment: MOA
Click Value: 0.25 MOA
Waterproof: Yes
Shockproof: Yes
Fogproof: Yes
The Riflescope offers 10 different brightness settings so you can fine-tune the adjustments based on the lighting conditions from morning and to evening. It helps the shooter get better results even in long-range.
Optical system: The 44mm objective lens of the scope is fully coated so it works great in all weather conditions. The fog-proof feature of the scope enhanced clarity and view.
The variable 4x magnification of the scope ranges from 4 to 16x. The scope has RED LED illumination. The illuminated Mil-Dot reticle of the scope took you near the targets. The exit pupil range of the scope is 2.75-11 mm.
Construction: The high-quality aluminum used in the construction helps to attain the durability in long run. The anodized matte finish with a black color design goes well with all the rifle types.
The construction is waterproof, fog-proof, and shockproof. Also, it has a Side-mounted parallax adjustment knob that helps you maneuver easily.
8. Leupold FX-I Rimfire 4x28mm Fine Duplex
Another renowned manufacturer of tactical scopes is Leupold. From their series, this Leupold FX-I rimfire works great as a 17 WSM scope. It has 4x fixed magnification settings and a 28mm lens, so you wouldn't have to worry about messing it. Its zoom setting is perfect for the WSM cartridges. It also fits well when hunting smaller species within close yardage.
If you are currently looking for a good, precise, and reliable scope for a Ruger precision rifle with 17 WSM, then look no more.
Specifications:
Objective Lens: 28mm
Magnification: 4x
Reticle: Fine Duplex
Eye Relief: 4.5 in
Weight: 7.5 oz
Illumination: No
Adjustment: MOA
Click Value: 0.25 MOA
Waterproof: Yes
Shockproof: Yes
Fogproof: Yes
Built quality: This one is built to survive harsh weather conditions and is designed to be ultra-lightweight, which then lets you bring it on hunting grounds no matter the situation. Another thing, you can modify its windage and precision elevation turrets without losing sight of your target because of its finger-sensitive clicks.
Lens: The lenses built in this scope are designed to resist scratches following standards from the military, so you can be certain that they are durable. In the long run, these will deliver clear visuals to your lenses, not compromising their quality even if there are dirt and debris that can accumulate in your scope.
All in all, this scope is lightweight yet durable, which makes it perfect for 17 WSM rounds. It has a reticle that is easy to use, and a scratch-resistant lens that will be used for a long time.
Nonetheless, this scope is exemplary, but we all know that nothing is faultless. This one has a very lavish price tag attached to it, making it a hassle for those with little budget.
9. Vortex Diamondback 2-7x35 Rimfire Riflescope
If you are looking for a replacement for the riflescope to withstand the recoils, you can choose this Vortex Diamondback riflescope as it has high resistance to magnum force recoil. The solid, rugged, and aircraft-grade aluminum alloy construction help this scope to remain strong in recoils.
You can believe this Vortex Diamondback scope for close-range accurate shooting with your 22 rimfire shotguns, rifles, and muzzleloaders that comes under your budget. Vortex Diamondback is the best rimfire riflescope that you should have on your list.
Specifications:
Objective Lens: 35mm
Magnification: 2-7x
Reticle: V-Plex
Eye Relief: 3.1-3.5 in
Weight: 14 oz
Illumination: No
Adjustment: MOA
Click Value: 0.25 MOA
Waterproof: Yes
Shockproof: Yes
Fogproof: Yes
Reticle: The riflescope comes with an all-purpose V-Plex reticle. This reticle type helps the hunter or shooter to see targets clearly.
The Argon gas purging in the scope provides crystal clear and sharp images to the crosshairs. It delivers fog-proof performance with this premium quality scope.
Optical System: The rimfire scope is equipped with a 35mm fully multi-coated objective lens. The wide optic allows maximum light transmission so you can get clear images. The variable magnification offered by this scope is between 2 and 7x, which may seem a low range for some users. The eye relief allows you to adjust from 3.1 inches to 3.5 inches.
Construction: The Aircraft-grade aluminum construction with waterproof, fog proof, and shockproof features extend the possibilities of using the scope in different weather conditions. The total weight of the scope is 14.2 oz which may not be the lowest but it is portable. It supports Ring type mount.
The scope has MOA adjustments with the 1/4 MOA adjustment click value. The range is 100 MOA. The parallax adjustments are up to 50 yards and you get the focus range from 50 yards to infinity.
The problem we found in this scope is the fact that you get no illumination.
10. Bushnell Banner 6-18X50 Riflescope
If you are looking for a scope that will extend your weapon's circumference, the Bushnell scope is perfect for you. This scope can be easily modified to adjust to your needs because it has three irrefutable ballistic turrets making it easier for shooters.
Specifications:
Objective Lens: 50mm
Magnification: 6-18x
Reticle: Multi-X
Eye Relief: 3.5 in
Weight: 18 oz
Illumination: No
Adjustment: MOA
Click Value: 0.25 MOA
Waterproof: Yes
Shockproof: Yes
Fogproof: Yes
Optics: Like previously mentioned scopes, it has multi-coated lenses. It is also able to function magnificently because of its side parallax adjustment. You will be able to keep things in perspective no matter what ranges there are. Shooters will find it easier to zoom in on their targets. It also has a distinct rimfire cartridge because of the additional turrets included.
Magnification: The clarity of this scope is no match compared to the others. You can be sure of plentiful eye relief even at 18x. This scope's adjustment is also precise.
Nevertheless, this scope's turret doesn't fit perfectly and seems to have low-quality caps. But all in all, this is not an awful choice.
11. Nikon Prostaff 3-9×40 Black Matte Riflescope
Nikon is actually renowned in the camera industry. Among other things, they also make good scopes for 17 WSM rifles. Its optical quality, magnification ranges are considered significant, making it one of the top choices for hunters, specifically in long yardages.
This scope's magnification settings can be modified from 3x to 9x, which is perfect for 17 WSM rifle cartridges. The BDC reticle attached to this is made of quality materials that allow you to land shots even at long distances successfully. The rapid focus eyepiece allows you to focus faster after sighting them into your scope.
Eyepiece: Nikon is known to focus on optics, among other things. That is why O-rings of high quality are used to avoid moisture from entering. That's why you will always have a crystal clear vision. Also, your risks for eye fatigue and dizziness are extremely minimized because of its quality. 
Construction: It is made from elite-quality aluminum, which is durable and non-corrosive that will surely last long. This scope is coated with black matte finishing, thus helping you remain stealthy when in hiding. In addition to that, the black matte is also stylish, even if paired with different firearms. Thus, glare from the sun is not possible, making it impossible for your target to spot you.
Nikon has proven again that they are the leading company in optics with this scope. If your concern involves optics, you can never go wrong with this one. If you're hunting for fidgety animals, this is the perfect scope for you because it won't reveal your position. What sticks out is this scope's magnification range. Other parts are also excellently made, such as the BDC reticle, zero reset adjustable turrets, and many more. It's a good deal considering its price.
12. Nikon Prostaff Rimfire 4-12×40 with BDC Reticle
The Nikon Prostaff Rimfire 4×12-40 is a beautiful piece of scope for 17 WSM. The magnification setting is from 4x to 12x, which can be achieved using a 40 mm objective lens. It has 98% improved illumination. In other words, the equipped remarkable system will give crystal clear visuals no matter what the situation is.
Settings: Newbies and professionals like this version better because holding zero is simple. Only no to little adjustments are required. The optic equipped allows more illumination to enter, which makes it perfect in dusky settings. The said scope is user-friendly, and adjusting windage and elevation has been made easy resulting in accurate shots, even on farther targets.
An improved balanced grip is enabled because the windage dials and elevation are made firm. Fast adjustment and instant re-zero are made possible, even though the knobs are shielded securely. Unlatching the knob and going back to zero will do the trick.
All in all, this scope is efficient, effective, and versatile and it would be a perfect fit in varying scenarios. Hunting small animals like vermin will be made easier because of their BDC reticle. Looking for a scope that satisfies all your needs is hard, but it wouldn't be that hard with this scope. The downside to this is the fact that it is not that good with parallax. The crosshairs also seem to be easily damaged.
13. BSA Optics 7 Super Mag Rifle Scope, 4.5-14x44mm
Another best scope for 17 WSM that made the shortlist is the BSA Optics 7 Super Mag Rifle Scope. It has a magnification setting that ranges from 4.5x to 14x. Unlike the others, this is also equipped with an adjustable objective, which will recoup for the parallax. As a result, hitting your targets is easier because of its magnification powers.
Equipped with elevation adjustment turrets and a dual grain windage match made it easier to recoup for the other elements. It is proven to be durable and it's also fog proof and waterproof.
Warranty: BSA Optics 7 Super Mag Rifle Scope has a warranty that guarantees 12 months of protection from defects caused by the manufacturer and damages caused by constant usage.
The reticle in this scope can light up in either green or red colors. Even though it is not a BDC reticle, it is still worth spending. The reticle can work amazingly in dim lighting scenarios and this is a perfect fit for the 17 WSM rounds.
In summary, this scope is the best pick if hitting a moving target easily is your goal. It is one of the best BSA scopes available in the market with great features. The quick aim feature of this scope is superb. Few hunters actually say that this scope can hit targets with precision even at a distance of 200 meters. This model is also resistant to water, shock, and fog.
The downside of the scope is loose turrets, also, the scope becomes a little murky when modified to its higher magnification settings.
How to Choose the Best Scopes for 17 WSM?
Budget
The first factor that you need to think about before purchasing a scope that will fit your 17 WSM rifle is your budget. Scope prices range from cheap to extravagant choices each of them with varying elements for your hunting and shooting activities.
Expensive doesn't always mean the best and low price ones do not mean low quality and impractical. That's why it is vital for you to research on your own so you'll have a gist of their differences
Features of The Scope
All good and reasonable features can't be found in one scope; that is why it is essential to know the specifics you'll need to satisfy your preference and needs. There are certain factors that have to be present in the best scopes for 17 WSM.
Reliability, Functionality, and Clarity
A reliable, functional scope capable of providing coherence is always preferred over others, especially hunting activities. Knowing your purpose as to where and why you need a scope is important.
Quality of Construction Materials
Buying a scope can be expensive, so it is very important to purchase a high-quality scope. Consider if it is fog proof, shockproof, and waterproof allowing you to use it no matter what weather conditions you'll be experiencing. With that, you can be sure that it will be reliable for a long time.
Magnification
It is very important to know the magnification you need before purchasing the scope you will use to hunt and shoot adventures. Check the magnification options of each scope to know the most suitable rifle scope you can use.
Ease of use, Assembly, Mounting and Sighting
Factors such as these are vital for beginners in this craft, but professional shooters can also relate either way.
It goes without saying that if a scope is hard to mount, set up, and utilize, this could hinder your performance in hunting and shooting in the field. You should have a scope that gives you ease and comfort. It's nice if the scope you choose doesn't give you any difficulty.
Lightweight and Compact
A scope's weight is to be considered. You should go with the ones that are not bulky and featherweight. Bulky ones are difficult to move and store in contrast to the lighter and compact ones.
Manufacturer of The Scope
Buying from a highly-trusted company is said to be stress-free and it has proven to be a good technique. A well-known brand has been in the industry for a long time and is respected for making products of elite-quality without a doubt.
Looking for the best scope that perfectly fits the 17 WSM may be tiring, especially if you are not knowledgeable enough about it. This article will make it easier for you to know what to choose when buying your desired scope. It is clear that knowing the differences with each scope is important to avoid purchasing the wrong one.
Picking out a scope for your 17 WSM rifle shouldn't be so complex. Being aware of your choices, and carefully considering what your needs are will eventually result in a sound decision. Always consider a product's longevity, durability, no matter the circumstances.
Finally, reading through this list consists of reviews and advice plus recommendations from experts from the field, you will surely land on a good scope.