.223 Rifles are not considered as "Weapons of War" by most people. For gun owner aficionados, .223 Rifles are perfectly applied and popular for both personal & home defense use, target shooting, tactical use, and wild animal hunting.
For hunters, .223 Rifles give them a sense of security on top of providing them with reliability, accuracy, stability, and easiness whenever they indulge themselves with hunting wild animals as part of their own enjoyment and livelihood rolled into one.
To further utilize the capabilities of a .223 Rifle, one must obtain the right optics that satisfy most of your needs when it comes with the way you use your rifle.
Our Top 3 Recommendations
There are several factors that should be checked into before buying the scope. A scope with either or both BDC Reticle and Mil-Dot Reticle types are highly favored by hunters as it helps them achieve more results.
It is common knowledge that a great scope must have an excellent performance when providing clearer target details when viewed through the scopes for monitoring purposes before shooting it once ready. 
With that said, in order to help you determine the best scope for .223 Rifle, one must have enough knowledge. This article might help you narrow it down.
Quick View: Best scopes For .223 Rifle
10 Best Scopes for .223 Rifle
10 Best Scopes for .223 Rifle in 2021 - Reviewed
1. Steiner "P4Xi 1x-4x24mm" Riflescope
Steiner "P4Xi 1x-4x24mm" Riflescope is the right choice if you're searching for the best scope for .223 rifle that is designed specifically for patrol officers, security forces, police enforcers, and other tactical purposes. 
Its compact and rugged built offers you precise image clarity with the help of its fast action reticle that handles everyday usage and unforeseen actions. You can afford this riflescope for a price of $799.99.
It features a versatile magnification that comes in 1x to 4x level. Its 1x zooming level is perfect for close combat engagement while offering a 600 yards worth of accuracy rating at the highest possible magnification of 4x.
Steiner "P4Xi 1x-4x24mm" Riflescope
It can even provide more scope area when viewed through its lowest magnification setting. It has been made with a 24mm objective lens and a 30mm main tube for a more reliable sight performance.
Illuminated P3TR Reticle
This reticle was intended for tactical firearms and close quarter battle (CBQ) situations. It is specifically calibrated for both "5.56mm" and "7.62mm" with stadia, which allows you to shoot for a distance of 600 yards. 
This scope offers 11 brightness intensity controls that are viewable even in broad daylight with an 'OFF' gap in between each intensity controls.
Nighttime Illumination – 4 levels

Daytime Illumination – 5 levels

Night Vision Feature – 2 levels
High-Contrast Optics
This product will only give you the best performance you deserve. It is committed to offer you world-class optical and engineering technology for an unrivalled light transmissivity and image viewing clarity by producing premium quality optical lens coated in several exclusive coatings.
Lifetime Warranty
There is little doubt that this scope has proven its worth in the battle with toughest conditions, which makes it sturdy and the most reliable riflescope that can be suited for your .223 Rifle. 
With that said, Steiner company offers a lifetime warranty for all of its products as part of its commitment to its customers. No receipts nor warranty cards are needed for as long as the product itself is a Steiner riflescope.
2. ATN XSight "4K ProSmart" 3-14x Day & Night Riflescope
ATN XSight "4K ProSmart" 3-14x Day & Night Riflescope has been considered as ATN's latest breakthrough that brought about notable changes for the past years after venturing into digital hunting, which has been what most hunters and gun owners appreciated and loved. 
At a reasonable price, you can finally own a sturdy and specialized scope for .223 Rifle with 3x lowest magnification and 14x highest magnification.
ATN XSight "4K ProSmart" 3-14x Day & Night Riflescope has a powerful DualCore Obsidian4 Processor offering high-quality display resolution with sharp image contrast, faster optics, and flexible low brightness sensor settings.
ATN XSight "4K ProSmart" Riflescope
This product uses Smart Mil-Dot Reticle, which helps in programming the magnification and hash mark variances easily. 
Its zooming capabilities offer a 120fps non-pixelated precise image detailing, making it a great achievement at a further distance. Additionally, its battery capabilities can operate for 18+ hours using the lowest level of brightness.
Sharp 1080P RealTime Streaming & Video Documentation
This distinct feature allows you to capture all your special hunting moments while sharing these with others via simultaneous streaming and recording of videos or images through your handheld phone without any pixelation issues whenever the magnification is adjusted. All recorded videos or photos go directly to its internal SD Card.
OneShot Zero Control
This feature can help you control and stabilized zero sightings easily. Set up your reticle while positioning yourself in taking a shot for guaranteed success.
ATN X/Trac Remote System
This feature grants you with an overall administration among its distinct characteristics, which includes the OneShot Zero Control, Range Locator as well as the Ballistic Calculator.
3. Vector Optics "Minotaur" 10-50x60mm Riflescope
Vector Optics "Minotaur" 10-50x60mm Riflescope is the best .223 rifle scope for for all buyers, that guarantees a 5-year Warranty service. 
It boasts a large objective lens with a diameter of 60mm combined with a 35mm tube diameter, which helps in giving you a powerful viewing capacity with more sharpness, more contrast, and a brighter image caliber. 
Its lens is made of glass, which has been multicoated in several layers that lessen the amount of light that could harm your eyes. Additional support for eliminating harmful lights can be given by its 3 inches sunshade accessory.
Vector Optics "Minotaur" Riflescope
This scope has a powerful magnification level that offers the lowest 10x magnification for a wider field of view that is about 9.6 feet, while its highest magnification of 50x gives off a closer target appearance when viewed towards its scope with its 2 feet field of view both at 100 yards. It is powered by a standard CR2032 battery, which is important for providing illumination for its reticle. 
Reticle Illumination
Vector Optics "Minotaur" 10-50x60mm Riflescope has a super-thin glass-etched, second focal plane (SFP) reticle, which is illuminated with 2 colors – 'Red' and 'Green'. To help you in hunting from dusk until dawn, it has prepared 11 brightness settings for its illumination. 
Overall Resistance
This riflescope has a sturdy and reliable built as it is made of quality materials that primarily use 6061/T6 aircraft class aluminum alloy. Its body is coated in a jet black matte finish, which reduces reflection that might reveal your position from your target. 
It can withstand extreme shock when tested under 700g impact from recoil while providing 99mm (3.8 inches) to 108mm (4.24 inches) extended eye relief. 
Moreover, the scope itself is completely sealed with O-rings while being milled with dry nitrogen, preventing any fog and moisture from entering within.
Zero Sight
Vector Optics "Minotaur" 10-50x60mm Riflescope can perfectly hold its zero marks easily while adjusting necessary settings such as its turret lock control, side focus, and reticle adjustments, which makes it easier for you to shoot your target using a 50mm .223 Rifle.
4. Athlon Optics "Argos BTR 6-24x50mm" Riflescope
Athlon Optics "Argos BTR 6-24x50mm" Riflescope is a perfect .223 scope for medium and long-range hunting applications. 
It has a lowest magnification of 6x that offers a field of view measuring 16.7 feet while its highest magnification, 24x, offers a field of view measuring 4.5 feet, both for the distance of 100 yards. 
It also provides you with 3.3 inches of eye relief, which is at least the bare minimum protection against constant shooting using your .223 Rifle.
Athlon Optics "Argos BTR" Riflescope
As regards to a powerful brightness transmissivity, Athlon Optics "Argos BTR 6-24x50mm" Riflescope's 50mm objective lens and 30mm tube provides excellent support. 
It lets you enjoy a more high definition image viewing due to the enormous brightness capacity being delivered in real-time. Moreover, the multicoated lens optimizes the entirety of its light spectrum through brightness quality and shade.
Reticle Control
This product boasts its ATMR, FFP, InfraRed, MOA, Glass-Etched Reticle that is coated with several layers of specialized X-tra Protective Coating that provides exceptional support for its complexity while offering a durable structure for long-lasting usage. 
Its reticle also permits you to utilize its full capabilities while adjusting your preferred magnification setting. 
Overall Built and Performance
The built of its 30mm tube is made of aircraft class 6061T6 aluminum material that commits in having supreme strength combined with exceptional mechanical & optical integrity just for you. 
This riflescope even provides sufficient thermal stability, which helps in preventing any moisture or fogging from occurring. The scope is purged with full argon that protects the clear optical performance if it can deliver.
5. Sightmark "Citadel 1-6x24mm CR1" Riflescope
If you're looking for a well-rounded and versatile rifle scope that offers a wide variety of optical shooting applications, the Sightmark Citadel is the right option. 
The excellent features present in this Sightmark "Citadel 1-6x24mm CR1" Riflescope makes it one of the best scopes for .223 rifle and provides great tactical solutions.
It is perfect for most precision target shooters as well as other aficionados such as multiple gun participants and hunters alike.
Sightmark "Citadel" CR1 Riflescope
Sightmark "Citadel 1-6x24mm CR1" Riflescope has a magnification of 1x to 6x range with a 24mm objective lens and 30mm tube that is good for close combat application offering premium quality sight performance that can adapt to any light conditions. 
This scope has also been granted with an IP67 Waterproof Rating and, at the same time, being fog resistant, dust resistant, and shock-resistant, making it durable and reliable.
Parallax Correction System
This product is embedded with a side-focus dial used for eliminating and correcting parallax while adjusting the focus of the image smoothly at the same time. Whenever parallax occurs, the reticle of this product moves towards the subject if your eye isn't centered onto the eyepiece.
CR1 Reticle Control
As an SFP MOA reticle, CR1 is calibrated for 55gr FMJ ammo and 5.56×45 – .223 Rem and designed to achieve 100-yard distance zero. It is etched and illuminated in red. 
When set to a 6x zooming range, the aiming circle dot will be used for fast acquisition and engagement against targets located between 0 – 200 yards. When set for a 1x zooming range, the outer aiming circle dot will then cover at least 15 inches @ 25 yards of target sighting.
Diopter Control
Adjusting the diopter, the curvature measurement of the eye can be done with ease by rotating smoothly the eyepiece, which will then match your vision, giving you only the finest, clearest, crisp, and razor-sharp sight solution.
6. Vector Optics "Marksman 6-25x50mm" Riflescope
Vector Optics Marksman 6-25x 50mm Riflescope offers a powerful mid-range to long-range magnification power that ranges from 6x until 25x. 
It can even supply you with enough brightness using its 50mm objective lens and 30mm tube, resulting in a much clearer and more precise image solution for only $265. This product also offers you with 2.1° of F.O.V. @ 100 yards.
Its optical lenses are multicoated in several layers with its overall structure covered in jet-black matte finish helps in reducing the amount of stray light that can hurt your eye when viewing through the scope. Only clarity and vividness without any discomfort can be experienced using this scope.
Vector Optics "Marksman" Riflescope
Its honeycomb sunshade can act as a support for reducing discomfort from stray lights when in an open field. It even offers a minimum eye relief allowance from 3.5 inches to 3.9 inches. Significantly, this product offers a 5-Year Warranty, which is a good catch for you.
Elevation and Windage Adjustments
Adjusting both the elevation and windage control with 50 MOA range can be programmed easily without much hassle, which fine-tunes your shooting accuracy that coincides with its low-profile turrets and side focus. 
Once all necessary adjustments are made and aligned with its MPN-1 Etched Reticle, you can start taking your aiming position then hit your target with precision.
Resistance
Vector Optics "Marksman 6-25x50mm" Riflescope will not disappoint you with its strong resistance against extreme circumstances. 
The prismatic scope of this product has been completely sealed and purged with nitrogen, which reduces the likelihood of any moisture, fog, or cloudiness from occurring. 
It won't get damaged easily when dropped on the water accidentally as it was designed to resist water. Moreover, it has been generally tested and passed a 1000g shock examination.
7. UTG 4-16X56mm Riflescope
If you prefer a best long-distance riflescope for .223 rifle, you better try UTG 4-16X56mm Riflescope with an affordable price of $255.55. It basically performs well when used for deer hunting and hog hunting, among others, while providing crystal-like image clarity.
The 56mm objective lens of this riflescope coupled with a 30mm tube and several layers of emerald coating for its optical lens only gives you the best optimal lighting transmissivity for a much brighter and high definition picture when seen through the scope. 
Its detachable sunshade accessory can, in turn, block the excessive glare emitted by the sun for more comfortable shooting.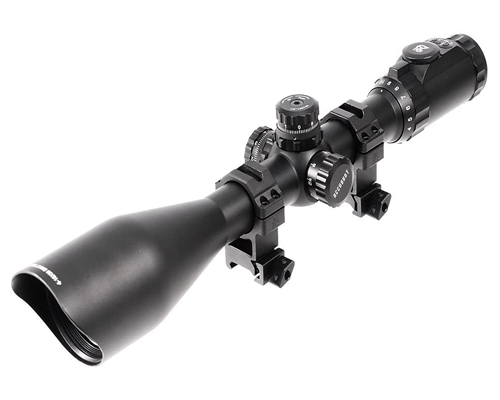 Brightness Intensity Level
UTG 4-16X56mm Riflescope adapts well when used in various light conditions. It is only made possible by its impressive brightness intensity system called 'EZ-TAP' IE Technology that comes in 36 colors. 
There are different illumination settings intended for daytime and nighttime hunting without diminishing its stellar optical performance powered by the standard CR2032 battery.
1-Click Technology
UTG 4-16X56mm Riflescope boasts its 1-Click Technology that permits you to easily return back on your former color shade and brightness adjustment despite the continuous shooting. Moreover, an eye relief of 3.2 inches prevents you from having any injuries that resulted from extreme recoil shock. 
Resistance
UTG 4-16X56mm Riflescope was made to withstand extreme and tough environments, which makes it a reliable and durable partner for your .223 Rifle. 
It can even display its truest strength by resisting powerful shock from certain circumstances. Moreover, your scope won't cloud or fog easily, thanks to its nitrogen-filled construction. It is also waterproof, which allows you to use it even on a rainy day.
8. Bushnell Engage 3-9x40mm Riflescope
The Bushnell Engage 3-9x40mm Riflescope is an excellent scope for .223 rifle to get great performance at an affordable price. It fuses reliability and versatility into one, forming an excellent optical solution with illuminated reticle and precision turret control designed for mid-range hunting. 
It maximizes its ability to transmit light through the spectrum with its scope coated in several layers of anti-reflective finish and EXO Barrier coating for contrast improvement and hue fidelity.
It has been engineered and designed to last for a longer period of time despite continuous use, preventing the product from wearing or get damaged.
Bushnell Engage 3-9x40mm Riflescope
The 1-inch tube was built using a strong yet lightweight aluminum material, which makes it easy to transport or placed on your .223 Rifle. 
Under extreme situations, its 3.5 inches eye relief allowance can give you a generous amount of eye comfort with more room for mounting on your .223 Rifle.
Optical Performance
It has a 3x-9x magnification, which is perfect for medium distance hunting, offering a FOV of 38 feet for 3x magnification and 13 feet for 9x magnification. 
Its 40mm objective lens balances out the amount of brightness being gathered and used for a more challenging environment such as dusk until dawn hunting purposes. 
The EXO Barrier coating finish helps the optical lens to resist against external threats that intend to damage it, such as scratches, fogging, and abrasions, as well as fingerprint dirt, oil, and other residues or smudges that might minimize the visual effectiveness and accuracy of the product.
MultiX Reticle
This type of reticle is composed of classical crosshair & duplex design, which presents a clearer FOV without any disturbances nor obstructions. 
It has a thicker outer mark for horizontal and vertical axes. At the center, finer central hair can be extended upward through FOV. It is illuminated in red with 6 levels of brightness intensity, powered by a standard CR2032 battery.
Construction
This optical lens of this product is made to resist against scratches coated with a low reflective jet-black anodized matte finish. 
It was even granted with IPX7 Waterproof Rating, which allows this rifle scope to withstand water submersion under the puddles or the streams while providing exceptional visuals under any weather conditions.
9. Vector Optics Calypos 3x32mm Riflescope
Another affordable product from Vector Optics with a price of $199, you can get to enjoy hunting wild animals using Vector Optics Calypos 3x32mm Riflescope. 
It is a perfect close quarter battle (CBQ) riflescope that offers a larger and wider 6.5 feet field of view than other regular scopes with its 3x magnification power. It is very compact and lightweight that coincides with its 32mm objective lens.
It offers you a crystal-like clarity and vivid details, eliminating the chances of having distorted and undistinguished sight visuals which may obstruct your hunting activities.
Bushnell Engage 3-9x40mm Riflescope
It is also calibrated for .223 5.56x45mm cartridge, which may enhance its capabilities. It also offers a bare minimum of 3 inches of eye comfort while granting you a 5-Year Warranty Service, which makes it a good deal.
Reticle Performance
This product includes a VEP-CDB Glass Etched BDC Reticle that is illuminated in red (LED) with 11 levels of brightness intensity that produces incredible sight performance. Its intensity levels have been designed to accommodate diverse light conditions. 
It even allows you to view through the scope using both of your eyes, which gives more extended eye comfort. It is powered by a standard CR2032 battery, which helps maintain the illumination of your reticle.
Resistance
The optical lens of Vector Optics Calypos 3x32mm Riflescope was granted with a standard waterproof rating of IPX6, which fortifies its defense against moisture and damage brought about by water components without compromising the clarity it offers. 
It is also housed with dry nitrogen gas, which provides a fog proof built. It is even constructed using high-quality aircraft class 6061/T6 aluminum alloy, which can withstand extreme shock from continuous recoil.
10. Sightmark "Core TX 3-12x44mm" Riflescope
Sightmark "Core TX 3-12x44mm" Riflescope has been developed for the purpose of enhancing the performance of numerous rifles, keeping reliability and accuracy in mind. Due to the low-price of this scope, it is the best .223 scope for the budget-friendly users.
It was carefully engineered to overcome extreme challenges brought by various hunting circumstances you experience on the field. 
Its 3x to 12x magnification power is ideal for mid-range to long-range applications using your .223 Rifle.
Sightmark "Core" Riflescope
Sightmark "Core TX 3-12x44mm" Riflescope's 44mm objective lens supported by its fully multicoated lens produces optimal brightness transmission under diverse conditions. 
It also features an exposed lockable turret system that maintains zero sightings consistently, which are easy to adjust for successful bullet drop and accurate windage at ¼ MOA click value.
Illumination Control System
This product uses an etched reticle that can be utilized with or without illumination. Its dial knob is marked with G that stands for green illumination, and R for red illumination. 
Its default setting is black. It follows an intensity level from 0 to 5. Intensity level 1 is for low-light environments, while intensity level 5 is for outdoor brighter environments. 
It is powered by a CR2032 standard battery, which helps in delivering optimized 'shot' placement that lasts for long hours of hunting and shooting.
BDC / DCR Dual Caliber Reticle
This product's reticle has been calibrated for .308 Win. (150gr & 155gr) and .223 Rem. (55gr & 62gr). It was designed to support 3 applications – competition purposes, tactical applications, and hunting purposes. 
It gives you a .3 MOA central crosshair aiming mark set at a higher zooming level, which is intended for shooting targets located between 0 and 200 yards.
Features To Consider Before Purchasing Best .223 Scopes
Before purchasing a suitable .223 riflescope for you, you must determine and consider several factors into account. Every hunter has their own hunting preferences, which means that the scope they use compliments their styles. 
Kindly pay attention to the following characteristics before finalizing your decision.
1. Suitable Magnification
A suitable magnification for your own riflescope depends on the distance that you will cover when you decide to hunt.
Close Range

– For close combat shooting, a minimal to no magnification is perfect for you. A 1x to 3x zooming level should be good enough to provide you with sufficient image clarity with a wider field of view.

Medium-Range

– For medium combat shooting, a 3x to 9x magnification level might satisfy your hunting preferences. It is perfect for hog hunting or deer hunting, which not only helps you in executing perfect concealment but also provides a much closer target viewing with enough field of view.

Long Range

 – For long combat shooting, a scope with a magnification range of more than 9x will be a perfect companion for your hunting needs. If you are an experienced shooter, you'll know that your skills will greatly be enhanced when paired with a high-quality riflescope.
2. Objective Lens
If you want high quality and high definition image details, you should choose a riflescope with a larger objective lens built. Commonly, an objective lens with 20mm to 50mm can gather enough brightness to give you a better optical experience. However, an objective lens with 52mm to 75mm diameter is powerful enough to offer at least 90% to 99% light transmission.
There is no doubt that a crisper, crystal clear, and the sharper image will be shown to you right before your eyes. The only downside is the bigger the objective lens is, the heavier it may be.
3. Tube Diameter
To ensure the highest success rate of your hunt, try choosing a tube that fits your hunting criterion. Please note that a greater tube diameter implies more durability and more rigidity. It also translates to an even powerful elevation adjustment that is vital for long-range shooting.
4. Eye Relief
For .223 Rifles, a riflescope that offers a generous and extended eye relief is also important. The main purpose of having long eye relief in scopes is to minimize, if not prevent, minor injuries that resulted from consistent heavy recoiling through unusual angles.
The most common injuries that one might experience are bruises and cuts around the eyebrow or eye. A minimum of 3 inches to 4 inches would be a good enough choice.
Conclusion
Finding the best .223 scope for you can be likened to finding a needle within the haystack. It becomes even harder when blindly and impulsively buying for one, which might waste your time and resources. In this regard, it is important to mind the factors which are deemed important to determine the best scope for .223 Rifle.
I hope that you find this article informative after going through several riflescopes to choose from along with the factors that you should consider, which can further improve your skills as a hunter and as a .223 rifle user in the long run.