Hog hunting has become a trend in recent years. It brought most hunters to participate in the hog hunting arena that ultimately requires a great amount of patience & expertise as a shooter. 
Hog hunting has emerged through the extended cravings of hunters for its meat, which gives way for several ways of consumption. 
Shooting wild hogs down is quite challenging. Most of them appear at night – a time when they are searching for food in the wild. 
They are quite agile, too, which makes it quite a challenge for hunters, testing their abilities as a shooter. To effectively execute your hunting, having a suitable scope for hog hunting is highly important. 
It brings out the potential of your chosen firearm when you go out hunting. Riflescopes are built with durability, versatility, and innovative technology, keeping into mind. A flexible riflescope that can be used for nighttime applications is more appealing for most hunters and gun owners. 
Our Top 3 Recommendations
Significantly, a riflescope with either a thermal heat sensor or high-quality night vision increases your chances of hunting down wild hogs. Several attributes are also needed to be considered before identifying what the best riflescope that compliments and is compatible with your rifle. 
More importantly, you should also know the purpose of why you need to buy a riflescope. Is it for the pure hunting of wild animals? If yes, what kind of animals? What is your preferred shooting range? What is your preferred magnification? 
As long as you are clear with your purpose and intention, finding the suitable riflescope for your rifle will be much easier. 
This article will let you explore your options as well as several considerations to take into account before finalizing your decision in finding the right optics or scopes for you that can help you do well in terms of hog hunting.
Quick View: Best scopes For Hog Hunting
10 Best Scopes for Hog Hunting
10 Best Scopes for Hog Hunting in 2021 - Reviewed
1. Pulsar Thermion XM50 Thermal Imaging Riflescope
Pulsar Thermion XM50 Thermal Imaging Riflescope costs about $4000. Yes, it is quite pricey, but it would not cheat you as it boasts stellar unique features that can definitely support you for hunting feral and aggressive hogs when the night falls. Starting the riflescope's advanced settings can be done instantly.
Pulsar Thermion XM50 Thermal Imaging Riflescope has taken ruggedness, reliability, extended "heat signature" range detector, and friendly interface packed into one simple thermal imaging product, which can be a great help for hog hunting. 
It has 15 types of reticle with 4 varying colors – Red, Green, Black, and White. Still, images and recording videos with audio can be stored within its 16GB Internal Storage. Recorded images and videos can be shared using its StreamVision App through Wi-Fi.
Pulsar Thermion XM50 Thermal Imaging Riflescope has achieved a recoil rating of 6000J under .375 caliber with 12 Gauge & 9.3×64. The power source of this product consists 2 batteries – internal & external.
Digital Zooming
Pulsar Thermion XM50 Thermal Imaging Riflescope can be magnified for a maximum of 8x, which improves the overall "target" recognition interface while providing focus at a notable distance.
Color Palette Selection
This feature provides personalized display settings. "Rainbow," "Red Hot," and "Ultramarine" highlight the target's heat identification by showing more detailed intense body spots while "Black Hot" and "White Hot" are the most famous ones on the selection. "Red Monochrome," "Violet," and "Sepia" are ideal for lessening eye restrain and fatigue for longer observation periods.
IPX7 Waterproof Rating
Pulsar Thermion XM50 Thermal Imaging Riflescope has been granted with IPX7 Rating for being water-resistant. It can protect the scope against heavy rain, snow, and other weather conditions. The scope can survive a 3-feet water submersion for a maximum of 30 minutes when dropped accidentally while operating under 13°F to 122°F.
2. Pulsar N455 4.5-18x Digisight Ultra Riflescope
Pulsar N455 4.5-18x Digisight Ultra Riflescope is another valuable product that costs $1279.97, which might be a bit pricey but emits superior features that can be of great help for hunting wild boars at night. This product has improved its digitalized night vision technology, which can also capture other wild animals at any time of the day. The night vision technology defines that, it is one of the best night vision scope for hog hunting. 
It is embedded with a 1280 x 720 CMOS Sensor combined with 1024 x 768 AMOLED Display Resolution that is quite useful for 600 yards of night hunting. 
Pulsar N455 4.5-18x Digisight Ultra Riflescope boasts 4.5x to 18x digital zooming and a wider field of view with 10 reticle types. When hunting at night, the power source can last for up to 8 hours when fully charged.
Picture in Picture Mode
Picture in Picture Mode enables you to add another frame for display. This feature shows the augmented images of your target through the reticle, which lets you see through the full view for accurate aiming. 
Stream Vision App
Recording and streaming videos are now made easy with the help of technology. Just connect the scope through Wi-Fi to transfer files towards your iOS & Android smartphone while, at the same time, stream the captured footage on your YouTube account and other SocMed platforms. The scope itself can store up to 16GB worth of files using its internal memory storage.
Digital Zooming while Zeroing
Achieving zero can be easily done while adjusting the magnification settings of the scope. Increasing the magnification will, in turn, decrease the click value of this product with less than 0.1 MOA.
Ultra Long-Range Infrared Illuminator
This scope has a built-in detachable infrared illuminator with 3 adjustable IR levels for preferred range and illumination settings. 850 nm infrared provides constructive observation towards distant objects while 940 nm infrared can operate under invisible area scope.
3. ATN Thor LT 4-8x25mm Thermal Riflescope
ATN Thor LT 4-8x25mm Thermal Riflescope is a specialized product that uses thermal vision for only $1084.70 – a bit lower compared to other similar thermal scopes that cost a fortune.
ATN Thor LT 4-8x25mm Thermal Riflescope focuses on what's important with little efforts. It has a magnification power of 4x to 8x that provides wider area scope while securing enough light using its 25mm objective lens for clearer and sharper images of wild boars at a distance. 
Having a stable mount platform helps in retaining zero for more accurate shots. It is lighter in comparison to other similar scopes, which makes it easy to carry or transport. It is one of the best lightweight riflescope that fits your rifle effortlessly. 
1-Shot Zero Control
This feature lets you use the sight of your scope easily with its 1-Shot Zero Control. Just move the zeroed reticle towards your initial point-of-impact.
ATN Thermal Vision Control
This feature can easily achieve zero for more precise target shooting, thereby eliminating the hassle of determining either a "hot" or "cold" targets such as wild boars, most especially at night. It can detect heat signatures of wild animals, which won't require you to use light just to have sharper details.
Low Power Battery Life
As this is a thermal scope, having extra batteries for longer night hunting is important. However, this product consumes limited power, which makes the battery last for 10++ hours of continuous operation. 
Moreover, it has a back-up battery pack that can store 16++ hours of constant use while recharging other devices that you might have on hand during the night wild boar expedition.
4. Athlon Optics Ares BTR 4.5-27x50mm Riflescope
If you are looking for the best scope for hog hunting at an affordable price, you can try Athlon Optics Ares BTR 4.5-27x50mm Riflescope as one of your options. 
It offers you only the best distinct features from a first focal plane (FFP) riflescope at less cost. Being an FFP scope allows you to utilize its benefits for shrinking or growing the reticle for easy target acquisition. It is one of the ideal 50mm riflescope among all other standard scopes.
Athlon Optics Ares BTR 4.5-27x50mm Riflescope's main tube is milled using high-quality Aircraft Grade 6061/T6 aluminum material, which helps in delivering precise and accurate shooting results after a long day (or night) of wild boar hunting.
Athlon Ares BTR 2.5-15x50mm
It has an adjustable magnification of 4.5x to 27x, which enables you to have both a closer look towards your targets at maximum magnification and a wider scope for lower magnification setting.
High Definition Quality Images
Its glass lens is fully coated in several layers of advanced coatings, which can offer high contrast, crisp and sharp images. 
Combined with its 50mm objective lens, it can effectively reduce and block any reflected light that can hurt your eyes when viewing through the scope while increasing the volume of gathered light for more high definition image quality.
TrueZero Precision Stop Control
This feature allows hunters to easily retain zeroing position marks while adjusting the necessary settings needed for successful shots.
High-Precision Erector Control
This feature is processed with the help of a CNC machine with at least +/- 0.0001-millimeter tolerance control. It provides you with high accuracy settings with effortless magnification changes.
5. ATN X-Sight "4K Pro Smart" 5-20x HD Day & Night Riflescope
ATN X-Sight "4K ProSmart" 5-20x HD Day & Night Riflescope is the latest innovative breakthrough of ATN that have brought significant changes in the riflescope industry over the years after the introduction of digitalized hunting that most hunters have loved and appreciated. 
It is the perfect scope for hog hunting, which lets you experience hog hunting fully from dusk until dawn.
This product is powered by Dual Core Obsidian IV Processor that offers high-quality resolution, sharper contrast, and quicker optics with lower light sensor flexibility. ATN X-Sight "4K ProSmart" 5-20x HD Day & Night Riflescope uses Smart Mil-Dot Reticle to easily program that hash mark variance and magnification settings.
It has 120fps non-pixelated zooming capabilities, which is a great feat for image detailing at a distance. Moreover, it is powered by a battery that can last for more than 18++ hours at the lowest possible lighting level, which is an advantage for pulling an allnighter in hunting wild boars.
Real-Time Streaming & Video Recording – Sharp 1080P
This feature will help you in capturing the special moments of hunting that you might want to share with others by streaming HD videos or sharing HQ photos through your smartphone while simultaneously recording or saving the file through its SD Card included in the scope without any pixelation despite adjusting its magnification. Record, save, and share your hunting journey easily.
1-Shot Zero Control
Achieving and maintaining a zero-marked sighting have become much easier with the 1-Shot Zero Control. Calmly take your aim, adjust the reticle setting, release the bullet, and successfully take down the wild boars.
ATN XTrac Remote Setting
This feature provides overall access and control among its distinctive features that include 1-Shot Zero Control, Distance Locator, and Ballistic Calculator.
6. Athlon Optics Ares BTR 2.5-15x50mm Riflescope
Athlon Optics Ares BTR 2.5-15x50mm Riflescope is another best hog hunting scope in our list from Athlon that provides an economically friendly price while offering what you deserve to experience hunting at its fullest. As this product has a 1st focal plane reticle, it helps you control your aim for having a perfect zero position despite magnification adjustments.
The 1pc main tube of this product has been milled by precision machinery equipment. It had used a 6061/T6 aircraft quality grade aluminum material as a base for its optical scopes, which can withstand extreme impact such as accidental banging while realizing high accuracy results for hunting on an extended period of time. 
Moreover, its adjustable magnification offers 2.5x the lowest power with a wider field of view and 15x the highest power for a closer target observation.
Athlon Ares BTR 2.5-15x50mm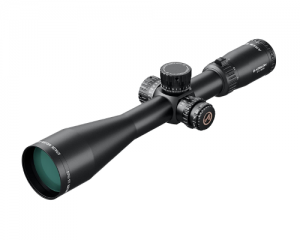 High Definition Quality Images
The lens material of this product is made of glass material that is coated in multiple layers of advanced coating, which delivers crisp, high quality and high definition images compared with regular riflescopes with normal lens coating. 
The 50mm objective lens of Athlon Optics Ares BTR 2.5-15x50mm Riflescope can successfully block harmful lights reflected towards the scope that can hurt your eyes while increasing the brightness volume for more definitive quality images.
TrueZero Precision Stop Control
This feature can easily maintain the zero-marked position while programming other settings that can support your shot.
High-Precision Erector Control
The High-Precision Erector Control of this product was manufactured and produced through the help of a CNC machine with +/- 0.0001-millimeter tolerance management.
7. Sightmark Wraith 4-32x50mm Riflescope
Sightmark Wraith 4-32x50mm Riflescope is another high quality and high definition product in our list of best hog hunting scopes that encourages the use of advanced technology for the digital hunting experience. 
You can spend less for buying this scope instead buying the other expensive scopes. It can work well for daytime and nighttime hunting. This versatile scope was designed to accommodate all your hunting needs and adapt to any hunting applications, which includes predator hunting, hog hunting, and deer hunting.
Sightmark Wraith 4-32x50mm Riflescope includes a detachable eyecup that inhibits the dispersion of light/brightness at night when attached while providing a more comfortable viewing when removed during the daytime.
Sightmark Wraith 4-32x50mm
It is powered by AA Batteries (x4) that can last for at least 4.5+ hours when used sparingly. It also includes built-in slots for micro USB and memory cards, which help record, save, and export videos & photos towards your smartphone that contain your special hunting moments.
InfraRed Flashlight and Reticle Option
This product has an exceptional 850 nm detachable InfraRed flashlight, which makes a 200-yard night detection hunting much easier compared with other regular scopes. 
It is a very good feature that can help you when hunting aggressive feral hogs without revealing your position. You can even choose one appropriate reticle out of ten with 9 varying colors for higher accuracy chances that compliment your hunting needs.
Easy Menu Control System
The user-friendly controls of this digital scope can be done with just a simple switch mapping. It is easy to use, and even beginners can navigate it.
Daytime / Nighttime / Emerald Setting
This feature allows you to choose a suitable viewing option for you, depending on your shooting preference. It provides a 1920×1080 advanced high definition sensor that compliments the type of vision available – from the most common black or white settings to the classical and traditional emerald settings.
8. Night Owl Optics "NightShot" Riflescope
Night Owl Optics NightShot Riflescope has been specifically designed with night vision hunting applications and it is one of the best night vision scope under $500. It works perfectly well for hunting the following:
Dusk & Dawn (Twilight / Night) Hunting

Wild Hog Hunting

Varmint Hunting
It is a well-rounded product that is used for other outdoor activities such as Paintball Shooting and Airsoft Shooting. It is also compatible with most firearms used for hunting or as part of military infantry. 
It helps you realize hunting in perfect concealment, which does not alert the surly boars whenever you wish to take it down with few powerful shots.
Reticle Options
There are at least 3 reticle options to choose from, which is vital for determining the success rate hunting wild boars. You can adjust it smoothly while configuring your color preference that best suits the environment you are currently into.
IR Illuminator with Powered Battery Source
To use the Night Shot feature of this product, 4 AA/Lithium batteries are needed to power it up. Depending on the battery type, quality, and infrared usage, the night vision feature can last for a minimum of 4.5+ hours and for a maximum of 17.5+ hours.
Below is the summarized estimation of its battery life operation in relation to the usage of an IR illuminator.
Read Also: Night Owl Optics NightShot Digital Night Vision Riflescope Review
AA Batteries 
IR – Off: 11.9 hours
Low IR usage: 7.1 hours
High IR usage: 4.5 hours
Lithium Batteries
IR- Off: 17.5 hours
Low IR usage: 11.1 hours
High IR usage: 6.7 hours
9. Wicked Lights - A67iC Tricolor - Riflescope
For less price, you can easily purchase Wicked Lights – A67iC Tricolor – Riflescope that was designed for night hunting applications. 
It uses a patented 3-Colored-In-1 design that can instantly change its color from "Green" to "Red" to "White" LED illuminators located in the middle of your scope's crosshairs with just a simple switch control color selector knob rotation that results in realizing zero point-of-impact shift.
Adjusting the elevation & windage dials can be determined easily in relation to your reticle's crosshairs, maintaining its mark to where you wanted it to be.
Wicked Lights - A67iC Tricolor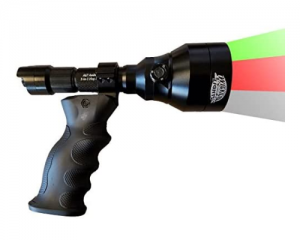 It uses 2 premium quality 18650 Lithium Ion Rechargeable Batteries for an allnighter hunting performance, which is important for taking down wild hogs at night. It is also resistant against accidental water drop, which prevents your scopes from being damaged.
Intensity Brightness Control
This feature allows you to choose the right intensity color that relies on the purpose of your hunting activities with infinite control for the set brightness, which prevents the marked wild animals from being startled by the illumination of your scope. 
Green LED – A viewing option perfect for hunting hogs and generally wild predators

Red LED – A viewing option perfect for hunting mild predators such as foxes, coyote, and bobcats

White LED – A viewing option perfect meant for law enforcement, night filming, and predator hunting
Scan & Kill (Zoom-Focused Bezel) Technology
This feature allows beam adjustments from the "spot" to "flood." Its focus and zooming capabilities, when combined with the Intensity Brightness Control, can offer you an absolute administration in programming the suitable output for light and intensity, which solely depends on your nighttime hunting styles and situations.
10. Visionking Optics 1-8x24mm Riflescope
Owning a reliable Visionking Optics 1-8x24mm Riflescope at an affordable price is a piece of cake. It has a variable magnification that can be adjusted from the lowest 1x power with 104.6 feet of the field of view at 100yds to the highest 8x power with 13.6 feet of the field of view at 100yds, which makes it an ideal ally for hunting wild hogs. This scopes will be the best riflescope for 100 yards field.
Its 24mm objective lens gathers enough light volume that can be transferred towards the scope. This ability can show you a clearer and sharper view of your targets as well as its surroundings, which is vital for reading the situation and its behavior before releasing the bullet. 
Its multicoated lens prevents stray light from hurting your eyes, which makes you comfortable when taking an aim.
Visionking Optics 1-8x24mm
Resistance
Visionking Optics 1-8x24mm Riflescope was made to resist the heaviest impact of recoil that weighs for about 1000G, which was tested during its initial production to ensure a quality built and sight solutions in the long run. 
It can even provide you with sufficient 3.5 inches to 4.3 inches of eye comfort after constant shooting using heavy or large caliber firearms.
Power Source
This riflescope is powered by a CR2032 Standard Battery, which helps in giving sufficient illumination for your red-dot reticle. Its reticle brightness can be maximized when using MAX 11. This is a good choice for wild boar hunting when done during night time.
What To Consider Before Buying Best Hog Hunting Scopes 
Wild boars are feral animals that are quite ill-tempered and most active at night. A reliable hog hunting scopes must possess distinct features that can help you successfully capture wild hogs. Our article will provide some basic hog hunting tips for beginners. 
Below are some of the factors that you need to note before possessing the appropriate hog hunting optics/scopes for you.
Magnification Power
It is important to note what is the right magnification that a hog hunting scopes must possess. Knowing your target's nature is vital. A close-ranged magnification type can most likely bring you the best results of hunting and capturing wild boars. 
The ideal distance between the shooter and the targeted wild boars is approximately about 10 yards to 180 yards at maximum. Taking shots at about 200 yards is quite a rare feat for hunting wild boars.
The ideal magnification power for hunting boars is at least 1x to 4x for close-range shooting, but having a magnification power between 4x to 14x can bring out the total balance for performing a 180-yard wild boar shooting feat. A riflescope with such power can be considered as the most versatile product intended for the exciting hog hunting.
Night Sight Performance
We all know that feral animals such as the grumpy wild boars are active at night to hunt food of their own for survival. Another important factor to take note of is its optical performance at night. This unique feature allows you to view your targets with enough clarity, which helps you in successfully capturing them.
Ideal wild boar hunting riflescopes must be able to adapt and perform well in darker environments or places with low lighting conditions. This type of product allows you to utilize its night performance well, which in turn maximizes your skills as a wild boar hunter.
There are several specialized riflescopes in the market that have incorporated advanced technology that make use of the wild boars' thermal heat signature or infrared identification, which are best used at night. Hog hunters would most likely love this type of scope.
Flexible Optical Performance
A riflescope intended for hog hunting must be well-rounded. There are some wild boars who are active in broad daylight. It will be great for hunters if their chosen scope can operate well on both day and night hunting periods. Combined with the balanced magnification settings and sufficient lighting, you will be able to have the supreme quality of target acquisition details when seen through the scope.
Resistance
Since wild hogs are nocturnal, it is important to own a riflescope that can prevent the occurrence of mistiness, fog, and moisture from entering the lens of your riflescope. As colder temperatures tend to create cloudiness while extreme heat can result in moisture from sweat, it may hinder your visuals. These will lead you to miss your shots towards wild boars.
Reticle
Complex reticle types might give you a hard time when hunting wild boars. Most often than not, if a reticle has several markings, it might obstruct you in seeing the overall finer details of the wild hog's behavior and surroundings, most especially at night, as wild boars have a darker skin color. 
The ideal type of reticle that can satisfy your hog hunting journey is either the Red-Dot Reticle, Illuminated Dot Reticle, or the Duplex Crosshairs Reticle, which is quite simple yet effective for accomplishing your goal of capturing wild boars.
Conclusion
Hunting hogs pose quite a great deal of challenge and excitement for hunters. It is quite different from other popular hunting activities such as prairie dog hunting and deer hunting. These wildlife animals have different and distinct behavioral patterns. Wild hogs are considered ferals, which tend to have more aggressive behavior compared with others.
Impulsively choosing riflescopes without taking any factors in mind can only give you disappointment. It is better to understand the wild boars' way of living to figure out the best scopes for hog hunting. The most definitive factor for a suitable scope is having quality night sight performance. I hope that the article was able to help you in narrowing your options and selecting the best one for you.