A nighttime hunter is successful only when he uses the latest tactical equipment for hunting. Another critical factor for success is the night vision feature that is present in your hunting arsenal.
If you are going into the woods for night hunting, then you must have the best thermal imaging devices for your adventure. Because it is impossible for humans to see things in the dark with the naked eye. It can be done only with thermal imaging devices.
Thermal equipment namely thermal binoculars, thermal goggles, thermal monoculars, thermal cameras, and thermal scopes play a major role in the hunting industry. Most of the night hunters will already have a thermal scope for their crossbow or rifle.
Thermal goggles or binoculars are built based on the principle of thermodynamics. According to that, the thermal imaging goggles detect the heat signatures of the objects around you and lets you be aware of the location of your target and its state of being and also other violent animals.
Thermal imaging devices have become familiar only in the 21st century. As you can imagine, thermal imaging tools are not always expensive except for thermal imaging goggles.
Thermal imaging goggles/binoculars cost little more than thermal monoculars and thermal scopes, but they are more comfortable to use and offer excellent optical performance. They provide enhanced vision in low-light scenarios through the obstacles such as fog, smoke, dust, or bush.
Thermal goggles and binoculars are very popular among hunters. They are also used for search & rescue operations and for animal observations in the forest.
Here, we have listed the 8 best thermal imaging goggles that are top-rated and will not hurt your budget. All the products that are listed down are tested for different climatic conditions and the important features needed for hunting. Just dive into our article and go through all the products.
8 Best Thermal Goggles in 2021 – Reviewed
1. AGM Global Vision Thermal Imaging Binocular/Goggle
AGM Global Vision Cobra is a long-range thermal vision goggle that can be used for various purposes such as law enforcement and patrol services. It is ideal for viewing faraway objects even in extreme environmental conditions.
Field of View
This AGM binocular/goggle is designed with a wide field of view to help you easily track the hidden objects even during fog, smoke, or mist. The magnification feature allows you to zoom in on objects closer for better identification.
Resolution
This thermal vision goggle boasts a 75mm objective lens with a high resolution of 640×512 pixels that provides high-quality images with much clarity. The 50 Hz refresh rate delivers images at a faster rate.
Color Modes
AGM Cobra thermal imaging goggles are based on the FLIR Tau 2 VOx microbolometer core that offers a variety of image palettes such as Black Hot, White Hot, and Rainbow color modes. These color modes can adapt easily to different environmental conditions. So you can set your preferred color option based on the hunting scenario.
Waterproof Construction
It is made of high-grade aircraft aluminum alloy that is sturdy but light to handle. The waterproofing feature allows you to venture into any challenging environment.
Further, it comes with two rechargeable batteries that give a continuous power supply for up to 4 hours. You can also use an external battery pack for additional operating time.
2. Pulsar Accolade XP50 Thermal Goggle
Pulsar brand is a leading manufacturer in the production of thermal and night vision products. The Accolade Series of Pulsar is a new launch specially designed for hunting activities.
Here we've given the XP50 series, but it also comprises another model XP38. Both XQ38 and XP50 binoculars are almost similar in their specs and features. They differ only in two features; price and resolution.
Resolution
All the thermal optics from Pulsar are ideal for hunting and tactical activities. Among them, the high thermal resolution 640 × 480 pixels of Accolade XP50 is very effective and provides clear and contrast images of your target.
Once you've captured the target image, the next step is edge-cutting technology. It processes the image and delivers variations between the high and low areas in the image.
Detection Range
The Pulsar Accolade XP50 is an excellent option to track long-distance targets. It can focus the target beyond 2,000 yards by picking up the heat signatures that are emitted from the target. The magnification range of this thermal imaging goggle is 2.5x and provides a 20x zoom-in option for a closer view.
Refresh rate
The Pulsar Accolade series is boasted with a 50Hz refresh rate which is higher when compared to other models. This refresh rate offers high-defined images with much clarity.
Waterproof
This Pulsar Accolade XP50 thermal vision goggle is designed with an IPX7 waterproof rating. This can resist water, snow, and fog. Also, it has an AMOLED display with 640×480 pixel resolution that is frost resistant. So you don't have to worry about the damages that might occur due to climatic changes.
Video Recording & Streaming
Pulsar Accolade XP50 thermal goggle comes with Wi-Fi connectivity that allows you to store all your captured videos and images on another device. You can also share it with your friends or on social media. It also allows you to stream live videos while you're on the hunting adventure.
Construction
Further, Pulsar Accolade XP50 has a lightweight construction, weighing up to 1.3 lbs. The IPS5 battery of this binocular can perform continuously for up to 8 hours. You can also extend the battery life using the backup system.
3. Bering Optics Thermal Imager
Are you browsing the web to find out the best cheap thermal binoculars/goggles with advanced features? Then this is the right choice for your hunting. 
Bering Optics Thermal Imaging Bi-ocular is a versatile product that can be used for both day and nighttime missions. The lightweight design comes in handy and makes portability easier.
Thermal Detector
The FLIR Tau 2 core of this bi-ocular comes with a 17 microns detector pitch that provides crystal clear images and they are displayed on the high-resolution AMOLED display. 
It is the best for both medium and long-distance hunting. The 30 Hz refresh rate delivers clear and contrast images every time. But this frame rate is lower compared to other products. 
Weather Resistance
The entire body of this device is nitrogen-purged to resist fog. Not only fog it is also resistant to water, dust, and shock. So you can use it in any harsh environmental conditions.
Additional Features
For optimal performance, this thermal vision goggle is provided with menu options including adjustable image polarity, manual display brightness control, digital zoom, and 7 color palette options.
4. EOTech Thermal Night Vision Goggle
We should always pay a huge amount for hunting gear. In that line comes the EOTech Ground Panoramic thermal Night Vision Goggles. It is the most expensive product on our list.  
EOTech goggles are worth the money because it is packed with more additional features that make it reach the peak in the market. Other than its price, we can't find any fault in this thermal night vision goggle. Its performance in the field is too good.
Image Quality 
Most of them love night hunting including us, as it would be very thrilling. But under dimmer environments, we can't identify objects easily without night vision gears. This EOTech thermal night vision goggle provides exceptional image quality and you can track your targets even at a very long distance. 
Field of View
EOTech goggles are engineered with a wider horizontal FOV of 97°. It helps you to observe the presence of other predators in your surroundings. So that you can be aware of wild animals that are near you. You can also adjust it based on your preferences.
Flexibility
EOTech GPNVG is flexible and can be operated using any other power source. This makes it a portable device. Its focus can be from 45 cm to ∞, which is fine.
Phosphor Tube Technology
EOTech GPNVG is helmet-mounted and so you'll not leave it off in the ground. It is equipped with white phosphor-tube technology to provide an intensified image quality. With the help of this technology, you'll get enhanced target recognition in any circumstances. 
Color modes
The images naturally appear in "black" and "white", but this device also has other contrasting details that can be changed manually. Using color modes, you can get a firm result with deep perception.
Construction
EOTech Ground Panoramic Night Vision Goggles ( GPNVG ) is built with 4pcs of 18mm MX 10160 style. It has an infrared beacon for better optical performance at cooler temperatures. It uses two battery types DL123 and regular AA batteries. It has also passed the MIL-STD-810G test. So you can use it under any climatic conditions fog, rain, or snow.
5. AGM Global Vision Apache Thermal Goggle
AGM Global Vision Apache Thermal Night Vision Goggles is designed specifically for military purposes. This is the best thermal vision goggle for military and tactical activities.
Design
Its design was inspired by the US Army's ANVIS Goggles, a part of the AN / AVS-6 (v) / 9 series. It is not very expensive, but at the same time, it comes with excellent qualities. It has also passed the environmental qualifications test under MIL-STD-810G.
Objective Lens
It is equipped with two standard image intensifier tubes namely; P43 green phosphor tube and P45 white phosphor tube to provide high contrast images. It is fitted with both Class A and Class B coated filters on its objective lenses, providing a 40-degree field of view at its minimum.
Magnification
It has a fixed magnification of 1x and provides an eye relief of 27mm. Moreover, it also offers diopter adjustment between -6 and +2 for the lens.
In addition, the Apache A-9 includes an interpupillary span between 51mm and 72mm with 10 tilt adjustments to compensate for a wide range of applications.
Resolution
Coming to optical resolution, this thermal goggle boasts 1.3cy/mR minimum. It uses a 3rd generation night vision system that allows you to focus on your target easily through its heat signatures.
Battery
Apache A-9 goggles are operated by four regular AA batteries that can last for more than 80 hours. This is the main power source for the device.
With 80+ hours of battery life, you can explore darker places for multiple days. This is an added benefit for night hunters.
6. Bering Optics PVS-7BE Night Vision Goggles
Are you surfing the web for the best budget thermal night vision goggle, then don't worry Bering Optics PVS-7BE Night Vision Goggle is there for you. It is budget-friendly and can satisfy all your hunting needs. 
This thermal goggle can improve your hunting experience on the field. It provides an accurate view of the target even in pitch darkness without any natural light source.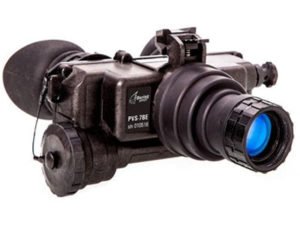 Construction
It is designed to be mounted on your head and provide hands-free operation, so you don't need to hold it for a long while hunting or shooting. It makes you comfortable on the field.
The sophisticated electronics in this thermal night vision goggle turn off the device when it is removed from the head mount. This is quite interesting, right? so we don't want to activate or deactivate it manually.
Magnification
It comes with a fixed 1x magnification that provides better accuracy to view objects from a particular distance. It is built-in with a 26mm objective lens that provides high-defined images with more brightness.
The lens is made of high quality to withstand any harsh conditions in the field. It delivers a crystal clear view of the target even while they are moving. At this price range, you can't find a better objective lens in any goggle other than this.
Brightness Control Feature
It is featured with a brightness control setting that automatically adjusts the brightness based on the light source in the surrounding. Further, it also includes an auto shut down feature that turns off the system automatically when you move to the bright light condition. This saves the battery life.
This night vision goggle is also built with an infrared illuminator that improves visibility while hunting in dark or low-light conditions. Along with the device, Bering also provides hunting accessories to help you mount this night vision goggle on the head easily.
Applications
This Bering thermal night vision optics has various excellent features and can be used for several purposes like surveillance, search and rescue operations, etc. Law enforcement offers mostly prefer this goggle for its better performance in the dark night.
7. Armasight Command 8 HD Thermal Imaging Bi-Ocular
Armasight is a very popular brand among thermal binoculars and goggles. FLIR Helios 336 is the best lightweight thermal goggle with a 9 Hz refresh rate. 
You'll have a doubt, how does this 9 Hz goggle provide good quality images? As it is engineered with FLIR thermal core, it provides excellent viewing during both day and night. So you can use these thermal goggles anywhere at any time without any confusion.
Lightweight Construction
Armasight Helios has a robust construction with aircraft aluminum alloy. They are sturdy yet lightweight and weigh just 1.8lbs. It comes in handy and can be carried away easily.
Magnification Range
The objective lens of Helios 336 is smaller, although it provides better image quality and that is more than enough for hunters. Also, it is provided with a 3-12x magnification range that helps you view long distant objects closer.
On top it features the Digital zoom options 1x, 2x, and 4x. You can use this option whenever needed.
3x FLIR Tau 2 Core
The most important feature in Armasight Helios 336 bi-ocular / goggles is the FLIR thermal imaging camera core. It is developed with the latest technology that offers increased sensitivity (<30mk) and frame rates.
Fogproof
Armasight Helios 336 Thermal goggles are hermetically sealed and do not allow even very little air to pass through. It is also filled with nitrogen gas to prevent the entry of fog into the lenses. Not only fog-proof but the device also has a water-resisting feature and can withstand tough conditions in the field.
Battery
This is provided with a CR123 battery that offers only 3-4 hours of lifetime. To compensate this, a spare battery pack is offered along with the Armasight Helios Thermal goggles.
8. Armasight Command 336 5-20×75 Thermal Imaging Bi-Ocular
Armasight Command 336 5 HD is another version of the thermal bi-ocular / goggle combined with FLIR. It comes with three different models having 9 Hz, 30 Hz, and 60 Hz refresh rates. Each of them is made with innovative features to give a tough competition with other models.
Objective Lens
The Armasight (FLIR) Command Thermal goggles use a 75 mm objective lens and two AMOLED 800×600 displays to deliver thermographic images. FLIR Command surprisingly provides a long detection range for these thermal goggles with 336×256p resolution. So you can identify human-sized targets as far as 2,400 yards.
Magnification
With these FLIR Command goggles, you can zoom up to 20x for a detailed view of the target. It also comes with a 4x digital zoom option. So you can see faraway objects very closely with no or minimal loss in image quality. For these best features, these thermal goggles are mostly recommended for hunting.
Construction
This thermal goggle is completely made of CNC aluminum alloy, which gives it a water-resisting feature. So you can proceed even in wet conditions. The intuitive user interface helps to access the device easily. Even beginners can operate this very easily.
How does thermal imaging work?
The optical system collects the heat signatures from the objects and converts them into an image with thousands of pixels. The variations in the heat level are represented by various colors in the image. It is then shown in the display more accurately even in pitch darkness.
Therefore, the thermal devices are the apt one for deer hunting, or other activities.
Factors to consider while buying the Best Thermal Goggles
Do you have an idea of buying thermal goggles for your hunting adventure? Here are a few important tips for you to remember while buying thermal goggles or binoculars. We have listed some critical factors such as magnification, detection range, resolution, color modes, and other advanced features. Just go through it before buying.
Resolution
Resolution is the first and foremost important aspect you have to check for. Because it is responsible for the quality of image and video. Aperture size is a key factor for resolution. High-resolution images are produced only when the aperture size is higher. Thermal binoculars offer two types of resolution; 384×288 p and 640×480 pixels.

If you need a budget-friendly product, then you can choose 384×288 resolution binoculars. But it performs well only for short and mid-range hunting. The 640×480 resolution binoculars will be the apt ones for long-range hunting.
High-resolution sensors always provide incredible image quality even if you zoom in very close. You will get sharp and crisp images of your target. But the lower resolution goggles may lose image sharpness while zooming. So pick the one that suits your hunting needs.
Magnification
Choosing the magnification range is completely based on the environment you go for hunting. For example, If you've chosen an area with large bushes and trees, then you need a lower magnification goggle.
If your hunting field is an open space, then a higher magnification thermal binocular will help you. Because long distant targets cannot be viewed clearly using your naked eye. But higher magnification goggles will track animals from the farthest distance and allows you to enlarge objects for a better view.
Higher magnification binoculars are also used by law enforcement officers to monitor objects from a huge distance. Higher magnification binoculars are extremely good in performance but they cost higher. So think twice before you spend on them.
Thermal Sensor
Thermal Sensor is the key factor in all thermal products. Thermal binoculars are generally made of two types of sensors for thermal vision. They are Vanadium Oxide microbolometer (Vox) and Image Intensifier tubes.
You can't do much in thermal sensors, just check the thermal resolution and operating temperature of the sensor.
Detection Range
Detection range is the distance that a binocular can track the object. It basically depends on the resolution of the thermal sensor. The thermal products are divided into three forms based on the detection range. They are short-range, long-range, and medium-range.
640×480 sensor resolution has the ability to detect targets up to 2,000 yards, while the 384×288 sensor resolution can detect from 500 yards to 1,500 yards. Higher the thermal sensor resolution, higher is the detection range.
Depending on the field usage, you can pick your thermal goggle. For example, if you need a thermal goggle for hunting or shooting, then a short/medium range thermal binocular is enough for you.
Law enforcement officers prefer long-range binoculars/goggles because they need to track targets from longer distances. It is also used for marine and surveillance activities.
Field of View
Field of view is a necessary feature that every thermal binoculars/goggle should have. This allows you to view the targets in wider areas so that you could be aware of other animals that are present in that surrounding area.
That's why hunters choose thermal binoculars/goggles instead of other thermal optics.
A good thermal goggle will always have a wide FOV. This provides a wide scannable area of the target. So most of the hunters prefer thermal binoculars for a larger field of view.
Refresh Rate
Refresh rate means the number of times that a goggle refreshes the image in a second. So you can get sharp images of the target even while they are moving. Higher the refresh rate, higher is the image quality.
Usually, thermal optics come with three types of refresh rates; 30 Hz, 50 Hz, and 60 Hz. 50 and 60 Hz refresh rate optics are more expensive and clearer than the 30Hz refresh rate products. So decide your budget first and then choose your thermal binoculars.
Color modes
Color mode is an excellent feature suited for multiple tasks. The newly launched thermal products are developed with a variety of color modes/palettes that make your session easier. The commonly used modes are Sepia color mode for long-range hunting and violet color mode for wide-area detection.
You can perform versatile tasks only if your thermal optics is boasted with wide color modes.
Connectivity & Streaming
Everyone loves to stream their hunting experience live with friends and relatives. So nowadays the thermal binoculars/goggles are built-in with Bluetooth and Wi-Fi connectivity. This feature is appreciated by the tech-savvy hunters who always prefer advanced technologies. You can also share your hunting videos on social media.
The one thing you have to check in this feature is, whether the thermal goggle is compatible with Android or iOS smartphones.
Image and Video Recording
Video recording is also an advanced feature in thermal optics or goggles. This feature captures all the memories of your hunting game in the field. Cheaper models will not provide recording facilities instead you'll have to use a DVR to record the footage.
If you want to capture the unforgettable moment of your hunting adventure, then go with the thermal goggles that provide HD quality images and video recording. Also, make sure whether it is provided with an SD card support, if not then you need a USB cable for file transfer.
Battery Life
No one likes a product that lies down before the task gets complete. So battery life is also a major factor that you need to consider. Different brands provide different hours of operation. So before buying, decide the usage of a thermal binocular in the field and how many hours of operation you may need.
If you go hunting for multiple days, then it is best to have thermal binoculars that have long battery life for at least 8 hours of operation.
Weather Resistance
The final factor to consider is weather resistance. As we use thermal goggles in the outdoors it has to bear different weather changes. So check whether your thermal binocular or goggles are provided with a waterproof or weatherproof rating.
Also, it should have a dust proof feature, because if any external element penetrates into your google then the device will be damaged and won't function properly.
So pick the thermal goggles that can be used regardless of the season or any harsh climatic conditions.
Final Thoughts
As technology advances, our way of living has also changed accordingly. Everyone loves enjoying outdoor activities, like camping, hiking, mountaineering, and hunting. Hunting has been a legal hobby in many countries. So no one can stop your enjoyment in the wild.
But you should always be prepared with the required gear for your outdoor activity.
One such important gear for night hunting is thermal vision goggles or thermal binoculars. Earlier days, it was used only for military and tactical applications, but now it can be used by all people, even beginners.
Some like to share their hunting experience with others. For those hunters, thermal optics provides Bluetooth and Wi-Fi connectivity to enjoy each and every minute in the hunting field. But these thermal optics are quite expensive. So choose wisely based on your needs and start your next adventure with thermal goggles.
Hope so, you have learned something about thermal goggles and thermal binoculars. If you have any queries, don't forget to comment on us in the section below. You can also share your hunting experience with us, we love to hear it.