Spotting scopes are a great option for achieving high-powered terrestrial viewing, these are the most treasured optic to an outdoorsman and nature enthusiast. By utilizing the spotting scope, you can experience natural wildlife communication in unadulterated form. 
Very particularly, Vortex is a familiar American company that never compromises its quality for projecting long-distance objects. All of the products of Vortex have a high level of quality and remarkable reputation for its performance, thus it would be the perfect addition for your needs. 
Vortex has developed 3 major lines of spotting scopes such as Viper, Razor, and Diamondback, keeping in mind the different demands of different users. Vortex Optics provides sophisticated spotting scopes with compact, lightweight, and HD options. 
Vortex can bring you closer to nature by providing a perfect magnification range at an affordable price point. In this article, we'll cover what to look for in a spotting scope and what variants of Vortex Spotting Scopes have been released. Here we've profiled 7 different Vortex Spotting Scopes.
Let's get into the business…
The Best Vortex Spotting Scopes – Reviewed 2022
These days, more and more brands are producing multiple optical devices at cheap costs to attract the attention of users. But only very few reputable brands have the ability to manufacture opticals with several valid features. Vortex optics is on board.
Vortex optics are engineered their scopes with developed technologies and updated features to parallelly enrich the quality and performance of the scope. This standard optical brand offers scopes with different price points to engage users from all walks of life.
Vortex is confident in its high quality of the product that can serve even in the most critical weather conditions and abnormal ambient. Check below for the Best Vortex Spotting Scope reviews and choose which one is the best to match your requirements.
1. Vortex Optics Razor HD Spotting Scopes
In the race between high-performance scopes, there is no doubt that Razor will definitely feature. Vortex Razor HD has 2 spotting scopes, both have triplet apochromatic lens systems, thus it can provide high-definition visuals over the entire FOV. Due to this sophisticated lens system, color fringing, dilution of color fidelity, degradation of the resolution will be prevented. Vortex Razor HD Spotting Scopes can 100% elevate the total performance.
Built Quality
Both the exterior and interior parts are built with premium-grade materials and multi-proof components. Due to this high-quality construction Razor HD gives fog-proof and water-resistant performance. To withstand heavy impact, it comes with a rubber armor coating that offers extreme durability.
Performance
As the Razor HD spotting scope is etched with high-end optical technology, it furnishes ultra-sleek functionality. The reason for making the Razor HD one of the distinct spotting scopes on the market is its precision craftsmanship. Since the vortex razor hd spotting scope is constructed with a variety of useful functionalities, it would be top-notch in performance.
Optical Lens
A Triplet Apochromatic Lens consolidates extra-low dispersion, high-density glass for delivering exceptional color fidelity and resolution. To obtain maximum brightness even in low-light glassing, the lens system is coated with an anti-reflective coating. Fully multi-coated with XR coatings helps to yield high light transmission. With such an amazing optical device you can evaluate your games even in extremely critical conditions.
Flexible Viewing Angle
If you want a greater viewing angle, it's enough to rotate the Razor spotting scope body using a tripod mounting collar. To successfully get the flexible angle, you need to turn the thumbscrew in a counter-clock direction, this action will loosen the mounting collar. And then rotate the body of the spotting scope to your convenient viewing angle. Hold the scope body in your comfortable viewing position by tightening the mounting collar. 
Image Quality
Superior optical elements of Razor HD excrete aberrations to offer flat field and distortion-free images. The images produced by Vortex Razor HD possess remarkable clarity, edge-to-edge sharpness, perfect color accuracy, and resolution. For maintaining the Razor-sharp resolution it comes with helical focus dials, thus the scope keeps the trimness.  
Additional Aspects
On the top of the objective lens, it has a sunshade to act as a shield to protect the lens system from mechanical damage. This also prevents fingerprints on the lens. The addition of a multi-position eyecup provides proper eye relief with (eyeglasses or sunglasses) or without glasses.
Read Also: Vortex Optics Razor HD FFP Riflescope Review
Vortex Razor HD 27-60x85 Spotting Scope
Vortex Razor HD 27-60×85 Spotting Scope is perfect for a person who is searching for maximum performance with maximum magnification. It comes with a variable type of magnification ranging from 27x to 60x. So it may not be suitable for close-range targeting. But this spotter absolutely worked well to find long-distance targets. In the Razor HD line, this scope has a wide objective lens with a diameter of 85mm. Vortex Razor HD 27-60×85 spotting scope has an eye relief of 16.7-17mm, the distance much better for the user. The twist-up eyecups are a great addition to this scope.
Vortex Razor HD 22-48x65 Spotting Scope
With the high-end optical technologies, Vortex Razor HD 22-48×65 Spotting Scope comes with an interchangeable eyepiece system. A triplet APO lens of this razor HD will give you crystal clear images. This scope has magnification ranging from 22x to 48x, this is surely suitable for birdwatching. It has a FOV of 138ft to 84ft at 1000 yards. All the three models in the Razor HD series have 2 different options like Straight and Angled.
Vortex Razor HD 11-33x50 Spotting Scope
Unlike the other 2 models in Razor HD, Vortex Razor HD 11-33×50 Spotting Scope is incorporated with the variable type of magnification that ranges from 11x to 33x. This spotting scope is good for close-range and mid-range and long-range. It weighs 25oz and has a length of 11 inches. At 1000 yards, it offers 96ft-191ft of FOV. If you are looking for the best-rated spotting scope, then Vortex Waterproof Spotting Scope can be a good addition for you.
| | | | | | | |
| --- | --- | --- | --- | --- | --- | --- |
| Model | Body Type | Eye Relief | FOV @ 1000 yds | Close Focus | Length | Weight |
| 27-60×85 | Angled | 16.7-17mm | 117′-68′ | 16.4′ | 15.5″ | 65.6 oz |
| 27-60×85 | Straight | 16.7-17mm | 117′-68′ | 16.4′ | 16.2″ | 65.6 oz |
| 22-48×65 | Angled | 16.7-17mm | 138′-84′ | 26.2′ | 14.8″ | 56.8 oz |
| 22-48×65 | Straight | 16.7-17mm | 138′-84′ | 26.2′ | 15.6″ | 56.8 oz |
| 11-33×50 | Angled | 16-19mm | 191′-96′ | 6.6′ | 10.3″ | 25.0 oz |
| 11-33×50 | Straight | 16-19mm | 191′-96′ | 6.6′ | 11.0″ | 25.0 oz |
2. Vortex Optics Viper HD Spotting Scopes
A series of Viper HD Spotting Scope from Vortex is considered to be a best-in-class-optic that is packed with excellent features. Both shooters and hunters appreciated that all the three models from Viper HD offer incredible optical performance. These high-end spotters help to bring the long-distance objects into a closer look without losing color fidelity, resolution, and clarity.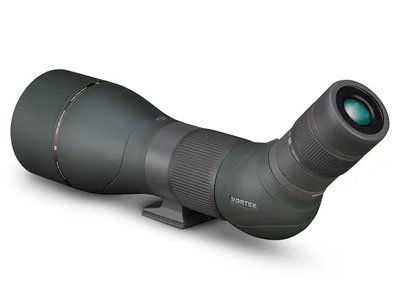 Build Quality
Vortex Viper HD Spotting Scopes are constructed with high-grade materials, and sealed with O-ring. Due to the sturdy construction, the scope can serve for long-lasting. For protecting the device from fog penetration it is purged with argon gas. And the O-ring restricts the water invasion, thus the scope can offer fog-proof and waterproof performance. The exterior of the scope is fitted with rubber armor to improve grips and durability. 
Performance
Same as Vortex Razor HD, Vortex Viper HD Spotting Scopes are engineered with numerous valuable aspects. This pack of features allows you to go to an extreme without hesitation. The high-end optical system along with incredible glassing has the potential to deliver excellent performance in any kind of situation. So, hereafter you need not check the better weather for the best target spotting. You can start your spotting in any ambient and weather condition. 
Lens System
As I denoted that, the Viper HD is consolidated with a high-end optical system to deliver crystal clear visuals. This HD optical system is etched with premium-quality components to produce high-definition images. Exterior surfaces of lenses are coated with XR anti-reflective coating to gain brighter visuals in low-light conditions. Besides, the lenses have Armortek coatings which defend the lenses from scratches, dirt, oil, and so on. 
Sunshade
Similar to Razor HD, the Viper HD also has an integrated sunshade that aids to reduce glare. By extending the built-in hood you can efficiently tackle the stray light disturbance. This extra feature acts as a shield for the objective lens to block out mechanical damage. Furthermore, it prevents fingerprints on the lenses. It features a smooth helical focus dial. While you are using this dial in your target you can obtain ultra-sharp viewing capability and it helps to maintain a trim profile for terminal packability. 
Twisting Eyecup
Vortex Viper HD comes with a multi-position eyecup to offer proper eye relief when you lock the collar. Fixing the spotting scope into the mount permits the scope to rotate into various viewing positions. Since the scope comes with twists up and twists down the eyecup, whether you wear glass or not, it allows you to observe the complete field of view. You can fully extend the adjustable eyecup for obtaining the best viewing.
Vortex Viper HD 20-60x85 Spotting Scope
Vortex Optics Viper HD 20-60×85 Spotting Scope is the perfect scope for birdwatchers and high-end spotters. It features a remarkable optical system to offer impressive performance, thus you can receive images with incredible light transmission, high resolution, and ample color fidelity. This scope comes with a variable type of magnification ranging from 20x to 60x, so you can easily spot the target. Furthermore, it comes with an 85mm diameter of the objective lens with Armortek coatings. Also, it has 36 feet of close focus to enable the user to achieve the target soon. It features a Porro prism and dielectric coating to enhance the quality of the images.
Read Also: Vortex Optics Viper HS SFP Riflescope Review
Vortex Viper HD 15-45x65 Spotting Scope
People who are looking for a scope for long-distance spotting can surely go for the  Vortex Viper HD 15-45x65mm Spotting Scope. This Scope delivers images with high resolution and precision. As this scope comes with magnification ranging from 15x to 45x, you can spot the large prey from a long distance. Besides, it has the 65mm diameter of the objective lens with advanced coating technology to eliminate some unwanted disturbance. Viper HD has a Porro prism system to obtain higher image quality and less light loss. The Dielectric Coating (interference coating or thin-film coating) in this Viper HD acts as an effective anti-reflection coating.
Read Also: Vortex Viper HST VHS 4310 6-24x50mm Riflescope Review
| | | | | | |
| --- | --- | --- | --- | --- | --- |
| Model | Body Type | Eye Relief | FOV @ 1000 yds | Length | Weight |
| 20-60×85 | Angled | 17.8-19.6mm | 101′-50′ | 17.5″ | 76.6 oz |
| 20-60×85  | Straight | 17.8-19.6mm | 101′-50′ | 18.0″ | 76.4 oz |
| 15-45×65 | Angled | 17.8-19.6mm | 136.5′-67.8′ | 14.0″ | 59.0 oz |
| 15-45×65 | Straight | 17.8-19.6mm | 136.5′-67.8′ | 14.6″ | 58.8 oz |
3. Vortex Optics Diamondback Spotting Scopes
Before introducing the 3 different lines of Vortex Spotting Scope, Vortex released the Diamondback scope. But after getting some feedback from users, they redesigned the Diamondback HD spotting scopes with a bundle of beneficial aspects. In this renovated version, scopes have unimaginable optical horsepower, and they surpass in low light conditions. In this series, a helical focus wheel is incorporated for providing a sleeker profile. All the three models from this series are the Best Vortex Spotting Scope for Hunting.
Built Quality 
Similar to other Vortex Spotting Scopes, the redesigned Diamondback HD spotting scope is also built with premium-grade materials to keep the stability and durability of the device. As the scope is purged with Argon gas, and sealed with O-ring, it offers fog-proof and water resistance performance. The exterior rubber armor construction gives great grips for the user. 
Performance
The Diamondback HD scope has the optical horsepower to offer excellent performance in low light conditions. The integrated helical focus wheel present in the scope allows you to make the adjustments very fast. As well as, the streamlined exterior of this spotting scope gives a sleeker profile. To enhance the performance, the lenses have Armortek coatings which protect the lenses from scratches, dirt, and oil.
Magnification
Both models come with decent and expected magnification ranges. If you want to change the range of the scope's magnification, just simply turn the adjustment ring depending on your preference. Turn the adjustment ring clockwise to increase the magnification range, and Turn the ring counterclockwise to decrease the range of magnification. 
Image Quality
A high-definition optical system is incorporated with this Diamondback HD to deliver outstanding color fidelity, exceptional resolution, edge-to-edge sharpness, and cuts chromatic aberration. Along with that, the glass surfaces are coated with multiple anti-reflective to optimize the light transmission. 
Sunshade 
A built-in protective sunshade is fitted in the front part of the scope to reduce glare. This sunshade also acts as a guard of the objective lens to protect it from fingerprints, snow, and raindrops. Furthermore, this aspect has the ability to block mechanical damages. If you want to restrict the disturbing stray light, then just extend this effective hood. It comes with an eyecup thus you can twist up or twist down to get a comfortable viewing point with or without glasses. 
Adjustable Viewing Angle
Since the scope comes with the mounting collar, you can modify or adjust the viewing angle as per your preference. To achieve your preferred viewing angle, you need to do three steps. First, you need to turn the thumbscrew in an opposite direction to loosen the mounting collar. Then, rotate or turn the scope body to your preferred viewing angle. Finally, you need to tighten the thumbscrew to keep the scope in the preferred position.
Compatibility
All three models from Vortex Spotting Scope are compatible with both tripod and car window mount. Vortex Diamondback HD is compatible with the Arca-Swiss tripod which allows you to mount the spotting scope on the tripod head without using extra plates. Surprisingly, this scope admits 1/4-20 threads for use on the other style tripod head. It comes with an integrated tripod mount thus you can swiftly attach the scope on most tripods.
Vortex Diamondback HD 20-60x85 Spotting Scope
People who want a compact spotter with a full-sized lens can choose Vortex Diamondback HD 20-60×85 Spotting Scope. As the Diamondback HD spotting scope comes with a larger objective lens with a diameter of 85mm, it delivers improved image resolution. Images of Diamondback HD are sharper, brighter, and clearer than others. This scope is equipped with a magnification level from 20x to 60x, thus you can use this scope for observation and hunting liberally. Its multi-resistance technology allows you to finish your task in any condition.
Vortex Diamondback HD 16-48x65 Spotting Scope
The square shape of the Vortex Diamondback HD 16-48×65 Spotting Scope is ideal for gathering fine details and is the best one for long-distance observation. The prism integrated into this scope is commonly made up of two different prism glasses. These two prism glasses are optically connected together to create a V-shaped assembly. It has magnification ranges from 16x to 48x, so it will be an excellent choice for a photographer who is looking for an authentic spotting scope.
Read Also: Vortex Optics Diamondback Tactical 6-24×50 Riflescope Review
| | | | | | |
| --- | --- | --- | --- | --- | --- |
| Model | Body Type | Eye Relief | FOV @ 1000 yds | Length | Weight |
| 16-48×65 | Angled | 20.3-18.3mm | 138′-72′ | 14.3″ | 49.8 oz |
| 16-48×65 | Straight | 20.3-18.3mm | 138′-72′ | 13.8″ | 50.4 oz |
| 20-60×85 | Angled | 20.3-18.3mm | 108′-60′ | 16″ | 60.9 oz |
| 20-60×85 | Straight | 20.3-18.3mm | 108′-60′ | 15.8″ | 61.3 oz |
Buyer's Guide – Common Features of All Vortex Spotting Scopes
Birdwatchers use spotting scope in harsh weather conditions, photographers use it for critical ambient conditions, hunters use it for low-light conditions. That means a spotting scope you are going to choose should have the potential to serve in any kind of situation. And you need to concentrate on the lens system and the coating used in it. 
Vortex spotting scopes are equipped with advanced technologies that elevate them one step ahead of others. The vortex spotting scope series offers the most precise, color-accurate, and brightest images. When buying a spotting scope, what would you look for first? Here are some of the major factors you need to consider when purchasing the spotting scope.
1.] Body
Sorts of Body Types
Angled Body Type

Straight Body Type
You may have a suspicion that considering the body of the spotting scope is an important factor. But whatever the scopes, you should not forget that everyone wants to have something with durable construction. Also, all three models of Vortex Spotting Scope offer two body type options such as Angled and Straight for each model. So you can pick an angled or straight model as per your preference. 
Other spotting scopes are built with either rubber armor or plastic armor. But Vortex scopes are equipped with rubber armor for resisting dirt and oil better than its alternative. The scope you choose is to have all the capabilities of resisting dirt, moisture, and fog even in difficult conditions.
2.] Magnification
Ranges of Magnification
Vortex Razor HD – 11x to 60x

Vortex Viper HD – 15x to 60x

Vortex Diamondback HD – 16x to 60
When you determine to purchase a spotting scope, the first factor to consider is its magnifying power. Generally, scopes are equipped with variable and fixed types of magnification depending on the lens type. Although magnification won't create the greatest impact compared to other factors such as glare, and glass coating, in a few places they are likely to make some impacts. 
Three series with seven models of Vortex spotting scope have a decent magnification range, these are suitable for birding, safari, observation, photographing, and more. But, you need to choose the one that is appropriate to your requirement.
3.] Focus Mechanism
Types of Focus Mechanism
Single-knob Mechanism

Double-knob Mechanism 

Helical System
Vortex Spotting Scopes has Helical System
A perfect focusing mechanism is one of the most required aspects of a spotting scope. Focus is the foremost feature you need to concentrate on because this aspect determines the clarity of the image. 
You need to choose a spotting scope that has a micro-adjustments option if you require maximum clarity. The micro-adjustment ensures the clarity of the visuals. On the whole, make sure that the scope you're gonna select has an excellent focusing mechanism.
4.] Lens Coating
Types of Lens Coating
Single Layer Coating – Increase Transmittance of Light

Multilayer Coating – Reduce Reflected Light
Vortex Spotting Scopes has multilayer lens coating
The reason why multi-coated lenses are used for optics instead of coatless lenses is that they reduce glare. Due to reducing the glare, you can view the target clearly even in low light conditions. Multi-coating lenses allow you to experience colors just like the human eye. 
Vortex spotting scopes come with an objective lens with a diameter of 50mm to 85mm, this furnishes an exceptional magnification ranging from 11x to 60x. Due to the multi-coating, the scope can yield high light transmission. Also, Vortex spotting scopes have XR anti-reflective coating to protect the lens from oil, dirt, and scratches.
5.] Multi-Proof Technology
Types of Proofing Technology
Waterproof

Fogproof

Dustproof
Vortex Spotting Scopes has multiproof technology
The next feature you should ensure is multi-proof technology. Fortunately, all the Vortex Spotting Scopes are sealed with O-ring to restrict the water, moisture, and dust intrusion. Furthermore, these scopes are purged with Argon gas, which can prevent fog and snow penetration. 
To ensure quality performance in rough weather and tough environments, this multi-proof mechanism is added. As it offers fog-proof, water resistance, and dust-proof performance, you can spot the target even in Wyoming wind.
6.] Prism Coating
Types of Scope Prism 
Roof Prism

Lower Prism

Multi Coated Prism
Vortex Spotting Scopes has multi coated prism
The very important aspect you should consider is its prism coating. Scopes with lower prism or roof prism really don't have the capability to achieve good quality reflection. To put it simply, roof prism scopes or lower prism scopes can't allow you to adjust the brightness along with contrast. But, prisms fitted in Vortex scopes have multiple layers of coatings that are utilized for image fidelity. Multi Prism Coating is one of the peculiarities of the Vortex spotting scope series.
FAQs
1. What is the Ideal Lens Size?
When viewing an image of a target at a distance through a scope, lens size becomes an important factor. Because lens size is just one of the important factors in producing a quality image. In lenses, it is recommended that the lens size be between 60mm and 100mm. The size of the lens is important in spotting scope to provide a brighter image.
2. What is the Required Magnification for a Spotting Scope?
Each of the spotting scopes can have either variable magnification or fixed magnification. Both magnifications have individual pros and cons. But usually spotting scopes have a magnification range of 15-45x to 20-60x. 15x to 60x magnification can be recommended to get a quality image. The higher the magnification, the clearer and more detailed the image.
3. How to determine Image Quality vs. Price?
The answer to this question depends on the focus you choose. That is, Vortex spotting scopes offer two options such as STRAIGHT and ANGLED, so the answer depends on what you choose. Be sure to choose the best spotting scope at an affordable price.
Conclusion
Vortex offers many incredible features including excellent image clarity, durability, and excellent intermediate spotting scopes with high-quality glass. These have been very well received by the users as they offer useful features in the right price range. This review will definitely be a great guide for you to choose the right one among the various models of Vortex. 
All the scopes on our list come with excellent quality at both an angular view and a straight view. So by choosing any of these as per your expectations will be met ten times. Besides, you will get great value for the money you spend. Furthermore, we listed features that are common to all Vortex scopes. The buyer guide will help you choose the one that best suits your expectations. 
I hope this article will help you to pick the Best Vortex Spotting Scope.