Zeiss is the best optic company that has earned a reputation for the production of premium glass; in 1907 it has designed the first-variable power riflescope. 
Zeiss has gained the attention in the American market with its strong and durable scopes, most of the shooters never buy European reticles and the high-budget scopes, they opt for Zeiss scopes as it stands the best in quality and performance.
While heading out for hunting, the shooters must have some essential gears to carry on, it decides the success of a hunter. Having a powerful riflescope will be useful for the target shooters or hunters to compete and succeed at their skill.
In this innovative world, you can see the changes every second in any field, so with tons of products picking anyone will be a challenging task. 
We're here to guide you in finding the one that provides positive strife for hunting. Zeiss scopes are the companions for improving the technology of hunting. 
7 Best Zeiss Scopes in 2021 - Reviewed
1. Zeiss Conquest V4 6-24x50mm Riflescope
Zeiss rifle scopes offer high-end performance so without any doubts we can say that the Zeiss Conquest V4 riflescope is one such product. 
I'd recommend this Zeiss conquest rifle scopes for long-range shooting or hunting its large 50 mm objective lens will produce brighter and accurate images while the scopes are in use.
Don't panic in case of rain or fog because the lens is coated with ZEISS-developed LotuTecbuilt in addition to fog-proof and waterproof features so that inclement weather will never damage the scope. 
Magnification: 6 – 24x 
Effective lens diameter: 44.9 – 50.0 mm 
Angular field of view, real: 3.6° – 0.9° 
Diopter range: + 2.0 | – 3.0 dpt 
Eye relief: 90 mm (3.54") 
Field of view: 6.3 – 1.6 m (21 – 5 ft)
Zeiss has come up with a well-designed structure and good quality optics which works great even for first-time users who will feel like a cup of cake to use this riflescope. 
The aluminum housing keeps the scope rugged, durable, and reliable for shooting. The Magnification of this Best-in-class riflescope is up to 24x which is good enough for long-range shooting. 
Zeiss Conquest V4 6-24x50mm scope is designed with 4 x zoom ratio, parallax adjustment (except the 1-4×24), and a 30mm tube (this is for a Zeiss entry-level riflescope). 
It's wrong to judge the weight of the Zeiss conquest riflescope by its appearance because the total weighing is only 690 grams. So if you're an adventurous person who moves out to explore frequently without a fail carry this astonishing riflescope with you. 
Some may get confused why this product is at the top rank reason is it has come out with a lot of advancements, even if the object is far away from your sight there are instant zoom adjustments and an external one-turn locking turret which provides a great help while shooting at long-range. An Illuminated reticle is highly powerful. 
The Z-MOA1 reticle is a great add-on that can be used for on-the-fly adjustments (the total adjustment falls at 230 cm elevation x 175 cm windage at 100m). What type of glass is fixed over the scope? None other than high-definition glass that produces 90% light transmission thus aiming levels will be perfect by the way, targets could be easily achieved. The super-detailed and precise images are achieved due to the ultra-fine illuminated dot as well as the low target coverage. 
Why you need it?
Among the ZEISS Conquest V4 models, 6-24 x50 assuredly acquire the first position, our product experts have come to this end after field-testing the riflescopes. Thanks to Zeiss Scopes for manufacturing such a staggering product in the market. It has opened many of our eyes and makes the impossible to possible!!!
2. Zeiss Conquest V4 3-12x56mm Riflescope
Zeiss manufactures only the top-notch products that attain ticks in all the features by the users, a large 56mm objective lens works stunningly in low light conditions. 
The lens is completely enclosed by high-quality glass which allows 90% light transmission thus the long-range shooters can make use of this Zeiss scope. 
It offers .25 MOA click values, a huge range of total elevation, capped windage adjustment, as well as second focal plane reticle designs.
Magnification: 3-12x
Exit Pupil Diameter: 9.2mm, 4.7mm
Twilight Factor: 9.1, 25.9
Field Of View (100m): 12.7m, 3.2m
Eye Relief: 90mm
Reticle: Illuminated Duplex (60)
Elevation Adjustment: 40 MOA
Adjustment Per Click: 0.25 MOA
If you're in a dense area and can't guess what's around then how will you find the target? But, it's possible to shoot the target sounds crazy right!! Yeah, the scope's fast-focus eyepiece will help to aim the target precisely and thus save your time. (i.e it acts as a life-saver in any critical situations). 
To ease the shooter it comes with a great eye-relief factor which helps to maintain the same standing posture for a long time without tiring the eyes.
The Zeiss 56mm scope is made from aircraft-grade aluminum, thus it offers superior performance even if the weather drops you out. 
Every adventurous lover move different spots for attaining various experiences for such kinda persons this Zeiss conquest rifle scopes will be the best companion. The anti-reflective lens coating is fixed to offer a good view even in the case of fog, rain, or mist and improves the scope's color differentiation capability.  
 Due to its lightweight you can keep it handy also the large tuctile turrets works effectively and fulfills the needs. These turrets help track the changes with a sound. 
The illuminated reticle will help to precisely target the long-distant objects; no matter where you are it detects the objects even in no-light or low-light conditions. One more interesting thing to discuss is that the second focal plane has a crosshair which magnifies the target and helps the shooter to save the time.
Why you need it?
Zeiss Conquest V4 3-12×56 is one of the high acquisition scopes which fall in a reasonable budget; it's perfect for those who are looking for an affordable yet reliable scopes. From our hunters experience this particular Zeiss Scope is worth the money. The field of view, eye relief, long-range precision, weight is top-notch. 
3. Zeiss CONQUEST V6 3-18x50 Riflescope
Zeiss CONQUEST V6 3-18×50 comes with a sleek design which will be worth hunting, the compact design is highly reliable also the shooter will not feel discomforts while mounting on hunting rifles, it performs more than our expectations.  
The innovative ZMOA and ZBR (Ballistic turret & Reticle) are exclusively used in this lightweight scope for long-range shooting and hunting. 
Magnification:

3 – 18 ×

Effective Lens Diameter: 28.6 – 50 mm
Exit Pupil Diameter:

9.5 – 2.8 mm

Field of View at 100 M (yds): 12.4 – 2.1 m (37 – 6 ft)
Objective Viewing Angle: 7.1° – 1.2°
Diopter Adjustment Range: + 2.0 | − 3.0 dpt
Eye Relief:

90 mm (3.54 ")
The high-quality aluminum housing adds great power to the scope with durability and reliability in mind. Zeiss Conquest V6 is well-packed with a 6 X zoom package and the most surprising thing is there are 3 levels of magnification available (1-6, 3-18, and 5-30). 
With this hunting scope, anything is possible, hunters can effortlessly shoot elk, antelope, or mountain sheep. The 30mm tube is rugged which helps to aim the target precisely. It is waterproof, fog-proof, and withstands at any temperature. 
What's the exact reason of Zeiss V6 high performance? It's none other than their ultra-illuminated dot added with a low target coverage option. 
The fiber optics system has technically won the game because it delivers the finest illuminated dot. It may sound like a cup of cake but it's quite tough to attain 3.3 mm target coverage at 100 meters.  
Thanks to the construction of 103 MOA elevation adjustment and 58 MOA windage adjustment as it helps for virtually hunting in any situation, it can be in wide-open areas or thick forests.
There are side parallax adjustments using which one can find whether the shots are on target, and 1/4 MOA click adjustment is an add-on. The zero-stop feature over the elevation turret allows the hunter to turn the turret to zero immediately without waiting for a count of a number of rotations gone.
Why you need it?
Zeiss V6 3-18×50 Riflescope is the best option for hunters who look for versatility and implacable long-range capability. With this scope, anything can be achieved so don't miss to grab the astounding tool for hunting.  
4. Zeiss Victory V8 1.8-14x50mm Riflescope
Zeiss Victory V8 1.8-14x50mm is the perfect scope for hunters as it excels in optics and magnification. The zoom ranges of V8 scopes are huge; there are 4 models in V8 which are 1-8×30, 1.8-14×50, 2.8-20×56, and 4.8-35×60.
Objective Lens Diameter: 50 mm
Magnification:

1.8 – 14 x

Reticle: Illuminated Plex Style – #60
Tube Diameter: 36 mm
Reticle Focal Plane: Second Focal Plane (SFP)
Exit Pupil: 3.7 – 10.3 mm
Field of View, Linear: 8.5 – 63 ft at 100 yds
Eye Relief:

3.75 in
Our product experts tested Zeiss V8 and concluded it as the best, zoomed all the way out on 1.8x which offers a great field of view thus hunters can shoot the target effortlessly. The scope is perfectly structured for clarity also it can zoom to 14-power which focuses the long-range shots precisely. The images will be crystal clear so you can take the shots without any hurdles. 
The optical lens diameter is 50mm thanks to the team for designing such an amazing scope for shooters, with these features you can work even in the dark, no matter how the area is. In some scopes the light dots will be too bright, these issues are not here. 
The 36mm central tube allows adjusting the scope and there's no surprise of shooting the long-range objects. It's quite simple to fit the scope and the gun. The illuminated dot is precisely placed and adjustments can be done very easily.
It covers only about ¼-inch at 100 yards at full magnification, though it is tiny the result will be awesome, with this feature one can visualize where the bullet is traveling and going to hit. The brightness adjustment knob allows modifying the brightness of the illuminated center. It can be easily turned on and off with a single click on the top button. 
Why you need it?
Reticles are another outstanding feature here, the victory V8 has a fine reticle with tiny center dot illumination. The sharpness and detailing of the images are got by the clarity of the fluoride lens as well as the Schott HT glass.
5. Zeiss CONQUEST V4 4-16 x 50 Riflescope
As we've well discussed regarding the performance of Zeiss, the Zeiss CONQUEST V4 4-16×50 also falls under the same category, it's one of the top-notch products. This scope will be best for both experienced and new hunters as it features a long range in the field. 
The 30mm tube has a rugged design that provides 80 MOA of elevation adjustment; the adjustability will be quite simple with just a single click on the top button. 
The exterior body is crafted with advanced aircraft-grade aluminum which is a great add-on for the scope, this quality will be useful for shooting the targets in any situation( No matter what the temperature is).
Objective Lens Diameter: 56 mm
Magnification:

4 – 16 x

Tube Diameter:

30 mm

Reticle Focal Plane:

Second Focal Plane (SFP)

Field of View, Linear:

7.1 – 28.5 ft at 100 yds

Field of View, Angle:

1.36 – 5.43 degrees

Eye Relief:

3.5 in
This Zeiss target scope comes with a 44mm objective lens thus it stands a step higher than the other scopes. The optical glass is designed well for instance you can shoot the target even if fog or mist is fully covered around. 
The ZEISS premium T 6-layer transmission coatings allow 90% light transmission, which is more than enough for precise long-range shooting. 
Without a sturdy eye-piece, nothing is gonna happen, but you need not worry about such a feature here as it comes with a generous eyebox that allows you to shoot the target from the same place for a long-time. There are multi-turn turrets with Ballistic stops for elevation as it provides 1/4 MOA clicks thus the shooter can aim the shots quickly.
The illuminated ZBi ballistic reticle is an amazing add-on as it provides only the thin holdover lines for longer-range shots, a single dot can work for ultra-precise shot placement. The reticle is capable of adjusting 10 different brightness settings so the shooter can change according to the situation.
Why you need it?
Overall this scope is packed with a lot of advanced features and it's a moderately priced scope. I'd recommend this one for the people who looks for a scope with a budget under $1500. After testing our team has concluded that this zeiss target scope is one of the best.
6. Zeiss CONQUEST V6 5-30x50 Riflescope
Zeiss CONQUEST V6 5-30×50 Riflescope is the most powerful high-magnification scope in our list, it works great for mid-to-extra long-range shooting as well as hunting. 
Optical quality is extraordinary in this scope, if you can't see the object and predict the spot then your effort will be wasted. But here you need not worry about it because the scope offers incredible clarity, contrast, and brightness. It is one of the best long-range scopes in the market.  
Objective Lens Diameter:

50 mm

Magnification:

5 – 30 x

Tube Diameter:

30 mm

Reticle Focal Plane: Second Focal Plane (SFP)
Eye Relief:

3.5 in

Diopter Adjustment Range:

-3 – 2 dpt

Weight:

27.9 oz
The wide magnification range can precisely focus the target and it will be very useful for predator hunting. Zeiss Conquest V6 is built with premium SCHOTT fluoride lenses that have amazing light-gathering abilities. 
The lenses are well-coated in multiple layers of T-star by the way the result of the image will be crystal clear, no doubt in that.
This scope features side parallax adjustment and is available with two options either ZBR-1 or ZMOA-1 ballistic reticles. The overall weight of the scope is light thus it's handy to use, the illuminated dot reticle spots the target precisely. 
The ultra-fine crosshairs come closer to the thickness of human hair. This minimal design helps to cover even the long-distant targets as a piece of cake. Shooters will definitely love this long-range optic.
Why you need it?
Though the Zeiss long-range scopes don't fall under the budget it offers high-performance also if you need to achieve sniper-level accuracy then buying this scope is worthy. Your money is worth it for this model. Long-range optics is the "most-wanted equipment" for hunting.
7. Zeiss Victory V8 4.8-35x60 Riflescope
The Zeiss Victory V8 4.8-35×60 is on our top lists, it is designed from the Victory V8 series. One of the interesting features of this scope is most of the shooters love to use the V8 scope because it has come out with a 60mm lens which works great even in no-light or low-light conditions. 
The body of the scope looks sturdy and rugged yet lightweight so no matter where you go for a hunt just keep it close to your hands and start the work. It is very comfortable to look through because the structure of the eye box is well-designed as it allows to move the head from the optimal position so even a single picture will not be lost.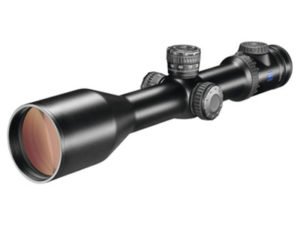 Objective Lens Diameter:

60 mm

Magnification:

4.8 – 35 x

Tube Diameter:

36 mm

Reticle Focal Plane:

Second Focal Plane (SFP)

Exit Pupil:

1.4 – 9.9 mm

Field of View, Linear:

3.3 – 24 ft at 100 yds

Eye Relief:

3.75 in
Obviously, we need to discuss the field of view which is a crucial factor to consider. It works with a minimum magnification of 8.6m and with a maximum of 1.2m on 100m. 
When looking for a scope it's a must to check the illumination system, here it is quite comfortable to use. With just a single click at the top button, you can easily control the system. The brightness of the red dot is a matter which can be adjusted by turning the round button given to your accurate level.
 Some scopes are designed in a way to produce bright red dots which are not worth but Zeiss V8 scopes are not too bright in the darkness. To save the battery there is an in-built motion sensor that automatically turns off the scope when not in use.
Why you need it?
Its ballistic turret will not give any burden to the shooter as it automatically locks itself once released. It comes with a single turn turret which means it is capable of turning only by 100 clicks.
Wrapping Up
Zeiss has become one of the unbeatable riflescopes in the market due to its innovative technology and improvement in hunting. Finding proper gear is a hard task even for experienced users in hunting. Don't worry if you're in need of a riflescope to make your adventurous trip safe then Zeiss can help. Zeiss optics is top-notch.