If you are worried about your hunting, then you definitely need the best sight to get an accurate shot. There are many sights available in the market; among them, a holographic sight is one of the best sights. Holographic sight provides a clear view of your target.
Eotech holographic sight helps you to view the target accurately and this is one of the important reasons to choose this holographic sight. At first, the holographic sight was tested in the military to ensure its usage and durability.
We all know that EOTech is the topmost manufacturer of a holographic sight. It helps the hunter to focus the target clearly. The high accuracy optics of this holographic sight helps to improve your overall hunting experiences. By reading this review article, you can get the clear information about Eotech-HHS2 holographic sight.
Eotech HHS II Holographic Hybrid Sight
If you are looking for high-quality optics for your firearms, EOTech is the topmost trusted brand to consider. Using this EOTech HHS 2 holographic, you can get the exact view of your target. Without using the holographic sight, you can't find your target clearly with your normal eyes.  
EXPS2 sight and G33 magnifier are included with this EOTech HHs 2 holographic sight; by using this you can easily shoot the close range and medium range targets. The EOTech HHs 2 Holographic sight is included with G33 magnifier and switch-to-side mount. The G33 magnifier is used to clearly view the medium-range target and the switch-to-side mount helps to quickly change the close range to medium range. 
The Brightness setting in the holographic sight allows you to see the target in dark or low lighting conditions. The weight of the EOTECH HHS 2 holographic sight is 655 grams, and its dimension is 11 inches in length, 9 inches in width, and 3 inches in height.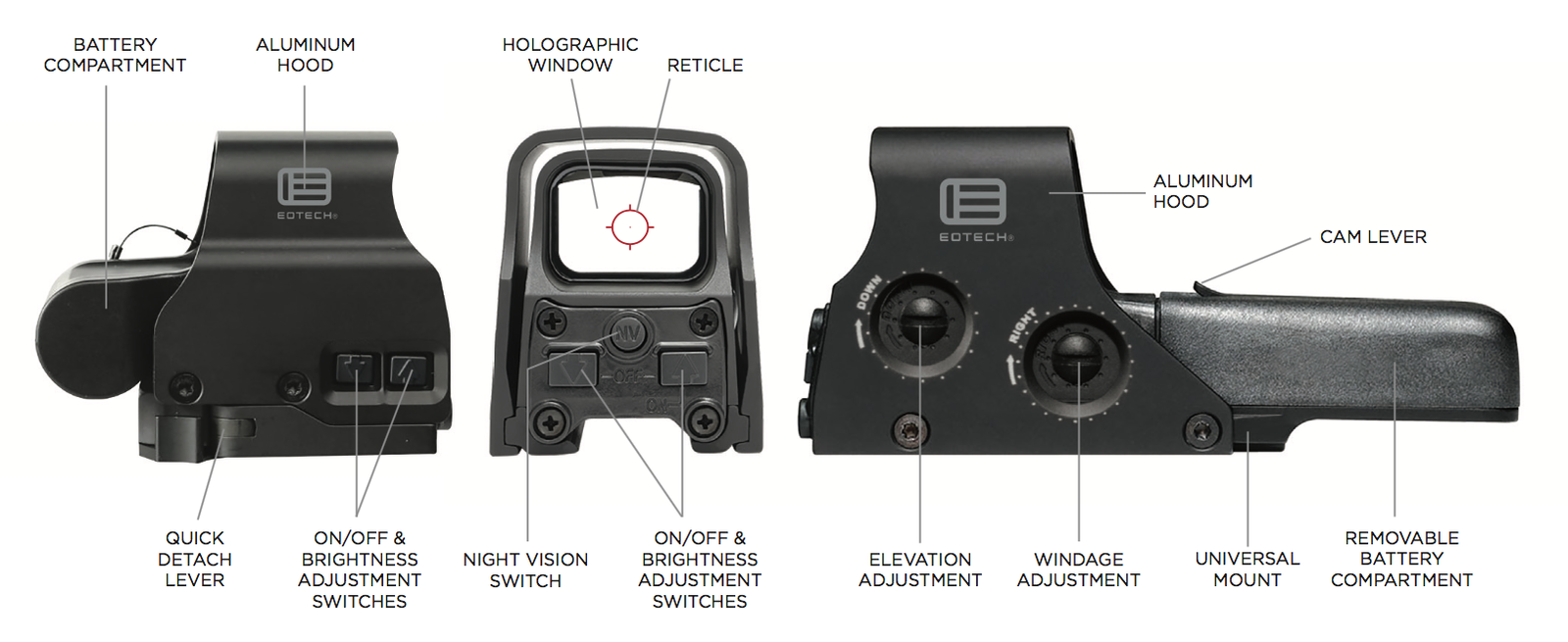 You can easily attach this EOTech sight in the weaver and MIL_STD 1913 rails. Due to the side button operation and compact design, this holographic sight requires minimal rail space. The G33.STS magnifier provided with this product, which is compatible with all types of EOTech holographic sight. The EOTech Shortest HHS 3x magnifier controls the viewpoint of your target.
Brightness Setting
 EOTech HHS 2 sight comes with a 20 brightness setting. When the light condition is worst in the hunting area, you can use this brightness setting to get a clear vision of your target. You can change the brightness setting according to your lighting condition.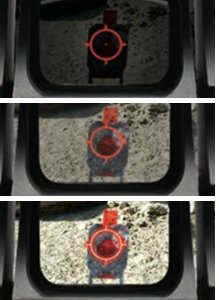 It is designed with an adjustable side button, by using this button you can easily change from one bright level to another. The eye relief distance of this holographic sight is 2.2 inches.
By using the both eye open feature of the EOTech HHS 2 sight, you can get the fast target acquisition, and also you can get better environmental awareness. The EXPS2 HWS provides multiple brightness settings so that you can easily change dark light conditions to bright lighting for easy shooting.
Battery Life 
EOTech HHS 2 holographic sight comes with transversely mounted 123 lithium-ion; it is a CR123A type battery. The battery tends to run continuously for 1000 hours without any problem so that you can use this sight for a long time.
Adjustment Type
The adjustment type of the EOTech HHS2 holographic sight is defined as MOA, so you can easily adjust the viewpoint of your target and the click value of the holographic sight is 0.5 MOA
Quick Transition
The Eotech HHS2 holographic sight comes with a G33 magnifier and switch-to-side mount. By using the switch-to-side mount you can quickly change the close range to medium-range target. The G33 magnifier helps to get a clear view of the target from the long distance.
Water Resistance
Due to the durable design of this holographic sight, it withstands against exposed water. The water-resistant property ensures that this holographic sight has the ability to withstand under 33 feet of water. If you think that this holographic sight is not performed well at this specific depth, the durable design will ensure this property and its performance.
Included Accessories
 The Eotech provides some useful accessories with this sight they are,
Quick reference card 
        2.CR123A battery
Final Words
When it comes to holographic sight, EOTech is the ideal choice. Eotech HHS 2 holographic sight includes  G33 magnifier and switch-to-side mount that helps to improve your hunting experiences.
Another good thing about this EOTech HHS 2 sight is the 20 adjustable brightness setting that provides an accurate shot even in low lighting conditions.
The CR123A type Battery of this holographic sight is continuously running for 1000 hours without any issues so that you can use this sight for a week hunting. The adjustable side button in the EOTech HHS 2 sight helps to operate easily, and it allows you to see a clear view of the target.
This holographic sight improves your shooting skill in which you can avoid the wrong shot or missing shot. Moreover, It is recommended to make an accurate shot in your shoot or hunting games.