This Firefield NVRS 3×42 Gen 1 Night Vision Riflescope allows hitting your prey in the darkest nights and low-light situations. Here, we've given the Firefield NVRS 3×42 Gen 1 Night Vision Riflescope Review for you. 
This night vision scope is designed by the Firefield experts, and it has an inbuilt high power Infrared illuminator that enhances the viewing range in complete darkness and enhances the image details. 
This Firefield NVRS features the GEN-I technology, while GEN -I optics are becoming rarer nowadays with technology improvement. 
The Firefield NVRS 3×42 scopes have decent image qualities at affordable prices.
Here are some of the most important features of this scope, let us know about its image qualities and how it's designed and constructed. Let's go for a Firefield NVRS 3×42 Gen 1 Night Vision Riflescope Review.
Features
Design and Construction
This scope is well appreciated for its construction, and the Firefield experts had done a great job in designing this 3×42 GEN I NVRS at an affordable price.
Everything in this scope is designed well for the customer's satisfaction, and it feels like these scopes remain quiet for a long time.
Every button and knob on the scope are good to touch and equipped perfectly. The elevation knobs and windage are perfectly designed, but it lacks in the feel sector, particularly when you are wearing shooting gloves. Also, the ON-OFF switches are easy to use.
The scopes are harder to turn-on while you take off their caps, but once you use this optic, they are fine to work with it.
The reticle brightness is adjusted through the other knob, and it's in front of the ON-OFF button. To adjust the reticle brightness, turn the switch clockwise.
The scope has a rubber eyepiece that works for eliminating distractions. In comparison to other night vision scopes, this GEN I NVRS is incredibly durable and at an affordable price.
Its unique shape and size make it easy to hold and mount without any disruption. Thus scope is designed with excellent ergonomic features that make it user-friendly.
Magnification
Are you searching for a Powerful magnification scope? Then the Firefield GEN 1Night Vision Riflescope is perfect for you.
It allows hitting your targets at 50-100 yards and has high 3x magnification power with an angular field of view at 8° that offers a clear and high-quality image of medium- to -long-range targets. With this rifle scope, you can hit the long targets without much strain.
It has a 42mm lens for higher light gathering capabilities, and the optics are multi-coated for better transmission.
The multi-coated lens of the night vision riflescope prevents unwanted reflections and any kind of distractions while you are shooting. It allows you to shoot with more precision than any other riflescope.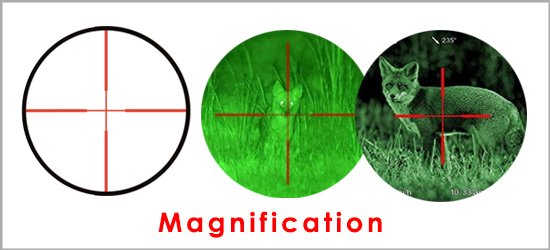 Also, it has an illuminated red duplex reticle that allows adjusting the brightness of your surroundings. To protect the scope, there is a lens flip-up cover at the front that protects the scope lens from scratches.
Usually, a night vision riflescope with good magnification and better clarity is assured for greater levels of accuracy when hunting hogs in a bushy area.
Enhanced illumination
We all know that the GEN I devices are not the digital scope. So the Firefield 3×42 NVRS uses an Infrared illuminator for providing night vision, and it also uses 850nm wavelength. 
Moreover, the quality of the illumination is one of the distinguishing features of this night vision scope. 
It has a built-in infrared illuminator to improve the accuracy, and it works efficiently in the absence of light.
It doesn't require any other light for the functioning of this night vision riflescope. 
It has in-built infrared illumination that enhances the images into optimum clarity and increases the viewing range in complete darkness. 
This mechanism is ensured by the designers and this aspect explains its growing options in the hunting fields.
Performance and Range
Firefield rifle scopes have a sight range of around 100 yards depending on the availability of light and it provides clear view. In the short-range areas, it provides around 40 yards.
Detachable Weaver Mount
This scope uses quick detachable weaver mount rails that allow you to change the optics and switch to your rifle's iron sights easily while maintaining your position.
Titanium Reinforcement
The main material of this scope is titanium alloy; it helps to withstand massive shock from falls and daily abuse. 
This material is used for the strength of the scope, and this material is highly resistant to heat and corrosion and has low density. 
Also, its melting point is low, so that it's highly suitable for nighttime hunting. So you can operate this scope in unfamiliar terrains without any fear of damaging the scope.
Accessories
On rounding out the package, you get a user manual, a cleaning cloth, and a Semi-hard carrying case that doubles as a protective cover.
The manufacturers provide a 3-year warranty for all mechanical parts such as an eyepiece, ON/OFF switches, Lenses, knobs and the internal like intensifier tubes, CMOS and CCD chips are also included by this.
Lightweight Body
One of the major advantages of this night vision riflescope is, it's very light to carry on, and it allows you to mount and handle with minimal difficulty. It's relatively less in weight compared to other riflescopes. 
Battery life
The scope is powered by 2 lithium-ion batteries, and the battery life depends on the usage and the brand that you use. 
You can fix it with a pair of two stronger batteries like Duracell or an Energizer. 
Without turning ON the infrared illuminator and using 2 AA batteries, you can use the scope for as much as 50 hours. By turning on the IR illuminator, it takes more power(you will get 15-20 hours).
Its durability and in-built construction are well appreciated.

Has a powerful magnification range

Long-lasting battery life

Economical

Comes with a 3-years warranty

It has adjustable brightness for the reticle

It is designed with water-resistant, and it can resist harsh weather conditions
Black spots may occur inside the lens in some situations.

The mounting mechanism is not reliable

May have sighting issues after some usage
Final Verdict
Briefly, the Firefield NVRS 3×42 GEN I night vision Riflescope has been constructed with special strengths that make it suitable for hunting animals in dark. One of the main advantages of this riflescope is clarity and magnification. This scope has a built-in IR illuminator that allows it to work perfectly in enabling precise shots over long yards. If your target range for shooting or hunting is between Short to medium range, then this scope perfectly suits you.  It is easy to use and has decent image quality, and also can be quickly mounted to your rifle.
The scope uses quick detach weaver rails that add extra versatility to the riflescope. This scope helps to improve the efficiency of your work and also helps to improve your accuracy of shots. This device is highly recommended for ardent hog hunters. Moreover, the battery life is also good, and it's a perfect tool for your money.
Hope so our article about Firefield NVRS 3×42 Gen 1 Night Vision Riflescope Review was helpful.