Handguns are appealing to outdoor explorers and in recent years the use of optics on handguns has been exploded. 
An optic is a great tool for the shooters as it helps in terms of accuracy, and this is the same for both rifles and handguns. 
Red dot detects accurately yet it is too expensive or not durable so most people will not spend a penny for such a red dot on their handguns.
But now the technological innovations amaze everyone with their affordability, durability, sturdy nature, and what not! Holosun is one such company that produces incredible optics at an affordable price that is designed to be mounted on a handgun.
The HE508T-RD X2 is an open reflex optical sight shielded by titanium this works best for pistol applications. 
The X2 series pistol is innovated by two extra features first is the addition of lock mode, when you click on it the buttons prevent inadvertent setting changes, Second, the buttons are remodeled to equalize the Lock mode by placing it lower.
If you're in need of a red dot sight for your pistol then it's significant to consider the Holosun HE508T because it will satisfy every pistol-packing need. 
It can produce good results even if you put on any pistol. After field testing, I and my team have concluded that this Holosun sight will not disappoint anyone, to know more info keep reading guys!
Let's take a deep dive into Holosun 508t
Design
The Holosun 508T comes with a top-class design which is better compared to the previous model, its square housing design will make the optic sturdy and durable.
The optic body is shielded from Titanium which makes the red dot sight tough, it works effectively for law enforcement professionals and is fit for personal defense.
Will it be too heavy? Absolutely not! It weighs just 2 oz; moreover, the sight comes with Ingress Protection Code of IP67, which means the sight is capable of submerging into the water up to a meter deep for half an hour.
Reticle
It is constructed with a multi-reticle system which consists of 2 MOA Dot & 32 MOA Circle. There is an alternate option to use these reticles either it can be used together by placing the 2 MOA Dot within the 32 MOA circle or individually.
The Super-LED illuminated reticle has 12 reticle brightness settings, among these 12 ten are suitable for daylight settings, and the other 2 are reserved as night vision compatible.
The brightness levels are high so the dot will be visible even in low-light conditions.
It comes with an automatic reticle brightness adjustment mode, which is beneficial for the shooters to determine the best reticle brightness level.
Power
Using a single 2 MOA dot you can get a maximum of 50,000 hours of battery life, by using the 32 MOA circle dot reticle you may get about 10,000 hours of battery life thanks to its superpower LEDs.
This entire sight is powered by a single CR1632 Lithium 3-Volt coin battery. In case if you want to change the battery then make use of the side-mounted tray option, so you need not remove the sight to replace the battery.
An additional benefit of this sight is the Solar Fail Safe dual power system, so the optic can get the power directly from the solar panel array. 
The use of the solar system is it reserves the battery power for a long time and increases the operational time, no need to recharge frequently.
Operations
It's very simple to operate, just press the power button to switch on the device, for switching it off press and release both the "+" or "-" buttons.
Holosun Shake Awake feature is a great innovation that keeps the battery level high and doesn't allow switching it off. But if you've not used the sight for more than 10 minutes it will be on sleep mode automatically.
There are four different sleep timer settings which are 10min, 1hr, 12 hrs or disabled by holding and leaving both the "+" or "-" buttons.
The next one is Auto Mode as the name implies it will be on when the optic is started.
If the optic is in Auto mode, the sight uses the dual power system also there are 12 brightness levels and is limited to level 7 while you switch to this mode.
Mounting
Holosun 508T comes with a low rail mount to attach the sight to a Picatinny or Weaver rail. For mounting on a pistol there are other methods to follow, it easily fits within the Trijicon RMR footprint. You can also use the dovetail style to mount this red dot.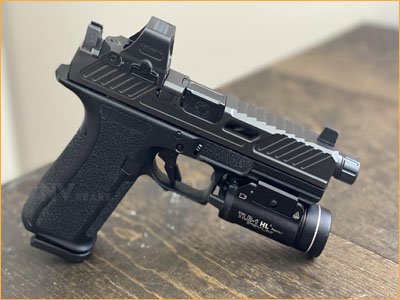 The 508T comes out of the box to adjust 25 yards zero to give you a head start, it's not a big deal to minimal adjustment to achieve zero. Elevation and windage adjustments are done in 1 MOA increments with an adjustment range of +-50 MOA.
Tech & Features
Up to 50,000 Hours Battery Life (Setting 6)

12 Brightness Setting: 10 DL & 2 NV Compatible

Complete Titanium Housing

Convenient Tray Battery Compartment

Parallax-free & Unlimited Eye Relief

 Super LED with up to 50k hours battery life, 

Solar Failsafe,

Multi-Reticle System, and Shake Awake.
What comes in the Box?
Low Mount

T10 L Key

User Manual

CR1632 Battery

Lens Cloth
Final Thoughts
So in the end, in the Durability And Toughness category, the Holosun 508t stands high, it is very tough optics when compared to the previous models. If you're looking for an optic with insane durability, it may cost a little bit high but it's worth the money, one of the great option for your investment is the 508t because it's still an amazing optic.