It is very hard to leave your little one alone in the crib so that the baby monitors have been introduced. These Baby video monitors not only help to ensure your baby is sleeping well. But also helps you give peace of mind by knowing your baby is safe so that you can sleep well at night. These baby monitors are designed for the parents to monitor their little ones 24/7, no matter where you are in your home. Let's take a closer look into the Infant Optics DXR-8 Video Baby Monitor Review.
The Primary use of the baby video monitors is to know when your child is awake, asleep, or fussy. Setting up a baby video monitor near your little one's crib is the best way to know what their baby is doing when you are not nearby them. 
There are several baby video monitors available in the market, and if you are looking for the best baby video monitor that allows you to see and hear your baby from a distance, then the Infant optics DXR-8 video baby monitor is an excellent choice. The Infant Optics DXR-8 Video Baby Monitor is the first baby monitor to have an interchangeable optical zoom lens, and it has night vision. 
For the past five years, the Infant Optics DXR-8 baby video monitor has been one of the top-rated baby monitors in the market. Thus, the versatile Infant Optics DXR-8 Video Baby Monitor is feature-rich and easy to use.
Keep reading our Infant Optics DXR-8 Video Baby Monitor Review to know more.
Features of the Infant Optics DXR-8 Baby Monitor
Range
The Infant Optics DXR-8 Video Baby Monitor has a decent signal strength as it has an indoor coverage range that can function up to 4 walls 65 feet and in an open area it can work out to the range of 650 feet. This baby video monitor uses a standard 2.4GHz FHSS wireless signal that can range around 700 feet/ 210 meters outside. Depending on the layout of your home you can relax outside and still receive the signal from your baby's room. Furthermore, it's one of the best long-range baby video monitors in the field testing, and you can be able to find it online.
Some of the parents have reported that they are receiving an "out of signal coverage" message when the baby video monitor was near their WiFi router or mobile phones.
Audio/Visual
The picture and sound quality of this baby video monitor are extremely good. The device allows you to watch and hear your little ones using the built-in microphone to the camera unit. Even if the audio is turned off, the digital audio indicator in this unit shows you sounds and alerts you.  it has average sound quality with a maximum level of 86 dB. But you don't have any distortion, interference, or echo in the sound clarity. The device has come up with reduced background noise, so you are clearly able to hear your little ones or toddlers crying and talking sound. In addition to that, you can also talk to your baby through this device. 
The video quality of this unit was poor. The nighttime images are worse than the daytime images. The daytime images will be displayed slightly darker than the real color in your baby's room. Also, the letters on the eye chart are blurred. But when you zoom in, you can see your baby's eyes and facial expressions.
It allows you to adjust the brightness and volume easily. If you need, you can also completely turn off the video picture on your screen when you go to sleep. But, the audio will remain on.
Image Quality
However, the video quality of this baby video monitor is below average but it has impeccable image quality. The images are crisp & clear and so sharp, and also it is truly impressive even at night.
Temperature Monitoring
A nice feature of the Infant Optics DXR-8 video baby monitor is the temperature sensor. This shows the room temperature as it has a built-in temperature monitor that indicates both Fahrenheit and celsius. Moreover, this safety feature ensures your baby's room temperature is warm enough in the winter and cool enough in the summer.
Use With Multiple Cameras
The Infant Optics DXR-8 comes with one camera and you can link up to 4 cameras and your display will support it. For every 12 seconds, you can automatically switch through each add-on camera. The quality of video feed from the add-on cameras is average than the quality of video feed from the original cameras.
The 3.5″ display allows you to see only one camera at a time, and there's no split-screen mode option. The picture quality of the display is average with a resolution of 320-240 pixels. 
Also, you can mute one camera and can keep the sound detection on another camera. It's a great option for the parents, who have more than one baby to monitor in separate rooms.
Interchangeable Lenses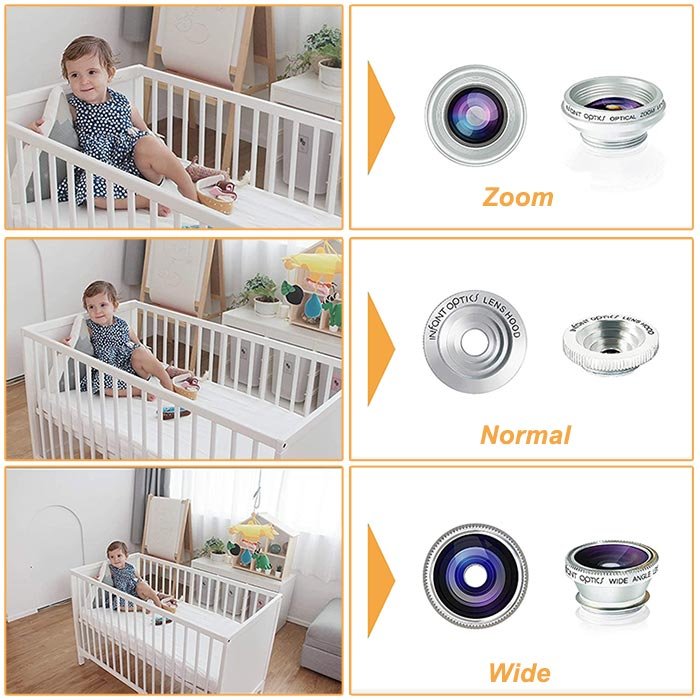 The Infant Optics DXR-8 comes with 3 optical lenses and they are the normal lens, wide-angle lens, and zoom lens.
This camera allows you to Interchange the lenses, which means that you can change the default lens to a zoom lens, or wide-angle for your flexibility. It is a great addition to this optic and it helps you customize the camera to suit your baby's room layout. A default lens will give you the best angle which has the standard focal lens of 2.5mm and an aperture of 2.8. 
Changing the lenses are very simple, just unscrew the one that already exists and change it with the other one. The additional zoom lens will be included in the product package, but the wide-angle lens is not included in the product package, so you have to purchase it separately. Purchasing the wide-angle lens will allow you to monitor the entire room.
Ease of Use
The Infant Optics DXR-8 boasts a user-friendly design. It has simple and straightforward buttons such as a Menu, Shortcut, 4 directional arrow buttons, On, and talkback button, and are easy to navigate.
The menu button on this unit is used to access and adjust brightness, alarm, sleep mode delay, volume, and zoom. And if you want to add or delete an additional camera, just click on the menu button and navigate left to right to the respective icon. To adjust, use the up and down arrows. Additionally, it has a shortcut button for brightness and volume. 
Thus, the device is ready to use with the plug and play option, and it doesn't require any setup. At the top of the display, you can see the battery level, signal strength, room temperature and you can check whether it's in a night vision mode. Most parents use this device to watch their little ones at nighttime. So, the device has included night vision.
Battery Life
Another impressive feature of this baby video monitor is the battery life. The device runs by using a rechargeable lithium-ion battery. It has a battery life of around 10-12 hours on audio-only mode and 8 hours with the live screen. To indicate the battery level, the device has come up with the LED bar to the right side of the buttons. When the battery is almost spent, your monitor will alert you by a beep sound, and it takes seven hours to fully charge. 
Batteries tend to deteriorate over time so that the device has a replacement option for the users. Whenever you need to replace the batteries you can change them. It is such a great option for the life existence of your Infant Optics DXR-8 Baby video monitor.
Two-way Talk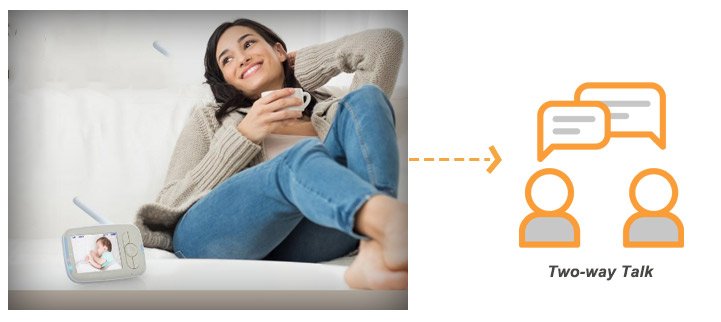 This two-way talkback feature allows you to speak to your baby through the camera from a distance, or while busy with other things. This two-way baby monitor is easy to use by holding or pressing the mic button on the parental unit. The audio will only go to the camera which you have selected, and not to any other cameras attached.  
Disappointingly, the infant optics DXR-8 doesn't have any pre-recorded lullabies, so that you can record yourself singing the lullabies to soothe your baby.
Pan-Tilt Zoom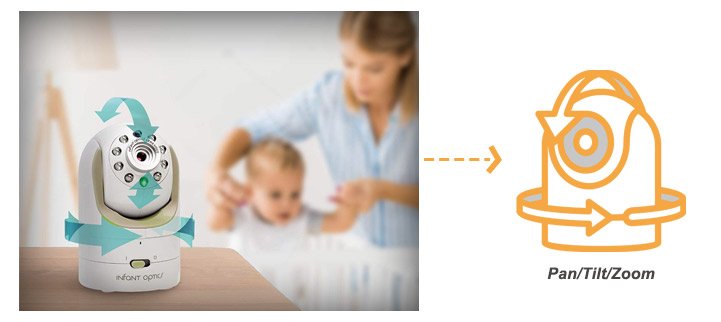 Another great feature of this Infant Optics DXR-8 is remotely adjustable panning, tilt, and zoom. This feature allows parents to choose their viewing angle so they can have all views of their newborn. Also, it's an important part of this baby video monitor. You can tilt the camera on a 270-degree horizontal angle and pan across a 120-degree vertical angle, which is great to move the monitor around the baby's crib or baby's bed in focus. In addition to that, the infant optics baby monitor comes with 3 lenses so you can have the best view of your little one's room.
What Comes in the Box?
Wondering what's in the box? Here is the list of things that will be included in the product package.
DXR-8 video baby monitor
Parent monitor unit
Camera power adapter
USB output adapter
Optical zoom lens
2 USB power cables
USB output adapter
1 Lithium-ion battery
Power cords
Final Thoughts
Infant Optics is the ultimate baby monitor solution for parents who are looking for the best baby video monitor. All over, the infant optics DXR-8 Monitor is more expensive than many, but it's worth it. Many of the parents have continued to use this monitor for their toddlers. Thus, the Infant optics DXR-8 baby video monitor is the best baby monitor of all-time.
Hope so our article about Infant Optics DXR-8 Video Baby Monitor Review was helpful.