Thermal Imaging Binoculars are a great device that has been used in lots of applications like scouting, birdwatching, camping, hiking, law enforcement, firefighting, and other rescue operations. It works by converting the thermal energy into images and can be used during both day and night time.
With thermal imaging binoculars you can see the world in another perspective in the dark night. They are ideal in providing crystal clear vision in the pitch darkness. So you can use them for your outdoor hunting activities especially in the night time without any hesitation.
Lots of people have no idea about buying thermal binoculars. They are not only used in the field of hunting but also for a variety of applications for its multiple benefits. We have tested lots of branded products and finally chose the latest model available in the market. And that model is the Pulsar Accolade XP 50 Thermal Binocular.
If you want to gain more knowledge about it then read our complete review of Pulsar Accolade XP 50 Thermal Binocular below.
Pulsar Accolade XP50 Thermal Binocular
Pulsar Accolade XP 50 Thermal Binocular – Review
Your regular daytime binoculars will not work all the time especially in the pitch dark or dim light condition. In that situation thermal binoculars will aid you and show everything that is happening around you. Lot of incidents in the forest happen only at night.
Pulsar Accolade XP 50 Thermal Binocular helps you to find out anything from very small animals to large wild animals that roam in the dark night without any sound.
Pulsar Accolade is built with many innovative features and has a unique design compared to other thermal binoculars. Some of the main features of Pulsar accolade XP 50 is explained below.
Specification of Pulsar Accolade XP50 Thermal Binocular
Features of Pulsar Accolade XP 50 Thermal Binocular
Pulsar Accolade binoculars are designed with updated thermal imaging technology with 3 calibration modes, display-off mode, scanning mode, and 8 custom color modes to view objects very clearly based on your needs. The new mechanism in it offers distinctive features that takes you to the next level of using. 
The appreciating features in Pulsar Accolade XP 50 Thermal Binocular includes stadiametric rangefinder, picture-in-picture mode, 8 Color modes, IPX7 Waterproof, Wi-Fi capabilities, smartphone applications, Video recording & streaming, wireless remote accessing,  and so on.
Stadiametric rangefinder 
One of the main features of XP 50 is the stadiametric rangefinder. It calculates the distance between the user and the object within a few seconds. With the help of the estimated heights and size of an object, the stadiametric rangefinder calculates the accurate distances fastly and provides ranging information rapidly.
Picture-in-Picture mode
Picture-in-Picture mode provides users with a possibility to display an additional image of a certain region of the full view, on the screen depending on the user's wish. PIP provides several times magnified images of an object and gives a more detailed view of the image in the pitch dark. It just covers 10% of the overall field of view to get a closer view of an object. The zoom-in and zoom-out images are displayed simultaneously.
Detection Range
The combination of high-quality lens and thermal sensor makes it unique and provides the longest detection range. Identifying the objects at very far distances is an essential factor for binocular users in the wild.  Using Pulsar XP 50 thermal binocular, you can easily see even the smallest objects that are located at the range of 2,000 yards away from the binocular users. 
AMOLED display
Pulsar XP 50 thermal binocular is designed with a high contrast AMOLED HD display that provides excellent quality vision in any extreme weather condition. This display will produce good contrast, vibrant, and vivid color images without blur in both the cold or hot weather environment and provide seamless operation. 
AMOLED HD display provides eight color modes that deliver sharp images featuring remarkable colors, deep blacks, good contrast ratios and also uses a large color gamut. 
Pulsar Accolade XP 50 shows precise vision with the cutting-edge feature and highly-detailed sharper, vibrant views can be seen with a 640×480 pixel thermal binocular resolution. It is built with a high-core digital display, 17µm pixel pitch, and 50 HZ refresh rate to view the real-time images.
Eight Color Palettes
Pulsar accolade XP50 integrated with 8 different color modes allows the users to easily adjust the modes to boost the viewing capability of the objects. These modes enhance the vision in different environmental conditions based on user preferences.
White Hot mode

– classic mode exceptionally versatile

Hot Black mode

– helpful in detecting wild animals and birds at night

Red monochrome

– reduce or block the bright backlight 

Sepia

– improve long-distance observation 

Red Hot, Rainbow, and Ultramarine

– improves temperature differences of various object  

Violet

– helps to find out the objects faster
Waterproof IPX7
Pulsar Accolade XP50 thermal Binoculars have a water protection rating of IPX7 that ensures the extraordinary performance of binoculars in extreme wet weather conditions. It protects the scope and ensures proper working of the device even in the fog, snow, and heavy rain.
While testing XP50 binoculars, we found that it can withstand extreme weather conditions and submerges up to 1 meter deep for up to 30 minutes without any damage.
Magnification
Magnification is an important feature in binoculars to view objects clearly in the long-range. As the main function of the binocular is to see the faraway objects very clearly in a closer view. Here the Pulsar Accolade XP 50 is designed with the magnification range of 2.5x to 20x and smooth zooming focus that helps you to track the distant objects without image loss.
Built-in video recording
You can easily capture still images and record video of your experience with the Pulsar Accolade XP 50 Thermal Binocular. Further images and videos are stored in the internal storage that can be easily transferred to a smartphone, or PC using an USB cable.
Just press the REC button to capture videos. You can also share your memorable moments in the hunting field with colleagues, friends, family and have fun with them. 
Live Video Sharing
You can easily connect the Accolade XP 50 Thermal Bi-ocular with your smartphone or tablet. It allows real-time video streaming on YouTube. 
Kudos to Pulsar for introducing this excellent feature in Accolade XP 50 thermal binocular.  So you can activate this function with the help of the Internet without any disturbance.
Calibration modes 
Calibration means non-uniformity correction that should be updated at regular intervals to provide a better clarity image. It minimizes the unwanted signals, thus enhancing the binocular performance and image quality. Pulsar Accolade XP 50 Thermal Binocular has 3 modes of calibration;
Automatic mode:

Shutter closes and calibration is performed automatically at regular intervals of time without user.

Semi-automatic mode:

Shutter closes and calibration is done by just pressing the calibration button. 

Manual mode or silent mode:

Here, the shutter remains open and calibration is done by closing the objective cap and pressing the calibration button.
Batteries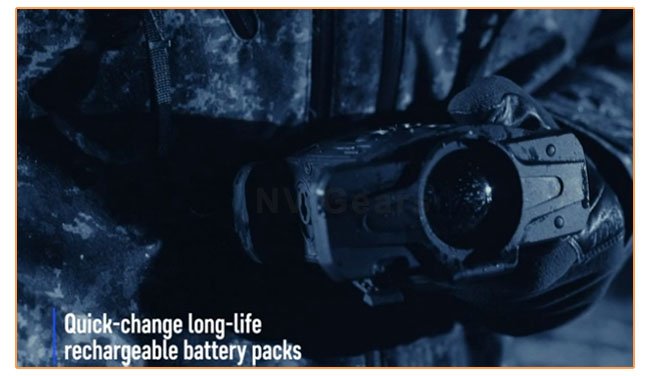 Pulsar Accolade XP50 Binoculars come with a standard IPS5 battery package that can work continuously for up to 8 hours while using a WI-Fi connection. The battery is rechargeable and installed with the device. Thus, it improves the efficiency of the binocular and provides flawless performance.
Convenient for Long-distance Observation
Accolade XP 50 Binocular is designed with a dual eyepiece that decreases eye strain. So that you can view the faraway objects freely with both the eyes. As the human brain is habitual to receive visual data from two eyes and at the same time the brain converts the data into a single image. Viewing through both the eyes reduces eye fatigue. 
But while using a single eye to view the object, the brain obtains single input which can cause uncomfortable feelings and stress to your eyes. XP 50 Binocular avoids these inconvenient issues.
Dynamic Interpolation Distance
Usually, the Pupillary Distance of each and every person varies and here adjustable Interpolation Distance feature of the Accolade XP 50 Thermal Binocular eyelids allows you to modify the light position according to your needs. The eyelid's distance can be changed for your comfort and thus enhancing vision quality.
Built-in Wi-Fi module and application
Most people prefer multitasking devices and so this binocular turns the device into a hotspot, connects directly to a smartphone or tablet, and the device can be controlled easily.
Accolade binocular is compatible with Stream Vision App and thus binocular can be easily controlled with Android and iOS devices. This application helps in initial setup and additional updates.
Application
Used in Law enforcement, firefighting, and military

Useful for both day and night hunting

For inspecting the oil, water, or gas leakage in plants and industries

Helpful in Camping, Hiking, and trekking

For Long-range observation
Bottom line
If you're looking for an ideal thermal binocular model for hunting, then try Pulsar Accolade XP50 Binocular for better experiences. Anyone from beginners to professionals can use this digital function binocular to make your adventurous trip more interesting.
Enjoy your hunting with Pulsar!!