If you are looking for an extraordinary rifle scope that can make your hunting trips more thrilling, then the Vortex Optics Diamondback tactical 6-24x50mm riflescope is the best choice for you. This is one of the budget USA made rifle scopes on the market. 
The Vortex Diamond Tactical riflescope is one of the most incredible rifle scopes sold on the market today, and it's designed especially for shooters and hunters to meet their needs. This scope is also useful for hunting, whether it's a small or big game.
Vortex has an excellent reputation for producing high-quality rifle scopes in the best price range for almost two decades. 
Today vortex has been producing many optics that incorporate binoculars, riflescopes, rangefinders, spotting scopes, and red dot sights. 
Vortex is known to be among the top manufacturers by providing exceptional quality across their incredibly diverse line of riflescopes and providing an attractive lifetime warranty. 
Read on to our review to know about the impressive features and performance of the riflescope.
Features of Vortex Diamondback Tactical 6-24×50 FFP Rifle Scope
Magnification Range
The scope has a 6x-24x magnification range with a 50mm objective lens that makes it suitable for all kinds of hunting situations and long-range shooting applications. 
The 6-24x magnification allows you to get close to your target so shoot the target more precisely. Hunters can use this scope on bolt guns or rifles in a variety of shooting scenarios. 
Vortex Diamondback tactical scope is predestined for medium to long-range shots, and the first focal plane reticle is ideal for this use. 
Moreover, the scope with a lower magnification power is better for using medium-range shots, while it works outstandingly well at higher magnification power of 24x for long-range shots. 
It's very challenging to use this scope for many hunting applications with a lower magnification range of 6x. Moreover, it is not suitable to use at short-range distances.
The field of view through the scope is 18-4.5 feet at 100 yards, and it suits well for overall needs.
Objective lens
The scope comes with a large 50mm objective lens that provides crystal clear views to the shooter. 
The lens is made from the extra low-dispersion(XD) glass, which increases the resolution and color fidelity. 
All this results in crisp and sharp images. Another good thing is that the larger objective lenses gather more light and it results in a larger exit pupil with a brighter image. 
The scope featuring a Precision-Glide Erector System that ensures smooth zoom lens mechanisms to ensure magnification changes even in extreme conditions.
Fully Multi-coated lenses
The lenses of the rifle scope have been fully multicoated. Each air-to-glass surface has multiple anti-reflective coatings that provide increased light transmission for greater clarity and low-light performance. 
Eye Relief
Eye relief is an important consideration and this vortex Diamondback tactical scope has a generous eye relief of 4.0 inches. 
The fast-focus eyepiece lets you focus on your target pretty well. It's an ample relief that provides you sharp images and keeps your eye well protected. 
Tube Diameter
The Diamondback tactical 6-24x50mm riflescope offers a 30mm tube that is made up of durable aluminum. 
The tube provides improved accuracy, maximized internal strength and adjustment, also it's great for using at long-distance shots.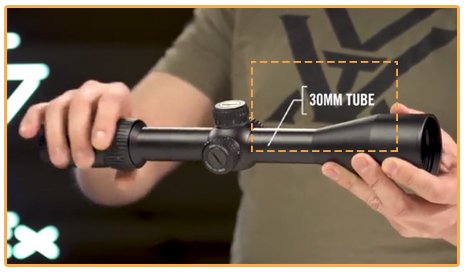 The single-piece tube provides you an optimum visual performance as well as a sleeker look.
Construction
The scope has been built using lightweight aircraft aluminum for its strength and rigidity. Also, the scope is 100% nitrogen filled and closed with O-rings to protect the scope from water and dust. 
The nitrogen gas purging prevents internal fogging over a wide range of temperatures. 
The rugged construction of this scope withstands impact and recoil. Also, the scope has high durability, and it's capable of working in all weather conditions. 
The 30-mm tube has been reinforced with a highly durable hard-anodized finish that provides a low glare matte surface and making it ideal for camouflage. 
In addition to that, the scope has a 4-inch sunshade and protective lens cap to protect the scope from dust and debris when it's not in use.
Reticle Type
One of the great features of the Diamondback Tactical scope is the first focal plane(FFP) EBR-2C(MOA), which maintains its subtension lines at all magnifications. 
This helps to make windage corrections without touching the turrets and to estimate the range and size of your targets.
Exposed Tactical Turrets and Adjustments
The turrets on the Diamondback tactical 6-24x50mm scope have 12MOA travel per rotation and 1/4 click value adjustment. But, they differ in maximum windage and elevation adjustments. 
The 6-24×50 maxes out at 65 MOA. The fiber optic turrets on the scope are exposed and allow easy, precise, and quick adjustments for elevation and windage. 
The side knobs on the Diamondback tactical scope are smooth, easy to use, and quickly adjustable. 
Moreover, the scope features a zero-resettable feature that allows you to zero the scope after you have sighted.  
Parallax settings Adjustment
This scope offers a parallax setting of 50 yards to infinity with the side focus adjustment handy on the left side of the turret. This side parallax knob gives you safe and easy accessibility. 
These parallax adjustments will help you get the optimal image focus for your long-range shots.
The precision-force spring system in this scope ensures maximum repeatability and ease of adjustments, which allows you to make more shots in less time. 
Conclusion
Overall, the diamondback tactical 6-24x50mm riflescope is a great optic, and it performs well for tactical or long-range shooting scenarios. The adjustable magnification and reticles in the scope assist the hunters to accurately shoot at their target. 
Undoubtedly, the scope gives you versatile, accurate, reliable, and solid performance. Moreover, the scope has five-star reviews from a lot of users and boasts lifetime warranties. All these valuable features come in a price range of under $400. Hence, the scope is a great pick from the mid-priced range.