Having a poor night vision is one of the most common problems that are faced by a lot of people these days. A lot of factors contribute to having some problems with night vision—with that said, most people need some aid in order for them to see better during nighttime. 
Ever since night vision technology was invented and applied in a lot of devices, the use of this technology has been fast proliferated around the world. 
Devices such as night vision camcorders, night vision telescopes, night vision cameras, night vision scopes, night vision glasses, and night vision goggles have been designed for people's use during nighttime. 
During the past few decades, that night vision technology has been used, it has served for a lot of operations and activities that are done at night. 
Up until this day, the use of this type of device is still relevant and helpful for a lot of people. With that said, we are going to talk about one of the night vision devices that are designed for people's use using during dark and dim conditions. 
The specific product that is going to talk about is the G&P PVS-7 Night Vision Goggles Dummy. When we say the dummy model, it means that it is not the original product. 
It is just an imitation or a replica that you can buy as an alternative for the original one. So, why do people buy replicas or imitations? 
Usually, people buy replicas or dummy models in order to save more money because the original ones are high in price. So, now we are going to talk about the dummy model of G&P PVS-7 Night Vision Goggles, and we would determine if it is functional or if it can be used to replace the original one. 
Airsoft's G&P PVS-7 Night Vision Goggles (Dummy Model)
The replica of G&P PVS-7 Night Vision Goggles that is sold in a lot of markets nowadays. This specific dummy model is made from high-quality materials that are durable. With the construction it has, it looks just the same as the original one. 
To be specific with its construction, it is made from a material called ABS Polymer—this type of material is more specifically known as Acrylonitrile Butadiene Styrene. 
It is a thermoplastic (Wiki) material that is commonly used for housings and casings of electronic devices. Usually, this material is made to be resistant to impact. 
With the built it has, this replica is really considered to be a durable dummy model. In order to have a more detailed review of this specific dummy model for G&P PVS-7 Night Vision Goggles, here is a review of some of its features:
i] Realistic Look
When you think of dummy models, their main goal is to replicate or imitate the appearance of the original one. It has to look exactly like the original one. 
With the way that this dummy model is built and constructed, it really looks realistic and you would be having a hard time figuring out which is the original one or which is the dummy model when you place it beside an original one. 
This feature is really, really helpful especially when you just need this pair of goggles for a photoshoot or other non-serious purposes. 
ii] Easy Mounting
When you want to use this pair of night vision goggles, but you are so tired or you just do not want to carry it in your hands, you can choose to mount it on your helmet. 
When you buy this specific model, it comes with a free mounting clip that you can use. This clip serves as an adapter that you can use for an easy mounting experience. In fact, it is also easily detachable. 
So, anytime that you decide to carry it again in your hands, you can do that easily and in just a matter of a few seconds. 
iii] Lightweight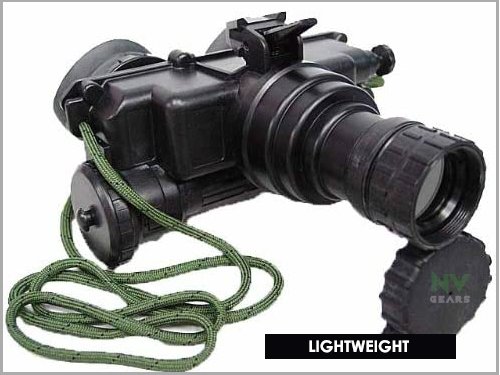 One of the best features that this pair of night vision goggles has is its very lightweight. Since it is just designed to be a replica, it does not weigh as much as the original one since its inside parts are not the same as the original. 
With this feature of having a very lightweight, you surely would have no problem in bringing this pair of night vision goggles during all your trips wherein you can use for. To be more specific about its weight, it is only designed to have a weight of 270 grams. 
iv] Matte Black Finish
This pair of night vision goggles look very elegant and classy due to the matte black finish that it has. With the design for its outside construction, you can rely on this scope to be scratch-proof and rust-proof. 
As usual, matte black finishes do not get scratched easily and they do not fade over time. With this type of finish, you would achieve both high-quality exterior design and long-lasting performance. 
When you examine this dummy model clearly, you would be amazed at how well it was constructed and how good it really looks like. 
Another good thing about it is that it has a free string that you can use when you just want to hang it on your neck like a necklace. 
For the price that this specific dummy model is offered, it is truly affordable. It also has a lens cover in order to prevent the lenses from being damaged when it is not in use.
Takeaway
The dummy model made for G&P PVS-7 Night Vision Goggles is true of very great quality and construction. When it comes to durability and to have a long-lasting life, you would be able to depend on its design. 
Almost everything about it is the same as the original. But it is not functional. It does not function just like the original one. It is only made for purposes that are not serious or purposes that can help reduce issues with your night vision. 
When it comes to the exterior design, it cannot be denied that this dummy model is of premium quality. But when talking about the functions, it is where the difference from the original one starts to show up.