Nobody wants to deal with wires anymore. Thankfully, Arlo has introduced wire-free cameras that you can stick to wherever you want. 
It has been recognized as one of the best wireless smart home security cameras overall. After testing the previous versions of these Arlo security cameras, we have found this Arlo Ultra unit to produce top-notch 4k videos; it comes with full-featured software and some new range of things. 
The biggest draw of the Arlo Ultra is its video quality, this unit captures and outputs 4k video with HDR. This lets you see the high-quality videos and images in detail. 
The Arlo Ultra is the first wireless home security camera for both indoor and outdoor purposes and has all the features of the previous model of the Arlo Pro 3 home security camera. Also, it has onboard storage on a microSD card and a 180-degree field of view.
Moreover, the Arlo Ultra is a great update compared to its previous versions and it has more features to replace your current system.
Let's get into the depth of this review to know more about Arlo Ultra's cool features.
Features of Arlo Ultra 4K Wire-Free Security Camera
The Arlo Ultra has some excellent features that you don't get in every camera.
Video
The Arlo Ultra offers you an excellent video quality than any other home security cameras sold on the market. 
Typically, a standard resolution of a home security camera is 1080p HD. But, this Arlo Ultra has a 4k resolution that produces a high-quality video, which is great for both indoor or outdoor, as well as day and night installations. 
The 4k resolution can appear as twice the 1080p resolution. The indoor daylight videos are well-exposed with accurate color and fine details in both highlights and shadows. Sure, you will be amazed by the video quality. 
The 12x zoom in the Arlo Ultra home security camera allows you to zoom in on content, and help you to pick out more accurate details like clothing logos, number plates in the video, and makes it easier to identify faces with amazing clarity.
Audio Quality
The Arlo Ultra comes with full-duplex two-way audio, which allows you to communicate with the person within the range of the camera. 
A full-duplex allows audio to come in and go out simultaneously like a telephone.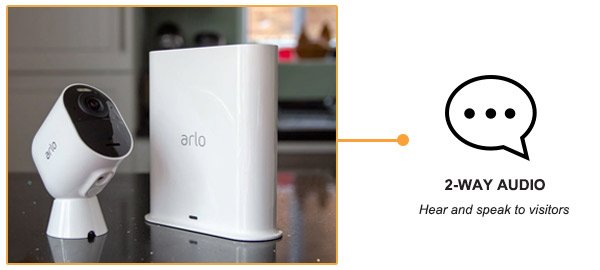 The Arlo Ultra has a "reduce wind noise" setting with dual microphones and an advanced noise cancellation system for optimizing excellent audio quality. This feature maximizes the background noise for clear, two-way communications. 
Thus the recorded audio is more clear and audible, even when the person was standing more than 20 feet from the camera. 
Night Vision
The Arlo Ultra camera has two 850nm LED sensors that produce grayscale night videos, also it has an enhanced color night vision, which allows you to see videos in color rather than traditional black and white. Moreover, the night vision video footages are pretty clear. 
Arlo Ultra Design
The Arlo Ultra camera has a classic look as it has a rounded body design with a white composite shell, black lens, and a camera face. 
It's the first battery-powered home security camera with 4k resolution with HDR. You can mount this camera in any of two ways. 
One it can be placed directly onto the surface, either it can be magnetically attached to the mount for angle viewing, so it's easy to pop-on and off to detach.
The camera has an integrated spotlight at the top and the sensors are placed at the bottom of the camera. 
This spotlight can scare the intruders and it provides a bright and clear picture even at night. It helps you see what's happening outside of your home. 
At the bottom of the camera, it has a threaded insert that is compatible with a hardware mount. Also, it has a round magnetic disc where the charging cord attaches to charge up the battery. 
The whole set-up and installation process of the Arlo security camera is truly simple, thanks to a wire-free design, and it takes less than 5 minutes to get it ready for use.
In addition to that, the Arlo Ultra cameras have a built-in siren that helps you to alert your neighbors when you find someone at your home or yard and scare them away. The device also has a weather-resistant feature, so it can withstand heat, cold, rain, or sun.
The Arlo App
The Arlo Ultra uses the same app that is used for all other Arlo cameras. This app allows you to access many features like viewing the camera settings, toggling across multiple cameras, switching modes, viewing the live feed, or checking out the video library.
Local Storage
Arlo Ultra offers both local and cloud storage, but it doesn't offer cloud storage without a subscription, and it's one of the drawbacks of this model. 
Unlike the previous version of Arlo Cameras, it doesn't include 7 days of free 1080p cloud storage. It has a free trial, but if that ends you have to pay for cloud storage. 
This will cost £14 per camera per year. However, the Arlo hub has a port for a micro-SD card for local storage, but if you want to keep the 4k video footage in the cloud, you have to upgrade to smart premium video recording. 
This feature helps you to back up your video footage also, and it's a must-have feature in the home security cameras, but in case any of them fails, you can still have a backup with the other one.
Smart Hub
This camera requires an Ultra-smart hub, which connects to your home network and allows you to view your camera streams from anywhere. 
Also, the SmartHub helps to protect your footages securely, improves battery life, and regulates wifi traffic. 
Note: The Arlo Ultra doesn't come with an Ultra base station, and you have to purchase a new base station separately.
Smart Tracking

The Auto-zooming and tracking features help in monitoring high-risk areas, and the 180-degree field of view makes it easy to capture more action on the sides of the frame but, zooming in reduces the video quality. This feature makes this model stand apart from other camera systems. 
Smart home automation
The Arlo Ultra cameras can work with Apple Watch, Amazon's Alexa, Google Home Hub, and other devices that help to turn your home into a smart home.
Battery 
Finally, the Arlo Ultra outdoor camera is an entirely wire-free setup, which means it can operate with just battery power. So that you can place the camera wherever you need coverage without worrying about finding a power outlet. 
It needs recharging for around 3-4 months before needing a charge. The battery usage depends on the use of features such as the spotlight as it has a significant impact on the battery life.
What do you get?
This product comes in a very nice box, and the product package includes the following;
Arlo Ultra wireless camera

Charging Adapter

Charger cord

Magnetic mount

Mounting screws

Battery pack

Arlo window cling" video monitoring in progress"

User manual
Conclusion
It's a great choice for the one who needs a high-resolution smart home security camera, especially those who are already connected to the Arlo ecosystem. The price and subscription rates may raise an eyebrow, but the Arlo Ultra has proven that it is a spectacular product.