If you are searching for a highly durable scope for intense hunting, tactical uses, or long-range target shooting, then this ATN X-Sight II is a great option for you. 
It provides all the features that you expect. You will definitely be impressed by the clarity of this scope, and the price of this scope is also economical. 
Moreover, it's hard to find a better scope for this specific use. Read this article to know more about its features.
ATN X-Sight II-Overview
It's one of the smart technology scopes that has come a long way. To raise your hunting experience and target shooting, try this new-level ATN X-Sight II Riflescope. It provides a very smart potential at an affordable price. 
The HD technology in the Riflescope offers you crystal clear images and vision in the day/night. 
The Bluetooth and wifi facilities allow you to share the captured videos and images over other devices so that you can enjoy with your friends and families. 
This X-Sight II HD 3-14x Digital Day/Night device features a Built-in GPS, multitude of in-view functions, High definition video sensor and optics, Smart range finder, ballistic calculators, Obsidian II core processor, and reticles.
This ATN X-Sight II HD 3-14 Smart Day/Night Rifle Scope is designed perfectly and has more durability. 
You can use this device in any weather conditions since it's constructed with a weather-resistant material. 
On top of this device, you will find an internal focusing knob and a compact control pad with bright-red menu buttons. 
For your comfort and your safe viewing experience, the eyepiece provides a wide rubber eyecup and a long 65mm eye relief. The magnification power is not better, but it's not a low standard. 
Its minimum magnification range is 3x, and the maximum range is of 14x. This device features a smooth zooming system. 
This allows the process to be smooth and controllable. Also, it can be able to increase the level of focus without losing sight of the focus point.
The ATN X-Sight II riflescope weighs about 2.15 lbs, and this device is quite heavy. This scope has a built-in picatinny mount and it can be easily mounted on to Picatinny rail, which is already fixed with it so that it can be easily mounted on several rifles.
Features
ATN X-Sight II HD 3-14 Smart Day/Night Riflescope offers several features that provide an all-in-one shooting solutions package. The remarkable features include,
High Resolution
The X-sight II functions as a digital camera. The camera records videos in 1080p resolution and also captures high-quality pictures.
The X-Sight II riflescope has HD sensors, HD lenses, and HD displays, which provide you a full HD resolution system. 
It also comes with a micro HD display, HD 1080p ATN L130 sensor, and an objective lens of 50mm. Moreover, this X-Sight II riflescope can be operated in temperatures ranging from -40°C-50°C.
Magnification
The X-Sight II scope has an excellent magnification power range of 3-14x, with a FOV of 460 feet at 1000 yards. 
The 3x optical magnification for crisp and clear resolution and they are extremely impressive for games under 150 yards and the 14x digital magnification bring targets at 300+ yards right up to the shooter. 
Also, the scope measures 3.5 inches tall, 3.45 inches wide and 11.36 inches long.
Video and pictures
X-Sight II HD 3-14x Digital Day/Night riflescope also functions as a digital camera. 
This makes your capturing experience stunning with the world's first 1080p HD Micro-Display and takes high-quality pictures. In addition to that, it has a Recoil Activated Video(RAV) that automatically records and saves the video.
This device never allows you to miss the chance to capture your moments on video. Once the shot is exposed, this inbuilt camera saves the video in several seconds. 
Using the wifi capabilities, you can stream the video to other devices such as laptops or tablets, and you can display your adventures on the television, and you can have fun with your friends, families, and also post it on social media.
Shooting Tools
Knowing the distance of your target is good. For this, ATN X-Sight II is equipped with a built-in ballistic calculator. 
This tool calculates the important trajectory and informs you where to hold it to make a perfect shot at distances. 
Also, it can calculate the range and choose from different zero settings based on the distance to the target. 
Smart Range Finder
The scope has a built-in rangefinder that allows finding the distance automatically and helps to see any target you aim at.
These scopes help you to range your target with only two clicks and a simple shift. Once the target is ranged in your reticle, it will automatically calculate the point of impact. 
The ballistic calculator doesn't need complex calculations, chart memorization, and no more guessing.
Day and Night Mode
This ATN X-Sight II scope works both day and night vision mode and produces bright and clear images.
It delivers full color 1080p 30fps video and audio capture during day mode, and NV green or Black and white during the night mode.
Clarity
The image resolution of scope is essential for hunting. If you find it hard to spot your target, and there is no use in taking a shot. 
For the night vision scopes, image resolution is present in LP/MM. The Higher LP/MM has better image clarity. Thus the optical clarity of this scope is excellent.
Focus Range
When you shop for the best night vision Riflescope, it's necessary to know about the focus or recognition range for your game. 
The best rifle scope provides you with a good focus range that every hunter expects. And these ATN X-Sight II riflescopes are designed with a powerful lens to focus accurately. 
Because the long-range scopes are good at producing enough light; thus, it's necessary to check the recognition ranges of the scope from Full moons, Quarter moons, Starlights, and overcast ranges. 
Obsidian Core & UI
ATN X-Sight II is powered by Obsidian Core, and it is designed to run a set of sensors and be able to process huge files quickly. 
The core runs a billion cycles per second. It allows many customizations to make your X-Sight II fit your needs.
With clear night vision ability, it uses a high-resolution sensor. Also, it handles multiple sensors smoothly.  
Profile Manager
This smart profile manager allows you to save all your customized ballistic data. And you no need to worry about resetting everything up every time. You just need to create a new profile and be ready to move on.
Smart Features
Bluetooth and Wifi
The in-built Bluetooth and WIFI capabilities allow you to stream the videos from one device to another. 
ATN Obsidian app allows you to control your device and to stream the videos live. Through this, you can connect to your phone, laptop, or other gadgets and see everything at the same time.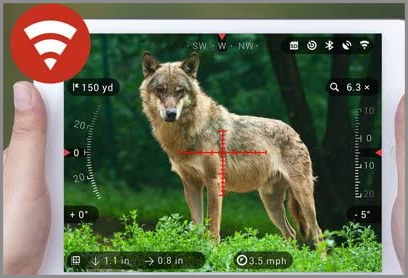 Also, you can store your data on the internal 4 GB memory or an external 64 GB memory card.
E- Barometer- It provides you with accurate data so you can confirm that everything is dialed in.
Gyroscope- The scope has an inbuilt Gyroscope, that holds the images steady and blur-free.
E-compass- This allows you to know the exact direction that you need to head. So that you can get a better shot.
Who is this scope designed for?
The X-sight II 3-14 rifle scopes are a good choice for anyone who wants night vision. 
It can capture videos and images with night vision capability. For this reason, the X-Sight scopes are used by the hunters, and it's great for the eradication of pests such as hogs and coyotes. 
Also, these scopes are great for people who like to record their action shooting for the cinematic effect.
It has a built-in rangefinder and ballistic calculator to provide accurate shots.

Cost-effective

It has many reticle options for you to choose from

It has E-compass and E-barometer to guide you

It delivers images and videos in HD format

it is designed with water-resistant and it can withstand harsh conditions since it is durable
It weighs 2.15 lbs and it's heavier and bulky

Requires a frequent battery change

For some hunters, the night vision is not clear as they expected
Final Thoughts
ATN has been producing top-notch devices for years, offering a range of optics and accessories for law enforcement, surveillance, and military personnel. If you are a night vision enthusiast, then this ATN X-Sight II offers the best performance, and it's packed with more features that provide all-in-one shooting solutions. Using its HD night vision technology, you can get a clear vision both during day and night. ATN X-Sight II HD Day/Night 3-14x Rifle Scope gives you an entirely new experience. These digital night vision riflescopes are designed with advanced developments using electro-optical technology. Moreover, this scope lets you capture the perfect shots with good precision and clarity. Undoubtedly this ATN X-Sight II scope gives you the best for your nighttime hunting.