Are you passionately waiting for the best magazine to complete your rifle build? If yes, you're lucky, here we are to give you the ideas and options to find the best 6.5 Grendel magazine as it can be tricky. Rebuild your AR-15 and make use of the powerful 6.5 Grendel ammo. 
We have undergone a lot of research and field tests to filter the Best 6.5 Grendel magazines among various options in the market. Gun's magazine is the crucial factor to consider, if it isn't good the overall performance will be affected thus your gun may act unreliably.
A quick review of the 6.5 Grendel
Probably most of you would have known about the 6.5 Grendel rifle cartridge well, if not let me give a quick review. The 6.5 Grendel magazines is nothing but an amazing longer cartridge for the fascinating AR-15 gun owners. 
The major reason for using this magazine is it can hunt up to 300/400 yards due to the power of competitive muzzle velocity (up to 2,500 feet per second), reduction in recoil as well as an efficient sectional density. It has the capacity to outpace both the 7.62 NATO and .223 Remington.
5 Best 6.5 Grendel Magazines in 2021 - Reviewed
1. Duramag 6.5 Grendel Stainless Steel AR Magazine
Duramag is well-known for its quality products; it is constructed from stainless steel and thus protects the outer coating from rust and corrosion. 
The anti-tilt blue follower of the magazine is properly aligned for fixing the perfect cycling of the 6.5 Grendel rounds. With these amazing stainless steel springs, you can get 5, 10, 20, and 28-round capacity so choose the variants from those rounds. Magazines do not weigh much it is very lightweight and the cycle rounds are perfect.
Finish: Matte

Fabric/Material: Stainless Steel

Caliber: 6.5mm Grendel

Gun Make: AR Platform

Gun Model: AR-15

Gun Type: Rifle

Additional Features: SS Spring CPD Plate
It is built with a corrosion-resistant matte back finish thus you may not worry about rust, corrosion at any time. The matte black finish is a great add-on that suits a lot of tactical purposes. 
One of the big advantages of Duramag magazine is it is easy to disassemble and clean, feeding is also done properly without any jam. You can either feed the magazine with a hand or a speed loader thus making it suitable for hunting as well as other tactical purposes.
If you're a passionate hunter or shooter then go with this ultra-durable magazine to work with, the 6.5 Grendel shots will be the best to enjoy your hunting. It will be both smooth and reliable so no need to concern about a jam or malfunction. 
How many rounds will be needed for shooting applications? This will be the common question that arises in our minds right! With the easy-to-see follower, you can load as many rounds you need, moreover, 28 rounds are enough for shooting applications. This magazine will provide a decent firing power even if the target is 400 yards away.
2. Franklin Armory DFM Magazine
Franklin Armory is the best manufacturing company for magazines and other firearm components. It will work great for varmint as well as big game hunting, for this work just 10 rounds are enough for an experienced user.  
For a newbie, 10 rounds will not give better results but that's not a matter by practice it will be possible. The magazines are well-constructed with stainless steel.
Fabric/Material: Steel

Color: Black

Magazine Capacity: 10 Round

Gun Make: AR Platform

Caliber: 6.5mm Grendel
Franklin magazine features limiting tabs that will stop the mag from removal unless you tilt the receiver up, one thing to keep in mind is you have to remove and reinstall the bolt catch with a modified bolt catch, which is possible from Franklin Armory. 
The magazines are designed to work in conjunction with a bolt catch to ensure proper functioning and thus protect from your lower receiver. The steel mag of Franklin Armory has USGI-reminiscent aesthetics and a polymer anti-tilt follower. 
Most of the buyers are satisfied with this stainless steel magazine for big game hunting, 10 round capacity is enough for them.
3. Alexander Arms Alexander Magazine 6.5 Grendel
Alexander Arms is a manufacturer of mags and other firearms started in the year 2001 in Virginia it may be new to hear about this brand for many, yet the quality is high. Alexander Arms has an incredible place in the firearms industry.
Alexander Arms magazine is perfect for hunters and target shooters, the sturdiness and robustness of this magazine are unimaginable so even if you drop it down on the floor the mag will not break. The loading process is also not a big task it's very simple when compared to other high-capacity magazines.
Fabric/Material: Steel

Magazine Capacity: 10 Round

Caliber: 6.5mm Grendel

Number of Rounds: 10

Height: 1.2 in

Length: 5.1 in
This Alexander Arms is a new product made by E-lander, it's a ten-round 6.5 Grendel Magazine, and though it's new to the market the quality is top-notch. 
The body is constructed of steel with a matte finish coating and thus has reinforced floor plate tags. The feed lips are large so there is no chance for jamming. The floorplate is also made of steel and has an integral locking plate. 
Its anti-tilt design ensures reliability and smoothness. The durability is extraordinary so the mags will perform beyond your imagination, each component is precision manufactured. 
The white follower gives an attractive and vibrant look to the magazine. If you want a high-quality magazine to last for a long time then this one is for you. I personally love its aesthetic design which is an extra pop, grab this amazing 6.5 Grendel magazine and enjoy your shooting.
4. E-Lander AR-15 Magazine 6.5 Grendel
E-Lander magazine is the most demandable product on the market as it is made from high-grade stainless steel which is heat-treated to provide extra sturdiness and durability and thus features a ten-round capacity. 
Its heavy-duty steel floor plate is the biggest power to this magazine as it contains a high-strength magazine spring. The magazine has an anti-tilt follower which leads to smooth action; it is made of strong polymer so you need not think about jamming or malfunctions.
Fabric/Material: Steel

Magazine Capacity: 10 Round

Caliber: 6.5mm Grendel

Gun Model: AR-15

Gun Type: Rifle

Dimensions: 1.65 X 4.20 X 4.45 in

Height:

1.65 in
The magazine is capable of loading 4, 10, 17, and 24 round capacities, but it's better to ensure the capacity level in your local area. It comes with a tough anti-corrosion coating so the magazine is moisture-resistant and water-resistant. 
These E-lander mags are bit heavy as it is made of steel yet durable. There are no issues while loading the mags, this is due to the presence of the anti-tilt follower, which aids in flawless operation. For passionate hunters and shooters, this one is a great option.
This is best for casual use and competitive purposes; it provides enough rounds to work effectively in every session. It contains 24 rounds so shooting can be fun and stress-free.
5. Molot Vepr 6.5 Grendel
Molot is a firearm manufacturing company that was founded near Moscow in 1940; it produced the legendary RPK, PPSh-41 as well as the Makarov pistol. 
They have produced a lot of sporting rifles in recent times which include the Vepr-12. No one can beat or find a fault in their design.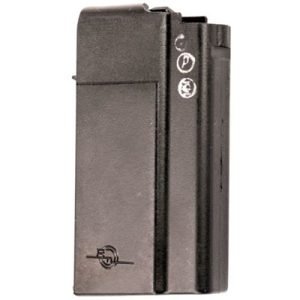 Caliber: 6.5 Grendel

Capacity: 10 Round

Finish: Black

Model: Vepr 6.5 Grendel

Material: Polymer

Type: Double Stack
Molot Vepr 6.5 Grendel is built with an aesthetic design plus it has a black polymer matte finish on the body. It is quite different from the MSR polymer mags, but Russia has been producing polymer mags for the standard military issue. 
This magazine will work better for hunting varmint during the day and night, it can also knock down the coyotes. Most of the hunters go for this option due to the steel construction, and in many cases, the polymer will spring back to the shape but the steel would bend.
There are no issues while feeding; it gives a smooth result while loading into the magazine. No need to worry about jams or malfunction of guns while you're in the field. The overall functionality of the magazine is top-notch no single user complained about the design, functions, and efficiency.
Why do we need Magazines? What's the use of it?
I've spent a lot of time picking the right magazine for my AR-15; it's a bit confusing to choose the right one from tons of brands. You too may face such difficulties I hope, so after a deep consultation with experts and knowledge in the importance of high-quality magazines I have put the best picks in this blog. I've tried multiple magazines from a variety of reputed brands so it's clear for me to suggest to you the good one.
The 6.5 Grendel is the best one which has various dimensions when compared to the 5.56 caliber, let's come to the point if you insert 6.5 Grendel rounds into your rifle using 5.56 mags will it be the right option, if your answer is yes luckily you're wrong! Because it will jam. Use the magazines which are specifically designed for the 6.5 Grendel for performing proper cycling of rounds.
Let's see the crucial factors which make the 6.5 Grendel the great:
Material
Magazines should be constructed of stainless steel to retain the sturdiness and be resistant to grime. We can't assure that all stainless steel metals are good, so your job is to ensure the quality of the metal. If it's higher-rated then it may last longer. Another impressive feature of steel is they are less prone to fractures as well as deformations under stress. Steel mags are always ahead of quality than polymer, for a glossy finish use other chemicals and ensure the perfect cycling.
Capacity
Before moving for hunting decide the capacity of the rifle's magazine, if you need only for hunting at short ranges then a smaller magazine is the right choice. Suppose if you need to shoot long-range then opt for a magazine to go for longer rounds.
Reliability
Ensure that the magazines are well-constructed and reliable every time because they may fail in some cases. It's your job to make sure to note any defects or faults in magazines before a purchase. Not all magazines will be reliable, choose the right one after the deep check in their performance.
Proper Feeding
Always use a reliable and sturdy spring to ensure the rounds are fed correctly, the reliable 6.5 Grendel magazine will have the above qualities. The 6.5 Grendel is thicker rounds so the feed lips should be larger and be in a good shape, look into those. The purpose of 6.5 Grendel is to use for long-range shooting so do feeding properly thus the cycling of rounds will be perfect.
Springs
Springs enable the user to push the follower and cartridge into the rifle chamber while firing, so check whether the springs are in good condition. Steel springs are more powerful and reliable than other springs it should be either made of steel or chrome silicon. The reason why we don't prefer silicone spring is there are possibilities to jam over time.
Anti-Tilt Follower
It helps to ensure proper cycling of rounds rather than jamming when ammunition is fixed into the chamber. The 6.5 Grendel magazines you choose must have an anti-tilt follower.
Window
For rapid shooting, some may prefer a semi-automatic AR platform, in such cases, it's good to have a window on your magazine thus it will be easy to guess the number of rounds left inside.
Proper Size and Grip
This is one of the significant factors to consider because the 6.5 Grendel magazines you choose must be able to drop out as soon as you click on the mag release it should not need extra pressure to pull it out. Grab the one, the well-designed 6 .5 Grendel magazines will provide good grip.
Benefits of Quality Magazines
Before getting a new magazine it's good to study about its merits and demerits, let's move on to the benefits you might get from buying a new quality magazine
The magazine you choose must be easy to reload, not all magazines are easy to reload so be careful on this point.
The next point to keep in mind is the consistency because a few magazines may jam while pushing the rifle, if it occurs then the situation will not be favor of you. Get the magazine that is high in consistency as well as reliability.
Ar-15 is the best for rebuilding or customizing whatever you want, so switching to the 6.5 Grendel leads to the new magazine.
It provides high capacity so your shooting experience will be stress-free and fun. The mag attached with AR-15 may not hold as you expect so go for the best one. Make sure what capacity is allowed in your area.
Final Thoughts
Magazines are a significant part of a semi-automatic rifle, the 6.5 Grendel magazines are available in different dimensions. Whenever you go for a purchase of magazines look deep into its construction (steel is better), solid floor plates, coatings, anti-tilt followers, as well as the springs.
The above-mentioned mags are constructed with high quality in all the terms that's why we've listed out for your convenience. Find the right Grendel mag that suits your needs and have a happy shooting experience.