A rifle scope is the basic essential that any hunter, whether he/she is a beginner or an experienced, should have while hunting. Using the right rifle scope is necessary to acquire the targets quickly. The benefits of using the high-end rifle scope are accuracy, range, and speed.
The right rifle scope helps any beginner or learner to get gaming tactics and skills. It improves their performance, understanding of the game, approaches the targets, and many more in practical and gaming lessons.
Have you seen the army soldiers and law enforcement officers with tactical weapons and rifles? There are chances you saw ACOG scopes in their hand. Whereas, if you have seen domestic hunters and shooters, they have a clone of those ACOG scopes.
ACOG clones are ideal choice for the hunters with less budget. The clones are no less than original Trijicon ACOGs. Let's see the best ACOG clones and alternatives that can help you survive on outdoor and come n your budget.
What is ACOG?
ACOG (Advanced Combat Optical Gunsight) scopes were initially designed for military operations in the 1980s. The officers have used these scope for combat and tactical applications because of its high illumination in the low light and powerful magnification.
These ACOG scopes by Trijicon are best weapon sights, especially for AR 15 and similar rifles. Most hunters and domestic users were interested in this ACOG scope, but its price and availability made it impossible for civilians to buy it.
Later, as most of the gun collectors and users tried to buy these expensive weapon sights to excel in their target, different optics companies took overcharge to produce ACOG clones. These ACOG clones were financially easier choices for the common people.
After years, ACOG clone scopes became the top priority of hunters when they decided to buy a weapon sight.
ACOG clones are developed to provide almost the same magnification and illumination in the no-light conditions as the combat ACOGs. ACOG clones designed with powerful magnification, recoil performance, and illumination at an affordable price.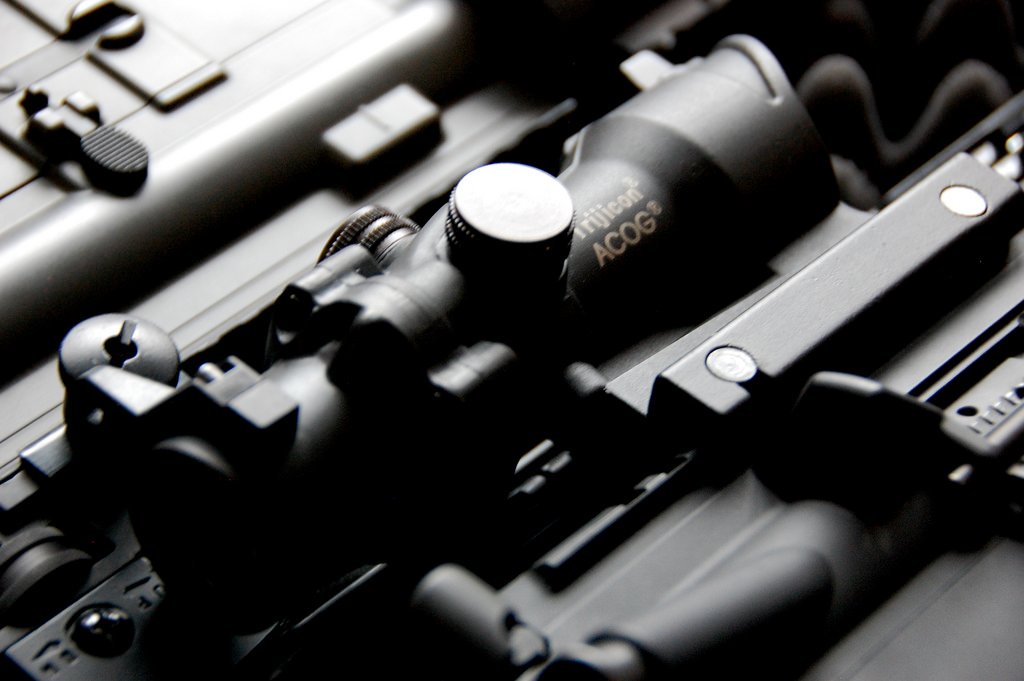 With the right quality ACOG clone, you don't have to spend a high amount to get a good rifle scope.
Currently, there are many optic and tech leading companies manufacturing ACOG clones gun sights. Every brand and model is good at what they mean to do.
As you are flooded with plenty of choices to help you find the high-quality ACOG clones from the market, we have listed 10 Best ACOG Clones and ACOG Alternatives of 2021.
Table : 10 Best ACOG Clone and Alternative in 2021
Best ACOG Clone and Alternative - Reviewed
1. Lucid 4x Prismatic Weapons Optic with P7 Reticle
If you're looking for the best ACOG clone with rugged construction to perform short-mid range shooting, then the Lucid 4x Prismatics Weapon Optic is the perfect solution for you. 
It is the ideal choice for those not ready to spend thousands of dollars on an ACOG clone. The Lucid P7 weapon optic comes with the high-quality glass like other expensive ACOG clones on the market. It allows you to make accurate shots without missing the chances of hitting.
The 4x fixed magnification of this optics allows you to acquire targets from short-medium distance accurately. The objective lens of this ACOG clone is 30mm that is good enough to provide better target images with more details. 
It comes with the P7 reticle that contains a ballistic calculation option to measure the distance of the target while focusing. 
This reticle provides you the fast target acquisition with the 8 MOA circle and bullet drop lines that increases the chances of hitting the target.
Highlighting Features 
This P7 reticle contains two illumination settings such as red and blue, so you can view the target in any light conditions. The illumination runs by the single AA battery that offers continuous operation for up to 2500 hours, so you can spend more time on the hunting field. 
With this, it has an auto-brightness sensor that automatically changes the brightness setting when the bright light turns into low-light condition, so you don't need to adjust manually while hunting in the field. 
This is one of the impressive features present in this optic liked by many professionals. The eye relief of this weapon sight is 3.5 inches, which are better than many premium optics. It has a 25 ft field of view at 100 yards, so you can get a wide view of your target with the details of surrounding environments. 
The windage and elevation turrets present in this optics are simple and provide precise adjustments with the 1/2 click. The turrets have caps to prevent unexpected damages that provide convenience while adjusting with fingers. 
This optic comes with the side focus parallax adjustment that allows you to focus the target with a clear image. This Lucid 4x weapon sight is constructed with aircraft-grade aluminum materials that make it a rugged and durable optic to withstand harsh conditions. 
It has chemical rubber housing that allows this scope to withstand heavy recoil and also provides waterproof, fog proof, and shockproof performance. The weight is one of the important factors that are very light in weight so you can carry this easily.
2. Trijicon 4x32 ACOG ECOS Riflescope
When it comes to the best ACOG clone, the Trijicon ACOG 4×32 is the right choice for shooting from close quarter distances to long-range distances. 
The both eyes open feature present in this optic makes it the best CBQ sight and provides many advantages in a tactical situation. With this, you can acquire the fast moving target quickly at any condition.
It contains a 4x fixed magnification range that allows you to sight the targets from short to long-range distance accurately. This precise aiming capability of this optic makes it excellent among the others while hunting. 
This Trijicon ACOG 4×32 allows the shooter or hunter to choose the aiming range based on the situation. The Trijicon ACOG clone comes with an excellent lens system that is coated with multiple layers of anti-coatings to provide crystal clear images by reducing glare. It doesn't provide any blurry images like other ACOG clones available on the market.
Highlighting Features 
The objective lens of this scope is 32mm that provides better target images with enough details. Having an optic that contains high-quality optics will offer crisp images of the target without any hassle. 
The multi-coated lens of this optic provides a clear view even in low-light conditions. It comes with the tritium/fiber optic illuminated reticle that automatically changes the brightness level based on the lighting condition of the environment. 
The illumination setting of this reticle runs without using the batteries, so you can hunt at any time without worrying. The fiber optic improves the light condition of the environment while hunting, and the tritium provides illumination in low-light conditions so you can acquire the target easily. 
With this Trijicon ACOG clone, you can hunt or shoot at any time without any restrictions since it allows you to acquire targets at night or daytime up to 1000 meters distance with excellent accuracy. 
In order to provide durable performance, it is constructed with 7075-T6 aircraft-grade aluminum alloy that allows you to withstand any rugged conditions. 
With this durable optic, you can hunt in all weather conditions since it resists water, fog, and other elements. Moreover, with the excellent quality features, this Trijicon ACOG clone is the best ACOG clone 4×32 available on the market.
3. Trijicon ACOG 4×32 BAC Dual Illuminated Riflescopes
Trijicon ACOG 4×32 clone rifle scope has come with a powerful fixed 4X magnification, so the clear and bright view of the targets is assured. The scope comes with a typical 32mm objective lens, a standard size available on the market. The large objective lens makes sure the scope receives the high light transmission, and thus the illumination does better. It is one of the best trijicon acog clone on the market.
The scope has automatic adjustable full illuminated crosshair. With this, anyone can handle the scope very quickly, and also it has multiple brightness levels.
The scope has real fiber optic and real tritium that usually don't possibly with the clone scopes. All these advanced and unique features make the hunting or shooting ever easier at night in more convenient ways. Now, you know why everyone goes behind Trijicon for ACOG scopes and ACOG clone scopes.
Highlighting Features 
The housing is made of high-grade aluminum alloy that ensures durability and shock resistance of the scope. As the lens of the scope is combined with a solid construction, the scope eventually becomes waterproof and fog proof.
Like most ACOG clone scopes, this ACOG clone scope does not have batteries to power up the reticle illumination.
The exciting part of this clone scope is that it is designed for Close Quarters Battle (CQB) or short-range, so you are allowed to use both eyes open aiming that works based on the Bindon Aiming Concept (BAC).
The scope with the Bindon Aiming Concept helps with less or no parallax. With that, a shooter can aim and shoot the target more accurately than before without stressful zeroing.
4. Primary Arms SLx Gen III Prism Scope
The Primary Arms SLx Gen III Prism scope is one of the perfect choices for those looking for the best ACOG clone at an affordable price. 
If you're concerned about budget and searching for a high-quality optic, then you can go with this Primary Arms SLx. It is the most advanced version and has improved features of previous generation scopes. 
This optic provides plenty of advantages to your hunting adventures on the field. It is an excellent alternative for the expensive optics with its upgraded features.
Best Affordable ACOG Clone
Highlighting Features 
It comes with the excellent clarity optics that make it one of the top-selling points in America. With this optics quality, you can view the targets clearly from a mid-range distance. 
The Primary Arms SLx is preferred by many professionals and hunting enthusiasts for better quality. This third-generation optic provides high accuracy while viewing the targets even in the long-range distance. Even if it comes with an affordable price range, it won't compromise the quality of the performance in any condition. 
It contains an excellent 5x fixed magnification range that allows you to acquire the target by providing a clear view. The image quality of this scope is better while comparing to the traditional scopes at the price range. 
It comes with a 36mm objective lens that provides better target images. The Primary Arms SLx contains the ACSS reticle with two illumination settings such as red and green, that provide an accurate view of the target. 
This reticle is integrated with the bullet drop compensation to control wind and estimate the range of targets. With this, you can acquire the target easily from any distance range. 
The green illumination setting provides you a better target view in too bright conditions, while the red illumination allows you to view the target accurately in low-light conditions. These illumination settings are run by the CR2032 batteries, and you can replace them if the battery drains out. 
This scope comes with the strong windage and elevation adjustment turrets that provide accurate adjustments, and it won't change accidentally. The mounting system of this scope is one of the effective upgraded features of the third-generation that allows you to easily mount this optic on any weapon.
5. CVLIFE 4x-32mm Tactical Rifle Scope
CVLIFE 4×32 Tactical Rifle Scope solely designed for target shooting and fast aiming. If you are looking for sights with ACOG qualities and features for professional competitions and hunting, this Tactical riflescope is a perfect choice.
The scope has 4x fixed magnification power, which is most common among ACOG clone scopes. The wide field of view of 100 yards assures you see everything in front of you with your sight on the weapon. The objective lens is of 32mm diameter and enables high light transmission through the optics tube.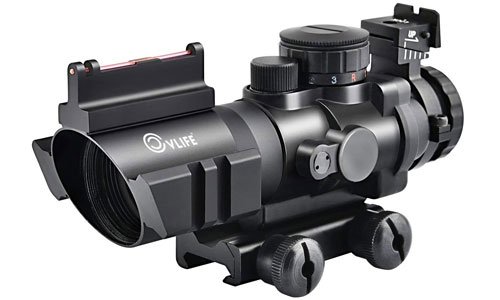 Highlighting Features 
When you check its high-end specifications, you know this is one of the must-have sights while hunting. This optical scope has almost good reviews from all of its users. 
With the real fiber-optic tube, it guarantees accurate and fast acquisition. 
Crisp and clear images of targets are registered by the real ACOG scopes that aids in getting perfect shots. The green-coated objective lens is of multilayers. The lens has three illuminations, such as green, blue, and red. There three brightness levels are also available. For each illumination, you can adjust the brightness level. This customization helps shooters to look at the targets with the brightness they need.
The rifle scope comes with a high-resolution sensor and light transmission. So the scope can be used for medium to long-range shooting.
The unit's overall weight is 16 ounces, and the length is 6 inches, which is light and compact to carry around the hunting grounds. 
The CVLIFE 4×32 Tactical Rifle Scope package includes a scope, cleaning cloth, 3 Allen, keys and lithium battery. As the scope is built to avoid recoils, the hunter doesn't need to worry about recoil.
6. Monstrum P330 Marksman 3X Prism Scope
If you're looking for the best budget ACOG for your rifle, then this Monstrum Marksman 3X prism scope is the right choice for you. Though it doesn't look like an ACOG, it performs excellent performance like many premium sights. 
It comes with high-quality optics to provide clear images of the target. Even if it comes at an affordable price range, it provides many quality features without compromising the quality. Therefore, it is preferred by many enthusiasts to get incredible performance on the field without spending high.
Highlighting Features 
The lens system of this optic is multi-coated to reduce glare and provides crisp images of the target without any distortion that many budget optics provides. 
The diameter of this objective lens is 30mm that provides a better target view. This ACOG clone comes with a fixed 3x magnification range that is ideal for close-range shooting up to 200 yards. 
With this 3x magnification, you can view the targets from 25 to 300 yards with accurate focus. Many professionals use this optic for mid-range performance from 15 to 200 yards distance. It contains an illuminated circle dot reticle that provides an accurate view of the target in any lighting conditions. 
This reticle is etched with the glass that allows you to use the sight without illumination after the battery is drained out. The reticle present in this scope allows you to shoot from short to mid-range distance and acquire the target quickly. 
It comes with a generous eye relief of 3.5-3.9 inches that is far enough to provide you the comfortable viewing. With this long eye-relief, it is the right scope for both eyes to open. For making windage and elevation adjustments, you need a coin or screw driver. 
Moreover, it is easy to zero and provides fast target acquisition. This budget ACOG clone is constructed with a single-piece tube made of 6061 aluminum materials to withstand rugged conditions and heavy recoil. 
This scope is filled with nitrogen and sealed with O-ring to provide waterproof and fog proof performance so you can hunt in all weather conditions. Though it has a durable construction, it is compact and light in weight, so you can carry this wherever you go.
7. Monstrum S330P 3X Prism Scope
The Monstrum S330P 3X Prism Scope is a compact and lightweight scope that makes it a handy optic for your hunting adventures. 
It is one of the best ACOG clones that comes at an affordable price on the market. This Prism scope is designed for the all types of shooters to satisfy their needs on the hunting field. If you're a beginner or professional in shooting from a mid-range distance, then this is the perfect choice for you.
Compact & Lightweight ACOG
Highlighting Features 
It comes with a high-quality lens that provides a crystal clear view of the targets in any lighting conditions. The lens of this scope is coated with multiple anti-reflective layers to reduce glare and provides crisp images of the target. 
The objective lens of this scope is 30mm that allows more light to improve light transmission and provides bright images of the target and their surroundings. 
This multi-coated optics provides you an accurate view even in low-light conditions, so you can acquire the targets easily. It comes with a fixed 3x magnification range that lets you view the target clearly from close to mid-range distance up to 300 yards. 
The Prism optics system of this scope provides crisp and sharp images to ensure fast target acquisition. It comes with a convenient eye relief of 3 to 3.5 inches that allows you to focus with both eyes open. 
The reticle of this ACOG scope is an illuminated circle dot that offers an accurate view of the target at any lighting conditions. This reticle has two illumination settings such as red and green, so you can choose the option based on the environmental conditions. 
The turrets present in this scope are easily adjustable that allows you to make accurate windage and elevation adjustments based on your needs. This ACOG clone is constructed with the 6061 aircraft-grade aluminum materials to ensure durable construction, so it withstands heavy recoils. 
The durable construction of this scope makes it waterproof, shockproof, and fog proof. This scope can be mounted on any rifle easily.
8. Sightmark Wolverine Red Dot Sight SM26021 Scope
The Sightmark Wolverine Sight is solely designed for outdoor hunting pursuits and best for short-barreled rifles, slug guns, and shotguns.
The overall weight of this perfect SM26021 ACOG clone is just 10.3 ounces; thus, the scope has more light red dot sights in its range.
The building materials used in this SM26021 scope are 6061-T6 high-grade aluminum with added rubber reinforcement that prevents the scope from accidents, drops, and shock.
Sightmark SM26021 Wolverine Sight is still one of the perfect red dot sights for use in adverse conditions.
Highlighting Features 
The 23mm objective lens has a scratch-resistant and anti-reflective coating to withstand all harsh conditions outdoors. This scratch-free lens is an excellent advantage of this scope as the scratches on the lens coating in red dot sights prevent accurate aiming.
The unit's internal part is completely nitrogen purged, so the unit is waterproof and fog proof, which is a benefit if you mostly used the scope at harsh weather conditions.
The Sightmark scope is designed to be mounted on the Picatinny rail system, a common rail type found on most modern rifles, including AR 15.
Another plus point of this new riflescope is its 4 MOA red dot reticle options. The switch on the side is adjustable that makes it easy for the shooters to adjust brightness levels based on their need in the current environment.
Sightmark consumed less power than its fellow models. Thus you can extend the shooting actions for an extended period. A single AA battery is used in the scope, frequent, and cheap battery types on the market.
The waterproof quality of this Sightmark SM26021 scope gained IP67 rating, which means the scope can withstand 3 feet underwater when submerged.
The temperature range the scope can detect is between -22⁰ F and 122⁰ F.
Sightmark SM26021 Wolverine CSR Red Dot Sight is perfect for AR15 rifles, short-barreled rifles, and shotguns.
9. Trijicon TA11J-308 ACOG 3.5x35 Riflescopes
If you are searching for the ACOG scope with multi-lighting adjustments, this Trijicon ACOG 3.5×35 scope is for you. The scope features six brightness level options with the "OFF" prospect in every setting. These various brightness settings allow the hunter to receive the exact brightness they needed using the reticle illumination.
The best part of the Trijicon ACOG scope is free from a battery source, which means the scope uses the same Tritium Illuminated Reticle that Real ACOG scope has. 
The scope has dual reticle illuminations in two different colors, such as red and green, that enable drop compensation and ranging that make the scope more useful.
Best for Battery-free Illumination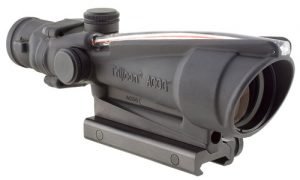 Highlighting Features 
The 35mm objective lens is made as multi-coated to offer superior clarity, zero distortion, and high light transmission abilities.
The scope has powerful 3.5x magnification power that offers a bright, clear, and accurate view of your targets.
This combat and tactical weapon sight also has rugged 7075-T6 aircraft aluminum that results in a strong body and shockproof unit.
The Bindon Aiming Concept of Both Eyes Open Aiming for target shooting is enhanced with the wide 2.4-inch eye relief. So the sight is magnificent for CQB.
The scope is night vision compatible, which means you can take this sight to hunt animals at extreme darkness and night. The scope is highly adaptable to 3.5x35mm accessories.
The scope has Chevron .308 illuminated reticle style, which is an excellent advantage while zeroing in on targets.
As an ACOG clone buyer, you may find it pricer, but remember, you get a real Bindon Aiming Concept with top-notch shooting accuracy with this scope.
10. Trijicon TA02 ACOG Battery Illuminated LED Scope
If you don't need Tritium illumination and like to have a scope with easy and quick reticle brightness adjustments, this Trijicon TA01 scope is the right one.
This top-rated rifle scope has 4x fixed magnification power. Unlike the previous Trijicon model, this TA02 rifle scope is battery powered and uses one AA battery that is common and readily available.
Best for Battery Illumination
Highlighting Features 
The reticle options offered by this scope are easy to choose from several ranges and offer bullet drop compensation options.
The adjustable brightness dial in the scope offers easy and quick lighting adjustments, and the hunters surely appreciate the crystal clear optics.
The scope comes with night vision mode to mount this scope on your rifle for night hunting.
The Aircraft high-grade aluminum used for housing the scope gives the hunter confidence that they have a rugged and indestructible scope unit with durable electrical components and inner parts.
The 1.5inch eye relief is comparatively short, so the sight can't work well with few rifle calibers.
Comparison Between ACOG Clones
Product

Lucid

Trijicon ECOS

Trijicon ACOG

Primary Arms

CVLIFE

Monstrum P330

Monstrum S330

Sightmark

Trijicon TA11J

Trijicon TA02

Magnification

4x

4x

4x

5x

4x

3x

3x

1x

3.5x

4x

Objective Lens

30mm

32mm

32mm

32mm

32mm

30mm

30mm

23mm

35mm

32mm

Field of View at 100 Yards

25 ft

36.8 ft

36.8 ft

18.8 ft

36.6 ft

-

-

-

28.9 ft

36.8 ft

Eye Relief

3.25 inches

1.5 inches

1.5 inches

2.5-3 inches

-

3.5 - 3.9 inches

3-3.5 inches

Unlimited

2.4 inches

1.5 inches

Reticle

P7

Tritium / fiber optic illuminated reticle

300 Blackout Crosshair Reticle

ACSS Aurora

Mil dot

Illuminated circle dot

Illuminated circle dot

4 MOA Red Dot

7.62x51 / .308 Crosshair Reticle

.223 BDC Horseshoe Reticle

Battery-free Illumination

No

Yes

Yes

No

Yes

No

No

No

Yes

Yes

Illuminated Color

Red & Blue

-

Amber

Green & Red

Red, Green & Blue

Green & Red

Green & Red

Red

Green

Red

Weight

19 oz

15 oz

10.5 oz

18.4 oz

15.9 oz

15 oz

15 oz

10.3 oz

14 oz

18.1 oz

Length

6.5 inches

-

5.8 inches

5.81 inches

5.5 inches

5 inches

5 inches

3.3 inches

8 inches

6 inches
What is an ACOG Scope and ACOG Clone?
Basically, the ACOG clones and alternatives are scopes that have the same design as the Trijicon scopes. The high-quality ACOG clones come with the same features at a budget price.
ACOG scopes were famous gun sights produced by the optics and weapon sight company Trijicon.
ACOG scopes from Trijicon are fixed scopes; however, you can sometimes find the variable power models. ACOG scopes are incredibly compact and developed to perform in no/low light to bright light conditions.
The concept used in these scopes is the Bindon Aiming Concept. Both open eyes aiming is the concept. So you can maintain the full field of view when using the scopes.
One of the differences between the Trijicon scope and Clone is the high-quality optics, but this is not a big deal for everyone. 
There are lots of the best ACOG clones available that are manufactured from the well-known brands with excellent clarity in all lighting conditions. 
In some high-quality ACOG clones, you may feel the difference while focusing the target, so the Trijicon upgraded their riflescope with both eyes open feature to acquire the target easily. 
This feature allows you to be aware of the surrounding environments while shooting, but it is not an essential thing for all. Some ACOG clones and alternatives that come at a budget price come with the battery, such as an AA battery instead of fiber optics for illumination. 
Some clones that contain fiber optic provide lower brightness than the Trijicon Scope. Magnification is another factor that makes a difference in the performance. 
The Trijicon scopes come with a fixed magnification range, and some best ACOG clones come with various magnifications based on the needs. If you can get a better result with the magnification of the original ACOG, then you can prefer a clone. 
The durability is another important difference between the original Trijicon and some best ACOG clones. The Trijicon scopes come with the rugged construction to withstand heavy recoil and harsh conditions. 
Basically, the ACOG clones are the budget options especially designed for those who are not ready to spend more on an optic, and they don't have all features of the scopes.
The real ACOG scopes from Trijicon have an illuminated reticle that is powered by a phosphor system. The system has radioactive decay of tritium to offer long-lasting power.
For the day time, the ACOG scopes use fiber optic pipe that allows and funnels the natural light for better reticle illumination; thus, the brightness of the surroundings is matched with the scopes.
While in Trijicon ACOG clones, the battery is a source of the illuminating power. The Bindon Aiming that is both eyes aiming concept is limited in these clone scopes.
Though the Trijicon models offer superior construction and modern technology, Trijicon ACOG clones are going to provide the cheapest model, so you should consider ACOG clones from other brands and alternatives for ACOG.
Why the ACOG Scope is Best?
The ACOG scopes are widely used by Military officers since it comes with the durable construction to withstand harsh conditions and any light condition. 
This scope comes with a compact size and some thumbscrews that are an alternative to Picatinny rail to mount easily on the carrying handle. The durable construction of this scope provides waterproof and shockproof performance on the field. 
The high-quality optics of this scope allow you to view the targets accurately in low-light conditions. With this scope, you can perform any tactical activity and be aware of the surroundings. 
Many ACOG scopes come with the illuminated reticles, and Trijicon provides fiber optic illumination without using batteries. This is one of the standard features in ACOG, and the brightness automatically changes according to the lighting condition of your environment.
Who Develops ACOG Scopes?
Trijicon develops the original ACOG scopes with various quality features and durable construction. However, most of the best budget ACOG clones are manufactured by several brands such as Ozark Armament, Monstrum, CTOPTIC, etc. 
These brands are well-known for manufacturing ACOG clones at affordable prices. Though, they produce budget ACOG clones that provide incredible performance on the field with the rugged construction. 
Some manufacturers who manufacture many mid-range scopes, such as Vortex and Sig Sauer, also manufacture the best ACOG clones. The Sig Sauer company belongs to Swiss and Germany that produces various firearms and accessories for that. 
The famous models of this brand are SIG P210, P230, P220, P320, etc. They produce quality optics at an affordable price and have more than 70 years of experience. 
Vortex is an American company that was established in the year of 1986 and had a high reputation in the industry. Like Sig Sauer, the Vortex company produces good quality scopes at a reasonable price and breaks down the difference between the budget and expensive scopes.
Bindon Aiming Concept in Detail
Trijicon's Real ACOG Scopes are special because they have the Bindon Aiming Concept (BAC). The concept is simple: seeing, aiming, and shooting with both eyes open.
To improve the hunter's eye focus, the manufacturer paired long eye relief with red dot sights. As they planned, the eyes focus, and performance has significantly increased.
With this type of eyes open aiming concept, a scope can perform the quick transition from close to medium range. 
You handle the fixed 4x magnification in the scopes like a traditional red dot sight.
The Bindon Aiming Concept is the first and primary advantage of real ACOG scope over its clones and alternatives. ACOG clones, even from Trijicon, do not have long eye relief for you to focus on. Using ACOG clone scopes is cost-effective, but you will not get the close range performance of Real Trijicon ACOG Scopes.
ACOG Scope Vs. ACOG Clone- Which is Best?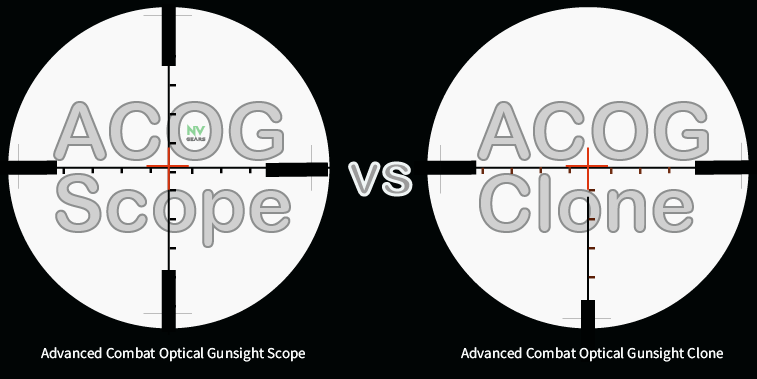 No doubt that some of the best firearms in the world are ACOG scopes. Trijicon introduced these gun sights for military applications in the beginning. These gun sights are meant to rock with AR 15 and rifles of the same class.
The magnification and illumination obtained from ACOG scopes are unmatchable with any high-end scopes. Because of their reliable performance in combat and tactical conditions, common people like hunters and gun enthusiasts liked to buy them even though they were too expensive.
ACOG scopes are hard to beat by anyone. This fact increases the interest in civilians to buy this, which gives the idea to the companies to make their clones.
Though clone scopes do not Bindon Aiming and high illumination, they are genuinely close to real ACOG scopes. ACOG clones are not poor only because these are copycats. There are some right and high-quality ACOG clone scopes that are also available in the market.
If you have a deep packet, need Bindon Aiming, high magnification, and illumination, invest in real ACOG scopes from Trijicon. Otherwise, if you do not need both eyes aiming to feature and need the experience of using ACOG at a low budget, pick the right ACOG clone from the market with our guide and review.
Why Trijicon ACOG Clones are Best?
Trijicon scopes have a standard among others since they come with rugged construction, high-quality optics, and reliability. Trijicon manufactures good quality ACOG scopes with excellent features for various rifles such as AR-15, M4, M16, etc. 
The Trijicon scopes are a bit expensive, while compared to other scopes, they started manufacturing ACOG clones and alternatives. After some years, the Trijicon ACOG has a top-selling point in the industry due to its efficient features such as 4×32 Dual Illuminated Horseshoe Dot.223 Ballistic reticle, etc. 
This makes the Trijicon ACOG clone the best on the market. The 4×32 ACOG clone is the most famous model in Trijicon since it has some excellent features that are mentioned in detail below.
Illumination without batteries
This ACOG clone contains illumination settings without using batteries; this is one of the most impressive features in this optic. In this case, this scope contains the phosphor illumination that is an alternative for batteries to run the illumination setting. The tritium present in this Trijicon ACOG clone provides incredible lighting conditions without using batteries. Due to the absence of batteries, it doesn't need more space, so it comes with a compact and lightweight design. It is one of the reasons for most hunters preferring this optic. 
Rugged Construction
Many military officers use this ACOG clone since it is durable, shoots the targets quickly, and withstands heavy recoils. It is constructed with aluminum alloy materials, so it provides waterproof, shockproof, and fog proof performance. 
Reticle
This Trijicon 4×32 ACOG contains a horseshoe reticle with bullet drop compensation that provides an accurate view up to 800 meters, so many shooters choose this ACOG clone. 
Wide Field of View
The wide field of view is one of the important features that allow you to view the targets clearly with the information about the surrounding environments. In this case, this optic contains a 36.8 feet field of view at 100 yards. With this, the 32mm objective lens of this scope provides you the better target images in any lighting conditions. The ACOG scopes are designed to be mounted on particular types of rifles, so you can go with these Trijicon ACOG clones.
Accessories
The Trijicon ACOG clone provides various accessories and the Tenebraex Anti-Reflection Device is one the best. This tool protects your sight and lens system and also reduces glare.
Which ACOG Clone is used by the Military?
The military believes in the Trijicon Scopes, so the company produces 12 different models of ACOG scopes. The TA31 4x32mm scope from Trijicon is one of the popular models and is mostly preferred by many US Marine Corps and US army. 
This model comes with various options. Moreover, this Trijicon TA31 Rifle Combat Optic is specially designed for the US Marine Corps, and it has two options such as TA31RCO-M4 & TA31RCO-A4. 
In 2003, there are around 100000 TA31RCO scopes sold out to the US Marine Corps. Over the years, a new model was specially developed for Army purposes. 
The new model was developed with the same features of TA31RCO with parallax setting up to 300 meters while the TA31 has 100 meters. 
Some Marine Corps use the new model TA11SDO for their needs since it comes with a 3.5x magnification range. The TA11SDO ACOG comes with longer eye relief than the TA31 model and satisfies the US Marine needs.
Fiber Optics vs. Battery Powered Illumination-Which is Best?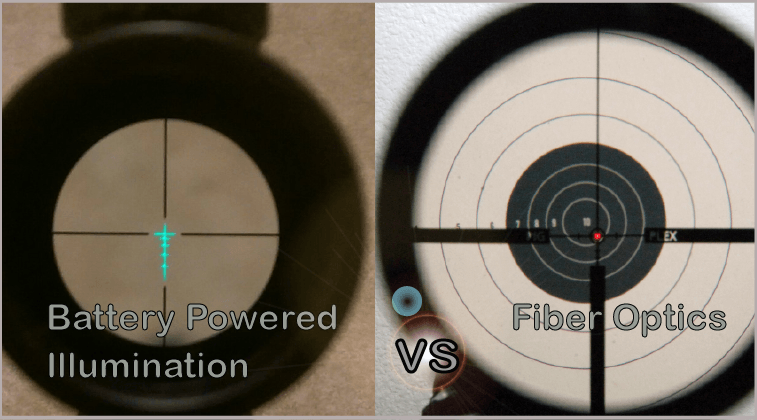 Traditional ACOG scopes use fiber optics for illuminating the reticles. These fiber optics provide hassle-free illumination with no batteries. These scopes naturally illuminate the reticles using ambient light in the specific area.
What if there is not enough ambient light for illumination? The ACOG scopes with batteries work great here as a traditional red dot sight. You have to use a dial for illumination with which you can pick your preferred brightness level. Battery-powered ACOG scope guarantees that the user brightness irrespective of the ambient light.
Factors to Consider while Buying the ACOG Clone and ACOG Alternative
It's hard to buy an item without getting confused, especially when you are flooded with several choices. Likewise, choosing the right sight for rifles is challenging, whichever use. But upgrading and replacing the weapon and weapon sights to fulfill your hunting requirements is essential. 
With a lot of choice for gun sights, even experienced hunters have a hard time choosing the right gun sight for their weapon. As you are looking for the ACOG clones scope, we could know that you need a quality scope on a low budget. However, not all the high-quality rifle scope needs to cost high. Many inexpensive gun sights may not win ACOG but can offer decent performance.
Before you jump to the search, pay attention to what you are looking for in your game. In this regard, below, we have explained certain factors that are common and important to consider before choosing the ACOG clone or any rifle scope.
Material
ACOG scope, whether they are a clone or real from Trijicon or other brands, all are designed with rugged and durable construction. As you are buying the scope for tactical and combat situations, the devices should withstand all the weather conditions. For that, considering the materials used in the construction of scope is a must.
To resist the water and shock, the scope needs to be durable, but it should not weigh too high. In that case, the rifle scopes of magnesium alloy or aircraft-grade aluminum alloy as the primary material can work better. These scopes will handle harsh environments, and accidental drops very well. Avoid the ACOG clone scopes that are made of synthetic materials like Polymer as these devices can't work against recoils and are more likely to be broken down.
Magnification
Though the magnification range of real ACOG scopes varies from 1 to 6x, all these are fixed magnification. But, yes, some of the variable magnification range ACOG scopes are also available but not in a big number. Most of the shooters prefer 1x or 4x fixed magnification for their ACOG scopes. 
You should choose the magnification range based on your requirements, your type of game, the place where you will use the scope and firearm. You could see most of the ACOG scope with 1x fixed magnification.
There are few factors to check while picking the magnification range for your ACOG scope. If you hunt or use gun sights only for close-range or CQB, you can settle down on 1x fixed magnification scopes that assure you of the wide field of view. Whereas, for medium to long-range hunting or shooting range, you probably need to look at high magnification range ACOG scopes to get the satisfaction of hunting.
Battery Life
Unlike ACOG scopes, the clones are not using Tritium for illumination and brightness adjustment. Instead, they run on lithium-ion batteries. Just be sure that you checked the manufacturer's listed battery life. Most of the worthy ACOG clones have battery life from 100 to 500 hours. Battery life is critical as it is responsible for illumination, which is the essential feature of the ACOG.
Brightness Settings
Having a high battery life is vital to use illuminated reticles that have adjustable brightness. 
Some ACOG clones have issues in brightness while they are used in dim lighting indoor environments. So it is better to check if the scope offers various brightness settings. 
The ACOG clone scope is better if it has more brightness settings as it allows you to use the scope in various lighting conditions by adjusting the brightness.
Rail Compatibility/Suitability
As each shotgun, handgun, rifle, or other weapon uses different rail styles, you should check the rail compatibility of the chosen scope. Most of the ACOG scopes available with mounting bases. If you select a scope with no mounting base, you may want to spend extra money for that. If that is the case, you have to check the clone you chose will allow mounting to the rail type of your firearm or weapon.
The most common rail types that firearms will be compatible with are Picatinny and Weaver. Keep these in your mind while selecting the rail type of your weapon. 
While some of the clone scopes are equipped with an integrated mounting base, some of the scopes need you to buy a mounting base separately. Either of these two cases, just make sure your firearm or gun allows your scope to be mounted on it.
Objective Lens
Most of the beginners don't know the significance of the objective lens. The size of the objective lens matters; it determines how much light can enter into the scope to illuminate. The diameter of the objective lens is also responsible for how well the light can be transmitted to the scope.
If you mostly use the scope in the low light conditions, you should choose a clone that has a large objective lens. Because a large objective lens allows more light to enter the ocular, thus, you get a clear view of the target even in low light conditions.
Remember that as the objective lens size increases, the overall weight of the scope gets increased. Most of today's gun sights come with objective lenses of 32 mm to 50 mm diameter.
Field of View
The field of view of the lens or a weapon sight is a value that tells how the scope can cover large space. The scope with a wide field of view can cover more space and let you see. The field of view of the gun sights is an area where the hunter cancan sight in scope at a distance of 100 yards.
Most gun enthusiasts prefer powerful weapon sights for their rifles or guns, but they must know that as the magnification range increases, the field of view of the scope decreases.
For example, you can take common 3x fixed magnification scopes with 30 feet field of view at 100 yards. Likewise, if you see a 9x scope, the field of view will be decreased to 14 feet at the same 100 yards. Don't believe the lie that a large objective lens can increase the FOV. No, not at all. An objective lens if it is small or large, it won't affect this scenario.
If you don't need high magnification power, you will get a wide field of view. If a narrow field of view does not matter to you, you can choose the powerful magnified scopes.
Turret Adjustments
Several adjustments on the aspects of the rifle scopes and weapons are needed to get a clear view of the target or your prey in various viewing conditions. These adjustments must be made based on the weather, lighting, and environmental conditions of the area. Sometimes, you have to make adjustments because of the movements of your target too.
It shows the scopes should offer excellent customization and maneuverability. Yes, the customization level of any scope is also an essential factor to consider.
Turret adjustment is one of those critical customization needs on the spot. The turret is two knobs that are located in the center of the scope tube.
The turret is used to adjust the crosshairs to get the right angle for elevation and windage for the perfect shot. The scopes with these knobs have increments of 1/4 minutes of MOA, which means by clicking knobs, the scope impacts 1/4″ at 100 yards distance.
The shooters who buy scopes for competitions should need turrets in their sights. Turrets may offer accuracy, but it is not the same for everyone. In woodland grounds, these knobs may snag. This leads to damage to your scope in the hunting fields.
Light Transmission
Light transmission is the actual value of how much light source can pass through the lens of the scope. Mostly, manufacturers mention the light transmission value of these clone products in percentage. The size of the objective lens and magnification power of scope are the two factors that directly affect the unit's light transmission.
Usually, the light transmission percentage offered by most of the clone scopes is up to 90%. But, light transmission up to 95% is also available in some of the high-end rifle scopes. 
The larger the objective lens, the higher the light transmission, and the higher the light transmission, the clearer the view.
Eye Relief
Eye relief value is a distance between your eyes and the unit's lens when you view the target with a full field of view on your sight. Like FOV, eye relief also gets affected by the magnification power of the ocular. The eye relief increases as the magnification of the unit decrease.
Most of the clone scopes have an eye relief of 70 mm to 90 mm based on the objective lens and magnification. Eye relief is critical in high powered units, so the hunter needs to do a particular alignment with the eye in the center of the scope tube. 
Make sure the eye relief of your weapon sight is higher than the recoil type of the weapon.
Reticle
When aiming, reticles are an essential part of the rifle scope, no matter hunting, shooting, or just viewing.
This important part of the scope is designed to assist hunters in aiming their rifles using the weapon sight. There are many reticle options, and patterns are available. Not any reticle design is higher or lower than other patterns. One should choose the design that will make their aiming easier and helps to estimate the windage and distance.
Crosshairs, doughnuts, horseshoe, and chevron are some mostly used reticle patterns. Crosshair reticle pattern common type that offers precise aiming. Based on your preference, you can choose between fine and thick crosshairs. ACOD clones with low magnification power have Horseshoe reticles. Up-down V chevron reticle design is recommended for long-range shooters.
Price
The primary reason why you are looking for ACOG clones is they are affordable than real. But remember you get what you paid for.
You can spend on worthy features of high-end ACOG clones but not huge as that you could buy a real ACOG.
Don't spend more than $500 for clone scopes. There are even the best budget ACOGscopes available under $100. 
Special Features
Being a clone does not mean that it does not have properties of the real Trijicon. ACOG clones, too, have some of the unique features of the real one. So you must check if your knockoff has all the special features that it should have.
Some of the special features you have to check on clone scopes are multi-coated lenses, night vision device compatibility, weather resistance, shockproof, CQB capable, bullet drop compensator, and various reticle patterns. Check these features on your scope to ensure that you buy the best acog knockoffs.
Conclusion
However, if you are looking for highly featured scopes that match the Real ACOG or the budgeted model with a handful of options, we have choices for you in our above list of best ACOG clone and acog alternative reviews.
Choosing the right one from the best picks of Best ACOG Clone and alternative won't be easier, you should think of your requirements, hunting grounds, situations, how likely you will use sight, the weapon you are going to use, and your budget.
Besides, you should check the objective lens, optics, magnification, field of view, materials used, tracking, reticle, illumination, battery life, and special features in the scopes you are considering.
I'm sure our buying guide and list of best picks will be the right place to start your research. Compare the models, find out the differences, and choose the right one that better suits your needs.