Using an AR-15 rifle, you are able to shoot only about 500 yards, but in reality, it's closer to 300 yards. On a perfect day, you may hit 500 yards, but not all the time. To achieve a shot at 300 yards fastly and efficiently, you have to use the perfect scope for the AR-15 rifle.
To shoot above 500 yards, one can use high-powered rifles that work with heavier bullets and powerful scopes. The performance of the AR-15 scope is the same as the other scope, but for tactical purposes, you need a scope which performs functions like designated marksman scope. The main aim of the scope is to increase the accurate range of rifles.
To change the aim from one target to another accurately by decreasing the speed of target acquisition, you can use red dot optics which is perfect for the AR-15 rifle. Due to the reticle size of red dot optics one can make precise shots up to 100 yards. These are the significant functions of AR-15 scopes.
Our Top 3 Recommendations
What Magnification Suits for your AR-15 scope?
You need to gain essential knowledge about the magnification range needed for your AR-15 scope. Most of the buyers have confusion in buying the perfect AR-15 scope for their rifles. Below I've explained how to select the range based on the purpose for which you are using the AR-15 riflescope. Let's see.
Need magnification for shooting long-distance targets with precision? better go for the 20X magnification range. But AR-15 rifles are not preferable for long-distance shooting.
20X range allows you to hit the target over 500 yards, yet this magnification range scope is heavier and bigger which makes it complicated to mount.
To get a long-lasting device, you need to select the magnification range with a lower profile. And also ensure that you are able to shoot the object with better precision before buying AR-15 scopes. If you mostly use AR-15 scope to shoot close-range targets, then you won't need the scope with higher magnification.
For Close Range ( below 150 – 200 Yards)
For shoot range encounters, Magnification from 1X to 4X is enough for short-range target shooting. These scopes can be used for versatile purposes like hunting, small range shooting, or close-range battles based on your needs. This magnification range helps you to shoot the target from 10 yards to 150-200 yards of distance, based on your visual acuity.
And low magnification scope improves the speed and accuracy while hunting rapid moving objects.
For holographic sight, pair up your sight with a 1- 3X magnifier.
For medium-range hunting (between 150 to 400 Yards)
Use the scope with the magnification range of 5X to 9X, so that you can hunt prey or protect yourself from foxes, coyotes, hogs, and other animals.
For long-range shooting (above 400 Yards)
AR-15 scope with the magnification range above 9X is the preferable one. But the AR-15 rifle is not suitable for long-range shooting because of its construction.
5 Best AR-15 Scopes in 2021 – Reviewed
There are a lot of scopes that get varied based on their structure, working and features available in the market. Here, I listed the best scope from my view. Let us see….
1. Vortex 1-6 X Razor Hd Gen 2 Rifle Scope
Vortex Razor HD Gen II riflescope is designed for long-range AR-15 precision shots even in extreme environmental conditions. It provides high-performance features that makes your AR-15 rifle perform on many platforms from target shooting to hunting. 
| Magnification | Objective Lens | Reticle | Eye Relief | Focal Plane | FOV @100 Yds |
| --- | --- | --- | --- | --- | --- |
| 1-6X | 24 mm | JM-1 BDC, VMR-2 (MOA), VMR-2 (MRAD) | 4 inches | Second | 115.2 - 20.5 ft |
What did I like from the Vortex Gen II?
Obviously, precision! It fits perfectly with my AR-15 rifle and it satisfies me more than any other optics by providing extraordinary accuracy while shooting.
Close or long, at what range this scope can apply?
Gen II AR-15 scope has a magnification range of 1 to 6X and therefore it will aid in both close and long-range shooting.
Reticle and Lens clarity
It provides HD images with excellent lens clarity in low light or bright sunlight environments and is one of the clear optics I have used ever.
The special coatings on the surface of the scope's lenses provides sharp edge images without any blur.
Reticle Options available
Vortex Razor Gen II has 3 reticle selection options namely JM-1 BDC, VMR-2 (MOA), and the VMR-2 (MRAD)
Unquestionably I prefer the JM-1 BDC reticle. For what reason? Because this reticle is a cool design that is simple and also it is fast in aiming the target. JM-1 BDC reticle is designed by the popular world champion shooter Jerry Miculek. He preferred this type of reticle for efficient AR-15 shooting.
The center portion of the JM-1 BDC reticle is a red dot which can also be used in a similar way as a red dot sight (at 1X). Apart from the red dot, it also has a bullet drop compensator and you can easily shoot up to 600 yards.
Other two reticle options?
VMR-2 (MOA) and the VMR-2 (MRAD), both are the same with minor differences in which the first one has an inbuilt minute of angle feature and the second one has inbuilt milliradians features.
Best about VMR-2? Good one for windage corrections, range estimations, and estimating holdovers.
Illumination
Vortex Razor HD Gen II has an illuminated reticle that functions using a CR2032 battery. Gen II has 11 brightness settings from zero to brightest light, between these brightness levels there is an off state, therefore you can easily change your required brightness level. Gen II is also built with a locking option to prevent accidental adjustment of brightness.
Durable construction
Vortex Razor Gen II is built with a supreme quality single block aircraft-grade aluminum material which makes it more durable. The anodized finish is the reason for preventing glare due to internal optics reflection and gives protection from corrosion.
You can use this AR-15 scope for coyote hunting due to its rugged construction. Armortek coatings of vortex make the glass tough and help to protect them against scratches. It can be used in wet weather conditions because of its waterproof, fog proof, and shockproof performance.
Other features
Vortex Razor HD has a 100-yard parallax adjustment with an adjustable diopter.
2. Aimpoint PRO Reflex Sight
Aimpoint pro red dot optics is one of the best sights for your AR-15 rifle which is built with anodized aluminum and is completely waterproof and fog proof. I tried this red dot optic that can tolerate the worst environmental conditions. 
Even when the scope falls accidentally in the ground or water it has a capacity of submersible up to 150 feet. That's why people who work in law enforcement, military prefer this Aimpoint scope. 
Aimpoint Pro Reflex Sight
| Magnification | Objective Lens | Reticle | Eye Relief | Battery Type |
| --- | --- | --- | --- | --- |
| 1X | 38 mm | 2 MOA Red-dot | Unlimited | DL1/3N |
With its 2MOA red dot size, it is easy for me to aim at the target quickly and works better with a magnifier. Without doubt, Aimpoint pro provides rapid target acquisition.
The lens quality of Aimpoint Pro is excellent and provides a clear view. The optics are multi coated with the anti-reflective coating to obtain sharper vision and install lens with other anti-reflective types of equipment.
Aimpoint Pro has 1 to 7 brightness settings, 4-night vision, and 6-day time power intensity setting, thus providing a clear and sharp dot.
Why do I prefer Aimpoint Pro?
The Aimpoint Pro red dot is perfectly aligned with the iron sights and it makes me zeroing the red dot quickly. You can install Pro anywhere on top of your rifle and still be able to find your dot.
Bests about PRO? Almost all the red dot sight comes with 1X fixed magnification and therefore eye relief gets unlimited. It is also parallax free. 
Does Aimpoint PRO worth its money?
For $445, the Aimpoint Pro provides you a crystal clear red dot reticle with a DL1/3 battery life of 30,000 hours and it can work well for more than 3 years. It also has a 10 years warranty.
Where can you buy this sight? 
You can buy this easily from online, yet sometimes this sight is not found in local shops.
How to attach the Aimpoint Pro sight?
Easily attach PRO using the auto-torquing turret. Just place the sight on the Picatinny rail and turn the knob three clicks. 
| Magnification | Objective Lens | Reticle | Eye Relief | FOV @100 Yds | Exit Pupil |
| --- | --- | --- | --- | --- | --- |
| 3 - 9X | 32 mm | Mil-dot | 4.2 - 3.2 inches | 37.7 - 14 ft | 10.6 - 3.6 mm |
Swat Illumination mean? It's an illuminated reticle and here, using a side turret, adjusts the intensity of illumination red and green.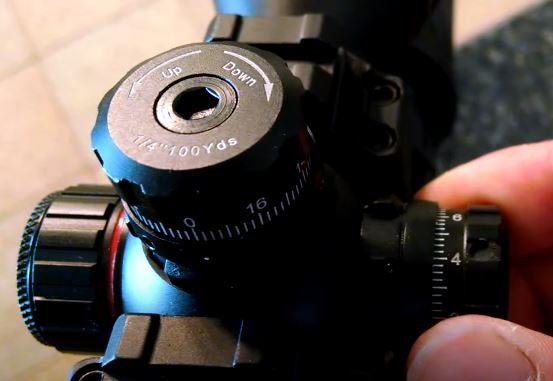 Lens and image clarity
While considering the price of the scope, the quality of the Lens is not that much worse. Here, the emerald lens improves light transmission and provides high-quality views. 
Then, reticle? 
BugBuster has a Mildot reticle which is easy to use and aids in the precise shoot. And so it is a perfect choice for beginners in the shooting field. 
How does mil-dot provide a clear shoot? It determines holdover and distance with its dots that help you to shoot at long distances.
The battery is not needed in UTG BugBuster, yet here the reticle is itched on the reticle.
Lockable turrets? The design is ergonomics with adjustable and lockable turrets. Lockable turrets are important to prevent accidental adjustments. This design provides clear elevation and wind adjustments and so don't worry about wind speeds.
What happened to the scope while falling? While hunting, rifles fall most of the time in the irregular base and have high risk of damage. It can withstand when it falls from a specified height because of its ruggedness. 
And here bug buster is the best choice. It can also tolerate extreme weather conditions.
It has a parallax adjustment.
4. Trijicon ACOG 3.5X35 Scope
Trijicon is one of the famous companies which develops good quality scopes. The Trijicon ACOG 3.5×35 scope is different from other ACOG (Advanced Combat Optical Gunsight) scopes in Trijicon.
| Magnification | Objective Lens | Eye Relief | FOV @100 Yds | Exit Pupil |
| --- | --- | --- | --- | --- |
| 3.5X | 35 mm | 2.4 inches | 28.9 ft | 10 mm |
Durability
ACOG is versatile in terms of functionality and performance yet the entire scope is constructed by military-grade materials to offer reliability and durability.
ACOG AR-15 scope has multi coated lens which makes its waterproof, fogproof, and shockproof. So, you can use it during rainy days also.
Lens clarity
The manufacturer fitted a 35mm optical lens with this AR-15 scope. This lens system comes up with the multi-coated aspect to provide high definition images without compromising in pixels.
Regardless of glare due to sunlight, the scope gives crisp and clear images. And this lens system has an optimum light-gathering feature, thereby it provides more lighting to the user's eye through its one-piece tube.
Reticle
All the scope from Trijicon ACOG is integrated with the illuminated reticle that's made out of the combination of fiber optic and radioactive tritium. This standard reticle has the potential to automatically modify the brightness level based on the ambient light.
Best reticle? The red Chevron reticle in this Trijicon scope permits you to compensate for the bullet drop up to 800 meters for .308.
Trijicon 3.5×35 comes with reticle options such as Chevron, Circle Chevron, Crosshair, Donut, Horseshoe Dot, Triangle and each of them has 3 color options (amber, green, and red). In the color selection, prefer using a red reticle because it provides a clear view with its higher wavelength. If you want, choose other options.
With the above color option, horseshoe reticle is a perfect choice with windage holds and bullet drop compensator that allows aiming the target quickly at a far distance.
Is horseshoe reticle a fast sighting system? Yup. Hence it is a dot with a horseshoe around it, your mind makes the eye to fastly find the target.
Another best option is the chevron reticle, it also has a BDC that makes the system faster and can aim more accurately even at small targets.
About Turrets? Generally, ACOG comes with decent adjustment turrets. Though these are not like the turrets in traditional scopes the dials located on the scope provide a pleasant feel to your fingers and ears.
This ACOG 3.5×35 scope provides precise adjustments for you to shoot up to 875 yards. With the valuable adjustments, you can use this Trijicon ACOG 3.5×35 Carry Handle Scope for your AR-15 rifles.
Does Trijicon come with fixed magnification? Yeah! This specified model of Trijicon ACOG has 3.5x fixed magnification and it is enough for rapid target acquisition.
Need for the battery? Trijicon scope has dual illumination (with fiber optics and Tritium) that functions without the requirement of a battery. Here you don't need to worry about the replacement of the battery to get illumination.
Automatic illumination settings
In daylight brightness, fiber optics receive a light source to illuminate the reticle. While in dim light conditions, Tritium will glow and illuminate the optics. These optics also automatically modify the illumination level.
5. EOTECH EXPS2 Holographic Weapon Sight
These EOTech holographic technology sights are used in special forces. 
EOTech EXPS2 holographic sights are preferred by shooters for a better shooting experience. Why? Because of their bigger screen and huge visible reticle. Although, EOTech has less parallax shift when compared to other CQB sights.
| Magnification | Objective Lens | Eye Relief | FOV | Reticle |
| --- | --- | --- | --- | --- |
| 1X | 0.85 in | Infinite | 30 Yards @ 4 inches | 1-MOA dot with 65-MOA circle |
Reticle
EOTech holographic technology is designed with a dot-circle reticle that helps your eye to easily aim at the target. You can easily move the reticle towards the target by placing AR-15 rifles in the shoulder.
Is EOTech the fastest? Fast target acquisition can be achieved with a red dot circle reticle and a big viewing screen. Therefore holographic sights are considered as the fastest one. 
Studies proved that when you use second-focal-plane reticle scope, it just shifts the location of the reticle from the center of the scope lens to the rear quarter of the scope that improves the engagement times. Thus showing the reticle closer to your eyes and helps in quick target acquisition.
In EOTech EXPS2 Holographic Weapon Sight, You can adjust the Windage and elevation controls which are located on the right side of the sight. Intensity of the red dot can also be adjusted easily.
The EOTech EXPS2 sight has a 1-MOA dot surrounded by a 65-MOA circle and provides high accuracy at aiming the object.
It has a CR123 battery that allows the reticle to be more visible and bright.
Do parallax problems occur? Most of the red-dot and holographic sight is parallax-free, yet in EXPS2 Parallax occurs while moving your head behind the sight. Why?? because the target is not in the same focal plane as the reticle.
Pairing up: You can pair it with the magnifier from the range of 1X to 3X for longer distance shots. It is mountable to a 1" Weaver or MIL-STD-1913 rail
Comparison Table for top five products
Product

Vortex 1-6 X Razor Hd Gen 2 scope

Aimpoint PRO Reflex Sight

UTG 3-9X32 1" BugBuster Scope

Trijicon ACOG 3.5X35 Scope

EOTECH EXPS2 Holographic Weapon Sight

Magnification

1-6X

1X

3 – 9X

3.5X

1X

Objective Lens

24 mm

38 mm

32 mm

35 mm

0.85 in

Tube Diameter

30 mm

30 mm

1 inch

-

-

Reticle

JM-1 BDC, VMR-2 (MOA), VMR-2 (MRAD)

2 MOA Red-dot

Mil-dot

Chevron, Circle Chevron, Crosshair, Donut, Horseshoe Dot, Triangle (color option - amber, green, and red)

1-MOA dot with 65-MOA circle

Exit Pupil

4 - 24mm

-

10.6 - 3.6 mm

10 mm

-

Eye Relief

4 inches

Unlimited

4.2 - 3.2 inches

2.4 inches

Infinite

Field of view @100 yds

115.2 - 20.5 ft

-

37.7 - 14 ft

28.9 ft

30 Yards @ 4 inches

Weight

25.2 oz

11.6 oz

13.9 oz

14 oz

11.2 oz

Length

10.1 in

5.1 in

8.11 in

8 in

3.8 in
Buying Guide – Read before buying a Best AR-15 scope
Have a clear idea about the working of an AR-15 firearm before selecting the scope for your AR-15 rifle. Because, there are lots of features found in the modern scopes to aim and shoot the target accurately. 
No one will like the lagging performance of using the scope with AR-15 for hunting or shooting. The working ability of the scopes depends on various factors and so you have to consider every feature of the scope before purchasing it.
➣ Magnification
Magnification is considered as the major feature in selecting the best AR-15 scope and other scopes. In the modern scopes market, there are various magnification range AR-15 scopes available and you can choose the range based on your shooting purpose. 
If you are a professional hunter, then you should need a scope with zooming (variable magnification) capacity. What does variable magnification mean? Usually, there are two main magnifications i.e, variable and fixed. In variable magnification, you can easily zoom in the sight and get enlarged views of the target and its surroundings.
In the Fixed model, the magnification range cannot be adjusted. The best choices and my suggestions are 1X to 3X.
At higher magnification, you should consider the light allowance ability of the lens to get a clear vision of the sight. While using the scope at high magnification, image distortion may occur, yet advanced development in technology will reduce this distortion. The low magnification range shows high viewing clarity at short distances and can be used in a tactical environment. 
Best variable magnification option? 3-9X range scopes. Above 9X scope is not recommended, because the AR-15 was designed to shoot up to 500 yards.
Before purchasing the AR-15 scope, select the product with the required magnification. Already I have given complete details at the beginning of the article.
➣ Lens and coating
The objective lens collects light from the viewing environment and aids in increasing light transmission. The collected light will produce bright, sharp, and vivid images.
What size lens provides a clear view? More than 42 mm objective lens. The bigger size of the objective lens will transmit more light and thus enhance the clarity of the image.
The multi-coated lens of the AR-15 scope improves the strength and durability of the lens. Some of the AR-15 scope lenses are coated with emeralds that provide visibility even in dim light conditions.
➣ Sighting Technology
I prefer to select an AR-15 scope with a unique sighting mechanism based on the usability (where the scope is used for hunting or long-range shooting) and personal preference. 
Better select the scope integrated with a traditional crosshair. Because using that you can aim at the target accurately.
For speed aiming, use the scope designed with a reflex red dot sight for optimum speed with precision. And also consider your shooting style while selecting the AR-15 scope.
Reflex or Red dot Sights 
The reflex sight will not have a magnification option and here just the red or green dot gets visible as its reticle.
The red dot is preferable over the green color. The reason here is, Red has a larger wavelength that aids to target the prey in the far distance easily. 
How red dot sight works? The reflex sight has a partially coated objective lens that projects the reticle from a point behind the objective lens, and then it gets reflected back to the shooter's eye.
The Reticle projection system used in Reflex sight is a Light-Emitting Diode (LED). Apart from that, some reflex sight uses ambient light that is collected from the environment by a fiber-optic network to provide better vision in dim light conditions.
The reflective coating over the objective lens reduces light transmission. In the field sometimes, the shooter may observe light transmission problems because the reflective coated objective lens is designed to reflect a particular light frequency that gets emitted by the reticle projection system. 
There two types of reflex sight (design-wise) which are explained below.
Tube body reflex sight: It is a tube-like structure with a lens positioned at each end of the scope. This style of scope is a bit heavier when compared to heads up, yet the durability of the Tube body scope is excellent and it can withstand the worst conditions.
Heads up red dot sight: It has only one lens, and the working process runs below the lens. Heads up scope will be placed lower on the rifle because of its design. This heads up sight is lightweight, so most of the shooters prefer using it.
Here, the reticle gets displayed on the objective lens by using a wide range of light. The color of the light passing through the lens gets changed and then produces the red dot reticle.
Holographic Sights
Holographic sights use LASER to create a reticle that is superimposed on the target. This sight illuminates the hologram and the objective lens is not coated with a reflective coating. 
Most holographic sights are the heads-up style with a single wide lens that provides a larger field of view.
Difference between red-dot and holographic sight:
A holographic sight scope with a magnifier only enlarges the target, not the dot. But reflex sight magnifies both target and dot.
Holographic sight uses LASER and mirror to create a reticle, but reflex uses LED and lens.
➣ Reticle
The reticle is an aiming point, pattern, or cross and there are various reticle styles available in the market. Select the reticle based on your personal choice. The reticles have a color choice of black, red, or green. Some scopes with advanced features are designed with a built-in rangefinder that helps you to know the distance between you and the target. In an AR-15 rifle, you can view the target in any light condition with the adjustable brightness and color reticle scope.
Duplex reticle: Most common simple duplex reticle has a simple crosshair that can be simply placed over the target. Other types of duplex reticles possess the same function as a duplex but in addition to a simple crosshair, it has extra rings that allow you to decide the range instantly.
Mildot reticle: Mildot is the same as the duplex reticle but it has rings for different distances that cover the vertical distance and horizontal line. 
BDC reticle: It is also the same as a duplex long range but has more detail into the distance rings. It is able to show targets from 25 to 600 yards and therefore it is suitable for the tactical environment and helpful in law enforcement.
Red dot reticle: helps in aiming the moving target quickly.
➣ Weight
Usually, an AR-15 firearm is strong and rigid, therefore installing a heavy scope to the rifle may create unexpected issues. Therefore, I recommend using lightweight-scope to get flawless performance.
What is the difference between AR-15 magnified Scope and AR-15 red dot sights?
Scope
The scope has the ability to zoom in on a long-distance target and you can shoot the target easily from a far distance. Using the scope, you can easily shoot the short-range and long-range targets by adjusting the magnification.
Red dot
AR-15 red dot sight is the better choice for shorter-range shooting less than 300 yards that provide excellent target acquisition and less weight. A red dot sight is simple to use but lacks magnification which means red dot sight has fixed magnification.
Speed:
Whether red dot sight has better Speed in aiming?
Without doubt! The red dot sight tends to be faster than the scope and it is built with parallax free and unlimited eye relief capabilities. So you can aim at the target very quickly and easily.  Red sights have a large field of view and aids in different target transitions.
What makes magnified AR scope slower?
A narrow field of view makes the magnified scopes slower and it has critical eye relief i.e., you need to place the eye from a particular distance from the lens to view clearly through the scope. You have to place your eyes in the right position and adjust the magnification to view the sight clearly which slows the hunting process.
Accuracy:
Is it true that magnified scope gives excellent accuracy?
Yeah! Scopes with the variable magnification range will give pinpoint accuracy. The reflex (red dot) sight will aim the target clearly and by mounting a magnifier with the sight you can extend the viewing range up to 3 power. But it will not shoot accurately like scope, and the red dot will get slightly blurred while using the magnifier.
Why are sights suggested?
Only for its lightweight design. Red dot sights are lightweight that may weigh between the range of 3 to 5 ounces. But the scope weighs around 15 to 30 ounces which are much higher than the reflex. Therefore, you don't need to compare in terms of weight, the red dot is a lighter one.
Which one is reliable? Sight or scope 
Obviously, Scopes are more reliable than the reflex sight as it has a glass etched reticle and does not require batteries. Red dot sight works on a battery and you have to replace the dead battery regularly.
Cons 
For Red Dot 
Astigmatism is the major problem in red dot sight that happens due to biological eye issues (affect your ability to use a red dot). Here, You will see the blurred and weird shaped red dot.
Red dot sights are particularly designed for short-range shooting and because of these drawbacks, hunters prefer a magnifier with a flip mount.
For scope
Low target acquisition speed is the main issue. Magnified scope takes a long time to aim targets within 50 yards. 
These scopes are heavier to use yet it has a magnification option.
Conclusion
The perfect scope will make your experience better. I hope my article will help to buy the best scope which suits your environment. Buy the best AR-15 scope and enjoy your shooting experience.