Prismatic riflescopes or Prism scopes use coated glass prism unlike series of the objective lenses and ocular lenses in the traditional scopes.
The prism scope fills the gap between the benefits of traditional LPVO (Low Power Variable Optic) and the compact design of an RDO (Red Dot Optic).
The glass prism provides a more focused and clearer optical view of your target and surrounding while retaining other benefits like an etched reticle, fast-focusing eyepiece, and battery-free reticle illumination. But the magnification is fixed which is available from 1x to 5x.
Recently, these prism scopes have become quite popular among rifle enthusiasts. It is compatible with most rifle models but was more widely accepted by AR-15 holders.
For a quick review, here is the list of Best Prism Scopes that comes under your budget with specific features and quality.
10 BEST PRISM SCOPES [Comparison Chart]
What is a Prism scope?
To detail what is a prism scope and how it works, you should first know how traditional or conventional scopes work so that you can clearly see the difference between them.
A traditional or conventional scope uses two objective lenses and ocular lenses for light transmission and image magnification. The magnified image then flipped to the right side of you.
In prism or prismatic scopes, the two prisms placed opposite to another magnify the image when the light goes through the glass-etched reticle and creates an image.
So, the prism scopes can do nearly everything a low-power variable optic does with a smaller and compact unit.
This new technology of optics is affordable and a good alternative to RDO, ACOG's and clones.
Though a prism optic can't beat a dedicated long-range rifle scope, it can do best for combat shooting at close to medium ranges.
Do you need a prism scope? Let's see its advantages and disadvantages to decide this.
Best Prism Scopes in 2022 - Reviewed
1. Vortex Spitfire HD Gen II 3x Prism Scope
Vortex introduced Spitfire Gen 2 series with 3x and 5x models. The Vortex Spitfire Gen 2 3x Prism scope is a surprisingly lightweight optic so far in the particular magnification range. It just weighs 9 ounces which is nearly nothing for a 3x scope. The size of the scope is also small and compact as an RDO.
As always, this Spitfire 3x prism scope also uses a BDC reticle that is AR-BDC4.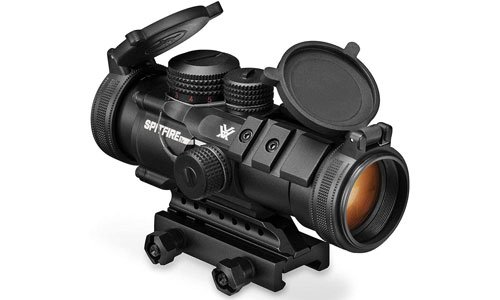 Vortex holds on to the AR platform to create its reticle. They are specifically based on a 16-inches barrel with a 55-grain round. With Vortex, you get the list of values of the suspensions and BDC so any user who knows ballistic calculation can utilize it theoretically for another caliber.
The BDC reticle has a 3/4s illuminated circle that creates a dome around the hashmark and the 1 MOA center dot.
We find the 3/4 circle reticle portion is helpful for close-range shooting. The glass-etched design of the prism shows everything crisp and clear.
There are 12 different brightness settings and the illuminated reticle forms a red layer around it.
Though the prism is not as bright as the traditional red dot, still we can see the illumination in bright areas.
In the highest or lowest setting, the reticle blinks three times. It has two night vision settings, so you can mount it on your night vision devices.
Spitfire 3x variant has modern controls with + and – buttons instead of a top dial. These controls are easy to access and do adjustments by not breaking the sight view picture.
The optic has a low mount and AR height mount. So, non-AR users can also use the scope. 
You get a small tool with the Spitfire models for zeroing and mounting.
This Vortex Scope has recessed and uncapped turrets, the small tool with flathead included in Spitfire models come in handy to adjusting and zeroing the optic.
Unlike most RDOs, the Spitfire 3x model utilizes 1 MOA adjustment graduations.
The clarity is outstanding for the scope of this price range. We could see vivid colors in high definition quality and got clear and bright sight pictures.
The reticle is good but in the daytime, you have to use high brightness setting to see it. 
The downside of Spitfire 3x would be its eye relief which is only 2.6 inches. While it is enough for prism optics, you have to use optic backward on a rail. Still, you have to lean forward to see through the scope.
If you wanted a prism with a mid-range price for close to medium-range shooting, this would be a good choice. and The Spitfire 3x prism scope can reach up to 300 yards easily. So, you can use this scope for 300 yards shooting competitions or target shooting.
2. Primary Arms 3×32 Gen III Compact Prism Scope
Primary Arms 3×32 Gen III Prism Scope is the compact close-range optic that Primary Arms introduced in their SLX series. This optic series brings Primary Arms back to its economical position. If you wanted a compact scope for a close-distance shooting with a mid-range budget, this would be a good choice to go.
The fixed 3x magnification with 32 mm objective lens and etched reticle, the scope help you in landing difficult shots specifically fast-moving targets. The holdover points in the reticle assist to hit the targets easily.
It has impeccable vision and glass quality, though it is heavy. 
Primary Arms SLx 3x32mm Gen III Prime Scope uses ACSS 5.56 CQB M2 reticle. ACSS is short for Advanced Combines Sighting System, and CQB M2 is for Close-quarters battle. The reticle of the scope was designed for AR15 and similar sporting rifles. 
There is another variant with ACSS-CQB 300BLK/7.62×39 which is compatible with .300 AAC Blackout ammo but reviewed here the 3x ACSS 5.56 CQB M2.
It is a great competitor to the Vortex Optics Spitfire 3X Prism Scope. Let's see why.
This fixed prism scope gives you comfort and confidence providing 31.5 feet field of view at 100 yards. The scope has anti-corrosion and anti-glare properties. It is shockproof, fog proof, IP67 tested for waterproof functionality, and approved by the National Tactical Officers Association.
The SLX Gen III uses a Center chevron reticle with BDC holdover points. It is a type of high-detailed ACSS reticle with several holdover points that promises accuracy and target acquisition.
The reticle leading points assist in leading. The horseshoe shape is suitable for close-range shots. The configuration with CQB provides a powerful standard. It holds 5 MPH windage and has BDC with hash marks so you can hit the moving targets even 600-yards away. The BDC holdover is great for aiming or tracking long-range targets.
The red LED illuminated reticle is well enough for .308 Winchester, 5.56 caliber, and the 5.45×39 also. It is powered by a CR2032 battery with 11 different brightness settings for illumination.
The SLx comes with a removable MIL-STD 1913 Picatinny rail and a durable thumbscrew mounting base that fits Weaver and Picatinny base styles. 
The prism scope has the latest rugged mounts with large diameter cross bolts. There is also an extra mounting space if you like to mount a red dot. The mount base is compatible with AR-15 and AK-47 rifles. The proprietary riser is available with the optic to adjust the height for AK and AR standard platforms.
The capped turrets have tactile feedback with stability. The turrets are easy to zero with 0.25 MOA and 60-MOA reticle adjustment for windage and elevation.
As always, this prism scope also has less eye relief of 2.72 to 2.92 inches. It is not an issue only if you can keep the precise range calculations. 
Another downside is the scope has no illumination levels with NVG compatibility.
The ACSS reticle with fixed 3x magnification, wind leads, and BDC hash marks, you can easily from 300 to 600 yards using this Primary Arms Gen III Slx.
3. Sig Sauer Bravo5 5x30mm Prismatic Battle Red Dot Sight
Sig Sauer Bravo5 5x30mm Prism RDO is celebrated for its edge-to-edge clarity, reliability, and motion-activated illumination with night vision. 
It is a prismatic battle sight for competitions as it has more convenient features.
The glass clarity is at its best with low dispersion, clear glass, and an aspherical 30 mm lens (the lens's shape is different on specific parts).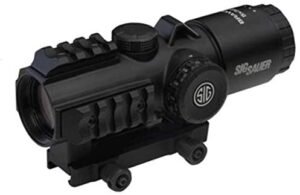 The lens curve helps the shooter to focus the light without distortion. So, you get a flat sight picture. 
This red dot is powered by a lithium battery. The etched reticle provides illumination despite the battery power. 
Also, the scope is motion activated. It has a battery-saving mode to power down when there is nothing to detect. So, as a result, we get a crystal clear view of targets not respecting the range, elements, and area conditions. The downside is there is no lens cover.
Prism scopes suck at eye relief. So do this red dot; has 2.5 inches of eye relief.
After seeing the long field of view, I guess they would have extended the eye relief that this.
If you are looking for a long eye relief scope, you may not find one from prismatic optics.
Aside from the eye relief, the Sig saucer red dot is durable tested for fog proof ad waterproof.
The exterior of the sight is made of magnesium, it is equal to or more strong enough than aluminum optics. The magnesium construction helps keep the optic compact and sold, which means it is not flimsy. It weighs a pound and a half, it may not have the lightweight scope but it is a solid and durable prism optic for this price range.
The Sig Saucer Bravo 5 RDO comes with a five-year warranty for things like workmanship, illumination, and defects in material.
I felt a tightness in the knobs at first. But I fix it with a little push back and resistance, thereafter that is not an issue.
If you think you will know that this little resistance from the knobs is helpful, do you know how? Because the resistance does not change the adjustments even if I accidentally dropped the scope or bumped on it.
Another negative is Bravo 5 does not come with turn indicators so if you need extra reinforcement of precision, it is not so possible.
The fixed magnification of this red dot is 5x (which is the maximum a prism optic can have). The scope is parallax-free at 100 yards so you need not worry about shifting when the target is in your focus.
The scope is easy to mount and dismount with an integrated Picatinny top rail. The scope is compatible with AR rifles. It comes with essential mounting tools and rings for top rail mounting.
Someone with astigmatism or poor eyesight can use this scope for precision, clarity, and clear glass view that comes under budget for advanced prismatic glass.
4. Monstrum P330 Marksman 3X Prism Scope
The Monstrum P330 Marksman 3X Prism Scope is budget-friendly if you need a prism optic with an etched reticle so your performance won't affect due to battery deficiency. The black etched reticle is bright in all conditions still can be illuminated for low light and night vision gears.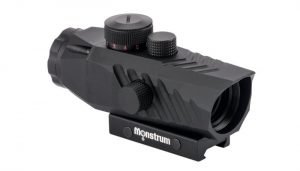 The chassis design of the scope provides heavy-duty performance with a fixed 3x magnification and 30 mm objective lens.
The scope has multiple brightness settings to choose so based on the lighting you are shooting, you can choose the level so you never miss the reticle.
It has 0.5 MOA adjustments with fine-tuning. The black etched reticle with illumination has red and green crosshairs.
Unlike most prism scopes, this Monstrum P330 has 3.5 to 3.9 inches of eye relief- a standard size a shooter needs. It helps to avoid eye injuries while using heavy recoil rifles. 
The scope is just 5 inches long, which shows how compact the optic is. It weighs 15 oz which may not be low on the list still it is one of the lightweight and compact prism scopes you can buy at this price range.
The lens is anti-reflective and fog proof so it provides impeccable performance even in the worst weather conditions.
With the P330 prism scope, you can reach a maximum of 500 yards so it is better suited for close to medium-range shooting.
The Monstrum P330 Tactical Prism is a heavy yet compact scope best suitable for training rookie shooting as a spare because of its inexpensive cost.
The scope has thick and strong mount screws to withstand heavy-duty work. The base knobs need to tighten up at first to ensure the constant grip which you have to check once you unbox it.
The scope I tested has lens caps but the batteries are not included, so you need to have them ready if you wanted it to try once after you received it.
The elevation knob and windage knob are placed on top and right of the scope as usual. The knobs are big and handy so it is easy for anyone to rotate them with gloves on.
We tested it with an AR15 and zeroed in with three single shots. It was very smooth.
The scope is solid and rigid on the mount so it won't wobble or shake even there is vibration, accidental impacts, or after heavy recoil. It still delivers a concise and clear picture.
The P330 can resist recoil but not as much as a shotgun scope, so it is not advisable to use it with a shotgun.
It has no MOTAC or shakes awake, instead, the optic is a straightforward manual adjustment system that is acceptable for the price.
Monstrum Tactical P330 Prism is a range and hunting scope best used for varmint hunting and not for combat applications with rough and tumble environments.
Love Monstrum?
There is another model from the Monstrum P series with the same specification but with a few changes is  Monstrum P332 Raven Ultra-Compact 3X Prism Scope. It has 3x magnification like P330 but has a 32 mm objective lens and Circle dot reticle which is also a great prismatic scope to consider if you need a low-budget riflescope under $200.
Monstrum P332 Raven 3X Prism Scope
5. BelOMO PO3.5x21P 5.45x39mm Prismatic Scope
Belarusian Optical and Mechanical Association, or simply BelOMO, is a major assembly plant that specializes in optomechanical products.
They have manufactured quality products with high precision such as lasers, multispectral photographic instruments, optical devices, and other equipment that comprises laser systems.
BelOMO PO3.5x21P 5.45x39mm BDC Wide Angle Prismatic Scope is another high-precision product from them, and it is one of the best magnified prism scopes available in the market. It was designed specifically for tactical military purposes and law enforcement. But, it can also be used for sports distance shooting.
BelOMO PO3.5x21P is lightweight and sturdy which makes it a perfect accessory for your rifle. This prism scope has been made from the late Soviet Union optics facility.
This prism scope boasts a wide range of viewing fields of 12 degrees which allows you to view your surroundings expansively.
The optical clarity of this product is exceedingly high which makes it one of the clearest and brightest prism scopes ever made for tactical shooters.
BelOMO PO3.5x21P can adapt very well to various illumination settings. You can confidently take your aim on your target in a precise and detailed manner.
For rifles with a 5.45×39 reticle design, you can precisely take your aim between 100 m to 1000 m, so it can be your best 1000 yards scope for long-range shooting. It is also multicoated in glass which reduces glare from the sunlight.
This prism scope is perfect for a small to average target shooting.
Even when the night falls, you can easily scan your surroundings as the reticle of this product is battery illuminated which uses the CR123 standard type.
This reticle scope can withstand any weather conditions and impacts such as scratching, shock, and water immersion of 1 meter at maximum. It can also be operated under the temperature range of – 50 ℃ to + 50 ℃ (or – 58 ℉ to + 122 ℉ ).
There is no doubt that BelOMO PO3.5x21P can bring out the best of your marksmanship skills. Affix it on your rifle, take your aim, and precisely hit your targets easily up to 100 m.
6. Vortex 1×30 StrikeFire II Red/Green Dot Sight (SF-RG-501) Prism Scope
Vortex 1×30 Strikefire II Red/Green Dot Sight (SF-RG-501) Prism Scope is reliable and versatile in various shooting approaches.
The lens of this prism scope is multicoated and unmagnified which offers you a bright and clearer viewpoint. It can also assist you in tracking and acquiring your target easily. 
The sighting circle of this product has 4 MOA Green / Red Dot Sight with 10 preset brightness levels. It allows you to adjust easily to any lighting conditions you may experience.
There are at least 2-night vision settings out of the 10 levels of brightness. This allows you to work perfectly well when the night falls or when undergoing a darker environment. So, you can mount this on your night vision gears.
The red dot sight enables you to enhance your shooting capabilities with both eyes open. It allows you to maximize the use of your peripheral vision to quickly acquire your target. You won't have to miss your targets anymore when you have this prism scope.
Additionally, this product has an unlimited optical performance for eye relief. It prevents any eye strain you may experience with other prism scopes and avoid eye injuries due to heavy recoils. It provides you with long-lasting comfort while monitoring your target with enough precision.
Its optic glass lenses are multicoated and parallax-free which increases the transmission of light. With this, you can have a clearer picture of your surroundings when looking through the scope.
Despite its lightweight and compact design, Vortex 1×30 Strikefire II Red/Green Dot Sight (SF-RG-501) Prism Scope does not compromise your shooting skills and the aiming capabilities of your rifle.
It can withstand any tough conditions such as the recoil impact of your firearm. The optics are filled with nitrogen which makes it resistant to fogging and wet conditions.
This prism scope is embedded with both front and rear (flip-up) lens covers which protect the optic lenses when unused. 
Vortex 1×30 Strikefire II Red/Green Dot Sight (SF-RG-501) Prism Scope is ideal for close-range shooting which allows you to land on your targets. What's more, is that it offers you a wider field of view scale which is an advantage for close-range combat.
7. Vector Optics 1×30 1/2 MOA Compact Tactical Prism Riflescope
When it comes to specialized rifle scopes, Vector Optics won't let you down. They have been in the industry for over 12 years since 2007. They offer a warranty period for their products which guarantees you its commitment towards their customers.
When it comes to providing a more vivid image, Vector Optics 1×30 1/2 MOA Compact Tactical Prism Riflescope is the ideal scope for your rifle. It offers edge-to-edge and zero-distortion sight pictures.
Moreover, in contrast to other similar prism scopes, Vector Optics 1×30 1/2 MOA Compact Tactical Prism Riflescope allows you to use both eyes which enhances your marksmanship skills. It also enables you to acquire your target easily without straining your eyes.
This prism scope offers exceptional quality for optical viewing with a 1x fixed magnification range. You can easily determine your surroundings and monitor your target on a larger picture.
This product has a longer eye relief of 3.9 inches which reduces your chances of having strained eyes for longer hours and brushes at eyebrows because of recoils.
This tactical prism scope has 11 built-in brightness settings with a night vision option. It can easily adapt to any light conditions without compromising its clarity and precision.
It has an adjustable click value of ½ MOA which enhances your shooting execution. As always, this prism is also weathers resistant. It can resist water immersion with its IPX-6 built and resist against extreme shock and fogging which makes it reliable and perfect for your powerful rifle.
It has a sturdy build made up of premium aluminum alloy, making it a durable yet lightweight prism scope that lasts long even after continuous usage.
8. UTG T4 Series 4X32 Prismatic Scope
UTG T4 Series 4X32 Prismatic Scope has been designed with versatile functionality in mind. It is equipped with a Refraction Technology which increases the transmission of light that passes through the scope. With this, you can clearly see the surroundings and easily spot the target.
Its multicoated emerald lenses can easily adapt to lighting conditions while successfully preventing glare emitted by a brighter environment. It offers you an edge-to-edge and distortion-free image which lets you determine your hunting environment more accurately.
It has a built-in EZ-TAP Illumination Enhancing System designed in a dual-color mode.
It is also embedded with 36 multicolored settings that can easily accommodate and adapt to all weather and lighting conditions.
This prism scope also boasts a One-Click Memory Illumination Feature which allows you to return to your previous brightness or color setting.
It saves time for changing brightness levels every time and allows you to focus on your shooting, which is exceptionally useful while monitoring fast moving prey.
With a fixed 4x magnification and etched glass circular dot reticle, it allows you to enhance your situational awareness and analysis. If you believe that you might be in a difficult situation, you can easily retreat back to safety.
UTG T4 Series 4X32 Prismatic Scope can withstand all tough conditions and resist heavy impact from continuous recoil. It is also filled with nitrogen which enables it to hold itself against fogging while performing well under rainy conditions.
This product also boasts its Zero Resettable and Lockable Turrets which can compensate with other outdoor conditions you may be in.
Its click value is about ¼ MOA, enabling it to adjust well to the elevation and windage range that suits your shooting conditions.
UTG T4 Series 4X32 Prismatic Scope is good to buy if you want a prism scope that compliments maximum types of rifles.
9. Vector Optics 3×32 1/2 MOA Compact Tactical Prism Riflescope
Just like the Vector Optics 1×30, this 3×32 1/2 MOA Compact Tactical Prism Riflescope also performs well with few differences.
This compact prism scope provides you sight images with brighter and more detailed picture quality. There is less or zero distortion thanks to its multicoated optical prism.
This product also allows you to keep both eyes open which maximizes the range of your surroundings while taking advantage of your peripheral view. 
You can easily acquire your target smoothly with its 3x lower magnification range and 6.5° field of view range.
Vector Optics 3×32 1/2 MOA Compact Tactical Prism Riflescope is embedded with 11 illumination levels of reticle which has been designed to adapt and adjust with any light conditions. 
It also includes a setting for night vision. Be it during the day or inside a dimmer surrounding, illumination levels keep the clarity.
The click value of this scope is ½ MOA.
Moreover, it can withstand any tough conditions which include fogging and shock from the extreme impact of recoil. It can also hold itself against the water with its IPX-6 built.
This product has a range capability reference of 0 to 500 yards of shooting. It is very much ideal for close to medium-distance shooting.
Locked in your target, aim, and shoot. You won't miss your chance of capturing your target; benefit of fast target acquisition.
The built of this product is made up of a premium quality aluminum alloy which makes it stronger and more durable than other similar prisms.
The big and tactile feedback on windage and elevation adjustment with wide field of view, Vector 3×32 Compact Prism Scope is best for 0 to 500 yards shooting.
10. AIM Sports 4x32mm Prismatic Scope
If you are looking for a budget-friendly prism scope maximum magnification, then AIM Sports 4x32mm Prismatic Scope could be the one for you.
It is ideal for close to mid-range shooting distance.
Its high-quality fiber optics amplifies the surrounding light it captures which offers a fast target acquisition.
This prism scope is illuminated with 3 Mil Dot Reticle colors of red, green and blue. It is also embedded with a rheostat which can be used for adjusting and controlling the brightness settings.
Its green multicoated lens transmits the superior quality of light with zero distortion which allows you to effortlessly aim and shoot your chosen prey with a clearer view.
It also has a built-in angle-cut sunshade which reduces glare from a brighter environment.
Moreover, this is scope with both eyes open view that assists to analyze your surroundings, most especially if you are in a drastic situation.
It also provides you a long eye relief of 3.5 inches (nearly long comparing other prism scopes) which keeps you safe and comfortable during heavily impacted recoil.
Its sturdy build is made up of aircraft quality aluminum which makes it able to resist any tough conditions on and off the field. The glass is nitrogen-purged so it resists fogging and scratch.
The FFP reticle covers long-range with accuracy and precision. It is one of the best long-range scope under $1000 from Aim Sports.
Factors to Consider When Purchasing The Best Prism Scopes
Finding the suitable prism scope isn't that easy. Before going to a shop, you should have figure out the prism scope that fits your preferences and needs.
Remember that prism scopes are not meant for long range shooting. It is compatible with most tactical rifles such as AR-15 and AK-47.
Below are some factors that can help you on your journey of finding the appropriate prism scope for your rifle.
1. Magnification
Before you head out and buy a prism scope in the specialized shop, you have to make sure that you have determined your preferred magnification and for what will you be using it for.
This is mainly because prism scopes have fixed magnification. If it is for a tactical and close distance shooting, try purchasing a 1x or 2x low range magnification as it perfectly fits the criteria.
However, if you are going for a hunt in the wild and wanted to at least shoot your targets up to 300 yards, then a 5x magnification is the appropriate magnification for you so that you can utilize your shooting capabilities and not hinder it.
Knowing what you need it for saves you a lot of time and avoid you from wasting money for the incorrect prism scope.
2. Able to withstand tough conditions
If you are going for a hunt in the wild or in the forest, it is best to determine if the prism scope you are interested in buying is able to withstand tough conditions.
Although not all prism scopes have a complete resistance against all weather and tough conditions. The best thing that you could do is find a prism scope that is waterproof and can withstand fogging which allows you to hunt comfortably and with ease during dusk or when the night falls.
3. Lens Coating
Nowadays, finding a coated lens with several layers prove to be more useful when going out for a hunt or when you go for a leisure target shooting.
Most rifle scopes, including prism scopes have multicoated lens which supports you by reducing the glare and reflected light you might experience from a brighter environment or when you are in an open field.
4. Reticle
Prism scopes can fit in well with a wide range of reticles such as:
Duplex – Applicable for most shooting occassions
BDC – mid range shooting
Etched – serves as a back up when the battery run out in between your hunting session
Red Dot – ideal for a 1x low magnification range
As long as you know what you will be using the prism scopes for, the better it is to know the suitable one for you.
5. Eye Relief
This is the most difficult part of purchasing a prism scope as most products offer a small eye relief between 2 inches to 4 inches at most. This just means that you have to be closer to the scope when aiming or shooting for your target.
If you are using a high powered rifle, prism scopes may not protect you against the impact of recoil. However, if you are using a semi automatic rifles like AR-15, then, prism scopes may be the best one for you.
Conclusion
As time passes by, Prism scopes have finally gained their own ground in the industry of Rifle Scopes. With their compact design, illumination, and etched glass, prism scopes have become a favorite to most rifle enthusiasts.
In contrast to similar scopes, prism scopes are cost effective. It can easily be installed on most rifles.
I hope that you find this article informative that helps you determine the suitable prism scope for you.
Just remember a prism is the best as long as it fits your firearms and preferences. After all, what works for others may not work for you and vice versa. So, choose one that is made for you.