Red dot magnifiers are the best add-on for any AR-15 with a red dot or holosight, overall you get versatility.
A good red dot and magnifier gives you a successful hunt which allows to shoot long-range targets with a great precision and accuracy. These red dots can be quickly mounted behind the reflex or holographic sight which can also be detached easily when magnification is not needed.
In this competitive world there are lots and lots of options for a singleproduct, in that line, it may be quite challenging for you to pick the right one. We've reviewed and tested the red dot magnifiers to the maximum and listed only the best for you, have a look at it.
In this guide, we'll go over what red dot magnifiers do, the merits and demerits of using a magnifier, and what to consider before buying the one.
Interested? Let's dive in!
The 10 Best Red Dot Magnifiers of 2022
1. Vortex Optics VMX-3T Magnifier - Best Overall
The Vortex optics VMX-3T Magnifier is our premium pick for the best overall red dot magnifier, we've tried and tested this magnifier and came to know that it combines great performance and a solid price point, and is one of the best values on this list. Vortex Optics VMX-3T is the best red dot magnifier scope that features 3X magnification to your AR-15 rifle's red dot sight. It's not a big deal to use the magnifier as it features a simple, and fast push-button design that works effectively for a personalized lock-in at your desired position.
If you're looking for an optic for AR-15, without a doubt go for Vortex, most of the buyers have reported that it performs outstanding in the field. It weighs 11.9 ounces and 4.3? long, the rugged look is  machined aluminum body for lightweight durability.
The optical lenses are completely shielded to offer a great resolution, color fidelity, and light gathering ability even in no-light conditions, if you want a red dot magnifier with good eye relief don't miss this option as it features an eye relief of 2.2 inches and a field of view of 38.2 feet per 100 yards.
The fully coated lens increases sensitivity in low-light conditions which makes it effective for field or range shooting. This 3x magnifier has a hard-coat-anodized, machined-aluminum construction, in addition, it is o-ring sealed and nitrogen purged for fogproof, waterproof performance.
2. EOTech HHS-II Holographic Hybrid Red Dot Sight - Best Red Dot Magnifier for AR 15
The EOTech Hybrid Holographic Sight II is an excellent option for the professional tactical shooter.
This is a combination of a red dot and magnifier that combines with the G33 magnifier for better accuracy.
Reticle
The clarity of this magnifier is top-notch, the combination of great clarity and increased magnification makes this product unique from other brands. The reticle is a 68 MOA Ring and (2) 1 MOA Dot Reticle which will be very easy to use. The reticle allow maximum light and produce brightness in both day and low light conditions.
Durability
This magnifier has a great durability and offers a grat comfort while using AR. If you've been using this for a while, you'd have known about the durability of these optics. I'm impressed and satisfied with the performance of this magnifier as it has exceeded all my expectations in the durability too. With the high end reticle brightness and ease of use, durability also never failed to impress the buyers.
Magnification
The magnification falls between 1X and 3X magnification which is a perfect setup for my AR usage. For shooting within 100 yards the 3X is more than enough to give you a clear vision. Even if you set the range to 3X it is possible to go back to 1X which is something interesting.
3. EOTech G33 3x Magnifier - Best for Shotgun
The EOTech G33 is one of the best magnifiers to be the perfect addition to your rifle. Built with a mix of many latest technologies, it gives your rifle unique versatility. The Eotech 3X magnifier helps to identify or spot possible targets in any situation. Developed for weapons with Picatinny rails, the Eotech 3X magnifier is excellent not only in performance but also in adjustments. It is compact in size so it fits on most war guns even with limited space. The total weight of the device is only 11.9-ounces as all its components are lightweight.
With a standard 3x magnification, this small design has optimal 2.2-inch eye relief. Also, all the interior and exterior materials are water and fog-resistant. Besides, it is designed to submerge to a depth of 33 feet for about 30 minutes.
Since G33 magnifiers work in conjunction with optics, you will need to re-zero the view or stabilize to at least zero once it is installed. This magnifier has both vertical and horizontal adjustment, allowing these adjustments to bring the reticle back to center without affecting zero in any way.
You can easily change the sides of the magnifier using the release button. It is designed with a holographic projection system, which magnifies the reticle effectively. Another important thing is that its user-configurable rail comes with two different height settings.
4. Sig Sauer Juliet4 4x24mm Magnifier - Best for Hunting
The SIG Sauer Juliet 4x Magnifier is a powerful tool known for its sleek appearance, fast performance and reliability. Using this magnifier you can easily change the range of targets from the closest area to the intermediate area. In addition, the versatile design of this effective magnifier works well.
Constructed of high quality materials, the Juliet magnifier features very strong and lightweight aircraft-grade CNC aluminum housings. Furthermore, the magnifier offers IPX8-rated waterproof and fog-free performance that works in all situations. They also have a dialect-coated prism system to protect the optics from various impacts and provide quality vision. The front and rear thread-in lens protectors are fitted with it for advanced protection of the device.
Featuring a unique magnification solution, this magnifier is ideal for working with Reflex Optic. This allows you to adjust the diopter ring according to the view of the shooter. Its quick-release mount feature controls the built-in backscatter for repetitive zero.
Its 90° mount option rotates sideways very quickly to suit close-quarter views. This 4X magnifier is a great tool for identifying positive targets day and night, with relatively little difference than a 3X magnifier. The QD throw lever does not interfere with the charging handle grip so the user can easily hold the charging handle.
5. Aimpoint 3X-C Magnifier - Best for Pistols
The Aimpoint 3X-C Magnifier is suitable for all kinds of applications, including hunting, rescue operation, surveillance, and so on. It is compatible with most weapons as it is designed for a variety of uses. It has a modifiable dioptric (-2 to +2) system for user protection, so it can be adjusted as needed to suit the eyelid.
The important thing to remember about the Aimpoint 3X-C Magnifier is that it uses the red dots as the target network. So you do not have to worry about zeroing again when changing the non-magnified or magnified target.
The surface of this magnifier is made of sturdy rubber. This makes holding easier & more comfortable and protects the device from external influences. Also, this rubber outfit helps absorb shock and impact. Its internal optical adjustment effectively aligns the magnifier.
The 3X-C is only compatible with 30mm ring mounts. It is NOD (NVD) compatible. It also has a 30 mm Tube Diameter, 56 mm of Eye Relief, and 6.5 mm of Exit Pupil. It is designed to operate in a variety of climates so you can reach the goal at any time.
6. Primary Arms 3X LER Red Dot Magnifier- Best for AR
Primary arms red dot magnifier will instantly magnify the targets at 3x power that helps to easily focus on the prey. The solid and crisp construction ensures it is a perfect addition for all modifications, so you can use this magnifier behind the holographic, red dot, or reflex sights. It is constructed by using the aluminum material that provides waterproof and fog proof features to this magnifier; hence it gives a great performance in all environmental conditions. 
The Gen IV red dot magnifier is featured with long eye relief, wide field of view to improve the image clarity. The 2.64-inch eye relief provides a safe distance to get a clear view of the targets. The field of view is 37.93 ft at 100 yards, which is good for better situational awareness.
The integrated diopter provides a fast focus ability that helps to get a clear image of the target. The elevation and azimuth adjustment of this magnifier helps to fix the red dot in the center in the field of view. The rubber armor sleeve covers the body of this optic that helps to protect this magnifier from harsh impact. The total dimension of this red dot magnifier is 6.9×4.2×2.5 inches and its weight is 7.9 oz. It is completely lightweight, so you do not feel any difference while focusing on the target. 
The 24mm objective lens of the optics allows maximum light transmission, so you can get a clear and bright image of the target even in low light conditions.
7. Holosun HM3X 3x Red Dot Magnifier - Best Red Dot Magnifier with Eye relief
HM3X red dot magnifier was introduced in 2019 from Holosun, it helps to extend the range to figure out the target. It is proud to be introduced as one of the best magnifiers in today's market. This Holosun HM3X is a 3x magnification optics, you can mount it behind the red dot optics for a clear view.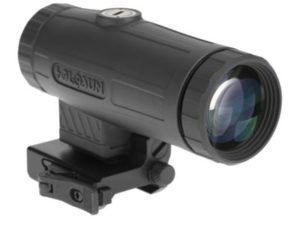 It is featured with a flip-to-side quick detach mount; by using it you can easily mount and detach whenever you want. The aluminum used to design this red dot magnifier has an IP67 rating, which ensures the waterproof feature of this optic. It will give a crisp and clear view after you submerge 1 meter underwater for 30 minutes. The Nitrogen Purged glass offers fog proof features, so it gives a clear image during the sudden temperature changes. The aluminum and titanium material of this red dot magnifier ensures a lightweight design.
Actually, the field of view defines the area that you see from the optics, the large field of view provides a better viewing experience in the tactical situation. The field of view of the red dot magnifier is 37ft at 100 yards. The 2.75 inches eye relief distance helps to comfortably aim the target without any injury. 
The operating temperature of this magnifier is -22 to 140 Fahrenheit, it provides great performance in this temperature range. The high-quality optics provide bright, sharp, and clear images.
8. Primary Arms 6X Magnifier - Best 6X Red Dot Magnifier
It is another best red dot magnifier from Primary Arms. This magnifier will instantly magnify the image of the target at 6x power. The integrated diopter provides fast focusing ability and it provides a clear image of the targets. The CNC Machined 6061-T6 Aluminum is used for its durable construction and also the material ensures the lightweight design, so don't need to worry about the weight by adding these optics. Due to the fog proof and waterproof design of this magnifier, it is considered the best choice for hunting in any weather conditions.
The eye relief distance of 1.90 inches provides a safe distance to focus on the target. The 31.17ft at 100 yards of this red dot magnifier gives better situational awareness in the tactical situation.
The Elevation and Azimuth adjustments help to keep the dot in the center of the field of view, so it does not make you miss the target. Due to its 6X magnification, this optics is the best additional option to shoot the target up to 500 yards. The 3/4 inch top cap and main body feature will avoid tube pinching. 
The Lens of this Primary Arms 6X magnifier gives a crisp and clear image of the target. This magnifier does not come with the mount, so you have to separately purchase a mount for this red dot magnifier. Moreover, the Samson Quick Flip Magnifier Mount QF-30mm is not suitable for this optics.
9. Bushnell Optics, 3X Magnifier - Best Red Dot Magnifier with long eye relief
Bushnell Optics 3X Magnifier will bump up the magnification power of your red dot sight. You can fit this versatile optics on the Picatinny/Weaver rail behind the red dot sight, reflex sight, or holographic sight. This magnifier also comes with the ambidextrous flip mount that allows you to flip it in and out line of sight. 
The housing of this magnifier is made by aluminum alloy that provides durable construction and provides impact-resistant performance. In addition, the material used in this magnifier offers fogproof and waterproof features, so you can use this in all weather conditions that gives a crystal clear image of the targets. 
The fixed magnification power of this optics is 3X that instantly magnify the image at 3x power. The 25mm objective lens transfers maximum light, it helps to get a bright image even in low light conditions. Due to the unlimited field of view, this optics is best for combat. 
It has unlimited eye relief, so you can get a clear view with a better distance to protect your eyes. The fast focus eyepiece allows you to quickly focus on the target. The fully multi-coated lens of this magnifier does not reflect the light; hence the targets will not get aware of the shooting. The nitrogen-purged helps to clearly focus on the target in all weather conditions. The total dimension of this magnifier is 9.4×4.3×2.9 inches and the weight is 13.2 oz.
10. Leapers UTG 3X Magnifier- Best for Deer Hunting
Every magnifier is made with different features, this UTG 3X magnifier also comes with some unique feature that provides better performance. The flip-to-side mechanism of this magnifier allows you to quickly switch between 1x to 3x. The UTG magnifier is excellently designed to provide the best zooming capability.
If you are using this 3x magnifier behind the red dot sight or other sights, it will increase the target size by 3x and also reduce the distance by 3 which makes you easily aim the target. The 3x magnification does not seem like much, but it ensures that you can get better target acquisition in short and mid ranges. 
The simple lens system of this magnifier gives decent optics quality. The 25mm objective lens is suitable for the 3x magnifier that transmits the right amount of light for the bright image. The multi-coated lens also provides better light transmission and also it protects the lens from damages and scratches from dust. The lens also has an anti-fog mechanism that prevents the formation of fog inside the tube and protects your magnifier. 
This magnifier does not come with unlimited eye relief, its eye relief distance is 2-inches, which is decent enough for 3x magnification. The field of view of this UTG 3x magnifier is 45ft at 100 yards, which means you can get a wide view around the target that improves your target acquisition. 
The elevation and windage adjustment knob improve to targets. You can also adjust the dioptric and lock in zero for comfortable shooting.
Why should you buy a Red dot magnifier?
You might be surprised to know the purpose of buying the red dot magnifier and is that a really neccessary equipment? It depends on how you're using your rifle,  Red dot sights are basically designed to replace the traditional iron sights, it offers a lot of benefits to the user such as quicker target acquisition, improved aiming, and flawless transition from one target to another.
The magnifiers come in handy just place it behind the red dot and they offer a 3x magnification, though it may not show a big difference it will definitely work out well for mid-range shooting accuracy.
These magnifiers will fit on most of the guns comfortably and allows to extend the effective range of your firearm. A red dot with a magnifier, provided it has a flip-to-side mount, is more versatile than a red dot alone and faster than a magnified optic at its lowest magnification.
Buying Guide
Though the popularity of red dot sights are known by most of the shooters some might not really know what to look for in a magnifier. Here, we'll explain how each of the characteristics of the magnifier work and influence your shooting experience. Before spending $50 to $1,000 on a red dot magnifier you must know are they really worth for the money. Some look for a magnifier within $300, so first of all know about the important aspects and check the quality.
Let's look at some options which may push you one way or the other.
Magnification
Consider the overall magnification of the magnifier, basically magnifiers are capable of providing 1X, 2X,3X,4X,5X, 6X magnification power options in that, 3X magnification is a powerful and popular choice of most professionals. It's always a crucial step to choose the right magnification power because it can also affect the overall sighting tool performance which may badly show the results.
If you've chosen between 2X and 3X then the shots may be accurate at 200-300 yards. But, however, some people wish to have more magnification, in that case, I'd suggest to get a 6x magnifier that has a good amount of eye relief.
Mount Type
Mounting the red dot magnifer over a scope is quite easy as it allows to switch from using the magnifier to the red dot within a second. If mounting is hard the target may be missed and lead to unsuccessfull hunt, but here you'll not face that issue.
Switching from close-quarter to mid- to long-range shooting is possible this is due to the mount you use to install the magnifier on your Picatinny or Weaver rail. Don't use a fixed mount on your red dot magnifier as it can cause some dangerous issues in the field, and for close range targets the result will be bad.
It's advisable to use a flip mount for your magnifier as it allows to easily fix the magnifier behind the red dot sight when you need magnification.
For close-range or medium-range shots using the flip mount is good as it will allow you to acquire your targets quickly. QD mounts are just as solid as more-permanent mounts while you adjust properly and allow you to remove or install the magnifier if you so choose.
Flip to Side or Inline
While discussing about mounts you've to know that the magnifier either come with a mount that can be a flip to the side or an inline option. What's Flip to side mount? It allows to move back and forth between magnification and non-magnification thus it will be the best for dynamic tactical range shooting situations.
An inline mount is like a fixed mount which will be permanently attached behind your red dot sight like iron sights, so you can't switch between the position.
With this, we suggest you to get flip-to-side, slide-to-slide, or switch-to-side mount for magnifiers instead.
Eye relief
Red dot sights will provide unlimited eye relief, but the magnifiers don't. To shoot perfectly as well as comfortably you'll need several inches of eye relief without getting a black eye from the recoil of high caliber rifles. It's good to pick the RDS magnifier with the longest eye relief.
Eye relief is very important to consider when you're installing the magnifier's mount behind the red dot sight. Just examine at various positions to know at which point you get a clear and crisp image of the reticle. It's also advisable to adjust the magnifier's angle by twitching its windage and elevation to make sure
you center the red dot on the magnifier's screen.
Durability
Why to consider the durability of a magnifier? It's good to ensure the durability by inspecting the material in which the magnifiers are made of. Usually magnifiers are constructed of aircraft-grade aluminum alloy which is better than those made with polymer or other cheaper plastics. So confirm the material first.
The magnifier's lens also must be considered. For long term usage, buy a magnifier with a multi-coated lens made of high-quality glass to make sure durability against extreme conditions.
If it is O-ring sealed to prevent water and dust that's great.You may take the magnifier to wild for tactical purposes in such cases, get one with a solidly designed mount that's not known for getting loose.
Size & Weight
You also need to consider the size and weight of your magnifier. You can't handle the heavy weapon while hunting as it will lead to unsuccessfull hunt. Remember the size or weight of its objective lens or its body may also affect the overall weight. So we suggest that you get a compact and lightweight magnifier.
Red dot Magnifier with Night Vision
Nowadays most of the red dot magnifiers are designed with night vision sensors to use at dark conditions also it's a great tool for self-defense.
In our list EOTECH HHS I Holographic Hybrid Sight is the best red magnifier with night vision capability, if you want a technical device go for this option, may cost a bit high but this advanced sight with night vision sensor will allow you to see in the low light condition and the night time.
It is compatible with all latest-gen night vision device and helps to switch between scope and adjust it to the middle and long-range targets.
Red dot Magnifier with Long eye relief
Eye relief is one of the major capability of the scope so that you can use it or the longer period of the time. You will get 2.64 inches of eye relief as a minimum.
Primary Arms 3X Magnifier is the best red dot magnifier with long eye relief, it doesn't cost much so the budget consious people can definitely get this one.
Red dot Magnifier with Flip Mount
From our list, the Vortex Optics VMX-3T Magnifier with Built-in Flip Mount is the best option to choose from all of them and fit even for the small Picatinnyrail. And if your budget is good.
Red dot Magnifier Vs Scope
How to compare red dot vs scope to find the best one? Just by taking few factors and comparing it thus you can easily decide which one will be the right for your firearm.
Let's consider these four factors,
Speed
Accuracy
Reliability
Weight
Red Dot Vs Scope: Which Is Quicker
To be honest, the red dot magnifier is the best choice for speedy shots it would be an ideal deal! For professional hunters it's the great option because they may go for hunt often. For attaining a clear edge in shooting the close-range targets go for red dots, such magnifiers will shoot the side picture faster and easier.They provide limitless eye relief without parallax.
On the contrary, the magnified scopes are slower and provide restricted eye relief. You've to be in a right position before shooting if not you can't see through lens properly. The field of view is narrow as the magnification level goes up. Another big drawback is the magnifier setup as the scope offers varied magnification.
Red Dot Vs Scope: Which Is More Accurate
Accuracy relies on the fact that how accurate you perceive and hit your target. Scope is the winner in this case. By using the scope you can get magnification and extend the range easily by using the actual scope. As a result, you can see the target and hit the target far better when compared to red dots.
Red Dot Vs Scope; Which is More Reliable
Red dot is an electronic device so it needs batteries to run, in turn, scopes don't rely on batteries, it has reticles carved on the glass that make this product more  reliable for long term usage. Finally, scopes are more reliable than red dot magnifiers.
Red Dot Vs Scope: Which optic is Heavier
When comparing the weight the Red dot magnifiers are relatively lighter than scopes. A micro red dot with a magnifier would actually 3.5 to 4.5ounces. It's easy to carry weight. On the other hand, scopes can't work without mounts so the overall weight will bearound 15 ounces minimum to 25 ounce maximum. That would be a heavy deal! So the Red dot is the winner over Scope in the weight category.
Red Dot Vs Prism Scope
Let's compare the important aspects (magnification, reticle) to conclude the winner. Red Dot is quite different in magnification than the Prism Scope. Red Dot performs its task at 1x magnification only.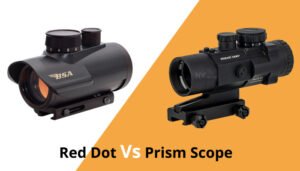 The Prism scope operates in the magnification of 1x.2x,3x,4x, or 6x. Red dot has speck floating in the FoV and lacks reticle whereas the prism scope is specially designed with a reticle on the glass. Both can use red and green illuminations. For small range shooting or hunting. I'd suggest red dots magnifiers. For close range to medium prism scopes will do the right job as it provides a lot of magnifications.
Wrapping Up
Red dots are excellent tools that can hit the targets at medium to longer ranges much easier, if you're looking to get a red dot for your shotgun, read our blog thoroughly. Which magnifier will you choose for your rifle? Leave your comment for us.