If you are looking for the best scopes for 300 yards under the $500 to $600 budget, you are at the right place!
The rifle scopes that come under $500 are suitable for short to mid-range shooting up to 300 to 400 yards. For .22 LR or 5.56 mm rifles, you no need to go behind expensive high-end rifle scopes as your firearm is unlikely to reach that distance.
The most common three types of riflescopes available in the market are for targeting, hunting, and tactical activities. Being a serious hunter or target shooting enthusiast, the maximum hunting or shooting range anyone involve won't exceed 450 yards.
Unless you have a flat long-range firearm like .308 rifles that compulsorily need a high-end scope with high magnification to compensate the rifle, you will do great with these best quality $500 scopes.
To help you understand the best riflescopes on this budget, we have researched and compiled a list of Best scopes under $500 with great quality, solid build, versatility, and values.
Best Rifle Scopes Under $500 - $600 in 2022
Best Rifle Scope for $500
1. Leupold VX-3HD 3.5-10x40mm Tactical Compact Riflescope
For an all-around hunting scope, you can buy a Leupold VX-3HD scope. The VX series is the hero of the Leupold lineup. There are many variable optics has released in this series for decades. All VX-3 scopes are rugged, affordable, and dependable with a lifetime guarantee. The Leupold VX-3HD is their latest model with ultimate evolution at an affordable price. It offers great low-light performance.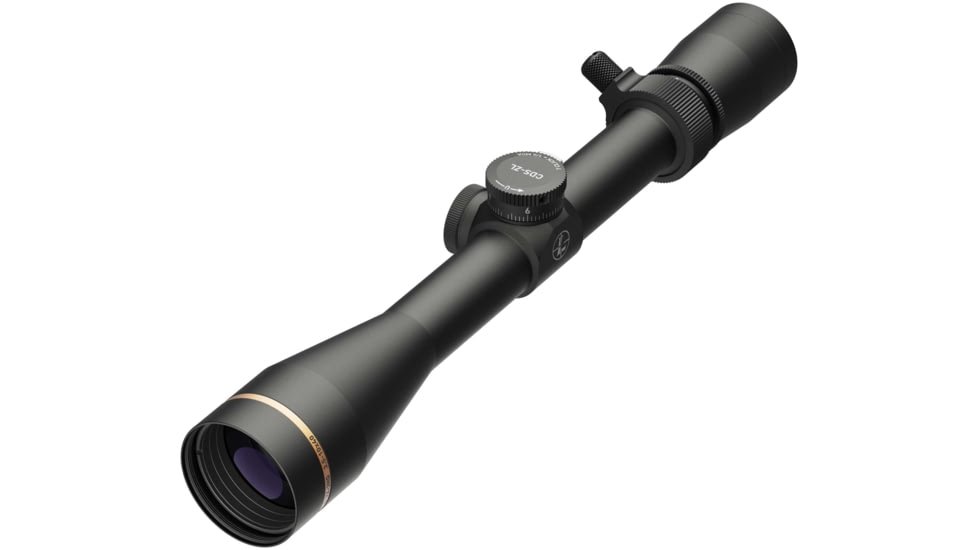 Its low-light performance is the first thing that impresses anyone. 
As a hunting scope, the VX-3HD delivers all essential features like clarity, durability, resistant properties, tracking, zeroing, low light vision, and weight.
Compare to its predecessor VX-3i, our pick VX-3HD has clear and HD resolution and contrast at low light conditions. Leupold VX-3HD has Elite Optical System where the coated lens has a system that is specifically designed to offer better light transmission and HD quality in different light conditions.
The hydrophobic guard-ion external coatings protect the scope from water and dust. The hardened lens coating prevents scratches. We tested it in the bright sun, glare is not a problem anymore.
The windage and elevation adjustment knobs in VX-3HD are big, solid, smooth, easy to turn, and have more tactile feedback than their predecessors.
In the VX-3HD series, there are various models with different optical features and specifications ranging from $499 to $1000. The one reviewed here, the VX-3HD 3.5-10×40 is available at $450 to $499 respective of different options and producers.
The model has a standard 30 mm tube with side focus adjustments and multiple reticle options such as STD duplex, Boone and Crockett, Illuminated FireDot, Wind-plex, and fine duplex.
It has MOA adjustments with a 0.25 click value. The dual springs in the adjusters come in handy to turn the knobs.
The windage and elevation adjuster uses the Zerolock system of Leupold to set dials and keep them even while the scope accidentally dropped off or bumped off. So, it keeps the zero settings, which is helpful in long-range shooting or tracking moving animals.
All the VX-3HD scopes have CDS (custom dial system). It shows all of those optics are eligible to use a free CDS elevation turret that allows you to dial target distance manually, preventing holdover points.
Enter the serial no, relevant load, environmental, and zero data on the Leupold website, they will send you a custom dial. Remember, it is completly guesswork using the data you gave for long shots.
The scope is purged with argon and krypton gasses to be fog proof. It is sealed and tested waterproof up to to 33 feet under atmospheric pressure.
The 13-ounce lightweight design of the Leupold VX-3HD scope makes a great pair with backcountry rifles.
Best rifle scope under $400 to $500
2. EOTECH 512 Holographic Weapon Sight
The EOTech 512 holographic sight is a lot to offer, it is not like an average sight. It is an excellent choice for professional shooters who need a clear vision of targets in the distance. The laser light transmission of EOTech 512 assist to illuminate more sophisticated reticles rather than red dot sights.
The 512 holographic sight has durable, robust, and substantial construction. The design encounters almost all factors that can affect the durability of the sight. The sight is a bit long which may be unsuitable for some installations. Otherwise, the holographic sight is compact and lightweight. 
It has fast and tactile feedback in buttons and controls. The rear-faced buttons might take a few uses to get used to them.
Despite being made from durable materials, the sight is lightweight and will not overpower you.
The EOTech 512 provides a generous amount of field of view. It provides 30 yards of FOV to ensure image clarity.
There are 20 different brightness settings to choose from according to the lighting conditions. The negative is there are no night vision settings. However, with 20 brightness levels, you can choose the maximum level to see in dark or low light conditions.
This rock-solid holographic sight uses an A65 reticle. A 65MOA circle dot encloses an IMOA aiming dot in the reticle. The particular reticle is perfect for short to long-range shooting because of the precise IMOA aiming dot.
This high precision is possible only through the laser transmitted multi-dimensional image of the reticle. You get a magnificent target view as the reticle moves to the back of the eye via focal point progression.
Another great thing is the sight works as both eyes open like most prism scopes. So, the reticle is imposed over the view.
Using the EOTech 512 holographic sight, parallax error is minimal as the optic is designed to be free of that error. There is a parallax adjustment setting so you can adjust the scope to infinity. With this, you will just aim at your target, get a clear view through the scope, and adjust the reticle on target for clarity. So, the chances for target missing are very low. You get a clear and crisp view at a fixed 1x magnification level.
The holographic sight has shatterproof glass which is placed close to the rear display. It prevents shock or pressure. It is nitrogen-purged to fog proof and shockproof and is water-resistant up to 10 feet.
What's more, is its unlimited eye relief. You can use it with high-recoil rifles without worrying about knockback injuries in the eye and eyebrows.
The total weight is 11 ounces that are easy to handle and carry for a long time.
This EOTech 512 holographic sight is versatile to mount on crossbows, bolt guns, and small-caliber machine guns. It utilizes a laser to an illuminated red dot. It provides more accuracy not accounting eye position.
Best rifle scope Under $500 to $600
3. Athlon Optics Helos BTR 6-24×50 First Focal Plane Riflescopes
If you need a long-range scope under $300, the Athlon Argos Helos BTR is a great choice. The BTR optics from Athlon perform not less than any best $1000 long-range scopes.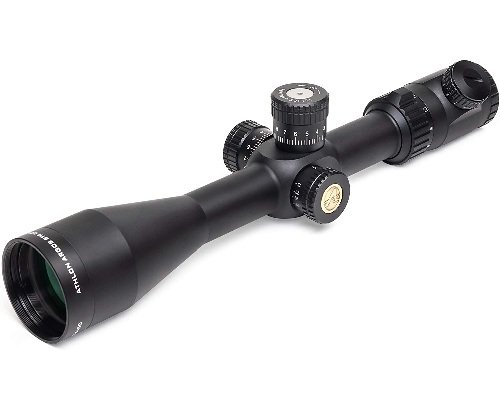 The glass quality is nearly 5 times better than a Leupold 6.5 optic. BTR glass is crisp and clear with 1080p clarity. As a $300 scope, we can't expect it to be the same for higher magnification. Yes, the clarity is a bit low on the 24x magnification range.
Athlon BTR uses APMR MIL illuminated reticle. It is easy to see in dark, low, and bright light conditions as we tested. There are 11 brightness settings that you can switch between to compensate for your eyesight.
As with prismatic scopes, BTR has a glass etched reticle which means even after your battery dies you can still see the reticle. Also, it is an FFP scope- the holdover reticle points won't change with magnification settings. No adjustment or windage calculations, just aim and hit.
Unfortunately, you only get the standard range of eye relief in BTR which is 3.3 inches.
So, if your rifles create heavy recoil, it might be a little tight for you. As a piece of advice, practice a good cheek weld that will help you in these cases.
The eye box is generous still it is tight in high magnifications like 18 to 24x.
The scope is made of 6061-T6 Aircraft grade aluminum with an O-ring seal and nitrogen-filled tube. It shows the optic is durable, waterproof, shockproof, and fog proof. Also, the lens is XPL coated to prevent damage from oil, sand, or dirt.
The big and smooth elevation and windage knobs move without resistance. You can regrease the turrets to avoid over-adjusting.
The big advantage of scope is easy zeroing. Within 10 shots, we were zeroed in three rounds. It also holds zero even the scope meet minor accidents like drop or bump.
The variable magnification from 6x to 24x is perfect for medium to long-range shooting. It is suitable for hunting, target shooting, plinking, or pesting.
However, magnification above 20x is unhappy. There is distortion and blur.
To prevent parallax error, BTR also has an adjustment knob for accuracy.
To start long-range shooting, Athlon Argos BTR is great for beginners. Aside from less eye relief and little distortion at high magnification, the scope has a battery-free etched reticle, coated lens, tracking, and long-range possibility up to 1200 yards.
If you need a variant of the above Athlon BTR scope, we have already found one for you. We believe it is also a great choice of long-range scope under $500. So here it is.
Athlon Optics Helos BTR Gen 2 6-24x56 Riflescope
If you see, the Helos BTR Gen 2 differs in a few optical and lens specifications with Helos BTR. 
It has a 56 mm lens that is larger than Helos BTR. 

The Gen 2 uses an APRS6 MIL reticle.

The tube diameter is large at 34 mm.
The field of view at 100 yards comes with a slight variation at 16.7 to 4.7 ft.
The eye relief is also a little high at 3.7 inches.
The big difference will be their weight at 34.5 oz and 29 oz. Gen 2 is heavy.
Gen 2 has no parallax adjustment but the Helos BTR does.
Otherwise, the specifications and features such as variable magnification (6-24x), focal plane (FFP), battery (CR2032), locking turrets, illuminated reticle, etched glass reticle, fully multicoated lens, aluminum construction, one-piece tube construction with waterproof, fog-proof, shockproof, and weatherproof design are same in both models.
We did not see any big difference in their performance except a little extra brightness due to the light transmission of the 56 mm lens in Gen 2.
Helos BTR 50 mm scope is available between $500 to $550 as it has 2 reticle options, MIL and MOA. On the other hand, the Helos BTR Gen 2 56 mm scope is available at $600. 
Between two optics, The BTR 50 mm is lighter and less-priced, while the BTR 56 mm has a wide lens, high eye relief, and precision zero stop. 
It's your turn, Choose wisely.
Best rifle scope for $400
4. Primary Arms 3-18x50mm FFP Riflescope
Primary Arms always produce an affordable series of riflescopes for all ranges of hunting and shooting. Their latest version 3-18×50 FFP riflescope is our choice for the Best riflescope for $400.
Those budget-minded shooters who need precision within under $500 find this scope a good choice. Primary Arms 3-18x is best used for 5.56 NATO and .308 Win firearms.
The 50 mm objective lens allows high light transmission. The FFP reticle with LED illumination assists to focus on targets in different lighting conditions.
The variable magnification 3-18x is suitable for close to medium-range shooting. It works fine for long-range also but you may find a little distortion in high magnification levels.
As you know, FFP (first focal plane) setup provides the advantage of reticle measurements to support long-range shooting that is not possible in SFP (second focal plane).
The FFP reticle design allows the exploration of different possibilities with reticles of FFP scopes. Primary Arms utilized this advantage with their special ACSS HUD DMR reticle so it is one of the best DMR scopes in this price range. In their previous models, 4-14x44mm and 6-30x56mm FFP scopes had been implemented with these designs. 
The implemented design provides holdover points to estimate range, bullet drop compensations, leading moving targets, and windage holds. There are 3 different hold points to track moving targets.
Primary Arms's unique holdover points with FFP reticle design in this scope help the shooters to adjust target adjustments quickly without requiring dial or ballistic calculations that eat time.
If you like to dial on scope, the scope also has quick-reset windage and elevation adjustments turrets, each with a push-pull locking mechanism to avoid accidental adjustments.
The same windage and elevation adjustment knobs on the left side are used for parallax and reticle illumination settings. 
The scope has standard eye relief from 3.9 to 3.5 inches which give enough space and prevent eye injuries. It shows the scope is compatible with high-caliber rifles also.
The scope also offers diopter adjustment, the quick-adjust diopter, and adjustable power-ring fin allow shooters to adjust the magnification speed and focus value as per their requirements.
Best rifle scope under $300
5. Burris 6.5-20x50mm Fullfield II Tactical Riflescope
Burris optics introduced the Fullfield II scope series in 2006. It was the most affordable tactical scope as an alternative to their XTR line. The Fullfield series of scopes are great with bright and clear optics producing a large field of view.
For the best scopes under the $500 list, we picked their 6.5-20x50mm tactical scope to review. It is the only scope from the series that uses Ballistic Mildot. If you want mil-dot or ballistic mil-dot reticle on their 3-9x40mm and 4.5-14x50mm Fullfield II scopes, you can get it from Burris's shop at an additional cost.
The reticle is accurate at 14x calibration which is marked on the eyepiece so shooters know where to set it.
It comes in multiple exterior designs like black and anodized OD green finish.
The problem with Burris scopes is the eyepiece entirely rotates when the power ring gets adjusted. This scope also has this problem.
The adjustable objective is placed on the bell and works how it should be.
About the adjustable knobs, it uses Burris's TAC-2 knobs which are low profile knob comes with a dust cover. The knobs have tactile feedback with audible clicks which helps to know it works. But they are not as precise as I expected. 
It offers a great shot through the box and aims perfectly, the scope is fine there. However, I expected a bit more precise and defined knobs on them.
The scope offers no option to use knobs for windage and elevation compensations, it only has 30 MOA of up elevation adjustments. So you have 15 MOA up and 15 MOA down. 
It is common to use 10 MOA settings for zeroing the scope leaving the 5 MOA remaining. If you use a BDC reticle, you are fine. But for other rifles zeroing is might difficult using internal adjustments for 200 yards and beyond.
In such cases, you can use a 10 or 15 MOA canted base or even a Burris signature rings to gain adjustments. However, when you are using the ballistic reticle portion, it won't be a problem.
At the highest magnification, the stadia are thick and useful so you don't lose the aiming on dark background especially with tactical scope. 
The BDC / Ballistic portion of the reticle is generous to support different loadings. Additionally, Burris provides helpful instructions on how to use marks and your caliber.
The scope is solid and durable though it needs a few refinements on the reticle and knobs. Still, it is not a big problem with the given overall great design and Ballistic reticle.
Best Rifle Scope for $200
6. Sig Sauer Whiskey3 4-12x50mm SFP Riflescope
If you want a hunting scope with a little more range and power under $300, the Sig Saucer Whiskey3 is the great choice for you.
If there is a scope under $300 for AR15 rifles that we love, it is Sig Saucer's Whiskey3.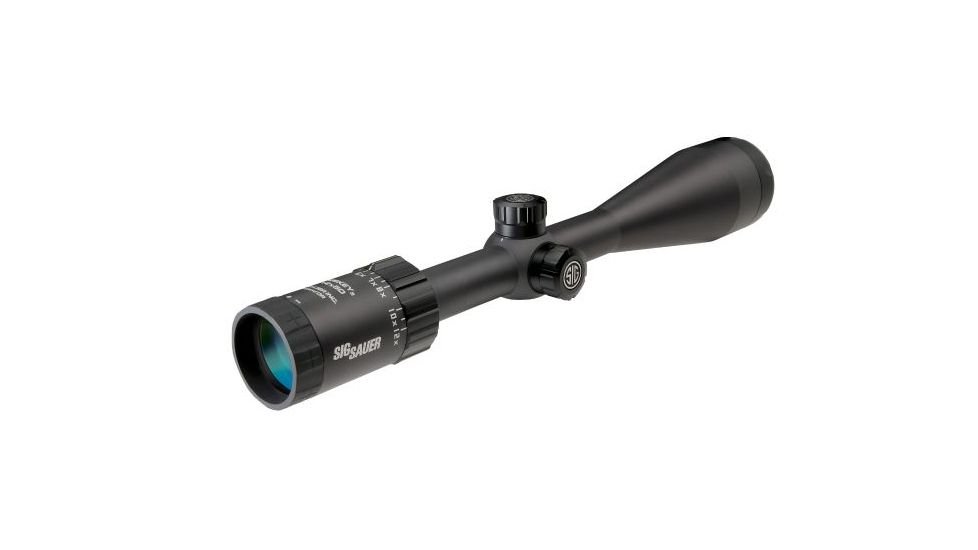 Whiskey3 4-12×50 is the upgraded version of 3-9×40 in terms of power. 
The scope offers more range with the BDC-1 Quadplex reticle as a mid-range engagement optic. It is perfect for target shooting, hunting with a light design and affordable price.
As a $200 scope, it performs well. It is excellent at 400 to 500 yards. To get the best out of the BDC-1 Quadplex reticle, you need to know how your rifle and loads perform.
The scope is lightweight at 18 oz. The design is fully weatherproof which is essential for hunting scopes especially when you are tracking the moving targets.
It has MOA adjustments with a 0.25 click value. The scope with these adjustments accurately tracks the targets within the first 40 MOA. It is no long-range or competition scope, but the turrets of optics perform well.
The scope is designed to mount on MSR and AR platforms.
Although the scope is best used for hunting, it has an all-purpose build with good glass quality, Quadplex reticles, simple operation, and a variable power range.
The 4-12×50 gives a fight for long-range precision, but it is limited because of no side focus to adjust the parallax. The parallax is preset at 100 yards so you need to practice cheek weld to offset parallax errors for long-range works.
The scope can handle the recoil from guns but is favorable to AR15s. It is excellent for predator hunting like hogs, varmint, and coyotes.
But for varmint hunting, the reticle is a little thick yet provides incredible visibility in dense woods. However, the scope is well suited for plain areas also.
The scope has LD (low dispersion) glass which is no less than long-range optic. It has an element to reduce chromatic aberration, increase sharpness, and color fidelity to match ED glasses.
The optical quality is great at 3x magnification, the edge-to-edge images are provided. In addition to that, the fast-focus eyepiece helps to keep images sharp and reticle crisp for better vision.
The BDC-1 Quadplex reticle features hash marks for bullet drop and windage compensation. It keeps things easier. To get the advantage of bullet drop hash marks for your loads, you have to seek help from online ballistic calculators and sometimes by practice.
The scope offers an extra upgrade to a customized laser-etched ballistic turret. But the free SIG Ballistic Turret voucher is not included.
The Sig Saucer gives you only the scope, no freebies. You have to buy lens caps, rings, and mount separately.
Best Rifle Scope under $450 - $500
7. Vortex Optics Viper 6.5-20×50 Riflescope
Vortex Optics is one of the reputable brands trusted by hunters for deer hunting and target shooting. 
The design of this scope is solid and substancial. This Vortex Viper scope is made of aircraft-grade aluminum material to withstand harsh outdoor conditions.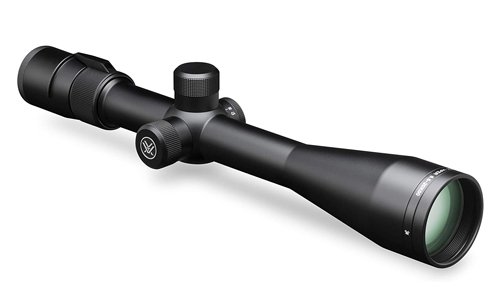 This scope's 30 mm main tube has an anodized finish that provides a tough and rugged finish to the scope so it can easily withstand unexpected moments in tactical actions like drop, bump, or scratch. 
The Mil-Dot reticle is used in this scope that helps you to easily focus on long-distance targets. 
The reticle of this scope is placed in the second focal plane so that the reticle size remain same in all magnification ranges which is perfect for all range hunting. It is a non-illuminated type reticle so it will not visible in dark or low light conditions.
The magnification of this scope ranges from 6.5-20X allowing you to easily shoot the medium-range to long-range targets. However, the magnification above 18x creates little distortion and blurriness.
The 50 mm objective lens allows the maximum light transmission so you can see nearly everything in the sight. 
The fully multi-coated lens reduces the glare and allows you to see the target's clear image without reflection. 
The Field of view of this scope is 6.2-174 ft at 100 yards in 6.5 to 20X magnification range.
The exit pupil length of this scope is 2.5-7.69 mm.
The eye relief is normal at 3.1 to 3.3 inches which is low but still helps to protect your eyes from recoil and impact injuries. 
The argon-purged main tube and O-ring seal provide the fog-proof and waterproof performance despite climate conditions. 
By using the turret, you can easily adjust the windage and elevation of the scope, the maximum adjustment range of the scope is 68 MOA, and you can adjust 0.25 MOA per click. A side knob is provided to adjust the parallax of the scope based on the shooting position.
Best Rifle Scope under $600 to $700
8. Vortex Optics Viper HS-T SFP Riflescope
Vortex Optics Viper HS-T Riflescope is one of the best rifle scopes under $600. 
The VMR-MOA reticle is one of the advantages of this scope that helps you to easily shoot long-distance targets.
Moreover, it helps to focus easily on the moving targets.
This scope has the second focal plane reticle that maintains reticle size even in the variable magnification range. 
This way, you can clearly view the target in all magnification ranges.
The Aircraft Grade Aluminum material is used in this rifle scope; due to the material, it has a durable construction so that it can withstand the high-recoil weapon. 
This scope's 30 mm main tube has argon purged that prevents entering moisture into the tube, and it provides the waterproof and fog-proof feature to the scope so that it can perform well in heavy rainfall and snow. 
The extra-low dispersion and fully multi-coated lens of this scope reduce the glare and enhance the high-quality and bright image of the target. 
This scope has a variable magnification that ranges from 6-24X. It helps to focus on the medium and long-range targets easily.
The 50 mm objective lens of this scope allows maximum light transmission for the details and clarity. 
The CRS Zero Stop designed in this scope allows the scope reliable return to zero after the adjustments.
The fast focus eyepiece allows fast and accurate target acquisition which is needed for long-range shooting. 
The side focus parallax adjustment of this scope helps to get the optimal image clarity in various magnification ranges. 
The exit pupil length of this scope is 2.08-8.3 mm, and the eye relief distance of this scope is 4 inches; it is higher comparing other models in the list.
The 5.1-17.8 ft at 100 yards field of view in the 6-24X magnification provides a wide view of the environment.
The stylish turret design allows frequent adjustment. The MOA turret adjustment has a 0.25 click value for windage and elevation. 
The hard Anodized finish gives a stylish look to this scope. It is quite heavy with 21 oz weight, however, it is normal in high-power variable optics.
What to expect from Rifle Scopes under $500-$600?
These scopes have a great lens quality with an advanced coating that helps the shooter and hunters to shoot accurately in outdoor pursuits.  
The scopes under the $500-$600 budget are always designed with excellent optics and a high-power magnification range that help to get a crisp and clear image of the targets. 
The scopes in this price range provide the optimal light transmission. You can also get an excellent field of view in the various magnification ranges. 
You can also expect a durable and sturdy rifle scope with waterproof, fog-proof, shockproof, weather-proof, and impact-resistant construction for long-lasting performance.
Overall, you don't need to force yourself to spend over your budget on an expensive scope when you have the best choices within your budget.
How to choose the Best Rifle Scope Under $500-$600
Choosing a rifle scope under $500-$600 is not a real challenge, but choosing the best one from the long list is. 
A better guide helps you choose the best one, here we suggest a list of considerations you have to check before picking a riflescope. 
High-quality optics and glass
The optics and glass are some of the important factors to consider in a high-quality riflescope. The quality of the glass makes the biggest impact on the image clarity. You have to look for the scope with high-quality optics that ensures a clear field of view. 
Objective lens
The size of the objective lens is one of the basic considerations when choosing a rifle scope. The large diameter of the objective lens helps to gather more light, and it increases the brightness of the target image making a great impact on target shooting and precision in sighting. 
Superior Light Transmission
The light transmission of the scope is also very important to consider. The scope with the superior light transmission will prove the extra light for shooting so that you can easily see the target in the dawn, dusk, and low light conditions. 
Magnification
The magnification range of your scope is based on your application. Generally, if you are going to use your scope for varmint hunting or long-range shooting then you have to choose the scope with high magnification power. But these are more expensive and heavy.
For short to medium range hunting, you can buy scopes from 3x to 9x.
Focal Plane
There are two different focal planes available.
In FFP optics, the reticle size adjusts in size along with magnification changes not compromising the accuracy at all. It suits long-range shooting.
In SFP optics, the reticle size won't change with magnification level, so the hashes and estimates distance values are accurate only at certain magnification levels because of the fixed reticle size.
Fast focus eyepiece
The fast-focus eyepiece is the advanced feature for quick target focusing and accuracy of the target. It helps to track the targets with accuracy.
Eye Relief and Exit pupil
Make sure that your eye relief and exit pupil has sufficient distance to protect your eyes and eyebrows from the high recoil and eye-straining at shooting. This feature helps to enjoy your shooting time and extends the hours of hunting without hassles.
Sturdy Construction
You have to consider the material used to design the scope; it helps to increase the durability of the scope. Due to the material, the scope gets waterproof, fog-proof, and shock-proof features to withstand all weather conditions. Moreover, the durable construction ensures that the scope performs well with high-recoil rifles. The aluminum alloy or aircraft-grade aluminum offers these features and comes lightweight. 
Easy Mounting
You should consider the compatible mounts to your scope.
Most of the riflescopes come with Picatinny or Weaver-style mounts which is a standard base that most firearms support.
Reliable customer service
When you have an issue with the quality of the scope reliable customer service is a lifesaver. Ensure that the company of your scope has the customer support that helps reach and contact them easily at times.
These are the important considerations that you have to look at before choosing a scope for your rifle despite the budget.
Conclusion
The price of the scope also plays the main role in buying the scope. Nowadays, there are plenty of models available in the market at an affordable price with quality features, so you don't need to spend much to get the right one.
In such a case, our list of the best rifle scopes under $500-$600 will help you find the right scope with essential and great features to fulfill your game requirements.