Most people do not believe in ghosts. In this case, ghost hunting becomes very crucial. 
Ghost hunting has become one of the huge popular things like an innovation of modern science and trying to prove as they can film a real ghost through modern technology. This scientific evidence will help you to prove the existence of the ghost. 
Paranormal investigators are also referred to as ghost hunters, they use a camcorder at nighttime, and they acquire all kinds of terrifying scenes in the morning. 
These cameras are smart electronic devices that can record audio as well as videos during your night adventure.
Once you have decided to go ghost hunting, you need the best camcorders on your side. 
And your camcorders should be a special one and be made specifically for ghost hunting because ordinary camcorders may fail to produce the interesting footage or results that you want to record in the complete darkness. 
That's why you need a specialized camcorder for presenting the special actions and showcase what you have witnessed in the dark. 
Are you looking for a full spectrum camcorder with infrared night vision for ghost hunting? The ZOHULU video camcorder is a terrific option. 
This can be used as a night vision camcorder for ghost hunting and paranormal investigations. The top-resolution of this camcorder is 2160p.
So, read out our review to get more knowledge about this product before you purchase.
ZOHULU 4K Video Camcoder Review
Construction
The ZOHULU full spectrum camcorder has been considered as of the World's best colorful infrared and full spectrum night vision camcorders due to its standard performance. 
It can also be used as a regular camcorder. The ZOHULU Full-Spectrum Camcorder is built with an upgraded IPS touch screen that is easy to navigate the menu. 
Also, the camera can switch from infrared to full-spectrum with easy touch buttons. 
The 4k WiFi Full Spectrum Camcorder is built with the CMOS sensor, which is a fast and accurate image processor in combination with the detailed CMOS sensor. 
It has 24 megapixels and allows you to produce the best quality videos. Also, the 4k Camcorder is good in recording videos, with ultra HD 4k video resolution.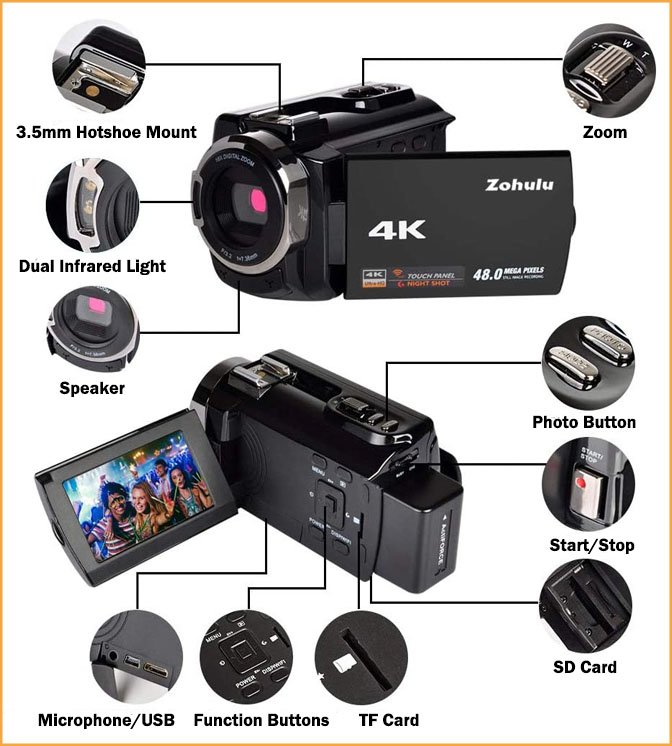 It has a 4K UHD Wide Angle Lens to capture larger images without any distortion and helps you to record a better field of view. 
The camera has a 30fps night vision mode for enhanced performance, and it's 4 times clearer than 1080p; thus, it provides clear, bright, and live footage. You will be amazed by the night vision quality of this device. 
This video camcorder is a WiFi-enabled device for remote viewing and allows you to download and transfer the files to your system or tablet or mobile phone on iPhone/ Android. Also, you can store the downloaded files over the 32 GB SD card.
Design
This 4k full-spectrum camcorder has been designed with 4k technologies, and it has few features that make it ideal for ghost hunting, general surveillance, and paranormal investigations. 
You can also use it as a regular camcorder. Moreover, the device is perfect for mounting on a tripod, and it supports a ¼ inch standard tripod. 
This video camcorder is portable and light in weight. So, it's easy to carry around wherever you need. Also, it's great for recording your ghost hunting adventures. 
This camcorder is the best gift for your friends or neighbors who love photography and outdoor activities.
Features of 4K Video Camcorder
The relatively inexpensive model comes with the following features, and they are;
HD Video Quality
This camcorder supports a full HD video recording. You can shoot elegant and clear pictures with rich color and bright contrast performance. 


The effects of the videos are amazing when you playback them on your 4k HD TV.
Infrared light
Another feature that users will love on this camera is an infrared flashlight, and it's one of the useful features since you use it for paranormal investigations and ghost hunting. 
Because the ghost hunting can be performed at night or in pitch-black situations. An infrared flashlight adds more brightness to the night scenes if needed. 

This flashlight is more flexible and helps you to record high-quality videos even in low-light conditions.
Digital Zoom
Another great feature of this device is the 30x digital enhanced zoom. It allows you to get realistic pictures and videos, as well as the best zoom. 
Having a digital zoom is a great addition to a small and lightweight video camcorder. 
Using this 4K ULTRA HD 30X zoom, you can film the ghost even from long distances. It comes with small prints but offers you an outstanding performance. 
Pause Function
The camera has a pause function, so you can pause it where you wish, then press start again to continue, and no need to start a new one. This Pause function is much easier for you to edit and upload your videos.
Webcam Function
The camcorder uses the latest unzip and restore technology. It automatically compresses the files while saving them and brings back in 4k quality when playing it. 
In addition to that, it comes with a webcam function with 4k Ultra HD resolution. The zooming function can be used during live recording.
Battery Life
When using the device for exploring wildlife or ghost hunting, you will require an extraordinary battery life. And this camcorder has been provided with excellent battery life. 
You can use it for a prolonged period without a need for a battery charge. This 4k Wifi Full Spectrum Camcorder offers extended battery life for 200 minutes of usage on a one-time charge. It does not use the infrared board LED, thus saving the battery life.
What comes in the box?
4k Camcorder

Infrared Flashlight

Flashlight Mount

Adapter, charger, and USB cable

Padded Camera Pouch

2 Rechargeable Li-battery

Card Reader

High Definition Wide Angle lens

32 GB SD card

Camcorder User Manual
Conclusion
This 4k full spectrum night vision camcorder has everything that you need to go on a paranormal investigation. The device is made specifically for Ghost hunting. Also, the price of the product is affordable and you get this camcorder for under $200.