Enjoy your hunting with a perfect thermal riflescope that elevates your hunting experience to the next level. Many people love to travel, hunt or hike in the nighttime, and here rifle scopes are the vital equipment needed for safety and hunting purposes. 
Initially, riflescopes were developed by the military people as a war tool, and then it is utilized by the hunters, law enforcement people, and firefighters. Here we have reviewed ATN ThOR 4 Thermal Scope that is one of the best thermal scopes for hunting from our own experience.
About ATN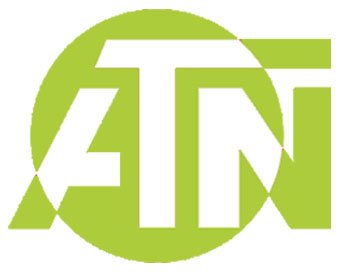 In 2012, ATN launched its first line of Digital Night Vision devices (monoculars) with Ultra Bright core technology. Annually with their innovative technology, ATN is providing a variety of thermal and night vision devices such as scopes, binoculars, and monoculars.
ATN launched its fourth generation optical devices in 2018 that are configured with an Obsidian 4 core with Dual Processor. Besides, it enhances image processing abilities and offers high-speed performance in every condition. 
These newly launched products possess special features such as HD video recording, wireless streaming, ballistic calculation, One-shot zero, image stabilization, and laser ranging. These updated features make your hunting easier and that are useful for newcomers in the hunting field. 
Devices that are incorporated with thermal technology are widely used for General purposes, Security purposes, Military purposes, and Industrial applications.
How ATN Thor 4 Works
Thermal Sensor in ATN Thor 4 Thermal rifle scope works by receiving heat energy (Infra-Red Rays) from the source and then modified it into a color view that is visible to human eyes. 
The lens present in this riflescope collects the infrared rays which are then scanned by thermal sensors, the signal sent to the microprocessor for further processing. 
The function of the microprocessor is to convert the different values of heat(IR rays) into different colors, and this process happens within a few fractions of a second. The thermal riflescope is a camera that takes pictures of infrared light and then translates it into visible light.
ATN Thor 4 Thermal Rifle Scope Review 
ATN ThOR 4 384 Thermal Riflescope
ATN ThOR 4 640Thermal Riflescope
ATN Thor 4 riflescope is the best thermal scope for coyote hunting that can take your hunting experience to the next level. This scope allows you to hunt in the pitch darkness using the IR rays (heat energy) to capture the thermal image.
ATN Thor 4 riflescopes are constructed with durable and high-grade materials and are configured with the latest technologies to provide outstanding performance to the user. Though this riflescope was built with premium-quality materials, it comes as a lightweight model. 
ATN Thor 4 is one of the most powerful thermal scopes available on the market because it has higher thermal sensitivity, improved contrast, and resolution. This thermal scope will increase your safety, makes your hunt successful, and helps to view your surroundings in a different manner. 
Hence you can easily find out your targets at both day and night time with the help of this best thermal scope.
Viewing Modes of ATN Thor 4
ATN Thor 4 scope has been designed with higher sensitivity, smoother gradients, and gives a clear target view with a different mode of view. You can modify the view by changing the modes of view depending upon your eyesight ability. 
There are three modes of view present in the ATN Thor 4 scope, which are;
Color Mode

– shows the thermal image of the target.

White Hot Mode

– shows the object in white color.

Black Hot Mode

– shows object in black color.
Features that Configured in the ATN Thor 4 Riflescope
1] Resolution
The ATN Thor 4 has two different models based on their sensor resolution i.e., 384 and 640 thermal rifle scopes. These are incorporated with an Ultra-Sensitive Next-Gen sensor that has the ability to capture crisp, sharp, and clear images at long distances with the resolutions of 384×288 and 640×480.
Thermal Resolution: You can easily capture the images of the target using the higher sensitivity ATN Thor 4 riflescope even in absolute darkness. It produces high-quality images in dark or dim light conditions, and you will get superior quality images even if it is captured from a long distance. 

Display Resolution: ATN Thor 4 has a display screen resolution of 1280×720 HD which displays the victims and images with premium-quality. By using this HD display, you can view the captured image and videos clearly and due to the large screen size, you can view the wide surroundings of your target.
2] Easy Navigation 
ATN Thor 4 has a user-friendly interface, and easy navigation system; therefore anyone can easily navigate the thermal riflescope without any difficulties. It has minimal button controls and an intuitive menu that allows you to easily navigate through different functions of the riflescope. Using the Obsidian app from your phone or tablet, you can navigate and change settings which helps you to attack the target without any distraction.
4] WiFi Streaming & Video Recording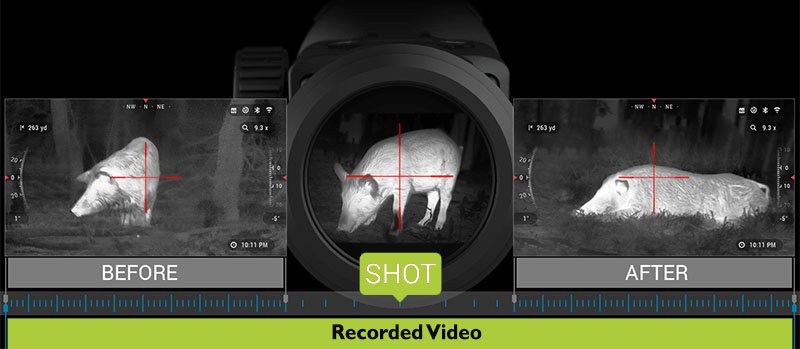 Most hunters like to record the hunting moments, for that Thor 4 riflescope offerst HD video recording feature with WiFi streaming thus you can easily record the video. With the help of WiFi streaming option, you can make live streaming videos on a computer, tablet, or laptop. ATN ThOR 4 comes with a 64GB removable SD card to store videos so you don't worry about the storage issue..
Android or iOS mobile device users can also stream the video and this riflescope can be controlled by an app called Obsidian app through which you can easily modify the settings of the ATN ThOR 4 riflescope. Just by clicking the button on your mobile, you can easily change and capture the images or videos of the object. 
Obsidian Core will automatically record a video while hunting and store it directly to the SD card. So you just focus on your target and enjoy the hunting experience.
5] Smooth Zoom Technology
The ATN Thor 4 thermal riflescope has a smooth zoom-in technology that offers you clear, sharp images, and it also takes the close view of the target, also it makes it easier to figure out the object. Adjust the zooming range and get a close view of the target by just rolling the adjust wheel. 
6] One-Shot Zero
The most important feature of Thor 4 thermal scopes is One-Shot Zero that removes interruption in the viewing sight. Using this feature you can take a shot of the sight, then tune the reticle to where the bullet hit the target, you can also store the settings to minimize the time you spend in sighting.
7] Ballistic Calculator
The ballistic calculator is controlled by spinning the wheel that calculates the trajectory alterations, and the wheel printed with the ballistic data of Thor 4 thermal riflescope. It makes your hunting perfect, and you can easily hunt by making your shot hit the target every time without fail. It provides the angle, height, range, wind, temperature, humidity, and other profiles while hunting that aids in calculating an accurate bullet path for shooting. Together with other features like range finder, ballistic calculator increases shot accuracy that helps in using ammo efficiently.
8] Smart Rangefinder
Using Smart Rangefinder, you can easily calculate a better distance estimate of your target, and there is no need for guessing, chart memorization, or complex calculations. Here, when the scope is ranged perfectly in your reticle, it will automatically adjust its point. 
9] Smart Mil-Dot Reticle
It is a new feature released by ATN that is requested by both ATN customers and the shooting community, and this reticle will ensure the users have verified distance between hash marks at all magnification levels. Based on the load, program the variance between hash marks in Mills. 
10] Recoil 
If you are new in the hunting field, then use this ATN ThOR 4 riflescope to make your hunting easier. Recoil effect means the thrust produced while the gun gets discharged is small in ATN ThOR 4 that protects you from shoulder damage.
11] New Processor
ATN ThOR 4 is a new series of thermal scopes from ATN that has a new Obsidian IV Dual-core processor that is smarter and more powerful that provides better performance, more advanced features, improves power efficiency and cooling performance. The new core processors get more details from the sensor, offering a sharp image from distant targets.
12] Thermal Sensor
Thermal sensors are a device which is used to detect the degree of heat or cold from the source. Thermal sensors can also detect small differences in temperature and then send them to the Dual-core processor to get a clear view. ATN ThOR 4 has a thermal sensor with two versions.
640×480 – a higher resolution that is expensive.

384×288 – Version that is enough for most hunters.
14] Magnification
ATN ThOR 4 has a variable magnification range based on their models, and the model with the higher magnification provides a long detection range. The cheapest ATN ThOR 4 riflescope has a magnification range between 1.25x and 5x with a detection range of up to 750 yards, and the expensive one has 4-40x magnification with a detection range of 3300 yards. 
15] Refresh Rate 
ATN ThOR 4 has a refresh rate of 60 HZ, which helps in producing smoother images from moving targets and also allows the rifle to scan surroundings without a blurry view.
16] Eye Relief
ATN Thor 4 has an eye relief of 90 mm provides a comfortable viewing experience. If you wear glasses, Thor 4 allows you to keep your specs on while hunting.
17] Battery Life 
ATN ThOR 4 scope has many new features and a more powerful processor that doubles the battery life when compared to ATN ThOR HD. This new scope has 16 -18 hour battery life in three ways.
More batteries – ThOR 4 has low-profile batteries that give more power.

Efficient processor – Advanced processors are not only more powerful, but also smarter, more efficient, and improve power consumption & battery life.

Better heat management – Over heat will minimize battery life; therefore, the new processor has been designed to get cool faster.
Comparison Table of ATN THOR 4 Thermal Riflescope
| SPECS | THOR 4 384 | THOR 4 384 | THOR 4 384 | THOR 4 384 | THOR 4 640 | THOR 4 640 | THOR 4 640 | THOR 4 640 |
| --- | --- | --- | --- | --- | --- | --- | --- | --- |
| SENSOR | 384×288, 60Hz | 384×288, 60Hz | 384×288, 60Hz | 384×288, 60Hz | 640x480, 60Hz | 640x480, 60Hz | 640x480, 60Hz | 640x480, 60Hz |
| MAGNIFICATION | 1.25-5X | 2-8X | 4.5-18X | 7-28X | 1-10X | 1.5-15X | 2.5-25X | 4-40X |
| FIELD OF VIEW | 16×12.5 | 12×9.5 | 6×4.7 | 5×3.8 | 24×19 | 12.5×9.7 | 8.3×6.2 | 32×25 |
| MICRO DISPLAY | 1280×720 | 1280×720 | 1280×720 | 1280×720 | 1280×720 | 1280×720 | 1280×720 | 1280×720 |
| DETECTION RANGE | 750 Yards | 950 Yards | 1800 Yards | 3000 Yards | 830 Yards | 1050 Yards | 1950 Yards | 3300 Yards |
| RECOGNITION RANGE | 335 Yards | 480 Yards | 720 Yards | 1370 Yards | 350 Yards | 530 Yards | 800 Yards | 1450 Yards |
| SHOP | BUY NOW | BUY NOW | BUY NOW | BUY NOW | BUY NOW | BUY NOW | BUY NOW | BUY NOW |
Common Features in the 8 Models
Video recording resolution: 1280×960 @ 30/60 fps

Micro-Display: 1280×720 HD Display

Wifi: link with iOS or Android 

Eye relief: 90mm 

Battery Life: 16 to 18 Hour 

Mount: 30mm rings included

Core: ATN Obsidian IV Dual Core

Micro SD card: 4 to 64 GB

Multiple Color Patterns: Reticle Options, and Reticle Colors
Has 3D Gyroscope, 3D accelerometer, Smart Range Finder, Bluetooth, E-Barometer, Recoil Activated Video, Electronic Compass, and Microphone
Conclusion
The thermal scope is a significant tool for the hunters to make their hunting experiences more interesting and fun in different environmental conditions. ATN Thor 4 scope provides supreme quality images and videos of the targets and also it is the best scope for both professionals and beginners in the hunting/shooting field.