Are you interested in Hunting? Just experience hunting at least once in your lifetime with ATN Thor HD 384 smart Thermal Riflescope. It is one of the most popular scopes for Night vision. It comes from the ATN Corp brand, which is a leading manufacturer of Thermal equipment. 
It is specialized in making optics by using a thermal sensor instead of light. Thermal riflescopes are generally cheaper and the price you invest on ATN Thor HD 384 smart thermal riflescope would be really worthwhile. 
Why do I love ATN Rifle scope? This is because of its balance in money and performance. The price starts from less than 2,000 dollars but offers more innovative features and delivers a good imaging performance. 
It not only allows you to make shots accurately at the target but also can take clear photos and videos to help you recall your hunting experience.
The ATN ThOR-HD is available in four different versions, such as; ThOR HD 384 1.25-5X, ThOR HD 384 2-8X, ThOR HD 384 4.5-18X, and ThOR HD 384 9-36X. And all these four versions are equipped with amazing and extraordinary features that are mentioned below.
Here I'm gonna give you the full review of ATN Thor HD 384 Smart Thermal Riflescope.
Key Features of ATN Thor HD 384 Smart Thermal Riflescope
1] Brand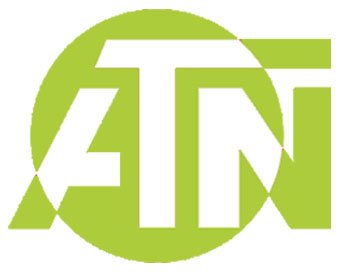 The Thor HD thermal riflescope from ATN is widely popular not only for its supermodels but also it satisfies everyone's needs by their scopes. Whether you need a short-range scope or longer-range scope out to 700 yards, ATN will provide clear images in their scopes to hit the target. 
Here I'm reviewing ATN Thor HD 384 Smart Thermal Riflescope, which is truly a perfect partner for long-distance shots.
2] Thermal Imaging Sensor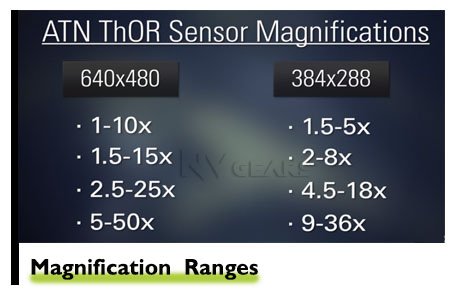 The most promising feature in ATN 384 riflescope is the 384×288 thermal sensor and 30Hz refresh rate. It helps to minimize blurring while tracking the targets that are in motion. 
The thermal imaging sensor works on the principle that "All the objects emit some kind of infrared radiation and is transferred as heat". 
This sensor possesses a unique lens called a Microbolometer that focuses on energy. It takes just a millisecond to detect the temperature and displays the image of the target such as a tree, animal, or any other thing.
3] Obsidian Core
An obsidian core is the core processor introduced in smart thermal scopes by ATN. It is an effective night vision technology in the ATN ThOR HD thermal scope, that can be used at any time whether day or night. It offers better performance and more powerful features that improve the efficiency of power. 
The night vision mode in this scope allows you to focus very clearly in the darkness. The sensor detects easily in the dark and ensures crisp images even when aiming for long-distance targets. This gives a wonderful experience for hunters who love to go hunt at night.
The ATN Thor HD 384 comes with many customized options which can allow you to change the focus of the scope with just a few clicks and gives you a clear shot in various situations. It also includes a user-friendly interface that is quite easy to set up.
4] Ballistic Calculator
Have you ever confused with calculations to make sure that your shot is on target? If so, don't worry ATN Thor HD 384 Thermal Riflescope is the perfect option for you. 
It helps to interpret environmental data such as wind speed, wind direction, altitude, humidity, and other data that is necessary to hit the target accurately. The inclined angle can also be adjusted to increase the chance of hitting the target. 
Another advantage of a Ballistic calculator is, you can save the ballistic data and zero in the profile manager of the scope. By saving this, you can use the same data on any rifle to which you use this scope. 
5] Range Finder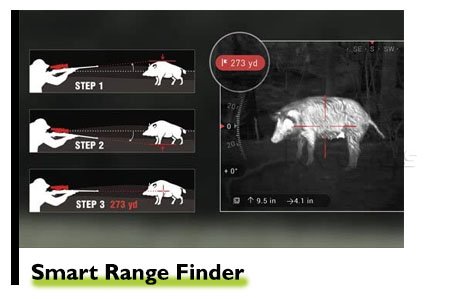 ATN Thor HD 384 Thermal scope is built-in with a range finder that makes your hunting easier. So you need not want to carry another range finder for your hunting activity. This feature gives you the right estimation of the target's location rapidly.
6] RAV (Recoil Activated Video)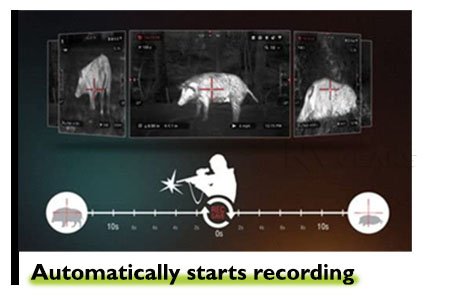 When getting ready for the shot, you'll have to hit the record button each time, to record a video. This might miss your shot also. But this will never happen in ATN ThOR HD Thermal Riflescope. 
Because it is featured with Recoil Activated video Function that automatically starts recording once you pull the trigger. It records everything from before the shot and stops when you hit the target. 
Also, it can record videos in 1080p during the day or night. This will help you to capture your hunting experience and you can enjoy sharing it with your family, friends, or relatives. 
7] HD Videos & Image Capturing
Another interesting feature of ATN Thor HD scope is the HD series. It allows you to arrest your experiences in HD format. It can record images in 1280×960 resolution power. 
You can also save the videos and images on an SD card so that you can bring back your memories to home and share them with your family members or relatives. ATN smart thermal scope can support SD cards that range from 4GB up to 16GB.
8] Gyroscope
Gyroscope is an important feature for image capturing that has an image stabilizing function. It keeps your image stable even at high power. It also prevents the images from blurring and helps to aim your target accurately.
9] Bluetooth & Wi-Fi
ATN smart thermal scope is also provided with Wi-Fi and Bluetooth connection. You can connect any smartphone or tablet to the scope by downloading the Obsidian app. You can also watch live video streaming and images of the hunting spot. 
This smart scope is also provided with a gallery to store your recorded images and videos of your hunting. So you can enjoy and have fun with your shooting.
10] Smooth Zoom
Usually, the field of view gets narrower when you Zoom-in the target. Magnifying object reduces the unwanted field area and gives a clear image of the target. 
This is done with a silky smooth zoom feature that is inbuilt in ATN THOR HD 384 smart thermal riflescope. It also helps you to get an up-close view of the target even if they are at a farther distance about 2000 yards.
11] Ergonomic Design
ATN THOR HD 384 scope is designed to be user-friendly that provides a smooth interaction between the user and the scope functions. The tactile buttons in it make you feel every clicks once you zero-in. It will be very comfortable for you to hold and use it.
12] Reticle Options
ATN THOR HD 384 smart thermal scope is featured with multiple reticles. You can choose your desired color and patterns to improve your shooting experience.
13] Battery
The scope functions on the battery. The obsidian processor runs fast continuously for about 8 hours with the power of the battery. You can also use an ATN extended life battery pack of 2000 mAh that gives continuous power for about 22 hours. So you can enjoy your field hunting for long hours.
14] Firmware Updates
The firmware update is a common thing that every device possesses because it controls the behavior of such a device and helps to operate effectively. Likewise, ATN has also added a firmware update feature that is unique to the scope.
Here the scope gives a chance for the users to update the firmware whenever a new firmware is available. Regular update of the firmware operates your scope more effectively all the time. It may also add new features to the device.
Additional Features
Apart from these features, ATN has also added some features to the scope that is unique to ATN THOR HD 384 thermal scope.
ATN THOR HD 384 smart thermal riflescope has inbuilt with E-compass that gives you the current direction. It also instructs you the exact direction you have to take to get a better shot at the target.
The E-barometer in this scope helps you know about the atmospheric pressure. It gives you clear and accurate data about the current atmospheric pressure at your shooting spot.
Summary
Are you looking for a high-quality thermal scope for your rifle, then I recommend ATN THOR HD 384 Smart Thermal Riflescope. It is an excellent thermal scope under the category of smart infrared thermal imaging scopes.
It is durable and made of high-quality materials that can last for several years and can withstand adverse climatic conditions. In this model, you'll have a clear view of the target, and captures images, videos of your shot. It is very much perfect for you to have a joyful hunting experience.