When the sun goes down, you can't see anything if you don't have night vision devices. If you are interested in night hunting, you may know how important it is to carry a night vision scope with you.
These night vision gadgets are helping to engage our targets at night and make our hunting enjoyable. 
Best Night Vision Scopes are available with different price options that vary based on the model's features and specifications.
But as a hunter, I believe that a cheapest night vision scope must have a durable design, quality, features, and functions that help the hunters to engage their prey. 
In a hurry?… Here Are Our Top 3 Recommendations
Otherwise, a talented person has to struggle with a low quality sighting device only because he has a low budget. It will make him frustrated and prevent him from focusing on the game.
Because of this reason, any hunter or one who badly needs a night vision scope for their hunting must spend some time finding a quality night vision scope that comes in low budget at the same time.
Luckily, you are here. We have tested and updated some of the best night vision scopes under 1000 with quality in the review. Below reviewed products are not less than high-end scopes. These scopes have good quality, required features, and functions. At the same time, these won't empty your bank balance too.
The Best Cheap Night Vision Scopes of 2022
Best Cheap Night Vision Scopes in 2022 - Reviewed
1. ATN X-Sight 4K Pro Edition 5-20x Smart HD Day/Night Riflescope
When it comes to cheap night vision, the ATN X-Sight 4K Pro 5-20x Smart HD Day/Night Riflescope is one of the most popular scopes available on the market. 
This scope is ideal for hunting various dangerous animals during the night, day time, and for other tactical uses. It is packed with lots of high-quality features that are present in many premium scopes.
While talking about its image quality, it comes with a 1280×720 pixels resolution to provide crystal clear images of the prey with sharp details. 
The sensor present in this scope provides the high-definition images of the target in the day, and this improved sensor delivers high-quality black/white images with accurate details in low-light conditions during night operations without using the IR illuminator. 
Having this ATN 4K Pro Day/Night Scope on the field will take your hunting experience to the next level with its advanced technologies. 
It comes with a wide magnification range of 5-20x that allows you to hit your target accurately from long-range distances. It contains a recoil activated video feature that allows you to record your hunting adventures.
It automatically starts recording before and after the shots. This recorded video can be saved in an SD card, and you can transfer it to other devices using USB, Wi-Fi, or Bluetooth. 
You can also stream this video live using your smartphones, tablet, or other devices. It comes with a ballistic calculator that allows you to make accurate windage and elevation changes based on your needs. 
This scope contains a smart rangefinder feature that allows you to calculate the range of the target while hunting. It is packed with a replaceable, long-lasting battery that provides more than 10 hours of continuous operation.
Verdict
It is the ideal choice for those who want to hunt and shoot both day and night time. As it comes with HD technology, you will get a clear target view of your hunting field. It is the best scope of your budget.
2. Sightmark Wraith HD 4-32×50 Digital Riflescope
Sightmark Wraith HD Riflescope is another best digital night vision scope on our list. The wraith scope is designed with a 1920×1080 HD sensor. 
The magnification range you get from this night vision scope is 4 to 32 x. The diameter of the objective lens used in this scope is 50mm.
The hunter gets the full-color clarity images and videos from this hunting scope. You can switch the scope between day and night mode so easily. With one press at the left arrow, the scope becomes a night vision device. The scope has emerald or black and white viewing options.
This wraith night vision scope has nine color palettes so you can view the image based on your environment and weather conditions.
There are ten different reticle options added to this night vision scope. This scope is best for hunting deer and hog.
The scope is powered by 4 AA batteries that offer almost 5 hours of operation time. You can expand the power options using Micro USB ports.
The scope has an 850nm IR illuminator that is removable. The total range offered by this day and night hunting scope is 200 yards.
The color models it comes with are green or black and white that perfectly suits the daytime shooting. 
As the rifle scope comes with a weaver rail, it allows the hunters to attach extra accessories that they may need in the future. For exporting and importing the media files, you can use micro USB cables.
The scope has straightforward button mapping to make the operation easier and simpler. The intuitive user interface is easy to access.
Verdict
Sightmark Riflescope can detect the target up to 200 yards, which is perfect for hunting. With the 1980 x 1080 HD sensor, it gives full-color clarity while daytime hunting. Most of the tactical shooters and hunters preferred this scope.
3. Pulsar Digex N455 Digital Night Vision Riflescope
If you're a hunter who prefers hunting at night time and looking for the cheap night vision scope for your adventures, then this Pulsar Digex N455 is a perfect choice without any doubt. 
It contains digital night vision technology, and it is one of the high-end scopes available on the market with excellent features. It is ideal for the professional hunters who prefer shooting at night time up to 500m distance.
This scope allows you to hunt in both night time and daytime conditions. It comes with a resolution of 1280×720 with an AMOLED display to provide a crisp and sharp image of the target during night and daytime. 
This Digex N455 scope is suitable for hunting various animals with its impressive features. If you're looking for the best night vision scope for coyote hunting, then this Pulsar Digex N455 is an excellent choice. 
It doesn't lower the quality of target images with its 4-16x magnification range. It contains a rugged construction that is built with the durable aluminum materials and has IPX7 certification to withstand all weather conditions. 
It comes with 10 reticle options with 8 colors for various shooting situations, so you can choose one based on your needs. 
The IR illuminator present in this scope provides an accurate view of the target with a picture in picture mode without changing your position. 
This scope has a stream vision app that allows you to connect this scope with your smartphone or other devices to stream the video live during hunting. 
It is packed with a long-lasting removable battery that provides continuous operation for long hours, and you can replace it if the battery drains out.
Verdict
Owning this Pulsar Digex N455 Riflescope improves your hunting experience during both daytime and nighttime with its high-end features. It provides HD images with sharp details so you can easily acquire the target.
4. Sightmark Wraith 4K Max 3-24x50 Digital Riflescope
The Sightmark Wraith 4K Max 3-24×50 Digital Riflescope is one of the best cheap night vision scopes available on the market. The Wraith 4K scope from the Sightmark brand is one of the popular scopes for many hunters. 
This Wraith 4K is an upgraded version of the Wraith HD scope, and it contains lots of advanced features to provide you with better performance.
If you're looking for the best night vision scope under $1000, then you can go with this Sightmark Wraith 4K Max Night Vision Scope without any hesitation.
It contains a CMOS sensor that provides high-resolution images of the target. The image quality of this night vision scope impresses many hunters in the night time.
It comes with the various magnifications that range from 3x to 24x to provide you an accurate view of the target from short to long-range distance.
The objective lens of this scope is 50mm that improves light transmission and provides better target images. With this large objective lens, you can view your targets with the surrounding information.
This digital night vision scope provides you a crystal clear image of the targets during both day and night conditions. It is a user-friendly scope that provides easy operation, so it is an ideal choice for beginners.
It is built with high-quality aluminum materials to ensure durable construction and provide reliable performance.
With this night vision scope, you can get incredible performance on the field without spending more money. The IPX5 rating of this scope makes it waterproof, so you can hunt in all weather conditions.
Verdict
If you're a budget hunter and looking for the best night vision scope for your hunting adventures, then this Sightmark Wraith 4K Digital Night Vision Scope is the perfect choice for you.
5. Night Owl Optics Nightshot Digital Night Vision Scope
Night Owl Optics Nightshot scope has an unconventional design. It has a rectangular part in the front with an IR illuminator. It gained both positive and negative points from the customers.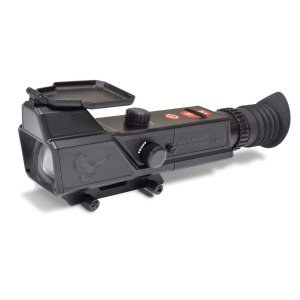 Night Owl Nightshot scope has a 52mm objective lens and 5.6 degrees of field of view. So high light particles can enter the lens and illuminate the image to a higher level.
Night Owl scope has cover between 100 and 200 yards area with its night vision ability. The night vision scope is designed with a high-quality sensor and 640×480 pixels resolution display. 
The magnification range offered by the scope is 3x, which means you can zoom in 3 times than the original lens view. So you can have a brighter and more precise view of your target even from a long distance.
The scope has easy elevation and windage adjustments. To get the accurate calculation, a click at windage adjustment is equal to 1/4 at 50 yards wide. With the standard weaver and Picatinny rail, it is easy to mount and demount the scope on any rifle.
The scope is made of Polymer to ensure lightweight design. The overall design is handy and easily storable. The scope is powered up by 4 AA batteries, and the battery life of this digital night vision scope is from 4.5 hours to 17.5 hours. Moreover, this Night Owl scope is one of the best night vision scopes under $500.
Verdict
The lightweight body, weatherproof construction, infrared illuminator, and thrift battery power consumption make this scope the best, but it is designed to be compatible only with a 30 caliber bullet.
6. Bushnell 4.5X40 Equinox Z Digital Night Vision Scope
Bushnell 4.5×40 Equinox Z Digital Night Vision Scope is yet another smart and also the best night vision scope under $500. This scope is equipped with Bushnell's unique Equinox Z Digital Night Vision technology.
The unique part of this night vision scope is that it comes with an adjustable IR illuminator that means the hunter can adjust the illumination based on their need. The adjustable IR illumination can cover 750 feet area, which is a relatively high field of view, among other affordable night vision scopes.
The zooming range of this digital scope is between 1 and 4.5 x. With the 40mm objective lens, abundant light enters the scope and illuminates the image brighter.
The digital night vision scope comes with an ability to be used with a tripod. So, when you are tired of using it as a handheld, you can use it. You just need to focus on the target and hit it. Like others, Bushnell also offers a way to record all the hunting memories that you can playback in the future.
The scope does not often need battery replacement, so it is best for long-range shooting and hunting. The scope is made of high-grade materials that resist different shooting pressures.
Verdict
The notable feature is its adjustable illumination that allows you to adjust the settings based on your visual needs. It offers bright light to achieve your target fastly, and it can cover up to 750 feet field of view.
7. Pard Night Vision 6.5X-12X Riflescope
The Night Vision 6.5X-12X Riflescope from the Pard brand is one of the cheap night vision scopes with excellent quality features. The variable magnification of this scope ranges from 6.5x to 12x, which allows you to view the target from close to long-range distance.
With this magnification range, you can see the targets up to 200 m or more. It comes with high resolution 2592 – 1944 pixels that deliver crisp and clear images of the target in all lighting conditions.
It is built with an infrared illuminator that allows you to identify the target in dark conditions without any additional light source. Moreover, this night vision scope has the capacity to capture images and record videos of your hunting adventures.
You can transfer the captured images and recorded videos to your personal devices using a USB cable. If you want to store the recorded videos in this scope for a long time, then you have to buy an extra TF card.
It is preferred by many hunters who are looking for the best night vision scope for hunting in dark conditions. It comes with an excellent battery life of up to 8 hours, so you can spend more time on your hunting field.
You can connect this scope with wireless devices and view all the images with your family and friends. You can easily install this night vision scope on your rifle easily without using any additional tools.
It comes with 35mm eye relief that provides you with better visibility without affecting or straining your eyes. It comes with a compact and lightweight design that makes it more convenient while carrying this wherever you go.
The ergonomic design and simple usage make it an ideal choice for novice hunters. This Pard night vision scope contains IPX7 waterproof rating, so it can withstand heavy rainy conditions.
Verdict
If you're looking for a night vision scope for AR-15 at an affordable price, then this Pard Night Vision 6.5X-12X Riflescope will be your perfect choice. This modern digital night vision scope can be widely used by beginners as well as professional hunters.
What is Night Vision & How does it work?

Night vision is a natural ability to see in night or dark light conditions. This ability allows humans or animals to see during the dark condition to do any activities. 
It is an excellent advantage for the hunters and nocturnal animals to hunt during night time. Actually, the animals have increased night vision capability than the humans. 
If you want more accuracy to view the objects clearly, then you should have a night vision device. The night vision devices work by collecting the available light in the surrounding via its lens system. 
The light is made with photons that pass through the photocathode tube, and the photons are transferred into electrons while passing via the photocathode tube. 
The electrons are expanded into tons of electrons using a photomultiplier. Then, the electrons are thrown towards the phosphorus screen that converts the expanded electrons into visible light that you can see via the eyepiece of the night vision device.
Types of Night Vision Scopes
Night vision rifle scopes are modern technological improvements that help humankind to see in the dark by intensifying the eyesight. These devices can be used in low light and total darkness.
Initially, these night vision devices are developed to use in war zones. The US army developed the first night vision device to gain advantages over their enemy soldiers.
During the Second World War, nothing could be beneficial than seeing in the dark. But, now these night vision devices extend their applications and benefits to the next level. Hunters are mostly benefited by these night vision devices nowadays.
These night vision scopes are divided into two main types, such as Active and Passive NV.
Active Night Vision Systems
Active night vision systems are otherwise called Infrared (IR) Imaging Systems. 
Principle: IR imaging systems project IR light using IR illuminator onto the area. This IR illuminated light is invisible to human eyes. After the projection, the scope will convert the area into visual imagery using image conversion technology. The imagery is what later projected back to the viewer to see.
Passive Night Vision Systems
Passive night vision systems vary a bit from Active systems. 
Principle: These Passive night vision systems use any available light like the ambient light, moon, and start light. These systems need only minimal lighting that will be amplified thousands of times. You could see the visual from Passive night vision systems 20 to 50,000 times brighter than what the human eye can view.
Night vision scopes are valuable devices to have during night hunting. These devices work as your eye and give you a vision of what your eye can't do. In the hunt, these devices are essential because they help you retain your position while you track an animal. Alternative ways to see the things in darkness work by projecting a light beam towards the target. It will alert your prey that it is being monitored for hunting.
Night Vision Vs. Digital Night Vision
Usual night vision scope doesn't require digital imagery to provide visuals to the viewer. These scopes work with lenses and plates in complex setup to transfer images from one end to another. The light enters the scope front and passes through a range of electrons and protons. 
The passed light hits the green phosphor screen, and the interpreted image is delivered via a viewing lens. This process is done without needing digitalization. All the steps in the process are scientific and reactive. The minimal or low light enters in one end of the night vision scope and exists multiple times brighter in either end.
Digital night vision scopes are different and are being called "The Future of Night Vision". A digital night vision scope processes digital signals instead of amplifying the available light. All the steps in the process are electrical.
The imaging sensors in the scope absorb the light and transmit the image to the viewing screen in the eyepiece. Digital night vision imagery is comparatively simple and more affordable.
Gen 1 Night Vision Vs. Digital Vision
The performance and quality are not so different, but the price is. Digital Night vision is a better choice here. 
Gen 2, Gen 3 Vs. Digital Vision
The detection range and image resolution are not commendable in digital night vision when compared to Gen 3 and 3. Though Gen 2 and Gen 3 costs higher, the quality is assured.
On the whole, I would say, digital night vision scopes are the right choice if you need a scope for day and night. The usual night vision scope can't be used for the day.
Before relying on any of these scopes, first, familiarise with different generations of night vision. It will give a sense of knowledge and understanding and an idea to choose the right.
Here is the list of best GEN-3 night vision scopes in the market.
There are three main devices used for night time hunting; one is night vision scope and others are night vision monocular and night vision goggle. If you want to know the differences between these three, check our blog about night vision goggle vs. monocular vs. scope.
Thermal Vs. Night Vision
Thermal scopes are work slightly differently than the night vision scope. Their sole purpose is to create images in low light, and their process is not the same as the night vision scopes. Thermal scopes use a heat detector to identify heat escaping from surfaces and objects. It is used to create the image you see through the scope eyepiece.
In this function, thermal scopes operate in the same way as active night vision systems. Infrared radiation is discharged by objects invisible to the human eye, similar to infrared light.
Night vision and thermal scopes both are works different way but gives the same results. That is a vision in darkness. The main difference is that you can use the thermal night vision scopes in bright light, but the night vision scopes can't. The bright light will damage the night vision scope's intensifier tubes, so they will not work.
You can view your target via smoke and debris while night scopes can't. However, we believe that smoky air will never be a factor in your hunting trip, so this should not be a problem.
Most of the hunters say that thermal scopes are wonderful to detect but not ideal for recognition. Some hunters say that night vision scopes identify an animal or its specification is easy, but finding the shot range can be tricky if the object position is stable.
Thermal scopes are larger, heavier, and expensive than night vision scopes. The night vision scope body is smaller as well as more durable when compared to most thermal scopes.
Why Night Vision Scope?
Night vision scopes are essential devices to have, especially while going for night hunting. Before the development of night vision devices, the hunters used flashlights, lamps, and few other light sources while they went out for night hunting as humans can't see anything in the dark with naked eyes. 
But these light sources turned out to be so dangerous to hunters themselves that it awakens the animals and lets them be aware of being monitored by other living beings. It risks the life of hunters.
Thankfully, with technology development, we have night vision devices now. When using night vision scopes, a hunter is benefited from monitoring or tracking an animal without any risks of being caught by them. You can follow the prey being hidden. In this way, these night vision devices make hunting more comfortable and quicker.
Not only night vision scopes, but all the night vision devices went a very long way from the beginning. These devices are continually being improved and enhanced in terms of quality, performance, size, weight, and durability.
Traditional night scopes use ambient light. The light particles that enter to scope are photons that convert into electrons that create an electric current in imagery that is viewed in the lens.
Late night vision scopes use IR light to get multiple times clearer and brighter images. Comparatively, IR scopes are more flexible and affordable than traditional NV scopes.
The Best Night Vision Scope Brands
Different generations of night vision scopes brands and digital night vision scopes are available with varying features and abilities. This may confuse which brands of products out there are good and how to pick one among them for you. To help you in this, we have given a summary of the best brands of night vision scopes and what they offer to their users here.
American Technologies Network (ATN)
Founded: 1995
The American Technologies Network is the leading Tech Optics company. ATN is a leading manufacturer and developer of 4K Resolution Digital Smart Optics for Day and Night use and Smart Thermal Imaging optics for ultimate night vision. 
ATN has operated in San Francisco, US, and led the tech world since two decades ago. ATN manufactures all of its products in the US, assuring the quality and outcomes from low budget to expensive. Their various scopes, cameras, and sighting devices have been used by Military force, Law enforcement, Police, Detective agencies, and other Government departments. Apart from these, hunters and outdoor activists are their regular and happy customers.
Sightmark
Founded: 2007
Sightmark is a comparatively new brand introduced at SHOT Show 2007 to work for changing needs and growing popularity of the modern shooting market.
In 2011, the opened new headquarters in Mansfield, Texas, of 33,000 square feet. The headquarters combined the corporate offices of the company and a large warehouse to manage the need for sensitive materials and technologies which are being produced.
With this, they got a facility that provides more space for research and development, production, and distribution of defense-related products.
Initially, the company is founded to meet the changing requirements of the outdoor industry and its customers.  
Their best-selling products include red dot sights, riflescopes, and chamber laser bore sights. 
As of now, more than one million bore sights from Sightmark are in use since their first release. 
Sightmark products are well-known for their affordable prices and have Southern hunters as their regular customers. All major retailers have Sightmark products.
Yukon
Founded: 1998
Yukon Advanced Optics Worldwide company was founded in 1998. Yukon product lines of the company included day optical devices such as spotting scopes and binoculars. 
In 1999, when the requirement of day optics grew, the Yukon started to manufacture first night vision devices. After two years, in 2001, the company launched its first night vision riflescope NVRS. 
In 2003, the company initiated the development of digital devices such as Ranger 5×42 and Ranger Pro 5×42. 
In 2005, the company's international market share for Generation 1 night vision devices reached 70%. 
Between 2006 and 2008, they held a significant expansion of their range of optical devices that included digital, and building of an extensive line of night vision devices and rifle scopes that created the new trademark called Pulsar. 
In the following years, they introduced a range of new products.
2009 – Digital night vision riflescope.
2010 – Laser rangefinders, Daylight optical sights
2011 – Thermal imagers
2012 – Night lens clip-on attachments
2013 – Night vision riflescopes with built-in rangefinders
2014 – Thermal imaging rifle scopes
2015 – Clip-on attachments
If you want cutting edge night vision scopes, you can buy from them, but you should have a deep pocket.
Firefield
Founded:  2009
Firefield was founded in 2009 to produce the economical and powerful night vision devices to the hunters. That was the dominant economic downturn, which created tough situations for the hard-working shooters to purchase the night vision optics and accessories that they needed to pursue and continue their passion for shooting and hunting. 
After the extensive surveying and targeted observations, Firefield got the point that many gun enthusiasts and shooting beginners were unsatisfied with buying expensive optics and sighting devices of poor quality. 
Firefield took it as a challenge and decided to create the best value shooting sports accessories and optics possible at a reasonable price.
With its planned goal and detailed vision, the company gained a name for themself. Firefield is one of the best optics for reliable night vision devices at an affordable price.
Hunters quickly accepted their products and started using them. With satisfied customers, Firefield is always sustaining in this market until today.
For the good cheap night vision scopes at a reasonable price, you should consider Firefield on your list.
If you are a DIY-ier, you can design your own night scope following our guide on adding night vision to a scope and save money. Otherwise, you can make use of our buying guide to pick the suitable night vision rifle scope.
Buying Considerations: Best Cheap Night Vision Scope
Night vision scopes vary in shapes, prices, sizes, features, models, brands, and specifications, so it is hard for the beginners to start with. Experienced hunters know that all the expensive night vision scopes will not perform, and all the affordable night vision scopes are not of poor quality.
Though the price is one of the vital buying criteria, it does not guarantee its performance. There are specific affordable night vision devices out in the market that helps beginning shooters do well in their game.
To sort out of these confusions, we have drawn out specific buying criteria that you should consider before purchasing a cheap night vision scope.
Clarity
The image resolution of the night vision scope is referred to as Clarity. It is measured in LP/MM (Lines per millimeter). The higher this value, the greater Clarity and crispier images you will get. Usually, good cheap night vision scope has a high range, but if the Clarity is less, there is no use of the range. You will still get enlarged and blurred images if the Clarity is less even if the range is high.
Range
The range is not how far you can see, but how quickly you can recognize the target. So if the night vision scope has a higher recognition range, you can see the target and recognize it. Always look for the log optic scopes because they absorb more light and allow you to see clearly and brighter.
Best budget night vision scopes come with limited magnification, so the range of scope plays a significant role in this case. It can increase or decrease the Clarity of the image also.
Most of the night vision scopes in the market have a recognition range of 100 yards. So, check the recognition range of the scopes based on the light conditions such as start light only, quarter moonlight, half moonlight, and full moonlight.
Battery Life
Night vision scopes operated by rechargeable batteries. So the size and type of the battery is also a significant concern as it can affect the operation time of the scope.
AA batteries are always the most recommended battery type for the outdoor industry, as these are readily available and replaceable. So consider the scope has a high-grade AA battery.
You can have Lithium-ion batteries as another choice. These are also rechargeable and durable.
Always remember to carry a spare battery to hunt.
Glass Optics
Optics is the major part of any sighting device, one that collects light that needs to process. So the quality of the image is directly related to optics. The optics with durable coating protect the scope from shock and accidental drops. Choose a scope with high-quality optics.
Technology
There are three popular choices available in scope technologies, such as Traditional scopes, Digital scopes, and IR scopes.
Apart from these major technology choices, scopes are varied with different night vision Generations(Gen 1, Gen 2, Gen 3, Gen 4).
Gen 1 and Gen 2 are most familiar in the industry. Reliable performance is the reason why most beginners choose Gen 1 and Gen 2.
Gen 3 and Gen 4 are the most advanced, improved, and expensive options.
Reticles
Reticles are nothing but the crosshairs that help to aim the targets. It increases accuracy. Based on your gaming and scope type, you look for reticles.
BDC is the most accurate reticle type. But it is expensive and quite rare.
If you need basic reticle scopes, then Red dot and Simple duplex are good choices for beginners.
Durability
Hunting is a rough game, whether it is day or night. It would help if you had a durable scope to handle all the situations in the game. 
Choose the scope that has high-quality materials that can withstand all weather conditions and resists shock and water.
Ergonomics
Lightweight scope models are best for good performance. Of course, you don't choose a scope that weighs like a brick and which is bigger than your weapon or rifle. As the magnification is high in the scope, the weight also increases.
The heavier the scope, the harder to use and handle. For stationary hunters, heavier might not be a problem. But if you keep moving all the time, a compact and lighter scope is suitable for you.
For Day and Night
Today's modern night vision scopes have come with dual-use features, which means you can have the same scope for both day and night hunting.
These dual-use models are heavy and big but are cost-effective. Dual-use scopes come with manual use and automatic. The manual model is a bit difficult to operate. If you are looking to buy a dual-use NV scope, consider buying automatic dual scopes.
Design
Night hunting needs camouflage. A scope with matte finish is the right choice as it blends well with nature and does not get much attention from animals. Don't choose scopes that are shining outside as it may scare and alert your prey.
Are you confused of choosing between to be a DIY-ier or to buy a new scope? Here is our expert's guide about buying a scope vs making a night vision.
Compare the Best Cheap Night Vision Scope
Final Words
Hunting raccoons, hogs, and coyotes are only possible at night. You can't track these animals with your flashlight or lamp.
Luckily, we have night vision devices that make it possible for hunters to see their prey at night even from long distances. 
Start with comparing your needs and options with available product features and specifications.
I hope the above review and buying guide for choosing the right budget night vision scope will help you to choose the best night vision scope for the money.