A night vision camera is like having an extra eye to see anything in the dark. Most nefarious activities might happen only in the dark. For example, property or car theft, trespassers or burglars entering your house, etc. So getting a night vision camera is the best way to find out the outdoor happenings, the whole night. 
The best night vision cameras offer clear-cut pictures of at least 1080p quality. It allows you to make out faces and license plate numbers easily even in the dark. These cameras use infrared radiation emitted by the moon and the stars to improve night vision. Some use sophisticated sensors to provide a high definition image quality with ranges crossing 150 feet or more.
They also come with user-friendly features for easy access. A two-way talk feature allows you to interact with your family members or visitors while you're out anywhere. It offers storage either on an SD card or a cloud data service that can save footage of up to a month. 
Not all night vision cameras are made equally. Some are used for home security while others are used for baby monitoring, ghost hunting, cruising, etc. Based on its usage, the features may also vary. Beyond features, there is also a sharp difference in pricing, data services, and installation requirements. 
By considering all these parameters, we've compared a variety of cameras to give you the best night vision cameras on the market for different purposes. 
If you're browsing the web to find out the best night vision camera in the market, then don't worry, just scroll on this article to get the right night vision device for your use.
Top 10 Best Night Vision Camera For Security and Surveillance
We've researched and tested hundreds of cameras and listed the top 10 Best night vision cameras from the topmost manufacturers. These models are unique and are specialized in their categories. 
1. Arlo Ultra 4K Security Camera – Best Night Vision Camera for Security (Indoor/Outdoor)
Nowadays, security is not only important to humans but also for property, vehicles, pets, and virtual data. A security guard cannot always stand with it. So we need proper security devices to protect all our belongings, especially during the night. The best surveillance choice for security is the Arlo Ultra night vision security camera. This camera works well indoors and outdoors in your home or offices.
Construction
The Arlo Ultra night vision security camera has a solid construction with an IP65 waterproof rating. So it can withstand rain, snow, and heat. Also, this camera is a worthy sentry for both the interior and exterior of your home.
It also features a wider angle lens to provide a 180° field of view. It can cover a range of up to 300-foot. 
Resolution
Generally, the Arlo Ultra security camera is featured with an HD resolution of 1080p and improved by a spotlight to produce color night vision. But if you want a 4K pixel resolution then you've to activate the Arlo service plan. Without this plan, you can't stream your video. The 4K & HDR Advanced technology delivers high-quality images and videos. You can also zoom in to see sharp and minute details. 
Connectivity
One of our favorite features of Arlo Ultra is its connectivity. You can connect your Arlo Ultra security camera with popular smart home intelligence like Apple, Amazon, and Google/Nest. You can also link to smart home control platforms like IFTTT. 
Storage
Arlo Ultra night vision security camera has both microSD and cloud data services. You can get a free yearly subscription plan of Arlo Smart Premier when you buy it.
Installation
The Arlo Ultra night vision camera uses a magnetic mounting system. So installation is easy here, thanks to Arlo Ultra. It comes with an installation kit that includes wall mounts and screws. You just have to attach the wall mount with the screw, after that camera will be connected to the mount automatically with magnets.
The one thing you should never forget in the Arlo Ultra night vision security camera is, it has to be removed and recharged periodically when the battery goes down.
2. EZVIZ Indoor Security Camera – Best night vision camera for home security (Indoor)
As we have said already, all the night vision cameras differ in their price under different categories. In that case, indoor security cameras are less expensive compared to other cameras. But with indoor cameras, you'll get only the basic features with night vision. You won't get any additional features that other cameras have. 
One of the best cheap night vision cameras is the EZVIZ Indoor security camera. It creates a safe and convenient smart life without breaking your budget.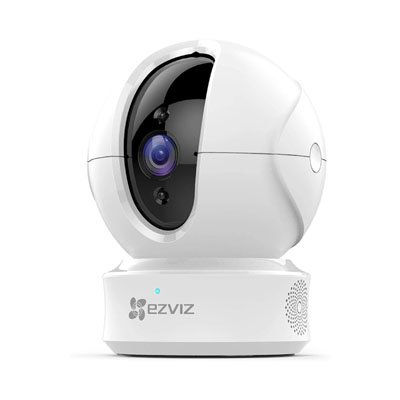 Smart Tracking
The Ezviz indoor home security camera is built-in with a CTQ6C smart motion tracking system. It keeps a lookout for movement and captures automatically and tracks the motion. Also, it delivers notifications and video recordings in real-time.
Field of View
This indoor camera is designed with panoramic viewing angles that deliver an expansive FOV coverage with 105° upward, 15° downward, and 340° horizontal rotations.
Further, it is also made with some flexible motion detection alarms that allow you to set your detection zone, the notification schedule, and alarm sensitivity.
Data Security & Privacy Protection
Sometimes you may need a little time for privacy. For that situation, Ezviz has specially designed a privacy shutter feature that allows you to turn off the lens. Just a single tap will give you privacy.
In Ezviz, our data is also protected and safely encrypted. It was awarded ISO/IEC29151:2017 Personal Data Privacy Protection Management System Certification in 2020.
Storage
The EZVIZ indoor camera has a separate place for local storage. It also comes with a free month CloudPlay service. With the Ezviz app, you can also connect the camera to your smartphone or computer to save and share the recordings.
3. Google Nest Cam Outdoor Camera – Best night vision camera for outdoor home security
A security camera should be strong enough to bear the outdoor environmental conditions such as rain, snow, wind, and heat. There are also many night vision models for outdoor use. But the high-ranked product we suggest is the Nest Cam Outdoor security camera. 
It reaches the Himalayan peak for its exceptional video quality. This outdoor version also offers facial recognition and 50 feet of night vision. It would be the best night vision security camera for your lawn.
Installation
Mounting the Nest Cam camera is somewhat tricky. It is possible only if you have experience. You have to drill holes on the wall to run a power cable from exterior to interior. 
Google also provides an installation kit with everything that you need for installing. The kit includes wall mounts, screws, adapters, indoor and outdoor power cables, cable clips, hex keys, and an installation guide. 
Quality
A heartfelt thanks to Google for its video quality and features. It offers consistent 1080p HD video quality at any temperature. It uses infrared sensors and can handle temperatures from -40° to 113°F.
Further, this camera is enhanced using its HDR and 4K image sensor. The HDR gives life to the image by adding color, highlighting shadowy areas, and reducing the glare. It also features two-way audio, a decent 130° FOV, and can be zoomed in digitally for up to 12 times.
Infrared LED Lights
The Nest Cam Outdoor is equipped with 940nm infrared LED lights whose wavelength is invisible to the human eye. It illuminates light evenly to everywhere up to 20 feet. For indoor, this range does not matter but, for outdoor, it might be a big issue.  
Smart Features
The highlighting feature of the Nest Cam Indoor camera is its AI features. It comes with person detection built-in, so we'd easily receive notifications when people walked by. It has also become even smarter with a Nest Aware subscription. It recognizes familiar faces and alerts us to the sound of the dog barking, people talking. 
Storage
One of the setbacks in this camera is that it does not offer card or local storage options. It provides only three hours of snapshot history. Without the Nest Aware service plans, you can't activate live feed.
4. Speedir Night Owl Plus – Best night vision camera for car
Night vision cameras are also available for cars. Under this category, we have chosen Speedir Night Owl Plus Thermal Night vision Camera with AI detection. It uses heat signatures and thermal energy to produce images. As it has heat sensors, this system does not require any visible light. So you can view even in pitch darkness. 
You can attach this camera to your vehicles to aid your driving by recognizing the hard-to-see roadway threats. The threats might be the pedestrians, animals, or other vehicles that are hidden to your eye in the thick dust storm or the dead of night!
Thermal Sensor
The Night Owl camera is built-in with a 384×288 thermal sensor and 720x480p output resolution. This advanced technology sensor can detect the obstacles that are ahead of you. It displays them before your headlights to prevent collusion. It can even see through smoke, dust, and fog.
Range of Detection
Night Owl car cameras can detect heat signatures up to 3,000 feet beyond the scope of the headlight beam. The AI technology (Artificial intelligence) will identify the object and provide a visual & audible warning of up to 400ft. Further, a standard video connector is used for video input.
It is a great option for any vehicle including, semi-trucks, buses, and RV's to prevent wildlife collisions. Truly, it is a must-have safety tool to prevent accidents while driving at night.
5. FLIR MD-625 Thermal Night Vision Marine Camera – Best night vision camera for boats
Marine night vision camera systems give you the power to see clearly in complete darkness, through solar glare, light fog, and smoke. It helps you to prevent dangerous situations on the water. A marine camera system is an essential tool for navigation, threat detection, and collision avoidance.
One such best night vision camera for marines is the FLIR MD-625. It uses thermal technology to find the threats ahead. It is mostly used by recreational mariners every day.
Dual Sensor
This Heat Seeking Camera from FLIR is provided with a dual-sensor that can detect even tiny differences in the heat with a 24-degree field of view. No matter how much light is available, this FLIR MD-625 can detect from moonlight to pitch darkness and displays clear infrared imagery with 640x480p resolution. 
Mounting
This marine is affordable, compact, and provides easy mounting with two options; Ball up or Ball down. Once mounted you'll be aware of the obstacles that are on the way. It is also provided with a weather-proof rating that prevents the camera from rain, snow, and wind.
Connectivity
You can also connect your iOS device with this camera through a Wi-Fi network. So you can control this FLIR marine camera with your phone itself.
MSX Imaging Technology
It is designed with MD-625 FLIR's patented MSX imaging technology. This technology separates the borders and edges from the HD camera and blends these elements with a thermal sensor to provide advanced visual recognition of distant objects.
Additional Features
The MD-625 is designed with the FLIR's patented MSX imaging technology, which extracts edges and borders from the HD visible camera and blends these elements with the thermal image, giving operators improved visual recognition of distant objects.
6. GhostStop Night Vision Camera – Best night vision camera for ghost hunting
Paranormal investigators work at night rather than day. Ordinary cameras cannot give perfect results in a dark environment. So they need special equipment to capture all the events, and that gear is the night vision camera. Some paranormal explorers also use night vision camcorders for ghost hunting. Both are similar in performance with a few differences. 
Here, we have given the review of GhostStop Night Vision Camera for ghost hunting. You just have to set this camera in the right place to capture all kinds of creepy shots that occurred at night.
Resolution
This night vision camera comes with 4K Ultra HD video resolution that can provide very minute details even in low-light conditions or pitch darkness. 
It records full-spectrum video as well as captures objects at night so that the events are visible. This camera is also featured with POV Cam and some hardware specs to deliver awesome full spectrum night vision. 
Mounting
This compact system has a wide selection of mounts that can be used for various purposes. But this camera works very well with GoPro-type mounts or tripod mounting. Mount it from the ground and tilt up towards night vision with a low light lens, infrared light to provide a great picture in the dark. 
IR Light 
It also includes detachable infrared (IR) night vision light, which is required to produce a better image even in complete darkness.
This mountable POV (Point of View) camera captures full-spectrum HD video completely hands-free with audio and photos.
Storage
The one minus point in this ghost hunting camera is that it does not include an SD for storage. Instead, it provides Wifi connectivity features so you can access the camera with a mobile app. It also has remote viewing options.
As this camera is manufactured specifically for the full spectrum, it may not be suitable for daily usage for family events, because the picture might come out pinkish in daylight. This camera is ideal only for night vision and low light conditions.
7. Bushnell Trophy Cam E3 – Best night vision camera for wildlife photography
Are you looking for an ultimate image quality camera for your wildlife photography? Then try out the highest resolution cameras. One best trail camera for wildlife is the Bushnell Trophy Cam camera that is suitable at all times.
If you don't feel like sitting in a bush in the dark for months for photography, then you can seek help from Bushnell Trophy Cam. It can cover up to 100 feet with sound. This camera is the top pick under the wildlife category that you'll be pleased with the quality of pictures taken at night.
Sensor
It is built with a 16 mp resolution CMOS sensor and an LED night vision flash for providing high-quality videos and images both day and night. Another bonus point in this trail camera is its motion-activated sensor. It can spot objects up to 100 feet. You can also set its operation for up to 24 hours or day or night only. So you can use this camera at any time, as you wish. 
Adjustable settings
Bushnell is featured with a 0.3-second trigger speed. While triggering, it allows you to take three still images from anywhere of the video between five seconds or a minute. You can adjust the trigger interval from one second to 60 minutes to capture a perfect shot.
It also records 720p video for up to 30 seconds when an animal is in front of the camera. The recording stops immediately as they leave the frame.
Battery
It is powered by eight regular AA batteries, rather than solar power or rechargeable battery. The manufacturer says that it can last up to 12 months. So you don't have to worry about changing them.
Storage
Bushnell Trophy Cam trail camera can accept up to 32GB SD card, but it is not included along with the camera. 
Data stamp
The date, time, temperature, GPS, and moon phase will be coordinated on each image.
8. Stealth Cam DS4K Infrared Camera – Best no glow night vision trail camera
If you're dipping a toe into the field of No Glow night vision trail cameras, then here is your world's best digital 4K trail camera, Stealth Cam DS4K Camera. It is an obvious choice for providing exceptional image quality.
Resolution
This unit has risen to the world's first 4K digital trail camera. It offers 3840×2160 pixels of video resolution in daylight. It boasts a trigger speed of 0.4 seconds and captures nine still images per trigger with 30-megapixel resolution. When the camera is triggered, the hybrid capture mode starts recording both stills and videos in the ratio of 16:9. 
Also, the Infrared emitters provide a flash range of up to 100 feet so you can continue tracking even in the dark. The Matrix Advance Blur Reduction feature is responsible for capturing images without blur when animals are on the move.
Weather Resistant
As the no glow cameras are used for wildlife, it is built with durable materials that can handle all temperatures. Here Stealth Cam offers extreme durability and can withstand very low temperatures below -25 degrees so you no need to worry about rain, high winds, or snow.
Customizable programmings
The programming is completely customizable so you can take pictures at any time as your wish. The no glow technology in Stealth Cam prevents animals from noticing the camera flash. You can track your game with date, time, moon phase, GPS, temperature, name tag, and geo-tag on each image. 
Battery
Stealth Cam DS4K is one of the best no glow night vision trail cameras. This unit is powered by 12 AA regular batteries that can last up to 8 months. These 12 batteries add extra weight to the camera and so it seems bulky. It is better to use rechargeable models. 
Storage
Stealth Cam no glow camera supports up to 32GB SD card, so it can take pictures continuously without considering the amount of time.
9. Owlet Smart Sock 2 Baby Monitor – Best night vision camera for baby
A baby monitor is a camera or security system that monitors the movements and activities of the child. This camera is very helpful for working parents. Night vision cameras also have a role even in this category. Night vision baby monitors watch your baby at night. So you can do any task leaving your baby in their room even at night. 
One of the best-selling night-vision baby monitors in the market is the Owlet Smart Sock 2 Baby Monitor. It will help you track your baby's heart rate and oxygen level while they are sleeping. It will alert you if anything goes wrong. So you can have a peaceful, tension-free sleep at night.
Construction
The camera has a solid construction and can last for a long time. The base of the device is fitted with lighting which glows green if everything is going right. 
Pulse Oximetry
It is built-in with a clinically proven pulse oximetry that tracks your baby's heartbeat rate and oxygen levels while they are in sleep. It uses sounds, light warnings, and app notifications to alert you if the heart rate or oxygen level goes too high or low. So you can always keep an eye on them from anywhere. 
Easy use base station
This unit includes 3 washable socks that babies should wear to track their happenings. Wrap it comfortably around your baby's foot and connect the base station at least 100 feet away. Change the sock alternately from left to right each night. The socks should be hand-washed regularly. 
Smart Phone Application
You can connect your android or iOS phones with this night vision baby monitor using the free software application. Install Owlet's cloud-connected app on your phone to track the real-time heart rate and oxygen levels of your baby. This app gets connected only to a private network or 2.4 GHz wireless router.
10. Arlo Pro 3 Floodlight Camera – Best night vision camera for garden wildlife
We have already come across many categories of night vision cameras, here comes the final one, the best night vision camera for garden wildlife. What does it mean? In our garden, we might have birds, hens, dogs, or other pets. We'll take care of them during the day but what will safeguard them at night. So we need a night vision camera to view their activities at night. And the best one is the Arlo Pro 3 Floodlight camera. It offers both infrared and color night vision.
Infrared and Color Night Vision
The Arlo Pro 3 is built-in with both infrared and color night vision options. You can use the infrared option when you want the camera to be conspicuous, and to have a better night vision range. 
The built-in 6,500K spotlight is used for the color option. It can view things in colors and with sharp details. This mode is also very useful to identify the color of the car or van parked suspiciously at midnight, just in case of a burglar surveying our location.
Video Quality
The Arlo Pro 3 not only captures nighttime videos but also high-definition daytime videos. With a 2560p HD resolution, 160-degree field of view, it observes and records all the events both day and night. It also offers up to 12x digital zoom that provides even very minute details.
IP65 Weatherproof
Thanks to its IP65 weatherproof rating, which means the camera is sealed and protected against dust and water droplets. So we can install the Arlo Pro 3 anywhere we want.
Battery
The Arlo Pro 3 is powered by rechargeable batteries, so we don't want to run a wire from the interior to keep it plugged in. But we need to charge the battery every 3 to 6 months.
Subscription plan
The camera offers a 30-day free trial period, so you need not want to pay for that. But after the trial period, you need to access Arlo Smart Plan to track or record the movement continues with the high video quality. For a single camera, you have to pay $2.99 each month.
What is the best night vision camera app for android?
Most of us love to capture the memories of our enjoyment. But can you click the real-time night vision photos on your mobile? No, because every device does not provide a night vision feature. But don't worry, we can make it possible with the night vision camera apps. 
The best night vision app to capture the best moments with your family and friends is Night Eyes-Night Camera. It is compatible with iOS devices and provides visibility even in a low-light environment. Download the app and enjoy taking night vision pictures.
How do night vision cameras work?
Night vision cameras are based on integrated technology that uses specialized lights and sensors. For example, an infrared camera is featured with infrared LED lights to project the light and a specialized infrared sensor to see that light. 
Likewise, a night vision camera emits electromagnetic radiation and so you can see the electromagnetic spectrum.
What to Consider When Choosing the Best Night Vision Camera
When looking for a night vision camera, it is important to consider several factors, including the environment in which it operates, its field of view, and installation.
Monitoring Environment
First, you should be clear about the environment in which your night vision camera is going to work. If you need a night vision camera to monitor your garden then, it should be durable enough to withstand high winds, rain, and snow. The lens in the camera should also be protected to prevent water droplets or snow from obscuring the lens and distorting the images.
You also need to consider the wide angle of the camera so that you can easily determine the area it covers. If you have a big lawn then you may need multiple cameras to monitor the whole area. So double-check the angle of the camera.
Resolution
Coming to resolution, night vision cameras have only two options for seeing in the dark. They are 1080p and 4K Ultra. Both allow you to read license plates and out faces easily, although 4K Ultra will be a bit clearer. 
The most significant difference between them is the range. The 1080p cameras can view up to 40 feet in the dark while the 4K Ultra cameras can cover up to 150 feet or more.
Higher resolution cameras use more data and so they need a wired ethernet connection to provide enough bandwidth to support them. But the low-resolution 1080p camera uses less data and so the footage can be transferred easily via a Wi-Fi connection. 
There are also some night vision cameras with 780p resolution but they may not be useful for nighttime use.
Field of View
Field of view is a very important factor that one should check in their night vision camera. Most of the night vision cameras are provided with a field of view between 110 degrees and 120 degrees. 
Some cameras also offer 360 degrees of coverage with pan and tilt features, but they cannot offer a greater FOV when it is in a fixed position. 
So before getting your night vision camera, make sure that it has enough range to cover a broad area.
Smart Tech Compatibility
Check out whether your night vision camera has an ethernet connection or a Wi-Fi connection. Most night vision security cameras provide dual recordings that you can see live at the same time the camera records footage in your phone from anywhere with the data connection.
Some cameras offer monthly subscriptions to cloud data services. This camera can store up to 30 days of data that you need not invest in a large storage device. These services cost a few dollars of up to $15 for a month. Depending on the storage capacity, the price may vary.
Installation
Installation may vary based on the type of camera you purchase. A fully wireless camera is easy to install and connects to your network via Wi-Fi. It uses a rechargeable battery for power. These units usually come with mounting brackets to help you install the camera within a few minutes.
If you've bought a wired camera, then installation goes tricky. You need to hardwire an ethernet line from the router to the camera. So you might have to drill holes on the wall to run a line from interior to exterior. It takes much time and requires more skill. 
But I would say, hardwiring cameras are the best choice for home security.
Additional Features
Some night vision security cameras also offer few more features, including the two-way talking capability. It allows you to get connected with your family members, visitors, and even pets when you're out. You can communicate with them through the camera. 
Other features are a spotlight, deterrence, and sirens. Spotlight provides visibility. Motion-activated sirens can drive away trespassers or intruders.
Cost
The price tag of night vision cameras ranges from $40 -$400 or more. The variation depends on the construction of equipment and its usage. For example, outdoor night vision cameras cost more than indoor cameras. 
Beyond cameras, if you look at the full suite of equipment that the companies offer also makes the price climb even higher. For instance, a camera fitted with a starlight photodetector will be pricey compared to other night vision cameras. 
So it is up to you to pick the best night vision cameras in the market.
Color Night Vision vs. IR-Cut Images
Night vision cameras can record in color as well as black and white. It uses an infrared cut filter to convert the camera from color to black&white in low light or darkness and produces high-quality nighttime images.
In the earlier stage, to get color images at night, we have to add enough lighting in the form of a floodlight or spotlight. This will transform night into a day where the purpose of night vision is not necessary. 
But now, with recent innovations in image sensors, and low-light technology, some cameras are able to produce color images even in dim light conditions without the use of a spotlight.
Wired vs. Wireless
The term "wired" or "wireless" refers to the power source of the camera through which it transmits the recorded footage. The name itself denotes the meaning of wired and wireless cameras. Wired cameras are connected to the Internet via Ethernet cable, whereas wireless cameras are connected via wireless technology. 
In general, the camera is operated by a battery or a power source. You can view the stored footage on your smartphone by connecting the camera with your phone via Wi-Fi. It also provides accessibility with virtual assistants such as Amazon Alexa and Google Assistant.
Wireless cameras are quite easier to install without any complicated wiring. The image quality can drop to a low level if the bandwidth is hampered by signal interruption between the router and the camera. Also, it requires periodic battery replacement to prevent lapses in operation. 
But a wired system defeats the wireless by solving these problems. Here the camera will not experience lapses during operation or any error in video quality. You can set up a computer monitor to view footage and a video recorder(DVR) for recording. Getting these accessories would be expensive in a wired system. 
Another hassle here is installation. Installing a wired camera is somewhat tricky and so you need a professional for it.
Final Thoughts
Nowadays, most people like to have a perfect night vision camera that can be used for all purposes. A good night vision camera should provide excellent night vision skills, incredible image quality, superior field of view, high dynamic range, motion detection, enough storage, and weatherproof to handle all the climatic changes. 
Other than night vision and thermal cameras, no one can provide high-defined images and videos in the dark. So if you have an idea of buying a night vision camera, be sure to invest in something that produces clear images.
Hope so, you could have got a clear idea about night vision cameras and their usage in different fields. If you've any queries or want to share your ideas, you can use the comment box below.