Whether you go for gun shooting regularly or doing it as a pastime, using ear protection for shooting technically called Hearing Protection Devices (HPDs) is inevitable. It helps you go back home with the same hearing ability and prevent you from the distraction of gunshots from fellow shooters.
At first, you may feel uncomfortable wearing the shooting protection, but once you were next to the long range rifle shooters who are doing the dozens of shots, you will really be sorry to ears for not wearing hearing protection.
Shooting ear protection is like an investment that you will be thankful for yourself in the future. Earplugs and earmuffs are the most prominently used basic ear protection for shooting.
Later, we get choices between two different types of earmuffs, the one with basic hearing protection and the second with recent technology and controls. However, you have to choose the type of hearing protection, based on your shooting type, the field, and applications.
In this review, we have listed some of the Best Ear Protection for Shooting with a detailed review, buying guide, and we also answered some of the common questions about earmuffs.
What are the basic types of Ear Protection for Shooting?
Before we get into the products, let see what are varieties you have to choose between. These shooting ear protection devices are categorized into three different types.
Earplugs

Passive Earmuffs

Electronic Earmuffs
If you chose earplugs over earmuffs you may be at the end of choosing, but if you are decided to go with the earmuffs, you have to consider its further types to choose the right one.
Earplugs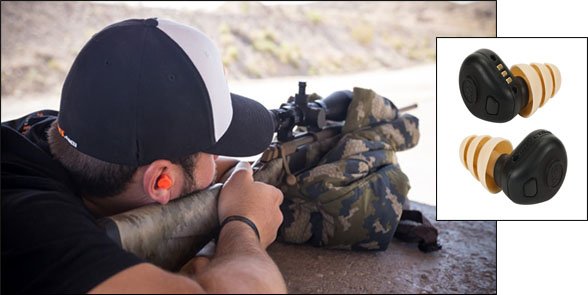 Earplugs are the typical choice for hearing protection. Traditional earplugs come in Foam, hypoallergenic rubber, and moldable polymers. Foam earplugs are capable of preventing low-frequency sounds than high-frequency sound waves like gunshots.
As of now, this hearing protection device is often used by shooters because of its low price, availability, and Noise Reduction Rating (NRR) up to 33 dB. 
These foam earplugs can seal the ear canal completely and foam composition in the device break the sound waves. Earplugs are great HPDs for target shooters, beginners, and casual shooters.
Advantages:
Most affordable option.

With NRR up to 30dB and high.

Strung or unstrung choices.

Disposable, Reusable, and washable are available.

Moldable for a custom fit.

Compact and carry-on.

No snagging.
Disadvantages:
Foam earplugs need proper roll-down insertion, removal, and reuse.

Some models can't pair with earmuffs.

Difficult to use for narrow or wide ear canals.
Passive Earmuffs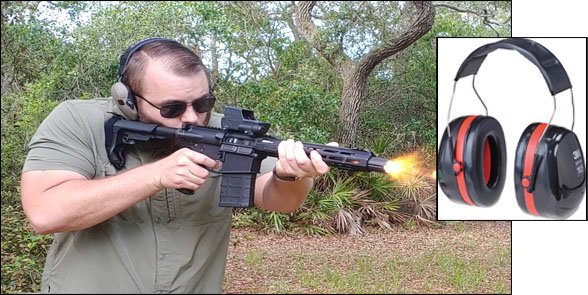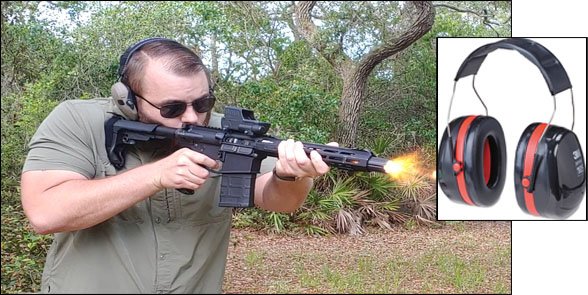 Basic passive earmuffs are ordinarily made of foam, plastic, or other inert materials. The passive earmuffs come as sealed and stop sound waves by their components, so they provide a high level of protection to the ear and do not hit the pocket so bad.
These passive earmuffs have thick and large ear cups with enough padding that block background sound.
Passive earmuffs are mostly used for continuous sound blocking such as in industrial, but they also work great for shooters in their target shooting. Most of the women ear protection for shooting is comes in this model.
Advantages:
Convenient to wear on and off often.

Comfort and fit.

Easily paired with earplugs.

Compact and Foldable.

One size for all.
Disadvantages:
Bulky, heavy.

Chances of snagging.

Uncomfortable in high humid places.

Can cause cheek cramps.
Electronic Earmuffs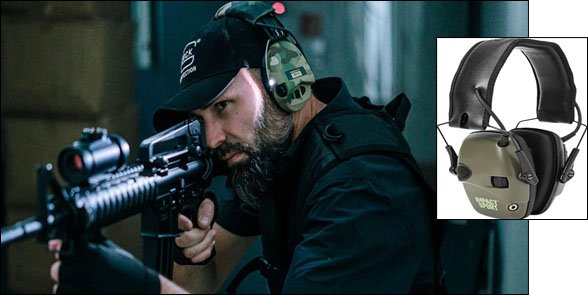 Electronic earmuffs are the most updated version of HPD as of now. These electronic earmuffs are added with new technology and controls such as processors, microphones, wireless connectivity, and few other smart options that keep the shooter aware of the situation and stop harmful sound waves.
Though earbuds that block the sound were used occasionally, electronic earmuffs are preferred more due to their superior quality and protection.
Electronic earmuffs are great for recreational or backcountry activities that involve communication and need awareness of the circumstances namely shooting, hunting, and exploring the unknown outdoor.
Because of their ability to allow the users to hear sounds around them at normal or even more normal levels, users can communicate and pass commands.
Another great feature of electronic earmuffs is their control over extremely loud noise. If the earmuffs detect sound waves of more than 82dB, it considers the sound as dangerous and harmful and compresses the sound in the earcups till the noise reaches the normal level.
Advantages:
Dampen loud noise and amplify low-level noise for communication.

Comfort, compact, and fit.

Comes with Bluetooth and smartphone connectivity.

Available in stereo.
Disadvantages:
Expensive.

Batteries required.

Bulky, heavy.
Earplugs and passive earmuffs are not less than electronic earmuffs, but when it comes to shooting or hunting, the electronic earmuff is a wise choice. Maybe they are expensive than the other two types, but it is worth it as they allow users to communicate.
In the hunting or shooting classes and games, these electronic earmuffs will be your great support to unite with your team members without affecting your hearing ability.
Here we have the collection of the Best 10 Shooting Ear Protection that you can buy in 2022.
10 Best Ear Protection for Shooting in 2021
1. Howard Leight by Honeywell Impact Sport Sound Amplification Earmuff
In hunting or shooting, ear and eye protection is a must. Howard Leight is a popular company for producing hearing protection devices for more than 30 years. This brand is best in ear electronic hearing protection for shooting.
In fact, 7 out of 10 shooters have tried their ear protection at least once in their life. They produce ear protection devices for work and sports environments. Among all, their recent model called Impact Sport Sound Amplification Electronic Shooting Earmuff hits the shooting world.
NRR: 22db
Battery life: 350 hours
Battery: 2 AAA
Automatic shut off: 4 hours
Storage: Convenient folding
Power/Volume: Single knob
Air Flow Control Technology
Extra: 2 additional comfort ear cushions
Audio Jack: 3.5 mm audio cable
Water-resistant: Yes
Here we have reviewed the version of "Tactical Back". The earmuff comes in a firm hard case which is portable travel with 2 additional ear cushions, 2 AAA batteries, a bag to carry, and an audio cord with a 3.5mm jack.
The earmuffs are completely water-resistant and have a padded headband made of leather. The slender design of the earmuffs blocks interfering noise while shooting. The earmuffs fit in MICH (Modular Integrated Communications Helmet), Team Wendy helmet models, and Ops core.
The earmuffs work with AAA batteries and as of the manufacturer, it has a life up to 350 hours. There is a single knob to power on and off and adjusting the volume. The microphones come with earmuffs to amplify the surrounding noise to give you hearing ability. Even the sound of birds, whispers, and the breeze were very clear with the earcups which are not possible in most of the electronic earmuffs. 
The Impact Sport Earmuffs allows the noise level up to 82dB through the microphone. If the noise exceeds this limit, they compress the harmful noise into 22dB. The earmuffs are very comfortable and fit with hats, eyeglasses, and other accessories you wear with them.
A single on and off volume control and single battery compartment are advantages of this earmuff. The automatic shut-off after 4 hours saves the battery life and extends the usage. 
The 3.5mm audio jack is new for most shooters. Though not many shooters look for this feature, it is beneficial to have it when you wanted to plug it into your audio device or mobile phone.
To conclude, the ergonomics of earmuffs maintained well through the design, a single on/off knob, extra ear cushions, audio jack, and hard case to carry on are the great things why you should try this.
2. Walker's Game Ear Razor Slim Muff
With a low-profile design and 100% comfort, Walker Ear Razor Muff has become the best electronic ear protection for shooting at an affordable cost.
Walker's electronic earmuffs are designed specially to get the lowest profile. They achieved the profile without compromising the other feature of earmuffs such as the hearing protection ability, amplification power, and audio jack. So you get the lowest possible earmuff with all the essential controls and features.
NRR: 23db
Battery life: 250 hours
Battery: 2 AAA
Automatic shut off: 4 hours
Storage: Slim folding
Power/Volume: Single knob
Two Omni-directional microphones
Padding: Ear cups and headband
Audio Jack: 3.5mm audio cable
Water-resistant: Yes
While comparing, this electronic earmuff for shooting is the slimmest design among the other hearing protection devices in this list we made. Wearing the right and lightweight shooting ear protection will give comfort and fit while shooting for long-range or at the competition.
There is no doubt that earmuff is slim, but they are also comfortable and loaded with functionalities that a shooter requires in a noisy environment. The stuffed ear cups are comfortable to wear for a long time. Not only the ear cups but also the headband itself padded very well to support all day.
Walker electronic earmuff is one of the hearing protection devices with ample headband clamping force. The earmuff is very comfy and fits with most of the eyeglasses and helmets. 
The single knob volume control is tactile and highly accessible even with gloves. The knob has raised ridges that allow the shooter to adjust the volume levels.
When we deep into the hearing protection ability of Razor Slim Earmuff, it uses a sound-activated compression circuit (SAC) to stop the noise levels that exceed 89dB within 20 milliseconds.
Know that these muffs may create white noise or whispering sound which will get to the prominent level when the muffs are used at a high volume level.
The earmuffs come with 2 Omnidirectional microphones combined with HD speakers. So the shooter can make a clear conversation while gaming. Also, the 3.5mm audio jack allows you to plug into your smartphones, iPods, MP3 players, and radios.
Finally, the power, these earmuffs need 2 AAA batteries to kick off the day and last long for about 350 hours. 
To conclude, Walker Electronic Earmuffs with 2 omnidirectional microphones, 23dB NRR, SAC, and lowest profile makes it the finest choice for shooters.
3. Pro For Sho 34dB Shooting Ear Protection
We should agree that shooting is not an easy go sport, you will have to spent on firearms, magazines, ammunition, and even more that are crucial for shooting where you can't compromise the quality for money.
NRR:

34db

Type:

Passive

Storage:

Conventional folding

Padding:

Ear cups and headband

Colors:

10

Lightweight

: Yes

Material

: Foam

NRR

: Maximum hearing protection

Water-resistant

: Yes
But, with low-cost earmuffs like Pro For Sho Muffs, you can save few bucks without losing the quality. It will keep down the costs for beginners or casual. This is passive earmuffs come with no new technology or controls. With their physical components, this earmuff protects your hearing ability.
This low-cost earmuff comes with a Noise Reduction Rating of up to 34dB. This earmuff is available in 10 different colors and impressions. You can fold this earmuff in a case and carry it anywhere. These low-profile and light earmuffs go well with most standard helmets and glasses and provide comfort.
The headband of the earmuff is adjustable and padded so you can wear the protection for a long time without any stress in the head. The earmuff is made of HIPS and High protection foam. The cell components in the foam block the dangerous sound from the environment.
These earmuffs are suitable for hunting, gun shooting, woodworking, and even study.
To conclude, Pro For Sho Passive Earmuffs is the low-cost option that comes with maximum protection rating, comfort, and compact design, durability, and high recommendation for shooters, hunters, those who use power tools, and people with sensitivity to loud noises. 
4. Sordin Supreme Pro X - Active Safety Ear Muffs
Sordin Supreme Pro X Earmuffs is suitable if you are looking for shooting ear protection with comfort and sound quality as the major concern. These earmuffs have all the features of MSA.
These Sordin supreme earmuffs are following all the military applications and requirements thus these are the professional hearing protections used by the US army.
NRR

: 25db

Battery life

: 250 hours

Battery

: 2 AAA

Storage

: Slim folding

Integrated LED light
Audio Jack

: 3.5mm audio cable

Padding

: Gel ear cushions

Waterproof

: Yes
Though these are a little pricey than passive and other usual electronic earmuffs, their MSA military specifications and standard certification from EU Norm DIN EN 352-1, DIN EN 352-4, and DIN 352-6 show how well equipped and glory it is.
The electronic earmuffs have a Noise Reduction Rating up to 25dB. The earmuffs are engineered to block medium and high-frequency sound waves produced from firearms. 
These Swedish earmuffs with high NRR and ear protection offer clear communication between the team members or co-workers, make you aware of situations around you, and protect your hearing ability. 
This military range earmuffs have noise reduction in four different levels to provide crystal clear audio. The external microphones in the earmuffs amplify the ambient sound into four times the normal frequency and do perfect directional sound detection.
The integrated technology and digital controls effortlessly compress the loud noises into 25dB and amplify the quiet noises even a bird, breeze, or a little whisper.
The material used for earmuffs is IP67 rated which ensures the durability of the device in all weather conditions. The gel cushion ear cups are replaceable and offer long-term protection with such a seal even when used with eye protection. 
The 3.5mm audio jack allows you to clear mobile phones, radios, and other electronic devices. Unlike other earmuffs, these Swedish earmuffs come with an LED lamp in the headset to navigate you in the dark by illumination.
It is beneficial to catch the prey when you are hunting at night or doing machinery in a low-light environment. Lastly, the device is powered by 2 AAA batteries and they proved to offer 350 hours of working time.
To conclude, definitely Sordin supreme Pro X earmuffs is not the budget option but they are worth every penny. Having an ear protector with military-grade applications, safety standards, and IP67 durability is the most hopeful thing to have in the field.
5. ACT FIRE Ear Protection Hearing Protection
Act Fire Shotting Ear Protection is the best bet if you are looking for low-priced models of hearing protection devices. These are available at affordable prices with different color options.
The earmuffs have all the essential and standard features that a shooter or hunter needs from an ear protector in almost every situation. Whether you need the protection for shooting guns or hunting, working on machinery or wood sawing at the workshop, or using lawnmowers, these Act Fire earmuffs are suitable for all these applications and even more. 
NRR

: 23db

Battery life

: 250 hours

Battery

: 2 AAA

Storage

: Slim folding

Power/Volume

: Single knob

UV protection Japanese imported paint
Stereo sound
Water-resistant

: Yes
These electronic earmuffs use an internal chip for sound amplification. This technology ensures real and amplified stereo sound. The internal amplifiers raise the sound level of low frequencies and determine the direction of sound accurately.
With that being said, the Act Fire Electronic Ear protection reduces the harmful noise level that exceeds 89dB into 23dB which means the Noise Reduction Rating of this device is 23dB.
Other tactical ear protection devices or HPDs amplify the low volume sounds for you to hear while protecting the hearing ability, but these passive earmuffs amplify that low volume sounds without any sound distortion.
To act against the UV irradiation, this Act fire earmuffs got designed with Japanese imported paint. It not only protects the HPD from radiation but also from surface damaging and natural fading.
We have to admit that with down the cost of the earmuffs, the build quality may not be the same as some of the premium models.
To conclude, Act fire ear protection earmuffs are suitable for gun range shooting, woodworking, and any other machinery works. The UV-protected paint coating extends the durability of the device.
6. 3M H10A Peltor Optime 105 Over the Head Earmuff
If you are using handguns and looking for affordable passive earmuffs, then this 3M H10A Pelter Optime 105 Earmuff is the best for you.
The 3M earmuffs have been engineered to be effective ear protection in demanding surroundings where the noise level is expected up to 105dB. The earmuffs are designed with volume and mass in the mind.
NRR

: 30db

Limit

: 105 dB

Type

: Passive

Design

: Over-the-head

Storage

: Conventional folding

Padding

: Foam earcups

Material

: Foam, Plastic

Water-resistant

: Yes
With the double-shell earcups, these Optime 105 earmuffs may be bulky and cause cramps in the cheek if you used a long time. There are two earcups connected through foam layers to improve the noise reduction irrespective of frequencies.
The headband is designed with durable stainless steel and elasticity to fit your head without causing headaches and prevent bends and warp. 
The pivot points in the earcup are made to be tiltable to adjust comfort. The earmuffs are soft and filled with liquid and foam cushions which act as prominent noise dampening seals.
To conclude, 3M Pelter Earmuffs is a great choice for passive ear protection for shooters who use handguns and play at indoor ranges.
7. Pro Ears - Pro Tac Slim Gold Hearing Protection
Howard Leight and 3M Pelter's are the great earmuffs that have everything you need from a hearing protection device from communication to gel caps.
Now, we update the price of the earmuffs.
No doubt that for every penny you pay high than other models, you will be well-served with the better amplification and noise cutoff. You will hear everything except the gunshots. Pro Ears is a prominent earmuff production company for a long time. Their Pro Tac Slim Gold model made a hit in the industry.
NRR

: 28db

Battery life

: 250 hours

Battery

: 2 AAA

Automatic shut off

: 4 hours

Storage

: Convenient folding

Volume

: Dual

Seal

: Memory Foam, Leather

Headband

: Adjustable, Padded

Audio Jack

: 3.5mm audio cable

Water-resistant

: Yes
Though Pro Ears Pro Tac Slim Gold could not beat comfort with Sordin MSA Earmuffs, still these are some of the advanced and smart electronic earmuffs for the 21st century. 
Pro Ears Pro Tac Slim Gold Earmuffs is a great choice for better noise reduction and sound quality with the option to change the muff for each ear.
The automatic and programable game control in the hearing protection amplifies the quiet sounds up to 8 times the normal level and dampens the loud noise that exceeds 82dB into 28dB. So, the NRR of the Pro Tac gold slim is up to 28dB. The attack time of earmuff is just 1.5 ms which is the fastest in the industry.
The ear cup seal of the device comes as padded and sealed with proform leather and memory foam to offer ultra comfort. The headband is padded and adjustable for sport shooting. 
The earmuffs have premium quality Gold connectors that reduce impedance and offer better audiophile sound quality to their customers. With the dynamic sound range, you can hear the clear and distortion-free sound from close and far ranges.
This electronic earmuff comes with 2 military-grade circuit boards to allow individual earmuff adjustments to compensate for hearing loss in one ear. The dual-circuit boards cut off the tangling of wires so the earmuff becomes more reliable and durable.
Two independent volume controls allow the user to easily adjust the levels in each ear based on personal hearing needs. 
The exclusive DLSC compression technology compresses the harmful sounds so you will be able to communicate with others and aware of the situation. The technology makes sure the users hear every sound safely without any interruption.
The device automatically shuts off the power when there is no activity for 4 hours and saves the battery life. The low battery level indicator in the device avoids sudden power off. For normal use, the hearing protection device offers almost 250 hours of battery time.
The audio jack in earmuffs allows a 3.5mm cable with which you can connect electronic devices like phones, players, and radios to hear music. 
To conclude, Pro Tac Gold Slim is a suitable ear protection device for those who are upgrading their game level and respective accessories. The military-grade circuits, dual adjustable volume control, automatic shutoff, and exclusive compression technology are worth the money you invest on.
8. Peltor Sport Tactical 500 Smart Hearing Protector
Peltor Sport Tactical 500 earmuff has been engineered by the manufacturers of 3M work tunes so there is no doubt about its quality and performance. It has the highest NRR rating up to 26dB. Their additional features confirm its ability to accompany the shooter in different situations.
This ear protection combines 3M proprietary technologies and the latest smart features. The hearing protection compresses the sounds of the gunshots and amplifies the quiet noises.
The clear voice tracking feature actively filters the noise and amplifies it to offer better communication in the field. So, you can hear your team members.
NRR

: 26db

Battery

: 2 AA

Automatic shut off

: Yes

Microphones

: Yes

Storage

: Convenient folding

Cups

: Low profile

Seal

: Memory Foam, Leather

Headband

: Adjustable, Padded

Audio Jack

: 3.5mm audio cable

Bluetooth technology
Water-resistant

: Yes
This electronic ear protection has Automeatureatic dynamic suppression which hikes up the selling rate of the product. With this feature, the earmuff measures the energy of gunshot and echoes in the surrounding area, then it adjusts the suppression setting respectively. These combinations ensure better comfort and distortion-free communication.
This hearing protection device from Pelter with 3M features is suitable for any shooter whether he/she uses high-end AR rifles or low-caliber pistols. Most probably, the device is great for indoor shooting because of the increased gunshot echoes when bounced back from the walls around. 
The ear protection has recessed microphones on both sides of the set. Due to this design, the wind and fan sound is reduced which is very helpful meanwhile it also keeps the mics durable for a long time.
This hearing protection has an adjustable and vented headband that allows a long time of usage without pain in the ears. The earcups are soft and cushioned to improve comfort. With the intuitive buttons and voice commanded guide, you set, operate, and use earmuffs without removing them. 
The Bluetooth technology allows the user to connect the headset with other smart devices and hear music.
The Pelter 500 uses 2 AA batteries for power but the batteries are not included in this product. If you spend few more bucks, then you can get the same earmuffs with batteries.
To conclude, the lightweight design, soft earcups, adjustable headband, recesses microphones, and smart voice-tracking technology make it an ideal choice for hunting and shooting.
9. Howard Leight Impact Sport Bolt Digital Shooting Earmuff
The Howard Leight Impact Sport Bolt ear protection is another industrial-grade HPD from a renowned manufacturer. This hearing protection has the fastest attack time of 0.5 milliseconds. It will help you hear the noise without interruption and block high-frequency sound that exceeds 82dB.
The fastest attack time protects the hearing after every gunshot. The ear protection compresses the harmful surrounding noise into 22dB and amplifies the very low noises in the surrounding area to improve communication.
NRR

: 22db

Battery life

: 150 hours

Battery

: 2 AAA

Automatic shut off

: 4 hours

Storage

: Slim folding

Attack Time

: 0.5 ms

5X Ambient sound amplification
Extra earcup cushions
Headband

: Adjustable, Padded

Audio Jack

: 3.5mm audio cable

Water-resistant

: Yes
The Howard Leight Impact Sport Bolt offers directional sound amplification up to 5 times. It means, in short, unlike the other hearing protection devices in the market that can amplify the sound up to four times, the Howard makes it to 5x.
With this 5x amplification, tracking prey, making contact with teammates, passing commands are easy by wearing this ear protection.
This Howard shooting ear protection has an Automatic shut-off, the feature automatically turned on and shuts off the device if it is inactive for more than 4 hours. This features offers prolong operation time by saving battery life. So, you do not need to worry about turning off the device middle of the game.
By saving the battery life, the constant need for additional batteries is avoided; you save money.  The device works on 2 AAA batteries that offer 150 hours of battery life on average. The snap-on lid on the battery compartment allows you to replace the battery easily.
The device has a slim device, low-profile ear cups, and cutaways. These features offer improved accuracy in shooting and comfort in placement.
Having the cutouts in the headset helps to use the tight gunstock cheek weld so you get intuitive fire. The best thing about this is, the feature allows you to do this without affecting the seal of the earcup cushion.
Extra add ons of this hearing protection device are extra pair of ear cushions that can be replaced, 2 AAA batteries, and a belt clip that helps to carry hand-free and is easy to portable.
The only issue with this Howard is it may create annoying and interrupting high-pitched sounds when you raise the volume level to the top.
To conclude, an electronic earmuff at this price range with fast attach time, high NRR, hands-free carriage, extended battery life, and a low profile slim sleek design with intuitive controls is 100% worth buying.
10. PROHEAR 030 Bluetooth 5.0 Shooting Ear Protection Earmuffs
PRO HEAR 030 earmuff with Bluetooth technology is the most versatile option on the list. One major reason is their Bluetooth connectivity and another is their intuitive user-friendly interface and controls. Firm build, intuitive design, and smart advanced features make it an excellent choice for shooting.
NRR

: 22dB

Battery

: 2 AAA

Storage

: Compact folding

Attack Time

: 10 ms

Headband

: Adjustable, Padded

Audio Jack

: 3.5mm audio cable

Bluetooth 5.0 Technology
Ambient sound amplification
Two Omni-directional microphones
Water-resistant

: Yes
This HPD has integrated Bluetooth 5.0 technology to keep constant connections with your phone, players, or other devices. The connection works great to the range of 33feet.
Having a headset ear protection with the option to connect to the other connectivity-enabled devices and listen to music makes the shooting time fun. Enjoying the shooting with seamless music with wireless connectivity repays the bill.
This muff has wide ear cups, a headband with thick padding, and cushioned ear pads to offer ultra-soft and comfortable wearing for a long time without causing headache or cheek cramps, or ear pain.
These make it a perfect choice for extended shooting and hunting sessions. The telescopic and adjustable headband design make it fit for different head shapes.
Being the most lightweight HPD of 0.63 lbs, it also has a compact folding design that you can carry in a bag anywhere. Not only for shooting, but this HPD can also be used while operating lawnmowers, power tools, chainsaws, woodworking, and any machinery jobs. 
The premium rubber paint coating of the device promises longevity, durability, and comfort.
The device is operated on 2 AAA batteries that you have to buy on yourself. 
The major drawback of this PRO HEAR 030 muff is high battery consumption that becomes worse as the device did not have a battery indicator. So, you have to learn the battery life and usage of a device from experience.
To conclude, PRO HEAR is suitable for those who need wireless connectivity to stream music, padded headband with ultra-soft earbuds and wide ear cups for a long time wore and need it for more than shooting.
How to choose the Best Shooting Ear Protection – A Detailed Buying Guide
Other than the types of ear protection for shooting, there are few other factors that you should do check before investing on.
Noise Reduction Rating
The Noise Reduction Rating is an estimation of how much maximum noise protection can HPD offer. It is measured in decibels.
For instance, our first product in the list has NRR up to 22 means the device can reduce the noise level to 27 decibels.
There are no official standard rates or the lowest possible NNR requirements for hearing protection devices. Always prefer to get the highest NRR.
Real gunshots can reach the volume level from 140 to 190 decibels which will surely split your ear and affect the hearing quality within few shots. If you are busy shooting in long-range or in the play, not using HPD surely damage the hearing.
So, always aim for the highest possible NRR. If you want to go from the bottom level, don't buy any HPD less than 22dB.
Hear Through Capability
One of the important reasons of using high-power hearing protection is the hear-through capability. This feature is also known by some other names, hear through feature allows you to semi-naturally sense the surroundings in case of your ears are uncovered by the microphones on the outside of the headphones that damage the ear canals.
High efficient hearing protections have at least one microphone on each ear. Anyhow, some of the ear protection has microphones on the front and backside of each earcup.
One of the considerable advantages of the hear-through capability is, it will compress the human hearing spectrum, so the frequency of the loud noises is also lower and it does not damage your hearing.
Most of the old model hearing protections are simply cut out the audio, which is not preferable for nowadays shooters.
Amplification
The amplification of hearing protection devices varies based on the application. For example, hearing protection for musicians allows the user to hear surrounding sound using acoustic sound filters but ear protections for shooting involve smart technology to amplify particular sounds.
Amplification of sound is the process of increasing the volume of low decibel sounds. These quiet noises might be considered important such as communication, or the sounds that bring awareness of the situation.
Directional sound amplification is a method that improves the low-level sound volume and also lets the user know the direction of the sound. This amplification feature uses several electronic components, and microphones to amplify the situational sound that we can't hear even uncovering the ear. The microphone picks up these needed low-level sounds and passes them through headphone speakers in the earmuffs.
Based on the type of ear protection devices, the quality of directional sound amplification varies. HPD with stereo amplification lets you know the sound is from left or right while HPD with 3D amplification lets you hear the sound more clearly.
For hunters, ear protection with advanced directional sound amplification is the right choice. It helps you hear the footsteps, quiet commands from the other hunters, and bring situational awareness.
For the range shooters, HPD with stereo amplification is a good choice.
Know that HPDs with directional or stereo sound amplification have volume limits basically between 85 and 90dB. It means it can amplify sounds only in this range. Anyhow, the standard and safe noise level set by WHO is the same as the above range.
Decibels
Decibel is a sound measurement that measures the energy of the sound wave by using the logarithmic scale. In the Layperson's terms, the sound in 80 decibels is not louder than the sound with 79 dB, but it is 800 times louder than the 0 dB sound.
Every time, the number increased by 10, the tenfold will increase 10 times more than the previous factor. Moreover, increasing the 3 dB will double the perceptible sonic energy and it can be able to notice immediately the difference between the immediate and prolonged hearing damage.
Here are some of the key sound pressure levels to know, normal speech – 60 dB, loud amplified music – 110 dB, most gas-powered leaf blowers – 80 dB, threshold of instantaneous hearing damage – 120 dB, space shuttle taking off – 170 dB, and gunshots – 130-145 dB. Hence, gunshot sound is 1300 times louder than the sound that people can hear so hearing protection is very important while shooting.
Attack Time
The amplifier in the HPDs turns off when it is exposed to harmful noises and it automatically turns on when it goes then continues the amplifying process.
Attack time is the reaction time of the HPD to sounds. It is the calculation of the speed at which the HPD takes time to reduce the external noise to the safe level. The difference between the time when the gunshot happened and the time when the HPD turned off the amplifier and dampen the sound to a normal level is called Attack time.
Attack time should be faster and low in seconds.
Attack time varies on HPDs based on their quality, and physical components. The fastest attack time is 0.5ms and the average is 20ms.
Design
When it comes to design, there are several factors to consider that you care about. 
Cut-outs
There are HPDs come with cutouts. It helps to adjust with the shape of eyeglasses or the gunstock aside. The crevices on the muffs let the user shoot without any discomfort caused by leaning on the gunstock. The cut-out catches the gunstock onto it.
Low profile design
If you are not interested in high-end or bulky earmuffs, then low-profile HPDs are good choices. Low-profile designs are helpful in hiding while hunting. These are typically small, light, compact, and suitable to wear for a long time.
Tactile controls
Like hearing protection and safety glasses, shooters also need PPE like gloves. Most of the shooting gloves are thick so the user finds difficulty in accessing the controls and buttons in the headphone without removing from the head.
That's why the manufacturers thought of adding reliable tactile controls to the earmuffs. With this, a shooter with heavy thick gloves can access the button. 
Tactical controls are more convenient.
Portability
Whatever the reason you are purchasing an ear protector, choosing the foldable device is always a good choice. Compact and foldable earmuffs are easy to carry along with minimal storage. Some models come with their carrying cases.
Durability
Ear protection for shooting is supposed to deal with the harsh environment, sunlight, and extreme weather conditions. So, it is a must you have the most durable device that can withstand all of these.
Always choose the HPDs with water resistance to avoid being slippery due to sweat. The material used on the device also measures durability. HPDs made out of Acrylonitrile Butadiene Styrene and synthetic materials are good to choose from.
Comfort and Fit
Comfort and fit are the most crucial factors that most users failed in. Hunting or shooting in any range is not a go-and-come game, you have to spend a long time on the field. With that said, it is obvious that you will wear the HPD as long as you hunt or shoot.
So, it is important to choose an earmuff that fits comfortably on your head supporting the other accessories like safety glasses and gunstock. When you got the right fit and comfy earmuff, you reduce the chances of removing them often. 
Ear protection muffs with wide and soft ear cups avoid the ain in the ear. The vented and adjustable headband allows airflow. The earmuffs with ultra-soft earbuds and padded headband ensure fit and cozy.
Earmuffs with rotating sliders make it suitable for all head shapes and sizes. 
Water Resistance
Most people are experiencing their shooting in the worst weather conditions in different territories like forests, ranges, or battlefields. For that reason, noise-canceling ear cups should have features that can make them suitable for all environments like dustproof, waterproof, and scratch-resistant.
The water-resistant feature is very important because it helps to protect the electric circuit inside the hearing protection. Make sure that you have good quality hearing protection that works perfectly even in a humid area.
Benefits of ear protection while shooting
Long-term comfort
A good quality hearing protection is featured with some comfort-enhancing items like padded headbands, gel earcups, and ergonomic design, so you won't feel worried with the hearing protection for comfort.
Increased situational awareness
Nowadays, modern hearing protection comes with the hear-through capability, so you dont need to give up the situational awareness in the case of protecting the ears, it allows you the hear the movement around you, continue the conversation, and provides good spatial perception based on the sound.
Comms Capability
Most of the high-quality hearing protection comes with the comms integration, which means, this hearing protection can also be used as a radio headset. It is also designed to hold the hand mic up to the head next to the microphone or push the hearing protection away for a second which allows you to have hearing protection with better situational awareness and radio clarity without compromising safety.
Why you should wear Hearing Protection Device?
While hunting or shooting, bringing protection for the eye, ear, and hands is most important. A shooter who tried shooting without any of these will surely appreciate buying the one. The gunshots are loud and reach an intensity of 120dB. Hearing the sound without any protection causes irreversible damage to the ear. 
Most of the firearms and guns produce sound impulses 10 to 1000 times more than this intensity. 
Let's talk about it in detail.
How loud noise affects hearing?
To know the reason how high decibel sound waves affect hearing, we should know about the anatomy of our ears.
People always talk about the middle ear where the eardrum and little bones called the anvil, hammer, and stirrup are there.
Originally, hearing damage is caused when the inner ear is affected.
In the above picture, imagine a spiral staircase. The passage is 30 mm long and 2 mm wide.
The sound waves travel alongside the staircase. In the middle of the staircase, the organ of Corti and basilar membrane that is thin and long. The Corti rests on the membrane and there are tiny hairs along with the assembly of organs. They register sound and pass it to the brain through the auditory nerve.
When you are exposed to the intense sound range up to 140dB or more, the organ segments of the Corti separate from the basilar membrane. The portions tend to tear and float around the staircase.
As a result, you end up with an inflamed lesion which later causes a chemical reaction where the tiny hairs die. This reaction provokes the formation of scar tissue which rapid up the degeneration of inner ear hairs. A cascade effect happens and the complete auditory nerve system fails, meaning you go deaf.
The high pitch sound that you keep on hearing that never goes off is called Tinnitus. There is the suspect that generation of this sound is maybe the result while brain trying to get back lost hearing ability by intuiting the surrounding frequencies.
Now, you may understand why we consider it most important to make the list of best ear protection for shooting. A small investment in a hearing device benefits your health and quality of life in the future.
The right ear protection makes your shooting time more enjoyable that you'll like to continue the game for even more time.
Among the three types, electronic earmuffs have come with additional benefits that increase situational awareness and communication while you are chasing or playing.
How much does ear protection for shooting cost?
There are different varieties of hearing protection devices available so the price range varies according to this. The passive earmuffs and earplugs generally come under $25 with basic sound insulation and NRR up to 30dB so these are the great budget and beginner options. Although they do not have a communication system, passive protection devices somewhere offer communication but lack NRR. 
Electronic earmuffs have come with low and high profiles. Low-profile and low-cost electronic earmuffs are available at a maximum under $75 with the average range of $40 to $50. The HPDs from this range have basic features with the NRR up to 25dB or below. 
If you want a bit advanced electronic earmuffs with high NRR, then you should look around the price range of $75 to $150. The electronic ear protection from this range offers you essential and less common features like an audio jack, Bluetooth connectivity, clear voice tracking, or proform earbuds.
If you are ready to spend even more to get everything possible with an HPD, you will pay from $150 to $1000 or even more.
Conclusion
To conclude the list of Best Ear Protection for Shooting in 2022, we reviewed some of the most prominent choices that we think a buyer should consider while purchasing an HPD. The ear protection generally ranges from $20 to more than $1000. The earplugs with passive earmuff also make a great choice in the range.
But, if you are a shooter or hunter who goes for indoor and outdoor range shooting, we suggest you choose the advanced electronic earmuffs with high NRR, fast attack time, durable design, lightweight, and portable muff with advanced communication features. These will let you hear everything from a bird to your teammate's command except the ear-splitting gunshot sounds.
Using eyeglasses, hand gloves, and ear protection are the most important safety features that you should not miss for any cost. They may be less or high investment, but these are the factor that promises to keep your quality of life.
So, as a shooter what ear protection are you using? Let us know in the comment section.
Frequently Asked Questions
Which is better between earplug and earmuff?
This is a most confusing question for anyone searching to find the best hearing protection device. 
Earmuffs are easiest to wear on and off but earplugs need more manual access to use as they are not convenient to wear on and off often. So, when it comes to comfort, earmuff wins.
Which is the best ear protection for shooting?
We have discussed this a lot and we are sure electronic protection is the best choice for shooting ranges. In the range, it is not easy to communicate or receive the commands from officers or instruct the shooters. Only with the electronic ear protection be it an earplug or earmuff you could do all these conveniently.
What is the highest dB for earplugs?
As per the record, the high dB Noise Reduction Rating possible with earplugs is around 33dB. So, the surrounding noise that exceeds 85dB to 90dB (based on the model) is compressed to 33dB.