The Night vision scope is one of the demandable equipments among the hunters and military personnels due to the capabilities to cover the target even during the dark conditions. 
It has been deemed useful when it comes to accomplishing both their respective goals done at night since our eyes as humans have their own limitations when it comes to clarity and brightness.
For hunters, best night vision scope can prove night hunting a 100% success in marking and taking down wild animals such as hogs and other nocturnal wild animals subjected to hunting.
For the military forces, a night vision scope can help them accomplish their night raids or night rescue operations, which are crucial for maintaining peace and order in the country. (source)
Night vision scopes aren't just for hunting – it has been used for various purposes including spotting the target in the dark while camping, for home security , night boating, night fishing, night birding, wildlife inspection and dark night photography.
Night Vision Scopes have different types and features that are either superior or inferior in one way or another when compared to other scopes in the same manner.
Furthermore, there are also Night Vision Attachments, which can be deemed useful in enhancing the night vision capabilities of several riflescopes that have incorporated the use of the night vision system or thermal imaging sensor.
With the latest technological advancement, Night Vision Scopes have become a sought-after device for hunters, recreational shooters, and military forces to enhance their shooting skills and target acquisition.
Keeping this in mind, allow this article to help you determine several types of scopes with night vision technology as well as the best night vision attachments out there. Let us now proceed.
Best Night Vision Scopes 2022
10 Best Night Vision Scopes in 2022 – Reviewed
1. Pulsar Digex N455 Digital Night Vision Scope
For $1,350, you can avail of Pulsar Digex N455 Digital Night Vision Scope, a state-of-the-art night vision scope that integrated technology, versatility, and durability into one. 
With over ten (10) types of the reticle that comes in several color selections for easy and flexible hunting and shooting. 
It also features a "scalable" ballistic reticle type, which helps in terms of accuracy and precision. This product is the first fully-featured night vision scope to be distributed in the market.
Magnification Power
This night vision scope has a variable 4х to 16x magnification power, which allows you to have a wider field of view while having sufficient clarity for observing your prey from afar.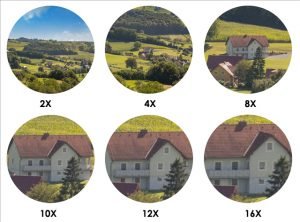 The magnification changes gradually or even continuously, which optimizes the field of view, depending on the situation you may be into.
Optical Quality and Night Vision System
This versatile night vision scope boasts its nighttime sensitivity technology that provides a 1280x720P high definition and high-resolution display and sensor for easy target acquisition that works perfectly in darker environments. 
Pulsar Digex N455 Digital Night Vision Scope also features a "high precision" aiming control with "picture in picture" mode.
For environments with dimmer lights, an infrared (IR) illuminator is recommended as it includes an 850 nm (long-range) and 940 nm (invisible range) wavelength. It is a great tool for acquiring and observing targets for over 500 meters.
Resistance
This night vision scope has been granted a waterproof rating of IPX7 that can operate between -13°F and 122°F, being able to perform well in higher humidity and tougher weather conditions. 
It has also been built to withstand a 30 minute under 1M water submersion. It is also shockproof as it can resist the heavy recoiling of .375H&H and 9.3×64 hunting type rifles.
2. ATN "X-Sight" 4K Pro-Smart 5-20x Scope
When it comes to a new breakthrough in the field of night vision scopes, ATN "X-Sight" 4K Pro-Smart 5-20x Scope might be able to give you what you wanted by providing a digitalized experience in terms of hunting. 
This night vision scope can intimately blend well with the latest technological advancements while maintaining the traditional form that defines riflescopes, allowing you to meet both of the world's best.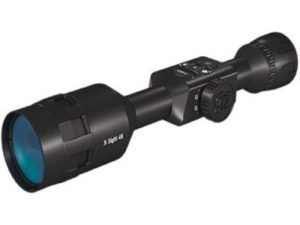 Magnification Power
In terms of magnification, this scope has a variable 5x to 20x magnification, which provides a huge field of view that can support you in terms of hunting or when applied to tactical and military conditions. 
There is little doubt that this product might disappoint you. It can assist you pretty well when it comes to observation and monitoring of your targets.
Optical Quality and Night Vision System
In terms of optical performance and ability to operate with night vision technology, ATN "X-Sight" 4K Pro-Smart 5-20x Scope will give you only the best that you deserve. 
This night vision scope includes several unique features that make it ideal for night hunting. It is powered by a "Dual-Core" Obsidian 4 Processor, bringing you closer to the latest technology that can provide high resolution with the faster optical performance. 
It even offers 120fps with none pixelation when magnified, creating a greater image quality from afar. 
This product also includes night vision settings, which enhances its optical performances under darker environments. 
Moreover, it also allows you to stream and record videos at the same time, giving you more freedom in terms of sharing your hunting and wildlife experiences, most especially at night. All recorded images and videos are stored inside the SD Card.
Operation Capability (Battery Life)
When you venture into the wild at night, this product got your back as its battery life can last for up to 18 hours under lower light settings. 
Hunting will now become even more enjoyable without the need to stop or worry over a drained battery, thanks to the high definition sensor and display.
3. Pulsar Thermion XP50 Thermal Riflescope
If you're looking for the best night vision scope for hunting during night time, then this Pulsar Thermion XP50 Thermal Riflescope is the perfect choice for you. 
The Thermion series from the Pulsar brand is one of the upgraded scopes on the market with the latest technology. It provides an excellent hunting experience and will take your hunting experience to the next level.
Resolution
It comes with a resolution of 640 x 480 that provides high-quality images with sharp details. These high-quality images allow you to identify the targets up to 2,400 yards of distance. The high-resolution sensor present in this scope provides an accurate view of the target. 
Magnification & Optics System
The magnification range of this scope is 1.9-15.2x that allows you to view the target from short to long-range distance. This variable magnification helps you to focus the target according to the distance range and identify them from any distance. 
It comes with a resolution of 1024×768 pixels display that provides crisp and clear images of the object. The objective lens of this scope is 50mm that is large enough to provide better images of the target. This Pulsar Thermion XP50 Riflescope is ideal for big game hunting, varmint hunting, and big hunting in any environmental conditions. 
Other Features
It is built with a Stadiametric rangefinder that helps you to find the distance of the target easily and allows you to make accurate shots. The picture-in-picture mode provides you a crystal clear image of the target in any range of distance. 
This scope has the capacity to start immediately so you can save energy and work for a long period of time. With this, you can shut down the system when not in use and start-up quickly when you needed. 
With this night vision scope, you can capture the images clearly even in low-light conditions and also record video while hunting on the field. 
The captured images and recorded videos can be transferred via the USB cable, or you can share using Wi-Fi. This scope is compatible with Stream Vision App, so you can connect your phone, laptop, or computer using Wi-Fi and share the pictures and videos. 
Moreover, you can also change the settings of the scope using this App via your mobile phone. It comes with 8 color palettes that allow you to change various color settings based on the lighting condition of the hunting environment and reduces eye fatigue. It comes with the waterproof construction, so you can use this in all weather conditions.
4. Sightmark Wraith HD 4-32x50mm Digital Night Vision Scope
For a price of under $500, having a specialized night vision scope will be much attainable, without compromising quality. 
Sightmark Wraith HD 4-32x50mm Digital Night Vision Scope boasts both high-quality performance and resolution when used for night hunting. 
It can be used for both day and night applications, which makes it a smart gadget for your rifle. It has been designed to assist you in meeting your hunting preferences. 
Best Budget Night Vision Scope
Magnification Power
This innovative night vision scope has powerful 4x to 32x magnification settings that can give you a larger or closer field of view, which can heavily support you in hunting 24/7. 
It offers a 21 feet field of view at 100 yards, 7 meters field of view at 100 meters. All in all, this is a good device that can support you in both short, medium, and long-distance target observation and shooting. 
Optical Quality and Night Vision System
Since the human eyes have its limitations when it comes to clarity and sharpness, having this night vision scope can prove to be powerful equipment for your rifle. 
It boasts a 1920x1080P high definition sensor that provides vivid clarity when operated during both the day and night. When used in night mode, its display options can either be in emerald or in black & white settings. 
It comes with a removable 850 nm IR LED illuminator, which enhances the accuracy of target acquisition from afar. 
You can even customize your settings depending on your needs with 10 types of the reticle and 9 types of color settings. Significantly, it has an embedded camera that allows you to record and share your videos. 
Resistance
This night vision scope has been granted with an IP55 waterproof rating, allowing it to operate under -15°C to 50°C or 5°F to 122°F. 
It was also built to resist extreme shock, making it a reliable and durable product. It is also a good investment for your hunting career, considering its price and quality product. 
5. Bushnell NightVision 4.5×40 Equinox Z
While looking for the best night vision scope, this Bushnell Equinox Z Night Vision scope is one of the traditional options. It is one of the most popular brands that produce high-quality optics for various applications. 
It is the best cheap night vision scope available on the market that provides excellent performance. This digital night vision scope provides a crystal clear view of the targets in both day and low-light conditions.
Magnification
It comes with the 4.5x fixed magnification range that allows you to view the target from a short-mid range distance. With this magnification range, you can make accurate shots up to 500 yards of distance. 
The objective lens of this scope is 40mm that is large enough to improve light transmission, and provides better target images with more brightness. It provides more accuracy while viewing the targets from distance. 
Image/Video
This digital night vision scope allows you to capture images and record video while viewing with just one click. It helps you to make accurate shots during the day without missing the chances. It comes with an infrared illuminator that allows you to change the brightness level based on the lighting condition of the environment. 
Field of View
The field of view of this scope is 20 ft at 100 yards that provides a better view of the target with enough details. The combination of the large objective lens and wide field of view allows you to view the target with their surrounding environment and be aware of the dangerous animals while hunting.
Battery & Construction
It comes with the AA batteries that power the infrared illuminator and provides long-lasting performance continuously. You can mount this night vision monocular on the tripod for hands-free operation. 
Moreover, it is light in weight and won't make you tired easily, but if needs to hold it on the tripod, then this is compatible with that. This will be the perfect choice for your hunting needs during both day and night. The affordable price and user-friendly access of this scope make it suitable for beginners as well as professional hunters.
6. Night Owl Optics – NightShot – Night Vision Scope
For $400, you can own a versatile and well-rounded night vision scope called Night Owl Optics NightShot Night Vision Scope. 
It has been designed to specifically meet your needs when it comes to night hunting. Aside from that, it can also be used as an accessory for paintball and airsoft's customized guns. 
More importantly, its compatibility with other firearms has been proven, making it flexible for the most part. With this night vision scope, you can perfectly hide your presence against wild animals, shooting them with enough accuracy.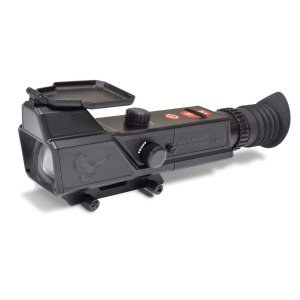 Magnification Power
With a fixed 3x magnification, this night vision scope can provide you a large viewing field of at least 5.6° with an aperture that measures 1.57 inches. 
It can even reach 3 meters to ∞ for its focusing distance. You can rely on its power if you prefer close-ranged hunting.
Optical Quality and Night Vision System
Although it may not be as clear as the other top night vision products out there, still, in its own right considering its magnification range, a 640X480P resolution display can still give you the high-quality performance and clarity that you needed the most. 
It can monitor targets from a distance of 100 yards to 200 yards in the usual night hunting environments.
Operation Capability (Battery Life)
This night vision scope uses 4 pcs of AA or Lithium Batteries for its source of power. Depending on your usage or the type of battery used, the power can last for a maximum of 17.5 hours and a minimum of 4.5 hours. Below is the calculated estimation of its battery life.
 AA Battery (x 4) :   
Infrared (Off) : 11.9 hrs 

Low Infrared usage: 7.1 hrs

High Infrared usage: 4.5 hrs     
 Lithium Battery (x4) :
Infrared (Off) : 17.5 hrs

  

Low Infrared usage: 11.1 hrs

High Infrared usage: 6.7 hrs
7. Yukon Sightline 6-24x70mm N470S Digital Night Vision Riflescope
Yukon Sightline N470S Digital Night Vision Scope is one of the best night vision scopes under $1000 available on the market with great features. 
It is preferred by many hunters to get excellent hunting experience during night time. This Yukon Sightline scope may look simple, but it is a great digital night vision scope and provides better visibility during both day and night. It provides many premium features present in various expensive scopes on the market.
Digital Night Vision Scope
Resolution & Magnification
It contains a high-resolution sensor that improves your accuracy while viewing the targets and provides high-quality images. It helps you to focus on the target without making you tense on the field. 
It comes with the magnification range of 6-24x that allows you to view the target from short to long range distance. The 6x low magnification range allows you to acquire the target from a short distance, while the 24x high magnification range allows you to view the targets clearly from a long distance. It is ideal for various outdoor activities, so many outdoor enthusiasts prefer this scope. 
Lens System
It comes with a 70mm large objective lens that improves light transmission and provides better images during low-light conditions with more brightness. With this large objective lens, you can see the targets with the surrounding information. The 1024×768 pixels resolution of this display provides a crystal clear view of the target with sharp details. 
Other Features
It comes with a user-friendly interface that allows you to make changes easily without making you confused. The picture-in-picture mode present in this scope provides crisp and clear images of the target. 
The features present in this scope make it the best night vision scope for coyote hunting on the market. It contains illuminated reticles with six reticles that provide an accurate view in all lighting conditions. It is constructed with the durable materials to ensure reliable performance in rugged environments and withstand heavy recoils.
8. AGM Global Vision Wolverine IV 4×108 Night Vision Riflescope
AGM Global Vision Wolverine IV 4×108 Night Vision Riflescope is an advanced night vision scope that can offer exceptional sight performance that mirrors its competitive price. 
You can easily mount it to your rifle as it can be attached and detached easily thanks to its double lever control, maximizing comfort in terms of aiming and shooting. 
It can be considered as an ideal NVRS for veteran hunters as well as to outstanding marksmen.
Magnification Power
This product has a fixed 4x magnification that provides a 9° field of view. It is a good option for those that prefer close and mid-range shooting. It even provides a 45mm eye relief that can somehow minimize the injuries you might get after constant firing.
Optical Quality and Night Vision System
AGM Global Vision Wolverine IV 4×108 Night Vision Riflescope uses a 2nd Generation Night Vision Technology (Level III) that boasts a high quality and high definition image viewing. 
The optical quality is also enhanced due to its 108 mm; F/ 1.54 lens resolution system. These traits give you an advantage when hunting at night and give you a well rounded situational awareness, which is deemed necessary for surviving the dangers of the night. 
It also includes an adjustable mil-dot reticle with red illumination as well as elevation and windage settings that are easy to use, which are both important for providing an accurate shot.
Operation Capability (Battery Life)
AGM Global Vision Wolverine IV 4×108 Night Vision Riflescope is powered by a CR123A Lithium Battery that runs on a 3V power supply. 
What makes it a great nighttime ally is its 50 hour-long battery operation at 20°C. You can hunt at ease and without any worries as long as you have this product.
Resistance
This product is resistant to water, fogging as well as an extreme shock which makes it durable and robust, preventing any damage from getting the best of it. 
It can operate well under the -40°C to 50°C temperature range. In terms of its maintenance, it is advisable to store it under a room temperature between -50°C to 70°C for longer-lasting performance.
9. Pulsar Digisight Ultra N450 LRF Night Vision Riflescope
Pulsar Digisight Ultra N450 LRF Night Vision Riflescope is a versatile product that has used the latest technology to further enhance its night vision technology for optimal sight performance. 
This product has the highest sensitivity values that are an edge for nighttime operations with or without using its infrared illumination system.
Magnification Power
This product has powerful magnification settings that provide a 10.9×8.2 (H x V) field of view at 100 meters. It even provides a 50mm eye relief, which can prevent or minimize injuries caused by constant heavy recoiling. 
It is a perfect night vision scope that can help in detecting targets even at a distance of 500 meters and above all because of its high sensitivity, high display and sensor resolution, powerful nighttime illumination system, and high zooming capabilities.
Optical Quality and Night Vision System
This NVRS product comprises of excellent night vision system and technology. It allows you to stream and share videos with high-quality resolution when hunting at night. 
It uses a CMOS sensor that features a 1280х720 high definition resolution that offers supreme image quality. It even includes a 16GB built-in memory storage, which allows you to save and record priceless hunting experience at night. 
Its "SumLight" feature can help increase its sensitivity, allowing you to perform passive monitoring towards your prey from afar while preserving high-quality image details.
Operation Capability (Battery Life)
This product is powered by an IPS5 Li-Ion Battery that runs between a 3.1V and 4.2V power supply. It has a 5000 mAh capacity, which allows you to enjoy night hunting for a longer period of time. It can also last longer, depending on your usage of its infrared illumination system.
Resistance
This product has been designed to withstand extreme shock and impact. It can hold itself quite well when tested with a 6000J recoil power of a 12 caliber rifle. 
It was even granted an IPХ7 waterproofing rating, allowing you to operate in accordance with a temperature range of -25°С to 50°С. It is also frost resistant, which allows its AMOLED display to respond quickly while ensuring a crisp and vivid image quality even when the target is moving fast.
10. Pard Night Vision 6.5X-12X Riflescope
Pard NV008 Digital Night Vision Scope is new to the night vision optics field, and it contains the latest technology and upgraded features to provide incredible performance on the field. 
It is one of the best night vision scopes for AR-15 available on the market. Moreover, it has the capacity to mount on various modern rifles to improve your hunting performance. It is a perfect choice for beginners, tactical users, and rimfire rifles shooters.
Best Night Vision Scope for AR-15
When it comes to the best night vision scope under $1000, this Pard NV008 is a suitable scope with excellent features. With this, you can hunt during both day and night time since it is an excellent digital night vision scope. 
Magnification & Resolution
It comes with a variable magnification range of 6.5x to 12x that allows you to view the targets from short to long-range distance. 
This magnification range helps you to easily acquire the targets and allows you to make accurate shots. The resolution of this scope is 2592-1944 pixels that provide the high-quality images of the target with sharp details. 
Image/Video
With this digital night vision scope, you can capture pictures and record video of the targets while hunting on the field. The captured images and recorded videos can be shared via USB cable to the other devices. It contains an excellent sensor that improves the color quality of the image in both day and night light conditions. 
Other Features
This sensor has lots of pixels that collect the available light and then convert it into an image on the screen. It automatically changes the mode based on the lighting conditions of the hunting field. 
If you're hunting in the day time, then switch on the day mode, and it changes to night mode during the low-light conditions. This is one of the impressive features present in this scope, so you no need to change the setting manually while hunting. Due to these features, it is one of the excellent night vision scopes for hunting varmints and other dangerous animals.
Comparison of 5 Best Night Vision Scope
| Products | Pulsar Digex N455 | ATN X-Sight | Pulsar Thermion XP50 | Sightmark Wraith HD | Sightmark Photon XT |
| --- | --- | --- | --- | --- | --- |
| Magnification | 4-16x | 5-20x | 1.9-15.2x | 4-32x | 4.5x |
| Objective Lens | 40mm | 70mm | 50mm | 50mm | 40mm |
| Resolution | 1024-768 px | 3864x2218 px | 340x240 px | 1920-1080 px | - |
| Field of View | 3.2 ft at 100 yds | 240 ft at 1000 yds | 65 ft at 100 yds | 21 ft at 100 yds | 28 ft at 1000 yds |
| Eye Relief | 50 mm | 90 mm | 50 mm | 60 mm | - |
| Detection Range | 1970 yds | 10 m | 1800 m | 200 yards | - |
| Battery | Lithium Iron | Lithium-ion | Li-Ion | CR123A | AA Alkaline |
| Learn more | | | | | |
Buying Guide to Choose the Best Night Vision Scopes
Night vision scopes are the essential gear for every hunter. The best night vision scopes all have many important qualities or features that separate them apart from their normal counterparts. 
We will look at each of those qualities, so you know what to look for when shopping or browsing on your own. 
Magnification
Of course, magnifying your scope is very important. Although there are some exceptions to this rule, most night vision scopes do not have the high magnification settings found with some optical scopes. 
It is really beneficial; Due to how the night vision scopes work, narrow limits allow for better image creation and cleaner lines. It can collect more light to make the picture better, and it is simple to gather more light up close.
Generally, there are only a few settings or a standard magnification value to switch between night vision objectives. 
Typical scope magnification settings are usually between 3x-5x; however, you can often find scope set to 6x magnification. Some night scopes occasionally go for even greater accuracy in the range of 20x or more. 
Mose scopes can give the vision between 100 and 200 yards. 
It is less than optical scopes because night vision scopes rely on false light or infrared light collected from your environment from a single flashlight or emitter. You can go some distance, but the 100-200 yard range is standard.
Price
The essential factor that you have to keep in mind is your budget. What is your budget? Most night vision devices are expensive than conventional optics, especially if you are looking for advanced features.  
Scope includes a digital reticle (and multiple reticles) as well as the mechanism for mounting into a rifle. All of this brings with it the cost of optic and night vision brings a fair higher price than your standard night vision device.
The entry-level night vision scopes are starting around $500 while the high-end scopes cost up to $1000. 
Within the scopes category, you should also evaluate your budget, some for many hundred dollars, and others for many thousand dollars. Like most things, the sweet part is in the middle.
Resolution
Night vision scopes do not work like conventional objectives. You should usually find a model that offers you a decent resolution of 640x480p or higher. Some of the best scopes go into real 4K resolution and provide you with crisp video footage, but the value above is great for most scopes or average night hunts. Keep in mind better resolution, your accuracy, and the ability to identify your goal.
The resolution of the night vision scope is described in lines per LP / mm or millimeter. The higher this value the better; that means your goal will be clear.
The resolution does not affect how bright the image is, and it combines with ambient light testing. Some devices require less ambient light, but this is not a factor for accurate measurement.
Other effects of perceived resolution include signal-to-noise ratio or SNR. Noise, also known as scintillation, is almost identical to the standard you see through an optics TV.
It is normal and will affect the clarity of your image. It provides more clarity in low light scenes, and it changes when the light around you and your target changes.
Battery Life and Type
Night vision scopes run on battery power. The battery type and life may affect the life of the scopes and performance. 
Before you are going to use the night vision scope, ensure that you know about the required battery and life. Generally, military-grade optics batteries are expensive and not rechargeable. 
We recommended choosing a night vision scope with a standard battery such as AA or buy high-quality rechargeable batteries. Ensure that you have a fully charged package or two each time you visit the domain. Some night vision scopes use a proprietary lithium-ion rechargeable battery, which prolongs life; The downside is that they are pricier to replace when they expire.
Reticle Size 
A Bullet Drop Compensation (BDC) reticle is a perfect choice for most rifle scopes because they use a specific reticle method, which eliminates the relevant assumptions when evaluating a bullet drop. These reticles are a series of special goal points that are stacked vertically beneath your crosshair or focal point.
Depending on the zero range of your rifle (100 yards is good), each BDC mark under the crosshair will correspond to an attack point that takes into account the bullet fall. For example, if the target points of a BDC Reticle are 100 yards apart, you can zero your rifle to 100 yards and reach the target at a distance of 300 yards using the second target point of the BDC Reticle.
Reticle Type
As you can see, BDC reticles are ideal for long-distance or night vision scopes to increase distance accuracy. Sometimes they eliminate the need for you to adjust the height. However, they cannot fully calculate the wind or other elements during your shot.
You should also check the holdover adjustment points of the selected reticle. Some hunters prefer 1 MOA lines, while other hunters may have different measurements, which are more comfortable for their needs. 
Some scopes let you change their type, brightness intensity, or color. All of these are good things that allow you to customize the application of your scope and help you achieve maximum precision.
Again, not every hunter has the right answer to match, so the choice is ultimately yours. 
Durable Construction
The next essential factor is the scope's durability. Check if the scope is made of high-quality material or not. Moreover, having the scope that will work on all weather conditions is always best. Some of the best models are called "Weatherproof," a combo of fog proof, waterproof, and shock-resistant factors.
Weather resistance scopes are generally the best choices of value for money. They will depend even if you take them to the forest during inclement weather. It is a requirement for some types of hunting such as given the animal's migration patterns or seasonal weather.
In addition, one should try to get the night vision scope made from air-quality aluminum or similar durable material. Some of the best night vision scopes advertise that they are plated with some kind of anode; This means that the night vision scope's skin does not easily get rust-resistant and erosive damage. It decreases sunlight and helps to hide your condition. 
Quality of the Glass
The glass quality is the last factor considering that you can not discount—higher quality (and more expensive) night vision scopes have higher glass quality. 
If you have better glass, you will get better light transmission. High light transmission captures most of the light available in your area regardless of whether it is day or night. The lighter, brighter, and higher your vision collects, so the vision image or image lines are clearer.
It can translate directly to a high resolution during nighttime shooting, thus allowing you to view distant targets more clearly, even when black.
In addition, there will be a coating on the glass that is higher than the standard, which protects it from any damage. The whole unit of scope glass is one of the most vulnerable areas, and they need to be protected, so getting sturdy or durable glass is worth investing in most cases.
It is always better to buy a high-quality scope than to buy a cheap scope and then replace it sooner than later.
Best Night Vision Scope Brands
There are a lot of manufacturers that have started to produce night vision scope for the civilian market. Most likely, if you are reading this article, you are a newbie, or you are an expert looking for the "best of the best" scope at a bargain price. Here, you will find additional information about the best brands of night vision scopes that we mentioned earlier. 
ATN
ATN was founded in 1995, which is very famous for producing high-quality scopes and sighting tools. It is a popular brand in night vision and thermal imaging scope technology. ATN stands for American Technologies Network. Their scopes are expensive and relatively expensive. It is a recommended brand for most professional hunters and law enforcement employees.
Pulsar
Pulsar is a well-known brand to produce high tech night vision and thermal devices in the civilian market. Outdoor enthusiasts and hunters own it. This company produces the full spectrum of night vision optics that are perfect for the fisherman, travelers, hunters, rescuers, researchers, sportsmen, tourists, and other civilian activities. 
Sightmark
Launched in 2007, Sightmark is a brand new company that is gaining popularity in the shooting industry. They are focused on civilian shooting sports, Academy Sports, and Cabela and Cantor Mountain. Moreover, they provide high-quality rifles at reasonable prices. Sightmark is a fast-growing brand.
Firefield
If you are looking for budget-friendly rifle optics, then you can go with the Firefield brand undoubtedly. It is a new brand to the night vision industry but their products are perfect for the average joe.
How to Mount a Scope on Your Rifle?
Night vision scopes are popularly used by hunters, shooters, and law enforcement agencies. There are dozens of night vision scopes available as handheld devices that are perfect for night viewing. Here we've mentioned tips and guidelines to add a scope to your rifle. 
Consider the Eye Relief
The distance between the scope lens and your shooting eye is called eye relief. Eye relief is essential, especially if you choose rear mount or front-mount night vision optics. 
Consider the Recoil
The next essential factor to consider is the firearm's recoil when choosing front-mount or rear-mount night vision optics. Night vision is often used with hunting rifles, and recoils are essential because guns have some serious backlash. 
Zeroing the Scope
Zeroing a scope means that by adjusting it, the shooter will hit the target with the aim. If you want to hit the target, then you have to zero your scope before shooting.
Balance and Weight
Although pre-loaded night vision optics do not affect zero, eye relief, or the potential for harm from recoil, they come with serious drawbacks. The front-mount optics will affect the rifle's overall weight distribution, which will tilt the front end. It means that if you choose a front-mounted light, you must take advantage of the gun's modified balance. Rear-mounted optics do not come with this issue.
Price 
If you are planning to add a scope to your rifle, then the price is one of the essential factors to consider. When compared to the standalone night vision scopes, the price of the mountable daylight scopes is less. Front mount optics provides more benefits as well as more expensive ones.
How to Make a Night Vision Scope?
Night vision devices are electronic devices that allow you to view in the darkness of night. With the help of night vision devices, you can see everything on a moonless night.
Most people think that creating a night vision scope involves some kind of rocket science, but it's not that hard. Here we've shared the DIY guide with all of you.
Step 1 

Understand the Science Behind the Night Vision Scope

Before starting the building process, the first thing to do is know how the machine works; here, we've mentioned it. 

So primarily, night vision is an electro-optical essential tube that mainly uses and accumulates incoming photons by opening them into a photocathode system.

Then converts those photons into electrons, expanding across a plate
 called the micro-channel plate that eventually strikes the phosphor screen.
There are different generations available in night vision devices; you can choose anyone as per your preference. We've chosen gen 1, which is called a cascade tube. It is very affordable and available at any time. The Cascade tube has three Gen 1 pipes instead of three stages per pipe.
Step 2

 Gather All Parts

After understanding the working event, the next step is to assemble all the gathered key parts that are needed in the night vision scope structure. 

Don't worry that there is nothing new in creating a night vision on your own; History goes back a long way. So here is a list of all the parts that are needed for the night vision scope.
Needed equipment
1. A viewfinder 
2. Magnifying Loupe
3. Wires
4. Black Duct Tape
5. A  project box or hobby box
6. Threaded plug
7. Paint 
8. End caps and test caps
9. Threaded adapter
10. Toggle switch
11. Soldering iron
12. Pilers
13. Hot glue gun
14. Multimeters
Step 3

 Tube Testing

The third step in making a night vision scope is to test the tubes because you have to ensure it is working properly.

Also, remember to test these tubes in the dark because they are sensitive to light.

Connect it to a dark area to test the tubes, and after a few seconds, you will see a phosphor screen light (green). 

At this point, you may not see much clearly, but once you reach the final stage, you will be amazed at its effectiveness.
Step 4

Making The Eyepiece

After the testing process, the next essential step is to make an eyepiece, which will require a threaded plug and adapter to fit into your eyepiece lens.

You need to twist the plug into the adapter with the help of the end cap.

Be sure to use a warm or strong glue in that case and try to keep the paint away from the eyepiece because you do not want to mess up your eyepiece.
Step 5

Creating the Objective

You need to put some glue on the adapter or C-CS mount that you used in the process to create an objective.

Now you have to create holes for the thread to effortlessly go inside with the end cap's help and attach the adapter to the end cap by using the glue.

Fix your eyepiece and hola !! Your mission is over. The objective is ready.
Step 6

 Add Power

It is an easy step to making a night vision scope throughout the process because you need to drill a hole in the housing and project box so that the wires can effortlessly go from the pipes to the batteries.
Step 7

 Painting Your Night Vision

If you like painting, you definitely enjoy this section, but other than enjoying it, you should know how painting helps in this process? 

Now PVC lets a very low level of light pass through, and this eventually becomes a barrier when plain light enters your intended object and does not want to cloud the image. 

So, in that case, painting helps to fix the problem. Ensure that you draw the end cap of your objective so that no light leaks into the device. You can choose any paint as per your preference.
Step 8

 Focuses on the System

The next level is to fit your tube exactly into the PVC pipe and wrap it around the intensifier with duct tape. 

Now take the objective lens, slide it over the tube, put it in a dark place, attach the eyepiece cap, and fit exactly until you clearly see the image on the tube.
Step 9

Transition to Rifle Scope

Instead of land navigation, you can go with a rifle scope to be used for hunting purposes.

If you are using it for hunting, ensure that you are using bipod and optics for the rifle. 

Since the optics weight is so large, ensure that you use the bipod in the right way to support the rifle's weight.

 
If you follow these steps, you can successfully make the night vision scope, which will help you to view all objects clearly during night time. 
You will eventually be grateful once the night vision objective is successfully created. We would also like to clarify that do not compromise with the scopes' quality as using substandard products may ruin your hard work.
Read also: Comparison Between Buying a Night Vision Scope vs Making a Night Vision Scope at Home
How to Zero Night Vision Scope?
Although the zeroing night vision scope is the same as the usual rifle scope, your targets' choice should change. 
The monochrome view of night vision makes it difficult to see rings in a target without the use of IR light or other variables for any night vision.
Some companies make goals to use, especially with night vision, which is a worthwhile investment, but also creating your own is a possibility. 
If you choose to own, you can use different materials for your rings rather than your background. Duct tape works well, but hard to paint. Yet you want color variation, the texture may differentiate.
You will still adjust your elevation and windage with a normal scope and chase your impacts to get to zero.
Fortunately, most scopes work best in seeing impacts. Suppose you want to start at a short-range in a traditional scope, then take zero in small steps rather than big jumps. Consider every 10 yards to be zero until you reach the desired limit.
If you are planning for long-range shooting, then you should know how to zero your rifle. Since night vision scopes are used at night, it should be right up to your target and shooting range. The tricky thing is that you use your scope at night. 
Therefore, you will not be able to see it during the day, which can damage your night optics if your scope is not to use digital and broad daylight.
There are lots of ways to zero your night vision scope; here, we've listed one of the best methods. 
Steps
As you watch at night, you will not be able to clearly see whether you have hit the target accurately due to low light conditions.
Some night vision devices may have a small pinhole that lets small light, and this should be large enough to easily allow you to see and zero on your target. It will allow you to shoot towards the target if you do not make adjustments.
If you do not have the lens cap on your scope, do not try to create your own pinhole as it will damage your optics. It is difficult to see at night and reach your goal in the dark. However, there are a few ways you can set up a shoot and hit setting where your target is well lit, even in low-light conditions. 
You can also use binoculars to check if your target has been reached correctly. You can use a hunting partner to train your shots (ensure that you are at a safe distance), and your partner will let you know if you hit your target correctly!
Infographics: How to Zero Your Night Vision Scope
If you are a beginner at night vision, here are Some Tips and Guidelines on How to Add Night Vision to a Scope for you.
FAQ:
How Does Night Vision Works?
No, but night vision is truly a technological miracle. This technology is used to create an image that enhances visible and invisible ambient light.
Night vision devices can pick up ambient light and invisible infrared light from the moon, stars, and other similar sources. Light enters the mirrors and strikes a thing called photosynthesis.
This photosynthesis turns into light that is made up of photons and turns into electrons. These electrons are then amplified by a photovoltaic. It produces tons of electrons. These electrons then strike a phosphor screen, where they emit a bright glow of light. The bright flash of multiple and very stable lights creates an image of it.
That image is light and green. Night vision technology has evolved and shrunk over time, and various generations involve minor differences in lenses, technology, and coatings, but the principle remains the same.
Night vision relies on some kind of light, be it visible or infrared. In situations where there is no light at all, night vision glass will not work.
If you want more details about how does night vision works, check this article.
Night Vision Vs. Green Light: How do they differ?
A night hunting light is a tool that can be used to illuminate animals at a time between one hour after the sunset of the day and one hour after the sunrise of the next day.
Generally, night hunting lights are used to monitor, detect, and harvest pigs, varmints, and predators.
The best lights are designed with the perfect vision of this target species' work. It is essential to select the best light that is most suitable for the creatures you are targeting.
Night hunting lights vary in design and intensity. A good bow light can offer enough glow for up to a 25-yard shot or 800-yard shot. It can illuminate distances too.
Greenlight can cover shorter distances when compared to white light. However, it lets you view more than just a red light.
The human eye has the ability to catch the variation of green light easily. So the hunters can see darker animals such as feral hawks. Also, pigs are not bothered by the light. Therefore, almost all professional pig hunters use green light.
The green light, on the other hand, makes other predators anxious. When they detect green light, they begin to accelerate, move, or run.
Greenlight negatively affects your night vision. There have been incidents where light has injured the eyes.
Which Type of The Night Vision Scope is Best?
Night vision scope comes under many generations that are invented by the US military. Generations are divided by what type of image intensification tube is used for that view. It is generally classified into four types that are called Generations.
1.First-generation scopes
2.Second-generation scopes
3.Third-generation scopes
4.Fourth-generation scopes
Gen 1 
Generation 1 night vision devices are cheap optics out there. It is widely available and is mostly for target shooting only. They amplify light, but you may need an attached infrared illuminator if it is not used on clear nights.
These devices are mostly used for close distance shooting. They have a slight whiteness when used and may have a blurred edge.
Gen 2
Generation 2 Night Vision scopes are where you come in for the most serious use, particularly Gen 2+ optics. Generation 2 night vision devices allow you to easily and safely hunt, moreover perform security and surveillance tasks.
Gen 2 devices have a micro-channel plate, which produces more electrons for a clearer and brighter image. These devices are best on dark and moonlit nights, and the infrared device is rarely needed.
Gen 3
Gen 3 devices are where NVG companies add an ion barrier film and a chemical called gallium arsenide. These devices are very clear and bright and give a clear and crisp image.
Rarely will an IR light be required for these generation devices. These are the current generation used by the US military.
Gen 4 
Gen 4 is not a military-recognized generation but is provided by a growing night vision industry. Gen 4 devices are imageless and gated and produce a crisp picture that you can get.
In poor light conditions, you will not get a clearer picture than the Gen 4 devices. The downside of these devices is their price.
Can Night Vision Scope be Used in a Day?
It is based on technology. You can use the digital scope during the day. They work very well and have full color and better resolution, so they work as a good quality rifle. It is the main advantage of digital night vision.
Can night vision scope be used in a day? The short answer is no; we can't use a traditional night vision scope in the daytime. Some may be damaged by sunlight from running. Follow the manufacturer's instructions is always better and never use them in bright light conditions. The best result is that you get a fully washed screen.
In each case, the moon and starlight's ambient light is specified to create an image when used for night vision scopes. Speaking during the day, even the slightest shadow makes those devices unusable. 
Modern night vision scopes and optics features a built-in infrared light that cannot function perfectly during the day.
In order to improve the night vision capability, we've provided 9 Practical Ways To Make Your Night Vision Better.
Night Vision Vs. Thermals – Which is Best for You?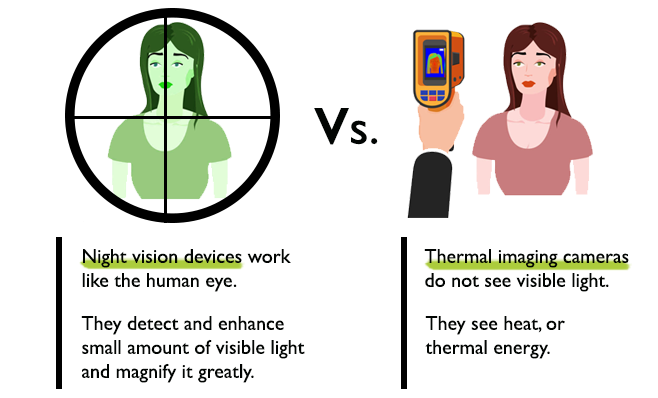 Night vision and thermal scopes both have the same application and have complete echoes in many ways. Thermal devices can detect heat and display it through a screen.
They are best for identifying humans and animals as quickly as possible. Night vision still depends on your opinion to find the target.
Both are handy devices, but night vision will offer more details overall. You can easily find the minute details of an animal or person by using night vision. The same thing while we go for the details of an environment.
The thermal device cannot tell how deep the hole is or where a crossing is, but the night vision allows you to feel it. As for logistics, thermal optics is very costly and dries the batteries quickly compared to night vision devices.
They usually have a narrow range, but the benefit is that they do not trust the moonlight. It can be used safely during the day.
Night vision makes it easier to identify weapons, facial features, and people in a group. Some thermal devices transform a group of people standing together into a globe of light.
One is better than the other because it has different purposes.
For more depth details on night vision Vs. Thermal click here.
Wrapping up!
Night vision scopes are incredible technologies. They are particularly control warming, and it is a best scope for hunting endangered species such as coyotes and feral hogs.
If you plan to use this technology, spend some time getting used to your new NVD. Shooting with night vision can be a very different experience when compared to traditional rifles. It can feel funny, so you'll like to practice with your new setting before you head to the field.
You should carefully read and compare your preferences with the others mentioned earlier, considering the scope, construction, quality, and battery life. You can also refer to our reviews of the top 10 products in the category to find the right scope. They have a special quality, pros, and cons that will help you choose the right scope that will work for your skill level, knowledge, and purpose.
Night vision scopes are an excellent advantage for any hunter who is going to spend significant time in the dark during the day. Whatever your pricing, you have found a scope that suits your needs, but you should now be well-armed to browse all the available models and find one of your choices, even if you do not. 
Buy Best Night Vision Scope Today!
Good hunt out there!