Are you interested in night hunting? Most of the hunters love to hunt at night times because animals hog, coyote mostly roam around night when compared to day environment. But human vision will not support to view target at that time, and so with the help of night vision scope, hunters can easily identify their prey.
A night vision riflescope is an amazing tool that enhances the vision and provide clear views in night time, if you're a passionate hunter then this tool would be the best option to have handy. 
Where Night vision Image enhancement scopes can be used? In dim lighting conditions, because it just boosts up the light energy from the source. Therefore, you have to need a small quantity of light to view the sight. At night, light from the moon will provide enough light, yet the night vision scope may not work properly on cloudy or no moon days.
What does the thermal unit detect? It just detects the temperature differences between an object and the surrounding area
Where thermal scope can help? zero-light or pitch darkness conditions.
Night vision equipment is widely used in the military, but you can also use those night vision scopes for hunting coyote scenarios. Hunters carry the night vision scopes in their hands or mounting them on their rifles. 
Our Top 3 Recommendations
How does the Night Vision Scope Work?
A night vision scope works by intensifying the light, thus allowing the naked human eye to see more detailed views in the night environment. If the product you target illuminates then there must be some available ambient light sources. The light can be amplified with a special tube so the human eye can see even in pitch darkness. 
An illuminated reticle scope helps you to get a breezy target acquisition. Have a reticle scope in your arsenal that makes you comfortable and ready for any type of hunting and shooting.
Working principle of NIGHT VISION TECHNOLOGY
No matter, the scope can also use infrared light when the artificial light is not enough. The actual light can get intensify from 15,000 times to 40,000 times. The image you get will not be the actual image of an object but an amplified electronic image on a phosphor screen. It looks in green color, and the naked eye can see in multiple shades.
The lens of the scope receive ambient and IR light present in the surrounding and the gathered light is passed through the intensifier tube. The photocathode present in the tube converts the light photons into electrons. 
Here, the same electrons are released by the atoms present in the tube when the converted electron gets passed through the tube and thus intensifying the electrons. After that, electrons hit the electrode of Microchannel plate (MCP) and are accelerated to the glass microchannel in which cascaded secondary emission happens. 
This emission process produces the chain reaction of electrons and thus a huge number of electrons get produced. Finally, electron strikes the phosphor-coated lens and produces green images on the screen.
In this article, we'll come to know about the different NV scopes also we are here to explore some of our top-ranking picks to help you find the best night vision scope for hunting needs. 
We've chosen ten of the very best, so you can read out their characteristics, compare and contrast.
BEST NIGHT VISION SCOPES FOR HUNTING
10 Best Night Vision Scope for Hunting in 2021 - Reviewed
1. ATN X-Sight 4K Pro Smart Day/Night Rifle Scope

We all know that night hunting is more advantageous than day hunting for wildlife hunters. So the equipment we choose must complement our hunting experiences. With that note, the major reason for choosing the ATN X-Sight 4k is because it is very best in features and provides a massive experience for the hunter.
The ATN X-Sight 4k is built with a large objective lens and has a long eye relief when compared to other versions of X-sight. The scope is well-built with premium quality materials and I'm sure that it will reach more heights in today's market.
4K Pro Smart Day/Night Rifle Scope
The ATN X-Sight 4k Pro is a smart rifle scope that offers great video quality. In markets, you can get this scope in 3-14x magnification and 5-20x magnification, you can choose the scope with higher magnification. It is built with a gyroscope and an image stabilizer so you can smoothly use the unit and spot your target. An e-compass will suggest what directions you want to take.
➢ Video Recording
The X-Sight II is capable of recording 1080p Full HD videos and taking high-quality photos, you can share your hunting experience across social media platforms and enjoy it. Due to the internal storage and RAV (recoil activated video), all these actions are possible.
This multi-purpose night vision scope can also live stream your adventure with the help of Wifi and Bluetooth. A single red button can control and access any action you do on the scope and it features a built-in microphone for voice recordings. It can stream the footage to a mobile device.
➢ Ballistic Calculator
The ballistic calculator is an additional benefit for ATN X-Sight 4K Pro, you may wonder about what's unique in this feature? Even if you're in critical environments the shot you take will be clear and perfect with this ballistic calculator.
It can precisely calculate the range, wind, angle of the targets, temperature, and humidity. With these advanced features, you can know how the next shot would be. It's truly a remarkable piece of equipment to be combined with the night vision scope.
➢ Ultra power Mode
In case if your scope turns low in battery, don't panic because you can easily switch the scope to an ultra-low power mode. Even in the low power mode, the scope can take proper visuals. At normal power, the battery runs up to 18 hours of continuous operation.
➢ Dual-Core processor
The Ultra HD sensors and an Obsidian 4 Dual Core processor brings you an excellent picture even in low light conditions. The outline of the targets will be better than what you actually see through your eyes.
It's perfectly fine for use during daytime shooting. The resolution gives the color to the forefront of each image and can make discerning small creatures that normally blend in with the environment easier to identify.
Read Also: ATN X-Sight 4K Pro Smart Day/Night Rifle Scope Review
2. Sightmark Wraith HD 4-32×50 Digital Riflescope
Sightmark is one of the reputable brands in the digital optics revolution, it has produced numerous equipment for hunting, one among those is the all-new Wraith HD 4-32×50 digital scope which offers a lot of advanced features at an affordable price.
One of the remarkable features of this Wraith scope is a class-leading CMOS 1920×1080 HD color imaging sensor on a 1280×720 hi-res FCLOS display. It provides an astonishing clarity and a full-color display while shooting during daylight hours.
4-32×50 Digital Riflescope
➢ Rugged Construction
The 4-32x magnification and 1-8x range digital zoom are best for hunting and target shooting, even if you're in critical environmental conditions it is possible to shoot a perfect picture because the entire body of the scope is wrapped with durable aluminum body and IP55 enclosure rating so the pictures and videos you take will be amazing.
➢ Operation
The batteries may last for 4.5 hours of continuous use in preview mode and 3.5 hours while videoing, and the included IR illuminator runs on two separate CR123A batteries. The IR illuminator is designed with three different output settings for low, medium, and high-intensity viewing. The batteries in the IR illuminator can be easily switched without removing the unit.
➢ Modes
There are three day/night mode settings in which you can see the up and down arrows, these options can help you to adjust magnification. To start up the scope just press the power button, once you've done then it's possible to customize the settings like brightness, playback, resolution, reticle settings, weapon select, etc
The weapon select is an important part which allows you to choose from five different preset profiles, and the reticle zero feature will permit you to make ¼ MOA point of impact adjustments. The left arrow button exits the menu
➢ HD Quality Recording
It has a 1080p digital night vision imaging and built-in HD recording option using which you can record live videos and images, this helps to share your adventurous moments in social media, or with friends.
The daytime color mode will be useful for shooting the target throughout the day so you need not worry about finding a range at night. The 4x optical zoom linear helps to point the target closer through the lenses. But it's 8x digital zoom can zoom and see your target really well. There are 10 reticle options anywhere from crosshairs, CQB, dots, to Chevrons.
3. Firefield NVRS 3×42 Gen 1 Night Vision Riflescope

Firefield NVRS 3×42 is a highly affordable night vision scope that will be perfect for all the hunters. It uses Gen 1 technology and delivers the best outputs. If you want to improve the performance of your AR-15 further when used for hunting, the most significant benefit of this scope is durable, yet lightweight.
It is constructed with a rugged titanium body, the Firefield NVRS has an IPx4 splash proof rating, so you can use it for hunting even in wet weather. The Firefield NVRS 3×42 riflescope comes with a quick-detach mounting system which helps to swap between the settings easily. You can easily detach this riflescope to switch it with your day scope or use your iron sights.
3×42 Gen 1 Night Vision Riflescope
➢ Magnification
The Gen-1 night vision scopes have a more powerful magnification of 4x and it rarely exceeds 200 yards in range. There is a fixed zoom value of 3x so that the hunters can easily spot the target closely and easily. If the target exceeds more than 100 yards then it could be a little harder.
The optics are multi-coated, to protect the outer layer there is a lens flip-up cover at the front which will come in handy.
➢ Design & Construction
One of the significant features of this scope is its design and the way it's put together. The manufacturer has done a great job of producing a solid product at an affordable price. The entire scope can be controlled and activated with the help of its buttons and knobs, it is very good to touch.
The toggle switch can be handled very easily and it is at a reachable distance for your shooting hand. Both the windage and elevation knobs are well-designed and work smoothly especially if you are wearing shooting gloves.
The reticle's brightness can be adjusted via another knob just in front of the on/off switch. It can be either off or turned clockwise to increase the brightness setting.
➢ Battery Life
The battery life of this scope depends on the usage and batteries, here we use 2 x AAA batteries. If the IR illuminator is not turned on then you can get an extra 50 hours of operation.
What will happen by switching on the illuminator? It will consume too much battery power so that you can get only 15-20 hours of operation. But Firefield NVRS scope has come out with extraordinary features and battery life so you can use it for a lifetime.
➢ Performance & Range
Gen- 1 scopes are capable of detecting the target at 200 yards, for example, if the target is at 50-100 yards this scope will be one of the best options.
If the target goes far the less ideal option this becomes. It might be able to get you a good image at 200-250 yards but you will need to upgrade to a stronger illuminator. The official detection range with the illuminator is 165 yards.
Read Also: Firefield NVRS 3×42 Gen 1 Night Vision Riflescope Review 

4. Night Owl Optics NightShot Digital Night Vision Riflescope
The Night owl night shot riflescope is the best budget-friendly option for the passionate hunters as it provides 3x magnification that's meant to be used with rifle calibers.30 calibers or lower. It features a built-in IR and is capable of targeting up to 100 to 200 yards.
This versatile scope can be used for various hunting activities. It's powered by 4AA batteries which can last for 3 hours with continuous usage. It's not recommended to use with mid-size or heavier rifles so this is an excellent choice for those looking for a budget-friendly option.
It's a great night vision scope under $500 that doesn't compromise on the important features nor does it cut any corners. It's truly an impressive budget-friendly scope with decent optics.
NightShot Digital Night Vision Riflescope
➢ Construction & Durability
The manufacturers of Night owl optics have used thermoplastic instead of aluminum so it has ups and downs. The total weight of this scope is just 20.8 oz which is an added advantage.
The eyeshade is constructed out of rubber and the built-in lens cap is made of plastic, all these features make the scope as a very lightweight model. The scope is completely sealed with waterproof and dustproof materials so you can take it out at any climatic conditions and enjoy your hunting.
➢ Reticles
There are three reticle types on this scope. Each of the three options has two modes – with either white or black background. But nowadays there are scopes with 7 or 8 even more types of reticles embedded into them. Even better, the scope options work perfectly for hunting coyotes and other animals at night.
➢ Magnification Properties & Aiming
This night vision scope comes with a fixed magnification and can only zoom in 3 times a normal vision. It has a 40mm diameter and the resolution of the display will be 640 x 480.
The field of view is 5.6 degrees which are quite good, considering that you won't be firing at more than 100-200 yards with this thing attached to your rifle. Moreover, this is a close-range scope and shots above 150 yards will require a lot of eye squinting.
The eye relief is a little more than 2.5 inches and there is a long eyeshade that covers that distance between your eye and the eyepiece. The rubbery eyeshade is a good addition that allows you to lay your head against the optic and be at the exact eye relief distance. Furthermore, it prevents potential scope bite.
Read Also: Night Owl Optics NightShot Digital Night Vision Riflescope Review
5. ATN X-Sight II HD 5-20x Smart Day/Night Rifle Scope

The ATN X-Sight II HD is a digital night vision scope that is best suitable for both day and night. It is well constructed upon an obsidian core processor, which is not that much heavy or bulky equipment as it is powered on lithium AA batteries.
With this ultimate night vision scope, you can fix the target perfectly because it offers great clarity and sharpness. Clarity is outstanding but performs slightly better in broad daylight as compared to total darkness.
5-20x Smart Day/Night Rifle Scope
➢ View Settings
The X-Sight has three primary view settings, due to its digital imaging technology all actions are possible,
Green night view
Black and white night view 
Day view
This scope allows the user to adjust the light sensitivity as well as you could switch from day view to black and white night view, or green night view. This gives you real flexibility even in low light conditions or if you live in an area that allows hunting at night.
➢ HD Resolution
X-Sight II Scope offers High-Definition quality so you need not worry about the picture and video clarity. With the help of HD lenses, sensors, and displays you can attain a complete HD resolution system with 160 lр/mm. Moreover, this X sight scope is just like a smartphone, what I'm coming to say is, all the operations in the scope can be done at your fingertips.
You can also make use of Recoil Activated Video settings to trigger the video recording with recoil. It is also possible to connect to your iOS or Android device and download your photos and videos.
➢ Ballistic calculator
An additional benefit of X-Sight II is the presence of a ballistic calculator because it works great for calculating the quick trajectories. It precisely gives clear ballistics for the next types of shots. Even if you are not good at targeting the point this feature can help to noticeably improve your shot.
➢ Rangefinder
A smart rangefinder works great and it helps to fix the range to your target with just two clicks of a button. The rangefinder is accurate to within +/-1 yard. It is used for determining the ideal magnification level so that it could be useful for fixing the right range to hunt at hand.
➢ Android App
An App is available with this scope which is one of the innovative features of night vision scope. If you are a trainer then this could be useful for teaching and guiding others to hunt. It makes your job much easier when compared to other scopes.
You can see what the other person is targeting through the X-Sight II HD scope. With the help of a viewfinder, you can teach them how to hunt and shoot. This night vision scope performs good ar lower magnifications so try this one.
ATN X-Sight II HD 5-20x Smart Day/Night Rifle Scope is unavailable on Amazon and OpticsPlanet. We will update the information if it gets available on the site.

6. ATN ThOR HD 384 Smart Thermal Riflescope

Thermal imaging rifle scopes have been used effectively in the military and tactical situations, in that case, ATN THOR-HD rifle scope from American Technologies Network (ATN) Corp, is one of the biggest names in the day/night vision and thermal imaging world.
ATN Thor HD 384 Thermal Scope is one of the best options for money. It comes from a brand that is well-specialized in manufacturing these kinds of optics and comes with a thermal sensor instead of a light one that is generally found in cheaper models.
Actually, the Thor line from ATN is very popular not only because it just has some great models but because it has a scope for everyone's needs. You can either pick a close-range scope or one that can give you a clear image at even 700 yards. Here I'm reviewing the 9-36x one which isn't very practical for close-range hunting but truly excels at long-distance shots.
384 Smart Thermal Riflescope
➢ Magnification
The 9x magnification can give you a clear sight even if the target is more than 100 yards. The 36x magnification is digitally and optically combined thus it results in an HD picture of targets. It has the ability to detect a target at 2000 yards, Allow target recognition at 1000 yards, Allow target identification at 500 yards.
The 384×288 thermal sensor works by detecting heat signatures instead of light so it works better in any type of weather conditions and any level of brightness. The objective lens is a 100mm one, it mostly helps in day time conditions by allowing in as much light as possible and making your image vivid, bright, and crystal clear.
➢ Resolution
The resolution rate of ATN Thor 384 Riflescope is 1280×960 (@30 fps). This is HD but not full HD for everyone that is taking notes. The videos of ThoR are more than good enough and resolution isn't the determining factor of their quality – the sensor pixel density is.
➢ RAV
Videos can be taken either manually or you can use the patented Recoil Activated Video system (RAV) of ATN. They've innovated this technology and even though some other brands use it as well, it doesn't get close to the accuracy of this one.
If you set your scope to RAV it will automatically save the 10 seconds leading up to your shot which activated the system.  Once it gets completed you can wait for as much as you like, and the recording will still go on in the background.
➢ Specific Features
The magnetometer, accelerometer, gyroscope, barometer, and GPS are all available in this scope as it provides an accurate reading. These features help the smart rangefinder to measure the distance between your rifle and your target.
The newest Bluetooth connection capabilities, wi-fi, micro USB and HDMI ports are all meant to aid with streaming and transferring of data. All these features make this scope as a worthy purchase and eliminate the need for extra purchases and additional money spent on gear.
ATN ThOR HD 384 Smart Thermal Riflescope is discontinued by the manufacturer and no longer available in OpticsPlanet and Amazon.
7. Pulsar Trail XQ Thermal Riflescope
The Pulsar Trail XQ Thermal riflescope is one of the high-quality night vision scopes for hog hunting. It is packed with excellent features and is modeled on a 384×288 pixel thermal sensor for images.
This innovative sensor works well during the night time and helps the hunter to shoot excellent images and videos.Pulsar Trail is also the best night vision scope for crossbow so choosing this one will make your job easier and better.
➢ Picture in Picture Mode
PIP mode is handy so without zooming too large you can get a clear view of where you need to shoot with the help of this feature. PiP (picture-in-picture mode) provides a magnified view of the target area in a small window within the display. It improves shot accuracy.
The window covers a very small part of the display, so you still get a good view of your target.
➢ 384×288 Sensor
The Pulsar XQ30 produces ultra-sharp images so the image quality is also good. If the target is not too far the result will be better, it should not be far because the detection range is 985 yards, but the identification range is less than 200 yards.
It comes with a 21mm objective lens which is better than the usual 19mm lens, What's unique in this 21mm lens? It helps to collect the infrared light which makes a better quality image.
➢ Waterproof and Rugged
Actually, most of the pulsar trail thermal scopes are waterproof, those scopes are IPX7 rated. It is possible to take the scope wherever you want at any climatic conditions even through the rain without damaging the scope.
If you're still in doubt then submerge the scope in water, it will be fine. It is also designed to be shock-resistant from an accidental fall or the recoil of a rifle.
➢ Video Recording
The Pulsar Trail XQ is constructed with its own built-in video recorder with 8GB of internal memory to store the videos. It also offers live streaming via the Stream Vision App. It offers 8 hours of battery life as it can last through a whole day or night of hunting.
Pulsar Trail XQ Thermal Riflescope is unavailable on Amazon and OpticsPlanet. We will update the information if it gets available on the site.
8. Sightmark Night Raider 2.5×50 Night Vision Rifle Scope

The Sightmark Night Raider 2.5 x 50 riflescope is a good choice of night vision scope for hunting as it comes with a 2.5x magnification which doesn't allow you to see small details that are very far away. The reticle of Sightmark is quite good as it is available in both red or green color.
One of the important aspects of this scope is a range finding feature as it can give you exact details about the target.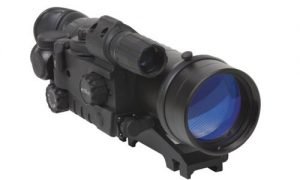 2.5×50 Night Vision Rifle Scope
➢ Construction
The Sightmark Raider is a little simpler than other scopes but it is robust and optic so without any doubts you can use it for hunting and night-time observation.
This scope is a Gen 1 device so you can expect the performance of Gen1, the clear images will be produced with such a big objective lens. The titanium body is strong, yet light, while the stabilized power supply is recoil-resistant.
➢ Lens
The Night Raider comes with a 60mm objective lens so it helps with the clarity and field of view, which is critical in hunting situations. It has an impressive range for targeting and its 200-yard effective range is perfect for medium- to close-range shooting.
It has a robust battery source which prevents recoil from interrupting the battery source during recoil. The flip-up lens covers are responsible for protecting the lens from dust, but occasionally the design may allow internal fog formation, which is disappointing.
➢ Focus Range
The close range of focus is 5m, so it's possible to focus on the right area. Also, the built-in IR is great during the nighttime, even in the dark time you can get better images, i.e with no moonlight.
The 50mm lens diameter is great for light transmission, so the rendered images will be crisp on moonlit nights.
Sightmark Night Raider 2.5×50 Night Vision Rifle Scope is unavailable on OpticsPlanet. We will update the information if it gets available on the site.
9. Pulsar PL76338 DIGISIGHT
The Pulsar Digisight is completely packed with innovative features such as integrated laser rangefinder, increased field of view. It comes with an automatic shut-off mode and an external power supply option which is an added advantage.
The AR- 15 is one of the popular rifle scopes so if you're searching for the best night scope for AR-15 then without any doubt you can go for this option. Pulsar Digisight N960 LRF scope is perfect for the AR-15. It comes with excellent clarity and a low profile.
➢ Magnification
The Digisight is a variable optic that comes with a magnification range of 3.5 to 14x. Magnification changes gradually or step-by-step which depends on the selected mode. Zoom value will be displayed in the status bar in the bottom part of the screen.
➢ Laser Rangefinder
The Pulsar Digisight has an integrated laser rangefinder. It's also recoil-proof and perfect for calibers a lot larger than 5.56. It can range up to 400 m which allows measuring the distance in single measuring mode and in scanning mode with precision up to ±1 meter (yard).
➢ Reticle
The reticle is displayed on the screen and it is located on the plane of the target image. It comes with a large number of reticles of various shapes and applications.
The central part of the reticles is illuminated, colour can be changed from red to green. The colour of the main part can be switched from black to white. An illuminated reticle scope helps you to get a breezy target acquisition. Have a reticle scope in your arsenal that makes you comfortable and ready for any type of hunting and shooting. 
Pulsar PL76338 DIGISIGHT is discontinued by the manufacturer and no longer available in OpticsPlanet.
10. SightMark Photon RT 4.5-9x42S Digital Night Vision Riflescope
The Sightmark Photon RT 4.5-9x42S NV scope is a device that works better for medium-range shooting, thanks to a 4.6x magnification. It offers innovative features that makes it the best night vision scope for hunting and helps to shoot the target from 500 yards in pitch black conditions. 
It performs well in the 100-200 yard range. This is one of the great options for the money but it still lacks in performance when compared to ATN.
4.5-9x42S Digital Night Vision Riflescope
➢ Reticles
The reticle options here are somewhat good. Most of the scopes offer only limited adjustability in reticle choices but this Photon RT is not like that, it has 6 different ones. On top of that, they can be toggled between 4 different colors. Each reticle will perform differently as it has unique functionalities.
➢ Magnification
This 4.5x model produces a great field of view on sub-100 yard shots at night. If you opt for the 6.5x model then you'll have a narrow field of view but it can shot even if the target is more towards 150-250 yards.
The 4.5x 42S is best for mid-range shots. It also has an eye-relief and the video feature for producing out some extraordinary images.
➢ Battery Life
The battery slot is located on the right side of the scope where it can hold the 4 AA batteries of the scope. The previous generations will have the slot top and could only fit only two batteries which lead to significantly shorter battery life.
This scope can help to last for 90 minutes when constantly using the IR illuminator, while the previous could only give you a maximum of 45 minutes of continuous usage.
Read Also: Sightmark Photon RT 4.5x-9x42S Digital Night Vision Rifle Scope Review
SightMark Photon RT 4.5-9x42S Digital Night Vision Riflescope is discontinued by the manufacturer and no longer available in OpticsPlanet.
Types of Night Vision Scopes
Night vision scopes are used for nighttime because they help you to see even in the dark beyond what the human eye is capable of doing. It can be used for various situations like hunting, sea navigation, camping, fishing, wildlife enthusiasts, home security, and for military purposes.
There are 3 types of night vision technologies:
➢ Thermal imaging
Thermal imaging is a technology that clearly depicts the heat differences between the background and foreground objects, they are displayed in different shades of colors. Mostly thermal imaging is used for detecting the thermal radiation of animals, people, and even machines.
➢ Active illumination technology
In this technology the existing light is amplified and magnified, it's mostly used for commercial, governmental, and for residential security. The main purpose of using this technology is to provide a clear and active night vision even in conditions with very low lighting situations.
➢ Image intensification
It produces green and black images as a result of the reflected ambient infrared radiation, these differences are not visible to the human eye. The infrared light that is reflected from these objects is converted to clear images.
Generations of Night Vision Scope
We know the different types of generations from 1, 2, and 3 but before that, there was a Gen 0 which was used in the late 1930s. Gen 0 is no longer in production but it has been replaced with the improved versions of Gen 3.
➢ Generation 1
Gen1 scopes are bulky but it has undergone a lot of improvements when compared to Gen 0. The image quality and brightness settings are high because it was updated with the latest technological advancements. These scopes are the best choice for the money, if you're looking for an affordable option then buy this one. Few limitations in Gen 1 scopes are the range limit, it doesn't extend beyond 75-100 yards, whereas Gen 2 can extend beyond 200 yards or more.
➢ Generation 2
Gen 2 scopes are brighter than Gen 1 as they are improved around the edges. The Gen 2 scopes are used by a lot of professional hunters and they have considered it to be the best option in terms of performance, quality, and resolution. The battery life lasts longer and is expected to last much longer than Gen 1 models.
➢ Generation 3
Gen 3 is mostly used by military and police as they offer the longest range scope at 300 yards or more, the field of view is better when compared to the other types. The lifetime of Gen 3 scopes is longer when compared to other models.
➢ Generation 4
Generation 4 rifle scopes are a new addition on the market, and they are very difficult to find. These scopes produce images with better clarity, it has a microchannel plate deprived of their protective coating.
The Military and defense department will get a scope that can last at least 10,000 hours of working time. A 4th generation rifle scope will offer you a very good image.
Factors to Consider when Buying a Night Vision Scope
➢ Magnification
The magnification is an important aspect for a scope, but when comparing a night vision scope with optical scopes, you may come to know that NV scopes don't have higher magnification settings. Shorter ranges allow for better generation and cleaner lines so it is very beneficial. If the light is more, the better the image.
NV scopes have limited settings to switch between or a fixed magnification value. The settings may range from 3x-20x or so far even greater accuracy at range. Most of the NV scopes can provide vision between 100 and 200 yards. This is relatively shorter than optical scopes, few scopes can go farther but the 100-200 yard range is standard.
➢ Resolution
NV scopes are something different from optical scopes, if you're looking for a model with a good resolution around 640 x 480 then it's quite challenging. It is possible to get the crisp video footage if the scopes have 4k resolution. 
The better the resolution, the better your accuracy and ability to identify your target. The resolution is marked as LP/MM or lines per millimeter. The higher this value, the better; it means your target will be clearer.
➢ Video/Image Recording Capability
A video camera can be attached to the scope you use and allows you to record the moment. Some of the models will allow us to capture the pictures and take video footage with the help of the lens.
These options would be useful for many hunters. Having video footage can help you at any time, for instance, you can be in trouble since hunting licenses and appropriate areas for hunting can be an issue.
Many of the best night vision scopes will have video recorders that automatically turn on to record the videos. This is advantageous because it doesn't require you to take your hand off the trigger or barrel to initiate camera recording.
➢ Glass Quality
The glass quality is a significant factor to consider. Higher quality scopes will be constructed with greater glass quality. The main purpose of using this glass is to capture more available light in your surrounding area no matter whether it's day or night. If the scope is capable of collecting more light then the picture you get will be brighter and clean.
This can be useful for nighttime shooting because the target can be spotted perfectly in the lens. A high-quality glass will have a coating that protects it from scratch or damage.
➢ Battery Life
The battery life of your scope plays a big role because it decides how long you can use it without replacing it. The best NV scopes will have excellent battery life and thus allow the users to use it for a long time without having to worry about the charge. But it's good to have some spare batteries handy.
The budget may be high so don't be surprised because your investment must be worthy.
➢ Durability
The durability will show how long you can rely on it without having to replace it. Some of the best models will be called "weatherproof", which is a combination of waterproof, fog proof, and shockproof factors. The weatherproof scopes are a great value for money, those scopes can be used at any time.
Some great night vision scopes will have anodized plating of some kind which means just the skin of the night vision scope is rust-resistant and isn't likely to obtain corrosive damage easily. Such a coating also reduces sun glare and can help camouflage your position.
Thermal Scopes Vs Night vision Scopes
When you're ready for purchasing the NV scope then it's good to consider both night vision scopes and thermal scopes. Thermal scopes can be used in different lighting conditions even at both day and night. It can clearly depict the heat emitted from the object and give you the exact images.
Thermal scopes don't require light from the environment to create an image because the heat given off will remain constant in the day time. On the other hand, the NV scopes are well known for their application of light in creating an image. The light can be either natural or artificial.
Even if you're in complete darkness the NV scopes can record what's happening around with the help of artificial light, but this is not possible with thermal scopes.
Night scopes and thermal scopes have the same lifetime moreover they are both durable items. Both scopes can be used in collaboration with tools such as compass apps for iPhone or Android in different situations. The next difference is the cost, the thermal scopes are more expensive than night scopes.
For hunting, you need both the scopes because a thermal scope is suitable for targeting the prey from a very far distance. However, thermal scopes do not offer a lot of clarity.
You can spot the target even from over a mile away with a thermal scope. However, the image wouldn't be defined enough for you to take the required action. The NV scopes produce clarity images so with this scope you can get an image that is clear enough for you to take the required action.
If you're a serious hunter then it's essential to have both scopes because a thermal scope will spot game from far distances, while the night scope will produce a detailed image and act as the guide.
Final Words
There are much more widespread options of NV scopes than you'd expect, so it will be confusing for you to pick the best night vision scope for hunting needs. Night scopes provide an excellent vision that can improve productivity while hunting at night. So take a look at what they are and how they work in more detail in our review. Grab the best one!!!