M1A is a classic rifle which is basically the civilian version of the M14 military rifles. The M1A is a good platform for target precision shooting and hunting when you find a proper scope sight for it.
But mounting the scope is not the same in all M1A rifles and there have been some issues addressed already. Depending on the model of M1A rifles, the mounting system also varies.
For a 'scout' version rifle, scope mounting is a no-brainer and you'll have to select a scope with very long eye relief, similar to that on a handgun scope. Because the sight has to be mounted forward to the receiver.
The standard M1A wood-stocked model needs a special side-mount that is likely used on the Russian Dragunov. Mounting includes various steps and if you don't have enough knowledge about it, then take it to a trusted gunsmith.
If you have the correct scope mount for the M1A, then try any of the best rifle scopes that are reviewed below. They will get the job done.
If you are on a budget and looking for a medium to long-range scope, then you can find it here.
Best M1A Scopes Reviewed in 2022
Best Scopes for M1A
1. Vortex Optics Viper PST Gen II
The Vortex Viper PST II is the award winner on our list of best M1A scopes. It is an excellent scope best known for its tactical features and functions. It is a little expensive but one of the favorite long-range scopes for most hunters and shooters. 
Specifications 
Objective Lens Diameter: 32 mm
Magnification: 2 – 10 x
Tube Diameter: 30 mm
Reticle Focal Plane: First Focal Plane (FFP)
Field of View, Linear: 11.7 – 58.3 ft at 100 yds
Eye Relief: 3.2 in
Color: Black
Weight: 26.3 oz
Length: 12.64 in
Why it is Ranked #1?
Has a rock solid tactical features
Comes with laser etched turrets and adjustable parallax
Provides waterproof and fog proof performance
What Makes this Scope as Best?
Armortek coatings
Extra-low dispersion glass
O-ring sealed and argon purged construction
Best choice for short to long range shooting
It is built with a first focal plane making it ideal for quick target acquisition. 
What Does that FFP Rifle Scope Mean?
The picture shows the reticle subtensions of 2-10×32 FFP. It is just a representation. The reticle image may vary between scope based on the reticle plane and magnification.
The first focal plane means the reticle grows bigger as you adjust the magnification to a higher level and the space between each hash mark will indicate the same distance in the real world.
Further, the reticle is also illuminated to keep it visible in low light conditions. So that you can shoot even in the shadows or dawn and dusk hours at low magnification levels.
Objective Lens
Coming to the lens, the scope is equipped with a large 50mm objective lens to get a bright, crispy picture. The glass clarity is on the top line. It has an anti-reflective coating to improve light transmission and reduce glare. Thus, you can get crystal clear, breath-taking images throughout your hunting. Though Vortex has advertised 3.4 inches eye relief, the glass clarity makes it feel longer.
In addition, the Vortex PST Gen II also features parallax adjustment knobs with numbers to make easy adjustments while making shots. On the other hand, the windage and elevation knobs are tactile with audible clicks to make sure that the adjustment is made. They have the right amount of resistance and so you will not feed hard while dialing them.
And finally, let's speak off its protection. The Vortex Viper PST is also made fog proof, waterproof, and shockproof with a hard-anodized finishing. The ArmorTek coating on the exterior lenses prevents scratches, dirt, fingerprints, oil, etc.
All these top features are combined in this Vortex Viper PST riflescope that helps to shoot at 800 yards. You can also shoot even farther without much trouble.
2. Primary Arms ACSS Riflescope
The runner-up product on our list is the Primary Arms ACSS riflescope. It is an awesome riflescope that stands toe-to-toe with our award winner, Vortex Viper PST riflescope. Also, it is safe to use and works well in any situation. This M1A scope is specifically designed for military use for close ranges under 600 yards.
Specifications 
Objective Lens Diameter: 44 mm
Magnification: 4 – 14 x
Tube Diameter: 30 mm
Reticle Focal Plane: First Focal Plane (FFP)
Field of View, Linear: 7.85 – 27.2 ft at 100 yds
Eye Relief: 3.14 – 3.22 in
Color: Black
Weight: 24 oz
Length: 13 in
The innovative ACSS reticle makes longer shots quite easier. But it might be tricky for some shooters who don't like the design of the ACSS reticle, so learn how to use it and then go for it. It is fairly easy to use and helpful.
No matter if you're a new or seasoned hunter, the Primary Arms will provide excellent performance even for moving targets. It is more accurate for ranges between 300 and 800 yards. It also provides a second focal plane for better target acquisition, no matter the level of magnification.
The key point of the reticle is illuminated to provide a lot of functionality in low-light scenarios. It also has 11 brightness settings to support the reticle.
We've found no issues with the zooming option. It provides impressive performance with a flexible zoom range and the image brightness really strikes out when you zoom in to 14x, it is better than expected.
The ACSS scope is made of a strong 6063 aluminum that offers durability. And hence, it is tough enough to bear the recoil of small to medium bore rifles. Also, the entire scope has a hard coating to resist shock, fog, and water.
The MOA adjustment clicks for windage and elevation are smooth and work exactly what you need. The eye relief is pretty standard between 3 to 3.5 inches.
It comes only with a lens cloth and user manual in the box. So you have to purchase all the mounting hardware separately.
Overall, it's a fantastic scope for hunting, 3-gun competitions, and defense. It is trusted by most shooters and hunters all over the world.
3. Leupold VX3i LRP 4.5-14x50mm Riflescope
The third product on our list is from a world-famous company with an excellent reputation for quality and that is the Leupold VX-3i riflescope. It is a traditional-style scope with innovative features for tactical applications. Each and every feature is made unique in this Leupold VX 3i scope. Let's deal them one by one.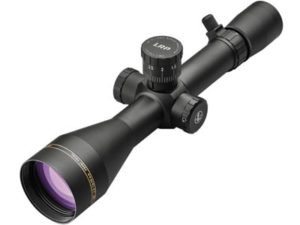 Specifications 
Objective Lens Diameter: 50 mm
Magnification: 4.5 – 14 x
Reticle: FFP CCH
Tube Diameter: 30 mm
Reticle Focal Plane: First Focal Plane (FFP)
Field of View, Linear: 7.6 – 19 ft at 100 yds
Eye Relief: 3.6 – 4.5 in
Weight: 20.3 oz
Firstly, its build quality. It has a durable, rugged construction to last for several years. It's completely made waterproof and fog proof for extreme use. The DiamondCoat 2 lens coating is given for protection against scratches and abrasion. Well, it also provides superior light transmission.
Like the Vortex Viper PST, the Leupold VX-3i is also great for low light conditions. Thanks to the Twilight Max Light Management System and a 50mm objective lens.
Leupold says that "it adds up to 20 minutes of shooting light by offering edge-to-edge clarity and eliminating 85 percent more glare than other scopes". Which means this VX 3i scope is designed to receive the whole light but it filters to eliminate the glare.
Further, the Leupold VX-3i has 4.5 to 14x magnification strength to make long-distance shots. It is more than enough for many shooters. The rear focal plane duplex (RFP) reticle is the next plus point of this Leupold VX-3i scope.
The holdover points stay consistent with an FFP reticle. Once you adjust the magnification to low power, the reticle becomes thin and overly thick at high settings. So the RFP reticle is fine and good when you shoot at mid-range.
4. Burris Ballistic Plex Reticle Riflescope
The M1A Scout is most commonly used by law enforcement users, but also by civilians. Under the long-range scopes category, Burris Scout scope is a high-end option and it is a bit pricey. But you'll certainly get a lot for your money.
Specifications 
Objective Lens Diameter: 32 mm
Magnification: 2 – 7 x
Reticle: Ballistic Plex
Tube Diameter: 1 in
Field of View, Linear: 7 – 21 ft at 100 yds
Eye Relief: 9.2 – 12 in
Color: Black
Weight: 13 oz
Length: 9.7 in
The Burris scout scope is built with multi-coated glass to prevent glare. So it can offer excellent picture quality. Also, the entire scope is nitrogen purged to prevent fogging. They are waterproof and shockproof too.
The noteworthy feature in this scope is the Ballistic Plex reticle. It is a simple, minimalist reticle with trajectory compensation out to 500 yards. But the reticle is not illuminated, which is relatively a minor mistake here.
It is simple, lightweight, and has a low profile with low mounting options. Further, the Burris Scout scope features a long eye relief ranging from 9.2 to 12 inches, so you can track objects with both eyes open and don't want to worry about visual fatigue.
Also, it will be very comfortable for you to shoot. It's designed to sit on the front end of your rifle so that you can use the entire range of eye relief, unlike other scopes.
The turrets are crisp and the clicks are audible ensuring that you've made changes to your settings. Similarly, the magnification adjustments are also nice and smooth. You can easily set the magnification without moving the view from the target.
Overall, it is ideal for Scout Shooting and you can shoot ultra-fast without losing accuracy.
5. Vortex Optics Crossfire II
We all know that Vortex is the topmost brand in the scope world. In that line, the Vortex Optics Crossfire II riflescope has also got a good name in the market.  It is a versatile rifle scope that is perfect for hitting targets at different elevations even in windy conditions. 
Specifications 
Objective Lens Diameter: 44 mm
Magnification: 6 – 18 x
Tube Diameter: 1 in
Reticle Focal Plane: Second Focal Plane (SFP)
Field of View, Linear: 5.3 – 15.2 ft at 100 yds
Eye Relief: 3.7 – 4.3 in
Color: Black
Weight: 19.6 oz
Length: 13.5 in
Height: 2.3 in
This Vortex riflescope offers variable magnification ranges between 6x and 18x to help you make shots at both closer and longer ranges. These levels are combined with a 44 mm objective lens for greater image clarity. The weight is balanced and won't weigh your rifle.
The adjustable objective lens possibly eliminates the parallax and lets you focus your image at longer ranges. The lens is multi-coated to increase light transmission and help improve your sight picture. It also gives you higher color contrast in a variety of lighting conditions.
The BDC reticle is an attractive feature here. It's located on the second focal plane. This BDC reticle has hash marks on the vertical line underneath the crosshair center that lets you estimate your bullet drop across distances. It also helps you estimate the holdover points and land shots accurately even in windy conditions.
The adjustable windage and elevation turrets are audible to each click and you can directly make changes without looking up from the scope. It has a durable construction with waterproof and fog proof. So it can last forever.
And finally, the forgiving eye box and eye relief. Both the aspects are made decently and so you'll be able to sight in on your target quickly. And you won't have to suffer from eye injury due to recoil.
6. UTG 3-12X44 30mm Compact Scope
Close to mid-range shots are hectic with live targets. Sure, it's a part of the thrill, but don't miss the track of them. To have such a thrilling experience in the field, take the UTG 3-12×44 30 mm Compact riflescope with you.
Specifications 
Objective Lens Diameter: 44 mm
Magnification: 3 – 12 x
Reticle: Mil-Dot
Tube Diameter: 30 mm
Reticle Focal Plane: Second Focal Plane (SFP)
Field of View, Linear: 10 – 32 ft at 100 yds
Eye Relief: 3 – 3.4 in
Color: Black
Weight: 23.1 oz
Length: 11.1 in
Height: 53 mm
It is designed to catch your targets faster and more accurately. This scope does most of the work for you with the IE reticle, zero locking turrets, and SWAT. Once you mount this scope on your rifle you can handle all environments or situations.
The most impressive feature in UTG Compact riflescope is the IE reticle- illumination enhancing reticle. This is a must-have feature for many target shooters and hunters. This reticle will lighten up during low-light conditions or for night use. Most of the scopes come with only one or two illumination colors but this UTG compact scope has 36 color modes suited for different scenarios.
7. Sig Sauer TANGO6T Riflescope
Sig Sauer is one of the notable brands in the Armed forces. Because its Tango 6T First Focal Plane riflescope was accepted by the U.S. Military due to its high performance and unique features. It can fit the Scout version of the M1A rifle.
Specifications 
Objective Lens Diameter: 24mm
Tube diameter: 30mm
Magnification: 1 – 6 x
Eye relief: 4.1 inches
Color: Black, Flat dark earth
Weight: 22.1 oz
The optics are paired with two types of glasses ED (Extra-low dispersion glass) and HT (high-transmittance glass). So you'll get the brightest pictures throughout your shooting.
Sig Sauer Tango 6T is one of the best 1-6x scopes specially designed with a DWLR6 reticle to satisfy the needs of the US army. It has a center dot surrounded by an inverted horseshoe. These two components are responsible for illumination. When you set the scope at low magnification of 1x or 2x, it behaves like a red dot scope and provides an accurate shot.
Coming to the construction, the SIG Sauer Tango 6T scope is built strong for the U.S military standards. The lens housing and waterproof feature make it withstand extreme weather conditions. They are highly durable and water resistant.
Additionally, the illumination settings and locking turrets allow the scope to work with night vision devices. The windage and elevation adjustments are quite easy and help you make an accurate shot.
As a whole, this Sig Sauer Tango 6T lpvo scope is an excellent choice for competitive shooting, law enforcement, and hog hunting.
8. Leupold VX-Freedom 6-18x40mm Side Focus Riflescope
If you are planning for the long range target shooting or hunting, then don't forget to check the Leupold Vx-freedom 6-18x40mm side focus riflescope. It's 40 mm tube allows you to hit the target up to 1000 yards. This makes it an ideal hunter for a spot on the top of your M1A.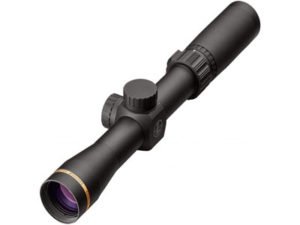 Specifications 
Parallax: Fixed
Sport Type: Hunting
Material: Aluminum
Magnification Range: 6x-18x
Tube Diameter: 40 mm
Adjustment Click Value: 1/4 MOA
The great feature of this Leupold scope is its Twilight Light Management System. Its multi coatings improve brightness, color, and clarity in the low light conditions through balancing available light across the whole visible spectrum. You will get better results even in low light situations. 
In terms of clarity, it features high end glass, special coatings and Leupold's optical engineering ensure the brightest and sharpest images for under the $1000 price range. Apart from all this Leupold VX-Freedom 6-18x40mm scope works well on the hunting field. 
It can withstand all weather conditions as it features fog, water, and shockproof resistance. The body of the scope is made of aircraft grade aluminum, which ensures durability and long lasting performance. It comes around just 0.6 Pounds of weight so that you can easily carry this while hunting.
9. Bushnell Trophy Rifle Scope with Multi-X Reticle
Bushnell Trophy 3-9X40mm riflescope is one of the leading trophy scopes on the market. It comes with fully multi coated optics and is available in a multi-x reticle. It comes with fog proof, shockproof, and waterproof resistance. It is simple to mount and sight as well as suitable for all purpose hunting. This is one of the best Bushnell scopes on the market. 
Specifications 
Magnification: 2-7x
Objective Diameter: 36 mm
Optics Coatings: Multi-Coated
Finish: Black Matte
Sport Type: Hunting
Eye relief: 3.9 inches
It is very hard to find the high contrast images in most rifle scopes, but surprisingly we have the Bushnell Trophy 2-7X36mm scope. It delivers HD optical performance without costing a fortune.
The 36 mm objective lens comes with an anti reflective and color enhancing that eliminates distortion from the views and delivers clear and crisp imagery.
What else?
Its 3.9 inch eye relief is ideal for all scout shooters which won't collapse your hunting and regular specs. The 1 inch tube is made of light aluminum therefore you don't have to worry about the scope's safety.
It features a second focal plane X reticle which has a fine crosshair for relaxed focusing. This substantial scope is ideal for tactical shooting. This second focal plane reticle does not zoom in and out with the target's distance. This feature is suited for the shooter who with weaker vision and works in low light conditions.
The great feature of this scope is its rain guard lens layers which prevent the scope from entering fog, moistire and impurities. It may lead the scope for long days. You can easily adjust the fingertip knobs and save them for further use.
In terms of the light transmission, it provides 91 percent bright images even at the low light conditions. Overall, if you don't want to waste your money on the scope, give a chance to the Bushnell trophy.
10. Athlon Optics Argos BTR GEN2 Rifle Scope
The Athlon Optics Argos BTR is one of the best choices for a trusty M1A. It is a long-range rifle scope that comes with new impressive features to hit the market. 
The Argos BTR 6-24×50 scope is engineered with a durable 6061T6 aircraft-grade aluminum material to last longer. The noteworthy feature of Argos is that it can withstand 1000G recoil up to 1000 times. So it would be a valuable investment for you.
Specifications 
Magnification: 6-24x
Objective Lens Diameter: 50 mm
Reticle: APLR2 FFP IR MOA
Tube Diameter: 30 mm
Field of View, Linear: 16.7 – 4.5 ft at 100 yds
Eye Relief: 3.3 in
Weight: 30.3 oz
Length: 14.1 in
This riflescope is again impressive when coming to image quality. In addition, it is fog proof, waterproof, shock-proof, and provides clear viewing even under dim light.
But icing on the cake is the illuminated reticle. It allows you to view effortlessly in low-light conditions. It also provides easy windage and elevation adjustments.
This scope will be the best companion for a great shot. Thanks to its 6-24x zooming capacity. With this, you can zoom in on your targets up to 1000 yards away and take accurate shots.
One drawback we found in the Argos BTR 6-24×50 scope is the eye relief. It seems shorter compared to other scopes. Otherwise, it is the right one for you to make accurate shots. 
What Mounts are Great for the M1A?
Some of the M1A uses the standard scope rings and bases while others may benefit from a rail mounted system. Scout and SOCOM come with integral rails that reduce the hustle and bustle of mounting. M1A rifles often use the standard scope mounts used on older bolt guns.
There is no real, lasting benefit in any way. The rifle dictates what you use but the standard mounts will replace one as accurately as the other. For competitive accuracy, you need more precision rings, which are often not part of a piece mounting system.
Whatever you do, don't go with a cheap ring. There is nothing worse in a rifle than investing hundreds of dollars in one scope and mounting it with the cheapest rings you can find. The best rings are precisely trued, machined, and folded for proper alignment and fit. They are expensive, but they are well worth the investment.
Having the cheap rings may affect your rifle and give trouble when you hold zero. Moreover, cheap rings may damage your quality scope. So don't take a risk when you invest. 
Some of the rings are made of plastic. These are not suggested for a quality rifle setup. Aluminum rings are better when compared to plastic and also steel is the best choice. They are much stronger when compared to aluminum. 
How to Buy the Best Scopes for M1A – Buyer's Guide
When you are planning to purchase the rifle scope, then you should consider the technical details of the scope. Each scope is unique in its way. Keep in mind not all scope is compatible with an M1A rifle. Here are some essential tips to remember when planning to buy a new rifle scope.
Magnification
Magnification is the first priority when it comes to long range shooting. If you don't have sight of the target, achieving a target beyond 1000 yards can be quite difficult. The only solution is to see the target that far away from us by improving the magnification on your scope.
Experienced hunters prefer the scope with 10 x magnification to achieve the target up to 1000 yards or more. If the target is less than 1000 yards, then 6x to 9x magnification is more than enough.
So in terms of the magnification, it is all based on what you use your rifle for.
Weight and Size
Speaking about the size, initially, you look at the objective lens's size. If you want the short range shooting or hunting scope, then there is no need to buy a large objective lens scope. While you are planning for long range shooting, then you should need a scope with a large objective lens. Generally, large objective lens scopes are heavy.
Mounting the heavy scope on your rifle may affect your target acquisition. Moreover, long range shooting or hunting is quite difficult when you carry a heavy rifle scope. While holding the bulky riflescope with a rifle, you will feel heavy. So it is always better to choose a small and lightweight scope.
Field of View (FOV)
A scope field of view (FOV) is how wide scope can be viewed. FOV is usually measured in x 100 yards below x. This characteristic is mainly defined by the optics build quality and magnification power.
As magnification increases, FOV decreases. And vice versa.
Lens and Glass Coating
The best quality scopes come with a better lens and glass coating. It plays an essential role in image quality. The waterproofing and scratch resistance coating helps to improve the durability of the scope.
Generally, you can find the scopes use glass lenses that are coated with anti reflective coatings. It helps to reduce the glare while you are hunting or shooting. If the rifle scope comes with a number of coatings, then it will ensure better light transmission as well as contrast. The better coating results in clearer, crisper, and sharper visuals even in low light conditions.
Therefore check the scope's lenses are coated before buying. Lenses that have many coatings are labeled as multicoated, fully multicoated, or fully coated while a single layer coating lens is labeled like coated. Keep in mind, the single layer coated lens is don't work like multicoated lenses.
Price
Scopes are generally expensive however the price is based on the scope's design and features. If the scope uses a premium multi coated lense, then you have to pay more. It is pricey when compared to single coated lenses. It applies to scopes with additional features like infrared reticles. Based on your budget you can afford any model.
It is always better to invest in reputed brands such as Leupold, Vortex, Bushnell, ATN, etc. Their scopes are designed with useful features and are at reasonable prices. Also, all hunters and target shooters can prefer these brands.
Tube Size
Generally, tube sizes are 1 inch and 30mm in diameter. Other famous tube sizes like 34 mm and 35 mm are also available on the market. These tubes and tube mounts are pricey and not worth the price.
A larger tube offers more durability and a wider range of internal turrets adjustment. On the other hand, smaller tubes are lighter and cheaper. Some people go with the larger tube for better light transmission. Because the better light transmission is related to magnification level and objective lens diameter. The bigger tube comes with a bigger objective lens often.
Objective Lens
Large objective lens scopes deliver sharper and clearer images when compared to the small objective lenses as they let more light into the scope. However, they are heavy and large so it is slightly hard to carry around. In addition, large objective lens scopes are expensive hence check the objective lens size when you are making a purchase. If you are moving around a lot to catch your target, then go with a small objective lens scope.
Eye Relief
Eye Relief means the distance between your eyes and the scope's ocular lens. It is very essential to help you get the comfortable ideal viewing and large field of view. Generally, large eye relief can help your eye be safe from recoil. But keep in mind too much eye relief may lead to uncomforted to your head and eye position.
Usual eye relief ranges from 3 to 4 inches. For the M1A rifle, eye relief is not an issue because the rifle is heavy enough to absorb recoil. M1A hunters are safe with smaller eye relief scopes like 2.5 inches to 3.5 inches.
Reticle
The reticle is used to focus the aiming point. Each reticle is designed especially for particular use. Some are for hunting wild game while some others are designed for tactical shooting. So choose one depending on your preference. Some reticles are illuminated which are very useful for hunting at nighttime.
There are many types of reticles available on the market. The most common reticles are the BDC reticle, the Duplex reticle, the dot reticle, Mil dot reticle. This is based on your preference. If you are planning for simple hunting, then go with the Mil dot reticle. While if you need to shoot long range, choose the BDC type for quick holdovers.
Selecting between the first focal plane and the second focal plane is not the big deal. FFP reticle comes with the benefits of holdovers and distance measurement working on all magnification levels. On the other hand, the second focal plane works on the highest or particular magnification level. If you are planning for the long range shooting, then go with the first focal plane. After all, the first focal plane reticle is more pricey.
Turrets
Turrets can help you zero your scope and this process is called zeroing. When you adjust your reticle until it aligns with your target. Hence turrets let you get precise aims by allowing you to make the needs reticle adjustments.
These adjustments are windage and elevation. Most scopes come with a parallax adjustment turret, that lets you eliminate parallax. Parallax adjustment is essential as it helps you get an exact shot.
The most common types of turrets are exposed and capped turrets. The major difference between the two is that a capped turret comes with a metal cap which protects the turret from accidental movements once you make your changes.
Desirable turrets are repeatable and accurate.
Hunting – Capped turrets and low profile help to protect unintentional adjustment. This is more of a set and forget type.
Tactical – Crucial finger adjustment. Zero stops and resettability are better to have. If you are planning for long range shooting, then the parallax adjustment is a must. The last thing about the turret is its unit of clicks must match the reticle.
Durability
The last factor is the durability of the scope. Everyone wants their scope with reliable and long lasting performance and withstand all kinds of environment. So choose the scope that can be submerged into the water, fog, heat vibration, and shock. In addition, the scope wants to reliable hold zero for your ammunition.
Frequently Asked Questions
Final Verdict
The Springfield Armory M1A is one of the iconic rifles on the market. Most of the modern M1As are very accurate when it comes to mid to long range targets. The best scopes for m1a will improve the rifle's abilities.
No matter how you use your M1A, these scopes have done their job well. From hunters to ranchers, these scopes will meet all your requirements.
Do not be driven by price tags or brand names when buying the Scope.
We have listed the best scopes for all types of shooters, so which is your favorite?
Share your thoughts with us.