Remington 700 is a bolt action rifle manufactured by Remington Arms and it is the advanced version of the Remington 721 and 722 rifles series. Remington 700 is an ideal rifle for long-range shooting and hunting.
Remington 700 is compatible with the following cartridges: .223 Remington, .308 Winchester, .243 Winchester .300 Remington Ultra Magnum, .300 Winchester Magnum, .338 Lapua Magnum, and 7 mm Remington Magnum.
Remington 700 is the most preferred classic rifle in the USA. This specific rifle has been used in law enforcement and the military which makes looked it a powerful weapon. Now, Remington 700 is utilized for recreational activities and tactical purposes because of its reliability, precision, and durability.
Remington 700 model is not built with an iron sight, so you have to use an external optic for ranging and targeting.
Let's look into the Best scopes for Remington 700 available in the market for you.
2022's Best Scopes for Remington 700 [Comparison Chart]
What's the necessity of scope for high caliber firearm?
The variable magnification, illuminated reticle, multi-coated lens, unlimited eye relief, fast focus eyepiece, and ability to see through dark are the advantages or features you get from a rifle scope. It improves the accuracy and precision rate of your shooting.
How to choose?
You have to select the scope based on the caliber values of the rifle and how you use it most of the time. Because different models of Remington need specific scopes for better performance. It is difficult to suggest a single scope for hunting, long-range shooting, and military purposes. 
In this guide, I discuss the best scopes for Remington 700 that we picked and reviewed in the field.
Let's dive into the review.
9 Best Scopes for Remington 700 in 2022 – Reviewed
1. Leupold VX-3i 4.5-14X Rifle Scope
Leupold VX-3i Rifle Scope is a versatile riflescope that can perform very well under different circumstances. There is no doubt that you will fall in love with its simple construction and compact design while delivering its premium performance on the field.
VX-3i has a built-in Twilight-Max Lighting Management System that can adapt to any critical low light conditions. Using this system, you can see a much brighter and detailed image of your subject under different lighting environments.
| Magnification | Objective Lens | Reticle | Eye Relief | Lens Coating | FOV @100 Yds |
| --- | --- | --- | --- | --- | --- |
| 4.5x – 14x | 40 mm | Duplex | 4.4 - 3.7 inches | DiamondCoat 2 – Ion | 19.9 - 7.4 ft |
Magnification range: Leupold VX-3i 4.5-14x model has a 14x maximum magnification that allows you to perform long-range applications covering 600 yards and above. This magnification can give a clearer picture that fits your preferences while having full awareness of your surroundings.
Lens coating: The diameter of the VX-3i scope is 40 mm and it is coated with Diamond Coat II – Iron. It can offer enough light transmission which can support your shooting capabilities during the hunt or even in a shooting competition. You can easily monitor the movements of your prey on a larger scope.
Durable construction: Leupold VX-3i Scope has a sturdy construction as it is made up of aircraft grade (6061-T6) aluminum, makes it durable, and lasts longer. Even with your continuous usage, this product will not wear that easily.
Moreover, this product was able to endure the heaviest impacts of about 5,000 caused by Leupold's tester machine called Punisher, a recoil simulator equipment. Each impact has a triple force impact that can be likened to the recoil from the Remington 700 rifle. 
Is it water and fog-proof? Yup! This scope was tested to endure a depth of 33 feet underwater and resist greater changes in pressure. Thus, the lens of this riflescope helps you to fully experience the joy brought about by hunting under colder and dimmer conditions. You can say goodbye to fogging, which typically obstructs your aiming and shooting precision.
Leupold VX-3i 4.5-14 Rifle Scope can operate well between the temperature ranges of – 40ºF to 160ºF (or -40ºC to 71.11ºC). Additionally, it can also hold itself against extreme abrasion, which makes this rifle scope the great partner for your Remington 700 on the field.
2. Athlon Argos BTR 6-24X Riflescope
If you want the best scope for Remington 700 with the first focal plane (FFP) reticle, try purchasing Athlon Argos BTR 6-24X Rifle Scope. This product offers different features that are usually found in expensive rifle scopes.
This product is quite perfect for the beginners of Precision Rifle Shooting (PRS), as it is easy to use. It is also ideal for enthusiasts who are interested in target shooting or long-distance hunting as it is a versatile product that might fit your Remington 700.
| Magnification | Objective Lens | Reticle | Eye Relief | Exit Pupil | FOV @100 Yds |
| --- | --- | --- | --- | --- | --- |
| 6x – 24x | 50mm | Glass Etched, APMR FFP IR MIL | 3.3 inches | 2.1 – 8.2mm | 16.7 - 4.5 ft |
Magnification: Having a variable magnification range from 6x to 24x, the BTR scope provides you with a very exceptional vision which might be perfect for your Remington 700 rifle. It allows you to hunt from medium to longer- distances without compromising the quality of the image it offers you.
Lens: The main tube of Athlon Argos BTR Scope is built from quality aircraft-grade (6061T6) aluminum material, protecting the optical lenses under different conditions it is faced with. You can be assured that it is sturdy and durable without breaking easily.
This riflescope boasts supreme optical performance, which can help snipers or hunters in executing long-range applications. Moreover, it can effectively reduce the amount of reflected light while increasing light transmission. It can offer vivid and precise image details than single-coated lenses, allowing you to experience as if you are just in front of your prey.
Reticle and Eye relief: Having a glass-etched APMR FFP – IR MIL reticle will prevent any distortion brought about by extreme lighting conditions. It provides you with a higher visibility rate, which is an advantage for hunting either in dusk or dawn, as well as other low-light conditions.
Added with an eye relief of 3.3 inches, you can comfortably aim your subject without sustaining minor bruises through heavy recoil and eye restrain.
Tolerating factors: This scope can also prevent the occurrence of fogging, which might hinder your performance during the winter hunting season. It is also waterproof, protecting the product from the rain or submersion in water accidentally. 
It is also filled with argon, which uses inertia-gas, which fortifies its resistance against water and maintains normal thermal temperature. Athlon BTR Scope is also well known for having to resist great shock due to heavy recoiling.
Parallax Adjustments: Thanks to the side-mounted parallax adjusting knob, eliminating all possible parallax errors. It also makes windage and elevation adjustments quite easy, providing corrections to shooting settings.
3. UTG 4-16X44mm Scope
UTG 4-16X Scope has a built-in 36-Color EZ-TAP Illumination Enhancing (IE) System, which can be flexible enough to adapt to various lighting and environmental conditions.
Thanks to its One-Click High-Tech Illumination Memory, you can easily go back to your previous settings for brightness and chosen color, which saves time while being efficient at the same time. You won't have to go through the hassle of changing your settings whenever you are hunting.
| Magnification | Objective Lens | Reticle | Eye Relief | Exit Pupil | FOV @100 Yds |
| --- | --- | --- | --- | --- | --- |
| 4x – 16x | 44 mm | Mil-dot | 3.2 - 3 inches | 2.8 – 10.2 mm | 24.4 - 6.8 ft |
Magnification: If you are a hunter involved in both mid-range and long-range hunting, then you might want to try UTG 4-16X Scope. It can maximize and enhance your shooting performance with its flexible magnification of 4x to 16x. It allows you to be aware of your surroundings and situation while approaching your subject on the field.
Produce clarity views: UTG scope also contains an integral sunshade, which helps you in reducing excessive glare from the sun. It protects your eyes from getting hurt and the 44mm scope optimizes your sight with the best clarity view.
Adjustable elevation and windage turret: UTG Scope is also equipped with Zero Lock & Reset Adjustment Turret Settings. This allows you to maintain zero within a second while providing enough options for adjusting elevation and windage that suit your shooting preferences.
Durable and waterproof: This rifle scope can withstand the impact brought about by heavy recoil, which makes it durable and can last longer despite continuous usage. Moreover, as it is sealed and filled with nitrogen, you can be assured that it can resist water as well as the possibility of fogging during cold & wet conditions while retaining thermal stability.
4. Bushnell 3-9x40mm Banner Dusk & Dawn Riflescope
Do you prefer hunting at night, which amplifies your chances of concealment towards your prey? The Bushnell 3-9X40mm Banner Dusk & Dawn Riflescope is a good recommendation for you.
Bushnell 3-9X40mm Banner Dusk & Dawn Riflescope was specifically designed to excel its lighting performance during early morning and late-night hunting expeditions. It is flexible and accompanies you well on your preferred hunting schedule.
This scope allows you to have the utmost focus when acquiring your targets. Moreover, it will make you feel like the prey is just in front of you due to its clarity and quality sharpness under dimmer environments. Quite reliable, isn't it?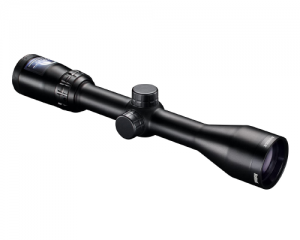 | Magnification | Objective Lens | Reticle | Eye Relief | Exit Pupil | FOV @100 Yds |
| --- | --- | --- | --- | --- | --- |
| 3x – 9x | 40 mm | Multi-X | Circle-X | BDC MZ 200 | 6 inches | 4.4 – 13 mm | 40 - 14 ft |
Magnification: Banner Dusk & Dawn Riflescope is a great scope for hunting deers in medium-range shooting with its 3x to 9x magnification. It adapts well to its surroundings, especially at night. You can work covertly while your prey lying on the land.
Lens: Optical lenses of banner scope are multi-coated with DDB (Dusk & Dawn Brightness), which offers brightness and stunning HD-like clarity. It provides you with optimal performance for sight and target acquisition lock-in. Just aim and shoot comfortably in your hiding place.
Reticle options: This rifle scope also has several reticle types, which are as follows:
Multi-X – This type of reticle is your basic duplex crosshair style, which is exactly what most hunters would want to have. Nothing more, Nothing less.
BDC MZ 200 – This type of reticle is perfect for big game hunting. It creates red and green crosshairs that aid you in aiming.
Circle-X – This reticle is similar to Multi-X but with thicker crosshairs that form a circular image at the central point of the scope.
Durable and water-resistance: Bushnell Banner Dusk & Dawn Riflescope can also withstand extreme shock from recoil, assuring you of its stability and sturdiness after continuous use. In addition to that, this scope can also resist fogging while being waterproof. This means that you can hunt and fully enjoy the experience, especially at night and in rainy weather.
This scope will help you to utilize the capabilities of your Remington 700 rifle. It is best when used for varmint hunting, big game hunting, sports target shooting. For most rifle enthusiasts, this product is highly favorable as it is budget-friendly without compromising quality.
5. UTG 3-9X32mm BugBuster Scope
Although it is typically used for Airsoft-type assault rifles, UTG 3-9X32mm BugBuster Scope is a reliable and versatile riflescope that might be perfect for your Remington 700 rifle.
UTG 3-9X32mm BugBuster Scope offers you a viewing field of larger scope, making it quite convenient when your scope is locked towards your prey. Its well-designed turrets provide precise elevation & windage adjustments. The most crucial feature is its ability to maintain zero for aiming and shooting… thanks to its locking and resetting controls.
| Magnification | Objective Lens | Reticle | Eye Relief | Exit pupil | FOV @100 Yds |
| --- | --- | --- | --- | --- | --- |
| 3x – 9x | 32 mm | RGB Mil Dot | 4.2 - 3.2 inches | 3.6 - 10.6 mm | 37.7 - 14 ft |
Illumination Enhancement System: UTG BugBuster maximizes the transmission of light with its built-in EZ TAP Illumination Enhancement (IE) System and dual-color settings (Red / Green). With that said, this riflescope can offer you crystal clearer and more vivid image details while being aware of your surroundings.
Color settings: It also includes 36 different color settings that can adapt very well to all lighting and weather conditions that you might face during your hunting expedition. It also has an embedded sunshade that can reduce unnecessary light that may hurt your eyes.
Additionally, you can easily restore your previous color and brightness settings in just one click using its OneClick High-Tech Illumination Memory. It is quite helpful and efficient when you are in the middle of your crucial hunting expedition.
Durable and waterproof: BugBuster scope is built with sturdy construction that can withstand extreme shock from heavy recoil and also provides an extended eye relief of 3.2 inches to 4.2 inches. This allows you to avoid intolerable bruises from recoil and eye discomfort.
Moreover, this product can adapt to all weather conditions. The scope itself is sealed and filled with nitrogen, making it resistant against the formation of fogging as well as accidental water immersion. When affixed to your firearm, you can achieve its maximum performance and reliability.
6. Vortex 6-18x44mm Crossfire II Riflescope
Vortex 6-18x44mm Crossfire II Riflescope is a versatile product that is designed for the purpose of Tactical Shooting and Hunting. Having this rifle scope allows you to have supreme performance and reliability levels, which helps in maximizing the output of the rifle.
| Magnification | Objective Lens | Reticle | Eye Relief | FOV @100 Yds |
| --- | --- | --- | --- | --- |
| 6x – 18x | 44 mm | Dead-Hold BDC MOA | 3.7 inches | 15.2 - 5.3 ft |
Reticle: Using the Dead-Hold BDC-MOA Reticle, you can easily eliminate the guesswork brought about by the corrections of holdover and windage adjustments. This is great equipment for your rifle if you prefer a varying shooting or hunting range wherein hold overestimation is trouble.
Crossfire II SFP reticles are found near the eyepiece and behind the magnification lenses. What makes this reticle great, that it can maintain the same visual presentation even when you adjust its magnification settings. It helps you in estimating the range, windage, and hold over accurately using its highest settings of magnification.
Construction: Vortex 6-18x Crossfire II Riflescope is built using anodized aircraft quality grade aluminum, which results in having a durable construction without compromising its optical performance. 
As its lenses are purged with nitrogen, you no longer experience the occurrence of fogging during cold and wet weather conditions. You can fully concentrate on monitoring your subject under the magnification range of 6x to 18x, allowing you to have crisp and razor-sharp image precision on longer ranges.
It is also sealed with O-rings, which can inhibit the penetration of moisture as well as debris and dust. Guaranteed, this product is 100% waterproof, which can be a great partner for you.
Lens: The optic lenses of this product are coated with an anti-reflective finish, which can aid you in increasing the volume of light being transmitted on your scope. It can also help you hide among your subjects without revealing your position prevent them to escape.
To protect your eyes, Vortex 6-18x44mm Crossfire II Riflescope has a built-in sunshade that prevents the sun's glare from hurting your eyes under a brighter or an open field environment.
7. Vortex Viper 4-16x44mm HS-T Riflescope
Vortex Viper 4-16x44mm HS-T Riflescope is one of the specialized scopes made by Vortex under the Viper series. You can easily adjust the focus of your scope after setting the magnification smoothly… Thanks to its fast-focus eyepiece. 
Moreover, the construction of turrets in this product allows you to adjust the settings that can assist you in precise and continuous shooting. Maintaining it to zero is also easy.
| Magnification | Objective Lens | Reticle | Eye Relief | FOV @100 Yds |
| --- | --- | --- | --- | --- |
| 4x – 16x | 44 mm | VMR-1 MOA | 4 inches | 27.4 - 7.4 ft |
High-quality images: It provides a magnification range of 4x to 16x, which makes it ideal for medium-range and long-range applications. It allows you to enjoy an optimal optic performance by showing crystal clear and sharp image precision when hunting.
Reticle: Its VMR-1 MOA Reticle is ideal for shooting at further ranges. On the other hand, its optics are XR multi-coated, which enhances the delivery of light to the scope, providing vivid optical performance and exceptional resolution quality. The lenses are also coated with Armortek, which protects them from scratches, dirt, oil, and fingerprints. 
Construction: Its sturdy and durable construction is made up of high-grade aircraft aluminum material, which fortifies its rigidity and strength despite heavy recoil. You can be sure that it will never yield to wear after continuous usage.
The material itself is coated with anodized polish, which allows you to perfectly perform your camouflage without attracting suspicions from your prey. You can readily take your shot when the right time comes after thorough observation.

Weatherproof: Its lenses are also sealed with O-rings, which inhibits any debris, dust, and moisture from entering the scope. In turn, it can offer you its utmost performance under wet conditions making it your reliable partner on the field when hunting.
What makes it unique among the other scopes in this list is that it is filled with argon instead of nitrogen gas. It is much more dense nitrogen, which can effectively prevent the occurrence of fogging over several temperature ranges.
Vortex HS-T Riflescope also boasts the following features:
Precision Force SpringSystem – it uses quality components in the erector spring system, which ensure optimal repeatability and smooth adjustments.
Precision Glide ErectorSystem – it uses quality components in the zoom lens mechanism, which ensure effortless adjustments in magnification despite tough conditions.
8. Night Owl Optics NightShot Riflescope
Night Owl Optics NightShot Riflescope is another specialized rifle scope designed specifically for night hunting. Nonetheless, this product is multi-functional, which can also support you for other outdoor activities such as Night Hunting, Hog Hunting, Varmint Hunting, Paintball Shooting, and Airsoft Shooting.
This versatile and exceptional rifle scope can also be used together and is very much compatible with equipment/firearms like Shotgun, Crossbows, Paintball Rifle, Airsoft Rifle, Tactical and Military Rifles (below 30-caliber bullet, magnum or non-magnum | 30-caliber bullet, non-magnum).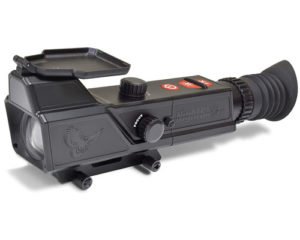 | Magnification | Resolution | Illumination | Eye Relief | FOV @100 Yds |
| --- | --- | --- | --- | --- |
| 3x | 640 x 480 | Black | White | IR | 2.70 inches | 5.6º |
Magnification: This rifle scope is a great companion when it comes to night hunting… thanks to its night vision application. This allows you to covertly perform varmint hunting at night and it is supported by a fixed magnification of 3x. You can easily discern and acquire your subject before shooting.
Aside from being a quality product, this riflescope is also economical, which makes it a safe alternative for your hunting activities. Affixing it to your Remington 700 rifle will help you to enhance your shooting skills while optimizing performance delivery.
It can pretty much cover a distance of 100 yards to 200 yards, which makes it ideal for close combat applications. It allows you to enhance your situational awareness by fully understanding your surroundings while pinpointing your subject smoothly.
Reticle: Night Owl Optics NightShot Riflescope also has at least 3 types of the reticle that can adapt to your hunting needs and preferences. Both types can be easily configured between black and white, which allows you to adjust the reticle that can be used best for your present shooting circumstances.       
Battery: This product is powered by a battery. Depending on the type of the battery and usage of infrared (IR) illuminator, its night vision application can last for 4.5 to 17. 5 hours. Batteries with lower quality can shorten their lifespan, which might hamper your hunting activities. Additionally, this riflescope is also built with sturdy materials engineered with thermoplastic components, making it durable even during daytime activities. 
9. Nikon P-Tactical 3-9x40mm Scope
Nikon P-Tactical 3-9x40mm Scope boasts a wide array of features that maximizes and enhance your hunting journey in the wild through your Remington 700 rifle.
Adjusting the focus of this scope is quite easy. Just turn it smoothly, and you can effortlessly acquire your target for medium-range applications. Resetting it to zero after sight lock-in is hassle-free, especially when you are making some adjustments on the field.
| Magnification | Objective Lens | Reticle | Eye Relief | Exit Pupil | FOV @100 Yds |
| --- | --- | --- | --- | --- | --- |
| 3x – 9x | 40 mm | MK1-MOA | MK1-MRAD | BDC | 3.6 inches | 4.4 – 13.3mm | 33.8 - 11.3 ft |
Magnification: Nikon P-Tactical rifle scope is ideal for medium-range applications with the help of its magnification settings that can be adjusted from 3x to 9x. It solely depends on your hunting ground and your preferred subject.
Reticle options: Nikon P-Tactical [.223 3-9x40mm] Scope has at least 4 reticle options that can adjust very well to your hunting needs and caliber, which are as follows:
MK1-MOA – an asymmetrical design that allows additional hold over; Can be utilized for range estimation, subject size, windage, and elevation holdover at a specified magnification.
MK1-MRAD – matched against ergonomically designed turrets that provide directional indicators.
BDC 150*, BDC 600*, BDC 800*, BDC SuperSub*, and BDC Carbine*
Note: * – All BDC reticles are optimized and improved by Spot On Ballistic Technology (www.NikonSportOptics.com/SpotOn). These reticles provide precise holdover points or any adjustments in elevation for long-distance purposes. Each reticle is designed to match your caliber preference. 
Durable and waterproof construction: Nikon P-Tactical 3-9x40mm Scope is filled with nitrogen and sealed with an O-ring, which prevents any moisture from entering the lenses. It is quite reliable by simply being resistant to water and fogging. Its sturdy construction can also hold itself off against heavy recoil and impact, making it a durable product.
Its optic lenses are multi-coated while being enveloped with quality aircraft-grade aluminum tubes. You can be sure that its performance won't be affected by harsh conditions.
Factors To Consider Before Buying Remington 700 Scopes
There are at least three factors that you need to take note of if you are planning to buy a scope for your Remington 700 rifle. These factors are crucial, which can enhance and improve your shooting skills.
➣ 

Magnification
It goes without saying that a powerful magnification feature might be a tempting choice, which isn't necessarily the case. You have to consider the distance that you prefer when you hunt. 
If you are going for close-range hunting between 100 and 200 yards, then a scope with 1x to 3x magnification is a good choice.

If you are planning to hunt in a mid-range circumference of about 300 to 400 yards, a scope with a magnification range of 3x to 9x or 4x to 12x is ideal for you.

Now, if you are going for over a distance of 600 yards and above, a variable magnification of 12x and above is perfect for your Remington 700 rifle. 
This is usually applied for military and tactical purposes, long-distance target shooting competitions, and leisure long-range shooting.
➣

 Durability
Several calibers compatible with Remington Model 700 produce a heavy impact from recoil. Heavy shock very much can affect the overall precision and accuracy of your shooting capabilities. Having a durable scope that can withstand any harsh condition is important to take into consideration on the field. It can make or break the quality of your marksmanship skills. 
➣ 

Reticle
There are several types of reticles to choose from. It is important to note how you plan to hunt, which can be crucial for choosing a scope. If it is simple for hunting, the reticle type of MilDot, Duplex, or BDC (Bullet Drop Compensating) is a good option for you.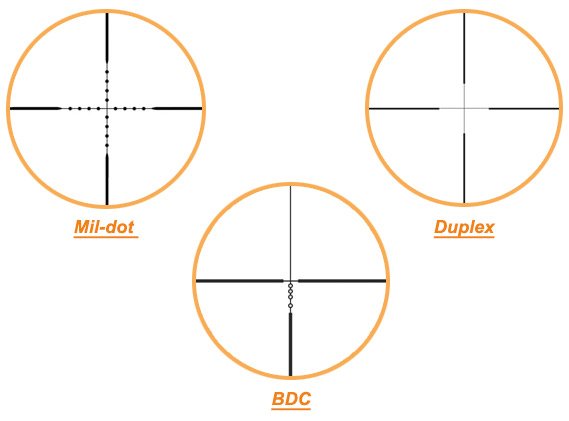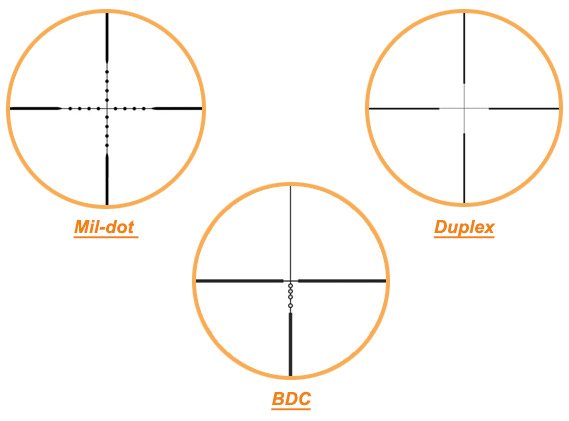 However, if it is intended for long-distance applications, an advanced type of reticle is the best solution for your Remington 700 rifle. These types of reticles can pretty much aid in adjusting windage and elevation smoothly.
There is also a high chance that you will choose whether or not you want a reticle that is illuminated. This type of reticle is ideal for dimmer environments, which is greatly enhanced by Etched-Glass Reticle.
Conclusion
The Remington 700 is a popular American rifle which is iconic. It is just right to have it partnered with supreme quality scopes. Buying an appropriate scope for you that matches your preferences and hunting needs will definitely enhance the capabilities of your rifle to the fullest while assisting you in achieving zero missed shots.
I hope that the list provided in this article can help you to determine the best rifle scope for Remington 700 rifle that fits your hunting requirements. Good luck!