Winchester Repeating Arms Company is a U.S firearm manufacturing unit that produces rifles, cartridges, and accessories for military, law enforcement, and civil services.
Winchester rifles are lever-action repeating rifles developed from the Henry rifle in 1860. These are the most famous repeaters in earlier times. The Winchester 1873 rifle model was their first grand success that won in the West world.
The popular lever-action repeating rifles from Winchester are Model 1866, 1873, 1876, 1886, 1892, 1894, 1895, 88, and 9422. They have also created powerful cartridges to compensate for their rifles such as .243, .270, .300, .308, and more.
If you are into hunting or target shooting, Winchester rifles are the best to start. As you get their specific supporting cartridges for all rifle types, it opens gates to hunters to discover more.
As Winchester produces various rifle models and cartridges, optics and scopes for the rifles are also getting upgraded to support the ability of lever-action rifles.
Knowing the requirements and popularity of Winchester rifles, today we have decided to review the Best Winchester Scopes for their different cartridges to improvise the ranging performance of rifles.
The .270 Winchester Caliber
Let's look into the basics of .270 Winchester caliber.
Developed in 1923.

Specifically designed for Winchester Model 54 rifle.

Can be chambered in, 

bolt actions rifles, 

pump-action rifles, 

single-shot rifles, 

lever action rifles, and

autoloading rifles.
Benefits of .270 Winchester Caliber
Versatile

Great for big game target shooting

Flat shooting ballistics

Knockdown power at long distance

Best used for hunting

Highly preferred caliber for deer hunting
Why .270 Winchester Caliber is the best?
Produces only mild to moderate recoil

Bullet drop out to 400 yards

Reaches range of 500 yards

Variety of bullet weight and configurations available

Ammunitions for the caliber is readily available on local markets

Most of the rifles have been designed to be chambered for this caliber
How to choose the Best Scope for .270 Winchester?
Before choosing the best scope for .270 Winchester caliber, consider the below factors and ensure your choice of optic has these in them.
Magnification
As already mentioned, .270 win caliber supports up to 500 yards. But it is great for short-range hunting up to 300 yards. So 3-9x magnification variable magnification power is suitable.
The suitable power range for .270 Winchester is 3-9, 4-12, or 4-16 for 300 to 500 yards.
If you prefer for more than 500 yards with .270 Win, need a higher magnification scope.
Eye Relief
The eye relief needed from the scope for .270 Win is a minimum of 3 inches, maximum of 4 to 4.2 inches. You know .270 win produces very moderate recoil so eye relief of 3to 3.5 inches is enough for 300 yards shooting.
Reticle
.270 Winchester is a hunting caliber so you need a hunting-specific reticle in your scope to support the caliber.
The suitable reticle options for .270 Winchester are,
Duplex and its variations

BDC based reticles

Mil-Dot reticles
If you are not using it for more than 500 yards, stay away from the long-range reticle to low light challenges.
Focal Plane
Between FFP (First Focal Plane) and SFP (Second Focal Plane), FFP is best for long-range. So you can land on a scope with a second focal plane you are only shooting up to the range of 500 yards.
Tube Size
The two common tube sizes are 1-inch (traditional) and 30 mm (newest). Both work great for .270 but if you need a weightless and low budgeted tube design go for 1-inch, aside from weight and budget 30 mm is also good.
Best Scopes for .270 Winchester
1. Vortex Viper PA 6.5-20x50mm Rifle Scope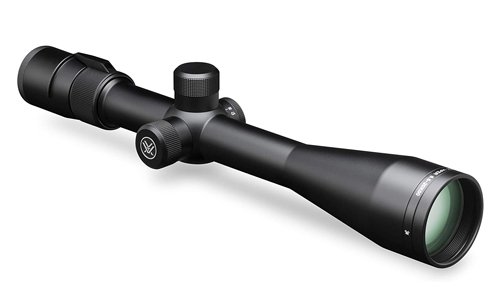 Vortex Viper Parallax Adjustment Scope is my top choice of .270 Win caliber for medium to short-range hunting.
If you chamber .270 Win into long-distance riflescopes, a 6.5 to 20x magnification power of this scope is a great deal for you.
It has all the required features to be the Best scope for .270 Winchester.
The magnification range is higher than the needed power but it is an advantage for different hunting disciplines and 3-gun competitions.
The eye relief of the scope is also enough to hold back recoils from .270. The 3.1 to 3.3 inches of eye relief prevents scope bites.
As required, the scope reticle is placed on the Second Focal Plane (SFP). The size of the reticle won't change with the power range so there are difficulties in reticle measurements.
The scope comes with 2 different reticle options such as BDC and Mil-Dot. Both are suitable for .270 Winchester.
This Winchester scope has the newest 30 mm tube which adds weight and it is 21.6 oz.
At 100 yards you get the field of view of 6.2 ft at a maximum magnification range of 20x and 17.4 ft at a minimum magnification range of 6.5x. It is optimum for deer hunting and other similar short to medium-range hunting.
About the durability, it is a day scope so it has to withstand bright light, wind, fog, or similar conditions. The scope is strong enough with fog-proof, shockproof, and waterproof features. It is designed using Aircraft grade aluminum with a hard-anodized finish to work through hard conditions while hunting.
The scope has no illumination for reticle so it might not be suitable for hunting in dark. However, .270 Win caliber is preferred for day hunting. So it should be the problem.
The best part of Vortex Viper is its PA (parallax adjustment). It can be adjusted between 50 yards to infinite to prevent parallax errors.
The XR fully multi-coated objective lens with 50 mm diameter allows maximum light transmission so you get to see as many colors in crisp and clear clarity.
If you need a .270 Winchester rifle scope under $500, you should not miss this.
2. Leupold FX-3 6x42mm Rifle Scope
Leupold has introduced many variable and fixed power optics. FX-3 scope is one of their best models from the FX series. It is a fixed scope with 6x magnification that is suitable for medium-range shooting. As .270 win caliber is also intended to do the best in this range, we have decided to test the two.
It has a powerful 6x magnification which you can magnify the image 6 times the original. For the hunters who do not hunt often but need a riflescope to support their .270 Win rifle in shooting ranges, it could be the best option.
This specific fixed scope has 4.4 inches of eye relief which is the maximum you get in this price range. It prevents eye strain and injuries due to recoils of power arms.
The wide duplex reticle has thick crosshairs with a thin inner that is a little wider than the normal duplex. This reticle type is best used for big game hunting especially hunting deer in a day.
The scope has 1-inch tube design so it weighs less than the previous model, the total weight of the scope is just 15 oz. It makes the scope light and compact for .207 rifles.
The reticle is placed on a second focal plane as required.
The objective lens of the scope is made from glass with DiamondCoat 2 coating with a matte finish. The optical system with this coating prevents glare and blur in the pictures.
Using 6061-T6 Aluminum for the construction of the scope, it offers waterproof, shockproof, and fog-proof performances.
This Leupold fixed scope is preferred for day hunting with low light conditions as the reticle has no illumination to lead in the dark.
The MOA adjustments with 0.125 value on a big and wide knob allow adjusting windage and elevation easily even with gloves on.
A hunter who needs short to medium range magnification but also likes to practice long-range occasionally can surely choose this Leupold fixed scope for .270 Win.
3. Leupold VX-3HD 4.5-14x40mm Rifle Scope
Leupold VX-3HD series is one of the unforgettable scope releases from the manufacturer in the hunting industry. They have released a total of 12 scopes in this series with different power ranges, optical systems, and features from $500 to $1000.
Here we reviewed their variable power optic with 4.5 to 14x magnification for the best .270 Win scopes.
The excellent features were upgraded and added to this VX-3 HD scope to improvise your marksman skills.
The VX-3HD series scopes come with legendary performance and high definition clarity to withstand unexpectedly tough conditions. 
The VX-3HD scope has a one-revolution CDS Zerolock dial so you get the customizable ballistic solution quickly. You just need to range the target, dial the specific number, and aim to shoot down.
The low-profile CDS-ZL elevation dial offers precise adjustments on long shots without requiring holdover points. The zero lock keeps the precise adjustments so the dial remains the same till you change it.
The optic with a 40 mm objective lens of Guard ion coating and scratch-resistant lenses meets military standards. 
The removable throw lever of the scope makes magnification changes quicker and easier than before. There is a thread protector plug to be used when the lever is removed.
The elite optical system offers dusk and dawn light transmission for high-quality images with clarity. The glare reduction feature provides glare-free images even in harsh light conditions. It also improves the accuracy and resolution that a hunter or shooter demands. 
The magnification range also meets the requirement of a .270 riflescope. The variable power range from 4.5 to 14x magnification is ideal for all three ranges. The 3:1 zoom ratio gives you 3 times more magnification at high power. You can set the power down for close range and up for a long-range shot.
The long eye relief value from 3.7 to 4.4 inches provides enough space to keep your eyes and eyebrows safer from knockbacks.
The .308 Winchester Caliber
Let's look into the basics of .308 Winchester caliber.
Designed in 1952.

Smokeless powder rimless bottlenecked rifle cartridge.

Originally designed for Winchester Model 70, 88, and 100 rifles.

Short action and big-game hunting caliber.

Can be chambered in short-action rifles.

Best for 

hunting, 

target shooting, 

bench rest target shooting, 

palma shooting, 

metallic silhouette shooting, 

military sniping, and s

harpshooting.
Benefits of .308 Winchester Caliber
Great for hunting deer, pronghorn, elk, moose, and bear.

Most powerful and traditional cartridge for games in the medium- to large-sized class.

Often used for tactical shootings, aerodynamic shooting.

Hefty and comfortable weight

Effective within its parameters

Economic power consumption
Why .308 Winchester Caliber is the best?
Adopted as the primary caliber used by the U.S. Military.

Preferred for taking medium, large or dangerous games located in the Americas.

Available in a wide selection of new-production semi-auto platforms.

Lighter on the recoil, improved downrange energy, and faster on follow-up shots.

Utilizes all but the heaviest .308" bullets.

Accurately reach up to 200 yards with less than 1 MOA.

Multi-use capabilities in several settings.
How to choose the Best Scopes for .308 Winchester?
Below are a few considerations to do before choosing a scope for .308 Winchester.
Magnification
The .308 Winchester has an outstanding range for 1000 yards, said the U.S Marine corps. Even if it can't make consistently at this range, you can make accurate shots up to 800 yards with the best rifle scope.
Not all hunters shoot at this range, however, .308 Winchester was developed to make the best medium-range shots at 150 to 350 yards also. If you shoot at this range, you'll need a 6-9x magnification range in your scope. It is plenty full for hunting deer, bear, elk up to 300 yards.
If you use more range with the rifle, the scope will need high magnification. To reach up to 1000 yards with a scope, it should have a maximum of 20 to 24x magnification.
The .308 Win can also be used for tactical applications where it is enough to use a low power variable optic.
In my opinion, you can choose scope from 9x to 12x magnification for .308 Win caliber.
Eye Relief
Like .270 Win cartridge, .308 Win also produces mild recoil so standard eye relief is enough. But don't make a mistake in knowing the space you need.
However, the scope with 3.5 to 4 inches of eye relief is safer. If you have a scout rifle that allows shooting with both eyes open, you will need a scout rifle scope with long eye relief.
Parallax Adjustment
As long as you are shooting between medium-range like 300 yards, you don't have to worry about parallax adjustments. Usually, the 300 yards scopes come with factory-set parallax adjustments.
If you shoot with a long-range scope with high power variation, parallax adjustment is needed. 
Focal Plane
As .308 Win is best used for mid to long-distance with 300 to 800 yards range, FFP and SFP both are fine for this caliber.
Best Scopes for .308 Winchester
1. Vortex Viper HST 6-24x50mm Rifle Scope
Vortex Viper scopes are versatile and designed to meet all range requirements and hunting or shooting disciples. We have already seen a Vortex viper scope for .270 Winchester caliber, now it is another scope from vortex viper to compensate for the power of .308 Winchester.
Viper HST has the required magnification from 6 to 24x. It is perfect for medium to long-range shooting and hunting.
The specific scopes come in two different reticle options such as VMR-1 MRAD and VMR-1 MOA. Both are recommended for target shooting and competitions.
The fixed 4 inches eye relief offers enough space so you won't clock in the eye due to scope bites. With the generous eye relief and high power variable optic, this HST scope is the best for long-range shooting with .308 Win.
Parallax adjustment is a must-required feature in the scopes for long-range. Parallax error occurs when the reticle changes while you are moving the head. It will be a big issue in long-distance targeting.
To avoid this, Viper HST comes with a parallax adjustment from 50 yards to infinite. So you won't miss your target even at the farthest distances.
The 50 mm glass objective lens allows maximum light transmission but it also adds weight. The lenses are XR Fully Multi-Coated so the glare won't be the problem. In addition to that, the aircraft-grade aluminum construction with a hard anodized finish makes it possible to work even in fog and smoke. It is even designed with the durability to withstand unexpected drops, slips, or impacts. 
It used a 30 mm tube which is the same as 1-inch tubes in most cases except for the weight and price.
The field of view at 100 yards is 5.1 ft at 24x magnification and 17.8 ft at 6x magnification.
With the high magnification power range, generous eye relief, fully multi-coated lens, side focus, tactical-style turrets, and fast focus eyepiece, Vortex Viper HST is the best scope for .308 Winchester.
2. Vortex Crossfire II AO 6-24x50mm Rifle Scope
Vortex Crossfire II AO scope has its own advantages to work with .308 Win caliber. The AO or Adjustable Objective scope has three main advantages over usual scopes. 
Your target is in focus.

The first advantage of being in-focus will eliminate parallax error.

The range information shown on the focus knob provides better aiming.
All these three advantages of AO scope add more benefits in long-range shooting specifically when you chamber .308 Win in your rifle.
The 50 mm full multi-coated lens allows more light transmission and vivid colors into the scope so you won't miss even little movements.
The multi-coating prevents glare and reflection so the images are clear, crisp, and be of great clarity.
You get 10 yards to infinite range of parallax adjustments. It is essential in long-range shooting.
The ideal variable magnification range for a long-range scope is between 6 and 20x. So do this scope has 6 to 24x magnification. It shows the optic is 100% made for acquiring targets from 800 yards and beyond.
The bullet drop compensation reticle provides better aiming with AO optic.
The 4 inches of eye relief with fast focusing eyepiece and 2 to 8 mm exit pupil let focus on your targets with no delay.
The 50 mm objective lens, newest 30 mm tube, and high 6-24x magnification add weight to the scope so it weighs 23 ounces which is no surprise in long-range scope. Aside from the weight and non-illuminated reticle, Crossfire II AO Scope is a must-try long-range riflescope for .308 Winchester.
The .243 Winchester Cartridge
Let's look at the basics of .243 Winchester.
Produced in 1955.

Based on .308 Winchester.

Smallest bore cartridge.

Designed as sporting rifle cartridges.

Best for small to medium range games like hogs, varmints, deers.
Benefits of .243 Winchester
Most popular cartridges for whitetail.

Extremely accurate up to 300 yards and beyond.

Second most popular hunting rifle chamberings.

Also used for mule deer, blacktail deer, pronghorns, varmints.
Why .243 Winchester is the best?
Great for medium to small games.

Has the ability to replace 5.56x45mm Nato.

Less recoil than .30-30 Win, so less terminal energy.

Lowest recoil factor between small-bore deer hunting cartridges.

High chamber pressures, larger power volumes.

Shoot flat and accurate out to 500 yards than 7mm-08 Remington.

Fewer weight grains, adequate penetration, and knockdown medium game like wild hogs.
How to choose the Best Scopes for .243 Winchester?
Magnification and Lens
You will need at least 9x and above magnification to shoot targets up to 350 yards for the small games to get the clarity. To encounter the distance with the lens of the long-range scope while getting maximum light transmission, you will need a 40mm objective lens.
Even for the range from 150 to 300 yards, you still need a scope with zooming. The magnification range between 5 and 9x is ideal for the medium range. 
For close range, less than 150 yards, the low power variable optic with 1 to 4x magnification is enough.
Reticle and Focal Plane
The BDC and Mil-Dot reticles are familiar for .243 Winchester. As the cartridge work through small to medium range games, you will need the position of the reticle mostly in Second Focal Plane (SFP). If you are interested to use the same caliber for long-range targets, you choose an FFP scope also.
Eye Relief
As already mentioned, .243 Winchester produces a very minor caliber than most of the other short game cartridges. So, the eye relief can be between 3.5 inches to 4 inches.
Best Scopes for .243 Winchester
1. Vortex Diamondback 3-9x40mm Rifle Scope
Vortex Diamondback has the glass lens as clear as the day.
The scope has a 40mm objective lens and a fully multi-coated lens. So focusing on your targets day and night won't be the problem anymore.
The dead-hold BDC reticle of the scope is placed in Second Focal Plane (SFP) which is perfect for deer and hog hunting.
The fast-focus eyepiece of the scope lets you know to focus on the reticle within a few seconds. You just have to turn the eyepiece knob to get your focus. It is helpful for big games and target shooting.
The scope has an eye relief range from 3.3 to 3.5 inches which is a bit short only at the high magnification.
But as you are using it for a .243 small bore cartridge you get the space you needed. The 3 to 9x magnification range of the scope is perfect for hunting deer, hogs, varmints, and whitetails.
With a 1-inch tube, the scope weighs light at 14 ounces. 
The aircraft-grade aluminum construction can take any abuse. Along with this durable construction, the .243 rifle scope has excellent drop resistance with a hard-anodized finish. It is also fog-proof, shockproof, and waterproof so you take go hunting in various conditions with the scope.
The scope has capped reset turrets to make the adjustments easy.
The pop-up dials offer simple yet precise adjustments. The MOA adjustments are audible and easy to read with a 0.25 clicks value.
You don't need to readjust the scope to set zero every time you change the distance because the turrets allow the scope to zero resets after sighting.
It holds zero well even after 50 rounds. For the perfect shot, you can set zero at 100 to even 300 yards.
The factory set parallax is fixed at 100 yards with the infinite focus range.
Overall, it is the best .243 BDC scope for medium games.
2. Bushnell Nitro 5-20x44mm Rifle Scope
Bushnell Nitro 5-20x44mm Rifle Scope is a versatile optic that provides extreme accuracy for medium to long-range hunting.
If you like to shoot or hunt long-distance with your .243 Win rifle, the Bushnell nitro rifle scope is the best choice.
It has two reticle options with MIL and MOA.
The scope with MIL reticle is placed in the first focal plane (FFP), it is perfect for small games or target shooting.
The scope with MOA reticle is placed in the second focal plane (SFP), it is suitable for long-range shooting.
The MIL reticle scope has a Mil Rad adjustment range of 23.9 Mil whereas the MOA reticle scope has MOA adjustments range of 80 Moa.
Another great advantage of this scope is its parallax adjustment. The scope side parallax adjustments range from 10 yards to infinite. It is essential for long-range.
As you see the magnification range, you can guess that the scope is intended for long-range distances.
The 5-20x magnification range is also best for hunting active predators like hogs and varmints.
The 44 mm lens and fully multi-coated lens prevents glare to offer precise and good clarity.
The scope is IPX7 rated for its waterproof feature. If you like to hunt in different conditions, this scope is best for you.
The .300 Winchester Magnum
Introduced in 1963.

Also called .300 Win Mag or 300WM.

Belted, bottlenecked magnum rifle cartridge.

Designed for standard rifle action.

Based on .375 H&H Magnum.

Recoil is about 30% greater than non-magnum .30 caliber cartridges.
Benefits of .300 Winchester Magnum
Versatile

Adopted by hunters, target shooters, military units, law enforcement.

Popular for moose, elk, bighorn sheep.

Military and law enforcement units adopted it for snipping and marksmanship.

Has been tested in many 1000 yards competitions.

Great ability to zero the magnum.
Why .300 Win Mag is the best?
Most popular .30 caliber magnum in America.

Delivers great long-range performance with better bullet weight.

Shoots with hold over to 300 yards.

Bullet options range from 165 to 200 and plus grains.

One of the great flatter shooting cartridges.

Accurate for 910-metre and 1,000-metre competitions.
How to choose the Best Scopes for .300 Win Mag?
Zeroing
While shooting with long-range rifles with .300 Win mag, it is essential to zero the scope and important too.
Always be sure if you got everything sighted in right so you can't miss at even 100 yards that too can become big problems at distant targets.
Magnification
You need a lot of magnification when you are hitting long-range targets. It does not matter if you get a clear view of the target, you just need zooming to get your reticle closer to the targets to shoot them down.
You need magnification of at least 15x to shoot the long-distant targets accurately.
Eye Relief
You need a ton.
Try to get a minimum of 3.5 inches to 4 inches of eye relief to avoid kickbacks as the .300 Win mag caliber cartridge produces higher recoil than usual .30 caliber cartridges.
Best Scopes for .300 Win Magnum
1. NightForce SHV 5-20x56mm Rifle Scope
The NightForce SHV is a powerful long-range scope to encounter close to extended range on big game, varmints, and also making tight groups on sheet.
It has high power magnification from 5x to 20x. The zooming provides great clarity, vivid colors, crispness, and contrast at each magnification level.
The 56 mm objective lens and 30 mm tube add weight and price but they are worth spending. The coated lens allows maximum light transmission and prevents glare. The anti-reflection coating lets you focus on targets even in bright light conditions.
The scope has 4 reticle options.
MOAR with no illumination

MOAR with LED center illumination

Forceplex with Red illumination

Forceplex with no illumination
The downside might be the eye relief with only 3.5 inches. As .300 Win mag is a heavy recoil caliber, you might get strong kickbacks from the rifle.
The scope features a full 80 MOA adjustment range for elevation and a 50 MOA adjustment range for windage with 0.250 MOA or 0.1 MRAD  click value.
The side focus parallax adjustment and ZeroSet technology let you return to the previous zero setting irrespective of the elevation adjustments you made.
You can adjust the parallax from 25 yards to infinite.
At 5x magnification, the field of view at 100 yards is 17.9 ft and at 20x magnification, it is 5 ft.
Nightforce SHV scope is a precise optic to support the powerful .300 Win mag rifles.
2. Leupold VX-5HD 3-15x44mm Rifle Scope
Like the VX-3HD series, Leupold's VX-5HD series of scopes are also great for high-caliber rifles. It has a total of 6 scopes with different optical systems and specifications.
We have selected a 3-15x44mm riflescope to test with a .300 Win magnum.
The VX-5HD riflescope is great for extended low-light hunting games.
The special features we get from VX-5HD scopes are,
5:1 Zoom ratio, the scope has a versatile 5:1 zoom ratio to give you 5 times more magnification at a high power range. You can adjust the magnification level to get the perfect balance between field of view and magnification. 
At higher magnification (15x), the FOV at 100 yards is 7.9 ft and at lower magnification (3x)  the same is 38.2 ft. The large zoom ratio scale defines the versatility of the scope.
Their professional-grade optical system offers high light transmission that performs well even in the worst lighting conditions. The glare reduction ensures you get clear images in bright or direct light with the high resolution and clarity that a hunter demands.
The 44 mm objective lens with a guard-ion hydrophobic lens coating prevents water, dirt or dust, provides high definition performance and makes the optic maintenance-free. You get the images with unparalleled clarity and quality.
The CDS-ZL2 mechanism locks the zero-in elevation adjustment and eliminates dial movements. The Custom Dial System in the scope allows hunters and shooters to get laser marked bullet-drop dial to match ballistics and conditions.
Based on the reticle, the scope offers windage and elevation adjustments with 0.250 MOA click value and 0.1 Mil Rad click value.
The optic has Motion Sensor Technology to extend the battery life by deactivating the illuminated reticle after 5 minutes of inactivity automatically. It turns back once there is movement detected.
The Winchester Model 94 Rifles
Let's see the basics.
Designed in 1894.

Also called the Winchester Model 1894 rifle, or Model 94.

Originally chambered to fire .38-55 Win and .32-40 Win.

The design was changed in 1964, 1982, and 1992.

Was in continuous production for more than 100 years.
Benefits of Winchester Model 94 Rifle
Popular hunting rifle, specifically for white-tail deer.

Allows cycling of longer cartridges.

Has a complex yet reliable mechanism.
Why Winchester Model 94 is the best?
First rifle to chamber smokeless powder round.
Model is referred to as "Ultimate Lever-action design".
Great for small to big game hunting.
Used in World War I and II.
How to choose the Best scopes for Winchester Model 94?
Choose the side mounting scope rather than top-mounted. This is because the Winchester 94 lever-action rifle ejects used cartridges through the receiver. After a trigger, a bullet exploded from the barrel and the spent cartridge came out of the top.
So, if you mount a scope above the receiver, there is a risk of jamming the rifle, and the used cartridge will hurt your hands. Over time, it will damage the bottom of the scope.
A side mount scope eliminates this risk. If it is the case, always look for the dedicated side mounting base with the scope.
The scope with good holdover points on the reticle helps you accurately hit the targets.
Otherwise, a decent magnification range, adjustments turrets for windage and elevation, and weatherproof design are also important considerations.
Best Scope for Winchester Model 94
ATN X-Sight 4K Pro Edition 5-20x Smart HD Day/Night Rifle Scope
The Winchester 1894 rifle is one of the most celebrated firearms which was originally designed for the military. It has a big history of being used in World War I and II.
So, it is not needed to know its power and performance. With a rifle like Model 94, the opportunities are unlimited. You need a scope to compensate and get every little good thing out of this rifle.
We chose ATN Day and Night riflescope as the first choice for Model 94. The scope uses a Green Phosphor image intensifier tube that amplifies the light and provides an image even at night.
The scope is perfect for hunting deers and hogs during the day and also for smart predators like coyotes at night.
The ATN scope can focus targets from 10 m to infinite and it can detect targets up to 10 m. In the dark, it can detect the targets within the -20 – 120 Fahrenheit temperature range.
If you want to try modern optic technology, in a compact and classic design, choose ATN. It offers unrealistic precision.
The 4K Ultra HD sensor provides a crisp and clear view of the field. The scope has a built-in ballistic calculator that considers range, wind, humidity, angle, profile, to provide better accuracy in all shots even for long-distance targets.
The live video streaming option in the scope allows to record and save video directly to SD memory.
As a technology enthusiast with a powerful Winchester 94 rifle and ATN X-Sight 4K scope, you get to utilize the incredible power of today's tech world.
The Winchester Model 70 Rifles
First the basics,
Introduced in 1936.

Bolt-action sporting rifle

Popular in American sporting culture

Developed from Winchester Model 54

has similarities of Mauser design

Referred as "The Rifleman's Rifle"

Got the name "Bolt-action Rifle of the Century" in 1999 from Shooting Times magazine

Manufactured between 1936 and 1980.
Benefits of Winchester Model 70
Best for hunters

Modernized Model 70 with an optic is best for long-range shooting and hunting.

Usual hunting distances are between 100 to 300 yards.

Great for big game hunting.
Why Winchester Model 70 Rifle is the best?
Adopted by law enforcement and military units

Used in World War II and Vietnam War.

Chambered in 40+ calibers and cartridges.

Traditional with classic design and reliable performance.
How to choose the Best Scope for Winchester Model 70?
The Winchester Model 70 scope with a minimum of 3 to 9x and a maximum of 9 to 10x magnification is needed.
The scope with a 40 mm to 50 mm objective lens is optimal.
Never forget to check the cheek weld position and optic height position.
There should be enough height clearance between rifle and objective bell.
Exit pupil from 5 to 7mm is best for low light. If a scope has 4 to 10x magnification, it should have a 4 to 5mm exit pupil.
Eye relief is important to get perfect sight alignment without shadow or eye strain. Anything in and above 4 inches is enough.
All the traditional reticles are suitable, but if you are only using the rifle for hunting, prefer the Duplex reticle, it is a simple, clear, clean, and all-purpose reticle for big game hunting. Otherwise, a basic MOA is fine.
Best Scope for Winchester Model 70
Bushnell Engage 3-12x42mm Rifle Scope
Winchester Model 70 rifle is a shooting rifle used for dangerous games.
The required 3 to 12x magnification is suitable for 300 yards of hunting and various shooting competitions.
Bushnell Engage is an affordable tactical and hunting scope for Model 70. You have two tube choices 1-inch and 30 mm. 
We reviewed the 30 mm tube scope here for the best scope for Model 70.
The scope has a versatile MOA reticle with 0.18 MOA thick crosshairs which is suitable for target shooting and hunting. You can focus on the target by not obstructing the target.
The lenses are coated with EXO Barrier to prevent water, fog, oil, or dust from entering into the scope.
The fully multi-coated objective lens with a 42 mm diameter allows acceptable light transmission. To stand out in brightness and clarity, the scope has an ultra-wideband coating. The sight pictures are clear, crisp, and sharp to read.
The locking turrets are easy to use. With a 0.25 MOA click value, you can adjust the windage and elevation.
The field of sight is 6 ft at high magnification and 30 ft at a lower level. 
The fast focusing eyepiece with a generous exit pupil of 3.5 to 14 mm and moderate eye relief of 3.6 inches makes it the suitable riflescope to hunt down medium games.
In a nutshell!
Winchester rifles and cartridges are powerful and favored by military and law enforcement units. They are specifically designing firearms for civil services and domestic purposes. Their rifles are famous for snipping, hunting, shooting, tactical, and the list goes on.
Along with the firearms, Winchester also introduced powerful and versatile cartridges to the industry. It might be difficult to find a riflescope that matches the style, performance, and abilities of Winchester rifles and specific calibers.
If you were wondering what scope to choose for your Winchester models and cartridges for small to long-range hunting, big game shooting, competitions, or even for tactical, our wise options should help you land on an optic that improvises your marksman skills.
Have something to ask or share about our Best Winchester Scopes reviews? Drop it here!