Finding a hunting scope within our desired price range can be quite challenging. Only a few scopes will offer you the best quality at the price that CVLIFE scopes offer. If you are want the best ACOG clone scope, then this one is perfect for you. Here, is the  CVLIFE 4x-32mm Tactical Rifle Scope review.
CVLIFE is one of the popular brands that offer affordable scopes at the best quality. 
However, it can be a great choice for shooting, hunting, or any other outdoor activities. CVLIFE 4x-32mm Tactical Rifle Scope is just one of them. 
You can find many expensive scopes that perform great, even so, few scopes that do the work of premium classed scope with lower prices. 
The CVLIFE 4x-32mm Tactical Rifle Scope is a great innovation for budget users. 
If you are looking for a reliable and budget-friendly riflescope, the CVLIFE 4x-32mm Tactical Rifle Scope is an ideal choice. 
The compact rifle scope can shoot targets quickly and accurately with high light transmission and resolution. Setting up this scope on the top of the rifle will let you do things comfortably. 
Here, we have reviewed the CVLIFE 4x-32mm Tactical Rifle Scope, and keep reading to know more detailed features of this compact rifle scope.
Features of CVLIFE 4x-32mm Tactical Rifle Scope
Here are some of the standard features you need to look for that incorporates the following,
Multi-coated lens
Another good feature of this scope is that it has a fully multi-coated optical lens for optimum brightness and sharp clarity. 
The multi-coated green lens boasts over 99.5% light transmission. Thus it provides a Bright And High-Contrast Image. 
Besides, the multi-coated lenses also help to reduce glare, reflections, and halos around the light. 
Reticle Color
The scope has a Glass etched Reticle with tri-illuminations (red, green, blue) and 3 level settings of brightness.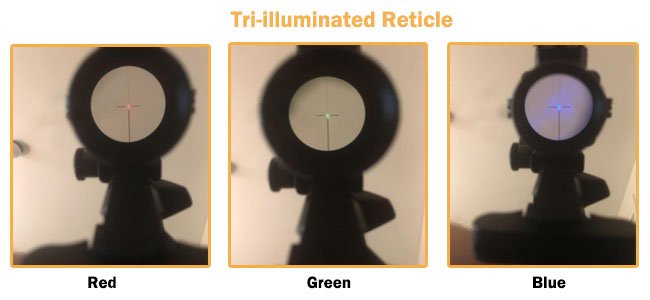 Each level allows the shooters to find the perfect brightness that they want to attain for different weather conditions and low-lighting environments. 
Eye Relief
Eye-Relief is one of the crucial things to consider before getting a quality rifle scope. 
The tactical rifle scope offers eye-relief of 4.13 inches and has an overall length of 7.48- inches. At 5.5 inches long, the scope is more compact, and it allows the shooter for quick movement and fast-target acquisition. 
The eye-relief is short, and it's not comfortable for an adult size rifle. The Field of view of the scope is 36.6 feet at 100 yards, and this field of view is really awesome in this simple riflescope.
Construction
The tactical rifle scope is made of quality aluminum, which is truly durable for its construction and resists impacts, and it comes with a black matte finish. 
Also, it's purged using inert gases and has been O-ring sealed. So, it is Fog proof, Shockproof, and Waterproof. This means the scope can work under different weather conditions.
The compact rifle scope runs with a CR2032 lithium battery, and it includes a built-in Picatinny mount that usually fits over 20mm Picatinny/weaver rails.
Affordability
Most of the hunters like to prefer this model over any other rifle scopes because it offers high-quality in the low-price range. And it's one of the best hunting rifle scopes under $50.
Magnification and lens
This CVLIFE Tactical Rifle Scope has a fixed magnification power of up to four times and an objective lens of 32mm. 
This kind of magnification is great for basic hunting. This low-level magnification works excellent for close and under 100 yards shooting range.

This tactical compact rifle scope does not have any zooming capability, and it is permanently set to 4x magnification.
The scope with a 32mm objective lens is great for hunting at dawn, dusk, or even in low-lighting conditions. 
Note: The larger the objective lens, the more light that it can pass through it. Also, they can provide a good balance between light-collecting capability and image quality.
Package Includes
1x Compact scope

1x Cleaning cloth

1x Lithium Battery

3x Allen Key

1x Lens cover
Final Thoughts
Hopefully, this CVLIFE 4x-32mm Tactical Rifle Scope Review will help you to know more details about the product. The CVLIFE 4x-32mm Tactical Rifle Scope is one of the best, as it helps to aim accurately, and it is great for hunting. 
Thus, the scope comes in a lower price range with all the essential features that are available in the market. Try this scope once, and you will realize why it is considered one of the best rifle scopes in its class.