Night vision devices have made significant developments in their technology. There are various types of night vision gears, but binoculars are the most common optic devices in the world. 
The night vision binoculars made night observation easier. Moreover, they provide detailed information about targets, higher magnification, and also a greater vision in extreme darkness. 
Hence these features make the binocular suitable for nighttime hunting and operations.
Are you looking for one of the best night vision binoculars for the money? Then the ATN BinoX HD 4-16x/65 mm Smart Day & Night Binocular is an apt choice. 
American Technology Network(ATN) is proud to present this HD 4-16x/65mm Smart day/night vision binocular. 
This company has long been manufacturing quality night vision and thermal optics, and it's one of the Top leading industries in producing the best quality night vision devices.
ATN BinoX HD 4-16x/65 mm Smart Day & Night Binocular is one of the best night vision binoculars under $500. Compared to its other competitors, the Binox HD sits over the top. 
This device allows you to get an accurate and extremely clear view of the environment. 
The binocular is specially designed for hunters, wildlife observers, and animal watchers that they can be used during day or night. 
The ATN BinoX comes with GEO-TAG, which makes it simple to detect one or more targets.
Features ATN BinoX-HD 4-16x65mm Day/Night Smart HD Binocular
The device has wrapped with a lot of features, and the prominent features include the following,
Obsidian Core
As a digital night vision binocular, it has ATN Obsidian Core Technology behind the smart optics. 
This technology offers you the quickest and most powerful processor around. Also, it allows you to use it both during day and night time. It doesn't require any ambient light to work. 
Ultra HD Sensor With Ultra HD Optics
The ATN Binox features 4k Ultra HD technology and it's combined with ATN's cutting edge dual-core processor.

This provides you the better image quality with fine and more vivid color tones. This digital night vision binocular comes with an infrared illuminator. 
It's one of the improvements that has made its way into the Binox-HD. The visual experience of this optics is stunning than any other optics.
Smart Range Finder
The integrated smart rangefinder provides you the ability to hit your target with absolute accuracy from 1000 yards/m. 
Also, the BinoX uses various techniques for calculating range estimations of the standard laser rangefinder.
Night Vision Mode
ATN is powered by Obsidian technology, and it is the technology behind the Smart HD optics. 
They use one of the industry's most advanced digital image processing architecture, which is equipped with a cutting-edge 4k Ultra sensor and a dual-core processor.
WiFi Module
Its digital features also include a WiFi module that allows sharing your adventures. 
Also, it allows you to quickly connect with your smartphone/tablet using ios and Android app, so you can view everything simultaneously.
Smooth Zoom
The ATN Binox provides you with smooth zoom technology that allows sensitive and delicate ultra-slow zooming.

Just press the zoom button from the place where you are, and you will get everything in a close-range view and personal with what you are looking at. 
Moreover, it allows you to magnify your target without losing the field of view.
Video Recording
This feature lets you capture your hunting experiences in 1080p full HD. It captures the images and videos in rich colors and sharp details. 
Also, it allows capturing your every movement on the 4-64 GB micro SD card without any additional USB cables or other devices.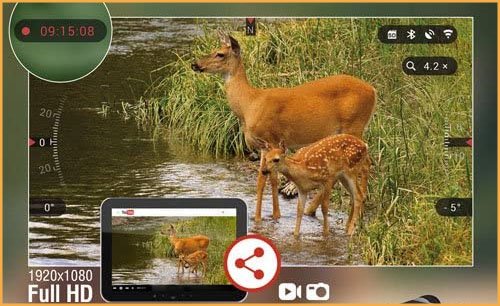 The device has a dual-stream video option, so you can stream a video on live while at the same time recording it onto your SD card. 
You can enjoy your outdoor adventures by sharing with your neighbors, family, and social media!
Day and Night Mode
Most of the users like to buy a binocular, which can work both day and night. 
The ATN Binox-HD has included the feature with day and night vision mode. So, it can be used at any time, and it offers a sharp and crisp image in all lighting conditions.
Design
The ATN BinoX- HD is designed ergonomically. The outer surface of the device is rubberized to make it strong and durable for long-lasting use. 
The device has a built-in IR illuminator so you can be able to view up to 300 yards in dark environments. 
The ATN BinoX- HD is a great device to run in any weather conditions as it is designed with an IP-rated weather-resistant housing. 
Moreover, the length of the device is 8.2″long, and it weighs about 1.75lbs. Thus the device has an elegant look, and it is furnished with a grey color. The device has an operating temperature range of -20 to 120°F.
Magnification and Lenses
The ATN BinoX uses a sensor, which is similar to one in a digital night vision camera, and its magnification range varies between 4-16x. 
The BinoX holds a magnification range up to 4x-16x, and it's like zooming the images on the smartphone.
The objective lens of the scope is 90mm so, the performance of this binocular is incredible. The glass lenses are fully multi-coated to avoid glare or any other distractions. 
Thus the device provides you a clear and bright image with intense magnification.
3D Gyroscope And E-compass
The ATN BinoX-HD binocular has a built-in Gyroscope that makes images steady and blur-free.

Thus it provides more fun! Also, the device is designed with a smart E-compass that helps you navigate or track the precise direction you are looking at.
GPS and Altimeter
It allows you to tag your location and monitor your ascent and descent using an altimeter. 
The BinoX with a built-in GPS allows you to track the location where you are going.
Battery
The device runs on 3 CR123A high-quality lithium batteries for providing the best performance. The most common complaint about the BinoX HD is battery usage. 
You can expect solid 22+ hours of runtime. The batteries are included in the purchase, and if you like to buy rechargeable batteries, then you can purchase Li-ion batteries. 
This option will provide 6-8 hours of use. Moreover, the ATN BinoX HD binocular comes with a two years warranty. 
What's in the box?
The ATN BinoX HD binocular product box carries, 
BinoX 4K 4-16x Smart Ultra HD Day/Night Binocular

Soft Carrying Case

USB-C Cable

Lens Cover &

Lens Tissue

Neck Strap

User Manual
The quick start guide provided by the manufacturer will be useful to you for setting up your device. 
The user guide is easy to read and lets you know the process of charging the device and using the device properly.
What to look for in Night Vision Binoculars?
While purchasing a night vision binocular, you will need to know more about the features of your device. Here are some of the significant features, and they are
Check whether the lens is made to be scratch-proof

Check the device is rugged and waterproof.

Check the inner side of the binocular is purged with fog proof.

Check the warranty service, for sending your device for regular maintenance.
Care for your Binocular
Taking care of your Binocular is crucial to keep your device in good condition. The following tips will help you maintain your binoculars.
Always carry your binocular in case.

Don't leave your device in direct sunlight.

Clean the binoculars ' Lenses in the right way, routinely and carefully. This helps to improve the optical performance of the binocular.

Keep your lens cap close and make use of a microfiber cloth for cleaning your lenses.

Make use of the included neck strap. Also, check the neck strap, whether all parts of the strap are tight enough.

Don't try to repair anything yourself.

Extend the life of eyecups with a periodic wipe using vinyl alcohol on the rubber eyecups.

Read the manufacturer's instructions carefully.

Send your binocular for regular maintenance.
Final Words
The ATN BinoX HD binoculars are considered one of the most advanced rangefinders in its class. 
As it comes with a built-in feature(smart rangefinder), you don't need to carry additional equipment for calculating the distance of an object. 
If you are searching for a professional night vision binocular, then try this ATN BinoX HD 4-16x 65mm Smart Day/Night vision Binocular. 
This product is budget-friendly and easy to handle. Have fun with your binoculars and enjoy your night adventures and exploring the world.