Thermal binoculars are used to view the environment in a low lighting condition, and you can also obstruct smoke, dust, fog, or bush. 
When  compared to thermal scope and monocular, thermal binocular has better optical performance. Its comfortable size allows you to use it for all time. 
Mostly thermal binoculars are used by night hunters, because it can help to  spot and track the animals. You can also use it for animal observation, including rescue and search.
When it comes to thermal binoculars, the Pulsar Accolade series is one of the best products. 
Pulsar Accolade series Thermal Imaging Binoculars hold a wide range of semi-professional and professional applications for night vision hunting, scouting to implement, and redemption. 
It is mostly used by hunters for night time hunting and it also helps to protect you from harmful animals. 
It is also implemented for seizing criminals and rescue teams to search for survivors. 
Pulsar Accolade 2 LRF XP50 2.5-20 Thermal Imaging Binoculars Overview
Accolade 2 LRF XP50 2.5-20 Thermal Binoculars is the updated model range of thermal imaging binoculars from pulsar. 
It comes with useful features such as record video, wifi module, stadiametric rangefinder, and quick charging long-life battery. Its thermal imaging pixel is based on the thermal imaging sensor. 
Its high-quality thermal imaging sensor provides 384×288 and 640×480 resolution among 17 µm pixel pitches for the clear image of the object. 
Pulsar Accolade 2 LRF XP50, 2.5-20 Thermal Binoculars, can produce an accurate image at 50 frames for each second in the complete dark lighting condition.
This thermal binocular is designed with advanced features so it works well even in the worst environment condition, these binoculars provide you a detailed view of the  object. 
The Pulsar Accolade LRF Binocular is constructed with a new sensor, and it has the features to boost image technology for increasing incredible image clarity and details. 
The Pulsar is crafted expertly with a combined laser rangefinder to calculate the distance between your target and you. It has the capability to measure the distance up to 100 meters. 
With the help of the 1980-yard detected range, you can spot your heat signatures in a day or night.  
Pulsar Accolade 2 LRF XP50 2.5-20 Thermal Imaging Binoculars features
This Pulsar Accolade LRF XP50 2.5-20×42 Thermal Binoculars is featured with comfortable observation, and it is designed for both the day and night use. 
During the worst weather conditions, use this binocular to find the hidden detected target, and it doesn't need an extraneous light source to see so that your eyes will not be affected by bright light danger.
Precise Laser Finder
This Pulsar Accolade 2 LRF XP50 2.5-20 Thermal Imaging Binoculars are constructed with a built-in precise laser range finder that provides accurate results in finding the range. 
There are two modes: single time measurement mode and scanning mode. This binocular will give an accurate distance result up to 100 km. 
Using this accurate distance reader, you can quickly analyze the distance and size  of the object. 
Thermal imaging sensor
High quality sensitive thermal imaging sensor is used in this  Pulsar Accolade LRF XP50 2.5-20×42 Thermal Binoculars. 
The sensor is designed with NETD < 40 mK that helps to recognize the image detail even in the uncertain weather condition and when the thermal contract is very low.
You can clearly identify the smallest temperature difference even during the most challenging weather conditions for a thermal image like rainfall, cold morning, or fog.
Comfortable design
It is very comfortable to use; you can easily adjust the interpupillary binocular distance. 
The distance between the eyepieces allows you to position the optic to view the perfect image of the target.
The Interpupillary distance is not the same for all the people; you want to adjust it according to your fit. So that pulsar dramatically improves this product flexibility, comfort and quality.
Detection Range 
The detection range for this binocular reaches up to 1800 meters and the combination of an objective lens, and thermal imaging sensor gives a professional-graded detection range.
In the complete dark lighting condition, you can detect the 1.8 standard tall objects at an 1800 meter distance.
Software Algorithms
The image boost technology in the Pulsar Accolade LRF XP50 2.5-20×42 Thermal Binoculars is designed to improve image clarity and detail view. 
The image boost technology gives an accurate result in shape and provides a more detailed view. You can also enhance the identification capability of the object.
Live steam On the Internet
This binocular has built-in features to take a photo and record video. 
It is one of the great features you can share live video through the internet by connecting your device with your tablet or smartphone. 
Using this feature, you can share live stream video on social media like youtube, facebook, instagram,etc. By pressing the REC button, you can record video and save it as video footage also.
Observation Mode
Image optimization is based on the condition of the environment, weather, and location. The temperature range may differ in a forest, hills, and cities. 
To get a high-quality image in all types of weather conditions, you can use the optimized setting. 
Preset identification is an option for  long distance images optimization.
Battery life 
It comes with two interchangeable rechargeable batteries. Its rechargeable IPS5 battery pack works continuously for 8 hours in Wi-Fi mode. 
Rechargeable long life IPS7 battery provides continuous operation for 9 hours without any problem. 
The innovative battery release mechanism of this device allows you to replace the battery faster.
Waterproof resistance
It is designed with IPX7 fully waterproof material. The IPX7 water resistance ensures the binocular operates without damage, even in the most challenging weather conditions like rain, fog, water waves, and high snowfall.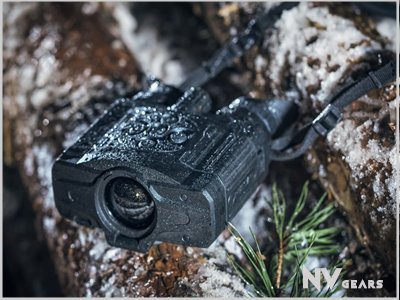 Due to the IPX7 grade water resistant material of this binocular it will work well in intense weather conditions, even in a water depth of 1 meter, it will work for 30 minutes.
Android or iOS
Using the built-in Wi-Fi modules, you can connect the thermal image with your iOS smartphone or android, or tablet.
The combination of the thermal imager and smartphone allows you to perform a unique feature like sharing video recorded files, image streaming, firmware update, downloading, and more.
This binocular is recently updated with the Accolade software version that is ensured by the iOS and android accordant by the free stream vision app.
Color Palette
It has eight types of a color palette that improves the view of the object at different conditions.
The white-hot mode is a versatile hot black mode that is commonly used for watching wildlife at night time.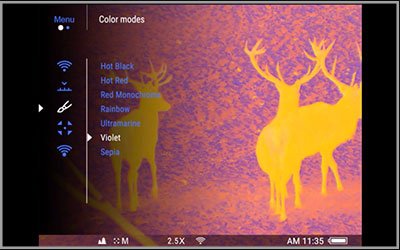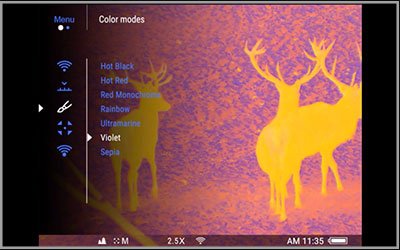 Red monochrome is used to reduce or prevent a bright backlight that excites from the eyepiece. Long-range observation is often improved by sepia.
Violet color is used to identify the objects faster. Red hot, ultramarine, and rainbow are used to enhance the temperature differences of the object attributes.
AMOLED display
The new colorful AMOLED display shows crisp, high contrast and colorful fields for view.
AMOLED technology assures flawless, high-resolution image, and power saving.
Digital zoom and picture-in-picture
The digital zoom can detect a maximum 2000 yd range by using 1x-8x digital zooming range, which improves focus and provides reliable object view at significant distances.
The picture-in-picture display shows the highly detailed magnified image without losing its field view. The field can view 12.4×9.3 horizontal and vertical without zooming.
Conclusion
Pulsar Accolade 2 LRF XP50 2.5-20 Thermal Imaging Binoculars is one of the new vision binoculars that perform better than the other binoculars. It is mostly used for night hunting, searching, and in rescue services. It provides excellent optical performance and its comfortable size is easy to carry . Another good thing about this binocular is that hunters can easily spot and track the animals.
You can share live videos on social media. Moreover, it is comfortable to carry with durable capacity, and the comfortable observation mode can be used for both day and night. It comes with excellent battery life with great rechargeable features. Hence this Pulsar Accolade Thermal Imaging Binoculars is recommended for a long-time night vision hunting. Moreover, this binocular can provide a highly detailed image even in the worst condition.