Thermal riflescopes are very popular among night shooters. Hunting at night gives you a thrilling experience and the view of the target through the scope makes you feel that you have gone into a new world. 
These thermal scopes are built with night vision technology for efficient shooting in the darkness. The thermal scope works by detecting the heat signatures from the body. 
In this article we have discussed the Pulsar Thermion XQ50 Thermal Scope. Pulsar has made a lot of improvements in the Thermion series so you could get a better image quality in any circumstances.
Read Also : Pulsar Thermion XQ38 Thermal Imaging Riflescope
Pulsar Thermion XQ50 Thermal Riflescope
Pulsar Thermion XQ50 Thermal Scope Review
The Pulsar Thermion XQ50 Thermal Riflescope is the leading riflescope with latest technologies available in the market. No matter, whether day or night, you will get a good clarity image in any weather conditions.
It allows you to identify even the hidden targets over the obstacles such as large bushes. Unlike optical riflescopes, the thermal riflescope doesn't require the light source to identify the targets. The Thermion XQ50 riflescope offers a clear view of the target even in complete darkness.
The Pulsar Thermion XQ50 thermal imaging rifle scope is mostly preferred by professional hunters who seek technological superiority and value traditions.
Features of Pulsar Thermion XQ Thermal Riflescope 
Thermion series comes with the similar features of Trail series but with advanced technology. It has also included some additional features with it.
Construction
Pulsar Thermion XQ50 Thermal Scope can be used for hunting during both day and night. The construction of the scope is made with top-quality materials for long-term usage. The metal alloy housing is made to withstand any weather conditions including fog and rain. 
The outer layer of the scope protects the lens from external heavy elements such as dust or dirt. It is made with scratch free materials that are shock resistant and can bear any powerful weapons. So you can use this Pulsar Thermion XQ 50 thermal scope with any hunting weapons.
IPX7 Waterproof
The Thermion XQ50 scope has rated IPX7 waterproof that gives protection from heavy rainfall, snow, fog, or other precipitation. This protection gives flawless performance even if it is submerged in water up to 3 feet for about 30 minutes. 
So you need not want to worry about the harsh climatic changes, you can move ahead in your way.
Thermal Imaging Sensor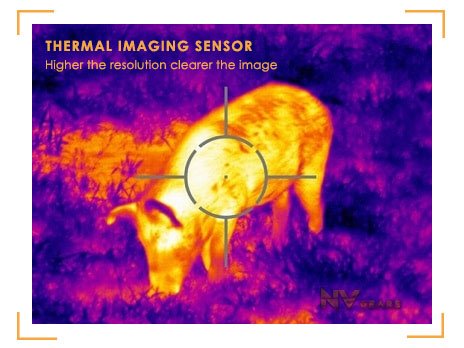 This new thermal riflescope from Pulsar is equipped with a 384×288 pixel thermal sensor that can detect the prey at a range of around 2500 yards. It enables you to view even very small objects clearly. 
Resolution
The Pulsar Thermion XQ50 is boasted with two microbolometer sensors having 640 x 480 resolution power with 17μ pixel pitch and 320 x 240 resolution with 12μ pixel pitch. Both the sensors are responsible for providing high-quality images for the fastest target acquisition.
 It fits to any standard hunting rifle with the traditional aircraft grade 30mm tube. A new sensor is also included in Pulsar Thermion with the high-resolution AMOLED display. It is a great improvement from the Pulsar trail sensors. It allows you to identify your targets in the darkness of around 2300 meters.
Instant Start Up
Instant start-up is a very important factor to operate the hunting rifles. This reduces the tension in the field. The instant start-up feature in Thermion XQ saves energy, and extends the operation time of the scope.
 The new revolutionary electronic unit gets started quickly and activates at the right time of shot. The recoil is rated up to .375 H&H, 12-Gauge, and 9.3×64 for the endless performance on larger caliber weapons.
Picture-in-Picture
Another interesting feature of Thermion XQ50 thermal riflescope is the PIP mode. It allows you to focus your targets easily and accurately. This helps you to magnify the distant targets at the top center 1/10 of the display screen. 
AMOLED HD display has the resolution of 1024 x 768 that gives you bright, vivid, and crisp images. Moreover, the XQ50 contains 8X digital zooming capability that can magnify very small targets. 
Video Recording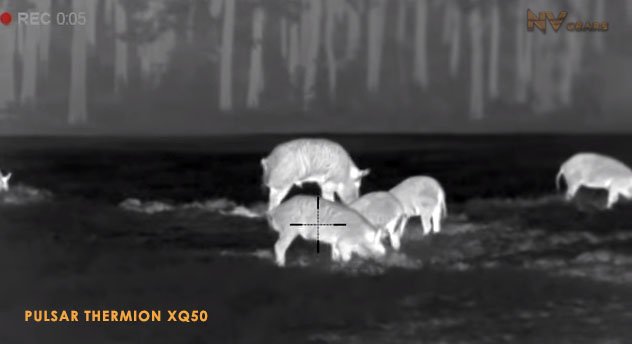 The Thermion XQ50 riflescope comes with inbuilt video recording and image capturing. It enables you to record the video footage and arrest images in MPEG-4 and .jpg formats. 
So it is easy for you to share your hunting experiences with high quality videos and images. The XQ50 scope includes memory storage of about 16 GB. So you'll find enough space to store thousands of images and videos.
If you're using Thermion XQ 50 thermal riflescope, then you'll never leave the hunting field without recording your experiences.
Stream Vision App
The next newly added feature  in Thermion XQ50 thermal riflescope is the free stream vision app. By downloading this app you can connect this Thermion scope with your iOS or Android smartphone, laptop, or tablets using the Wi-Fi connection. 
Once you are connected, then you can easily transfer the captured videos and images to your devices. Moreover, it is used as a second display or remote display to change the settings of the scope and to upgrade firearms.
Color Palettes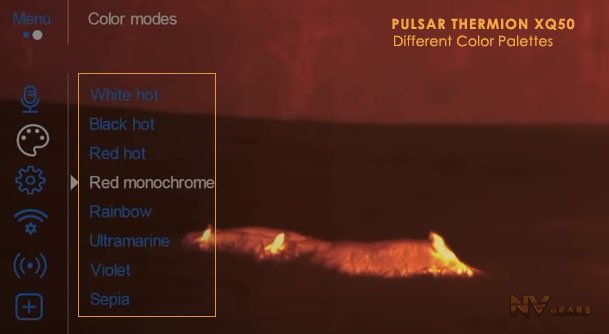 The color palettes are made to provide different colors for focusing the target clearly and precisely. It comes with the customized options in AMOLED display. So you use adjust the scope with your desired color palette for the intensive view of the target. 
The black hot and white-hot are the commonly used traditional colors. Rainbow, red hot, and ultramarine is used for highlighting the heat signatures of more intense hot spots. Red monochrome, violet, and sepia reduce eye fatigue. So your eyes will not be strained quickly when you're focussing for longer periods.
Battery Life
The Thermion XQ50 thermal riflescope is equipped with a dual battery system containing internal and external batteries. The external battery is located at the top turret of the scope, providing additional operation time. It is removable and can be recharged.
The internal battery is placed inside the scope and is rechargeable. It gives you continuous power for about 7 hours when fully charged.
Additional Accessories
Pulsar Thermion XQ50 Thermal Riflescope also includes some of the accessories along with the scope.
APS 3 rechargeable battery

Battery charger

Main charger

USB cable

Cleaning cloth

APS 3 battery cover
Final Words
If you're searching for a high-quality thermal riflescope for your needs, then don't spend your precious time in research itself. You can directly switch on to Pulsar Thermion XQ50 Thermal Riflescope. 
It is specially designed for the hunting rifles that provide crystal clear images of your target even in complete darkness. It gives better performance in any light conditions with its advanced features. 
If you've an idea of purchasing a thermal scope for your hunting rifle, then we suggest the Pulsar Thermion XQ50 Thermal Riflescope. It gives you an amazing experience when using it for night shooting. 
Hope that this review would be helpful for you to learn more about the Pulsar Thermion XQ50 Thermal Scope.