Hunting is one of the favorite hobbies for many people nowadays, and it is considered as a sport in some countries. Many people spend more money in hunting to buy optics or other equipment to improve their hunting. 
In this list, a rifle scope is one of the important tools for all kinds of rifle to improve accuracy. Finding the best scope for your rifle is also important since the poor quality scope may push you into a dangerous situation. 
Having a good scope increases  the confidence level of the hunter on the field. Thus, you have to spend some time for choosing the right scope based on your needs. There are plenty of models available in the market, so you may get confused easily. 
To avoid such situations, we are here to help you find the best scope with excellent quality. We've researched and found the best scope at an affordable price range; that is Simmons 8-Point 3-9x50mm Riflescope.
It is one of the best scopes for your rifle available in the market. In this review, we will explain all the features and functionalities of the Simmons 8-Point Riflescope. Let's start the review.
About Simmons
Simmons is one of the famous companies for manufacturing high-quality products at lower prices. The Simmons brand was found in the year of 1980 and started manufacturing good optics at an affordable price. 
It is an American-based company, and it aims to satisfy the expectations about performance, quality, reliability, durability, and price. One of the secrets of this company is its innovative technology. 
The scopes they produce have high-quality features that provide excellent performance for long-range shooters at a reasonable price. Like other brands, Simmons doesn't advertise to keep their price low in the market. 
This is one of the reasons for losing their selling point among others on the market. Although they manufacture solid and high-quality scope with excellent features to the needs of shooters, they couldn't get a high selling point. If you're a beginner in the Simmons brand, then this will definitely fulfill your needs with great features.
Simmons 8-Point 3-9x50mm Riflescope Review
The Simmons 8-point 3-9×50 is a strong and reliable rifle scope that is very useful for hunters and tactical shooters. It is one of the favorite scopes for many hunters, farmers, target shooters and security enthusiasts and it gets high ratings from them.
According to the performance and price range, the Simmons 8-point is one of the best scope available on the market nowadays. This scope provides many advanced features and performance for any shooter at a reasonable price, so we recommend you to buy this scope. 
The portable design and lightweight of this scope makes it a handy scope for many hunters. Let's see more in depth about the Simmons 8-point riflescope.
Features of Simmons 8-Point 3-9x50mm Riflescope
The Simmons 8-Point rifle scope comes with plenty of features with innovative functions that improve the performance at short-medium range shooting. 
This scope provides high-quality features at a budget price; that is why many shooters and hunters buy this scope. In this review, we will see some of its features in detail below.
Magnification
The Simmons 8-point riflescope comes with a great magnification range at this price range, such as 3-9x. It allows you to view the target at far distances with this magnification. 
With this magnification range, you will get a wide field of view so that you can view the surrounding environment while shooting. The Simmons 8-point scope provides high-quality images with more clarity in any conditions. 
It provides you high-resolution images at the range of 300-400 yards. Moreover, you may get some difficulties while adjusting the focus towards your target. The resolution that comes in this price range is more than the expectations of many hunters.
Optics Quality
It comes with a high-quality lens coated with Hydroshield that provides a clear image in any condition. The multi-coated optics of this scope provides bright and sharp images of your target even in long distances. 
The multiple coating of the lens prevents glare in bright conditions. The objective lens of this Simmons 8-point scope is 50mm that is great for long-range hunting. 
This lens allows you to use it at the highest magnification in low-light conditions. The Hydroshield coating of this lens makes it resistant to water and lets you hunt in any rugged weather situation. 
This coating also helps to improve the quality of the picture. Due to this lens quality, you can use this scope in any condition, even in bright light or low-light conditions. 
The Simmons 8-point scope contains a durable lens cover that is made of elastic to protect the lenses. This is one of the best features in this scope.
Rugged Construction
The Simmons 8-point 3-9×50 riflescope is built with high-quality materials that ensure its durability and reliability to withstand the rugged environments. 
The external body of this Simmons scope has aluminum housing and an anodized matte black finish that provides a beautiful outlook. The scope has a one-inch tube diameter that enhances the durability of the scope.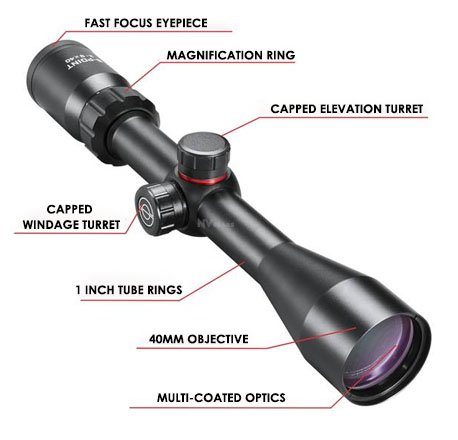 It is very compact and lightweight, so that you can keep this with you wherever you go, and it won't increase the weight while shooting. The rugged construction of this scope makes it waterproof, shockproof, and fog proof, so you can hunt at any weather conditions. 
This scope comes with a SureGrip rubber surface that allows you to adjust the position of the scope easily in any situation while shooting.
Reticle
This Simmons 8-point rifle scope comes with the Truplex reticle which is one of the best reticle placed in many premium scope series. Many professional hunters prefer this type of reticle for the best long-range performance. 
This reticle allows you to view through the top, bottom, left, and right corners of your lens and provides a clear view of the target. 
The crosshair present in this reticle has a thinner line at the center to provide an exact view of what you focus on hitting. 
With this Truplex reticle, you can focus your target without adjusting any position of the scope, and it helps you to acquire the target easily.
Eye Relief & Field of view
The Simmons 8-point rifle scope comes with a wide field of view that provides you a clear view of your surrounding environment so that you can be aware of the dangers behind you. 
It provides a 31.4 ft field of view at 100 yards in low magnification range and 10.5 ft at higher magnification range which is great for hunting in the broad environment. 
Moreover, this scope comes with a great eye relief of 3.75 inches that is perfect for many rifles and doesn't cause any disturbances while shooting. 
The Simmons 8-point scope comes with the quick target acquisition eyepiece that allows you to focus the target accurately without any adjustments.
Windage & Elevation Adjustment
The TrueZero adjustment system is one of the impressive features present in this Simmons 8-point riflescope. The True zero windage and elevation adjustment comes with the locking method that retains zero throughout the process at any condition, even in heavy recoil. 
This is one of the premium features available in expensive scopes. You couldn't find this in low-budget scopes. It provides 1/4 MOA click value adjustments, and this scope comes with the capped turrets that are placed in the middle of the scope. 
There is no parallax adjustment in this scope, but it is not a big disappointment at this price range. Moreover, you can adjust this scope at any position without any additional tools. 
This Simmons 8-point rifle scope is not best for heavy recoil rifles, so you can make other choices. The adjustments are constructed to improve the accuracy of the position in any condition.
Mounting Options
The Simmons 8-point rifle scope doesn't come with mounting rings, so you can buy a set of 1-inch rings to mount the scope on your weapon. 
The front objective lens of this scope is larger and has a 50mm diameter, so you should also have a set of high rings to keep your front lens clean. If you have additional accessories, the scope can be mounted easily within a minute.
User-Friendliness
The Simmons 8-point is one of the best scopes with high-quality and pocket-friendly sizes. Many entry-level products available in the market does not fulfill the expectation of the customer as this scope does. 
This Simmons scope provides all high-quality features that an expensive scope has.
It is one of the best scopes for beginners and also satisfies the needs of professional hunters. Though it is suitable for pro hunting activities, it comes with easy usage.
Conclusion
The Simmons 8-point 3-9×50 Riflescope is one of the best entry-level scopes available in the market. If you're a professional hunter and looking for an ideal scope for shooting, then this Simmons 8-point is the perfect choice at an affordable price. It provides excellent premium features and innovative functions at this budget price range. Due to these features, many hunters and shooting experts prefer this scope among others.
Even though it doesn't have some features, it is one of the impressive scopes at this price range without any disappointment. We recommend you this scope after analyzing many hunter's reviews and ratings. Well, we hope that this review has helped you to know more about the Simmons 8-point rifle scope. Hunt happily and safely with this Simmons 8-point riflescope.