A nocturnal hunter is successful only when he used the latest tactical equipments for hunting. Another critical factor for success is the night vision features in your arsenal that you bring for hunting.
If you get into the woods for night hunting, then you should have the best thermal imaging equipment for your adventure. Humans cannot see things in the dark with the naked eye, then how is hunting possible? This is possible only with thermal imaging devices or night vision devices. 
Thermal equipment namely  thermal binoculars, thermal monocular, thermal scopes, and thermal cameras play a major role in the field of hunting and forestry industry. Most of the night hunters may already have a thermal scope for your crossbow or rifle. 
Thermal binoculars are very close to thermal scopes that are based on thermodynamics (Source). According to that, the thermal imaging binoculars detects the heat signatures of the objects around you and lets you be aware of the location of your target and its state of being and also other violent animals.f
Fortunately, we have become familiar with the use of thermal imaging devices in the 21st century. As you can imagine, thermal imaging tools are not expensive always except the thermal imaging binoculars.
Thermal imaging binoculars cost little more than thermal monoculars and thermal scopes, but they are more comfortable to use and offer excellent optical performance. Not only thermal binoculars, bi-oculars also provide enhanced vision in low-light scenarios through the obstacles such as fog, smoke, dust, or bush. 
Thermal binoculars are very popular among hunters. It can also be used for search & rescue operations, animal observations in the wild, as well as for security purposes. 
Here, we have listed 9 best thermal binoculars and bi-oculars that are top-rated and will not hurt your budget. All the products in our list are tested for different environmental conditions and have the best features for hunting. Just dive on to our article and go through all the products.
If you're too busy reading the full list of the best thermal binoculars, then here are our premium choices for you.
ATN Binox 4T 384 2-8x Thermal Binocular
Pulsar Accolade XP50 Thermal Bi-ocular
Before entering into the best thermal imaging binoculars and bi-oculars list, lets get clear out the buyer's confusion while searching for thermal binoculars or heat sensor binoculars.
What are Thermal Bi-oculars?
Thermal bi-ocular is just a combination of binocular and monocular. So it is named as a thermal Bi-ocular. 
Thermal Bi-oculars possess one objective lens as thermal monocular but two eye-pieces like binoculars. So you'll be able to view the thermal image with both of the eyes. Bi-oculars resembles binoculars and have the same features and functions. But the one best thing of a thermal bi-ocular is its weight as well as cost. They are widely used in commercial and medical applications.
Thermal Bi-ocular VS Thermal Binocular VS Thermal Monocular
Thermal imaging binoculars are not as popular as thermal monocular with hunters. What would be the reason? Some of them have confusion between thermal binoculars and thermal bi-oculars, while some others think that thermal vision monoculars are most effective for spotting the prey. It's very important to clear all your doubts. 
So let's have a look at the difference between the three types of thermal imaging devices on the basis of design, capability, and performance. 
First, let's go with thermal binoculars. It is similar to the best binoculars having thermal imaging features and two objective lens systems. It detects the heat energy emitted by the objects in the surrounding and gives thermal images of that scene. So this device is also called a Heat sensor binocular. As it works on the principle of IR radiation, it is also called as Infrared thermal imaging binocular.
The most appreciating feature of thermal binoculars is the two objective lenses. This feature beats the bi-ocular and the monocular. Thermal binoculars have two objective lenses of the same size, so they receive twice the amount of information and can provide you with high quality and detailed thermal images. The distance calculation also becomes more easy and effective, with its advanced stereo effect.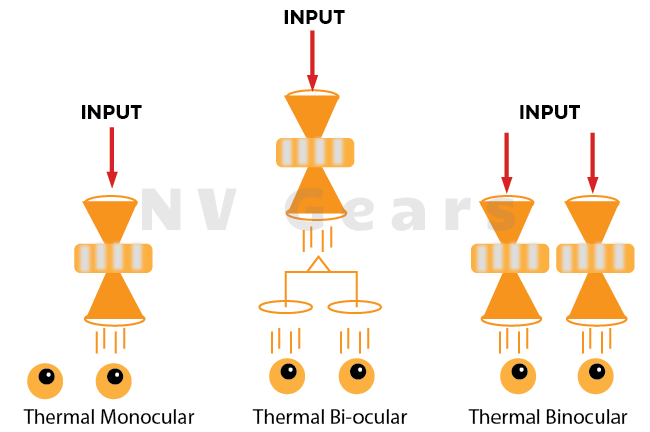 Though thermal binoculars have bet the bi-oculars, why thermal bi-oculars are well-liked? This is because of the price. Thermal binoculars are costly to make its two objective lenses. 
The next is thermal monocular. Though thermal binoculars are very good for spotting your target, why hunters prefer thermal monocular instead of binoculars? 
The main reason is again for its cost and also weight. As thermal binoculars come with two lens systems, its weight is higher than the monocular having only one lens as well as eyepiece. The price tag of thermal binoculars is also not budget-friendly. 
In short, thermal binoculars are defeated only because of its price tag.
Our Research
We have conducted two research to find out which is better, a Binocular or Bi-ocular. 
In the first research, we came to a conclusion that thermal binoculars provide better performance and are more effective compared to the others. 
Our second research is based on the target detection through the bush. Here, both the thermal imaging devices has delivered the same results. Finally, we came to a decision that both thermal binoculars and thermal bi-oculars provides excellent performance in the dark woods and are the best for hunting activity. 
Below are the list of 9 best thermal binoculars and bi-oculars to help you choose the right one for your hunting.
Top 5 Best Thermal Binoculars / Bi-Oculars
| Properties | ATN BinoX 4T 384 | Pulsar Accolade XP50 | ATN BinoX 4T 640 | Pulsar Accolade XQ38 | Armasight Helios 336 |
| --- | --- | --- | --- | --- | --- |
| Product | | | | | |
| Best for | Night Hunting | Long range hunting | Value for money | Video Recording | Lightweight |
| Resolution | 384x288 | 640x480 | 640x480 | 384x288 | 336x256 |
| Magnification | 2-8x | 2.5-20x | 2.5-25x | 3.1-12.4x | 3-12x |
| Detection Range | 1,000 Yards | 2,000 Yards | 1,950 Yards | 1,500 Yards | 1,500 Yards |
| Refresh Rate | 60 Hz | 50 Hz | 60 Hz | 50 Hz | 9 Hz |
| Battery Life | 15 hrs | 8 hrs | 15 hrs | 8 hrs | 3 hrs |
| Weight | 2.5 lbs | 1.3 lbs | 2.5 lbs | 1.3 lbs | 1.8 lbs |
| Buy At | | | | | |
Best Thermal Binoculars and Bi-Oculars Reviewed
1. ATN BinoX 4T 384 2-8x Thermal Binocular
ATN always stands unique and No.1 position in the industry of thermal imaging for manufacturing outstanding products.  Likewise BinoX 4T series is one of the successful products of ATN. BinoX 4T series has two great versions of thermal binoculars, ATN BinoX 4T 384 and 640. Both of them have overall similar features with few differences.
Best Thermal Night Vision Binocular
ATN BinoX 4T 384 Thermal Binocular
Resolution
:
The ATN BinoX 4T 384 is featured with a thermal sensor having the resolution of 384 × 288 pixels. The target can be seen clearly from huge distance using its large magnification of 4.5x to 18x. Both the BinoX-4T thermal binoculars are great for hunting.
Detection Range
ATN BinoX 4T thermal binoculars can detect targets around the range of about 1,000 yards which is more sufficient for most hunters and especially beginners. For a closer look it also comes with a zoom-in option that ranges between 2x and 8x. So you can see a long distant object very close with much clarity in the image. 
Specialty
The promising and unique feature of ATN is the laser rangefinder. The built-in laser rangefinder gives an accurate range for a perfect shot. Also, it is very easy for you to use when compared to the Stadiametric rangefinder. So you'll not miss any shot with ATN BinoX 4T thermal imaging binocular. Unlike other thermal binoculars, ATN BinoX provides software upgradation and intuitive user interface.
Notable features of ATN BinoX 4T 384Thermal Binocular: Laser rangefinder, 3D Gyroscope, Dual streaming video, Built-in illuminator, E-compass, Smooth Zoom modes, and also the software updates.
Dual-Stream Video
Another interesting feature in this thermal binocular is the dual-stream video. It is a great advantage for hunters who spend many days in the wild. With this special feature you can stay connected with your family or friends by streaming live video. It is compatible with any smartphones or tablets. Not only streaming, your video is also recorded simultaneously onto the SD card of the binoculars, so that you can watch it later. 
Extra features
In addition, ATN BinoX 4T thermal binocular has inbuilt 3D gyroscope, microphone, and e-compass. These features make this binocular as a multi-functional device and can be used for versatile purposes. 
The gyroscope provides stabilized images with no blurring even at high zooming range. So you'll get an even more accurate focus of your target for the shot. The microphone helps to record the sounds of your shot while streaming. 
Also, the e-compass helps in navigation in the field. So that you can reach your goal easily.
If you're going on for a long hunting trips especially for multiple days, then ATN BinoX 4T Thermal Binoculars will be the right choice for you. With its long battery life of 15 hours, you can enjoy your days hunting in the wild. But you need to recharge before hunting.
2. Pulsar Accolade XP50 2.5 – 20×42 Thermal Bi-ocular
The Pulsar Accolade XP50 Thermal Bi-ocular comes from the X series of Pulsar. Along with the Pulsar Accolade XP50, Pulsar has also released another thermal binocular named Pulsar Accolade XQ38 at the same time. There is not much difference in the specifications, features, and applications of both X-Series of thermal binoculars from Pulsar.
Best Thermal Binocular for Hunting
Pulsar Accolade XP50 Thermal Bi-ocular
Resolution
All the series of thermal optics from Pulsar is ideal for hunting and tactical activities. The high thermal resolution 640 × 480 pixels of Accolade XP50 is very effective and is higher than the XQ38 bi-ocular. So you will get clear and contrast images of your target.
Once you capture the images of your target, the next step of this Accolade XP50 bi-ocular is the edge cutting technology. It processes the image and then delivers the high and low areas of the ground.
Detection Range
The Pulsar Accolade XP50 is specially designed to track long distance targets. It has the capability to pick up the heat signatures emitted from the target as far as 2,000 yards. For a closer view, it is also provided with a zoom-in option up to 20x. 
The magnification range of this thermal binocular is 2.5x and 20x, which is higher than XQ38.
Refresh rate
Both the Pulsar Accolade series have the same refresh rates of 50Hz which is higher when compared to other 30Hz models. So it offers great quality images with much clarity.
Notable features of Pulsar Accolade XP50 Thermal Binocular: IPX7 waterproof rating, Incremental Smooth Zoom, PIP Technology, 50Hz Refresh rate, and IPS5 Battery.
Waterproof
This Pulsar Accolade XP50 thermal binocular is designed to resist water. It has proved IPX7 waterproof rating. Not only water, it can also resist rain, snow, and fog. Also, it has an AMOLED display with 640×480 pixel resolution that is frost resistant. So you can use it in any harsh climatic conditions without any worries about the damage. 
Video Recording & Streaming
Pulsar Accolade XP50 thermal bi-ocular comes with Wi-Fi connectivity. So you can easily transfer your captured videos and images to your friends or social media. It also allows you to stream your hunting adventure video live.
Construction
Further, Pulsar Accolade XP50 is equipped with compact and lightweight construction, weighing up to 1.3 lbs. The IPS5 battery of this binocular provides continuous operation for about 8 hours. You can also extend the battery life using the back-up system of this binocular.
Pulsar Accolade XP50 Thermal Bi-ocular is the ideal choice for night hunting having a long detection range. So hunters can track the targets easily from farther distances.
3. ATN Binox 4T 640 2.5-25x Thermal Binocular
The ATN BinoX-4T 640 thermal binocular is the modern version of the ATN BinoX-4T 384. As said earlier in the ATN Binox 4T 384 both the thermal binoculars have the same features and functions with little changes. For example the resolution 640 and 384.
ATN BinoX-4T 640 thermal binocular stands out for its high resolution, excellent magnification and detection range. It bangs a lot for your money.
Best Thermal Binocular for Money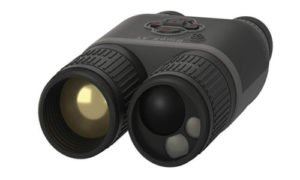 ATN Binox 4T 640 Thermal Binocular
Thermal sensor resolution
Almost all the features are similar in both the ATN Binox 4T Thermal Binoculars, the major difference is the thermal sensor. ATN BinoX 4T 640 binocular is made with a thermal sensor having 640×480 pixels resolution. This is higher than the previous one and so the price tag is also higher.
This 640×480 resolution creates sharp, crisp, and crystal clear images even when you zoom in. 
Video Recording and streaming
The most impressive feature in ATN BinoX 4T 640 thermal binocular is the dual streaming. This enables you to stream live videos of your hunting and record it. Both the action takes place simultaneously. Also, it offers HD quality of videos and images. So your family members or other people can enjoy watching your hunting experience live with great clarity.
Notable features of ATN Binox 4T 640 Thermal Binocular​: Wi-Fi connectivity, Integrated Laser rangefinder, Gyroscope, HD video streaming & recording, E-compass, Built-in illuminator, and Smooth Zooming.
Magnification range
The next difference in both models is the magnification range. ATN BinoX 4T 640 has a 2.5-25x magnification range which is higher than the BinoX 4T 384 thermal binocular having 2-8x magnification. High thermal sensor resolution results in a longer detection range of about 2,000 yards. 
Additional Features
Apart from the above key features, all the others are similar in both ATN BinoX 4T 640 and 384 thermal binoculars. The similarities include;
3D gyroscope to capture clear and stabilized images without blurring

E-compass to guide you in the field with direction

The rangefinder to provide accurate range of your prey

Microphone for sound capability

Update software and Technology for the advanced performance of the device
So you can choose any of the ATN BinoX 4T series according to your needs. 
ATN Binox 4T640 Thermal Binocular is more efficient and is really worthy for its price. We recommend this thermal binocular for pro hunters who love streaming HD video and also provides great optical performance.
ATN BinoX 4T 384 and 640 thermal binoculars are the newly developed binoculars with slight modifications in their features. When seeing both the versions, you'll have a slight confusion on which would be the best, whether 640 or 384? To clarify your doubts we have given a complete review of ATN BinoX 4T Thermal Binoculars. Check it out and get cleared.
4. Pulsar Accolade XQ38 3.1-12.4×32 Thermal Bi-ocular
Pulsar brand is a leading manufacturer in the production of thermal products and night vision scopes. The Accolade Series of Pulsar is a new launch and the starting model of this series is the Pulsar Accolade XQ38 thermal bi-occular. It has been launched recently and is specially designed for hunting activities.
The Pulsar Accolade series also comprises another model XP50 which we have reviewed already. Both XQ38 and XP50 binoculars do not have much differences. They are almost similar in their features and specs. They differ only in two places; one is the price and the other is resolution. 
Pulsar Accolade XQ38 Thermal Bi-ocular
Resolution
Pulsar Accolade XQ38 is equipped with a 384×288 thermal sensor which is lower than the XP50 and so the price is also lower. Though it has low sensor resolution, the image quality is pretty good even if you do close zooming of your target.
Target Detection
It offers a 3.1x-12.4x magnification range and provides crystal clear images of a distant target upto 1350 meters. A built-in stadiametric rangefinder also helps you with an accurate distance range of your target. Also, it is boasted with 50 Hz refresh rates which is higher among thermal bi-oculars. This enables you to hunt the fast moving targets precisely. 
Wi-Fi connectivity
Like XP50, Pulsar Accolade XQ 38 also possesses Wi-Fi connectivity. It offers you to stream live video, record it, and also share it on social media. You can store the recorded videos and images to your computer through the USB port.
Notable features of Pulsar Accolade XQ38 Thermal Bi-ocular​: Picture-in-Picture Zoom, AMOLED frost resistant display, 50 Hz refresh rate, IPX7 waterproof rating, and reasonable pricing.
Waterproof
Pulsar Accolade XQ38 is provided with IPX7 weather rating, which can tackle any extreme weather changes. It is highly waterproof and also dustproof. So you can go hunting with Pulsar Accolade XQ38 thermal bi-ocular at any climatic conditions. 
Construction
This thermal bi-ocular is built with a high-grade AMOLED display having 640×480 pixels resolution. This display is also frost resistant so you can use this thermal bi-ocular even during rain.
Further XQ38 has a lightweight construction that is very easy for you to carry while going for a long day hunting trip.
The only drawback most of them see in this bi-ocular is the battery life. It provides only 8 hours of operation with no extra pack. This is the only reason for ranking behind.
If you're looking for a lightweight thermal binocular then you can go with Pulsar Accolade XQ38 thermal bi-oculars. It offers great optical performance with its innovative features.
5. Armsight Helios 336 Thermal Imaging Bi-ocular by FLIR
Armasight is a very popular brand among thermal bi-oculars. Honestly speaking, FLIR Helios 336 is the best lightweight thermal bi-ocular but having only 9 Hz refresh rate compared to other models. 
You'll have a doubt, how this 9 Hz bi-ocular will provide good quality images? As it is engineered with FLIR thermal core, it provides excellent viewing during both day and night. So you can use this thermal bi-ocular with no confusion. 
Best Lightweight Bi-ocular
Armsight Helios 336 Thermal Bi-ocular
Lightweight Construction
Armasight Helios have a robust construction with NC machined aircraft-aluminum alloy which is highly durable and long lasting. The materials of Armasight Helios are sturdy yet lightweight and weigh just 1.8lbs. It comes in handy and can be carried anywhere easily
Magnification Range
The objective lens of Helios 336 is smaller than the ATN BinoX model, although it provides better image quality which is more than enough for hunters. Armasight Helios 336 offers 3-12x magnification range to view longer distant objects very closely. On the top it is also provided with Digital zoom option 1x, 2x, and 4x. You can also use this option when required.
Notable features of Armsight Helios 336 Thermal Imaging Bi-ocular: OLED viewfinder, Fast start up time, 3x FLIR Tau 2 Thermal core, Digital Zoom, and Fog proof.
3x FLIR Tau 2 Core
However the interesting feature in Armasight Helios 336 thermal bi-ocular is the FLIR thermal imaging camera core developed with the latest technology offering increased sensitivity (<30mk) and frame rates.
Fogproof
Armasight Helios 336 Thermal Bi-ocular is hermetically sealed that does not allow even very little amount of air to pass through. It is also filled with nitrogen gas that resists fogging of the lenses. Not only fog proof, the device is said to be completely waterproof and so it can withstand tough conditions in the field.
Battery 
This is provided with a CR123 battery having only 3-4 hours of lifetime. To compensate this, a spare battery pack is offered along with the Armasight Helios Thermal Bi-ocular. 
If you're looking for the best lightweight thermal bi-ocular, then Armasight Helios 336 Thermal Imaging Bi-ocular is the good choice for you. It is one of the lightest thermal bi-ocular currently available in the market.
6. FLIR Command 8 HD Thermal Bi-ocular
Armasight paired with FLIR Command provides huge products with small differences in their ranges. Here we have considered the Armasight Command 8 HD model that comes with two sub-series; one having 30 Hz and the other with 60 Hz refresh rates. 
The first unit with 30 Hz refresh rate is the cheapest model, though it matches almost all the features of the basic FLIR Thermal Bi-ocular.  The latter version with 60 Hz refresh rate is equipped with the advanced features to compete with other brands.
Best Budget Thermal Binocular
FLIR Command 8 HD Thermal Bi-ocular
FLIR Tau 2 core 
Some hunters prefer bi-oculars and find it easy to use compared to binoculars and monoculars. In that line comes the FLIR Command 8 HD Thermal Bi-ocular. It is built with an impressive FLIR Tau 2 VOx microbolometer core technology that is more effective during night time hunting. This core technology has the capability to be used for various missions and uses. 
Color Modes
FLIR Command 8 HD thermal bi-ocular offers various color modes for enhanced vision during night. It allows you to set the color mode of your preference. It has White Hot, Black Hot, Rainbow, and various other color options. Depending on the environmental scenarios you can set your own preferred color modes. 
Rapid Start-up
The intuitive control buttons and the electronic menu selections are the appreciable features that make adjustments simple and easier. Another plus point here is the start up time. It takes just a few seconds for start-up, so you need not want to wait for a long time to get started for your hunting adventure.
Notable features of FLIR Command 8 HD Thermal Bi-ocular​: FLIR Tau 2 Core, Multiple color modes, Intuitive drop-down controls, Rapid start up, and high magnification range.
Magnification
It is made with a 100 mm objective lens which is an ideal choice for long range detection. You can view detailed and sharp images at night. You can zoom farther objects very closely without any difficulty by its 8-32x magnification feature. 
Solid construction
Overall, the FLIR Command 336 8 HD Thermal Bi-ocular has a solid construction with aircraft aluminum alloy material that takes care of its durability. Also, the device is made to be water resistant to survive sudden rainfall in the field.
7. AGM Global Vision Cobra 2.6x75mm Long Range Thermal Imaging Bi-Ocular
AGM Global Vision Cobra is one of the best thermal bi-oculars for hunting. This long-range thermal bi-ocular is versatile and can be used for various purposes such as law enforcement and patrol services. It is the ideal unit for viewing long distance objects in extreme environmental conditions.
Best for Long range Hunting
AGM Global Vision Cobra Thermal Bi-Ocular
Field of View
This AGM bi-ocular is designed for long range with a wide field of view. So you can detect the hidden objects even in the presence of fog, smoke, or mist. The magnification feature allows you to zoom-in objects closer for better identification.
Resolution
The images are presented with much clarity on this thermal bi-ocular having a high resolution of 640×512 pixels. The 75mm objective lens contributes image quality and the 50 Hz refresh rate delivers the images on the screen at a faster rate.
Notable features of FLIR Command 8 HD Thermal Bi-ocular​: FLIR Tau 2 Core, Multiple color modes, Intuitive drop-down controls, Rapid start up, and high magnification range.
Color Modes
AGM Cobra thermal imaging bi-ocular is also based on the FLIR Tau 2 VOx microbolometer core that offers a variety of image palettes such as White Hot, Black Hot, and Rainbow color modes. These color modes are easily adapted to different environmental conditions. So you can set your preferred color option based on the hunting scenario.
Waterproof Construction
AGM Cobra thermal bi-ocular is made of high-grade aircraft aluminum alloy material, that is lightweight and durable. The waterproofing capability performs well even in tough weather conditions. So you can venture into any challenging environments with this waterproof thermal bi-ocular. 
Further, it comes with two rechargeable batteries that gives continuous power supply for up to 4 hours. You can also connect the external battery pack through the micro-USB port for additional operating time.
8. Armasight by FLIR Command 336 5 HD Thermal Imaging Bi-ocular
Armasight Command 336 5 HD is another version of bi-ocular series combined with FLIR. It comes with three different models having 9 Hz, 30 Hz and 60 Hz refresh rates. Each of them is made with impressive features to compete with the above mentioned models.
Best Thermal Night Vision Binocular
FLIR Command 5 HD Thermal Bi-ocular
Objective Lens
All the three models of this Armasight (FLIR) Command Thermal Bi-ocular uses 75 mm objective lens and two AMOLED 800×600 displays to deliver thermographic images. FLIR Command surprisingly provides a long detection range for this 336×256 resolution thermal bi-ocular. So you can detect human-sized targets for more than 2,400 yards away. 
Magnification
With this FLIR Command Bi-ocular you can zoom up to 20x for a detailed view of the target. It also comes with a digital zoom option up to 4x. So you can bring faraway objects closer with minimal or no loss in image quality. For these best features, this thermal bi-ocular is mostly recommended for hunting. 
Construction
This thermal bi-ocular is completely made of CNC machined aluminum alloy, which gives the water resisting feature to it. So you can venture it in wet conditions also. The intuitive user interface helps to access the device easily. Even beginners can operate this unit without any difficulty.
9. Bering Optics 3.5×50 Thermal Imaging Bi-ocular
If you're looking for the best cheap thermal binocular with advanced features and performance then this is the right choice for your hunting. Bering Optics Thermal Imaging Bi-ocular is versatile and can be used for day and nighttime missions. The lightweight design comes handy and makes portability easier.
Best Thermal Imaging Binocular
Bering Optics Thermal Imaging Bi-ocular
Thermal Detector
The FLIR Tau 2 core of this bi-ocular comes with 17 microns detector pitch that provides bright and crystal clear images that are displayed on the high resolution AMOLED display. It is designed for both medium and long distance hunting. The 30 Hz refresh rate of this bi-ocular is responsible for giving clear and contrast images every time. But this frame rate is lower than the other products. 
Weather Resistance
The entire body of this device is nitrogen-purged, and is resistant to water, dust and shock. It is ready for any harsh environment conditions even when there are environmental obstacles such as smoke, dust, fog, etc. 
Additional Features
For optimal performance, this thermal bi-ocular is provided with menu-driven options including changeable image polarity (such as White Hot, Black Hot, Colored Hot), manual display brightness control, digital zoom, and 7 color palette options.
Thermal Imaging Applications
The main objective of thermal imaging is to deliver clear and well defined images even in the total darkness. It does not rely on any external light source. You can use it even in the presence of fog, rain, dust, or smoke. 
So it has wide applications. It is used in hunting, surveying, medicine, archaeology, and also in construction. 
The optical system collects the IR radiation and converts it into an image containing thousands of pixels. The image consists of temperature patterns and the variations in the heat level is represented by various colors. So you can have a crystal clear view of your target even in the pitch darkness.
Thermal imaging binoculars produce a considerable amount of heat to identify the spot easily. It is an apt one for deer hunting.
Night Vision Gears
Night vision gears come under three categories; Night Vision Goggles, Night Vision Scopes, Night vision Cameras.
Night Vision Goggles: Goggles are usually worn on the head for constant viewing. It comes with two eyepieces like a binocular and helps to detect the dark spots in the surrounding.
Night Vision Scopes: These are mounted to the top of any powerful weapons for better viewing of the target. It comes with a single eyepiece. 
Night Vision Cameras: These cameras are mainly used for security purposes to view in the dark night. 
Thermal Equipment
Thermal equipment is also similar to night vision gear, the only difference here is, it detects targets through the emission of heat energy. Thermal imaging has broad categories; Thermal Monoculars, Thermal Binoculars, Thermal Bi-Oculars, Thermal cameras, Thermal Scopes, and Clip-on Thermal Scopes.
We have already discussed thermal monocular, binoculars, and bi-oculars in detail in the above section. Here let's have a short review about the remaining categories.
Thermal Scopes: Thermal imaging scopes are designed like a monocular that is mounted on the top of hunting rifles or firearms. It comes with many built-in features that helps to hit the target accurately in the complete darkness.
Clip-on Thermal Scopes: These are the same as thermal scopes with a clip-on attachment. It easily attaches to your rifle and makes your hunting tension free. It acts as a monocular as well as stand alone scope.  
Thermal Cameras: Thermal imaging cameras detect the heat signatures in the surroundings and provide detailed images of the scene. These are attached to drones for UAV operations like firefighting, surveillance, search and rescue operations etc. 
Thermal Imaging Binoculars VS Night Vision Binoculars
Binoculars are used for many purposes. No matter whether they're thermal imaging or night vision, both of them perform well in tactical activities, hunting, as well as home defense. But what will be their uniqueness? Let's see it. 
Where Night Vision Binoculars perform well
Night vision binoculars are commonly used to detect animals and identify the spots easily when you are in the field. It is provided with an infrared laser that helps you to pinpoint the target accurately, even if you're wearing the helmet mount.
One lagging case in night vision is that it does not allow facial recognition, while thermal does that. So you can easily detect the presence of potential threats in the field with thermal binoculars. 
Where Thermal Imaging Binoculars perform well
Thermal imaging binoculars are also used for night hunting, but the specialty here is it can pinpoint hidden objects through the obstacles like bush, long grasses, tree branches, and even fog. So you can clearly observe the hunting field and fix your aim. 
Thermals come out with a rangefinder that helps hunters to detect targets for long distances. If you often go hunting to denser areas, then thermal optics would be the perfect choice for you.
For more details check out our complete guide on Thermal Vision VS Night Vision.
Manufacturers of Thermal Binoculars
Like other products, thermal binoculars are also available from many brands today. Majority of people rely on the quality, performance of the product and also the reputation of the brand. We need a good quality product at an affordable price. Here are some reliable and trusted brands of thermal binoculars for you to consider.
Factors to consider while buying the Best Thermal Binocular / Bi-ocular
Have an idea of buying a thermal binocular or thermal bi-ocular for your hunting adventure? Then here are few important tips for you to keep in mind before getting a model. We have listed some critical factors such as resolution, magnification, detection range, color modes, and other built-in advanced features below. Just go through it before buying.
Resolution
The first and foremost important aspect is the resolution. Because it is responsible for the image and video quality. Aperture size is a key factor influencing resolution. High resolution images are produced only when the aperture size is higher. Binoculars offer two types of resolution; 384×288 p and 640×480 pixels.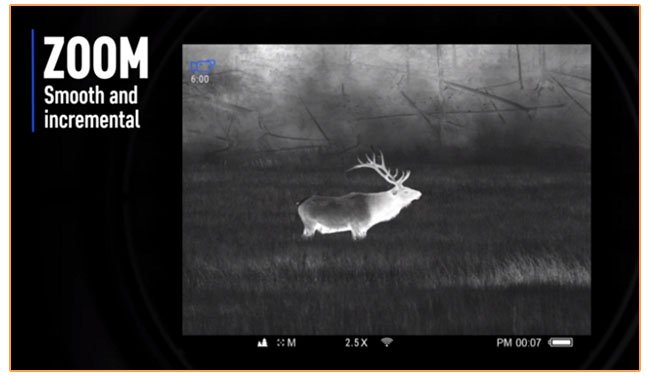 If you are very keen about your budget then you can choose 384×288 resolution binoculars. But it is suitable only for short and mid range hunting. But for long range hunting 640×480 resolution binoculars will be the apt one. 
Higher resolution sensors always provide better image quality even if you zoom-in very close. You will get crisp and sharp images of your target. But lower resolution binoculars may lose sharpness of the image while zooming. So pick the one that suits your hunting needs. 
Magnification
Magnification is based on the hunting environment where you go. For example, If your hunting area is covered with large bushes and trees, then you should go with lower magnification.
If your hunting field is an open area, then here comes the role of higher magnification thermal binoculars. It will help you to track animals from the farthest distance. Because long distant targets cannot be viewed clearly using your naked eye. It enlarges the distant object for a better view of the target.
Higher magnification binoculars are the best for long-range hunters as well as law enforcement officers, as they need to monitor objects only from a huge distance. But remember higher magnification binoculars cost higher. So think twice before you spend on thermal binoculars.
Thermal Sensor
Thermal Sensor is the key feature in all the thermal products. Generally thermal binoculars are made with two types of thermal sensors for both night vision and thermal vision. They are Vanadium Oxide microbolometer (Vox) and Image Intensifier tubes. 
You can't do much in thermal sensors, just check the operating temperature and thermal resolution of the sensor.
Detection Range
Detection range is the distance of the object that is clearly displayed on the screen. The detection range basically depends on the thermal sensor resolution. So the detection range varies into three forms as short-range, long-range, and medium range.
640×480 sensor resolution can detect targets up to 2,000 yards and more, while the 384×288 sensor resolution can detect from 500 yards to 1,500 yards. Higher the thermal sensor resolution, farther is the detection range.
Depending on the field usage, you can pick your thermal binocular. For example, if you need a thermal binocular for wildlife study, hunting, or shooting, then a short/medium range thermal binocular is enough for you. 
Law enforcement officers prefer long range binoculars as they need to track targets from longer distances. Long range sights can also be used for marine and surveillance activities.
Field of View
Field of view is a necessary feature that every thermal binoculars/bi-oculars should possess. This allows you to view the targets in wider areas, so that you could be aware of the presence of other animals in that surrounding. So you can prevent yourself from danger. That's why hunters choose thermal binoculars instead of other thermal optics. 
A good thermal binocular will always have a wide FOV. This provides a wide scannable area of the target. So we prefer thermal binoculars / bi-oculars having a larger field of view.
Refresh Rate
Refresh rate or frame rate means the number of times the binocular refreshes the image in a second. So you can get smooth and sharp images of the target while they are moving. Higher the refresh rate, higher is the image quality and price.
Usually thermal binoculars come with three types of refresh rates; 30 Hz, 50 Hz, and 60 Hz. 50 and 60 Hz refresh rate binoculars are much clearer than the 30 Hz refresh rate binoculars. So decide your budget and choose the thermal binoculars for your needs.
Color modes
Color mode is an excellent feature and is more effective for multiple tasks. The recently launched thermal binoculars are developed with a variety of color modes/palettes that make your session easier. The commonly used modes are Sepia color mode for long-range hunting and violet color mode for wide area detection.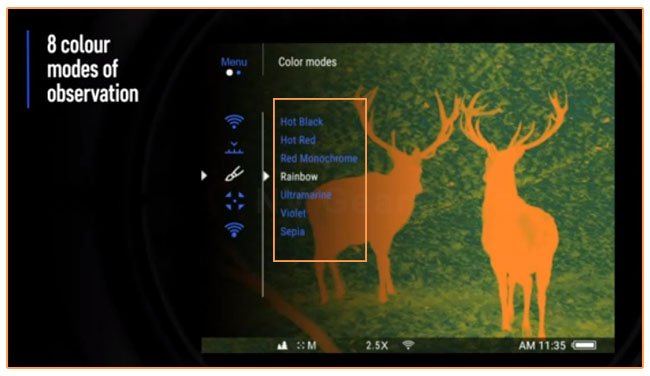 You can perform versatile tasks only if your thermal binocular/bi-ocular is boasted with wide color modes.
Connectivity & Streaming
If you want to stream your hunting experience live with your friends and relatives, then choose the thermal binocular/bi-ocular that is built-in with Wi-Fi connectivity and Bluetooth facility. This feature is appreciated by the tech-savvy hunters who always prefer advanced technologies. You can also share your hunting game videos on social media.
The one thing you have to check in this feature is, whether the thermal binocular you bought is compatible with your Android or iOS smartphones.
Image and Video Recording
Video recording is also an advanced feature in thermal optics or binoculars. This feature helps you to recall the memories of your hunting game in the field. Cheaper models will not provide recording facilities instead you'll have to use a DVR to record the footages.
If you want to capture the unforgettable moment of your hunting adventure, then go with the thermal binoculars that provide HD quality images and video recording. Also make sure whether it is provided with SD card support, so you need not want an USB cable for file transfer.
Battery Life
No one likes a product that lies down before the task gets complete. So battery life is also a major factor that you need to consider. Different brands provide different hours of operation. So first decide your usage of a thermal binocular in the field before you buy.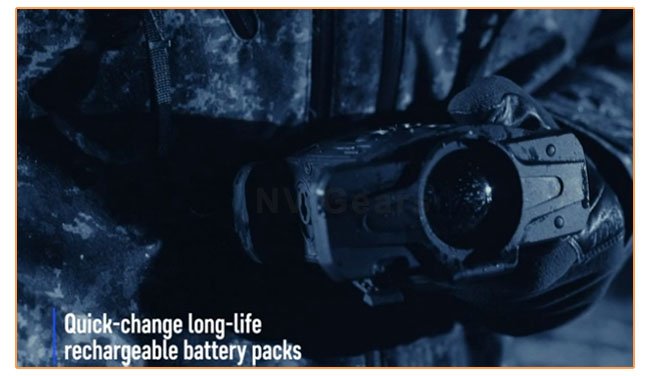 If you're a frequent hunter for multiple days, then it is best to have a thermal binoculars having long battery life for at least 8 hours of operation.
Weather Resistance
The final factor to consider is the Weather resistance. As we use thermal binoculars in the outdoors it has to withstand different weather changes. So check whether the thermal binocular is provided with waterproof or weatherproof rating. Also, it should be dustproof, because if any external element has penetrated into your binocular then the device gets damaged and will not function properly.
So pick the thermal binocular that can be used regardless of the season or any extreme climatic conditions.
FAQ's
1. How do thermal binoculars work?
The thermal sensor or the IR camera unit captures the thermal image of the scene, which then circuits inside, decodes, amplifies, and converts the scene into a traditional display form. An articulate cable connected to the sensor circuit carries electrical signals to the display through which the user sees the object/ scene.
These thermal imaging binoculars are mostly preferred by the hunters, rescue teams, and firefighters as they differentiate the extreme situations with varying colors, so that it would be easy for them to identify or track the object.
2. Can thermal binoculars see through walls?
No. Walls provide enough insulation that does not allow heat to pass through. Not only walls the same applies to glass also.
This problem accompanies you even while hunting. Thermal binoculars do not have the ability to see through obstacles like trees, very thick branches and bushes.
3. Are infrared and thermal imaging binoculars the same?
Definitely not. IR systems use short wavelength infrared light to illuminate an object/ area. Here some infrared energy is reflected back to the sensor to create an image. While the Thermal Imaging system operates using long or medium wavelength IR radiations.
The thermal imagers detect the temperature difference in the surrounding and those heat signatures are displayed on the screen. The thermal imaging binoculars do not use reflected light and so they are not affected by other oncoming light sources. It provides clear vision through smoke, dust, and haze.
4. Which is better, Thermal Binocular or Scope?
Both binoculars and scopes are from different categories, they are used for hunting and other outdoor activities. Thermal binoculars provide an excellent image quality than the scopes. These are versatile and used for search and rescue operations. The clear viewing ability of the thermal binoculars makes your mission successful.
Conclusion
It is impossible to hunt with our naked eye during night. A good quality night vision or thermal imaging equipment is necessary for a safe and accurate hunting. 
If hunting is a major hobby in your life then try out with thermal binoculars. Nothing can compete with thermal imaging in the wild. Finding the best thermal imaging binocular or bi-ocular is not that hard. The only thing, you should have a clear knowledge about the features that suits your hunting needs. 
Our choice is ATN BinoX 4T Thermal Binocular, which is a decent thermal binocular designed with great features and at an affordable price that beats all the other products in competition.
Hope so, we have made your purchase easier with some of the best thermal binoculars and bi-oculars available in the market. 
Grab your best thermal binoculars and enjoy your next hunting adventure with it. Leave us your experience in the comment section below.