Are you a fan of hunting or tactical shooting and looking for a great hunting companion? Then the Vortex Viper HS 2.5-10x44mm riflescope is an ideal choice. 
Well, the scope is equipped with many excellent features that work great for your hunting or tactical shooting purposes. 
Although the Vortex Viper HS Riflescope was first designed for hunting purposes due to its standard qualities and long-range capabilities, now the scope has great regard among the hunters and competitive shooters.
In this article, we have reviewed one of the best quality scopes, that is the Vortex Viper HS 2.5-10x44mm Riflescope. Read on it to know more details about the product.
Features of Vortex Optics Viper HS 2.5-10x44mm Riflescope
The various features of this Vortex Optics Viper HS scope are described below in detail.
Build Quality
The scope was constructed using a solid block of aircraft-grade aluminum for rigidity and strength. 
The Vortex Viper HS riflescope is made using a 30mm single-piece tube which is not only increases the durability of the scope but also provides maximum structural strength, optimal alignment, and enhanced visual performance. 
An ArmorTek coating- a hard and tough coat anodized exterior provides a low-glare matte surface and helps to protect your scope from bruises, scratches, bumps, oil, and dirt. 
In addition to that, the scope has been purged with argon gas and O-ring seals that prevent internal fogging. 
This means the scope is completely dustproof, shockproof, and waterproof. In short, this reliable rifle scope ensures that you can still go out in any harsh weather.
The Vortex Viper riflescope gives you a solid feel in your hands and weighs about 16.5 ounces.
Multi-Coated Lens
The Vortex Viper HS 2.5-10×44 Riflescope comes with a trademark solution, and the lenses of Vortex Viper 2.5-10×44 Riflescope are fully multi-coated with XR Plus anti-reflective coating, which increases the light transmission for maximum brightness. 
The Vortex's XD glass and XR lens coatings combined to work together for providing color fidelity, increased resolution, and light transmission. 
Thus, the improvement of color fidelity boosts more sharp and crisp images when looking through the scope. 
The Vortex Viper Hs Riflescope also features a Second Focal plane reticle. This reticle maintains the same size, no matter the magnification when handling the varying distances. This is specially used in long-range shooting.
Reticle Dead-Hold BDC
Vortex Viper HS 2.5-10×44 Rifle Scope is equipped with the Dead-Hold BDC Reticle. 
This type of reticle is great for hunting and long-range shooting distances. This reticle has been designed to minimize the need for guessing bullet hold-over at long distances.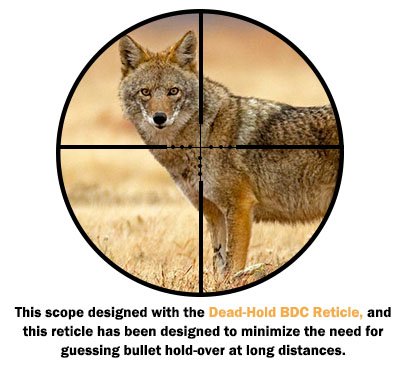 By choosing the proper reticle hashmark, the shooter will have a reliable bullet-drop for all particular distances.
The Dead-Hold BDC reticle can be successfully used with several firearms, incorporating rimfire rifles, slug shotguns, and high powered rifles. 
Besides, the reticle also provides reference marks that can be used to compensate for shooting distances or a bullet drift in windy conditions.
Magnification
The Vortex Viper HS Riflescope has a  magnification range of 2.5x and a variable magnification zoom that extends up to 10x. 
It has an objective lens of a diameter of 44mm, which delivers brighter images. In general, the scope with the larger objective lenses allows more light to get in through the lens, thus making bigger and brighter images. 
This may help you when you are hunting or shooting at faraway distances with a high zoom.

This 44mm objective lens also features a BDC reticle that provides the shooters with intuitive, highly functional, and detailed hold points. Still, it remains uncluttered for optimal viewing. 
The scope offers extreme clarity, reliable target acquisition, quick & easy precise shooting range. So the scope is great for long-range hunting, also it delivers top-tier performance for accurate long-range shooters.
Aim and Adjustment
This feature helps you to determine how efficiently you can change your focus from one place to another place. 
In such a case where you go hunting, and if you are supposed to deal with a moving object, you will require a kind of scope that can switch quickly on the animated objects. 
So that the scope has a great feature, which is an "excellent dial", which makes it easy to switch over different characteristics such as sight alignment and magnification when working with a moving target. 
Also, the dial changes can be made within a few seconds. The capped quick resettable turrets located on the top of the scope gives you a firm grip while turning since it's easy to rotate the dial when you are targeting your prey. 
The fast-focus eyepiece in the Vortex Viper Riflescope is used for quick and easy reticle focusing. Also, it moves from lock to lock in 1 1/2 revolutions and adjustments with one-hand.
Eye Relief
The Vortex Viper HS riflescope comes with a standard Eye Relief of 4.0 inches. Where eye relief is the distance from the lens of your scope to your eye to view the full picture. 
This suitable eye relief will protect you from being hit in the eye by the kickback of the riflescope when you try to shoot. 
Thus having perfect eye relief can bring a lot of differences in your hunting or shooting experience.
Note: The scopes with the greater eye relief will have a lower magnification range.
Elevation and Windage Adjustment
The BDC Reticle has a maximum elevation adjustment level of 86 MOA and has a Maximum windage adjustment level of 86 MOA. 
This Vortex Viper HS Riflescope includes windage and elevation turrets with audible clicks. Each click will move the bullet point of impact 1/4 MOA(minute of angle). 
The dials in the scope allow you to re-index the zero indicators after sighting in without disturbing settings. 
This allows to quickly return to the original zero if any sort of corrections is done in the field. 
The vortex viper HS 2.5-10x44mm riflescope doesn't use pre-focused and side focused adjustments at a distance of 100 yards.
The Product Package Includes
Vortex Viper HS 2.5-10×44 Riflescope 

4-inch sunshade

VIP Unconditional Lifetime Warranty

Lens cleaning cloth

Protective lens caps
Final Words
The Vortex Viper HS Riflescope delivers the performance and features that tactical shooters need at an affordable price. Thus,
concluding that vortex viper HS optics is one of the highest quality rifle scopes sold in the market for under $1000. The Vortex Viper HS Riflescope is the better choice for the ones who are interested in long-range target shooting.