If you are a hunter or a shooter who prefers hunting during nighttime, having a night vision scope is essential. It makes you aware of the situation and shows everything around that is not possible with the naked human eye.
There are lot of choices available for night vision scope to bring to hunting or shooting competitions.  
To make the purchase easier and faster, you have to be ready with the list of features you need from a scope. The best rifle scope will surely be extreme for your hunting trips at night.
Among the popular night vision device manufacturers,  Yukon Advanced Optics is the most veteran and advanced weapon sights that you can mount on your AR15 or Shotgun.
In their list of night vision rifle scopes for hunting and shooting Yukon NVRS Titanium 1.5x 42mm is the most recommended, very reliable, and durable choice of hunters. With that said, let us take a look at the detailed review of the features of this fantastic night vision scope.
Material: Titanium
Objective Lens: 42 mm
Magnification: 1.5x
Detection Range: 75 and 100 yards
Sensor: Pulse IR Technology
Reticle: Duplex (Red or Green)
The Yukon's NVRS Titanium 1.5x 42mm Review
Although we have numerous rifle scopes available for night vision and day hunting, Yukon is an inevitable and revered manufacturer for night vision devices and hunting attachments. With Yukon, you will never go wrong.
What Does This Product Feature?
Durability: 
Whether you buy a scope or rifle or even a sling for the firearm, checking the durability of the product is essential. The durable construction and design of the products ensure the long-lasting usage of the product.
This certain night vision riflescope from Yukon is made from Titanium, a material that is known to be durable and indestructible.
The outer part of this scope is made to be very small in size, which is one of the main reasons why it is much easier to use when compared to other night vision rifle scopes that are large.
In addition, this night vision rifle scope would be able to withstand even the harshest recoils that it may faces when mounted on powerful rifles.
Massive Objective Lens:
Another thing that you have to look for when you want a very reliable night vision scope is its objective lens size. As you may have known by now, one of the main purposes of having a large objective lens is to let more light enter the lenses.
With more light that enters the lenses, the brighter the images of your targets. Thus, a large objective lens acts as one of the main supports for the night vision technology since it needs to collect more ambient light. This night vision riflescope has an objective lens of 42 millimeters—this is really a perfect size for night vision hunting.
Quality of Glass: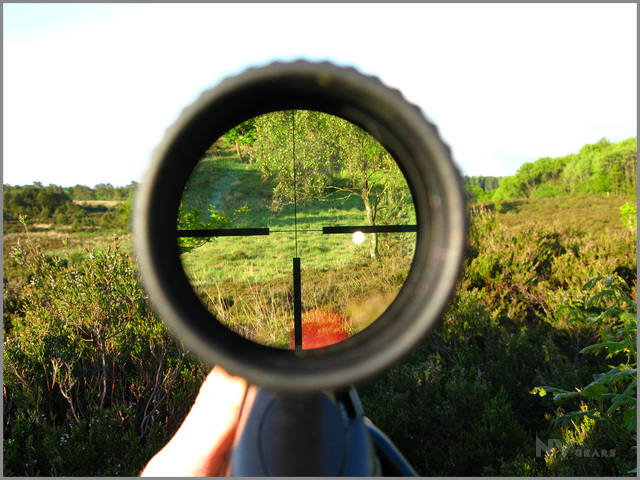 The quality of the glass used for the night vision rifle scope's lenses is important to make sure the images are clear and have essential details. With this certain night vision rifle scope, you would expect the glass's quality to be superior.
Its glass is made from premium quality materials, and they are made to have multiple layers of coating to provide clarity and brightness for the images that it produces.
Ergonomic Design: 
This night vision riflescope's ergonomic design makes it very easy to use, so you would not experience any difficulty, especially when you are in a rush for your hunting trips and shooting activities.
In addition, you would have faster target acquisition from this night vision rifle scope easily and quickly. With that, you would have more targets to take down, even when you just spend a little time hunting.
Other Features:
The reticle used for this night vision riflescope is the duplex type, which you can also choose from red or green. You would have an easy experience with this reticle type when you adjust the reticle for more accurate shots at your targets.
This certain product also comes with a standard-viewer rail-mount system that you can use for an easy mounting experience.
The battery used for this night vision riflescope is two AA batteries—this provides a long working time.
Does This Night Vision Rifle Scope Perform Well?
Without any doubt, this Yukon NVRS Titanium is truly one of the bests that you can get for your rifles if you want to excel in your hunting activities at night.
Its IR illuminator would surely give you clarity, even for a distance of 75 yards and 100 yards.
In addition, the 1.5X magnification makes it one of the best scopes when it comes to short-range shooting.
Key Features: 
The key features of this night vision riflescope are its titanium body, its compact size, and its Pulse IR technology.
Pros: 
The pros of having this night vision riflescope are its fast focus design, clear images, magnification, and brightness. These are increased to be more reliable at night.
Takeaway:
With all the features mentioned above, it is really evident that Yukon NVRS Titanium is the best scope for the firearm.
Due to its design, you would have very enjoyable hunting experiences while being more precise and accurate with the shots that are going to make.