We all know that the ATN is one of the leading manufacturers of night vision devices, whether it's thermal or night vision sighting scopes. Here we've given the ATN X-Sight 4K Pro Smart Day/Night Rifle Scope review.
These ATN night vision devices are best for night hunting and surveillance. ATN has been producing its top-ranking products in the field since 1995. 
Earlier these night vision scopes were only used by the military and law enforcement agencies, but now these night vision scopes are available for civilians too. 
If you are a shooting enthusiast or hunter, then you will love this ATN X-Sight 4k Pro scope. As it includes digital and image enhancement night vision technology, that becomes more popular in the commercial field. 
This ATN X-Sight 4k Pro scope is one of the popular devices that can be used in both day and nighttime. 
Moreover, this scope allows the hunters to improve the overall gaming performance with the quality of the lens and enhanced image view.
ATN X-Sight 4K Pro Smart Day/Night Rifle Scope Review
Unlike other Riflescopes, this ATN digital day/night vision scope comes with a 3864×2218 digital imaging sensor, a color display, and has many advanced features. 
This scope allows you to see the target or hunting game in the dark or in low-light environments. 
Also, it allows you to capture the videos and broadcasts video footage through Wi-fi and simultaneously stores them on an external memory card.
The magnification power of this scope is 5-20x with 5 degrees field of view at 250feet. Also, the scope has a 90mm eye-relief(3.5 inches); it's one of the longest eye relief distances on a night vision scope. 
If you feel that it's more bright outside, you can use a rubber eyecup, which helps you see the inner screen easier. 
ATN X-Sight 4k Pro comes with an Ultra 4k Sensor, and it's paired with an ATN Obsidian IV Dual Core processor that provides a system resolution of 600Ip/mm. 
This sensor can record videos at 30fps, 60 fps, and 120fps. Another good thing in this scope is that the resolution of the display is HD at 1280×720.
Finally, this scope is made out of thermoplastics, which makes it lightweight and rigid. This scope weighs over 2.2 pounds that are extremely light for night vision scope and, it's one of the best night vision scopes for hunting.
Moreover, the body of the scope is fully weather-resistant that protects the lens from water, fogging, and dust. 
It has a good operating temperature out of all the night vision scopes, and it can operate at -20 ℉ to +120 ℉.
ATN X-Sight 4K Pro Smart Features
If you are looking for a scope with a high-quality performance that can work during both day and night hunting and shooting actions, ATN X-Sight 4k Pro is the right optic for you. 
ATN Sight 4k Pro- scope has been designed with a lot of features and functions that are easy to use. Moreover, this ATN X-Sight 4k Pro is one of the best and smart scopes for shooters and hunters. 
If you are a beginner in nighttime hunting, this is the best scope for you to choose because it provides easy handling and moving mechanisms. 
Thus, you can enhance your hunting experience with this excellent rifle scope. 
The scope has been designed with so many features which makes it great, and they are listed below,
Ultra HD Sensor  
This is one of the most important features of ATN X-Sight 4k Pro. It comes with the Ultra HD 4k sensor combining with the Obsidian 4 Dual-Core Processor. 
This brings you the best cutting-edge technology with higher resolution, faster optics, and millions of vivid colors. It's capable of up to 120fps and the Ultra HD day/night sensor provides you an incredibly crisp and clear image at any distance.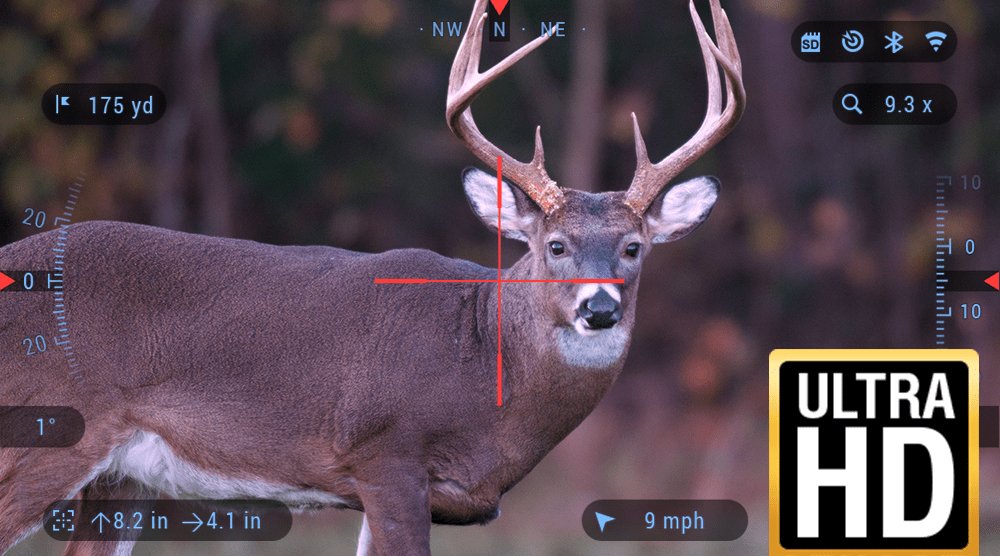 This scope allows us to capture images at long-distances and produces images of HD quality while hunting. The dual-core processor delivers fast performance to change the clear picture with various colors. 
Moreover, the resolution of this scope is 600lp/mm, which allows you to target the objects easily and delivers a clear view.
Smart Rangefinder & Ballistic Calculator
The device has a built-in rangefinder to measure and target your objects in the hunting field. This smart range finder works fast and estimates your target distance by taking the two readings of your target. 
The scope not only estimates the range of your target but also adjusts the reticles to change the distances.

Thus the advanced ballistics calculator on the 4k Pro makes your hunting responsible, and it helps to hit the targets perfectly. 
It calculates based on the range, temperature, wind, Angle-to-target, humidity, and multi-weapon profiles and also helps you pick up the targets of up to 1000 yards. Thus it helps to determine the adjustments for the accurate shots.
Dual-Stream Recording 
Another impressive feature incorporated into this scope is the Dual-streaming capability. This feature allows you to record and store your hunting actions. 
It records your hunt in Full HD at 120fps and streaming at 720p at the same time. 
The X-Sight 4k Pro not only streams video to your mobile device at HD resolution but also allows you to save on the SD card inside the device. 
You can share the captured videos with your friends through mobile phones or tablets by using the Obsidian app. 
Video Recording and Storage
This scope allows you to record videos in 1080p, and you can store the videos directly onto the SD card located on the device so that you can view later. 
The scope allows the feature of recoil activated video RAV, that's designed to start recording before and after the shot. The recorded video can be stored on a removable 64GB Memory card.
Night Vision Mode
If you love night hunting, then don't worry about the darkness; just enjoy your favorite nighttime outdoor adventure with this ATN X-Sight 4k Pro day/night riflescope. 
The ATN X-Sight pro has an infrared attachment that provides you reliable and efficient night vision while hunting animals.
ATN has incorporated the latest night vision technology in the device that works great for both day and night. You can switch the scope into night vision mode while you are hunting in the darkness. 
This night vision mode allows you to spot the animals or objects on the crisp HD display. The eye-relief functionality of this device lets you view the images comfortably without straining your eyes.
Day and Nighttime Use
Another impressive feature included in this scope is that it can be used as both the night vision scope and digital daytime optic. 
You can simply change the scope into night from day time mode with just one click. It doesn't delay and offers an instant response.
Hence this feature makes the scope unique and comfortable to use in any environment, and you can capture everything that you see through this scope while hunting with high quality.
Mounting Options
This is the first work that you do before hunting with a rifle scope. The ATN X-Sight 4k Pro Smart scope is not only easy to use but also pretty simple to mount.
The manufacturers have included 3 rings for mounting purposes, and they are,
Standard Ring

L-Shape Ring

Ring with Picatinny Rail
From this, you can simply pick the right one for your needs.
This X-Sight 4k Pro scope features a 3.5 eye-relief, and it can be mounted using the standard ring 30mm. If you need extra eye-relief, then choose an L-shape ring. 
It's highly recommended that you first choose the ring as you wish and the position before mounting. This makes sure that you have selected a position that allows for optimal eye-relief.
Follow these simple steps to mount the scope,
Place the scope on the top part of your ring over the lower section of your scope

Make sure that the holes are in alignment with the screws

To apply torque to all screws, use an allen wrench provided with this product

After mounting it, you have to check whether all the screws are fixed tightly or not.
Also, you can refer to the user manual for further clarification. It doesn't require any skill for mounting; just refer to the instructions provided by the manufacturer and make this simple.
One-Shot Zero
One short-zero feature is specially designed for beginners to target the objects much quicker and easier. 
Those who have started their shooting practices can benefit by using this feature. It is a great tool, and it's easy to use.  
After mounting the scope, it requires six hours of charging, and it keeps working for more than 18 hours. Take your position and adjust the reticle according to the target and make your shot. 
Compared to other scopes, this takes less time to target your object, and also, it's safest to work. Using this feature, you can easily sight in the scope and take shots.
Battery Life and Warranty 
The most important aspect of this scope is its battery life. The unit is powered by two non-removable CR batteries, and it's a pride for ATN as they have designed to manage for the first time to get 18 hours of continuous battery life. 
Your hunting adventure won't be cut short by picking this X-Sight 4k Pro scope.
Thanks to its super low on power consumption, so don't need to worry about the scope prematurely running out of power. 
Moreover, this scope has a 20000 mAh battery pack inside that is extremely trouble-free to recharge and can be even used for additional power gadgets. This could be the right optic for the people that go on week long hunts.
Moreover, the X-Sight 4k Pro scope is provided by a two-year limited warranty, and the battery is covered by an impressive six-year warranty.
Included Accessories
The scope has provided a list of truly impressive accessories and they are,
An L-shape ring

A ring with picatinny Rail

2x Standard scope rings

A rubber eyecup

Scope cover 

Lens cleaning cloth

Type -C USB cable for transferring data and charging

Sunshade
Final Words
ATN X-Sight 4k Pro offers you a great digital hunting experience. To provide you with excellent performance, the X-sight is combined with traditional and latest technology. Another good thing about this scope is that it offers many accessories and also has the best image sensors that can be used to record and stream at the same time. Moreover, it's lightweight & durable, and it's ideal for hunting both day and night conditions. For better vision, you can upgrade an illuminator. This scope improves your shooting skills and reduces the chances of missing or wrong shots. Hence this scope is strongly recommended to make excellent shots in your hunting game.
Hope our article about ATN X-Sight 4K Pro Smart Day/Night Rifle Scope review was helpful for you.