Hunting is quite an interesting and thrilling experience in the wild. Have you experienced hunting in the wide natural field, especially at night? If not try it at least once in your lifetime.
Hunting at night is very strange with a little fear of wild animals. Can't explain that moment in words, it's just like a breathtaking moment for me in the wild.
Anyone can go hunting, but the one you need is the right equipment for shooting. Because hunting gives equal importance to your tactical skill, determination, and also the hunting gears.
Hunters or night shooters usually rely on advanced technology gears that act as extra support for them in the field. There are a lot of tactical skills you have to know about hunting. A shot can be done successfully only if all your equipment runs together.
Nowadays, the adventure niche, especially hunting, is growing rapidly and so the availability of hunting gear has also increased day by day to enhance the personal experience. In that line comes the thermal scopes.
Our Top 3 Recommendations
Today thermal scopes are developed with modern thermal imaging technology including more advanced features. So that you'll get a clear and precise output at a faster rate. 
Likewise comes the clip-on thermal scopes. It is also a new version of thermal scopes that has versatile functions. You need not want to mount it, just clip it onto the rifle so that the thermal scopes are easily connected to your rifle.
Clipping on the thermal scopes to your rifle takes your hunting adventure to the next level.  It does not need any light source to run. No matter whether day or night, clip-on thermal scopes work even in total darkness without any restrictions. 
I've spent a lot of time researching the best clip on thermal scopes that are available in the market today. In this article, I've listed the 6 Best Clip-on Thermal Scopes in detail and I believe that this guide will help you to pick the right choice for your adventure.
Before getting into the hot topic of clip-on thermal scopes, let me tell you what is the clip-on thermal scope and the difference between the ordinary thermal scope and clip-on thermal scope.
What is Thermal Scope?
The thermal scope is one of the hunting accessories that is mounted at the top of your rifle. It is commonly used for night hunting to gain an enhanced vision in the darkness.
The thermal scope is based on the principle of infrared technology (Wikipedia). The infrared sensor captures the heat emitted by the objects in the surrounding. This heat energy is then converted into an image and is reflected back to the eyepiece. So you'll get a clear vision of your target even at a longer distance.
Why are Thermal Scopes Different from Other Scopes? 
Thermal scopes are versatile scopes that can be used during both day and night, unlike night vision scopes or day scopes. A traditional day scope can be used only during day time and it can't help you during the night. Because day scopes are purely made of lenses and magnifiers that can easily take down the targets.
On the other hand, thermal scopes are based on sensors and light detectors that give you a perfect shot at any light conditions. That's why thermal scopes are very essential for hunting.
What are Clip-on Thermal Scopes?
Clip on thermal scopes are designed to sit directly onto your day scope with just a single clip-on attachment. 
The clip-thermal scope can be used based on your convenience. You can simply attach it to your rifle and use on its own or you can also use it along with your day scope to see your target through various obstacles like bushes, tree branches, smoke, dust, etc.
The major benefit of clip on thermal scope is the ease of use. For example, if you are in a combat situation or hunting field, you can easily switch to your favorite target system whether it may be your day scopes or thermal optics. 
Clip-on thermal scopes can be used as a standalone for short-range shooting, and also acts as a monocular to survey your surroundings. 
Clip-on thermal scopes are lightweight and clip easily to your rifle without giving overweight to you. It comes in handy even in all tough hunting scenarios. So don't miss it.
Best Clip-On Thermal Scopes
6 Best Clip On Thermal Scope in 2021 - Reviewed
1.Trijicon Electro-Optics SNIPE-IR 35mm Clip-on system
The topmost product in my list is the SNIPE IR Hunter Clip-on thermal scope by the leading manufacturer Trijicon. This company produces all its products with aircraft grade quality materials that stand sturdy for long years. I personally love this product for its versatile function.  
Trijicon SNIPE-IR Clip-on Thermal Scope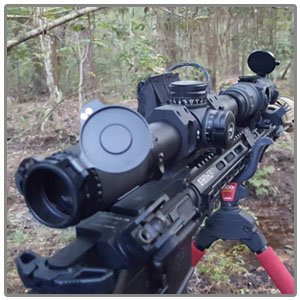 About SNIPE-IR Hunter
The SNIPE is mounted on the front of your day scope that allows you to use only one rifle, instead of using separate rifles for day and night.  Here you don't have the problem of re-zeroing your scope. The SNIPE-IR can be optimized with any other day optics. 
Construction
Trijicon SNIPE-IR Hunter has a sleek body with a black matte exterior. It makes the beginner look as if he was a professional hunter in the field. It is designed with a clip-on system that can be attached to the top-front of your rifle. SNIPE IR is an excellent solution for 24 hours of hunting adventure. 
Resolution
Snipe IR is featured with a high resolution of 640×480 pixels that provides crystal clear images with little or no discrepancy. The image quality remains the same as how much you zoomed in. So you'll get a clear focus to hit the target. 
Specialty
The Snipe IR has an impressive dual role; thermal scope and thermal monocular. You can use this as a standalone thermal optic without connecting the daylight scope. Also, it acts as a standalone thermal monocular to look over the surroundings. 
User-friendly
Trijicon SNIPE IR Hunter 35mm clip-on thermal scope is designed with the latest technology having no shot zero. So you're free to use the same zero of the day scope. Further, Snipe IR is very simple to get in and get off.
Trijicon SNIPE IR Hunter 35 mm is the best Clip-on Thermal Scope available in the market and is the premium pick on my list. It is a perfect choice for night hunters who love hunting in the dark.
2. AGM Global Vision Anaconda 1x50mm Medium Range Thermal Imaging Clip-On System
The next runner-up product in my list is the AGM Global Vision Anaconda 1x50mm Medium Range Thermal Clip-on Scope. It is one of the best 50mm riflescopes that fits your rifle effortlessly.
AGM Anaconda 1x 50 mm Thermal Scope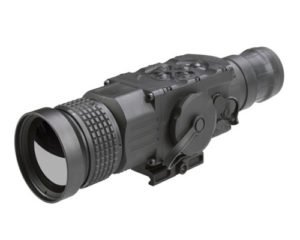 Construction
AGM Anaconda is a small thermal imaging clip-on system with a dimension of 8.2 x 2.7 x 3.1 inches that can be attached easily on up to 8x magnification scopes. It allows you to quickly convert day optics into thermal imaging optics without any special skills. 
User-friendly Features
This best clip on thermal scope is a reliable scope that can be mounted easily in front of your daylight scope with no re-zeroing. Multiple color palettes, wireless remote control access, and waterproof construction make you tension free in the hunting field. Also, a three-year warranty is a great boon to the scope. 
Advanced technology
Nowadays all the thermal scopes are upgraded with modern technologies based on your needs. Likewise, AGM is also featured with an inbuilt video recording which gives you hilarious enjoyment in the field. Not only the video recording, it also offers live video streaming. 
Using AGM Anaconda for your night hunting, you'll be able to shoot your real-time video by connecting it to the external Wi-fi module. So you can have fun in the field with your family members by watching it live. You can also share it on social media. 
Battery Life
The battery life of AGM Anaconda makes you seal the deal. It offers 5 hours of continuous operation that is great enough for most excursions. 
If you're going to spend a long time in the field (for eg, multiple days and nights), then it provides an alternative option for you. It offers an external 5V battery pack for you to purchase. This pack will boost up the battery life for up to 44 hours. So you can stay in the field as long as you wish. 
Additional accessories
AGM Anaconda 1x50mm Medium Range Clip-on thermal scope also comes with some accessories needed for you. It includes a USB cable, wrist strap, lens tissue along a manual to help you operate the scope.
Overall, AGM Anaconda 1x50mm Medium Range Clip-on thermal scope is relatively simple and easy to use. It is the best partner for medium range and can be used by anyone, a professional hunter or a novice. .
3.
ATN ThOR 4 is the best cheap clip-on thermal scope compared to the top 2 models. It comes with more innovative features at an affordable price.  ATN ThOR 4 series comprises of two models; ATN ThOR 4, 384×288 thermal scope and ATN ThOR 4 640 Thermal Scope. Both the models have similar features with a small variation in thermal resolution. 
ATN ThOR 4 Clip-On Thermal Scope
Construction
ATN ThOR 4 thermal scope has a rugged and impressive construction with ergonomic controls for easy operation. It is relatively lightweight and very simple to mount on the rifle. The scope has given a matte finish completely and also nitrogen purged to resist water, fog, and other external elements.  
IV Generation Technology
ATN Thor 4 is equipped with an ultra-sensitive next-generation sensor and Obsidian dual-core processor that provides high-resolution images even in total darkness. The sensor has higher sensitivity and can capture even small objects very clearly at the longest range. And so it is said to be a perfect riflescope for long-range shooting.
Specialty
The most promising feature in ATN Thor 4is the Ballistic calculator. Most of us hate calculations, including me. It is very difficult for me to get an accurate answer in any sort of calculation. 
To avoid this problem ATN Thor 4 clip-on thermal scope has an inbuilt ballistic calculator. It measures and gives accurate data of the temperature, humidity, atmospheric pressure, incline angle, and also the profiles of multiple weapons. These calculations help you to get a perfect shot all the time.
Dual Streaming 
Another interesting feature in ATN Thor 4 clip-on thermal scope is the dual streaming option. But to activate this feature you have to download the Obsidian app. Through this app, you can record your hunting and stream video live on your phone simultaneously. It is compatible with any iOS and Android smartphones or tablets. You can also adjust the settings of the clip-on thermal scope directly from the mobile.
Other Choices of ATN ThOR 4
The ATN Thor 4 384×288 series comes in four different models with a little change in magnification. They are; 
1.25-5x  –  Target Detection – 750 m, Target Recognition – 335 m, Target Identification – 205 m

2-8x       –  Target Detection – 1050 m, Target Recognition – 480 m, Target Identification – 300 m

4.5-18x –  Target Detection – 1800 m, Target Recognition – 720 m, Target Identification – 430 m

7-28x    –  Target Detection – 3000 m, Target Recognition – 1320 m, Target Identification – 720 m
All the other features are similar in the four models. Based on the distance you hunt you can choose the lens option.
ATN Thor 4 384×288 Clip-On Thermal scope is mostly preferred by all hunters for its versatility and effortless function. It is most suitable for long range shooting.
4. Pulsar Helion XP50 Thermal Imaging Clip-On System
Pulsar is also one of the most popular brands in producing tactical equipment. The next product in my list is the Pulsar Helion XP50 Clip-on Thermal Scope. It is considered to be one of the best clip on thermal scopes by the user reviews and ratings.
Pulsar Helion XP50 Thermal Scope
It is made with a high resolution thermal sensor having 640×480 pixels at 17µm pixel pitch. It is built-in with a video recorder that allows you to capture more videos with top-quality imaging/resolution. The scope supports an 8 GB SD card of onboard storage. 
You can use this Pulsar Helion during both day and night. It works very well in temperatures ranging from -13° to 122° and will never let you down.
Connectivity
Pulsar Helion XP enables wireless connectivity with the help of a mobile app.  Using this app you can stream live videos through smartphones. It is compatible with any apple or android devices. You can easily transfer data to your mobile or other devices. 
Color Palette
Pulsar Helion XP50 thermal scope is boasted with multiple color palettes. The most popular one is the White Hot and Black Hot that highlight the hottest and coldest areas. Also, it can detect heat signatures up to 2000 yards. 
Variable Magnification
It is featured with a 50Hz refresh rate that gives a smooth view of the target even through quick motion. This will help you with a perfect shot. Helion XP is also featured with multiple lens options that enable you to select your own choice.  Helion series come with different models having magnification ranges up to 8x.
Pulsar Helion XP50 Thermal Imaging Clip-On scope is a perfect partner for you in the dark night. It is mostly loved by every hunter for its resisting capacity. It can bear up any weather conditions and give you extraordinary performance in the field.
5. Pulsar Core RXQ30V Clip-On Thermal Scope
Pulsar Core RXQ30V Thermal Scope is an upgraded version in 2019. It is one of the cheap clip on thermal scopes compared to other models. This thermal scope provides excellent performance and can be used for long-range targets. It is a perfect fitting for any shooter's powerful weapon.
Pulsar Core RXQ30V Thermal Scope
Specialty
The Pulsar Core RXQ30V has a unique feature that makes it stand alone from all the brands. The green tint is a special feature in this clip-on thermal scope that detects heat signatures. This reduces eye fatigue and keeps it relaxed. So you can use it for a long time. 
Picture IN Picture Technology
The Picture In Picture (PIP)mode featured in this scope gives a clear, wide view of your target and the field. In addition, it possesses another 3 modes for rocks, forests, and identification. These modes help you find prey in any environment. Not only a single prey, it helps in quick multiple hog shooting.
Freeze Zeroing Technology
Pulsar Core RXQ30V is equipped with a 38 x 288 core processor having 50 Hz refresh rates. This frame rate provides a clear and smooth view of a fast-moving target. 
The built-in Freeze Zeroing technology is another interesting feature in this core RXQ30V thermal scope. This feature lets your scope to get zeroed with a single shot.
You can also check out the review of the Pulsar Core RXQ30V Thermal Scope article for further details.
Pulsar Core RXQ30V Clip-On Thermal Scope is an outstanding thermal scope that shows unique heat signatures in sapphire (green) tint.  Also, the innovative features of this scope make it user-friendly and are the best clip on thermal scope for hunting. 
6. Pulsar Axion XM30 Clip-On Thermal Scope
The Pulsar Axion XM30 is one of the Pulsar's notable models with thermal technology. It has many attractive properties that make it to be one of the best clip on thermal scopes with lightweight.
Pulsar Axion XM30 Thermal Scope
Construction
This Pulsar Axion XM30 thermal monocular is made to be lightweight and the durable magnesium alloy housing of the monocular allows you to stay mobile without being weighed down. An IPX7 waterproof rating provides weather protection and can be used even in rainy seasons. 
Design
Its design is based on the 12um's thermal sensor, which makes it as a mini thermal monocular that has been constructed recently. It has a resolution of 320 x 240 pixels, which produces excellent image quality.
Advanced Features
The Axion models of Pulsar are boasted with all the latest specifications that provided excellent performance in the field. It features  IPX7 Waterproof Rating, Stream Vision App Support, and Picture In Picture function.  The PIP mode captures images with great clarity at a faster rate. This allows you to take multiple shots fastly, in case of any bad situations. 
Long Lasting Lens
The thermal imaging sensor has an excellent range detection ability, that helps you to see the target up to 1450 yards. The night vision feature provides you with bright, vivid images even in complete darkness. Generally, most thermal scopes are made with Germanium lens, here the pulsar has upgraded to Chalcogenide lens which is highly durable and expensive. So it can last for several years of usage. 
Take this Pulsar Axion XM30 HD Thermal Monocular with you on your hunting adventures and bring home the memories of your hunting game. It is versatile and can be used for hunting, law enforcement, rescue operations, etc.
Benefits of using Thermal Clip-on scope
Before investing in any thermal scopes, first, you have to check out the benefits you get when using that scope. The clip on thermal scope is a trump card for your rifle and has many advantages. Let's get into;
Easy to mount
The clip-on is designed with a clip attachment that is quite easy and quick to load or remove from the rifle. It just takes a few seconds to attach the clip-on.
Convenience
Generally, outdoor enthusiasts stay in the wild for multiple days. We can't predict the day of returning. So hunters dump a lot of things into their bags. So they always prefer lightweight gears which will not be a burden for them to carry. Clip-on thermal scopes are extremely lightweight and clip easily to any of your favorite rifles. It will not add much weight to your rifle. 
No change of Zero 
In clip-on thermal scopes, you need not want to re-zero the day scope once mounted onto your rifle while hunting. Because it can keep the zero of your day scope itself. Nowadays most of the clip-on thermal scopes are designed in this way. 
Dual-purpose handling
Clip-on thermal scope acts as a monocular while hunting. Using this scope, you don't have to worry about manipulating your rifle and monocular at the same time to see or track your target. Instead of manipulating this tool you can relax and focus on your goal. Hence, this dual feature makes thermal imaging technology (Wiki)versatile.
Safety
Clip-on thermal scopes provide extra protection for the hunter in the field. The wilderness contains fearsome elements like fog, darkness, unknown terrain, etc.  Thermal scopes protect you from these critical elements by providing consistent and quality night vision while hunting.
Important Factors To Consider While Buying
Before investing in the clip-on thermal scope, there are few important points to keep in mind while picking the best clip on thermal scope for your rifle. 
Compatibility
Before getting a thermal scope add on, make sure whether the clip-on optic is suitable for your day scope. Size doesn't matter, clip-on thermal scopes are compatible with a wide range of day scope lens sizes.
The one important thing you have to consider is the magnification. Manufacturers of clip-on scopes recommend using clip-on with minimum and maximum zoom of the day scope.
Capacity
The next prominent thing you have to look for is the thermal capability which means the resolution factor, zooming range, target detection, etc. 
The minimum resolution of 384×288 for a clip-on thermal scope enables you to detect animals around 500 yards. The image quality here is pretty good.
If you're looking for high-quality images then 640×480 resolution thermal clip-on scope is the right choice. It allows you to focus the target as far as 1000 yards and the image quality is also extraordinary. 
Clip-on thermal scopes vary in their lens sizes. It is available in three forms as 50mm, 75mm, and 100mm. But before purchasing, decide your range of shooting first.
A 50mm lens is great for short-range and mid-range hunting. While, the 75mm and 100 mm lens is a perfect choice for long-range shooters.
Most clip-on thermal scope offers up to 4x zoom, while expensive models can be up to 12x. This can be of two types; digital zoom only or a combination of optical and digital zoom.
The latter is good at giving quality images without blurring if you zoom-in.
Refresh rates are also available in three forms; 30Hz, 50Hz, 60Hz. The modern thermal scopes come with 60Hz refresh rates which helps you track the moving animal easily and quickly. But the lower 30 Hz refresh rate may lag when focusing on a moving animal. 
So, if you want to track the fastest moving animal, then consider the clamp on thermal scopes having high refresh rates. 
Weight
A compact clip-on thermal scope is stable and will not make your rifle heavy. The lightweight design makes portability easier. So you'll not feel overload when using lightweight clip-on thermal scopes. 
Display
The bright and crisp display is very important for easy detection and tracking of animals. I recommend a clip-on with at least 640×480 display resolution for a clear view of the target. For a better view, you can go with an HD display having a high resolution of 800 × 600, 1024×768, or even more.
Along with the display, also check whether you can change the color palettes of the images and adjust the brightness of the display. 
Battery Life
Usually, most of the clip-on thermal scopes offer two CR123 types of batteries. It provides continuous operation for about 4-5 hours. If you need extra battery life, then you can get a battery pack separately. 
Video Output
Unlike other thermal scopes, most of the clip-on thermal scopes are not featured with video recording and streaming. So they possess an alternative method to record video with a digital video recorder. 
If you want to capture footage of your hunting adventure, then check out whether your clip-on thermal scope has a video recording option. 
Waterproof
I always recommend waterproof clip-on thermal scopes. As a hunter, you have to face many challenges in the wild such as the rain, snow, wind, etc. So make sure your scope is waterproof, fog-proof, and scratch-resistant. You need not want to bother about any climatic changes, you can move ahead with your clip-on thermal scope. 
The final thing you have to consider is the use of day scope and thermal scope simultaneously. This is explained in the benefits section above. 
Final Words
Clip-on thermal scopes are the best choice when compared to clip-on night vision scopes. Most of the hunters prefer clip on thermal scopes as it has a dual purpose; a monocular and standalone thermal scope. 
Find your next target on the hunt with Clip-On Thermal Scopes. Whether you're hunting hogs or deer, doesn't matter, but it is always good to have a best clip on thermal scope that is quick to set and ready to go whenever you need it most. 
Hope so my review will be helpful for you to invest in the Best Clip-on Thermal Scope. Enjoy your day and night hunting game with clip-on thermal scopes.