Nowadays thermal products are at the peak and manufacturers are introducing new technologies in their products to make it No.1. 
Thermal imaging cameras are very popular and are a powerful tool used on drones. The function of the thermal imaging camera is similar to that of a normal camera, but these thermal cameras operate on the basis of heat and can capture images even in darkness. 
It detects heat signatures from almost all objects and converts them into images and videos. Thermal drones using optical imaging cameras have many positive applications such as construction, electrical, mining, firefighting, surveillance, search, and rescue operations.
In this article, I've shared a list of the best drone thermal cameras. The thermal drone manufacturers in my list include FLIR, DJI, and Parrot. There are many thermal cameras that are designed to fit only some specific drone models. Here I've provided complete info on thermal imaging cameras and how to choose the best drone thermal camera for your game/project.
Our Top 3 Recommendations
What are thermal imaging cameras?
Thermal imaging sensors are also referred to as thermal cameras, infrared cameras, thermal imaging cameras, temperature cameras, etc. Thermal imaging cameras work on the principle of infrared imaging. It emits infrared radiations that are sensitive to heat. 
The thermal imaging sensor detects the heat bodies and produces a precise image of the objects in the surrounding. The thermal images are more clear and detailed than the normal ones.
How does thermal imaging cameras operate with drones?
When the drones are equipped with a special infrared camera, it can convert the heat energy into visible light, which our eyes can analyze that particular scene or object. 
The drone thermography cameras are commonly used by firefighters and the members of the public safety department to find out the persons who are missing. Let me give an example for this with a real incident. A 38-year old man found missing in Waterloo, Canada. The law enforcement officers in Waterloo used airborne system with a thermal imaging camera to find him.
Agricultural workers also use these drone thermal cameras to identify highly efficient cultivation and harvesting methods. These are just a few uses of drone thermography cameras.
Best Drone Thermal Cameras in 2022 - Reviewed
1. FLIR DUO PRO R Thermal Camera for Drone
FLIR is the most popular and leading brand in the world in producing thermal imaging cameras, night vision cameras, thermal scopes, and other thermal equipment. The award winning product in my list is the FLIR DUO PRO R Thermal Camera for Drone and it really deserves this award.
FLIR Duo Pro R is the best drone thermal camera with compact size. It is worthy and bangs a lot for money. You'll never feel that you've wasted your money. 
FLIR says this HD drone camera as the Best Thermal Imaging Camera that is for sale.  It is boasted with a HD Dual sensor and so FLIR advertises this as the most powerful dual sensor thermal imaging camera.
Best for Thermal Inspection
FLIR DUO PRO R Thermal Camera for Drone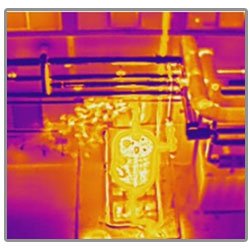 Why is the FLIR DUO PRO R best known as a drone thermal camera?
FLIR Duo Pro R is a powerful profession tool designed specially for drones. It is constructed with a combination of 4K color camera, radiometric thermal imager, high resolution, and a full suite of on-board sensors. These features are responsible to provide you hi-def color images as well as thermal images in flight.
A fully integrated GPS receiver, barometer, IMU, and magnetometer help you with all the data required to create accurate orthomosaics without integrating external flight controllers.
Compatible with
It has a solid and rugged construction that can bear up the weight of any tool. It has two 1/4″-20 TPI tripod mounts that are compatible with any drones and provides ultimate thermal imaging. The thermal camera is provided with a high resolution of 336×640 pixels that give a clear identification of objects from 75 feet away. 
Best for Thermal Inspections
The onboard thermal sensor of the FLIR Duo Pro R camera includes GPS tracking system, Inertial measurement (IMU), and the humidity sensor. These are ideal for geo referencing solutions. In addition, it also comes with a solar panel that expands the use of this tool. The thermography technology of FLIR Duo Pro R camera works very well for inspections such as the border patrol, public safety, search and rescue, agriculture, and for other critical security applications. 
Video Recording
FLIR Duo Pro R comes with two options for real time video output. First is the Analog video. It offers a built-in 10-pin mini-USB connector that makes it easy for you to record videos. Second is the Digital Video. HD digital video can be recorded through a micro-HDMI connector.
If you want a HD quality video of the event, then you can go with the second option. The recorded videos can be stored in the MOV file format to the microSD card. So the videos are safe and you can watch it later with great clarity.
Notable Features of FLIR DUO PRO R Thermal Camera for Drone
High-Resolution Thermal and 4K Color Imaging

Visible Sensor Resolution 4000 x 3000

56° x 45° Field of View

Live Analog and Digital Video Output

Multiple IMU Sensors with GPS & GLONASS

Integration with MAVLink-Compatible Flight Controllers

Two on-board microSD card to record digital thermal video

Integration with IMU and GPS tracking system
2. FLIR Vue Pro R Thermal Camera for Drone
The first camera that FLIR introduced with radiometric technology is the FLIR Vue Pro R. The radiometric drone thermal camera of FLIR has the ability to store still images with accurate temperature data that are embedded in each pixel. You can also geotag images using this camera.
FLIR Vue Pro R Thermal Camera for Drone
On-Board Recording
FLIR Vue Pro R captures images in regular JPEGs and fully radiometric R-JPEGs, so you'll not have any data transmission loss. Images are stored on a microSD card, and can be recovered directly from the card or by inserting the camera into a USB cable, where your computer will view it as a storage device.
Specialty
The biggest advantage of FLIR Vue Pro R is that you can control the camera operation by integrating them with your drone controller. So you don't want to use two control systems separately for the camera and drone, you can do your work with a relaxed and peaceful mind. 
Compatible 
 The robust construction of FLIR Vue Pro R comes with the precision mounting holes for attachment. The two M2x0.4 on both the sides of the camera and ¼-20 threaded hole on the top. 
Applications
The powerful thermal imaging core of FLIR Vue Pro R camera provides expanded flexibility and performance making it very popular for sUAS operations like;
Building and roof inspections

Infrastructure analysis

Precision agriculture

Power grid inspections

Cell tower inspections

Search and rescue

Surveying

Public safety
Notable Features of FLIR Vue Pro R Thermal Camera for Drone
MAVLink compatibility for image geotagging

The mobile application can be used for PWM configurations in the field

Image systems are optimized for airborne operations

Record real-time thermal videos in MOV format

Flight information is stored in each static image. 

10-pin mini-USB connector for charging

Comes with different lens sizes
3. FLIR Vue Pro Drone Thermal Camera
The Vue Pro is also one of the best drone thermal cameras from the FLIR brand that has a professional design with durable materials for drone operators. This thermal camera comes at a low price and is suitable for sUAS operations and services. With its leading thermal imaging quality, Flir Vue Pro adds full data recording of thermal video and still imagery. It does not offer radiometric technology.
FLIR Vue Pro Drone Thermal Camera
Onboard recording
Flir Vue Pro thermal imaging camera records digital video in MJPEG formats. This model cannot store data onboard, but rather records it on a microSD card. So you'll not lose your data. You can also retrieve the data from SDcard or by using USB cable.
However, this thermal imaging camera allows the drone operator to measure and record the temperature and differentiate them with different color palettes. 
FLIR thermal cameras, you can geotag images and control camera operation by integrating them with your drone's control system.
MAVLINK Integration
Like Vue Pro R, Flir Vue Pro also gives you access to MAVLink camera controls. This enables you to select color palettes, start or stop recording, and also triggers the e- zoom during flight using your radio controller. If this MAV link is enabled you can access up to two camera controls with direct PWM connections. 
HDMI Video module
The video module of Flir Vue Pro makes it easy for you to integrate. The 10-pin mini USB connector of this thermal camera provides analog video output and allows you to access the camera's on-board storage. 
The micro-HDMI connector is compatible with DJI Lightbridge and 3DR Solo digital drone airborne systems. Power & HDMI video module is an additional accessory that is sold separately. 
Easy to configure
Flir Vue Pro comes with a low power Bluetooth module so that you can configure your camera with iOS or Android apps before take off. It also enables you to change color palettes, configure PWM inputs, and also to set image optimization features. 
Applications
FLIR Vue Pro provides powerful performance and makes it perfect for operations such as;
Search and rescue operations

Substation inspections

Roof surveys

Power line inspections 

Security and any others
Mounting Accessories
Precision mounting holes: Two M2x0.4 on each of two sides & bottom, One ¼ threaded hole on the top. 
Notable Features of FLIR Vue Pro Drone Thermal Camera
Compatible with Pix4D mapper

Allows in-flight control of two cameras

Convenient power-in / video-out connections

Provides pre-flight camera setup

High-quality Uncooled VOx Microbolometer thermal imager

Provides operation for an altitude of about 40000 feet. 
4. Yuneec E10T Thermal Imaging Camera
Yuneec E10T is one of the biggest surprising launches in 2018. It is an all-in-one thermal camera with three-axis gimbal. The H520-E10T system is specially designed for sUAV applications like safety, inspections and search & rescue operations. It also supports mission planning. It captures high quality images and gives a detailed view in the dark with the help of its larger RGB Sensor.
Yuneec E10T Thermal Imaging Camera
Dual Thermal Imaging Camera
The most impressive feature of E10T is the dual thermal imaging camera. It enables you to stream the residual light image and thermal image simultaneously to the remote control. You can also view the image as an overlay image or picture-in-picture. 
It is available with two different lens options having 320 x 256 pixel and 640 x 512 pixel resolution. The price also ranges depending on the thermal resolution. The 320 pixel starts at $ 4,999 and 640 pixel resolution starts at $ 7,999.
Compatible with H520 Hexacopter
The H520 Hexacopter with the combination of E10T thermal imaging camera and residual light camera, the multi-sensor offers efficient air support for firefighters, emergency services, police and inspectors.
Thermal Imaging Applications
In search and rescue operations; the drone with the E10T thermal imaging camera allows you to search for people from the air very quickly.  
In the event of a fire, it detects the fire hot spots quickly and allows for a faster and more efficient reaction against the fire, so that you can save lives.
3-axis gimbal with  360° rotation
The E10T thermal camera is stabilized via 3 axes, thereby providing still images for survey or inspection. Also, the Gimbal can be rotated about 360° and offers a full panoramic view with a retractable landing slide.
Interchangeable camera systems
The E10T can be interchanged with any other gimbal combination and is compatible with the E90 1 "sensor camera or the E50 inspection camera of H520 hexacopter. 
You no need to restart the copter when changing the camera system.  It prevents any forced breaks, and operates efficiently.
Notable Features of Yuneec E10T Thermal Camera for H520
320×256

or 640×512 pixels thermal resolution

Thermal imaging and residual light camera

Compatible with the H520 Hexacopter

28 minutes of flight time with the H520 Hexacopter

Low distortion lens
White Hot and Rainbow color palettes

Hot-swap gimbal

Continuous 360° gimbal rotation (3-axis gimbal)

Supports mission planning and DataPilot
5. DJI Zenmuse XT Thermal Camera by FLIR
The next popular product in my list is the DJI Zenmuse XT. The thermal imaging camera present here is manufactured by FLIR. DJI's experts in Gimbal technology and FLIR's thermal imaging technology has combined to produce an ultimate solution of DJI Zenmuse XT. It works the best in aerial thermal imaging.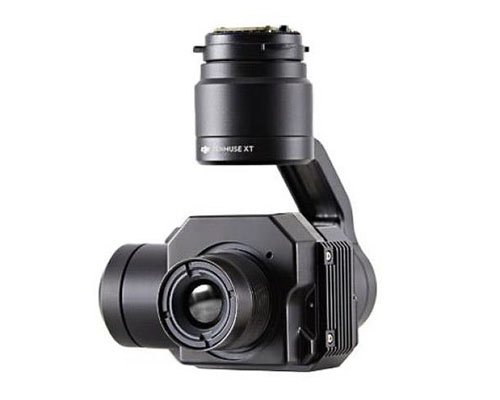 DJI Zenmuse XT Thermal Camera
Integrated Thermal Camera
The camera developed by FLIR provides high-sensitivity thermal imaging. This sensitivity also provides accurate measurements of temperature and is an ideal choice for telemetry and analytics. This camera also offers four lens options for your needs. They are controlled and stabilized by custom DJI gimbals. It delivers smooth, clear imagery and also 360 degrees of seamless rotational movement.
Radiometric Technology
The radiometric technology is specially engineered for inspectors that enables them to select any pixel to measure accurate temperature difference. It displays the highest, average, and lowest temperatures within the selected area. So you can quickly identify the temperature difference.
The highlighting quality of DJI Zenmuse XT is, captures very quick and faster with pinpoint precision and then saves them for reporting and analysis.
Seamless integration
DJI Zenmuse XT can be mounted onto the Matrice Series namely; Matrice 100, Matrice 600, Matrice 200, and Inspire 1. Zenmuse XT captures detailed thermal aerial images in a fraction of seconds after take off. 
Applications
The FLIR thermal imaging camera in DJI Zenmuse XT provides details that are invisible to the naked eye by making subtle temperature differences. This new vision in the world can reveal the location of lost persons, when equipment or buildings are damaged and even more. Other missions include;
Fire scouting

Mining

Solar panel inspections

Electrical inspections etc.
Notable Features of DJI Zenmuse XT
Active Contrast Enhancement feature to adjust scene contrast

Digital Detail Enhancement feature by FLIR

Smart Scene Optimization

Can be controlled with DJI XT Pro iOS app

Very critical mission can be made easier with DJI Zenmuse XT

Compatible with drones of Matrice series
6. DJI Zenmuse XT2 Thermal Imaging Camera by FLIR
DJI Zenmuse XT2 is an advanced version of Zenmuse XT. It is the next generation drone solution paired with FLIR which is the most famous, leading industry in thermal imaging technology. It is integrated with a 4K visual camera and high resolution FLIR Tau 2 thermal sensor that provides excellent thermal imagery.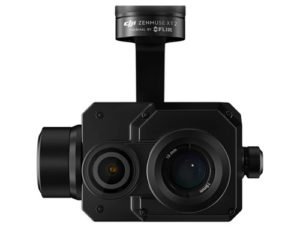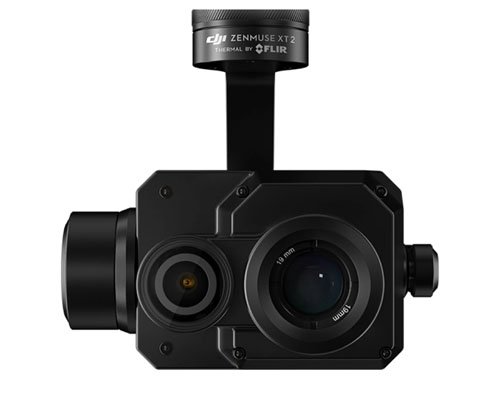 DJI Zenmuse XT2 Thermal Camera
Construction
Zenmuse XT2 is provided with weather resistant housing and can be used in any extreme weather conditions. The IP44 level protection of DJI Zenmuse XT2 protects the camera from sudden climatic changes especially during breeze or rain. It can be integrated seamlessly with DJI's enterprise drones. 
Dual-Sensor solution
The DJI Zenmuse XT2 is engineered with an advanced radiometric thermal sensor of FLIR and 4K visual camera with DJI stabilization and machine intelligence technology. These two combinations in the Zenmuse XT2 camera transform the aerial data very quickly into powerful insights even in low-light conditions. This saves your time, money, and also lives.
Highlighting quality: With the dual payload of DJI Zenmuse XT2, professionals can capture thermal and color visible data within a single flight.
Flight Control App
The Zenmuse XT2 has also developed a flight control app called DJI Pilot. This app is specially designed for Enterprise users to unleash the power of their DJI drones.
Applications
The advanced thermal sensor quickly identifies the hot spots and provides high-sensitivity thermal images for monitoring building, energy surveys, search and rescue missions, firefighting, and much more.
Additional Features
Temp Alarm, Heat Track, FLIR MSX are some of the additional features developed with advanced technology for a faster thermal imaging performance. 
Temp Alarm – provides instant notification when the temperature of the object exceeds pre-set parameters. 
Heat Track – Captures the most critical information by locking the XT2 automatically onto the hottest object in view.
FLIR MSX – Interprets the data quickly from the visual image that is overlaid in the thermal data stream.
Notable Features of DJI Zenmuse XT
Real-time, low-latency camera view

On-screen temperature estimation

Dual-Sensor Solution
DJI Pilot or DJI XT Pro applications software
Multiple color palettes

Compatible with

DJI M200 series, M600 Pro, and M200 V2 series. 
Are you confused in choosing the right one between DJI Zenmuse XT and  DJI Zenmuse XT2? As both are the best models of the Zenmuse series, it will surely be difficult. So to help you, we have given a detailed review of Zenmuse cameras. You can check it out and choose the best one that suits your needs.
Special Choice - Best Thermal Drones
1. Parrot Anafi 4K Thermal Drone with Thermal Camera
Parrot Anafi Thermal drone with camera is an All-in-one solution for professionals who are looking to switch between 4k HD video, RGB, and thermal imaging views.
It is equipped with a FLIR thermal-imaging camera having 160×120 resolution and a 4K HDR camera with a 21-megapixel Sony sensor. The thermal sensor operates at a temperature range of -10°C to 400°C (14°F to 752°F).
ANAFI thermal is designed to provide professionals with the complete solution that perfectly adapts to their needs. 
Parrot Anafi 4K Thermal Drone
Ultra-portable design
Parrot Anafi Thermal Camera has a robust construction with carbon-reinforced drone design. It is compact, ultra-lightweight, and can be carried easily in its shoulder bag that fits your smartphones or tablets. Also, it is very easy for you to unfold the drone for a quick set-up. 
2D Mapping
From the Pix4Dcapture app, you can access the 2D mapping function. After collecting aerial footage of the observed area, the images are "stitched" together to obtain a 2D view of the landscape. This tool is specially used for research missions, to identify the points of interest on the map and send ANAFI thermal for closure. 
This function can be done offline without an internet connection that is suitable for outdoor adventures.
Specialty
With the help of Freeflight 6 app, operators can easily switch between RGB, 4K HD video, and thermal imaging view. You can view, analyze and even merge the images from the visible and invisible light spectrum through this app.
Further, it is provided with Parrot Skycontroller 3 for easy access. This remote controller offers WiFi connection that can be used for over one mile to maintain a safe distance from the risky areas.
Notable Features of Parrot Anafi Thermal Drone with camera
Extremely lightweight compared to other commercial drones. 

180 degree Gimbal rotation 

Thermal and visible light spectrum stabilization on three axes

3X digital zoom offers sharp and clear videos and pictures in any flight conditions. 

Supports 16 GB microSD card for storage

Radiometric capability
Parrot Anafi Thermal Drone is one of the best drones with thermal camera which is similar to the DJI Mavic 2 Enterprise Dual. To find out which is best check out our comparison here. 
2. DJI Mavic 2 Enterprise Dual
The DJI Mavic 2 Enterprise is a best drone thermal camera that is foldable and has been designed to improve the flying experience.  It is an ideal choice for critical and complex operations. 
The FLIR thermal and RGB cameras are the highlighting features in the Mavic 2 Enterprise  Dual Thermal drone. Through its RTK module it can provide even centimeter-level positioning accuracy. It provides an enhanced view quickly and very clearly from above.
DJI Mavic 2 thermal drone is very familiar among thermal imaging pilots and they say that it is perfect for search and rescue operations, firefighting, and for cop activities.
Best Foldable Thermal Drone
DJI Mavic 2 Enterprise Dual
Thermal sensor
Thanks to FLIR for its advanced dual sensors. They are 48MP visual camera with a 1/2" CMOS sensor and a HD 640 × 512 pixel resolution thermal camera. Both the cameras can be viewed separately at the same time. DJI Mavic 2 is best known for its ease of use. You can easily switch between the standard and thermal view based on your project.
The high resolution camera in DJI Mavic 2 Enterprise can capture HD images and 4K videos at a safer distance. It provides the outline of objects that makes it easy for you to see. Its high-resolution sensor supports up to 32 x digital zoom and a 16 x thermal zoom, that helps the operators to focus on the details on aerial inspection missions.
DJI Smart Controller 
The ultra-bright 1080p display provides clear visibility even in direct sunlight. Mavic 2 Enterprise Dual delivers a maximum flight time of up to 31 minutes with a speed of 44 mph.
The video and data transmission system of Mavic 2 Enterprise Dual provides a stable connection between the drone and its remote controller for up to a distance of 10 kilometers. The auto-switching capability and interference resistance can support frequency bands from 2.4 GHz to 5.8 GHz. 
Additional features
Spot Meter – It shows the average temperature of an object, so that you can monitor and measure it while maintaining a safe distance.
Area Measurement – It displays the lowest, highest, and average temperature, as well as the locations of each area. This is very useful for inspectors to access objects quickly and to determine if an asset gets overheating.
Notable Features of DJI Mavic 2 Enterprise Dual Thermal Drone
GPS timestamping feature to record the time, date, and GPS location of the images or videos taken in flight.

Discrete Mode function to turn off the aircraft LEDs who require stealth mode flight.

Self warming batteries to increase the usage in cold environments.

Password protection login system

24GB onboard storage

DJI Airsense and Obstacle sensing system to enhance airspace safety

Dual bright LED for different viewing positions

M2E Beacon feature to find the location of the drone
What can Thermal Cameras Capture?
Thermal energy or heat is emanated from every source on our planet and in our universe. Thermal imaging cameras can capture images of heat emissive objects. They might be;
Living things – Human, flora and fauna
Buildings – Skyscrapers, factories, houses, tents, and large storeyed buildings.
Machinery – Conveyor belts, engines, and assembly lines.
Vehicles – All types of automobiles, planes, and boats.
Electrical – Electric circuits, power lines, coupling capacitor and insulator.
Liquids and Gases – All those that emit thermal radiations. 
Uses of Thermal Cameras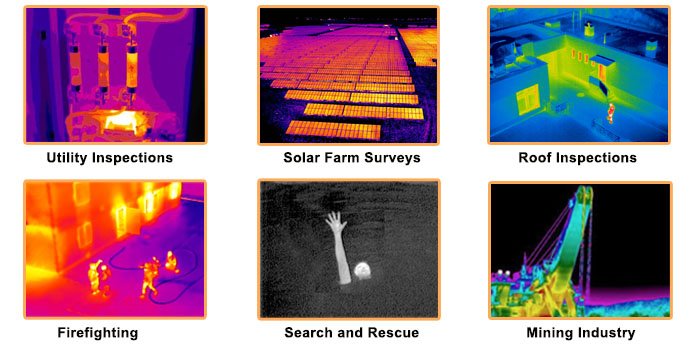 Here are some of the best applications of thermal imaging drone cameras in UAVs. Drones with on-board thermal cameras save your money and time. It is a very safe method to inspect dangerous equipment.
Utility Inspections
Drones with thermal thermal vision cameras allow companies to gather quickly the measured radiometric temperature data and easily cover large substations. With the help of a portable imager it takes the transmission and distribution lines within a fraction of the time.
Utility inspections include power lines, water works, telecoms masts, chimney stacks, and much more.
Firefighting
It is a great boon specially for firefighting. Fire departments have been using portable thermal imaging cameras before the existence of drones. Now drones with thermal cameras play a major role. Drones with thermal vision cameras provide the live stream of structural fires, forest fires, and wildfires from above.
So the commanders are able to see the happenings through the smoke and monitor their personnel in large fire scenes. It provides valuable information about the fire rate and flow paths.
Solar Farm Surveys
Drones with thermal cameras have the ability to scan large solar panel installations within a few minutes. This allows the operator to measure potential problem areas with a single aerial view. It is impossible to inspect the solar farm from the ground.
Roof Inspections
Before the invention of drones, building and roof inspections was very difficult and took a long time. This was the major reason for workplace accidents for many years. But now, drones with thermal cameras take just a few minutes for building and roof inspections. This saves time and life of the inspectors by visually identifying the problems. This is the great advantage for inspectors in delivering accurate data.
Drone thermal cameras inspect on the exterior of the building.  Similar to drone thermal cameras, there are also thermal imaging cameras for moisture detection and termite detection. These cameras helps to detect any damages or termites present on the interior of the wall of the building. 
Search and Rescue
A drone with a thermal camera is a necessary equipment for rescuers. The thermal camera can be used during both day and night rescue missions. Drones can see and cover over hundreds of acres in minutes.
During the day, the heat radiation from a missing person on a mountain is much higher than that of a normal standard video camera. It is difficult for a standard video camera to locate the missing person, if they are wearing the same color clothing as the surroundings. But drones with thermal cameras can provide you accurate information.
To prove this, here is a real incident for you that happened on October 15, 2019. 
 A 6-year old boy Ethan Haus went missing for more than 10 hours in the woods. More than 700 volunteers came out and searched for the boy, but no one could find him. Finally, a thermal drone operator Steve Fines found him at about 1:30 am using his drone fitted with a FLIR Zenmuse XT2 Thermal Imaging Camera. 
Mining
In case of coal mining, coal is often stored in large storage containers in large quantities. This may lead to the risk of fire. It is very important to carry out temperature monitoring of these coal containers, because self-ignition can easily take place.
A drone with a thermal camera is the fastest way to inspect or analyze the health of the equipment especially in large conveyor belts.  If the equipment is stressed, then the thermal camera will show it hotter. It also identifies the break in the equipment.
Things to look for in Best Drone Thermal Cameras
Before purchasing a thermal camera for the drone, remember some questions while choosing the right thermal imaging camera to get the job done.
What is the lens of a thermal vision camera?

What is the clarity of the image?

What is the size of the camera?

How can it bear the harsh climatic scenarios?
Resolution (640 vs 336)
Thermal drone cameras come with a variety of resolution options namely 640×512 pixels, 336×256 pixels, etc. Both types of resolution provide clear images with a wide field of view. 
336×256 pixel resolution is good enough for basic inspection, but for public safety and rescue operation, I suggest a thermal drone with a 640×512 pixel resolution that provides a larger field of view.  
Refresh Rate
The refresh rate is defined as the frequency at which the image is refreshed and displayed on the screen. For example, a 30Hz refresh rate in a drone thermal camera means the image is refreshed 30 times per second. 
The higher the refresh rate, the highest is the image clarity with no blurring. Lower refresh rates can cause image distortion. Usually, rescue teams record the entire scene to get a better chance of finding people who are missed. 
Color Palette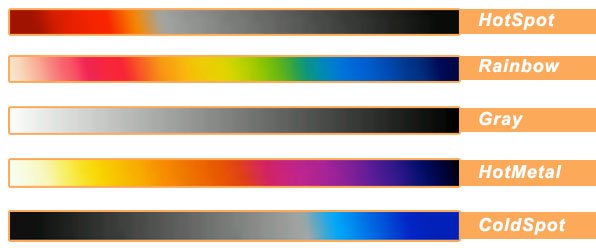 Color palettes are responsible for producing bright, vivid images of your target. Most of the thermal cameras are provided with multiple color options. Among them, White hot and black hot are very popular and are used for various purposes especially, for search and rescue operations. The object in the scene that gives off more radiation will be displayed white and the least radiant object will be black or vice versa. The remaining in the scene will be displayed as a different shade of gray. 
Recommended boards for search and retrieval are white hot and black hot because the objects with the largest temperature difference are highlighted and shown on the display screen. These color palettes perform even better when there is a high contrast between objects.
Lens
Thermal cameras for drones come with various lens options. These lenses are fixed and cannot be interchanged. Make sure whether the lenses are made of germanium. This allows IR radiation easily to pass through and so you'll be able to get bright, crystal clear images.
Easy to use
Nowadays the thermal cameras are developed with advanced technologies that are extremely easy to operate. The images are bright, vivid, and crystal clear to understand the scenario. But a little training is required for beginners to operate.
Resistance

Thermal imaging cameras can capture images even in total darkness. Although it performs well in the dark, make sure whether the camera is not affected by climatic changes like the fog, rain, and snow. 
Also, before getting, ensure whether the thermal camera can withstand certain harmful elements like the dust and smoky environments.
Final Words
There is never a better or easier way for inspections other than drone thermal cameras. It is an easy-to-use thermal solution, which can save a great deal of time and money, as well as ensuring that your workplace is safe from the hidden dangers that are invisible to the human eye.
Thermal imaging cameras for drones have versatile functions and are best suited for sUAV operations. Hope so this guide is useful for you. Share your favorite thermal imaging camera for drones with us in the comment section below.