The Remington long-range rifles (.597,.700,.870,.783) are paired with a scope to provide new and improved features.  The marines adopted these super long-range rifles long years back and the military followed in their footsteps in the mid-1980s. The Remington rifle alone is capable of shooting nearly 1000 yards, now think about how far it would shoot when paired with the perfect scope!
It's also a very suitable hunting weapon, making it far easier for the hunter to knock down targets with no stress!
The Remington rifle is used by numerous security personnel, gun enthusiasts, and civilian long-range marksmen too. For these individuals, the perfect scope is needed to achieve maximum performance.
Among the four models, Remington 700 is capable of shooting at various lengths with complete accuracy, if you want to enhance your skills invest in the best scope for Remington.
However, the perfect scope not just offers the features that you are looking for, it will come with a perfect fit that will make you feel like a pro. Before you just run out and invest in scope, you need to know which is the best, read out our review, and get ideas.
The best Remington rifle scopes are built ruggedly regardless of the weather conditions and any situation. Are you tired of losing multiple shots while trying to hit your target? Well then, dive in with us to discover the best scopes on the market.
Best Remington Scopes of 2022 - Reviewed
1. Simmons 22 MAG 3-9x32mm Rimfire Rifle Scopes
If you're looking for good quality, reliable and rugged scopes then Simmons will be the best choice for you, it's one of the premium level scopes for any type of hunting application also this brand is bringing out the better scopes year on year.
In that line, we've reviewed Simmons 22 MAG 3-9x 32 mm scope recently, and impressed by its features, our experts assure that it's one of the best rimfire scopes. This scope features a True zero adjustment system and a Quick Target Acquisition(QTA) eyepiece for improved performance.
Magnification: 3-9x
Main tube diameter: 1″ (25mm)
Objective lens diameter: 32mm
Exit pupil: 10.7mm (3x) / 3.6mm (9x)
Linear field of view at 100 yards: 31.4 ft. (3x), 10.5 ft. (9x)
Eye relief: 3.75″
Simmons 22 MAG suits for? If you're a passionate hunter, military or recreational user then this scope will suit your needs as it has a modest price and big game optics.
What Features Does This Rifle Scope Have?
TrueZero Adjustment System
This scope has a premium quality spring detent and ball bearing system that relays firm and audible clicks, so you'll get more comfortable knowing that the settings are correct and repeatable.
Simmons 22 MAG is waterproof in any weather conditions as well as strong enough to handle wear and tear. It has the ability to hold zero after-hunt regardless of the number of shots taken, even on high-caliber rifles like the .375 magnum rifle.
Grooved zoom ring
The groove ring is responsible for a secure grip and smooth turns, actually, the fast focus ring at the rear of the ocular bell can be adjusted effortlessly to focus the reticle to the shooter's eye also it is well protected by rubber to offer protection to eyeglasses.
HydroShield Lens Coating
The HydroShield Lens Coating from Simmons will produce a clear sight picture no matter whether you hunt in heavy rain or sunshine. All the scopes from Simmons are nitrogen-purged to make them 100% fog proof as well as waterproof.
High-quality Optical Glass
The optical glass quality and a clear-cut design are the major advancements in the Simmons 22 MAG. The optical glass lenses are fully covered to deliver sharp, clear, crisp images and high contrast for shooting. The scopes are also built with 30% fewer parts and the main tube is constructed from one solid piece of aircraft-grade aluminum.
Truplex reticle
The Truplex reticle is centered and has a medium width, it helps to aim the target easier by directing the eye to the connection of crosswire. When the scope magnification is changed it retains to the same size, so it is a great aiming reticle for a rimfire hunting scope.
2. Bushnell Banner 4-12×40 Matte Black Multi-X Reticle Riflescope
The Bushnell Banner riflescope is one of the most popular scopes which features a one-piece aluminum alloy main tube, multiple lens coatings, a fast-focusing eyepiece, an easy-grip zoom ring, and 1/4 MOA fingertip re-settable windage and elevation adjustments.
The 4-12×40 is dry nitrogen-filled and claimed to be fog proof, waterproof, and shockproof. The adjustable objective of Bushnell 4-12×40 allows the shooter to correct for parallax at any range between 10 yards and infinity.
This will be a great choice for short-range applications requiring high magnification, such as air rifle competition.
Reticle – Multi-X
Field of view at 100 yards – 29′ (4x), 11′ (12x)
Weight – 15 ounces
Length -12″
Eye relief – 3.3″
Exit pupil – 10mm (4x), 3.3mm (12x)
Magnification, Field of view
It offers a variable zoom from 4X to 12X, making it suitable for any range of shooting distances. Variable magnification offers good flexibility for the user in aiming which the fixed magnification scopes can't offer. If the target is very closer then just use any of the other magnification settings to optimize the field of view.
The FOV is an important aspect of any scope as it is the measure of the environment visible in the scope. A larger FOV will allow the hunters to aim at the target through the scope very effortlessly.
Bushnell Banner has a field of view of 29 feet at its lowest magnification of 4X, the variable magnification allows you to adjust the field of view because of the amount of terrain you see in the scope increases as the magnification decreases.
Objective Lens diameter
The objective lens is the major factor to consider, an important measure of the lens comes from its diameter so you can guess the size.
The larger the objective lens is the more is the amount of light that can enter the scope, thus the image will be brighter and clearer.
But as the diameter of the objective lens increases, scopes will be bulkier thus causing mounting and aiming a mess. It has an objective lens of 40 mm thus creating a bright and clear image.
Bushnell Banner Dusk & Dawn is unique in this factor because the objective lens is adjustable to allow for parallax correction, which often creeps up in long shots.
Eye Relief &  Precision Adjustments
The Bushnell Banner Dusk & Dawn has an eye relief of 3.3 inches, which is quite good for a scope thus making it suitable for high-powered rifles and even shotguns.
Most of the high-quality scopes contain knobs thus allowing you to adjust the windage and elevation, this will help to adjust the reticle so the bullet goes straight to the point.
The Bushnell Banner Dusk & Dawn allows both types of adjustments to ensure that every shot counts.
Optical Coatings
The quality of glass and its coatings are very important to look for in a scope. The number of coating really matters, it's a good indication of the quality of the scope.
Multi-coated lenses are used in this scope which really helps to gather more light making the Bushnell Banner Dusk & Dawn an excellent choice for low light conditions thanks to its specialized Dusk and Dawn coatings. Also, this scope is fog and water-proof which is an added benefit.
Best scope for Remington .700
3. Leupold VX-Freedom 3-9x40mm Rifle Scope
The Leupold VX-Freedom 3-9x40mm Rifle Scope is one of the best performing scopes from Leupold which is specially designed to ensure the dependability for hunters and shooters.
This scope is designed with an Advanced Optical System that delivers maximum light transmission for producing good quality images in any type of light conditions. The scope is 100% waterproof and fog proof.
Leupold 3-9 x 40 mm scope works great for muzzleloaders, and even on shotguns for deerhunting.
Try the Leupold VX-Freedom 3-9×40, and you'll have one of the best Leupold scopes for a lifetime.
Magnification Range: 3-9 x
Objective: 40mm
Maintube Diameter: 1 in.
Elevation Adjustment: .60 MOA
Windage: .60 MOA
Reticle: Leupold Duplex
Length: 12.39 in.
Construction
The scope has a rugged construction that will be capable of withstanding harsh outdoor conditions as well as shock.
It also has hardened surface coatings which is specially for military purposes in scratch resistance. In addition to that, it is made of waterproof and fog-proof technology that utilizes internal glasses to withstand extreme temperatures.
Glass clarity & Reticle
It features the Twilight Light Management System so you'll get a good 15-20 minutes of low-light visibility.
This scope comes with a duplex reticle as it provides a clear view of surroundings thus you can aim the target quite easier.
The distance from the center of crosshairs to the duplex is 4 MOA which provides a single drop reference if you zero at the center of crosshairs.
Parallax & Magnification
The magnification is 3-9x, which gives you a clear view for short to medium range shots. When I go for a hunt with this scope, I usually look in the 70-150 yard range, and this scope is perfect for that.
It's possible to spot the target out to about 300 yards too. The VX-Freedom has a fixed parallax and there's no distortion.
Eye Relief & Eye Box
VX-Freedom performs well with its substantial eye relief. The eye relief of Leupold VX is 4.2 at low magnification and 3.7 at high.
It will be smooth and convenient for positioning your eye or head while hunting with this scope. You'll get a wide field of view from the eye box.
4. Vortex Diamondback 4-12x40mm Rifle Scope
The Vortex Diamondback 4-12×40 costs less than $200 as it is one of the most affordable long-range rifle scopes on the market.
It is a second focal plane scope that comes with multi-coated glass, it is compact and efficient with its quick focusing features.
The high-quality construction of this rifle scope makes it a solid purchase that will last through many hunting seasons.
Eye Relief   3.4 inches
Magnification Range      4-12x
Reticle Type         Dead Hold BDC reticle
Reticle Illumination        No
Weight        1.4 pounds
Parallax & Magnification
With 4-12x magnification, you'll be able to shoot short to even long-range targets. The parallax is impressive for this price, at 10x, the images are crisp and clear you can even handle serious and fine work such as spotting coyotes or evaluating the target.
Eye Relief & Eye Box
The eye relief is damn good in this Vortex Diamondback Scope which is around 3.4 inches. The eye box is fairly large, if the FOV is large you'll get a better view.
Vortex scope excels in this factor as it has a wide field of view, it's easy to use the left eye to get a better view.
Glass Clarity & Reticle
I've tried many scopes in different price ranges for hunting sheep, coyotes, and deer. Most of the scopes fail in their quality of glass, Vortex Diamondback is the clear winner for me for its price tier. The clarity is good with a crisp image, even from wide-range magnification.
No matter if you use it in a close-range yet it produces a nice crisp image and good clarity to last through any condition. The glass is very high in quality. This vortex scope uses a dead hold BDC reticle which automatically calculates wind drift and range estimation for you.
Elevation & Windage Knobs
The elevation and windage knobs are quick to adjust. It's not a big deal to turn with a finger in this scope, the clicks are also crisp with no up or downplay. 
The elevation knob counts up to 100 MOA adjustments, which works great for long-range shooting. The windage knob counts 64 MOA adjustments at 90 degrees on the vertical axis. They also make very fine adjustments!
The diamondback has 10+ markings on both axis, so it's possible to make more detailed adjustments on each click.
Best Scope for Remington 870
5. Konus AimPro 1.5-5x32mm Rifle Scope
Konus is well known in making and designing High Quality Optics at an exceptional value. It is most popular among the hunters, as well recreational and competitive Shooters. With over 30 years of experience Konus has right optic for what ever kind of shooting you are doing.
Konus Aimpro is an entry-level shotgun that comes with a variable magnification ranges from 1.5x to 5x and features an objective lens of 32mm. If you're looking for a scope with high accuracy in shots just try this, it comes with a bigger objective lens and variable zooming.
It is one of the best shotgun scopes for deer hunting.
Power/Objective Lens: 1.5-5x32mm
Tube Diameter: 1″
Reticle: AimPro Engraved
Exit Pupil: 21.3mm at 1.5X; 6.4mm at 5x
Eye Relief: 2.9″
F.O.V. @ 100 yards: 60ft at 1.x; 20ft at 5x
Tube diameter
Konus Aimpro comes with a 1-inch tube diameter so it work as your authentic riflescope, if you're a person who go for a hunt frequently in a dim light this is the best shotgun scope for you. It comes with a 0.25 MOA dot reticle.
Reticle
It features an unbreakable glass engraved, AimPro reticle, our exclusive design which features an inner diamond for an exact aiming point.
The reticle also works as a rangefinder, since a turkey's head will fill the space at 40 yards and a deer's target area will fill it at 75 yards. The reticle is glass etched will make sure you take your aim quickly, both at long and short ranges.
This kind of technology is reserved for military application and ensures you get the best out of your shotgun whenever you take it out.
Lens
The 12 gauge shotgun scope has fully multi-coated lenses and Konus has nitrogen purged it. So no matter whatever the conditions are on the field, you don't have an excuse to miss your shot. These shotgun sights are also immune to heavy caliber recoil.
Eye relief
This scope has a long eye relief and a wide field of view. The multi-coated optics are responsible for providing enhanced light transmission, and finger adjustable turrets are easily dialed in, even with gloved hands. Parallax is corrected to 75 yards.
All Konus scopes are nitrogen purged for true waterproof and fogproof integrity, as well as being shockproof.
6. Bushnell Trophy 3-9x40mm Rifle Scope
The Bushnell Trophy Scope is as perfect for the money as a scope can get. If you're taking a step up from beginner hunting, this is the worthy investment piece that should last you throughout your hunting needs.
As your hunting skills elevate, the Bushnell Trophy Scope will adjust with you for quick shooting and some harsher weather conditions. It comes up with multi-coated optics, a one-piece main tube, a fast-focus eyepiece, and 1/4 MOA fingertip windage and elevation adjustments.
The scope is dry nitrogen-filled and alleged to be waterproof, fog proof, and shockproof. We rate this Bushnell Trophy 3-9x40mm riflescope a worthy buy.
It is probably a better value, considering its lower price than the Bushnell Legend that represents the next step up in the Bushnell line.
Objective Lens Diameter:        40 mm
Magnification:      3 – 9 x
Tube Diameter:    1 in
Reticle Focal Plane:        Second Focal Plane (SFP)
Exit Pupil:  4.44 – 13.33 mm
Field of View, Linear:    13 – 38 ft at 100 yds
Performance
The Bushnell Trophy 3-9×40 Scope is a valuable piece to purchase for your hunting rifle. It comes with all the standard features: lightweight, moisture and shockproof, and 1/4 inch clicks value adjustment knobs, but it performs much better than many other scopes for a similar cost.
Most impressive is the 91% light transmission feature, which is great for hunting at any time of day.
Eye relief
The target view through this scope is damn good, eye position is comfortable and eye relief is adequate for rifles in the .308 class. Lens flare seemed well- controlled so you'll not face any issues in using the scope during sunny days. Edge sharpness is degraded compared to center sharpness.
Windage & Elevation Turrets
The eyepiece is fast-focus, which is great for moments requiring quick reaction time. It works great for deer hunting, when a deer starts to make a run this scope makes a mark and spot it.
There are windage and elevation adjustment turrets, its value is 1/4 inch. Bushnell Trophy comes with a limited lifetime warranty, as well as a flip-open lens cover, which is just a nice little additional feature.
Best Scope for Remington .783
7. Bushnell Trophy 3-9X 50mm Multi-X Reticle Rifle scope
Bushnell emphasizes affordable, high-quality products to meet high standards, they aim to give the best reasonably priced products in the industry. Bushnell Trophy 3-9X 50mm is the best choice for people who are looking for a scope that will give a crystal clear picture, usable eye relief, and be rugged enough to survive anything you could throw at it. 
This scope comes with a 50mm objective lens and a 4″ eye relief. With 91% light transmission, the scope will offer you impressive light-gathering capabilities. Even in dark conditions, you can expect good results.
The only drawback of this scope is the reticles lack illumination, in spite of seeing your target clearly in a bad lighting situation, it's possible that you may fail to make out the reticles.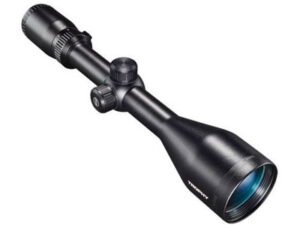 Objective Lens Diameter:        50 mm
Magnification:      3 – 9 x
Reticle:        Multi-X
Tube Diameter:    1 in
Reticle Focal Plane:        Second Focal Plane (SFP)
Field of View, Linear:    38 ft at 100 yds
Eye Relief:  4 in
How powerful is this riflescope?
The riflescope boasts high zoom capabilities. Magnification for this scope ranges from 3X to 9X. The magnification makes it possible for you to attain your target at 3X magnification and then zoom in with 9X magnification to achieve a great up close and personal shot.
The zooming feature does not affect the resolution in any way, a shot at 3X magnification will be just as clear as a shot taken at 9X magnification.
How wide is the field of view?
​At just 3X magnification, the field of view is a remarkable 40 feet at 100 yards. With the 9X magnification, you will get a 13 feet field of view at the same 100 yards. These represent an excellent field of view at all magnifications, enabling you to have the required visual to spot, bracket, and zoom in for the perfect shot.
The durability of the riflescope
​Bushnell built this scope to last longer with features such as being shockproof, fog proof, and waterproof. The one-piece 30mm tube is rugged and sturdy, as a result of being constructed from aircraft-grade aluminum. The design guarantees that the scope can withstand the recoil of powerful shotguns and rifles.
Elevation and windage Turrets
With elevation adjustment knobs and fingertip windage, sighting in this scope is incredibly easy without necessarily using additional tools. If needed you can use a laser bore sighting tool to save time and ammunition. The rifle scope holds zero remarkably.
8. Vortex Optics Crossfire II 3-9×40 scope
Vortex crossfire scopes are known for their affordability and durability under heavy use, as well as their high-quality and various features or special benefits.
This scope will benefit classic or traditional hunters more than any other rifle-using demographic. The magnification ranges between 3x and 9x in addition to that BDC reticle is a fantastic choice for hitting targets within the most common hunting ranges between 300 and 800 yards. The reticle even lets you compensate for bullet drop on your more distant shots.
Objective Lens Diameter: 40 mm
Magnification: 3 – 9 x
Tube Diameter: 1 in
Reticle Focal Plane: Second Focal Plane (SFP)
Exit Pupil: 4.4 – 13.3 mm
Field of View, Linear: 12.6 – 34.1 ft at 100 yds
Eye Relief: 3.8 – 4.4 in
Reticle Type and Magnification Settings
This Crossfire II scope features one of the best reticles for hunters on the market: a dead hold BDC reticle. BDC stands for bullet drop compensation. It's nothing but the reticle that incorporates special holdover points along the bottom vertical line of the crosshairs that can help you estimate where your bullet will land when accounting for its projected drop.
The lenses are fully multicoated, like most other Vortex products, so you'll get an enhanced light transmission and superior durability. The lenses are also anti-reflective, which will make using the scope in bright daylight all the easier.
This scope can magnify between 3x and 9x power and utilizes a 40 mm objective lens. It provides a vast range of effective shooting distances and enables it to be appropriate for both slower and more precise shot landing. The eye box is very forgiving and enables fast focusing on the reticle or eyepiece, so target acquisition is smooth.
Eye relief goes between 4.5 inches and 3.8 inches at a minimum and maximum power, respectively. It is possible to use this scope with heavy or high recoil rifles without needing to worry about injuring your eye.
Windage/Elevation
This Crossfire II scope features a set of capped reset and finger-adjustable windage and elevation turrets. It's not a big deal to set to zero once you've sighted into the scope it will provide tactile feedback each time you shift them up or down. These turrets are very well made and feel great to use.
Durability
Vortex scopes are traditionally made to work in any kind of weather, and the Crossfire II follows this trend. It's been nitrogen purged and O-ring sealed, both of which afford it waterproof and fog proof functionality, without any hesitation you can use in any conditions no matter how dense or rainy the weather becomes.
The scope's main body is also constructed from a single piece of aircraft-grade aluminum. This adds durability and keeps its overall weight low so you can mount it on a majority of weapon platforms without any issues.
Final Words
Choosing the right scope will ensure you get full use from your rifle, no matter which cartridge you're shooting. Go through the list above as it will surely help you choose the best scope for Remington rifles to meet your specific shooting needs.