A night vision monocular is probably the most flexible device or gadget that is equipped with the design of night vision technology. 
It comes in a really wide variety of sizes and shapes that you can definitely choose from based on your needs. 
This is a tool that is made perfect for a lot of professions, such as hunters, farmers, security officers, and firefighters. 
With a lot of types of the profession that it can be used for, it can really be helpful for a lot of applications and tasks too. 
Some of these are exploring nature, observing objects in dim situations, hunting in dark forests and etc. So, we are going to feature a specific night vision monocular from one of the brands that are well known for manufacturing such devices. 
The specific product's name is Bushnell Equinox Z Digital Night Vision Monocular. 
But before we discuss the specifications and the features of this product, let us have a few information and an overview of this manufacturer—the Bushnell Corporation.
Overview of Bushnell Equinox Z Night Vision Monocular
The company of Bushnell Corporation is one of the American companies that specialize in producing outdoor products and optics that a lot of people find helpful.


It was founded 72 years ago in the year 1948, and it serves worldwide—this means that their products are not restricted for selling in the United States only; their products can be bought by people around the world. 
This corporation is based in Kansas. Some of their products are rifle scopes, red-dot sights, laser range finders, night vision devices, binoculars, GPS devices, and monoculars. 
Bushnell ensures the quality of its products; that is why they are well known when it comes to the industry of optics and imaging. 
They do not use materials that are of mediocre quality, and they make sure that their products are constructed with the best quality. 
Features of Bushnell Equinox Night Vision Monocular
The Bushnell Equinox Z Night Vision Monocular is one of those products that live up to the reputation that Bushnell Corporation has. Now, let us take a look at the features of this specific product.
Magnification Setting & Objective Lens
When you plan to buy this specific product from Bushnell Corporation, you have three choices for the model of Bushnell Equinox Z Night Vision Monocular—the first one is the 3x 30mm, the second one is the 4.5x 40mm, while the third one is the 6x 50mm. 
With options like those, you would have the discretion of choosing the type of magnification setting and the size of the objective lens that is just right for your needs.
All the sizes of the objective lenses of this model are just enough to support the production of clear and bright images since the recommended sizes are between 30 millimeters and 50 millimeters.
Daytime or Nighttime Use
Among the best features of this night vision monocular is its flexibility. 
It is considered to be one of the most flexible night vision gadgets since it can be used during your activities in broad daylight. 
Its screen displays the images of the field when you are using it during the daytime. You would see true-colored and detailed images when you use it in daylight.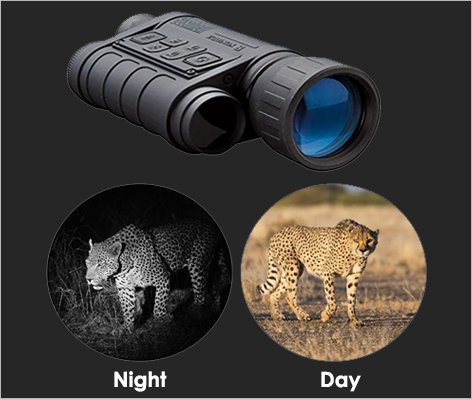 But once that you choose to use it during nighttime, you would have images that are black and white in color due to the night vision technology that this night vision monocular is designed for. 
It is built with an infrared illuminator that you can use for a distance that reaches 500 feet in the dark.
Lightweight Built
Due to the materials that are used for the overall built of this night vision monocular, it is very lightweight and convenient to be brought almost anytime that you are going to need it. 
With its compact size, you are going to have a night vision monocular that would give you ease and comfort while you are using it. 
Due to the built of this night vision monocular, it is rugged even when it is also lightweight.
These two properties of being lightweight and rugged at the same time are really one good pair for every device to have. 
Even when you use this night vision monocular for rugged purposes, it would endure and stay rugged. 
Multi-Coated Lenses
Another good thing that makes the built of this night vision monocular very solid is that its lenses are made to have multiple layers for its coating. 
This is an important feature to have because it brings a lot of benefits when used.
With this type of coating, the Bushnell Equinox Z Night Vision Monocular can provide clarity and brightness for the images of the field that you are going to see on its lenses. 
Water Resistant Housing
The housing of this night vision monocular has ensured durability because its housing is protected from water. 
The resistance that this night vision monocular has when exposed to different substances is very reliable and can be used even when heavy rain is present in the location that you are in. 
This feature is really needed for a lot of conditions outside, and it would still endure.
Takeaway 
The features that this night vision monocular has are very reliable and can be used for almost every situation that you encounter outside. This is really a great night vision monocular to have because it is designed to have incredible flexibility and durability. For the price that it is sold for, you would surely see be amazed at how useful this night vision monocular can get. So, check this product for you to have an improved viewing experience both day and night.